Do you have news to tell us? Send your e.mails with news and inquiries to: w.nation@mail.com
Register to follow our news on the right-hand tab
OR
Register for free on  our social site HERE to join our world for more news
*
*
ALSO VISIT:
Mboweni speaks of 'trembling in his boots' after Moody's downgrades SA to 'junk'
Article posted  by: White Nation Correspondent Cape Town March 26  2020
SOUTH AFRICA– FAILED LAND OF COMMUNIST ANC ORGANIZED CRIME : THE  PIRATE's REALM DOWN SOU
MOODY's Investors Service cut South Africa's credit rating below investment grade, delivering the country a full house of junk assessments as it grapples with a nationwide lock-down to curb the spread of the novel coronavirus.
It now assesses the nation's foreign- and local-currency debt at Ba1, one level below investment grade. The move reflects "continuing deterioration in fiscal strength and structurally very weak growth," the company said in a statement Friday. The outlook on the rating remains negative. "Unreliable electricity supply, persistent weak business confidence and investment as well as long-standing structural labor market rigidities continue to constrain South Africa's economic growth, " Moody's said. As a result, South Africa is entering a period of much lower global growth in an economically vulnerable position."
The ratings company changed the outlook on the country's ratings to negative in November, saying it wants to see a credible strategy in the February budget for halting a deterioration in public finances. However, the spending plans presented by Finance cadreTito Mboweni last month showed the fiscal deficit as a percentage of gross domestic product would widen to an almost three-decade high. "The decision by Moody's could not have come at a worse time," National Treasury said in a statement. "South Africa, like many other countries, is seized with containing the outbreak of the coronavirus." "These two events will truly test South African financial markets," National Treasury said. "The government remains committed to implementing structural economic reforms to address the weak economic growth, constrained fiscus and the ailing state-owned companies."
The nationwide lock-down that suspended all activity except essential services from Friday means the budget shortfall and the government's debt burden could deteriorate even further. Even before the lock-down, the central bank forecast that Africa's most-industrialized economy will contract for a calendar year for the first time since 2009. The downgrade leaves South Africa without an investment-grade rating for the first time in 25 years and will cause it to fall out of the FTSE World Government Bond Index, which could prompt significant capital outflows. It will also raise borrowing costs, complicating the government's efforts to narrow the budget gap. The nation's fiscal deficit will widen in fiscal 2020 to around 8.5% of GDP, as revenue declines this year, only narrowing very gradually thereafter, Moody's said. It estimates that the debt burden will reach 91% of GDP by fiscal 2023, inclusive of the guarantees to state-owned enterprises from 69% at end of fiscal 2019. S&P Global Ratings and Fitch Ratings cut South Africa to junk in 2017.
After South Africa's sovereign credit rating was downgraded to subinvestment grade, or "junk status", by Moody's – the last ratings agency to do so – on Friday, government reacted with dismay. Fitch and S&P downgraded SA to junk in 2017 already. Moody's cited in a statement the deterioration in SA's fiscal strength and "structurally very weak growth" as reasons for lowering the rating to Ba1 from Baa3. The outlook remained negative. Reacting to the news on Saturday, government noted the decision by Moody's to downgrade South Africa's long-term foreign and local currency debt ratings to 'Ba1' from 'Baa3'. South Africa's credit ratings by Moody's are now one notch below investment grade. According to Moody's, the key drivers were structurally very weak growth and constrained capacity to stimulate the economy, and an inexorable rise in government debt over the medium term.
The negative outlook reflected the risk that economic growth would prove even weaker and the debt burden would rise even faster and further than currently expected, weakening debt affordability and potentially access to funding. "The decision by Moody's could not have come at a worse time," said Treasury. "South Africa, like many other countries, is seized with containing the outbreak of the coronavirus. The impact of Covid-19 is felt across various sectors of the economy including the financial markets which experienced a significant sell-off in equities, bonds and exchange rates as investors retreated to safe haven securities amid the uncertainty."
Following the rating to full junk, South Africa will gradually see a loss in foreign direct investment, as it loses its place in the World Government Bond Index, which will likely happen at the end of April. This will see around $5 billion (R88 billion) pulled out of the economy. But that's not the end of South Africa's woes, Attard Montalto said, as he expects more ratings downgrades will come as government struggles to regain credibility. In its report, Moody's mentions that there is "even greater uncertainty regarding eventual stabilisation, in turn threatening South Africa's access to funding at manageable costs" a scenario which is likely to stick, the analyst said.
There are no quick or easy fixes for South Africa – and even if there were, government remains hamstrung by policy inefficiency and factionalism within the ruling ANC, he noted. "We see virtually zero probability that South Africa will regain investment grade status in the three year forecast horizon we look at," Attard Montalto said. National Treasury – led by Tito Mboweni – had put in place an economic policy document in 2019 which addressed all of Moody's concerns. However, stalling, particularly on the energy front – which was specifically called out by Moody's – has made much of this ineffective. "National Treasury must move with speed to re-establish credibility," Attard Montalto said.
He said an emergency budget at the end of April after lock-down – laying out transparently what is going on with growth, the revenue impact and the implications for the fiscal framework and issuance – is crucial to ensuring Treasury keeps decent access to market for issuance into a hugely challenging April-July as the corona virus impact hits. However, he noted that while Treasury is fully aware of the weight of the downgrade, there are many within the regime (and the ANC), who 'don't care', and will see this as a positive move, "freeing them of the shackles" of the ratings agencies. "Something fundamentally has to break first for the politics to shift to reform. Maybe the deep scars left by corona virus on the economy and a permanent step up in unemployment and down in output will be that, maybe failed auctions or going to the IMF will be that," he said.
On a side-note: The "Corona" lock down:
1.Why is it that only whites are confined to their homes while other races still go shopping, walking in the streets, still go plundering shops , attending parties and braais and basically ignores this "lock-down?"

2. Why is it so that only businesses that is 51% black owned qualifies for government assistance to help their companies? Is this "Lock-Down" exercise part of a hidden agenda to specifically break the backs of many white owned businesses while the ANC on the other hand will support black-owned businesses as part of the "Fourth Industrial Revolution" maybe?
3. Why is it so that Ramaphosa and his whole entourage government "ministers"  appear before national TV – sitting next to each other – shoulder to shoulder – and without masks as their own rules dictates? Why are THEY out of their homes and not adhering to their own rules?  And that includes the TV team  in the studio as well. They are not offering or performing  any crucial or essential services – or are they again "indemnified" from getting or spreading the virus?
4. Why is it so that rules against black Taxis that carries 14+ passengers now will be "relaxed" – all while the rest of us still are hunted down without mercy if caught breaking the rules like riding more than two in a car?
Taxi's will get"leniency" and can operate as normal.carrying up tp 15 passengers WITHOUT face masks. Et Tu Ramaphosa/Bheki Cele???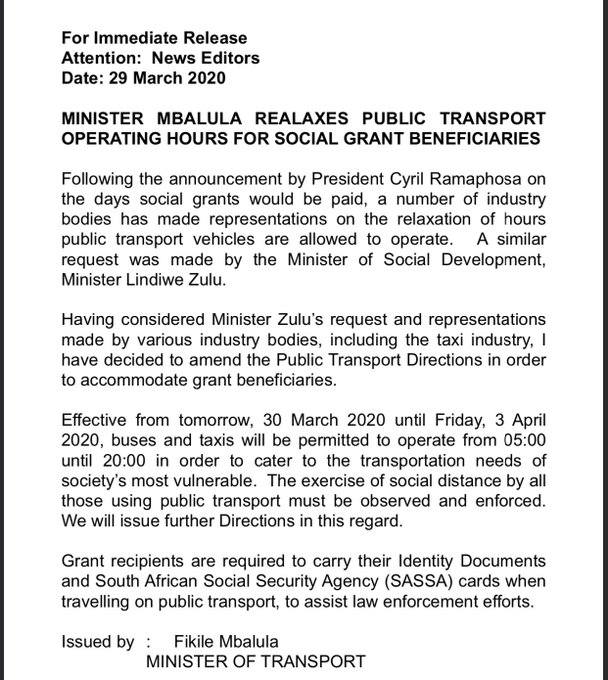 5. Why is it so that the media high-light only whites to have contracted this "virus" – but no mention of any non-white cases or deaths?
6. How come does many policemen and army cadres go into townships not wearing masks and not handling the "safe " distance of 1 meter – but sit next to each other in their transport vehicle and then go out walking around without any protection mask or gloves? Are the security services for what they are worth also like Ramaphosa and his ilk " indemnified" from getting or spreading the virus as well?
SANDF enforcing some much needed discipline in our society 😂😂😂

Posted by South Africa Live on Sunday, March 29, 2020

7. Why is local law enforcement officers not wearing any face masks or gloves when they pull you over on the road- or are they also like Ramaphosa and the security services "indemnified" against contraction or spreading the virus too?
"CORONA" -TIME IN THE MALLS!!!!
" CORONA"-TIME FOR  THE VULTURE SHOPS! SPAR…Aljoe's Spar in Bloemfontein-You really are despicable exploiting the lock down!! This pack of face masks
normally costs R 75.00 at Dischem.
CHECKERS..
SPAR AGAIN AND AGAIN..
( What did this bunch of commi kleptoocrats expect otherwise – unlimited years of plundering , greed and corruption without the bubble bursting sometime? 25 Years of utter corruption and maladministration by the incompetent ANC /SACP cadre hoodlum factory in Lethuli-House , their destructive and unruly black masses that on a daily basis destroy the infrastructure , turned South Africa into a criminal infested war-zone-  and the continuous unsubstantiated blame -shifting onto the whites has finally caught up with them and now are taking it's toll on the country. And it's specific this lawless  "majority" that will suffer the most as they are not producers but "useless eaters." It will also be this same  "majority" that will eventually run out of patience and a Tunisian Spring revolt will be unavoidable. And this time the thieves in the Lethuli-Nest will not be able to blame" Jan Van Riebeeck, Verwoerd, Apartheid"  or the "rich whites" again. Poor disillusioned ANC cadre  Jackson Mthembu is now blaming  APARTHEID again for the ANC misfits' inefficiencies in their response to the COVID-19 pandemic! 
They inherited a perfectly healthy country and economy. Through their greed and careless plundering this final chapter eventually  came to pass.Over and over they have been warned- but their skulls are quite thick and even dithering dangerously on the edge of a financial melt-down Ramamparra still were hell bent to proceed with their "Fourth Industrial Revolution" racist white farm grabs and race based Affirmative Action commi bullshit! Squirrel Ramamparra's "socialism" just took one helluva nosedive just now. But he cares a blue sh*t about the country- his own personal greed long ago surpassed his logic. Now he finds himself "king"of a friggen DUMPSTER! I hope white stinking liberals such as ol' Flatwheel De Klerk, Max Du Preez, Adriaan Basson  ,Melanie Verwoerd  ,Carl Niehaus , Piet Nappyhead , the bimbos at RSG  and many other leftist creeps are quite happy with their " remarkable "achievement by supporting this bunch of bumble heads in totally f*cking up a once prosperous country now! Well done!!!

  Eskom sent warning after warning that the idiots  controlling it were downright incompetent looting fools- but no- the ANC misfits keep appointing one after the other incompetent greedy bunch of fools to drive all state owned entities further  into the ground so they could proceed plundering the coffers through money laundering by Eskom, SAA, Transnet, et al- pumping YOUR tax money by the billion into their own filthy pockets for 25 years already- hammering YOU with f*ckin exuberant taxes and "load shedding" after "load shedding!" What suddenly happened to the "load shedding" games now that mamparra has the whole country in a "lock-down?" Suddenly we do not hear a single "chirp" about all their woes and why we must be terrorized with "black-outs " anymore? Suddenly there is enough power for all! After the lock-down we suspect the dumb c*nts will be back at their little computers- and start playing their little "load shedding" games again like stuffing "jellyfish" into cooling systems, throwing spanners into turbines, sabotaging conveyor belts, pissing on the coal and so on – we suppose? 
Why this whole loathsome ANC band of degenerates was not arrested dragged before a court a long time ago and thrown in the slammer is still a mystery- but now the foolish population are going to pay deary and expensively for their complacency and ignorance  for not doing so.  The ANC, the screwball EFF's and their red sh*t commi hooligans  and Union mobster kingpins  will have to carry the brunt of this one all alone. In 1994, SA was the jewel of Africa with strong a state and semi-state structures, Eskom, police, military etc were examples of excellence. Even with a grueling border war and sanctions, SA was more accepted by the international community  than today with much less debt. We all know the successes of that time. Within 25 years, SA is in a rubbish heap in "ruled" and emptied as we expected from the Third / Fourth World plundering dictators. Here the whites prefer the "Affirmative Action" policy of the ANC if the guilty party/s have to stand up for the total f*ck-up this country now finds itself in: First BLACK ( rioting, striking, burning, looting, demanding, unproductive, racist, non-tax paying ) people, then non-white minorities- then only whites if you please thank you!  -Ed)
MEME FOR THE DAY:
SOURCE:
WHITE NATION– WE DO NOT HATE WHITE LIBERALS– WE SIMPLY DESPISE THE FILTH!!
C'MON- SHARE OUR LINK