Do you have news to tell us? Send your e.mails with news and inquiries to: w.nation@mail.com
Register to follow our news on the right-hand tab
OR
Register for free on  our social site HERE to join our world for more news
Article posted  by: White Nation Correspondent Potchefstroom April 25  2020
ALSO VISIT:
DA accuses De Lille of constructing a R37-million 'washing line' between SA and Zimbabwe
Whites Banned from Receiving Government Aid in South Africa during World Covid-19 Crisis
Lockdown: ANC communist regime to build temporary wooden houses in bid to aid physical distancing
Now the Chinese are buying more land in South Africa- our country sold piece-by-piece
Ramaphosa: " Not apartheid again" after 26 years (under virus cover)
How SA schools now plans to even keep kids apart
Korean Peninsula expert believes North Korea's Kim Jong Un is dead; pictures, reports flood social media
The rich criminals behind the "Covid-19" scam
Killing Capitalism: 10,000s Of U.S. Businesses Permanently Shuttered by Covid-19
WHO Official: It's Time To Remove People From Their Homes & COVID Task Force Admits Inflated Numbers
Study Shows Direct Correlation between 5G Networks and "Coronavirus" Outbreaks
American billionaires have gotten $280 billion richer since the start of the COVID-19 pandemic
4 Pilots do a final farewell fly-by as the 43 year old South African Airways now will be shut down due to ANC incompetence, corruption- and mismanagement.
SOUTH AFRICA– A FAILED LAND OF COMMUNIST ANC ORGANIZED CRIME : THE  PIRATE's REALM DOWN SOUTH
" Corona is a geopolitical operation by the "global elite"- and their "depopulation agenda" is real. Isolation imprisonment makes people sick and kills them. Gun control was designed to take away your freedoms. Political correctness was designed to take away your freedom of speech. Social distancing was designed to take away your right to assemble. Your face mask was designed to be your muzzle & handcuffs. Being quarantined to your house was designed to be your jail cell. The vaccine/microchip is designed to guarantee that the things listed above remain permanent. The coronavirus was designed to distract you from these facts, while you willingly give up your freedoms."American billionaires have gotten $280 billion richer since the start of the Covid-19 pandemic.This is nothing but an exercise in mind control, the sheeple puppets are dancing in tune to the puppet masters performing most excellently.The MSM and NWO have you well under control. "-Annon
VACCINES VACCINES 💉 Great news and a big win!! Dr. Scott

Posted by Scott Perlman on Friday, April 24, 2020
CYRIL RAMAPHOSA– after having a furious battle not to strangle himself with his own face  mask on national TV- announced that South Africa's House arrest of all it's citizens will continue.- although on a "parole" basis whereby some restrictions were relaxed and according to the ANC's "Load-Shedding" model- South Africa now moves to "Stage 4" out of a possible 5 stages.
Said the Squirrel: " Beyond Thursday the 30th of April we will implement a risk adjusted strategy to take a deliberate and cautious approach to ease lockdown restrictions,The strategy we take now must be measured and incremental. We cannot take action today that we deeply regret tomorrow. We have to balance the need to resume economic activity with the need to save lives. While a nationwide lockdown is probably the best means to contain the virus, it cannot be sustained indefinitely. Our people need to eat. They need to earn a living. Companies need to generate revenue." Ramaphosa said some businesses would be allowed to resume operations under specific conditions. The return of the workforce will be no more than one-third per business. A work from home strategy is still encouraged." The Squirrel had a little "pep talk" to "soften" the "piepol" how "we all must suffer and sacrifice"  before he dropped another "clanger" that the ANC "parole board " decided NOT to approve unconditional parole to the nation- but as we expected- the incarceration will continue into May 2020. Mean-while we are still trying to figure out what the Squirrel and his motley crew of ANC zoo animals in Lethuli-House so far has "sacrificed" to substantiate the Squirrel to place them on the same level of hardship the rest of the country's people and businesses have to endure now.
Ramaphosa...first hard-line communist, then party supporter, then his own ego and bank account -then maybe the country. That is how his priorities work!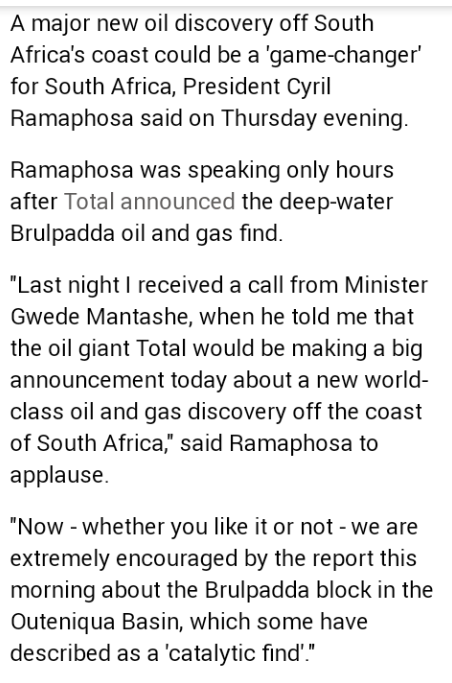 Total SA shareholders : WMC (DA & #CR17 funders),SACP,ANCstalwarts,Gordhan & Manuel families. Connect th dots South Africa . 2014:Cyril Ramaphosa sells his stake to hs CLOSE FRIEND,Phuthuma Nhleko 2015:Nhleko & Rupert form PEMBANI REMGRO 2019:Total "discover" oil & gas *Nhleko to make R685 BLN frm Total "discovery" SACP,COSATU,Gordhan & Jay Naidoo's SHAREHOLDING thru REMGRO . RMB,RMI,FirstRand,KTH,TOTAL,eTv,eNCa,Distel,Unilever,Implats,TransHex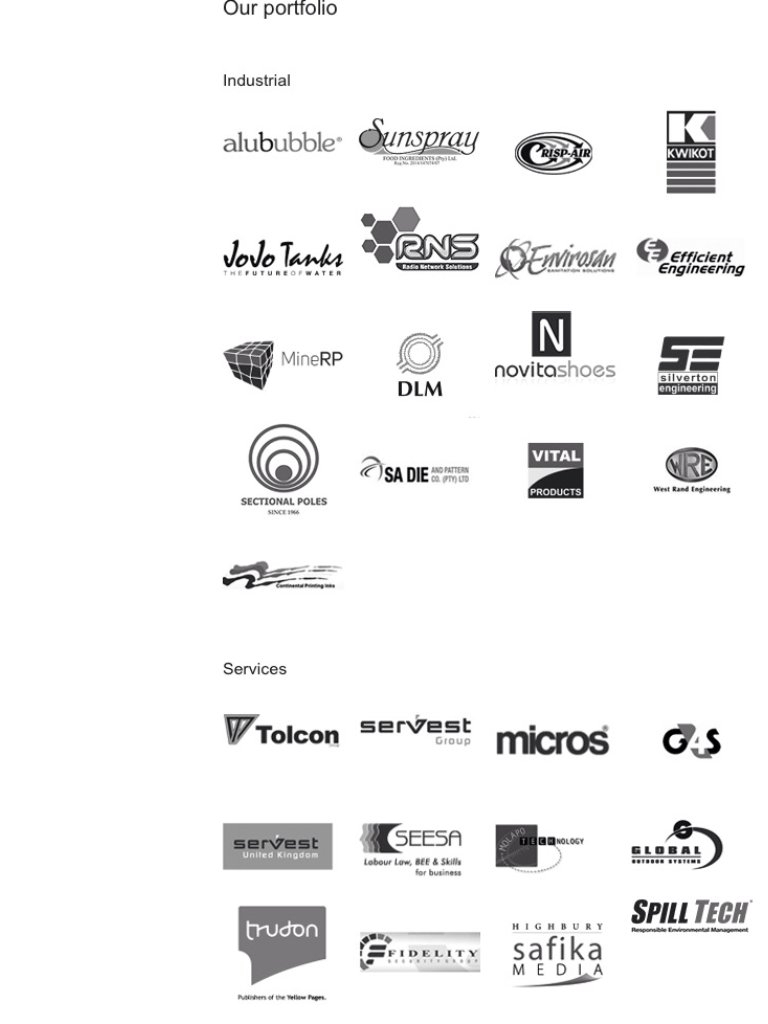 : How to create a social state by Saul Alinsky:
There are 8 levels of control that must be obtained before you are able to create a social state.
The first is the most important.
1) Healthcare — Control healthcare and you control the people
2) Poverty — Increase the Poverty level as high as possible, poor people are easier to control and will not fight back if you are providing everything for them to live.
3) Debt — Increase the debt to an unsustainable level. That way you are able to increase taxes, and this will produce more poverty.
4) Gun Control — Remove the ability to defend themselves from the Government. That way you are able to create a police state.
5) Welfare — Take control of every aspect of their lives (Food, Housing, and Income).
6) Education — Take control of what people read and listen to — take control of what children learn in school.
7) Religion — Remove the belief in the God from the Government and schools.
8) Class Warfare — Divide the people into the wealthy and the poor. This will cause more discontent and it will be easier to take (Tax) the wealthy with the support of the poor.
Now, think …
Does any of this sound like what is happening to South Africa?
You may be able to buy cigarettes next Friday when South Africa's stringent lockdown regulations ease, but alcohol and takeaway food will still be off-limits, according to a 27-page document that spells out how lockdown will end in the country. In addition, you will not be able to move between provinces. The document which was discussed by Cabinet this week and the contents of which  Cyril Ramaphosa used during his Thursday night address to the nation outlines the five stages of that government will implement. Level 5, the most stringent of the levels which the country is currently under will be eased to Level 4 on May 1 which will see certain sectors of the economy resume. However, it does not permit gatherings of more than 10 people outside of a workplace while passengers on all modes of transport must wear a cloth mask to be allowed entry into the vehicle. Hand sanitisers must be made available and all passengers must sanitise their hands before embarking. While Ramaphosa gave smokers some relief by saying that tobacco will go on sale from May 1, under the regulations of level 4, alcohol will not be sold as this is only permitted under level 3.
Ramaphosa, however, left the door open to the liquor industry – and other industries – to make representations to the government before the new regulations are promulgated. Under level 4 coronavirus lockdown, according to the document, sectors permitted to work are all essential services, plus food retail stores already permitted to be open permitted may sell their full line of products within the existing stock. In addition, all agriculture (horticulture, export agriculture including wool and wine, floriculture and horticulture, and related processing) may operate as well as Forestry, pulp and paper. According to the document, mining; open cast mines can operate at 100% capacity and all other mines at 50% while all financial and professional services may operate. Global business services for export markets will also go back to work along with postal and telecommunications services. Fibre optic and IT services. Formal waste recycling (glass, plastic, paper and metal) too.
Ramaphosa said on Thursday that the relevant ministers would provide a detailed briefing on the classification of industries and how each is affected at each level. "We will give all industry bodies an opportunity to consider these details and, should they wish, to make submissions before new regulations are gazetted," the president said. Transport services that can operate will include bus services, taxi services, e-hailing and private motor vehicles may operate at all times of the day, with limitations on vehicle capacity and stringent hygiene requirements. However, in terms of movement, people cannot move between provinces except for the transportation of goods and exceptional circumstances (e.g. funerals). No International travel except the repatriation of South African citizens will be allowed.
Here are the restrictions the government document says will remain in place after the national lockdown, and regardless of the level of alert at any given time:
Sit-in restaurants and hotels
* Bars and shebeens
* Conference and convention centres
* Entertainment venues, including cinemas, theatres, and concerts
* Sporting events
* Religious, cultural and social gatherings
* No gatherings of more than 10 people outside of a workplace will be permitted.
* Passengers on all modes of transport must wear a cloth mask to be allowed entry into the vehicle.
* Hand sanitisers must be made available, and all passengers must sanitise their hands before entering.
* Public transport vehicles must be sanitised on a daily basis.
https://www.facebook.com/ronel.storm/videos/2936949449719419/?t=16
HOWEVER – news has reached our royal ears that (a) Curfews was placed on movement between 20h00 and 05h00 am with yea- the usual load of threats accompanying it if a poor soul dare put his foot outside his/her door. White Nation could not verify this preposterous  communist order as ye- but it appears to be the case. Then we suddenly  received an SMS from the Lords of the flies that read: " FULL LOCK-DOWN- STAGE 5 again on 25/04/2020 at 16h36 JUST to make sure you are intimidated 24/7.  So now the commi gods start to play "Eskom loadshedding" games with their Covid-19 games as well!
40% Of the workforce = 1 500 000 workers. 100% must be under 4 000 000 workers. Out of a possible population of 60 000 000 we have a PAYE tax base of about 7.5%.  Can you see the problem?
This "Covid-19" is nothing but an exercise in mind control, the "sheeple " puppets are dancing in tune to the puppet masters performing most excellently.The MSM and NWO have you well under control.
Then also were we enlightened that (b) from Olifantsfonteinin Gaggateng right through to Brakpan more than 80 5 G towers suddenly sprung up during this "Lock-down"– and that it is a tendency that is happening  country-wide. RAIN – 5G   ( in which bra' Motsepe has a 26% share) already launched  in South Africa. RAIN has officially launched its 5G service to the public, offering unlimited data at speeds of up to 700Mbps at R1,000 per month. … The company has now opened its network to anyone who has 5G coverage and has made its latest 5G coverage map available online. As you can see- they have been BUSY while the poor naive  monkeys were caged…not so? Patrice Motsepe must be  laughing his bloody head off at the ease how his "Bro-in-law" bamboozled the country into house arrest submission and kept them occupied with all kinds of "Covid-19" fun and games and bullsh*t "laws" while their 5G Goose is busy laying hundreds of  golden eggs for them. Is this why the Squirrel very "diplomatically" are "sacrificing" the populace for another month again- so bra' Motsepe's chain gang can complete their first objective to sow 700 of this deadly viruses across the land?
We also learned that " Mr. Death" himself- Bill Gates– also paid a visit to his prospective lab bunnies in Khayelitsha this past week. Bill Gates visited Khayelitsha in Cape Town on Friday. With his she-thing  Melinda, they braced the rain to visit Inkanini Primary School, a new state school that opened in the Zwelitsha informal settlement in Khayelitsha last year, Gallo reported. The school has some 560 learners.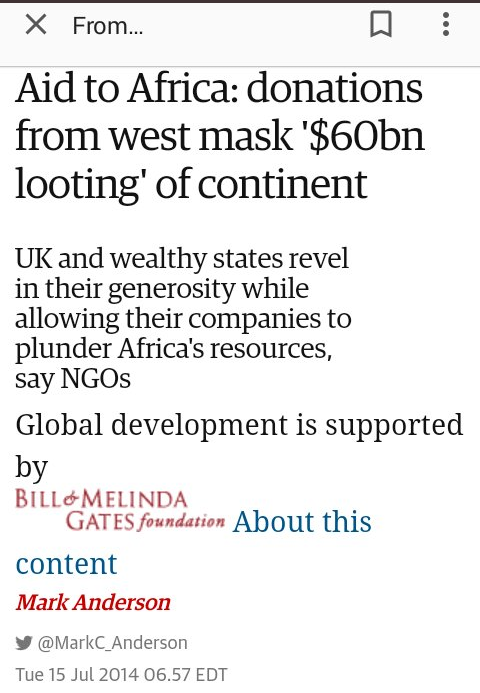 The CNN brigade's theory on vaccines:" Because your body does not built up immunity against corona and you therefore can get it more than once, the only cure is to be vaccinated with the virus for your body to built up immunity."  Okay read that again. Slowly if need be. Take all the time you need.
Then we also heard that the ANC is quite busy siphoning all their previously planned hidden dirty plans into the system under the protective veil of the "Covid-19" as well. The ANC Rat-Pack Inc.  will consider a proposal for a one-off wealth tax during an economic recovery planning meeting on Monday, according to a report in Rapport newspaper. Such a tax could assist ( read Black) Africa's most industrialized economy as it bounces back from the coronavirus outbreak and a five-week lock-down that is scheduled to be lifted on 30 April. The proposal comes from a group of economists, led by former South African National Treasury budget chief- Jew  Michael Sachs, the local newspaper reported, citing a plan that was presented to the cabinet last week.
ANOTHER one of the Squirrels hidden agendas under the "Covid-19" veil?
MORE hidden surprises from the Squirrel hidden under the "Covid" veil- but the white farmers of Middelburg have to SIT in jail…no parole.
-and still MORE surprises from Squirrel again hidden under the "Corona" veil? Are the liberals and the "Anti- Apartheid"  and "Mandela" screamers still thoroughly enjoying their beautiful "democracy?" 
Belarusian President Alexander Lukashenko has pinned what Ramaphosa is trying to do very accurately when he  expressed concerns over how powerful nations and interests may try to use the coronavirus pandemic to reshape the world to their own advantage. "I once asked the question: is this pandemic, this coronavirus, a man-made phenomenon? I don't know the answer yet, but I have my suspicions. Are politicians and others using this situation for their own purposes? You and I both know the answer to that question. You already see how it is used today…Doesn't it seem to you that the powerful forces of the world would like to remake the world, without a 'war' (Emmanuel Macron has already called it a war), through this so-called 'corona-psychosis', or 'info-demic'? Many people are asking: 'what will happen after the pandemic?'" Lukashenko said, speaking to Mir TV in an interview airing Friday."
SA "Covid-19"  models flawed?
The modelling of how many people would contract Covid-19 and die was "flawed and illogical and made wild assumptions", says Prof Shabhir Madhi, the former head of SA's National Institute for Communicable Diseases (NICD). It's an important claim not just because of Madhi's stature (he also co-ran the SA Medical Research Council), but also because the Covid-19 model, which suggested between 87,000 and 350,000 deaths, was instrumental in the government's decision to implement a lockdown The government's initial model also predicted that 600 Covid-19 patients would need treatment in intensive care units (ICU) in SA by April 1. But by April 18, the last publicly released figures showed there were 32 Covid-19 patients in ICU.
While the lockdown would have slowed the spread of the disease, it had only been in place for four days by April 1, so this was likely not the reason why there were so few ICU patients. Madhi says the initial modelling and fatality estimates were "back-of-envelope calculations". The models were prepared by the SA Centre for Epidemiological Modelling & Analysis (Sacema) at Stellenbosch University, as well as the NICD. They used data from Wuhan, the Chinese city where the outbreak began. The Sacema model modeled its fatality projections around different scenarios in which 10%, 20% and 40% of the population contracted the virus. Madhi says he raised problems with the model at the time. Nowhere in the world – not even in Wuhan – had 10% of the population contracted the virus. "I told them that at the start, this is implausible," he tells the FM.
He claims the model was not sufficiently flexible to adjust for infection rates, depending on how many other people in the population had contracted the virus. As it is, the more people who are infected, the fewer new people a contagious person can potentially affect. This week, the FM asked Prof Juliet Pulliam, the head of Sacema, why their model was based on a minimum 10% infection rate, and whether they still believed deaths would be as high as initially predicted. Pulliam responds: "The model you refer to was a preliminary assessment that was based on the best available information at the time. A new modelling report will be released by the NICD [this week]."
 However,Sacema's model, which was instrumental in shaping public policy, could have been distributed for review by other experts in real time. This is an approach adopted by some other countries. In its defense, Sacema's model isn't the only one to be adjusted downwards. The UK's Imperial College London initially predicted huge numbers of deaths, including 2.2-million in the US, but this has since been toned down. However, its initial figure of 350,000 deaths was frightening – 10 times more than the number of people who die annually of tuberculosis, SA's biggest killer. Madhi says those mortality rates were based on "wild assumptions". Madhi himself estimates that over the next two years, there may be 43,000 Covid-19 fatalities in SA, as the virus waxes and wanes. This year, he estimates there will be 25,000 deaths.
Wanted: a smarter strategic response
That 25,000 number sounds high, but Madhi says that's probably equal to the number of people who die of TB in SA each year, which would never lead to a national lockdown. In part, he says, this is because TB is out of sight – a disease of the poor which predominantly kills in the rural areas. Stats SA figures show that in 2017, 25,336 people died of diabetes and 22,259 died of cerebrovascular disease, which includes strokes and aneurysms. That year, 28,678 people died of TB. Madhi says the Covid-19 deaths, however, are likely to happen within a short period, during winter when hospitals typically have high numbers of flu cases too. Typically, hospital wards reach 90% capacity with peak flu cases, and Covid-19 could make this a lot worse. This appears to have been the rationale behind locking down the country and slowing transmission. However, public opposition to the lockdown has grown steadily as the economic situation worsens: experts estimate that more than 1-million people will lose their jobs and the economy will shrink by more than 6%. Madhi also warns that no-one is modelling the "collateral damage" of the lockdown, and the impact of the economic meltdown on disease and death.At this point, the economic impact is unclear. Neither economists nor business leaders have provided any estimates of "life years lost" because of the increase in unemployment. However, as Madhi says, poverty can make things worse. It increases the risk of contracting TB in high-density settings like informal settings and fuels HIV infections as women trade sex for money, to cite just two examples.
THIS is the discriminating bullsh*t happening in South Africa- poor whites do not qualify for emergency relief food- but blacks receive food with one hand- and have enough money to buy booze with the other!
However– hospitals getpaid more if patients are listed as COVID-19and on ventilators as TRUE. Hospitals and doctors do get paid more for Medicare patients diagnosed with COVID-19 or if it's considered presumed they have COVID-19 absent a laboratory-confirmed test, and three times more if placed on a ventilator to cover the cost of care and loss of business resulting from a shift in focus to treat COVID-19 cases. This higher allocation of funds has been made possible under the CARES Act through a Medicare 20% add-on to its regular DRG payment for COVID-19 patients, as verified by USA TODAY through the American Hospital Association Special Bulletin on the topic.
WHAT A BEAUTIFUL notion and such good intentions of a strong government- was it not that this is just cheap propaganda for academical value because when anybody else or government promised this- there would be a degree of credibility in their promises. BUT we are talking about the corrupt ANC here- and worst of all- it is their ultra corrupt head-boy Ramaphosa's mug that appears on the campaign advert.  Trying to soft soap and suck up some black arse after you inflicted collateral damage to the economy for your own selfish agendas is a little too arrogant and far fetched – even for the "piepol." Ramaphosa should tell the "peipol" also where he got all that money from (China, IMF?)- and why he and his mobsters are not using all that stashed gold worth R 76 million in te Bank of England which after all belong to the "piepol" to pay for this"Corona"-thing and not taking out loans he and the other communist ANC/SACP  mudsharks will not be able to pay back any case. 
Yes, the ANC's vision was that they would've take over all the properties, infrastructure, businesses and riches build up over decades by the minority white population, and all would've been in paradise! What actually happened the ANC made it a grab festival ! Steal as much as you can as soon as possible! Sell the country to the Gupta's and Chinese for a few silver dollars. Destroy all the state owned entities, let crime and corruption flourish, and then blame it on apartheid!!
Filling the empty coffers with loans and donations.
Ramaphosa and Trump had 'productive phone call' about Covid-19 The US government this week increased its financial commitment to aid the country's coronavirus efforts to about R410 million. Then Ramaphosa also  announced an unprecedented R500 billion social and economic support package to mitigate the impact of the coronavirus pandemic on Tuesday evening. Where the Squirrel will rake that kind of money from is still a mystery- but we suspect either the IMF ir China somehow is in the equation or the pension funds will be plundered again. The Oppenheimers , Ruperts , Patrice Motsepe & friends and NASPERS  all also pledged R 1 Billion  each for the "Corona-thing. " Germany pledged R 2.5 million and Switzerland also pledged money to the coffers. To date, the World Bank, International Monetary Fund, BRICS New Development Bank and the African Development Bank have been approached and are working with the National Treasury on various funding transactions. This funding will be used, in the first instance, to fund the health response to coronavirus. An amount of R20 billion will be directed to South Africa  to address the "pandemic." Additional funding of R20 billion will therefore be made available to municipalities for the provision of emergency water supply, increased sanitation of public transport and facilities, and providing food and shelter for the homeless.  R50 billion  will be directed towards relieving the plight of those who are most desperately affected by the "coronavirus."
NO help to white farmers with the R 500 billion Cyril received. BUT Cyril quickly cried for help from the white farmer to deliver food to the poor! Click on link.
https://web.facebook.com/outydse.boerevlae/videos/148379076696387/?t=20
Now when you look at the figures of the loans and pledges it surely makes one's mind dazzle. When these guns are firing- they like shoot BIG missiles…BILLION dollar missiles that is. Now one cannot help to wonder just how much of this humongous amounts will really be reaching their target beneficiaries…and how much will again by "accident" land in the "lined pockets " of ANC looters as so many times before? Even the Black Business Council president Sandile Zungu said a number of business leaders he has already spoken to about the R500bn fund, earmarked for the poor and struggling businesses during the Covid-19 lockdown period, were worried some of the funds would be looted. "When you look at social media, the biggest concern is that this money might suffer the same fate as other big projects where the corrupt loot money. But in this case, it may not happen, depending on how sharp are government systems," said Zungu. We suppose this will be a "wait-and-see" game as we are so used to the ANC cadavers helping themselves abundantly when this kind of money goes floating around. hat appears to be strange is that the Squirrel now runs around looking for financial aid- YET the Bank of England and  offshore centers are holding SA gold worth R75 Bn.  The auditors naturally declined to give details on the cost of storage,transport & transacting except to say that the storage costs were minuscule when compared wit the value of GOLD being stored! Why is the Squirrel not mentioning this in his applications for loans and donations? What is the ANC planning to do with this  little off-shore "investment? OR will it be added to the R 780 Billion that already mysteriously "disappeared this past 25 years as well?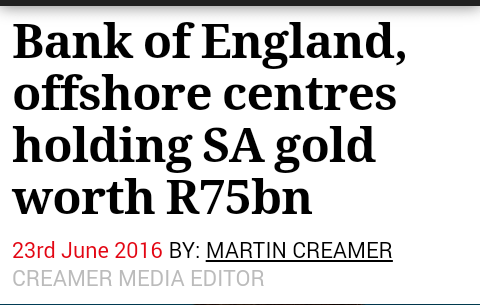 DA MP for labour Michael Bagraim gives feed back on the non payments of UIF. The Government isn't able to pay them out. This is shocking!!!

Posted by Cllr Sarah Wissler on Sunday, April 19, 2020
The horrible aftermath of Ramaphosa's "lock-down " and brutal anti-white racism now shows it's head:
" We will kill your family and burn your house down!" Such is the wording used by ANC supporters in the small town of Venterspos to Mrs. Demi van Wyk, a local resident, while she distributed food parcels delivered to her from her private friends yesterday 23 April. (Mrs. Van Wyk founded an organisation entitled "Indigo Helping Hand" which assists poor white families in her district with food and other supplies.)

On 7 April, a group of ANC supporters wearing ANC t-shirts arrived in Venterspos to deliver food parcels to residents. These deliveries were government deliveries. Mrs. Van Wyk and her friends had been told there would be government food parcels handouts during the day and Mrs. Van Wyk and some friends waited more than three hours for the delivery. When the so-called government delivery arrived under the auspices of people in ANC T-shirts, these cadres gave all the food parcels to local blacks. When informed by Mrs. Van Wyk that the food parcels were paid for by South Africa's taxpayers, she was told that none of the town's whites were on their so-called delivery list. There are some 250 white families in the town, most of them unemployed.

Under the circumstances, Mrs. Van Wyk called some friends of hers who eventually delivered food to her house. Local blacks then confronted her and demanded food parcels. When Mrs. Van Wyk said that the deliveries to her house were from friends, the blacks threatened violence, telling her they would kill her and burn down her house.  Because of these threats, Mrs. Van Wyk was forced to hand over their privately donated food to the black mob. She is alone tonight in her house with her family in the knowledge that her house could be burnt down as was threatened by the black mob. Photos were taken by several ANC cadres of her house over the past few days. Mrs. Van Wyk's husband is disabled and they have two children.
Continual black harassment followed, causing Mrs. Van Wyk to visit the Westonaria police station where she obtained a Restraining Order stating that the blacks were not to harass her.

Today 24 April :
Very recently there was another so-called government delivery by ANC cadres where their delivery vehicle proceeded to a black residential areas. These vehicles passed by white residents who were waiting for the food. The whites were completely ignored. This surely reveals the complete inability of the ANC government to organize even food deliveries. A logistical nightmare awaits South Africa is this is an example of  Ramaphosa's policies. There is no supervision and ANC supporters do what they want with taxpayer-funded food. What will happen to the money destined to be distributed throughout South Africa to ward off hunger? Will it be stolen by ANC cadres as South Africa has been plundered by Ramaphosa's ANC over the past 27 years?is their pattern of plundering of South Africa over the past 27 years?. How is Ramaphosa going to solve this problem which is in the DNA of the his party? For further information phone Mrs. Demi van Wyk at 063 518 1139.

Issued by S. Oosthuizen
Bringing in the military- instruction letter hurried through- something very wrong here!
WHEN a president who usually pretend to be  so focused and "politically correct" on following correct processes goes astray like this, it signifies something is potentially very, very wrong. And when the military decides to dis accountability to Parliament – it is time to raise the alarm.  Cyril Ramaphosa's misdirection of the constitutionally required SANDF deployment letter for SA's largest-ever military mobilization to a parliamentary committee and not Parliament's leadership, raises questions. As does Wednesday's securocrat conduct by top defence generals before the Joint Standing Committee on Defence. The charitable explanation for it would be the Presidency made a mistake sending the deployment authorization letter required in terms of Section 2o1(2) of the Constitution to the co-chairpersons of the Joint Standing Committee on Defence. In this specific acse the Presidency is bypassing traditional and established correct channels of cooperation between the executive and legislative spheres of state.
In South Africa's constitutional democracy, the head of the executive, the president, writes to the leaders of the legislative sphere, Parliament's presiding officers. The speaker of the National Assembly and the chairperson of the National Council of Provinces (NCOP) then formally refer such communication to the defense committee – and the presidential letters are published in the Announcements, Tablings and Committee Reports (ATC), or the record of Parliament's work. Then the Joint Standing Committee on Defence meets to discuss and deliberate on the deployment authorization to consider whether or not to support it. The committee's decision goes to the Houses for approval. Tedious? Maybe. But this process is a crucial part of the checks and balances, and imperative for cooperative governance and accountability in South Africa's constitutional democracy. Little of this happened with Ramaphosa's letter dated 21 April 2020. Ramaphosa appeared to be playing a George Bush/Weapons of Mass Destruction game here.

These "well trained" South African police officers are keeping the lines at the grocery stores safe from the coronavirus. You can clearly see how safe the citizens feel. Well done SAPS and much respect
That one-pager says the president decided "to employ  an additional 73,180 members of the SANDF", from the regular force, auxiliaries and reservists, until 26 June 2020 at a cost of R4.59-billion because "(t)he outbreak of Covid-19 continues to increase with reported cases across the Republic of South Africa". As military researchers African Defence Review say, it is SA's biggest-ever SANDF deployment, at least on paper, although it remains to be seen how it will unfold in practice. The timeline of this constitutionally required presidential letter is important. That letter was sent to the chairpersons of the Joint Standing Committee on Defence the same day it was written, 21 April. Co-chairperson Cyril Xaba is on public record saying he distributed the letter to committee members. By 8.03pm that letter was tweeted by DA interim leader John Steenhuisen, who added: "I have requested the presidency to urgently confirm this information".
At 11pm, according to the posting time-stamp on Parliament's website, the defence committee announced it was holding a meeting the next day, Wednesday 22 April, "to consider the letter from the President on the Employment of the South African National Defence Force (SANDF)" alongside other Covid-19 lockdown related matters and a report back by the Military Ombud on complaints against soldiers. At noon on Wednesday, Defence Minister Nosiviwe Mapisa-Nqakula and her deputy were ready to brief parliamentarians together with SANDF Chief of Staff Lieutenant-General Lindile Yam, SANDF Chief of Joint Operations Lieutenant-General Rudzani Maphwanya and Defence Secretary Sam Gulube. Over the next three hours, the Joint Standing Committee on Defence proceeded to consider – and ultimately approve – this presidential Covid-19 lockdown deployment letter, the letter dated 25 March authorizing the first such deployment, and letters for the repatriation of South Africans form the coronavirus epicentre of Wuhan and extending an existing SANDF deployment. "My response to that was it was the president's generosity to do that," said the defence minister. "My attention was brought to that, that during recess the president has an obligation to send a letter to the chairpersons. So there is nothing wrong."
Also on Wednesday 22 April, Parliament's presiding officers, Speaker Thandi Modise and NCOP Chairperson Amos Masondo, finally received that presidential deployment letter,  That letter – and the presiding officers' referral of it to committee – was rushed into the ATC, which was published after 4pm on Wednesday 22 April. This speed is highly unusual. It usually takes at least 24 hours for submitted documentation to be published. In an official statement, Parliament confirmed receipt of the presidential deployment letter, and publication in the ATC. But concerns must be raised that, without the letter having been ATC-ed, the Joint Standing Committee on Defence decided to approve its latest Covid-19 SANDF deployment. A case could well be made that it was incorrect of the committee to proceed – this flouted well-established parliamentary procedure, process and protocol – and that its decision is invalid. And questions also must be asked over the ready availability of the defense political and departmental leadership, at unusually short notice.
It's not up to the military to diss accountability to Parliament.

But the general seems to have an interesting view of South Africa's constitutional democracy with its three equal, independent but cooperating spheres of state – the executive, the legislature and the judiciary. But, according to Yam, "the state is an instrument of government to ensure law and order is enforced". He told parliamentarians: "You're not our clients. We are not the police. We take instructions from the commander-in-chief [Ramaphosa]." Except that the Constitution, in Section 198(d) as part of the governing principles for security services, clearly states, "National security is subject to the authority of Parliament and the national executive." It's not up to the military to diss accountability to Parliament. The securocrat comments from Yam are particularly concerning because as SANDF chief of staff he has a crucial role in drafting the deployed soldiers' rules of engagement for their part in the fight against the alleged  Covid-19 pandemic. The Joint Standing Committee on Defence did not challenge or rebuke generals Yam and Maphwanya. Eagle eyes must watch. It will be crucial for South Africa who wins in the dynamics bubbling under the Covid-19 public health emergency – the securocrats or the constitutionalists. The question remains why the Squirrel suddenly wants to bring in 75 000 soldiers for a flu virus "pandemic" that kills much less people than the biggest killer in South Africa- Tuberculiosis. Is Ramasquirrel afraid for a Tunisian Spring uprise maybe- or is the Squirrel busy implementing police-state like measures to test it's capability when a full communist state will  eventually be enforced?

THE Coronavirus Lockdown and What You Are Not Being Told by the Media
This is the statistics that reflects which illness kills the most people in the world. Now you will note this "Corona-thing" is like totally at the bottom of the list. And also please do remember that many of this alleged "deaths" are fake and figures tampered with as they with their reflection campaigns too. But still their "Corona" -thing is at the bottom of the list. Yet the whole world is in a state of chaos because of this? So who  or what is responsible for our global mess today? Surely according to the stats definitely NOT the "Corona"-thing…but the dark powers BEHIND the malicious propaganda campaigns that exploits this "Corona"-thing for much deeper agendas .
The planning of the fake virus- they already planned this "virus" a long time ago…:
EVEN Obama predicted this "Corona-thing" 5 years ago….
https://web.facebook.com/carlos.herckenrath/videos/10157225776603527/?t=1
SOMETHING for the "Covid-19" psychopaths to chew on…
Dr. Mohammad Adil was employed by The Royal Oldham Hospital, UK as a Consultant Colorectal Surgeon. Since he released his YouTube video (now removed) his employment has been terminated. The video clip above is a portion of the original video in which he elaborates his thoughts in greater detail.
LIVE: Local doctor from Accelerated Urgent Care gives his take on COVID-19 in Kern County

Posted by KGET – TV 17 Bakersfield on Wednesday, April 22, 2020
We have been given a very clear narrative about the declared coronavirus pandemic.
Dr. Scott Jensen, a Minnesota family physician who is also a Republican state senator, told "The Ingraham Angle" Wednesday that the Centers for Disease Control and Prevention's (CDC) guidelines for doctors to certify whether a patient has died of coronavirus are "ridiculous" and could be misleading the public. Host Laura Ingraham read Jensen the guidelines, which say: "In cases where a definite diagnosis of COVID cannot be made but is suspected or likely (e.g. the circumstances are compelling with a reasonable degree of certainty) it is acceptable to report COVID-19 on a death certificate as 'probable' or 'presumed.'" In response, Jensen told Ingraham the CDC's death certificate manual tells physicians to focus on "precision and specificity," but the coronavirus death certification guidance runs completely counter to that axiom.
"The idea that we are going to allow people to massage and sort of game the numbers is a real issue because we are going to undermine the [public] trust," he said. "And right now as we see politicians doing things that aren't necessarily motivated on fact and science, their trust in politicians is already wearing thin." Jensen gave a hypothetical example of a patient who died while suffering from influenza. If the patient was elderly and had symptoms like fever and cough a few days before passing away, the doctor explained, he would have listed "respiratory arrest" as the primary cause of death.
The New World Order wasted NO time in starting to chip the sheep!
AND Ramaphosa – a bum nugget of the New World Order- also wastes NO time in preparing the sheep down South for the same 666 treatment!
"I've never been encouraged to [notate 'influenza']," he said. "I would probably write 'respiratory arrest' to be the top line, and the underlying cause of this disease would be pneumonia … I might well put emphysema or congestive heart failure, but I would never put influenza down as the underlying cause of death and yet that's what we are being asked to do here." Jensen then told Ingraham that under the CDC guidelines, a patient who died after being hit by a bus and tested positive for coronavirus would be listed as having presumed to have "died from the virus " regardless of whatever damage was caused by the bus. "That doesn't make any sense," he said. Jensen also reacted to Dr. Anthony Fauci's response to a question about the potential for the number of coronavirus deaths being "padded," in which the NIAID director described the prevalance of "conspiracy theories" during "challenging" times in public health. "I would remind him that anytime health care intersects with dollars it gets awkward," Jensen said.
"Right now Medicare has determined that if you have a COVID-19 admission to the hospital you'll get paid $13,000. If that COVID-19 patient goes on a ventilator, you get $39,000; three times as much. Nobody can tell me, after 35 years in the world of medicine, that sometimes those kinds of things [have] impact on what we do. "Some physicians really have a bent towards public health and they will put down influenza or whatever because that's their preference," Jensen added. "I try to stay very specific, very precise. If I know I've got pneumonia, that's what's going on the death certificate. I'm not going to add stuff just because it's convenient."
SOUTH AFRICA and the world has passed legislation, in the form of the "Coronavirus Act, "- to compel people to self isolate and practice social distancing in order to delay the spread of SARS-CoV-2 (SC2). We are told this "lockdown", a common prison term, is essential. We are also told that SC2 has been clearly identified to be the virus which causes the COVID 19 syndrome.
Necessary? Lawful?
At the time of writing SC2 is said to have infected "thousands of people " with "thousands of people " supposedly dying of COVID 19 in the world. This case fatality ration is seemingly one of the worst in the world. Some reading this may baulk at use of words like "seemingly"and "alleged" in reference to these statistics. The Main Stream Media have been leading the charge to cast anyone who questions the State's "coronavirus " narrative as "putting lives at risk. " The claim being that questioning what we are told by the State, its officials and undermines the lockdown. The lockdown is, we are told, "essential to save lives." It is possible both to support the precautionary principle and question the lockdown. Questioning the scientific and statistical evidence base, supposedly justifying the complete removal of our civil liberties, does not mean those doing so care nothing for their fellow citizens. On the contrary, many of us are extremely concerned about the impact of the lockdown on everyone. It is desperately sad to see people blindly support their own house arrest while attacking anyone who questions the necessity for it.
The knee jerk reaction, assuming any questioning of the lockdown demonstrates a cavalier, uncaring disregard is puerile. Grown adults shouldn't simply believe everything they are told like mindless idiots. Critical thinking and asking questions is never "bad" under any circumstances whatsoever. Only the State, with the unwavering support of its Media propaganda operation, enforces unanimity of thought. If a system cannot withstand questioning it suggests it is built upon shaky foundations and probably not worth maintaining. Yet perhaps it is what we are not told that is more telling. Among the many things we are not told is how many lives the lockdown will ruin and end prematurely. Are these lives irrelevant? We are not told the evidence for the existence of a virus called SARS-CoV-2 is highly questionable and the tests for it unreliable; we are not told that the numbers of deaths reportedly caused by COVID 19 is statistically vague, seemingly deliberately so; we are not told that these deaths are well within the normal range of excess winter mortality and we are not told that in previous years excess winter deaths have been higher than they are now.
Big League Politics has reported on the phenomenon of so-called "first responders" in hospitals twerking, performing coordinated dance routines, and producing social media content while on the job during the coronavirus pandemic. While wall-to-wall propaganda constantly deifies health care professionals as committing some kind of heroic sacrifice, the scenes inside of hospitals nationwide show them bored and having no work to do as hospitals lay off employees nationwide. With the doomsday predictions from the globalist "experts" now proven to be false, medical workers have a great deal of free time on their hands as they sit around in empty hospitals. A new crop of videos have emerged of first responders getting creative to fight the boredom with the coronavirus pandemic not living up to the hype. Trending: Georgia Democrat Who Endorses Trump Abandons Plans to Resign, Will Defy Bullying of the Left A diverse group of ladies decided to get their twerk on while cleaning down some medical equipment:
The hospital videos keep on coming. pic.twitter.com/Z6k5xnWil6

— Vertue (@VertueCo) April 16, 2020
Hello ma'am I need a physical pic.twitter.com/dcAU0hhX0O

— Hit or Miss DSA (@HitorMissDSA) April 25, 2020
THIS is the "overpopulated"hospitals with "hundreds" of "positive" and dead patients  CNN and the rest of the 'Barf" media want you to believe Corona now created.
We didn't need to destroy the economy in response to those, far worse, periods of loss so why do we need to do so for this? The irony shouldn't be overlooked. Directly contradicting the Main Stream Media pulp assumes we are all so stupid we won't notice their perpetual spin and evidence-free claims. The UK's national broadcaster the BBC is perhaps the worst of all the disinformation propagandists. The sheer volume of disinformation they are pumping out is quite breathtaking. The Declaration of Human Rights spells out what freedom of expression means. All human beings are born free with equal dignity and rights. All are afforded these rights without any distinction at all. "Everyone has the right to freedom of opinion and expression; this right includes freedom to hold opinions without interference and to seek, receive and impart information and ideas through any media and regardless of frontiers." The media, who obviously couldn't care less about human rights, gleefully supported the censorship of so called conspiracy theorist David Icke. They did so by spreading disinformation. Icke raised concerns about the possible link between 5G and the spread of coronavirus. He did not incite violence, as suggested in the BBC's disinformation. The BBC misled the public utterly when they stated: "Conspiracy theories linking 5G signals to the coronavirus pandemic continue to spread despite there being no evidence the mobile phone signals pose a health risk."
While I agree with the media that there is no evidence of a link between 5G and the apparent coronavirus, we certainly can't rule it out. Because the second half of their statement, that there is no evidence that mobile signals pose a health risk, was a mendacious deceit. There is a wealth of evidence of that risk. The leading medical journal The Lancet noted these risks in 2018: "The mounting scientific evidence suggests that prolonged exposure to radiofrequency electromagnetic radiation has serious biological and health effects." Why are the media so willing to mislead the public and expose them to unnecessary health harms? Is it deliberate or are they just shoddy journalists? Either way, quite clearly they are habitual pedlars of disinformation. They appear to no better than the worst clickbait sites that have proliferated over recent years. The Main stream media is responsible for the majority of misinformation and disinformation circulating at the moment. We must diligently verify every claim they make and check the evidence ourselves. They are not to be trusted. As the media quite rightly points out: (If it's the Main stream media check to see if they offer any evidence at all or if it's just their opinion. If it's their opinion ignore it. It's almost certainly unfounded)
"Science led " means "Cherry  Picking science"
All world nations has been keen to insist that we all believe their lockdown response is led by the science. However they have cherry picked the science to roll out the lockdown and ignored the considerable scientific evidence which contradicts it. Both the UK and U.S. governments as well as South Africa used the computer models of Imperial College London (ICL), predicting " millions of deaths," to justify the removal of our civil liberties. Almost as soon as the lockdown was in place the scientists, having launched their vaccine research fund raiser, downgraded their projections from an estimated 550,000 deaths in the UK to 20,000 or even lower. Neil Furguson, the very questionable  lead scientist responsible for the initial ICL report stated that they had revised the figures because of the effectiveness of the lockdown safety measures. Claiming the lockdown would need to last for at least 18 months until a vaccine is found. ICL are grant recipients of the Bill and Melinda Gates Foundation.They have shown no interests at all in researching possible preventative treatments, reducing the need for a vaccine, such as hydroxychloroquine.
The initial ICL computer models were based upon unproven assumptions. They assumed that SC2 would spread like influenza. This was contrary to the findings of the World Health Organisation -who stated both that SC2 did not appear to spread as quickly as influenza and was less virulent. The WHO found up to a 20% infection rate, where people were exposed to SC2 in crowded settings for prolonged periods, and a 1-5% infection rate in the community. This was nothing like the spread of the 1918 H1N1 influenza pandemic. However, publishing their paper on March 16th, the ICL completely ignored the WHO research which was published a month earlier and stated, without any justification whatsoever:
"COVID-19, a virus with comparable lethality to H1N1 influenza in 1918"
Dr Knut M. Wittkowski
Public Health England (PHE) disagreed with ICL's evidence free assumptions and downgraded COVID 19 from a High Consequence Infectious Disease (HCID), due to relatively low mortality rates."

However, ignoring both the WHO and PHE, the UK , SA and US decided only the ICL knew what they were talking about. Cherry-picking their highly dubious research, they insisted the lockdown was necessary to "flatten the curve" and, in the UK, protect the NHS. The science the State has chosen to believe is the minority view it seems. Epidemiologists, epidemiological statisticians, microbiologists, mathematicians and many other scientists and academics the world over have repeatedly warned that the lockdown is precisely the wrong thing to do. COVID 19, the disease supposedly caused by SC2, is experienced as little more than a bad cough or cold by the vast majority of relatively healthy people. Dr Knut M. Wittkowski (Ph.D) is among the growing number of globally renowned scientists who question what we are told by the State and its MSM. In regard to both SC2 and COVID 19.
Dr Wittkowski stated:
"With all respiratory diseases, the only thing that stops the disease is herd immunity. About 80% of the people need to have had contact with the virus. it's very important to keep the schools open and kids mingling to spread the virus to get herd immunity as fast as possible, and then the elderly people, who should be separated, and the nursing homes should be closed during that time, can come back and meet their children and grandchildren after about 4 weeks when the virus has been exterminated….If we had herd immunity now, there couldn't be a second wave in autumn." Such scientists and academics are all completely ignored by the State. Yet they believe others, such as Professor Neil Ferguson and Professor Karine Lacombe without hesitation. Perhaps it is just a coincidence that the scientists the State chooses to believe overwhelmingly appear to have close links to the globalist foundations and pharmaceutical corporations developing the vaunted coronavirus vaccine.
This incisive video by Lesley Kushner explains how the CDC COVID-19 figures are manipulated.
Presumptive vs. Confirmed Cases
According to the CDC the data presented for the United States include both "confirmed" and "presumptive" positive cases of COVID-19 reported to the CDC or tested at CDC labs. The presumptive (PC) and confirmed cases (CC) are lumped together.  And the total number (PC + CC ) constitutes the basis for establishing the data for COVID-19 infection. It's like adding apples and oranges. The total figure (PC+CC) categorized as "Total cases" is meaningless. And there often no lab report. The figures do not measure positive COVID-19 Infection. And among those "total cases" are "recovered cases".
Fake Death Certificates. 
"Presumed" or "Contributed" is to be put on the Death Certificate, when there is absolutely no proof that COVID19 was the cause of death, nor was there a lab test indicating COVID-19 positive.
Are you sure of the "Corona virus" lock-down?
Those who reject all criticiam of the lockdown, and simply accept whatever the State tells them, presumably believe the State only has our best interests at heart and would never do anything to harm us. Perhaps they believe that to question the claims of the State can only ever be conspiracy theory. Certainly that's the message constantly reinforced by the Main Stream Media . However, there is also plenty of evidence that the State frequently deceives the public. We only need look to the WMD lies told to start an illegal Iraq war in 2003 to understand that the State is willing to further the interests of the powerful and cares little about lives lost in the effort. Therefore, in the world, it is worth recapping what it is we all are consenting to with the Coronavirus Act:
We consent to increased State surveillance of ourselves and our family.
We are happy that we could be detained, without charge, because some state official suspects, or claims they suspect, we may be infected.
It is fine with us that we or our loved ones can be sectioned under the Mental Health Act on the recommendation of a single doctor and neither we nor they need to have the protection of a second opinion before we are locked up.
We accept that the state can retain our biometric data and fingerprints for an extended period.
We consent that jury trials are a bit of an anachronism and Judges can hear more evidence by video or even audio link.
We think its fine that the evidence required, and processes undertaken, to determine and record our or our loved one's deaths can be eroded to the point where they can be registered by people with no medical or legal expertise at all.
We don't think the NHS needs to adhere to practice standards or bother with assessing the needs of some patients, especially older people.
We are also fine with the complete suspension of democracy.
We accept all of this based upon a unique subset of scientific opinion which, contrary to every known scientific principle, can never be questioned.
We agree with the Main stream media that people who question any aspect of the stories they tell us are dangerous because these people just don't care if their own loved ones die. Only true believers care about their families.
We also accept the need for the State to invest considerable resources creating counter disinformation units whose purpose is to censor anything and everything which questions our firmly held beliefs. The beliefs informed by the many of the same people doing the censoring.
– Dr. Sucharit Bhakdi -world leading microbiologist
https://www.facebook.com/ronel.storm/videos/2927661970648167/?t=3
I don't know about you, but I remain unconvinced by the evidence I've seen so far. I have no doubt that there is a health crisis and excess seasonal deaths, but I have seen no evidence at all that the numbers are unprecedented or unusual in any way. I accept that we should exercise the precautionary principle and take steps to limit the risks to the most vulnerable but I do not accept that the lockdown is the best way to go about it. Neither do I believe in all this unnecessary attached " essential goods" non-sense bans on what we are allowed to purchase and what not. What has a bag of nails or a tin of paint to do with a flu virus then? But you are controlled what is "essential" to buy and what not by bureaucrats that definitely has deeper hidden agendas and has no idea what IS essential to you and what not.  Nor do I see any necessity at all for all the other dictatorial clauses in the Coronavirus Act. I do not consent. If you think this will all be over soon and won't get worse I'm afraid you may be disappointing. The US, UK and South African  states have based this lockdown on the scientific rubbish spewed out by ICL.
Here's another one of the ICL's recommendations:
The major challenge of suppression is that this type of intensive intervention package – or something equivalently effective at reducing transmission – will need to be maintained until a vaccine becomes available (potentially 18 months or more)." There is nothing to suggest this isn't the intention of these States. Certainly voices in the U.S. are already indicating their desire for an 18 month lockdown. Apparently taking their cue directly from the discredited ICL report and steadfastly ignoring everything else. Nor should we assume the draconian powers seized by the state won't get worse. Most of this response is being driven by globalist policy emanating, on this occasion, from the Rockefeller controlled World Health Organisation. Speaking at the daily WHO press briefing on the March 30th Dr. Michael Ryan, Executive Director of the WHO Health Emergencies Programme, said: " Lockdowns and shutdowns really should just be part of an overall comprehensive strategy…..Most of the transmission that's actually happening in many countries now is happening in the household at family level Now we need to go and look in families to find those people who may be sick and remove them and isolate them in a safe and dignified manner."
Given that we now live in a de facto dictatorship there's no reason to believe that states across the globe won't use this as justification to start removing people from their homes. My hope is that sense will prevail and, as it becomes clear the pandemic is waning, public pressure will mount to repeal this dictatorial legislation. However, given some of the comments I have seen on social media over the last two weeks, the panic buying and attacks upon anyone questioning the State's narrative, it seems many people are so frightened they desperately need to believe the State is trying to save them. This now borders to mass brain washing by the Main Stream Media and the "Stockholm Syndrome." This fear is based upon apparent ignorance of the economic severity of the lockdown and the monumental health risk it poses. People don't seem to want to know there is considerable doubt the Coronavirus Act is even legal in international law. There is also doubt that SARS-CoV-2 is an identifiable virus and the statistics we are given may well be based upon tests that can't identify it anyway.

There is evidence that the statistics we have been given have been deliberately manipulated to exaggerate the health risk and there is no evidence these excess deaths are "unprecedented." Mean-while thousands of people lost their weekly and monthly income, thousands will be jobless as many small and medium companies closed down for good- and we can assure you the state – which is responsible for this economic disaster- will NOT remunerate these people for their financial losses. On the contrary does the sate receive literally billions in the form of "relief aid" from sympathetic donators abroad- which in any case will the lion share not reach the intended beneficiaries- but will again find it's way into the pockets of scrupulous party-affiliated bureaucrats. 
In South Africa however this figure seems to double every time the social media starts to oppose or question the validity of the figures given by the state as-if the state deliberately  is dragging out the lockdown in stages- and already has set a three month "lock-down" period 'till end August 2020 . Already many questions are asked about Ramaphosa's personal involvement with his brother in law-Patrice Motsepe and RAIN's   5G roll-out  that eerily happen to be at the same time of  this Corona "lockdown" exercise.  Then add to that the sudden deployment of the 75 000 soldiers to do what?
There simply are just too many discrepancies regarding this "Covid-19" exercise, too many unanswered questions- too much Main Stream Media involvement and disinformation, too much fear mongering,  bans, excessive and unnecessary exposure of a simple flu virus accompanied by   global hysteria and funding – and too much hidden agendas and oppressive  police-state like "laws"  involved in this so-called "Corona" disaster to attach any credibility to it anymore. We are living in the modern era- not in the Middle ages in some remote backward little country where the ruling "elite " can easily suppress the truth to promote their own selfish agendas anymore. The days of the paperback Main Stream Media mind manipulation by concubines of the government is over. Today with the internet  the Alternative Media is a powerful foe of the Main Stream Media which now exposes the lies, deception and ultimate hidden  objectives of governments  to the more intelligent and investigative minds. You can fool some people all the time, all the people for some time- but never all the people all the time anymore. That is with the exception of white liberals. They were born as natural fools.

The "Corona " – or "Covid-19" hoax  is busy coming to it's end and more and more scientists, academia and  normal citizens now are asking serious questions and distancing themselves from the overreacted hysteria created by both governments and MSM around this mysterious "Covid-19" enigma. MORE people now are dying due to social stress and socio-economic  related problems caused by this "lock-downs" than by the alleged "virus" itself. Corona will still have very dire after effects long after it was gone- both for the citizens that was brutally abused and had to endure much suffering at the hands of globalist predators- as well as those responsible for the human rights abuses they inflicted upon innocent people with their "lock-down" power plays to incarcerate innocent people for months at a time. The devastating effect this alleged "virus" caused to families is simply incomprehensible. It is not a "virus" that is destroying our world and our societies- but the "deep state" operatives that created this bogus virus in order for "it" to take the blame for all the dark agendas corporate demons such as Bill Gates and Elon Musk's destructive agendas causes mankind in their quest to destroy 1/3 of mankind. This simply is unforgivable and the governments as well as politicians responsible for this must be brought to trail. as well. People in South Africa now are treated by the communist ANC regime  as criminals, their freedom , human rights and privacy totally and brutally oppressed and ripped away from them in true communist style. Socialism is slowly forced upon the nation under the veil of the "Coronna"-thing. Ramaphosa is busy psi-opsing the populace with a continuous :" We must implement structural reforms in the economy."  He deliberately is repeating this narrative over and over again in each of his speeches. Even his Reserve bank Aide-De Camp Tito Mboweni is singing the same tune when he said: " There is going to be a new way of doing things."
This is so-so obvious that Ramaphosa and his cronies are working hard to exploit this Corona-thing that fell into their laps like a ripe apple and the relief package of R 500 billion to promote his " New Democratic Revolution" agenda into it's final phase. We suspect the bulk of that R 500 Billion will not even reach the designated beneficiaries- but as ever again- will land in the lined pockets of the ANC kleptocracy.
This means he and his communist ilk want to purchase/destroy the last remnants of private entrepreneurship and private property. With that will also go our Freedom as well. If people somehow believed Zuma destroyed the country in an alleged "State Capture" – they have seen nothing yet! Ramaphosa will make Zuma look like a kindergarten teacher if  he is planning to do what we suspect he is about to do. Ramaphosa is a very dangerous capitalist communist on a mission– and he has China's power to back him up on that. He  has a long history of corruption, money laundering, theft,  dark deals and extortion behind him. He falls into the same category as  mobsters the likes of Al Capone, Heimie Weiss, Gambino , Gotti,  etc. Ramaphosa is a very shrewd and calculated manipulator and word spinner- and he will force South Africa either into full communism- or a civil war- which ever happens first.  Whether the Americans in Botswana next door will allow the mineral loot to fall into the lap of the Chinese- is another unanswered question.Fact is if this individual is not stopped soon enough – South Africans can so long start shaping -up their Cantonese! It might be valuable advice  if they want to communicate with their new conquering "masters." 
We are seeing the most draconian measures enforced at all levels of government that we've ever seen in our lifetimes, and yet rather than being alarmed by the things going on, so many of you applaud. People are being arrested for spending too much time outside, and you applaud. Pastors are being arrested for daring to hold church services, and you applaud. A child's birthday party is raided by police, and you applaud. A young woman is ticketed for going on a leisurely drive alone because it's deemed "non-essential travel", and you applaud. A parade of school teachers and administrators who wanted to drive through neighborhoods and wave at children is busted up by cops because they were "nonessential," and you applaud. A lone paddleboarder in the ocean on a beach without any other people around is arrested because he's "violating quarantine orders,"-  and you applaud.
People are being denied life saving medical treatments because they're not a priority right now (not "essential" as deemed by the government) as the entirety of our medical system is focused on one thing, and you applaud. Businesses are beings forcibly closed and padlocked and owners arrested for refusing to shut down, and you applaud. Dairy farmers (and soon, other farmers) are being incentivized to stop dairy farming and to sell their herds, and you don't seem to understand the implications. You're being told to use "hotlines"  and online forms provided by your local governments to report your neighbors who don't obey, and you comply. You scold people day after day for not "obeying " government edicts, and if any of us dare to question what's happening, you lecture about how we're a danger to society and and we just don't care about people dying. You've somehow managed to convince yourselves that the people whose lives are affected by a virus are MUCH more important than the people whose lives are being destroyed (and in many cases, leading to death) by the effects of  a worthless alleged "virus" no one can even trace the origins or validity of.
People now are becoming angry at the blatant human rights abuses they had to endure because of this deliberate infringement  of their freedom by dirty politicians  that appear to have no respect or honor for the unnecessary and uncalled for suffering of others. And that aggravation caused to innocent citizens soon will become evident and visible  in the coming elections across the world when many politicians and governments will find themselves either wanted or ousted. People will remember "Covid-19"- not for the alleged biological destruction it caused – but more because of the economic and social collateral damaged brought about by their governments through it. Soon the Bastilles will be stormed again.
Very important to watch.

Posted by Ronel Storm on Wednesday, April 22, 2020
SOURCES:
The path of Ramaphosa's letter for major SANDF deployment raises serious concerns around separation of powers
https://www.foxnews.com/media/physician-blasts-cdc-coronavirus-death-count-guidelines?fbclid=IwAR28RSkRj5g1bhF4Ig8vzGN7IvJ7fsR5nK95mGO6R5vXxVoUeAIA58fBdkI
South Africa considering a wealth tax to help with coronavirus recovery: report
MEME FOR THE DAY:
WHITE NATION– WE DO NOT HATE WHITE LIBERALS– WE SIMPLY DESPISE THE FILTH!!
C'MON- SHARE OUR LINK