FOLLOW US BY SUBSCRIBING ON THE E-MAIL LINK ON THE RIGHT-HAND SIDE  OF THE PAGE.
Send your e.mails with news and inquiries to: w.nation@mail.com
Article by White Nation correspondent- Bonn– December 20  2016
GERMANY
A TRUCK  ploughed into a crowded Christmas market in central Berlin on Monday evening, killing 12 people and injuring 48 others, in what Germany's interior minister said looked like an attack. Police said on Twitter that they had taken one (Muslim) suspect into custody and that another passenger from the truck had died as it crashed into people gathered around the wooden huts serving mulled wine and sausages at the foot of the Kaiser Wilhelm memorial church in the heart of former West Berlin. "We heard a loud bang," Emma Rushton, a tourist, told CNN. "We started to see the top of an articulated truck, a lorry … just crashing through the stalls, through people."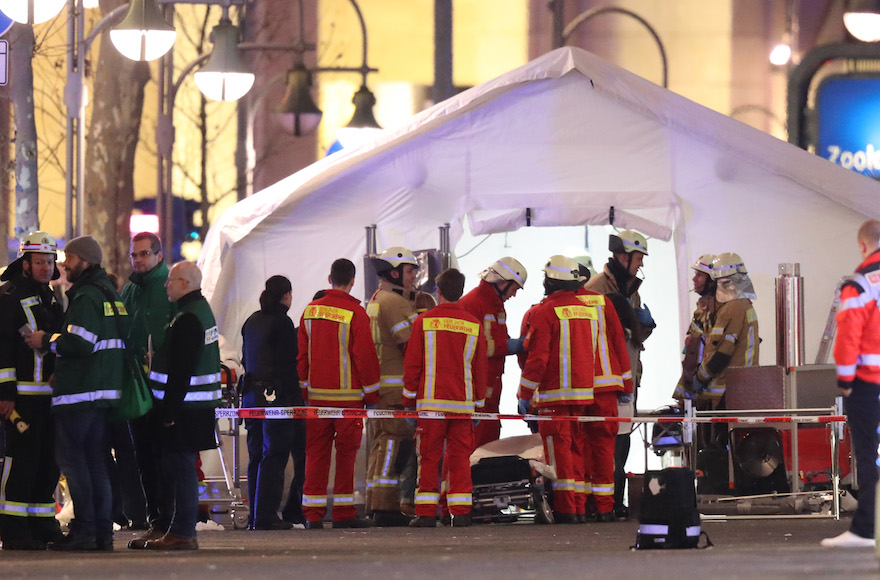 Pictures from the scene showed Christmas decorations protruding from the smashed windscreen of the black truck. Berlin police said on Twitter they were investigating leads that the truck had been stolen from a construction site in Poland.  Berlin police said on Tuesday that investigators assume the driver of a truck did so intentionally in a suspected terrorist attack. A Pakistani man arrested in connection with the attack may not be the perpetrator, Germany's chief prosecutor Peter Frank said on Tuesday, adding that no group had yet claimed responsibility for the attack. "We must get used to the idea that he was possibly not the perpetrator or that he didn't belong to the group of perpetrators," Frank told a news conference. BUT the man was freed again( Link)
While no one had claimed responsibility for the attack in a video, Frank said the sequence of events evoked memories of a similar attack in the French city of Nice in July when a Tunisian-born man drove a 19-tonne truck along the beach front, mowing down people who had gathered to watch the fireworks on Bastille Day, killing 86 people. That attack was claimed by Islamic State. U.S. President-elect Donald Trump condemned what he called an attack, linking it to Islamist terrorists before German police officials had said who was responsible. Germany has not in recent years suffered a large-scale attack from Islamist militants like those seen in neighboring Belgium and France. But it was shaken by two smaller attacks in Bavaria over the summer, one on a train near Wuerzburg and another at a music festival in Ansbach that wounded 20 people. Both were claimed by Islamic State. And government officials have said the Merkel communist-run country, which welcomed nearly 900,000 illegal aliens last year, many from the war-torn Middle East, lies in the "crosshairs of terrorism". In mid-October, police arrested a Syrian illegal alien suspected of planning a bomb attack on an airport in Berlin. The 22-year-old man committed suicide in prison shortly after his arrest.
People urged to stay away
A government spokesman said Chancellor Angela Merkel was briefed on the situation by de Maiziere and the Berlin mayor. Police said there were no indications of further dangerous situations in the area and urged people to stay away from the scene. "I'm deeply shaken about the horrible news of what occurred at the memorial church in Berlin," Foreign Minister Frank-Walter Steinmeier said. The truck veered into the market at what would have been one of the most crowded times, when German adults and children would be gathering in the traditional cluster of wooden huts that sell food and Christmas goods in an annual celebration replicated across Germany and much of Central Europe. Ariel Zurawski, whose Polish freight company owns the truck, said the driver of the truck did not work for him. "It wasn't my driver," Zurawski told Polish private broadcaster TVN 24. "I vouch for him, he's my cousin." The incident took place near a famous Berlin landmark – the Gedaechtniskirche or memorial church built in 1891-95, which was left a ruin with a jagged tower after it was damaged in World War Two bombing raids as a monument to peace and reconciliation. Police cars and ambulances converged quickly on the scene.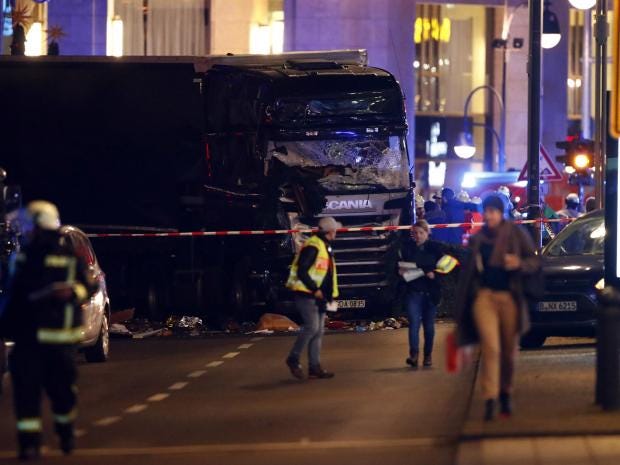 Rushton told CNN the truck seemed to be traveling at about 40 mph (65 Kmh). Asked how many were injured, she said that as she walked back to her hotel, she saw at at least 10. Merkel saw her popularity slide a year ago when she welcomed tens of thousands of illegal aliens  a day at the height of the influx with the optimistic message "we can do this". But she has recovered in recent months as the numbers have dropped and she announced last month that she would run for a fourth term next autumn. She is widely expected to win, but analysts have said the one thing that could undermine her in the run-up to the federal election would be a series of attacks, especially if they are linked to aliens  allowed in on her watch.
THE FILTHY LEFTIST MEDIA PSI-OPS  EXPLOITING THE TRAGEDY TO START SHIFTING THE FOCUS ON WHITE CONSERVATIVES AGAIN:
The infamous Far Left Fake News Mass Media outlet, CNN, used the horrible Berlin Terrorist Attack to brainwash patriotic Germans and conservatives with more guilt! CNN's online coverage of Monday's deadly terror attack on a German Christmas market focused on the attack's potential to stoke far-right anger, rather than the threats of Islamic radicalism. The attack in Berlin killed at least 12 people and injured dozens more, but on CNN's website, the network's top story warned about "the fallout of fear" and said that "attacks fuel [the] far right's assault on democracy." The headline leads to an article by columnist David Andelman, in which he warns not to let repeated Islamic terror attacks undermine the West's commitment to mass immigration. "Across Europe, right-wing candidates are positioning themselves against immigration and Islam, defending an ever-tougher stance with every new terrorist assault." Andelman says, presenting this as a threat to "traditional democratic values" even though all the candidates he names are participants in electoral democracies.
In fact, the only proof Andelman offers that electing right-wing parties will destroy democracy is that many of those parties want to withdraw from the European Union, even though such a withdrawal, by itself, does nothing to make a country less of a democracy. "This is the ultimate danger of terror attacks. Reasonable men and women must recognize them for what they are — an effort to drain what is left of democracy from our nations," Andelman warns. CNN's front page also invited doubt over whether the attack was terrorism by using a "Was it terrorism?" headline, even though German news has already reported the attacker was an illegal alien, making terrorism the overwhelmingly likely cause of the attack.
EDITOR'S FOOTNOTE:
( Now comes the time when these communist vermin in control will start with all kinds of "pussyfooting" around the reality , playing with words and empty promises to please and not "offend" the Muslim murderers Merkel and her cronies forced upon the innocent German population. . Angela Merkel and her Jew conspirators in the EU are DIRECTLY responsible for the deaths of these innocent Germans. BUT as we also have learned by now- there will be much "condemnation" , floral wreaths to be laid – and many words of "condolences. " As time pass by- slowly the German populace will forget the New World Order Jews have struck another blow in the hearts of their nation- UNTIL the next blow fell again. AND so these reptiles in "control" will launch one-after-the-other attack on homogeneous Germans, their culture – and their sovereignty until Germany- just like South Africa– will become a wasteland ruled by Hyenas. It's time Merkel gets removed- one way or the other- and the whole bunch of Bundestag criminals arrested and sent to life in imprisonment for the massacre of innocent German people.If these liberal reptiles does not get sorted out NOW– they will become arrogant and things only will get worse for the white German population. -Ed)
Gunman in Zurich Mosque shooting is dead
Emma Thompson: " To solve our diversity problem we should kill off all old white men."
Russia and Turkey to probe slaying of envoy in Ankara gallery
Obama "warns" Trump: " Don't overuse  executive orders…"
Kim Kardisan to divorce Kayne for supporting Trump
SA records over 800 road accident deaths since the 1st of December.
United Nations – U.N. Agenda 21 Depopulation of 95% of World by Year 2030 is Now Underway, Signed and Approved by 200 World Leaders
ANC kennive to get dumb Nkosazana Zuma to be SA's next big spender.
Arrogant Muslims in white countries refuse to work as "Allah's guests" don't have to work.
Putin: "  ISIS will regret what they have done. This is not Benghazi – and I am not Obama..!"
Feinstein: " Hillary can't get over the election loss and she's hurting.."
Protesting illegal Congolese aliens got their arses whacked by police rubber bullets in Pretoria
WHITE NATION– WE DO NOT HATE COMMUNISTS- WE DESPISE THEM
C'MON- SHARE OUR LINK