FOLLOW US BY REGISTERING ON THE TAB TO YOUR RIGHT
Send your e.mails with news and inquiries to: w.nation@mail.com
Article posted by: White Nation correspondent Tennessee USA  – December 27  2016
AMERICA
CARRIE FISHER- Icon of Star Wars- eventually lost her  battle after having a massive stroke on an airplane on a United flight to LA on December 24 2016. (Link) She was immediately rushed to intensive care where she lingered between life and death for a couple of days but never recovered  consciousness. . Sadly she died 18 minutes ago. "She was loved by the world and she will be missed profoundly. Our entire family thanks you for your thoughts and prayers," a family spokesman told People.
Carrie died on Tuesday morning in Los Angeles after suffering a heart attack
On Wednesday her only husband Paul tweeted she was 'wonderful'
Ex-lover Harrison Ford and Star Wars co-star said she was a 'one-of-a-kind'
Mark Hamill, who played her brother Luke Skywalker in the franchise, shared: 'There are no words' 
Her mother Debbie wrote: 'Thank you to everyone who has embraced the gifts and talents of my beloved and amazing daughter' 
Daisy Ridley, her Force Awakens co-star, said she was 'devastated' 
Though Carrie Fisher had many lovers, including Star Wars co-star Harrison Ford, SNL vet Dan Akroyd and Hollywood power agent Bryan Lourd, there was only one husband. And on Wednesday Paul Simon finally broke his silence on the passing of the 60-year-old screen icon. The 75-year-old musician, who was married to Fisher from 1983 until 1984, tweeted: 'Yesterday was a horrible day. Carrie was a special, wonderful girl. It's too soon.'
Her only spouse: Paul Simon finally broke his silence on Wednesday about the passing of the 60-year-old screen icon Carrie Fisher who he was married to from 1983 until 1984. Here they are pictured in 1979
Paul's other wives include Peggy Harper, who he was wed to from 1969 until 1975, and Eddie Brickell, his spouse since 1992. Ford had made his comment within hours of Carrie's passing. The actor said she was a 'one-of-a-kind' and lived her life 'bravely'. Ford, who played Han Solo to her Princess Leia, said: 'Carrie was one-of-a-kind… brilliant, original. Funny and emotionally fearless. She lived her life bravely… 'My thoughts are with her daughter Billie, her Mother Debbie, her brother Todd, and her many friends. We will all miss her.'  The Princess Leia actress claimed in her recent book The Princess Diarist that she had an 'intense' three-month affair with Ford when she was 19 during the filming of Star Wars in 1976. He was 33 and married to his first wife Mary Marquardt at the time. Fisher kept their tryst secret for 40 years.
His goodbye: Fisher's Star Wars co-star

Harrison Ford

, who played Han Solo to her Princess Leia, wrote: 'Carrie was one-of-a-kind… brilliant, original'. Left is Force Awakens and right is Return Of The Jedi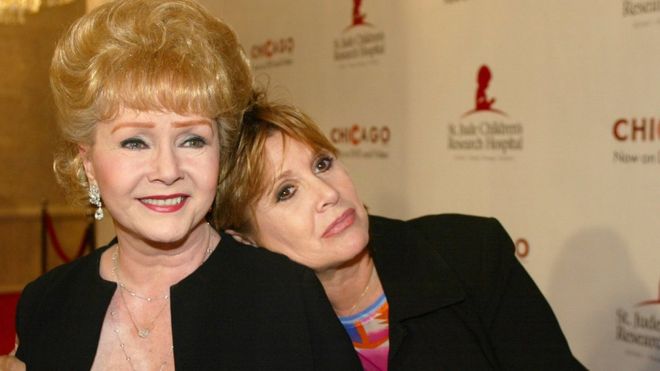 Debbie Reynolds (left) with her daughter and fellow actress Carrie Fisher
SADLY US actress Debbie Reynolds – mother of Carrie Fisher- also has died, a day after the death of her daughter Carrie Fisher, her son has announced. US media said the 84-year-old had a stroke. She was taken to a Los Angeles hospital earlier on Wednesday. The Hollywood legend is best known for her role in the 1952 musical Singin' in the Rain, opposite Gene Kelly. Fisher – renowned for her role as Princess Leia in the Star Wars series – died on Tuesday aged 60, following a cardiac arrest on a plane. Reynolds was taken by ambulance to Cedars-Sinai Medical Centre after being taken ill on Wednesday. Announcing her death later, her son Todd Fisher told AP news agency: "She's now with Carrie and we're all heartbroken." He added that the stress of his sister's death "was too much" for their mother.
WHITE NATION– WE DO NOT HATE COMMUNISTS– WE DESPISE THEM!!
C'MON- SHARE OUR LINK