FOLLOW US BY REGISTERING ON THE TAB TO YOUR RIGHT
Send your e.mails with news and inquiries to: w.nation@mail.com
Article posted by: White Nation correspondent London – January 08 2017
Nobody must be excluded on the basis of color or race, through subtle and unconstitutional means."- Jacob Zuma– New Year speech for 2017
""Just like the son of God was brought to earth to die for our sins, the ANC was born to end poverty and better the lives of black South African citizens. Members of the ANC should not be doubtful of what it is capable of."– Jacob Zuma– During the communist ANC's 105 birthday celebration. ( Link) 
ET TU JACOB ZUMA???????
BLACK

 racism is becoming more and more one of the worst infringements of especially targeted white societies across the Western world today- especially in white countries. The Main Stream Media always are at the forefront in hiding or not reporting this emerging evil for a specific reason. Whites always are demonized in the media as the "racists." Black racism is on a bad level- I mean REALLY bad level. A good example of just how bad it is- is  the example recently of non-white students at a prestigious London university that now suddenly are demanding that figures such as Plato, Descartes and Immanuel Kant should be largely dropped from the curriculum because they are "white."  The student union at the School of Oriental and African Studies (SOAS) insists that when studying philosophy "the majority of philosophers on our courses" should be from Africa and Asia.(Link) If they feel  so "offended"- because these philosophers happen to be white- why the hell do they come to a WHITE university to study- why not studying at an African, Oriental or Mexican university in their OWN friggen countries of origin then? CAN you imagine what the liberal media ranting  would be if white students made allegations like that?
Blacks and non-whites are the pinnacle of racism. Their racism are fueled by the leftist media-  and supported by the globalist  corporate Jews. The reason for this is purely to exterminate the white Christian societies- period!! . Non-whites and their media propaganda machines really take "racism"  to the next level. To determine just how bad racists they are- can only be seen what happened in South Africa this past year or so as these non-white races – in co-ordination with the British Jewry and leftist media- went on numerous  psychotic destruction sprees this past year to desecrate white statues, push whites out of their jobs with racist AA and BEEE "laws", continuously badgering and  slandering whites on social sites, in the main stream media, threatening whites, demonizing whites, – and murdering whites on a genocidal scale. In South Africa filthy Jews, liberals and politicians are constantly onto the case of whites- seeking those white "racists." One "anti-racist" law after-the-other are pumped out at a staggering pace against whites in that country.  However – irrefutable facts proof the contrary- that blacks in general are the worst racists in the world today. It doesn't matter what "smart terms" the Jew boy invent for this cultural omen from blacks- such as "xenophobia" – when they even murderer their own kind for instance- or the smart "laws" the Jew boy or British pig pump out such as Rob Davis and his AA and BEEE laws to "substantiate" black racism and black preference above whites- it still boils down to racism and  discrimination against whites.
NOW again we hear that clown Zuma threatening to go on a white farm robbery venture this year again. Again   this naked black racism is exposed in it's worst form. But then we know it is the British corporate Jews that are behind it- just as they are behind Julius Malema and Robert Mugabe's hatred and  funding . You can see this flagrant instigated  racism and naked Jew hatred on a grand scale in what's happening in America now against Donald Trump. 
https://pjmedia.com/news-and-politics/2017/01/12/house-dem-will-be-preparing-for-resistance-instead-of-attending-inauguration/
In South Africa especially we must hear on a daily basis the bullsh*t propaganda of "we  are one" and " we are all the same" and " everybody is equal"– while back at the beach the ANC communist regime discriminates against whites in the worst human rights abusive form. It doesn't matter whether you try to masquerade your naked racism against a certain group behind a "smart" law or a self-concocted "constitution" – it still stays naked racism! BUT then again- taking note just how many thousands of misdirected fools attended the ANC communist's 150 year centenary last week- supporting , cheering and clapping hands when the  Zuma-oaf promise the land of white Canaan to "blacks only " again-one can safely accept that South Africa is ROTTEN with anti-white racists!
Thousands of black riots in cities across the globe, thousands of hate-filled speeches and instigation by black despots such as Al Sharpton and Julius Malema fuel black hatred towards innocent whites. Millions and millions of hate-speech related comments are made on black social sites- yet Facebook, Instagram and Twitter  in all their hippocracy choose to quietly ignore these inflammatory comments- but rather choose to "ban" any white comment that remotely reeks like "hate speech" (according to their own distorted criteria-that is.)
How many times do we read about this flagrant black slandering against whites in the media- but let ONE white slander a black – and all hell from the media whorehouses are released upon that hapless white. How many times must we read that blacks "demand" this and that from whites in WHITE countries? Ever heard of whites "demanding" repatriation repayments or remuneration from blacks in African countries? I notice more and more often South African Black Youth are threatening the white population, all linked to black power and talk about the black panthers,I see this influence and its nothing but pure hate and violence.During a Facebook attack,The following message was publically made by Velile Msomi from Durban, : "We will slaughter your toddlers, we are armed… dare us , how can we will with people with genocidal mentality. " This is pure hate speech
WILL WE EVER FORGET THE MEDIA HYSTERIA AND LEFTIST POLITICAL EXPLOSION AGAINST THE PENNY SPARROW COMMENT? YET BLACK COMMENTS AGAINST WHITES – AS YOU CAN SEE ABOVE- ARE FAR WORST THAN THE SPARROW INCIDENT…BUT SILENCE IN THE MEDIA PREVAILED AND THE BLACK PERPS GOT OFF THE HOOK- AS ALWAYS..
Across the world we have to look on a daily basis at black riots, black plundering, black "demands", black inflammatory speeches and how " offended" blacks feel. AND in most of those incidents whites are targeted as the source of this so-called bourgeois black " "injustice." Mean-while literally  hundreds of cases emerge of how black racists attack whites, slander whites- and threaten whites. Ironically are millions of blacks  migrating to white "racist" countries, seeking  'asylum"- get white-sponsored housing, medical schemes, grants and free food tickets- just to start feeling "offended' again after a while- and start to riot, burn and loot businesses- biting the white hand that feed them. The question is : IF blacks then feel so "offended " by whites in WHITE countries- why not return back to their OWN countries of origin where they will not feel so "offended" anymore? White people in general- as well as law enforcement organizations- are deliberately handicapped by mostly Jewish alien "lawmakers" – sitting like vultures in their legislatures-  prohibiting them to take action against this escalating black thuggery and violence in their societies. Whites in contrast- are disarmed , discriminated against by this same vultures- and abandoned by these same Jewish infiltrators when it comes to writing laws to protect  them. Black lives is the only lives that matter- for the Jews that is.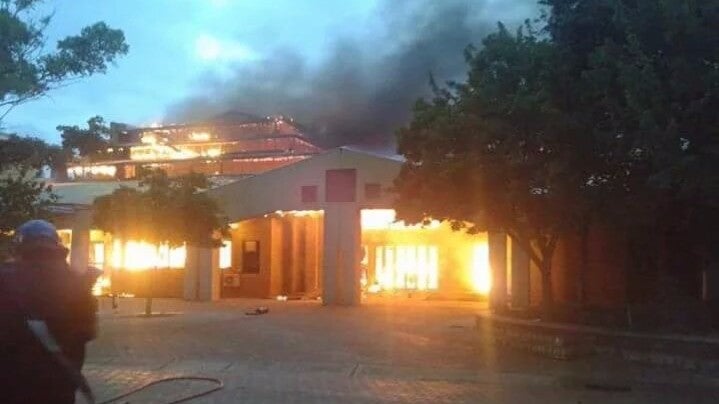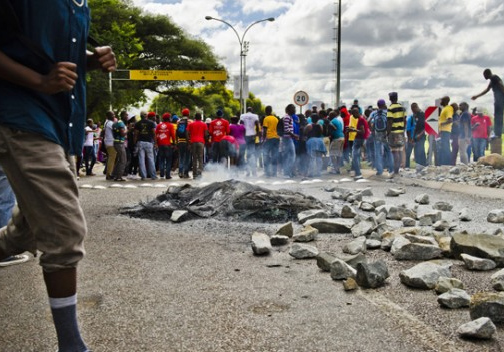 DO YOU EVER SEE WHITES DOING THIS- GOING ON MASS RAMPARTS AND DESTROYING EVERYTHING BECAUSE THEY FEEL "OFFENDED?" 
http://www.sowetanlive.co.za/news/2017/01/12/video-butterworth-community-caught-on-camera-looting-truck
Although the Jesuit-controlled Main Stream Media tries their utmost to hide and cover-up this escalating black racism- the Alternative Media and Social Sites are flooded daily with hundreds and hundreds of cases that expose this naked black racism towards especially whites. Whenever there is a smallest of indication that whites "may" be involved in what the leftist MSM deem "racism" against a black- immediately this get blown out of proportion and kept in the headlines for weeks on end to demonize whites as much as the dregs in the MSM news offices deem possible. Good examples of this deliberate demonizing exercises is the case of Parys farmers in South Africa that apprehend two black thugs that attacked an elderly white farmer. The thugs died either in a battle with the farmers- or in police custody- but the media in South Africa immediately start to persecute the white farmers as the "culprits" – and the black farm attackers as the "victims. ( link)  BUT the villainous anti-white  media scoundrels did not spare a thought for the hundreds of white farmers that are brutally murdered on a a weekly basis by the black thugs- not even to speak about the whites being brutally attacked and murdered in suburban areas. It will be " politically incorrect" to point any black as a perpetrator- but general culture to demonize a white as the culprit. The devious South African ANC communists even put a media black-out against any black-on-white attack. By playing and advocated as the the "victims" by the media on a constant basis- blacks get away with being the "victims" all the time- irrespective whether there were black racism involved or not- the whites always end-up to be  the "racists" in any given situation. Blacks just cannot be "racist"– they always are the "previously disadvantaged" victims.
Hate Filled
Farrakhan

Calls For Army Of 10,000 To Rise And Kill The White Culture(Link)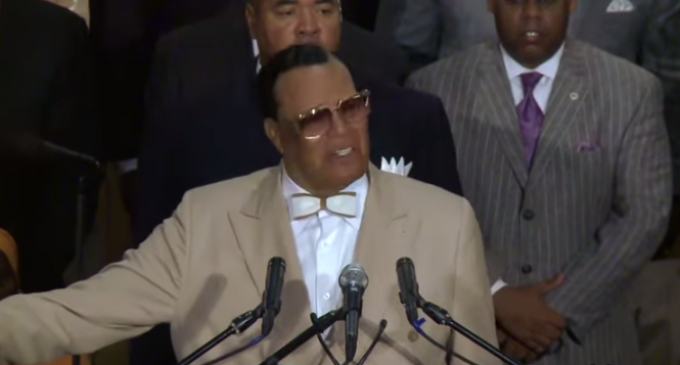 IN another case- that ALSO happen to be  in Parys– was the incident  of the two Parys farmers in South Africa that caught a black cable thief on their property- and scared the living daylights out of him by placing him in a wooden coffin- "threatening" him to bury him alive if he does not disclose his partners in crime. Well- needless to say- AGAIN the media ghouls took it upon themselves to play prosecutor, jury and judge. AGAIN the white farmers were found "guilty" by the vultures in the media houses. ( Link)  The perpetrator in this case walked out of the court being hailed by the media as a hero- and received by his people as a "victim" of "apartheid" – all while the two white farmers received stiff jail sentences. It all was a media side-show from the start. The media walked out triumphant and the case was closed.  In America we have umpteen cases following the same trend where the demonic media instigate black-on-white racism by again finding white officers "guilty" before any verdict was given by a court. One of the most well-known cases of this sort is ostensibly the Trayvon Martin case- when half-wit political idiots like Al Sharpton and Jesse Jackson organized riots and also had their little anti-white racist bleating to do. (Link) This case was kept headlines for weeks on end- and black riots against this " injustice" against blacks continued for weeks on end. Yet NOBODY were remotely  interested in the facts.Nobody asked what Martin DID to be shot…that was"irrelevant " according to the media and political fan- poopers.  It was all a media show- and the media kept the lie running as much as they can.
THE BLACK RIOTS THAT FOLLOWED THE TRAYVON MARTIN INCIDENT
WHEN WAS THE LAST TIME YOU SAW WHITES TAKING PART IN RIOTS LIKE BLACKS DO?
NOW- here is where the double agenda of the media comes into play- and it comes into effect when the tables are turned and blacks expose their racist attitude towards whites. The media suddenly have this attack of Laryngitis– and an eerie silence befall the Main Stream Media ofiices. For instance- take the case of a fourteen year old  Melton boy in Australia that has been bashed relentlessly in a shocking unprovoked attack at a Melbourne shopping center by 3 young black thugs. The horrific assault was captured on video by cowards who encouraged the violence instead of stepping in to stop it. See video below
With his hands in his pockets, 14 year old Haydyn Wilson is kicked in the face so hard he falls to the ground. He can do nothing but cover his face while the group of five black thugs continues to inflict shocking violence. The screams in the video are coming from his girlfriend who witnessed the terrifying assault but could do nothing to stop it. "I got a kick to the face and then I got punched a couple of times," Haydyn said. "Then I got dropped and they started to kick my head. " It is heard to believe but Haydyn miraculously escaped serious injury. "My lip's got a hole in it and my nose is still sore," he said.
Haydyn said the attacked was completely unprovoked and may have been sparked by a rumour. "Apparently I said I wanted to bash one of them and I didn't and they all just swarmed," he said. Haydyn said he had never met some of those involved. They were older and clearly much bigger. "I think it's unfair because there were five of them and one of me. It's just not right," he said. Two of the attackers who can be seen stomping on Haydyn's head have since been arrested. A third who started the brawl by kicking him in the face is yet to be caught. Along with the video, police have seized CCTV of the incident and say they are confident of making more arrests(Link) 
In another recent well known case now hitting the social media is the case where four young black thugs abducted and viciously attacked a mental-handicapped white boy while slandering inflammatory racist remarks at him in Chicago. (Link)  NOW the authorities tries their utmost to downplay the incident as "youngster pranks." See how devious these black-on-white racism is masterminded never to hit any head-lines?
BUT one also must understand the devious undertones and conspiracy against whites here. Blacks- as with Arabs and Mexicans- are generally played and controlled by he dark powers of the Jesuit " establishment" like yo-yo's due to their uncontrollable breeding ability. Linked with this is their deep rooted hate towards white Christians- and their inhuman brutality. This makes them a perfect wagon to invade, infest- and destroy any healthy social environment. We can only have a look-see at Europe and especially Germany for that matter- to observe the total destruction of a white country by the EU Jesuits and their 3d-world lapdogs. The Jesuit establishment promotes diversion and racism.
VIDEO: RACIST BLACKS BEATING A WHITE IN MEMPHIS
The Jesuit media are being utilized to do all the front-line psi-ops propaganda assaults- and  is playing a very strategically planned covert role in the preliminary assault against especially the leading group of any society. Once the planners on strategical level has been neutralized- the silent invasion of the leadership of the society begins while the media direct their attacks towards the tactical level. The infiltrators on the strategical level now quickly assemble the powers on darkness- and start to engage in a legislative role by manufacturing laws to oppress the rightful homogeneous society members. Once the tactical level- or middle-level of governance – is satisfactory neutralized as well- it quickly is replaced by substitute "interim" infiltrators to pretend to keep the "law and order"-(their new law and order.) Examples of this "conquer" or take-over was South Africa, Iraq and Libya- where once healthy societies were destroyed and "interim" regimes put in place while the globalist destroyers start to plunder the riches of that countries.
The media then again divert and start to concentrate on the operational level- or "people on the ground"- and direct their attacks against any "leader", group or entity that oppose their invading regime-change. In this case it is mostly white conservatives that are targeted to carry the brunt of the demonizing attacks. A good example of taking out the leaders of society was JFK, HF Verwoerd and Eugene Terreblanche– who was constantly demonized by the media as a 'white supremacists"– and later on willfully assassinated in a " black-ops "operations by the "establishment" when they posed a danger to the "establishment."  Such was the case of Hussain and Ghadaffi as well.  Shall we ever forget how the devious media attacked the Afrikaner activists Sunette Bridges, Dan Roodt and Steve Hoffmeyer– how these Media 24 hounds of hell shadowed them and blemished their good names on a daily basis when these three individuals was fighting for the rights of whites in South Africa?
This last part is the most devastating operation of the three-pronged attack on any healthy society – and are kept alive  as long as the alien infiltrators are "governing" the country. The media act as "protectors" of the alien illegal regime- act as "mediators"  for the rogue black rioters- and propaganda mouth pieces to keep the population divided (this is where the "anti-racist" and "anti-hate speech" propaganda are used effectively)- propaganda machines to incite racism and hatred towards one specific targeted group- as well as "prosecutors" of any legal entity that tries to oppose the illegal regime. They also act as "watch dogs" to sniff out any opponent that may become a threat to the evil regime's plans. In South Africa the Media 24 group earns that notorious honor and owns the majority stake of the media-monopoly in this environment of "white bashing " with their constant attacks against the white Afrikaners. Whenever white Afrikaners demand the same rights as black activists and black unions to march for what they believe is a  discrimination against their rights- immediately they are labelled as " white racists " and " white supremacists." The Red October march organized by Sunette Bridges is an example of this hippocracy. Whites have NO right to start their own enclave where they can practice their own culture- like blacks have hundreds of black settlements- even their own black cultural provinces-. Whites immediately are being labelled as "racists" when they start their own communities like Kleinfontein and Orania. 
Alex Jones breaks down how globalist magazines like Mother Jones and the Economist are calling blond hair, blue eyed people "the devil."(Link)
By constantly demonizing whites- they psi-ops whites into a "guilt" trip to keep on having that " I AM the previously advantaged  player in this game. So therefore I must always bent backwards and keep on supplying the constant demands of the " previously disadvantaged " mind-set. This is a very clever ploy by the Jesuit "controllers" through the usage of their evil media mouth pieces  to buy the loyalty of the black masses for their own selfish cause- all while the white are being exploited and brain-washed by continuous malicious propaganda attacks of "racism, hate speech" and " white supremacy" to make whites feel "guilty" and foot the ever-demanding black bill. For this reason black dictators like Zuma, Malema et al will keep on discard their filthy mouths against whites on a continuous basis. These heathens will keep the black-on-white racism alive as long as they can. AND the demonic media will follow in their footsteps every minute of the day- seeking those " white racists" again. With them naturally- are the most vile and despicable trolls and anti-white genocidists of them all- the WHITE liberals.  The Afrikaner's monuments and statues are desecrated, their heroes demonized, their language abandoned, their history wiped out, their flag mocked, their universities plundered, their elderly, woman and children raped and murdered- their race trampled upon, their children mocked at school, their religion denounced- their property simply taken away- they are pushed out of the job market- and their existence as a race rejected. Now Zuma and Malema again are threatening whites that 2017 will be the year whites will loose their land( Link)– How much  MORE anti-white sentiments does whites need to wake them up? Still they just sit there- doing NOTHING! The question is just WHY does white Afrikaners  still tolerate this bullsh*t??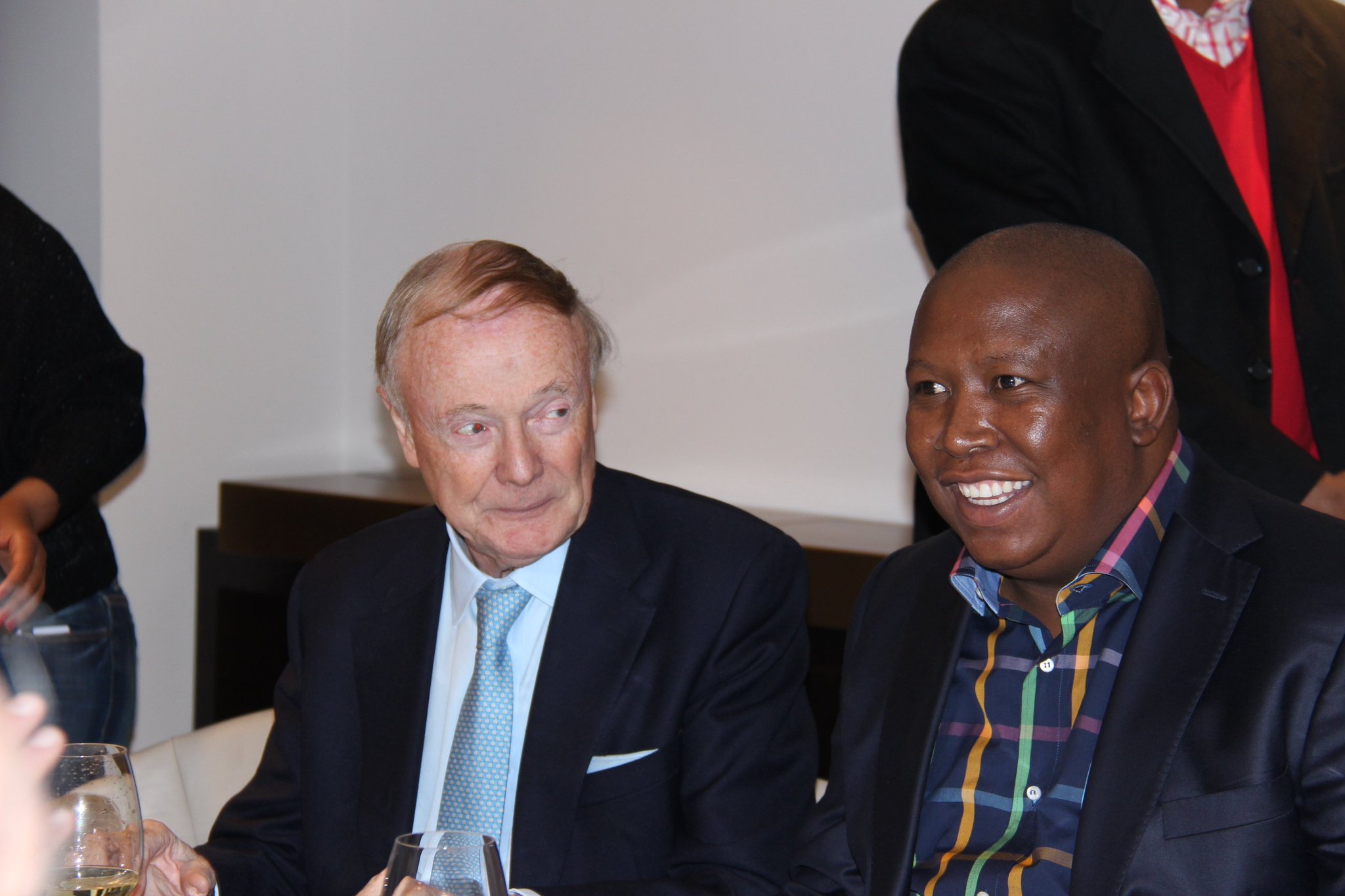 JULIUS MALEMA- A PATHETIC PAID-PUPPET OF THE WHITE BRITISH "ESTABLISHMENT."
Another well known fact is Julius Malema of South Africa. While Julius is leading an offensive against all that is white in South Africa, spear-heading white property invasions, sing inflammatory songs like " Kill the Boer"- and give inflammatory speeches against "rich " whites- and complains daily that "rich white men" owes all the land in South Africa- he regularly visit the WHITE "rich"establishment (the same rich whites who owned most of the mines and land in South Africa and Julius are having one helluva confrontation  against)- in Britain to receive new instructions and also get bank-rolled by these same white Jesuits to launch and lead numerous rallies and covert operations against white farmers in South Africa. AGAIN the illiterate and poor black masses are exploited for this agenda.  Older more intelligent blacks quickly see through Julius' scam to earn political points and please his WHITE British masters- but the young generation blacks grew up in an intolerant environment entwined in lies and malicious propaganda that whites are the "cause of all South Africa's problems "– and whites "stole all their land."  It is THIS new young generation of misdirected blacks that the British "establishment" and Julius are targeting for their murderous and catastrophic inhalation plans. Jacob Zuma and his corrupt arrogant ANC hooligans also are using the same tactic to score political points and stay in power- by demonizing whites – creating a " common" enemy for the black masses to focus on. This is done specifically to draw the attention away from the humongous scale of corruption and maladministration going on in his own "has been" rag-tag government.
IT is then for this reason that we see many "anti-racist" as well as " anti hate-speech" legislation hitting the books now. The main objective  is to force whites into silence– not to utter a world of condemnation against the utter discrimination against their race by the Jesuit controllers , thier Nguni-lapdogs- and their media- but to "accept" defiance and responsibility to be the milking cows of the globalist "establishment." This all forms part of the global white genocide program against white Christians. We see this total onslaught now happening in America where globalist thugs like George Soros are amassing thousands of leftist crooks to try to destabilize president elect Trump's inauguration as well.
Anti-Trumpers Vow Inaugural Anarchy: 'The Parade Must Be Stopped'
AGAIN these leftist scumbags bluntly refuse to submit to a conservative government- they want to do the "controlling" in a push to initiate their " one world" domination plan. Scumbags like Soros extensively again uses 3rd world masses and white liberal misdirected fools for this exercise.In South Africa the "Afrikaner Broederbond"– or AB as it is generally known-  which mainly consists of Free Masons– are being utilized by the Jesuit establishment to determine the political course in that country. FW De Klerk was a member of that secret society as well- as was much of the previous NP regime leaders and current ANC/DA leaders.
They also are the bank rollers  and planners of the current ANC regime- and the on-going white genocide. Through their international connection to more powerful "secret societies"– their infiltration in organizations- and their multitude of created organizations they control and direct the political direction of South Africa.
Entire families are butchered by black thugs in South Africa who aren't out to rob, but to kill and terrorize. Despite this gruesome reality, the governing ANC party and devious media again refuses to admit there is a problem with anti-White racism in South Africa. Most exposed of all are the White farmers, who run a greater risk of being murdered than any other profession in the world. Take the Kayla McCormack incident for instance:
Four toasted sandwiches lie on the draining board, spread with butter and marmalade. But Monty McCormack, 73, and his nine year old granddaughter Kayla never got to eat them. Instead, the grandfather's blood is smeared over the wall by Kayla's bed, where he was bludgeoned to death with a crowbar. Dark blood stains the girl's pillow, which depicts a scene from the Disney movie Frozen. Kayla's blood has been spilt in the storeroom next door, where her body was found. One of the blood stains is in the shape of a shoe print on a pile of cement sacks. The girl probably resisted before she was strangled to death by the black attackers, the family's neighbors explain. Kayla's mom and dad ? Kennith McCormack, 42 and Marietjie Meyer, 46 ? were found about a hundred meters away, at the house they had almost finished building. Marietjie was beaten to death with a blunt object – most likely the hammer found next to her body, her neighbor said, as we stand next to the pool of blood she was found in. Kennith was killed with a spade, his body found in the undergrowth a stone's throw from the house.
KAYLA McCORMACK- BRUTALLY MURDERED WITH HER FAMILY BY BLACK THUGS
KAYLA'S ROOM- THE SCENE TELLS A HORRIBLE TALE OF THE BRUTALITY THAT WAS USED TO MURDER THE FAMILY
In many ways, the murder of the family is sickeningly familiar when compared to the stories we have heard from so many White farmers. Most strikingly, few, if any, valuables are missing, except for the family car which had been set on fire at Greenhills, some kilometers from the site of the murder. There is even some small change still lying on the bed where Monty was killed. It seems the attackers were driven by other motives than money. The ways of killing each victim rather indicates ice-cold hatred.
Racial motives aren't acknowleged
The party line of the ruling ANC is that White farmers are exposed to attacks simply because they are generally wealthy; because the attackers want their money and valuables. But Kennith, Marietjie and Kayla were a poor family struggling to build a better future for themselves. Their black neighbor, Sello Matume, 54, explains to us that he is the owner of the land which the white family was leasing. According to Matume, Kennith seemed somewhat desperate when he came to the neighborhood of mostly black smallholders last year to rent about a hectare of land, on which he wanted to build a house for his family." I saw that this guy is struggling. Wife lost her job, [and] he doesn't have work [either], "– Sello Matume said to New Times. Was Kennith forced to watch as the attackers killed his fiancée, as is so common in the South African farm murders? Why did the killers tie up little Kayla, only to then kill her? No one knows for sure – and as usual, there seems to be very little chance of the murderers ever being apprehended. The crime scene isn't even cordoned off when we arrive, and the family's two puppy dogs ­- which we can only hope the neighbors will look after – have free access to the room where Monty was beaten to death. An entire family has been brutally murdered in cold blood, and the police barely seems to care.
From both "human rights " activists and politicians, we learn that South Africa's police force is thoroughly corrupt and incompetent, largely due to the huge numbers of low-qualified Blacks who have been steamrolled into the police force through racial quotas. In a recent study it was found that more than 1000 convicted criminals serve in the South African police force. Only a small fraction of murders in general, and farm murders in particular, are ever solved. Some of the people we speak to also allege that the police, in certain districts at least, are particularly disinclined to solve cases where the victims are White.
One example is Andry Louw, 53, owner of Andry Louw Motors in Pretoria, who has been burgled six times since last  December. At the latest break-in, a friend of his was badly injured by two attackers, who used a machete and another knife to cut and stab him before Andry could chase them away by firing several warning shots with his gun. When we speak to Andry a month later, the police have yet to either interview his attacked friend or do a crime scene investigation. Andry, on the other hand, has been questioned for the warning shots he fired, and almost had his gun confiscated despite the fact that it was probably the gun that saved their lives. In the end, he got to keep his gun. Nothing has been done to catch the attackers, however, in spite of Andry, by his own initiative, providing the police with pictures of the attackers' faces from CCTV cameras.
I don't want to say it, but I think I must say it: " I think it's because I'm White, "-sighned Andry when we ask why the police seem not to care about solving the case. There are many indications that racial motives are a frequent factor when white people are killed in South Africa, especially in the farm murders. The attackers seem more interested in terrorizing their victims than in robbing them of their valuables. Sometimes no valuables are even touched, other times they only steal mobile phones and guns. In some cases, the perpetrators themselves have stated to their victims that they aren't out for money but for hurting and killing. At some of the murders, the attackers also use skills and methods that suggest military training. Several of the South Africans we've interviewed tell of their suspicions that parts of the ruling ANC's armed branch, Umkhonto we sizwe – "Spear of the nation" – could still be secretly active, training killers to drive the Whites off their land. There is no hard evidence of this, however, and despite urging from farmers, organizations and activists, the regime refuses to launch a proper investigation into the motives and methods behind the farm attacks.
The multiple murder of Kennith, Marietjie, Kayla and Monty in Randfontein doesn't exactly raise a huge ruckus, either. When the New Times team arrived at the murder scene, there has only been a short article in the local newspaper, and we are the first journalists to visit the site itself. Only two days later, after our photographs have gone somewhat viral on Facebook and the human rights organization PRAAG has written about it, the local press wakes up and starts writing more extensively about it. This is the opposite of what happened in the Reitz cases where the media went ballistic for weeks on end.  In the national press, the murder of four white people barely gets a mention. In South Africa, this is just another murder case- as it is not a white-on black murder. Imagine what the media would have done if whites attacked and exterminated a black family? We shudder to even try to contemplate the political ramifications against whites after such a scenario.
Just an ordinary, race-motivated multiple murder
The farmers live in fear, because being a farmer in South Africa is the most dangerous occupation in the world, says Henk van de Graaf, Assistant General Manager and spokesman for the TAU-SA, Transvaal Agricultural Union, an organization representing commercial farmers in South Africa.  The average murder ratio per 100,000 or the population in the world is 9, I believe. In South Africa, it is 54. But for the farming community it is 138, which is the highest for any occupation in the world, van de Graaf explains. These numbers are necessarily conservative estimates. The statistics of the SAPS, the South African Police Service, are all but useless . The police force being inefficient, corrupt and in the hands of the ruling party, which has a vested interest in manipulating the numbers to make them look less awful than they really are. On directives from the government, police authorities also refuse to release any data which breaks down criminals and crime victims based on their racial or tribal affinities. Estimates from several organizations, including the monitoring group Genocide Watch, claim that at least 70,000 White South Africans have been killed since 1990. Around one million of the country's white inhabitants, estimated at roughly 5,5 million when the ANC took power in 1994, have fled for other countries.More than 400 000 whites were pushed into poverty in squatter camps through racist AA and BEEE policies- of which white communists like the ANC minister of Trade and Industry–Rob Davis – forms the nucleus in tabling anti-white laws which are driving whites out of their jobs.
ANOTHER ELDERLY VICTIM OF A BLACK ATTACK
THIS IS THE "WHITE PEOPLE" BLACKS LOVE TO MURDER…OLD AND DEFENSELESS.
The situation for the white farmers is even worse and has been called a genocide by some. Of the approximately 80,000 farmers in the country in 1990, many estimates claim that between 3,000 and 4,000 have already been brutally murdered- and in many cases their families as well. The TAU-SA, however, prefers to keep their lists of victims restricted to those they can name, and for certain say were counted as farmers and killed in a farm attack. On those lists, as of mid-March 2016, are the names of 1,086 murdered White farmers and 442 of their close relatives, as well as smaller numbers of workers, visitors and black farmers. Many feared that Nelson Mandela's death in 2013 would be the starting point for an ethnic cleansing against Whites by militant black activists. Fortunately, these fears were never realized, but van de Graaf says the farm attacks did increase.  The attacks certainly have increased after Mandela died. The trend is quite clear, says van de Graaf.
In 2015, there were 318 farm attacks resulting in 64 deaths, as far as TAU-SA's meticulously kept records tell. To put these numbers in perspective, since there are only around 35,000 white farmers left in South Africa today, you can imagine living in a smallish town with a population of around 28,000 (in Sweden, for instance, Varberg or Åkersberga)-  that was being plagued with five brutally violent home intrusions resulting in approximately one death  each week. All of these attacks, furthermore, being directed at innocent families: mothers, fathers, children, the elderly. That is today's gruesome reality for South Africa's White farming communities. The TAU-SA also believes that there is some organized force behind a part of the farm attacks.
NOT ONLY  THE FARMERS  ARE TARGETED FOR ATTACKS IN THE MOST BRUTAL MANNER BY BLACK THUGS IN SOUTH AFRICA- BUT THEIR ANIMALS TOO. TENDONS WERE HACKED OFF TO PREVENT THE ANIMAL TO FLEE- AND CHUNKS OF MEAT HACKED OFF FROM THE STILL LIVING SUFFERING ANIMAL. SOMETIMES VERY EXPENSIVE BREEDING CATTLE ARE BLATANTLY KILLED BY THESE BLACK  REMORSELESS THUGS. 
Letaba River Lodge once again suffered at the hands of black poachers. The popular family destination a few kilometers from Tzaneen is home to the Tzaneen Lion and Predator Park situated within the grounds at the lodge. Last night (10 January) a group of suspected black poachers killed and viciously mutilated three brown lions in their enclosure at the park. Although the exact time of the incident is not clear, it is believed that the poachers gained access to the park by cutting through three fences and sneaking passed a state-of-the-art, newly installed alarm system. The suspects then threw poisoned meat over the fence of the lion enclosure before mutilating the animals and stealing their paws and heads.
http://www.bulletin.us.com/articles/news/40312/2017-01-11/three-letaba-river-lodge-lions-killed-for-muti
In some of the few cases where there was a successful prosecution, we saw that the trace could be followed back from, for instance, Potgietersrus in the Limpopo province to Soweto which is some 300 kilometres away. The attackers were thugs from Soweto or Mamelodi or some of those places. And they attacked with some sort of military precision. So we believe that there is some force behind this. Who it is, we don't know, because the police don't want to investigate that. We've asked for a special investigation into this, to investigate what is behind the farm attacks. but the police stick to their story, that those farm attacks are just "ordinary crime,"–  Henk van de Graaf explains. Van de Graaf tells us that the attackers in some cases have waited for the farmer family, who are usually devout Christians, to go to church on Sunday. Then they have broken into the house, loading all valuables onto a car. But instead of driving off with the loot, they have waited for the family to return. Then they have been tortured for hours with hot irons, women getting raped and so on, and then they have been killed. That is not "ordinary crime"! If you want the TV. you take it and then you leave. Why wait for people to come home only to torture and murder them?
"This is our land, too"
ThewWhite minorities of South Africa are today under severe pressure. Aggressive black activists are using slogans like "Fuck White people" and "Kill all Whites" more and more frequently. Lately, such phrases have even been making inroads at universities, where black students have been wearing them on t-shirts and spray painting them on walls. Activists have also been tearing down statues which for white students are a celebration of their historical heroes, but which the growing black socialist party Economic Freedom Fighters (EFF) say remind blacks of  "apartheid" and therefore have to go.
A sister of a murdered Boer woman who was interviewed by New Times said that the local ANC representatives even blame the frequent power failures and brownouts on the "white apartheid " rule before 1994, because the generator in the district's power station was installed during apartheid rule and is now frequently failing.  Shouldn't they consider changing the generator instead, 22 years after the ANC took over? Not everything is white people's fault, you know? Yes, we've made mistakes, but we've done good things as well. If it wasn't for us, there'd be no generator to begin with. Many White South Africans have lost hope and are thinking of leaving the country they once built. But many also display a will to resist. Businessman André van der Berg, 44, who was stabbed and cut with a machete during the aforementioned break-in and has his left hand in plaster during our interview with him – it was nearly severed in the attack – believes that many whites will be ready to fight for their homeland if they are pushed far enough.
Some slips from the ANC party this weekend.Note the times on the slips – the 69000 one is 6:40 in the MORNING. The 28000 one is 18:00 in the evening…all in ONE DAY!! Also don't forget to check the WAITER's tip!! It SURELY is a lucrative business to be an "Apartheid" victim in South Africa– don't you agree? 
WHITE NATION– WE DO NOT HATE LIBERALS– WE DESPISE THEM!!
C'MON- SHARE OUR LINK