FOLLOW US BY REGISTERING ON THE TAB TO YOUR RIGHT
Send your e.mails with news and inquiries to: w.nation@mail.com
Article posted by: White Nation Tennessee USA – February 04  2017
AMERICA
I'VE  been watching the social sites quite a lot this week- and all I can see- is misdirected paid liberal puppets crowding the streets of America in a mass demonstration to recall the sins of Babylon – starting off with the women's march- organized by the Muslims and Jews. Teresa Shook  ( A Muslim LB)- of Hawaii created a Facebook event and invited "friends " to march on Washington in protest. -and George Soros and his cronies sponsored it.
BUT once this pathetic bunch of she-boon tardfaces walked their walk- the liberal leftist bottom-dwellers got their afterburners on- and start to launch a campaign against Donald Trump. Similar Facebook pages were created by Evvie Harmon, Fontaine Pearson, Bob Bland (a New York pink-ish  fashion designer), Breanne Butler  and others quickly led to thousands of  libtard women signing up to "  march ." Harmon, Pearson, and Butler decided to "unite"  their efforts and consolidate their pages, beginning the official "Women's March"  on Washington. To ensure that the march was led by women of differing races and backgrounds, Vanessa Wruble, (Jewstress)   co-founder and Head of Campaign Operations, brought on Tamika D. Mallory, Carmen Perez and Linda Sarsour to serve as "National Co-Chairs " alongside Bland.  Former Miss New Jersey USA Janaye Ingram served as "Head of Logistics." Organizers stated that they were "not targeting Trump specifically" and that the event was "more about being proactive about women's rights". Sarsour called it "a stand on social justice and human rights issues ranging from race, ethnicity, gender, religion, immigration and healthcare".
Now what tickles me is the fact that this " women's rights" are the same as when Obama was running the show- yet we did not see any "marches" when HE was in control. So where did this sudden "urge" jumped out of Pandora's box to start "marching" for " women's rights" all of a sudden? Looking at most of this so-called " organizers"- you can  clearly see it  was a Muslim LB starting the whole shebang to give " legitimacy" to the whole affair- then it quickly was hi-jacked by the crypto Jews...taking it to the next level. You must give it to the crooked Jews- they quickly can organize a system with all it's different levels of " control"- that much we must admit!  BUT again- the whole thing reeks of Jew conspiracies...from top to bottom. This "women's march" only serves as a red herring. It is a catalisator for something much bigger and much more sinister. A much deeper agenda is planned- and that agenda is mass riots nation-wide to try to "overthrow " Trump's power- either by civil disobedience– or by Marshall law. This is an age old Jew tactic- which factually could be traced right back to Robespierre and the French revolution. From there the plague went to Russia through the Bolsheviks- Germany – made a turn in South Africa- the Middle East- and now America. Obviously there were more incidents like Spain, South America and many more. Who will forget Che Guevara– the Marxist revolutionary "hero  " then?  It has all the markings of a usual Marxist revolution by the Jesuits. BUT  in Trump's case- this all is one huge false flag operation- and later-on I will explain why.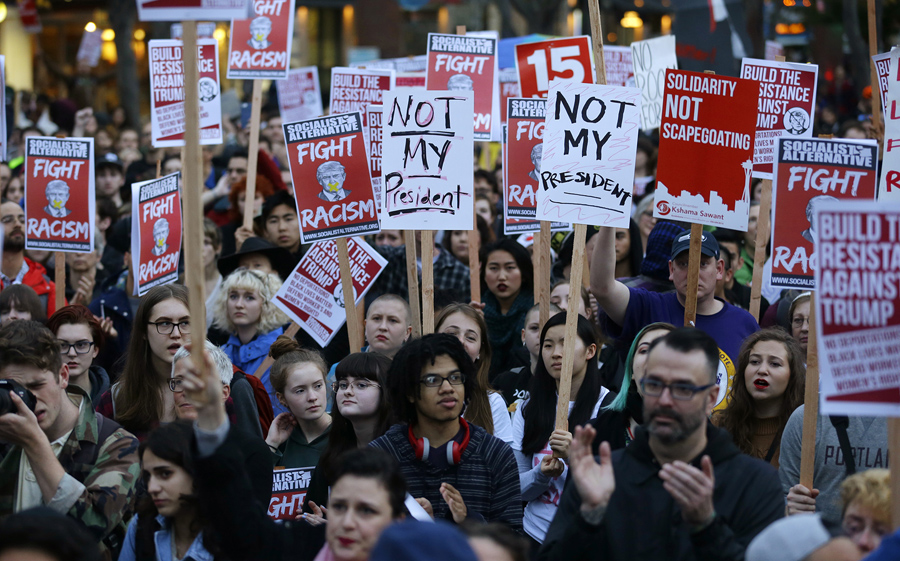 THE TRUMP PROTESTS- REAL…OR A NEATLY PLANNED PAID CONSPIRACY TO DUPE AMERICANS AGAIN?
America in the 30's already had their taste of this commi-sh*t. Think of  the greatest strikes in U.S. labor history and, apart from the garment workers strikes in New York and Chicago before World War I,  The railroad workers strike in 1877, the strike for the eight-hour day in 1886, the Homestead Strike in 1892, the Pullman strike in 1894, the coal miners strike in 1902, the steelworkers strike in 1919, the general strike in San Francisco in 1934 and the autoworkers sit-down strike in 1936-1937 Among the "industrial proletariat" considered by Marxists to be the agency of social revolution, Furthermore, apart from the native WASP elite,  Jews among all the immigrants to the U.S. have been over-represented in the world of banking and finance.  Samuel Gompers ( Jew) was president of the American Federation of Labor for nearly forty years; Sidney Hillman (Jew) became a top advisor to FDR, and the only two socialists to serve in Congress (three, if you count Bernie Sanders) were Jews. The role Jewish women have played in the American labor movement is even more remarkable in comparison to their non-Jewish counterparts.
  Jewish-led unions had close ties with Martin Luther King.  Jews have also dominate fields supportive of the Marxist  labor movements, such as educational institutions, fraternal organizations, law and popular culture. We can remember the gangster Jimmy Hoffa- and the dock workers strikes. German speaking Jews who arrived in the U.S. in the mid-19th century spread across the country and pretended to be merchants and shopkeepers. Some grew their businesses into department stores or made fortunes in other mass consumption-oriented businesses (toys, novelties, books, fashion, and more). BUT beneath the surface they were the connecting points for more sinister operations- like slave trading, illicit wares and the promoting/ funding  of Marxist ideologies. Yiddish-speaking Jews from Eastern Europe who arrived in the U.S. beginning in the 1880s settled in the big cities and pretended to be workers. From the beginning, they gravitated to the garment industry, in part because they had experience as tailors in Eastern Europe. At first, most were preoccupied with earning enough money to send for relatives they left behind in Europe. It did not take long, however, before they began to see labor unions as the path their economic and social progress and force the government to bend to their demands.
WHITE AMERICAN VOTERS SHOULD BE QUITE ALARMED BY THIS. WHO IS TRUMP SUPPORTING- WHITE AMERICA- OR ISRAEL?
THUS- coming back to the " women's march" and Trump- we again see the tell-tale signs of yet another Marxist conspiracy in the making. We will not guess just WHO is behind all this unruly "marches"- who very soon- will turn violent- "forcing " Trump's hand in a state of Marshall law. Now THAT is what these criminals want- America turning into a police state- and drawing America into a civil war. That is why Obama already prepared all the FEMA camps and thousands of coffins. . For instance:  Donald Trump this past Friday signed off on an Executive Order which "restricts " refugees from 7 predominantly Muslim countries from entering the United States for a period of 90 days. In turn, Trump's new immigration initiative has been widely "criticized " from all angles and has sparked sharp criticism and waves of liberal "protests " across the country.  Notably, tech industry giants have been particularly vocal in their "opposition " to Trump's new immigration policies. This past Friday, Google CEO Sundar Pichai sent a heartfelt email to Google employees (obtained byThe Wall Street Journal) stating that as many as 187 Google employees may be affected by the aforementioned travel ban. Pichai added that the search giant will do any and everything in its power to help them. "We're upset about the impact of this order and any proposals that could impose restrictions on Googlers and their families, or that could create barriers to bringing great talent to the US," Pichai said. "It's painful to see the personal cost of this executive order on our colleagues." Also entering the fray, Apple CEO Tim Cook over the weekend sent out a company wide email expressing similar concern regarding Trump's immigration policies. Incidentally, it's worth noting that Apple co-founder Steve Jobs was himself the son of a Syrian immigrant. (Link)
JASON GREENBLATT- TRUMP'S JEWISH ADVISER. ONE WONDERS HOW TRUMP CAN ADVOCATE CHRISTIANITY -BUT  WHOLE-HARDHEARTEDLY SUPPORT JUDAISM…YOU CANNOT SERVE TWO GODS AT THE SAME TIME. ANOTHER SIGN OF A SMOKING GUN?
But WAIT– something in this whole facade does not add up totally. Something is wrong here- VERY wrong- IF you look deeper. The hidden agenda is that the "elite" is aiming for the grain barns of America. Remember what Lennin once said: " Give me the oil of the Middle East, the minerals of South Africa- and the grain fields of America- and nothing will stop me from conquering the world."  And this is precisely what the Jesuits are aiming for….the grain fields of America!  They now already have but all the oil fields of the Middle East through blatantly waging a pseudo war and overthrowing the legal governments of the Arab world BAR Saudi- Arabia...their closest Arab ally. – they took South Africa's minerals  in a soft Koo-de-etat by forcing the communist Mandela down the throats of the greedy National Party– now they are aiming fro the grain fields of America. Their repugnant circle of perdition is nearly completed for total world domination. Domination to rule our food supplies, our energy- and our water…i.o.w our total existence will be dependent on a few buttons being pushed.
Trump on the other hand- is a very strange but interesting and highly controversial  character. The question is whether the " establishment" slowly are busy instating their own "government " in the United States through their front man Trump?  He stormed in from no-where- rallied all the Jews behind him- held staggering fast speeches across the country- and within record time had the majority population, congress, et al in his pocket to win the presidential seat in one huge clean sweep. Amazing! What I believe is that we are dealing here with one of the most intriguing conspiracies ever. I believe that we are watching the completion of a very long and complicated tactical offence against the free world without even noticing it. Now I know there are many of you that will tell me I am hallucinating- some might even recon  this is a bit too much- BUT I believe that we are watching the end of the free world as we know it- and we do not even realize it.
America must at all costs be conquered- and because America is such a strong and difficult opponent to face head-on with any kind of war – planning her destruction and ultimate capitulation to the New World Order needs some very special and careful planning by very special and careful actors- actors such as Hillary and Trump. Trump and Hilary are close friends- in fact  VERY close friends-  they came a long way together- and most of this election dirty linen was just a fraudulent charade to pull the wool over the eyes of the electorate- and they did it well! The two of them reminds me a lot of WWRAW. Enemies in the ring- friends in the bling. I believe we are watching one of the most devious hoaxes/false flag operations ever being played in world politics. Because the prize is so valuable- the game therefore must be flawless. I believe Trump is the best Illuminati player for this job who ever could follow  the footsteps of Adolf  Hitler. Remember- trump is old- one term only. He's got one job to do. The Republicans will see someone MORE powerful to take the reigns after Trump- someone like...David Duke maybe? Is Trump the American  version of FW De Klerk? Is he the key to open-up Pandora's box like what happened in South Africa? 
NOW- what I am doing here is purely only based on assumptions. Why assumptions- assumptions because on the one hand you cannot say for sure what is going on- Secondly things are too much controversial and does not add up- and thirdly too many things are just " too good to be true. "  Trump wants to make America "great " for all Americans- but he  only jumps for the Jews. Trump want to build a wall to cut off Mexico- now he only consider" certain parts. " Trump throughout his campaign freaks out about how bad Hillary is- but behind the scenes he cuddles up with her. Trump want to ban all Muslims out of America- but he kisses them in public and take selfies with them. He want to safeguard America from all terrorist attacks- but want to suck up with Israel that at the moment are assisting ISIS with "advisers." He wanna be "pally-pally" with Putin- but still allows thousands of American troops, funds  and war material to assist NATO in preparation with a war against Russia. Trump want to wage a war against terrorism- but still allows the CIA to fund and operate ISIS. Trump attacked the CIA for their stance against him- but then goes and hug them and hope he and the organization can work together. Shall we also ask " Et Tu Donald?" What is your REAL agenda here? Where precisely in this conundrum of political mazes does the WHITE American fit in – because we NEVER once heard you say something positive that would benefit the white homogeneous Americans?  Are you maybe also playing the " political correct" game here Don- too scared to mention the term "white"- while it doesn't bother you to use the term "Jews" and " Indians?"  As I can remember it was the vote of the majority WHITE Americans that put you in the Oval office…not so? So why are the white American now sentimentally  shy-ed in all your speeches then? So allow me to play a bit of Devil's advocate here.
Many clever and alert people will tell you that if something just make no sense- you must start eliminating this that DO  make sense- and the smoking gun will be this left NOT making sense. These people will also tell you that if you do not understand the riddle of a maze- to rather move a step backwards and look at the scenario from outside of the proverbial "box. " Now if we do THAT with the Trump scenario- we see something VERY different then what we see INSIDE  the box. Let us then stand back a bit and see what we observe from a " distance.": For instance – Trump came from no-where. At the age of 70 he suddenly appears on the political scene. Where was he all this years bar making money out of Real Estate? We see Donald now slowly and diplomatically back-tracking on his masquerade of banning Muslims ( Link)  Then we see Trump nearly worshiping Israel. We also note that Trump encircled himself with Jews. We note that Trump's family are marrying Jews. Why all the Jews? We saw Trump's inauguration speech- we listened- and all we hear is how he will make "America great"– but he did not mention for WHO? We also noted that he never said a word about the WHITE Americans- yet he lend prominence to the Jews and Indians? There is your first sign of the smoking gun- this Trump did NOT say.
The there is the multiple election " promises" from which " The Don" is backing off from now.  One such an example is the Hillary Clinton affair.  Trump's vow to jail "Crooked Hillary" Clinton brought thunderous "lock her up" chants at rallies throughout his campaign. But, during an interview with the New York Times recently – , he showed little appetite for another investigation. "I don't want to hurt the Clinton's, I really don't. She went through a lot and suffered greatly in many different ways," he told reporters, adding that launching an investigation was "not something I feel very strongly about."  Trump also shifted his stance on global warming, which he once said was a "concept created by and for the Chinese in ordering to make U.S. manufacturing non-competitive."
DONALD IS A LONG-STANDING FRIEND OF THE CLINTONS- HE EVEN INVITED THEM TO HIS WEDDING!
But on Tuesday, he said he thinks there is "some connectivity" between human activity and global warming.  Just days after the election, Further-more it is the Obamacare issue that was another of his promises that now slowly begin to get unstrung. Trump suggested that he would like to keep the "most popular" aspects of the Affordable Care Act (otherwise known as Obamacare) passed by  Barack Obama's administration in 2010. Trump told the Wall Street Journal he would consider keeping the benefit that forces insurers to cover people with pre-existing health conditions and another allowing children to use their parents' plan into their mid-20s. Trump called Obamacare "disastrous" during his campaign, criticizing Clinton's proposal to expand the program.  "Obamacare has led to higher prices, fewer choices and lower quality," said Trump during a Nov. 1 campaign rally. "Hillary Clinton wants to expand Obamacare and make it even more expensive." Then after his victory in the election- he dropped the bombshell on that promise: He said he "reconsidered " his stance after meeting with Obama at the White House following the election. Then we look at Trump that promised the worst kinds of torture for the ISIS decapitators:
Calls to bring back waterboarding, other torture techniques
Trump repeatedly advocated waterboarding and "a hell of a lot worse" to fight terrorism throughout his campaign."In the Middle East, we have people chopping the heads off Christians. … I would bring back waterboarding and I'd bring back a hell of a lot worse than waterboarding," he said. "We don't go far enough."  But Trump seems to have backed away from those calls. According to the New York Times he reversed his view after a discussion with retired Marine Gen. James Mattis, who is considered a possible pick for secretary of defense. According to an LA Times report, Trump said Mattis explained that he found building a relationship with the suspect had proven to yield more useful information during interrogations. "'Give me a pack of cigarettes and a couple of beers and I'll do better,' Mattis said, according to Trump, who said he was "very impressed with the answer," read the report.
Deportation promises
During his campaign, Trump said he would deport an estimated 11 million illegal immigrants. However, during an interview with 60 Minutes, Trump softened his stance saying he would move to deport up to 3 million immigrants who have criminal records. "What we are going to do is get the people that are criminal and have criminal records, gang members, drug dealers, where a lot of these people, probably two million, it could be even three million, we are getting them out of our country or we are going to incarcerate. But we're getting them out of our country," he said.  Even his promise of that controversial wall separating the U.S./Mexico border has changed in ways. During the same interview he suggested the wall may take on the form of a "fence" in some areas. (Link) This is only but a few of the promises he made during his campaign that he slowly but "diplomatically" now are backing away from. We expect as time goes by- there will be quite a lot more that he will be backing away from.
OUCH- DONALD!!! KISSING A MUSLIM IN PUBLIC- THE SAME MUSLIMS YOU WANT TO "DEPORT???"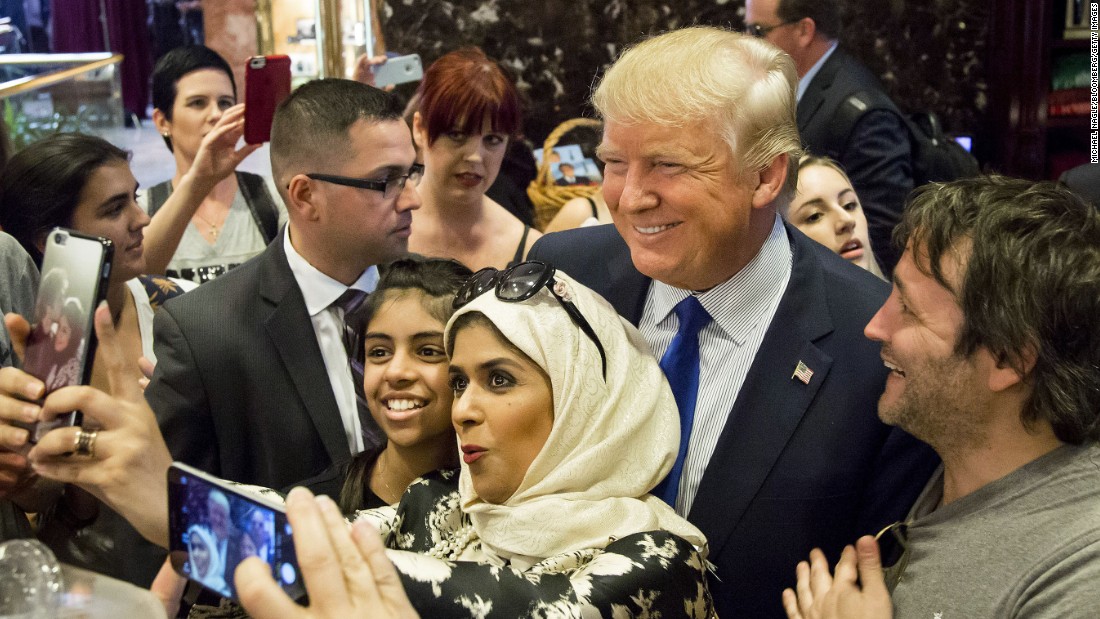 NO, NO, NO DONALD…SIDING AND SMILING WITH THE SAME ILLEGAL ALIENS YOU WANT TO GET RID OFF? WHAT HAPPENED TO "AMERICA FOR AMERICANS " THEN???
Few should be surprised that Trump, a political chameleon who was a registered Democrat in New York City before he crisscrossed America's heartland in his Boeing 757 as a "born again " Republican, flip-flopping on issues ranging from the Iraq War to abortion as he went, may now be abandoning—or at least softening—some of his most extreme positions. The Muslim ban? It may or may not be happening. The Wall? A great "campaign device." Obamacare, too, might not be so bad, Trump has said, as long as he can keep just the "popular parts."  Then again, it may be just as likely that Trump keeps his promises, depending on who has his ear and whatever he is feeling on any given subject at any given time. Asked whether his supporters would be upset by his decision, Trump replied no. "I don't think they will be disappointed. I think I will explain it, that we have to, in many ways save our country. Because our country's really in bad, big trouble. We have a lot of trouble. A lot of problems. And one of the big problems, I talk about, divisiveness. I think that a lot of people will appreciate . . . I'm not doing it for that reason."
We beg to differ. This was some of the key-issues why his electorate voted for him- to do just what he promised. They believed in him to execute his promises- now he starts to back-track on that same issues that made him win the election. This back-paddling from his promises is another additive to the signs of the smoking gun. People will maybe reason that "all politicians make election speeches that they do not honor"- which is true. BUT when you repeat some crucial issues over and over again that people WANT to be changed-t and then start to pull out of that issues when you won the election based on that issues-  means you never were intended to change that issues at all in the first instance –  but only told your electorate what they "want to hear. " That makes you a good salesman(which Trump is)- but no lesser a lair than your opposition. You expose  hidden agendas and at some point going to start screwing the same people that voted you into power. This makes us wonder- how many more promises will be "rejected" along the way during the next 5 years of office? We saw a good example of this in South Africa how De Klerk and his National Party lied to the white voters and back-tracked on ALL their promises just to make sure their Jewish masters are happy when they handed the country on a platter to a murderous communist regime. Will Donald be the American version of FW De Klerk- that ultimately will hand America over to the new World Order establishment and the Muslim/Mexican  invaders? 
FOR BEING SLANDERED AS A "WHITE SUPREMACIST" EITHER TRUMP IS NOT DOING TOO GOOD- OR HE IS AN EXCELLENT CON-ARTIST POISED IN WINNING ELECTIONS. STRANGELY I CANNOT FIND A PICTURE OF TRUMP KISSING A WHITE GIRL BAR HIS OWN FAMILY ( AND MARLA MAPLES– HIS FLOOZE OF YESTERYEAR) . SHOULD WHITE AMERICANS START TO BE CONCERNED?
This is the old, old Jesuit way of doing things. They start their election campaigns on the right side of the political spectrum- but eventually ending up applying policies from the left side. Politicians are trained mimic con-artists- whether they are left wing or right wing- they all belong to the same Jesuit -trained parrot. AND Trump slowly are displaying this same rhetoric. No wonder Trump- who is considered the " most hated" politician of all times- was voted UNANIMOUSLY the winner. This makes you wonder- did he really win by popular vote- or by deliberate interference from some other unknown manipulators? With all the "anti-Trump " riots now going on across America- surely one would recon he should have lost by a mile against Clinton.This again start to tell us that the whole election- as well as this sudden " rebellion" against him all are a neat staged false flag operation to get him into power in any case. They call it "reverse psychology." Pushing the voters in one direction JUST to eventually get them to actually vote for another direction. Remember- ALL political parties were created and are funded by the Jesuit controllers. Also Trump was a staunch Democrat. Something here just does not smell "Kosher" at all. NO– wait– what am I saying?? Let me correct myself- In fact ALL this facade eerily smells HEAVILY "Kosher"– if you know what I mean…Another sign of a smoking gun?
" The New York Times Is O.K., For Now…"
It was quite interesting that Trump agreed to sit down at all with the "nasty" Times, which he has often accused of being biased and unfair to him. On Twitter, he called the "failing" paper "really disgusting,", "poorly run and managed", and, of course, "SAD!". As of last Tuesday, he told the Times board that he still didn't think they treated him fairly—"I would say The Times was about the roughest of all"—but otherwise he had a different tune. "Look, I have great respect for The Times, and I'd like to turn [our relationship] around." 
TRUMP AND THE KNIGHTS OF MALTA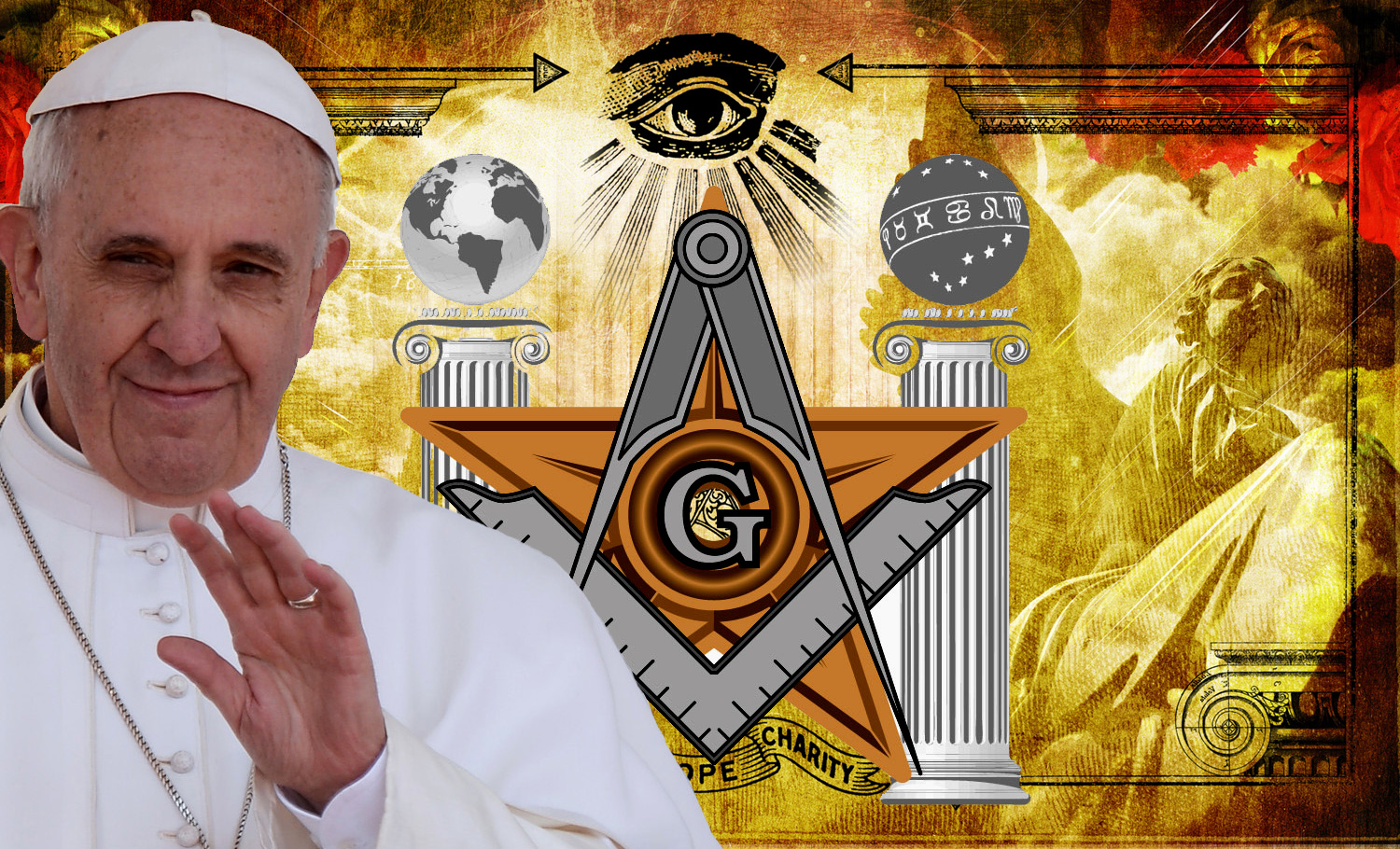 The Order of Malta(Knights of Malta) leader in the US, Cardinal Timothy Dolan, shockingly presided over the inauguration prayer ceremony (the most elaborate in American history)  of President Donald Trump by reading scriptures from the Freemasons most holy book called the Wisdom of Solomon—immediately after which,Pope Francis ordered all Freemasons to be expelled from the Church.
According to this report, on 18 February 2016, Pope Francis publically declared that Trump was not a Christian in order to influence the American election, thus leading the Security Council, on 28 February 2016, to stunningly reveal that then New York City billionaire Donald Trump was the leader of the Freemasonic forces retaking control of America to coincide with the 300th anniversary of their main lodges founding in London on 24 June 1717, and whose members actually created the United States. With Freemason Trump winning the US presidency, however, this report continues, Pope Frances discovered that, at least, 34 of the highest ranking Order of Malta members in this US, as well as other highly ranked Roman Catholic Church officials, had supported America's new leader in his historic victory over the apostate Hillary Clinton—thus leading Pope Francis to order Cardinal Raymond Burke(November 2016) to "clean out" all of the Freemasons found in the Order of Malta, and a month later (December 2016) his creating of a commission to investigate everyone in the Order of Malta too.
In what has been characterized as an "extraordinary rebuke", however, this report notes, the Order of Malta in response to Pope Francis told him to stay out of their affairs—with Cardinal Burke further threatening Pope Francis with a "formal act of correction" if the Pontiff, in essence, didn't back off. Most feared by Pope Francis about the Freemason forces being led by President Trump, this report explains, is how quickly they have ravaged the "demonic globalization agenda" the Pontiff has long supported—and whose victories include the United Kingdom leaving the European Union (Brexit), Trump's victory in the US, and these Freemason forces now flooding back across the Atlantic to recapture France—and whose people, unlike those in America, still greatly fear these Freemason forces with their knowing of their true power and might. (Link)
THREE  issues that bothers me is the Syria, Benghazi  and NATO issues. NOW we all are quite aware of the fact that ISIS -with all their new American supplied Toyota pick-ups and weaponry was a combined CIA/MOSSAD created terrorist movement all in order to gain access to Syria's oil reserves. We also know that most ISIS operatives are CIA planted operatives and have Israeli "advisers."  That is yet another age-old Jesuit tactic- funding both sides of the war. This happen in both world wars- as well as in the South African/South West border war where Oppenheimer funded both the South African regime as well as the ANC/SWAPO insurgents. The question now is what stance will Trump take on Syria? It does not help trying to chase all the terrorists out of America- and happily proceed to support them in Syria again.  Obama supported ISIS with about every need to keep the war going. We know there were many staged conspiracies as well. Will Trump proceed this bourgeois war and secretly keep on funding ISIS- or will he publicly announce and really cut all American taxpayer funding to ISIS? I cannot understand why millions of dollars and rubels are spent in trying to eliminate ISIS where-as cutting off their financial life-line would be the best option and ensure the end of the campaign and the end of wasting more tax payers' money. The third issue obviously would be the Benghazi hot potato- a very sensitive issue for the American people- which obviously will link madam Hilary and her e-mail scams to the issue. I do not believe Trump want to resolve this issue- as he have very close ties with the Clintons- and that only will complicate their relationship SHOULD Hillary be involved in another messy affair. This also is a point Trump neatly avoided during his campaign- if you noted.
THE BENGHAZI HORROR- A PICTURE THAT WILL FOREVER BE ETCHED IN THE MEMORIES OF THE AMERICAN PEOPLE. J. CHRISTOPHER STEVENS WERE BRUTALLY TORTURED AND THEN MURDERED. TRUMP IS TIP-TOEING ON THIS SENSITIVE AFFAIR AS WELL AS HE THEN WILL HAVE TO BRING HILLARY CLINTON TO THE JUDICIAL BOX. WITH SUCH A MOVE ALL THE E-MAIL SCAMS WILL HAVE TO BE LINKED AS WELL. THIS COULD SEVERELY TARNISH THE TRUMP/CLINTON RELATIONSHIP.
The other issue is the NATO question. Thousands of American troops and military gear were pumped into the NATO preparation to infiltrate and attack Russia. Now Trump advocates that he want to be buddies with Putin. This I do not understand- How can you want to be buddies with someone while you still support his enemy ? Will Trump pull American support out of the NATO offense- or will he "diplomatically" keep quiet about it and proceed to support the NATO aggression pact against Russia? Strangely- In his whole campaign Trump has not said a WORD about this three issues.Whether Trump will order a full audit on the scrupulous  Jewish-controlled Federal Reserve…closing down and reshuffle the terrorist CIA- or order a full investigation on the 9/11 mass murder of Americans- is yet to be seen.  AGAIN– it is not what Trump has said- but factually what he did NOT say that comes up to be very questionable. Another sign of a smoking gun? Then there also is the issue that makes us believe TRump was pushed into office by the NWO: Trump advocates a one-world currency:
Is that not the reason why Trump was coached into the presidency in the first place- to bring about the introduction of a one-world currency- a step closer to a one-world order? SO– from where I stand looking from "outside" the "box"– there are quite a lot of unsolved "mysteries" – issues- that just doesn't make sense with Trump and what he said compared to what he actually does. Maybe Trump talked the sales talk too quick during his election campaign. Maybe he deliberately made promises to mislead the electorate- maybe he now realize there is quite a difference between making promises and actually implementing them. Maybe reality caught up with him. Maybe the secret Jesuit "controllers" had a word with him…or maybe…just maybe- this was the agenda all along. With so many Jews in his team and Trump's direct announcement of his unsolicited support of Israel – one can safely assume that Tel Aviv still will be dictating Washington's policies. Who knows- but that this whole "anti-Trump" facade is a deliberate staged conspiracy – seems to be more evident every day. I hope that I am totally wrong in this synopsis– but I really want to be honest and say I very much doubt I am. I believe not only the American voter- but the rest of the world are being taken for a mega ride and media psi-ops propaganda campaign by the Illuminati orchestrators.
Trump- being an old man-  just appear on the political scene too suddenly. His excellent oratory skills in telling the American populace this they want to hear instead of this they ought to hear- was just too good to be true. He acted like a man on a pre-planned mission- to mind-f*ck the American populace in a well-planned pre-emptied psychological strike. He made sure he concentrated specifically on issues the American populace had concerns about. By setting up Clinton as an opponent was yet another vintage ploy by the Jesuits…the "good cop-bad cop " scenario. They always create two opposite sides of the equilibrium to ensure one of them will be a winner – when factually they fund and support both. Only the next 4 years will expose the real truth and what surprises  Trump will have in store for us. Personally I believe he will still pursue Obama's (Illuminati) policies with some mild changes here-and-there. Kissing babies and pinching their cheeks with one hand  in the open is one thing- secretly stealing their lollipops with the other hand  is another. Bottom-Line is that I believe Trump will continue the Babylonian ethics-  and keep the good old Sodom and Gomorahn norms and values well and alive in America- maybe just in a more "conservative" and "patriotic" way- but still well and alive. " What you see- is not what you see- but what you do not see- is what you are supposed to see- for what you do not see- is what you are not supposed to see"- Andrew K.
SOURCE- White Nation
WHITE NATION– WE DO NOT HATE LIBERALS– WE DESPISE THEM!!
C'MON- SHARE OUR LINK