Send your e.mails with news and inquiries to: w.nation@mail.com
Article posted by: White Nation  correspondent Johannesburg – February 06  2017
SOUTH AFRICA– FAILED LAND OF COMMUNIST ANC ORGANIZED CRIME ,LIBFARTS, UNION CHAOS , MISDIRECTED RAINBOW MONKEYS – AND WHITE GENOCIDE
LEGENDARY  Springbok scrumhalf Joost van der Westhuizen has died after a long battle with motor neurone disease. Van der Westhuizen, who played 89 Tests for the Boks, passed away on Monday 13h30 after being rushed to hospital in a critical condition over the weekend. He was 45. Back in 2011, Van der Westhuizen was diagnosed with the most severe form of motor neurone disease (amyotrophic lateral sclerosis), and was given between two and five years to live. Yet, despite the debilitating effects of the neurodegenerative disease, Van der Westhuizen defied those odds, and devoted himself to aiding sufferers of the fatal disease through his formation of the J9 Foundation.
The organisation's core objectives are to contribute to research and raise awareness, both locally and internationally, for motor neurone disease, while supporting efforts across the globe to find a cure or cause. Van der Westhuizen's legacy will live on through the work conducted by the J9 Foundation, while his place in the Springbok history books has long been secured. During his brave battle with the disease, Van der Westhuizen was confined to a wheelchair after losing the use of his arms and legs, while he was only able to talk via a speech-generating device, and was unable to keep his head up without support. Although Van der Westhuizen was always able to breathe on his own, towards the end of last year his weakened chest muscles refused to cooperate, causing him to struggle to inhale a breath of air. It led Van der Westhuizen to begin using an oxygen machine when the need arose, but he did not remain dependent on it.
Despite certain setbacks as Van der Westhuizen became weakened by the disease, which also led to the appointment of three caregivers to look after him, the much-loved former Bok constantly remained upbeat and positive. However, on 4 February, he had to be rushed to hospital, and it was confirmed on Monday that he had passed away surrounded by his loved ones at his home. Van der Westhuizen leaves behind two children, Jordan (13) and Kylie (10), as well as his father Gustav, mother Mariana, and brothers Pieter and Gustav. 'The family remain strong under the circumstances' however are devastated at the loss'' the J9 Foundation's Claire Kaye-Grobler said in a statement on Monday afternoon. 'This is a great loss to so many around the world and the family would like to extend their greatest gratitude for the love and support shown over this difficult time.' Following confirmation of Van der Westhuizen's death, tributes continued to pour in from around  the world, with many people recalling memorable moments from the career of the legendary former Bulls player, who established himself as the Springboks' first-choice scrumhalf for the better part of a decade after making his Test debut against Argentina in 1993.
He retired in 2003 as unequivocally one of the most highly regarded players to have ever worn the green and gold, with Van der Westhuizen ending his career with a Test try tally of 38 (second on the all-time Springbok try-scoring list). As a tall and well-built player, Van der Westhuizen changed various long-held perceptions around the role of a traditional scrumhalf, with his strong running and fearless defense making him one of the most revered players of his generation. Van der Westhuizen featured in three World Cups for the Boks in 1995, 1999 and 2003, while he formed part of the victorious Tri-Nations squad in 1998. He was also nominated for SA Rugby Player of the Year on six occasions (1993, 1994, 1995, 1996, 1998 and 1999). In the Springboks' historic World Cup final win over the All Blacks in 1995, Van der Westhuizen made one of the most memorable contributions when he completed a textbook tackle on a flying Johan Lomu early in the game.
One of the most searched for videos on SAPeople today is the one below, when New Zealand rugby great Jonah Lomu went to South Africa and visited his rival and close friend, Springbok player Joost. Jonah Lomu passed away in November 2015.Joost van der Westhuizen died today. Watch the wonderful video below. We hope they're playing rugby in heaven tonight…
Watch Johah Lomu meeting Joost van der Westhuizen in South Africa…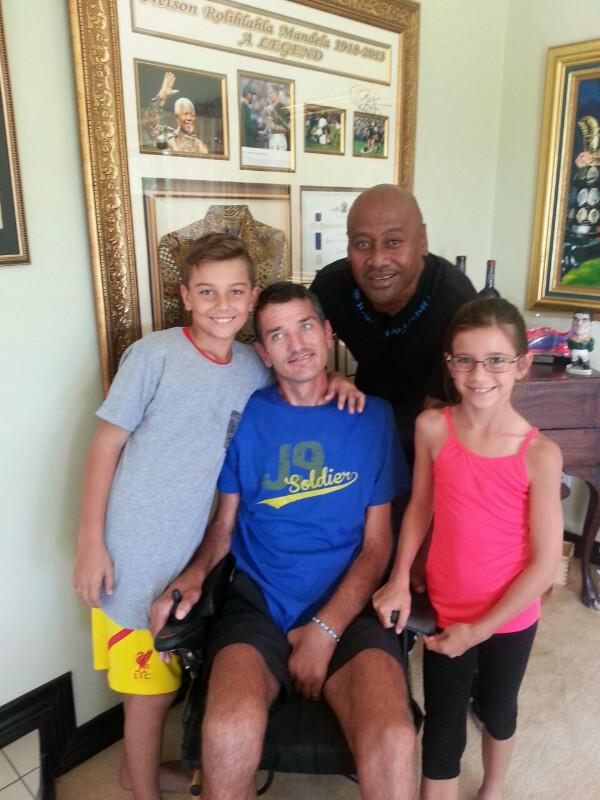 Thank you so much for the visit my friend. You are in my prayers. @JONAHTALILOMU
In the months before Lomu passed away at the end of 2015, he paid a visit to Van der Westhuizen's home and paid tribute to the scrumhalf who had done so well to keep him at bay at Ellis Park: 'How do I know you Joost?' he asked. 'I know you as the No 9 who tackled me and stopped me from scoring a try, and at the same time stopped us from winning a World Cup,' Lomu said with a laugh. 'Promise me you'll keep fighting, because I'll keep praying for you,' he added later on, in a touching moment between the two legendary players. Besides his heroics for the Boks, Van der Westhuizen loyally plied his trade for the Bulls from 1993 to 2002 (earning 144 Currie Cup caps and making 36 Super Rugby appearances), while leading the Bulls to the domestic trophy in 1998 and 2002. He captained the Boks on 10 occasions, while he also led the Springbok Sevens side at the 1997 World Cup in Argentina. Inducted into the International Rugby Hall of Fame in 2007, Van der Westhuizen may be gone, but he will never be forgotten.
WE SAY GOOD-BYE TO A GREAT SON OF SOUTH AFRICA THAT FOUGHT UNTIL THE LAST
White Nation want to send our condolences to the family. Joost is in a much better place now. No pain, no sorrow. 
SOURCES:
http://www.sarugbymag.co.za/blog/details/joost-dies
Heartwarming Video: Jonah Lomu Fights Back Tears Meeting Joost van der Westhuizen in South Africa
WHITE NATION– WE SALUTE OUR GREAT HEROS
C'MON- SHARE OUR LINK