FOLLOW US BY REGISTERING ON THE TAB TO YOUR RIGHT
Send your e.mails with news and inquiries to: w.nation@mail.com
Article posted by: White Nation  correspondent Johannesburg – February 11  2017
SOUTH AFRICA– FAILED LAND OF COMMUNIST ANC ORGANIZED CRIME ,LIBFARTS, UNION CHAOS , MISDIRECTED RAINBOW MONKEYS – AND WHITE GENOCIDE
YUP- They'v done it again!! The monkeys came to town again. South Africa's   parliamentary circus erupted into chaos on Thursday night again, with fists flying and pepper spray choking the galleries as security guards violently ejected dozens of opposition MPs into streets where riot police and troops were deployed. It was the worst outburst of violence in parliament in years. Tensions have escalated as mobster Jacob Zuma has become engulfed in corruption scandals, while his government has resorted to the heavier use of police and security agents to control protests.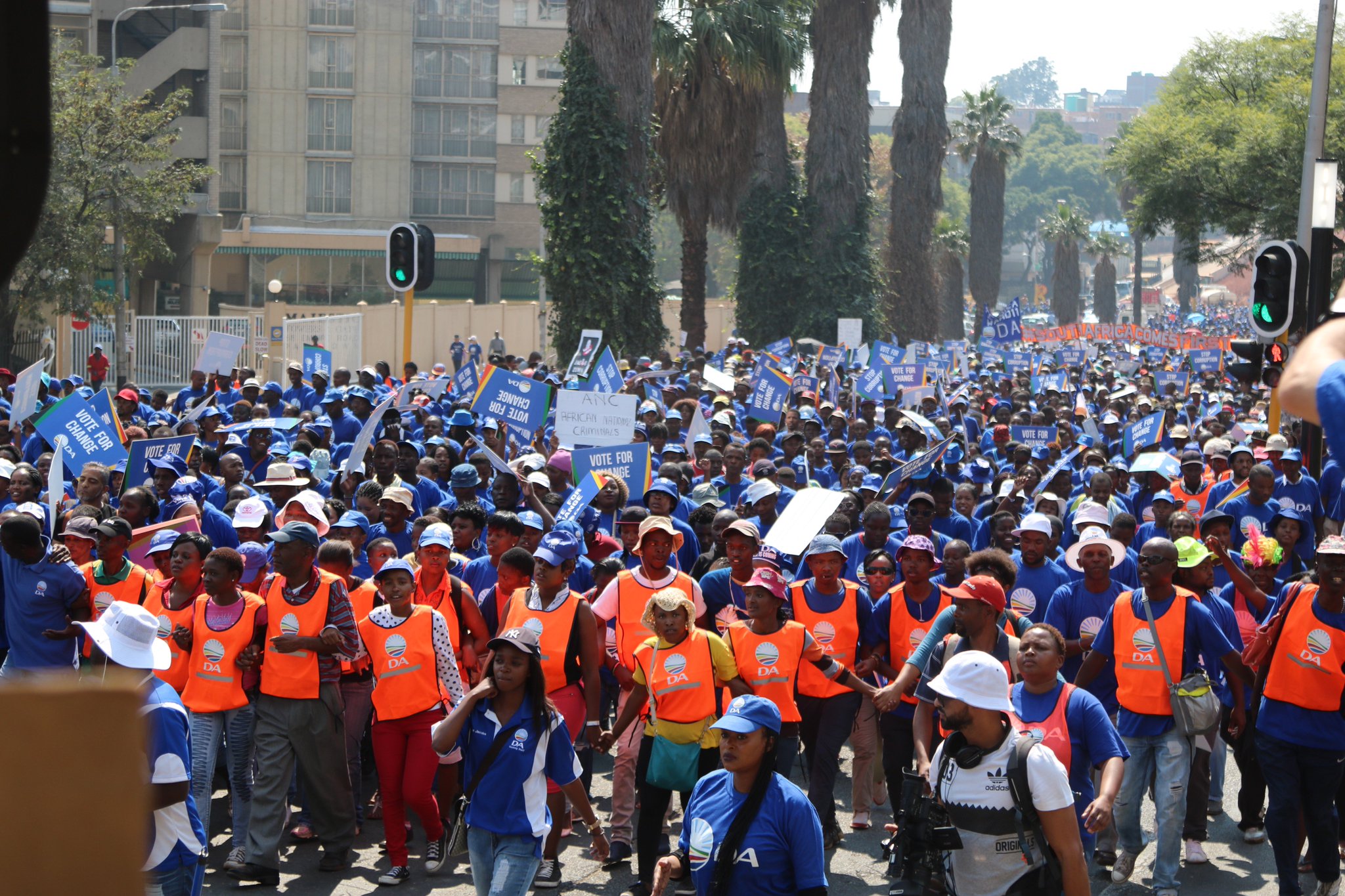 WELCOME TO AFRICA'S BIGGEST OPEN AIR CIRCUS WHERE EVERY-ONE IS A CLOWN
Thousands of riot police and armed soldiers were stationed outside the parliamentary compound, sometimes blocking the movements of media and politicians. Even before the mobster's speech, police used stun grenades on the streets to disperse clashing supporters of rival parties. Zuma ignited the latest storm of controversy by announcing on Tuesday night that he was deploying 441 troops to Cape Town to help the police "maintain law and order during the opening of Parliament where the President will deliver the State of the Nation address." He gave no indication of the reasons for the deployment. The move was a shock to many South Africans, who have been taken for a ride since the Jewish-orchestrated hand-over of the National Party at CODESA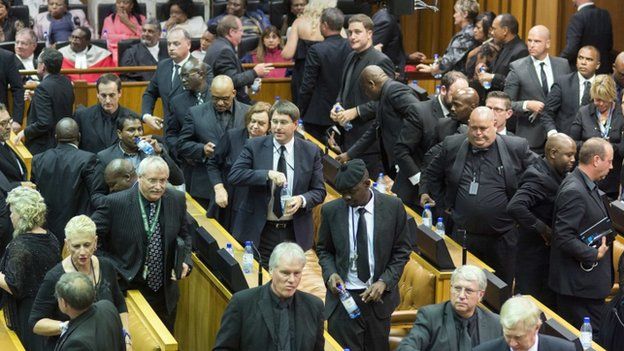 LIBERAL POOPS  WALKING OUT WHILE THE 'HASH-TAGS ' ARE ENJOYING THEIR SOWETO-SHEBEEN BRAWLS.
Several experts said the military deployment may have been illegal, since Zuma is not permitted to deploy soldiers unless he has given reasons to Parliament, and he cannot send security forces to Parliament unless he has obtained the permission of the Parliamentary speaker. Despite official claims that the troops were merely an emergency "backup " to the police, several armed soldiers were spotted inside the parliamentary precinct on Thursday night. Earlier in the day, a convoy of military armored vehicles was seen rolling into Cape Town, and some of the armored vehicles were stationed in the center of the city. "When the executive branch – headed by the President – uses the military to intimidate political opponents by a needless show of force, it constitutes an attack on democracy," said constitutional lawyer Pierre de Vos. "A president should never deploy members of the defense force in a show of force in and around Parliament unless the life of the nation is threatened."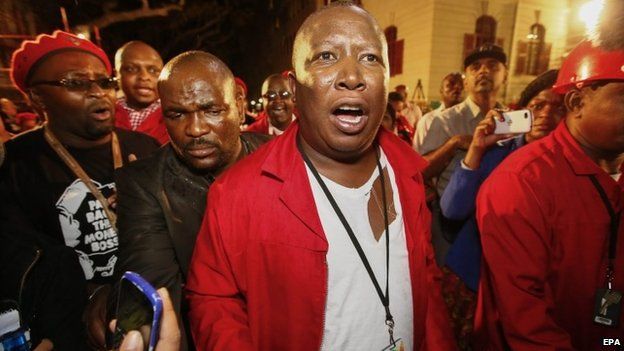 MEET ONE OF THE TWO NATIONAL CLOWNS PLAYING POLITICS IN SOUTH AFRICA. THIS IS THE CLOWN THAT WANT TO INVADE WHITE FARMS.
As soon as  Zuma attempted to give his State of the Nation speech on Thursday night, opposition MPs interrupted him and raised a series of points of order. Julius Malema, the British-paid firebrand leader of the opposition Economic Freedom Fighters party, said  Zuma shouldn't be allowed to speak because he was "rotten to the core." After 80 minutes of insults, jeering, obscenities, expulsions and violence,  Zuma was finally able to give his speech. By then, all of Malema's Telle-tubbies had been ejected, and other opposition MPs had walked out in protest, leaving only rows of empty benches on the opposition side. In his speech,  Zuma repeated his call for "radical economic transformation" to allow the black majority to gain a bigger share of the country's wealth. But he gave few details of any new programs to achieve this. Mmusi Maimane, leader of the Democratic Alliance, the largest opposition party, said his party will go to court to challenge the deployment of police and soldiers in the parliamentary precinct. "The violence and disorder witnessed this evening is the direct result of a corrupt political party clinging onto power by using fear tactics and intimidation," he said.
THIS IS YOUR "LEGISLATURE" HAVING A GREAT NIGHT-OUT IN THE MOST EXPENSIVE SHEBEEN IN CAPE TOWN.
NOW this is the same bunch of psychopathic Soweto  shebeen crawlers that want to "rule" the country and pump out umpteen "laws" to keep us in "check" and manufacture bourgeois legislation against 'white racists." This is the same bunch of unruly shenanigans that earns top dollar for screwing up the country- and we clearly can see how. This is the same rag-tag half-wit monkeys that "think" they have the brains to sit in parliament with "very important" credentials and play politics. This is Africa- and what we see here- is the main reason why South Africa since 1994 become a waste-land for black 3rd world political scavengers that knows less about Western politics than a fart knows about smelling like a Daisy.
-AND THEY WANT TO MANUFACTURE 'LAWS" TO KEEP US IN "CHECK???"
HOW INTELLIGENT CAN THIS ONE BE?
OSTENSIBLY THE WORLDS MOST HIGHLY PAID AND NOTORIOUS MOBSTER
OUR BIG TELLY TUBBY  FATBOY JULIUS " THE FARM INVADER" MALEMA GETTING THE RIGHT TREATMENT THE THUG RIGHTLY DESERVE.LOUD MOUTH " REVOLUTIONARY HERO " ON A PODIUM- LILLY LIVERED USELESS COWARD IN THE FRONT LINE. WAS IT A WHITE MAN THAT SHOVED HIM OUT- WE WOULD HAVE HEARD HIM SCREAMING THUNDER AND "RACIST" BRIMSTONE TODAY IN THE NEWSPAPERS . BUT SEEING IT WAS A BLACK MAN- JULIUS WILL BE ALL TOO QUIET- FEEBLY FRETTING AT ZUMA. ZUMA- WITH ALL HIS CORRUPT WAYS- KNOWS HOW TO DEAL WITH THIS LITTLE FAT SCUM. 
WHITE BOERS- TAKE A LOOK AT THE MAN THAT ARE RESPONSIBLE FOR INSTIGATING THE MURDERS OF HUNDREDS OF YOUR COUNTRYMEN. TAKE A LOOK AT THE BAG OF SH*T WHO WANT TO HELP MOBSTER ZUMA TAKE YOUR LAND AWAY. NOW YOU KNOW HOW TO TREAT THEM. ..FIGHT BACK! 
However- there WAS a lighter side to this: , Julius Sello Malema is alleging that his balls were squeezed during Parliament scuffle at the SONA event. Charging the Fighters to keep the fight on, the EFF lord twitted that the white shirt security always go for his balls anytime there's a scuffle in Parliament. "The bastard is squeezing my balls yeses, they always go for my balls this white shirts.They do this all the time, hai. No retreat fighters," he tweeted.
THIS IS YOUR AVERAGE SOUTH AFRICAN POLITICIAN……THIS IS HE AVERAGE INTELLIGENCE RUNNING OUR COUNTRY INTO THE GROUND..
WELCOME TO THE MOST EXPENSIVE CIRCUS IN AFRICA- WATCHING THE CLOWNS DOING THEIR PERFORMANCE
–AND IF THEY ARE NOT BRAWLING, SHOPPING, EATING, DRINKING AND CHASING "WHITE RACISTS"- THEY ARE….SLEEPING! IS THIS WHAT THE JEWRY HAVE DUMPED IN 1994 ONTO SOUTH AFRICA?
This is now your "land invader" brain-stormers displaying themselves in their true fashion to the international world- a despicable conglomeration of brain-dead sub-Saharan dead-beats out for plundering the country in the same chaotic manner they act in their parliament. They cannot even adhere to their own set of disciplinary ethics( if they have any) in their own monkey-tree. How the hell do you recon they must run a country? Do you still wonder why South Africa is in such a mess? This is the reason why most of us as normal intelligent South Africans wipe our back-sides on all their so-called fake 'laws"– they cannot even adhere to those "laws" themselves! It is then no wonder South Africa became the laughing stock of the world…and sadly the next country to slip into the status of yet another failed African state. Nobody takes this lot of laughing gorillas serious anymore. All they can do is plundering the state coffers and chase "white racists."
THIS IS WHAT THE UNION BUILDINGS LOOKED LIKE BEFORE THIS BUNCH OF NEANDERTHALS TOOK OVER THE COUNTRY…
-AND THIS IS HOW IT LOOKS TODAY AFTER THIS BUNCH OF  NEANDERTHALS TOOK OVER THE COUNTRY..
Meanwhile thousands of white people are murdered while these oafs are having their local tribal brawls . Sadly the economy is on a verge of disaster while idiots like this still play "politics."  South African politicians are nothing but a bunch of half-wit uncivilized gangsters and thieves permanently on a quest to try to get the best position in the false "democratic" gravy train while the country is steering itself on a collision course with a financial ice berg. The latest incompetence and maladministration of this lot of half-wits is that the Water and Sanitation Department is bankrupt and has racked up nearly R4.3 billion in debt. (Link) These whackos have turned South Africa into a bloody zoo! God help this country with THIS lot of shebeen brawlers!
SEE VIDEO THE KIND OF INTELLIGENCE WE ARE DEALING WITH HERE
SOURCE: White Nation
WHITE NATION– WE DO NOT HATE WHITE LIBERALS– WE DESPISE THEM!!
C'MON- SHARE OUR LINK