"HEY ZUPA!!- It's the great white father here! You still kill the white farmer there?"
FOLLOW US BY REGISTERING ON THE TAB TO YOUR RIGHT
Send your e.mails with news and inquiries to: w.nation@mail.com
Article posted by: White Nation Tennessee USA –February 13 2017
AMERICA
THE office of the president has confirmed that US president Donald Trump gave  Jacob Zuma a courtesy call on Monday (13 February). The presidency sent out a confirmation saying that it has received a request from the White House for the call to take place. It did not elaborate on the purpose of the call, or what would be discussed.
With an "America-first" policy being pushed by the United States' new president – and Trump's notoriously confrontational approach to international relations – a Trump-led USA's affect on South Africa is still up in the air. South Africa has a number of bilateral and multilateral trade agreements with Washington, and while this have survived transitions in the White House before – and faced their fair share of hurdles, such as the AGOA agreement – the Trump administration continues to be a wildcard. During his campaigning, and speeches after being elected, Trump has made one thing clear – his approach to trade policy is about putting America first. "We will follow two simple rules – buy American and hire American. We see goodwill with the nations of the world but we do so with the understanding that it is the right of all nations to put their nations first," he said.
Following his election to the White House, Jacob Zuma issued a statement 'on behalf of all South Africans' congratulating Trump, and wishing him all the best. Zuma said he looked forward to working with Trump "to build on the strong relations that exist between the two countries"and underlined that South Africa was looking forward to "working closely with the new Administration in the United States in promoting peace, security and prosperity around the world, especially on the African continent." Trump, however, has a well-documented disdain for South Africa.
In several posts to social media platform Twitter – as has become synonymous with his character – Trump has described South Africa as a "crime-ridden mess waiting to explode". "As I have long been saying, South Africa is a total – and very dangerous – mess," he said. The call to Zuma may just be a formality, as the US president is also expected to call Nigerian president Muhammadu Buhari during the day.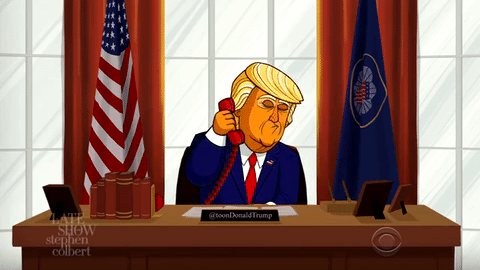 "Because if you do- I will play "choo-choo" with you and yank your chain so hard – you will be whistling " Umshini Whami" through your FUNNEL!!" 
WHITE NATION– WE DO NOT HATE LIBERALS– WE DESPISE THEM!!
C'MON- SHARE OUR LINK