FOLLOW US BY REGISTERING ON THE TAB TO YOUR RIGHT
Send your e.mails with news and inquiries to: w.nation@mail.com
Article compiled  by: White Nation  correspondent Cape Town– February 17 2017
SOUTH AFRICA– FAILED LAND OF COMMUNIST ANC ORGANIZED CRIME ,LIBFARTS, UNION CHAOS , MISDIRECTED RAINBOW MONKEYS – AND WHITE GENOCIDE
THE  Communist ANC Minister of Land Development  this week made an honest, and unfortunately, a very realistic statement: "The land should be redistributed without compensation, in terms of the Constitution, in other words, quite legally."  Contrary to what many (so-called) lawyers would argue, it is indeed possible and legal. The constitution indeed declared that blacks who are supposedly "disadvantaged,"  have right to take action to remedy such prejudice, – and according to the South African corrupt one-way legal system- it is lawful. SO- WE NOW MOVE TO THE NEXT STAGE OF THE WHITE GENOCIDE IN SOUTH AFRICA.
THEN the communist Rural Development and Land Reform Minister Gugile Nkwinti says government will conduct a colonial land audit to transform the historic patterns of ownership, use and occupation. The Minister said this when he participated in day one of the debate on the State of the Nation Address at the National Assembly on Tuesday. He said this after Jacob Zuma said during his State of the Nation Address that government would use several levers of the state to implement radical economic transformation. "Once the audit has been completed, a single law should be developed to address the issue of land restitution without compensation. "The necessary constitutional amendments should be undertaken to effect this process," he said. The commi minister said for radical economic transformation to be ushered in, government should tackle and transform a number of elements – structure, systems, ownership, control and institutions.    He said this would help government change the historical nature of ownership and control of the economy, which is characteristic of colonial and apartheid South Africa. NOW this should be quite interesting to observe where our commi cadre will source his "historical" facts from- as blacks NEVER had any alphabet or historical reference – or writing skills- to keep record as to where precisely their ancestors migrated to, where they moved around in their nomadic existence- and what " structures" he want to claim as "historical." All the historical references of black migrations were jotted down by WHITE mercenaries and historians. The poor commi thief now want to concoct a huge hoax based on very unreliable  allegations-  and "claim" everything the whites had design, implement and built as part of the " you stole our land" bullsh*t propaganda.
White South Africans must at once realize that "legally" is not necessarily "fair". They are the minority that is irrevocably surrendered to the tyranny of Africa's demands and whims unless they work to create freedom for thier people. Other comments from the minister also deserve our attention: After decades of claims that the 1913-land distribution should be applied, there is finally proof on that basis, thereof, blacks already occupy the land they rightfully deserve. Through thoughtlessness, they have become too many for their own ground and now becomes a reality, but is of no comfort for the minority who are deprived of their vote.
Now that the historical facts are in the ANC's face, they simply move the proverbial goalposts, based on blatant lies, because a few black Africans occupied some land before the "colonial era". Nevertheless, the lesson here is not to trust an African Government when an unjust statement guarantees that numbers rule above educated values. Furthermore, whites  must discern and consider the statements of (mis) leaders and politicians, who have for more than two decades appeased our people, while millions are annually put into their own pockets – millions that are certainly no longer in the country.
Jacob Zuma has responded to statements made by Freedom Front Plus (FF+) MP Pieter Groenewald during the president's State of the Nation Address (Sona) debate on Wednesday. Groenewald had lashed out at the president for "using white people to shield his government's inability to grow the economy and create jobs". "What do you have against white people in SA? "Every time there's something wrong, you blame the white people of SA. You are using the white people of SA as a smokescreen to hide your own inability and incompetences. That is what you are doing; you must say where do you stand on the white people of SA."
THE REALITY OF LAND DISTRIBUTION MONKEY-BUSINESS. A ONCE FLOURISHING FARM IN RUINS.
This was a sugar/citrus/banana farm right next to Ngwenya Lodge in Komatipoort. It was sold to the SA government 3 years ago, and this is what it looked like last week when we went to inspect it 3 years later. We matched each scene with a 'before' photo and the last photograph was taken from a helicopter where the remains (shell) of the house is visible. Even the roof has been stolen. It was the saddest day of our lives to see a well maintained home and garden totally neglected. The farming activities are similar- it will take years to get the farm productive again. The beneficiaries are simply doing NOTHING, they have used every resource left on the farm and are now squatting in small shacks all over the farm, built from IBR plates and material from our stripped house. Can you imagine how the rest of the farms will look like after Zuma's "land distribution" monkey business?
In his response,  Zuma– a pathological word-spinner-  said it was wrong of Groenewald to think that he had something against white people and said that the issue of land had to be resolved. "We don't hate whites, we're just stating facts," he said. Zuma said government had to resolve the issue that the majority of land was owned by whites and that the growing black population did not have land to occupy. "We're not pointing at the colour, we're describing the situation. "If this is not resolved, it could explode one day," he said.  The process of land redistribution would be legal and not display any form of hatred, he said. In fact, white people needed to refrain from saying talking about land was because of hatred. "It will be wise to disabuse yourself from the tendency that when we talk about land and those who own land; you think it's because of hatred." What "facts" Zuma failed  to mention- is that with their hell-bent zest to drive whites off their productive land will inevitably let to a massive drop in food production- which again will lead to an escalation in imports. This again will lead to shortages in food supplies and a sharp rise in food prices. The bottom-line is South Africa will become another Zimbabwe. It does not take rocket-science to figure that out. What Zuma have hidden in his Pandora's box to prevent such a food crisis we don't know- maybe it reeks like Chinese- but only the "main peanut " ( who always is as clever with his answers like a tree full of owls) in the packet seems to know all the answers to the riddle. Currently the brawling apes in our parliament  seems to be more concerned about their personal political power and preventing an all-out civil disobedience up-rise – than insignificant "little  issues " like food security. AND as always  the whites again are to be sacrificed to please the ever-increasing demands of the political gods and their " previous disadvantaged" demanding "hastags." 
Gugile Nkwinti, ( Zuma's  communist bum-nugget and anti-white ) minister of rural development and land reform, also said the constitution should be amended and other legislation should be implemented so that land can be taken away without compensation.Naive analysts try and appease the farming community with the fiction that the ANC does not need a two-thirds majority to amend the constitution. When it comes to land, they will certainly be able to count on the support of the EFF, PAC and perhaps even of the IFP, while the DA party's position, especially in light of its coalition with the EFF in key municipalities, is uncertain- but they fully support the communist ANC's policies on white land-grabs.  Nkwinti also made a statement during the debate on the state of the nation, and after the ANC said, they would exert pressure on the government to accelerate "land reform. " Here the DA, in fact, supports them. Jacques Julius of the party accused the ANC of not reaching a single target set in respect of land reform. He claimed that only 8% of agricultural land has been transferred to black South Africans by 2016, which is less than the 30% target that the ANC hoped to achieve. This means that the DA is in favor of the process, despite the evidence that 95% of the project failures, where farms have become unproductive and food security has been weakened.
"Saying we hate whites won't make us stop talking about the land issue," Zuma also  said. Unlike other countries, South Africa would use the (communist written) constitution to address the issue, Zuma said. Those who own the land must not suggest that those who need it now should buy as they too, did not buy it, he argued. What Zuma has suggested was that concerned parties should find a solution that would benefit them. "Let's just find a formula to rectify the problem. We all need enough space to live together. This is not racialism." However- the communist ANC neatly evaded the fact that the government have millions of hectares unused land in it's possession- but rather want to use productive white farm land to bolster their ailing status quo among a restless black populace  to avoid an all-out civil disobedience and possible Tunisian spring. AND the devious two-faced DA are supporting this terrible onslaught against white-owned property.
The new proposals come amid mounting anger over the slow pace of transformation since 1994, as the ailing economy struggles while rampant unemployment and poverty still blight the country.  Zuma and the ANC are also drawing increasing criticism for corruption and cronyism, while facing a fresh challenge from the militant and populist Economic Freedom Fighters. Zuma's address was overshadowed by violence when armed police were deployed to forcibly eject EFF MPs from parliament. The spark for the shocking scenes was the EFF members interrupting Mr Zuma's speech to question him about a scandal involving $22m of taxpayers' money spent on his private home. Some see the latest land reform proposals as evidence of populist politicking, while there have already been warnings that the measures threaten production and investment in a sector crucial for jobs and food security.
But even among black farmers there are warnings about rushing the process. "There's a lot of pressure on the ANC, especially as there are other political parties who are coming in and want to use land as an issue for politicking," says Aggrey Mahanjana, managing director of the African Farmers Association of South Africa (Afasa), which represents about 10,000 black farmers. "But at the end of the day these things are not going to be practical on the ground and any shortcut is not going to be of benefit to South Africa."
Still, the shrill political noise means little to emerging black farmers who say the government's priority should be assisting those already on the land to become more productive. "Each time when there's a new ANC leadership they come with fancy beautiful policies but co-ordination and implementation, that's where the whole thing collapses," says Alfred  Mahlangu– another black farmer. In Rust De Winter, a small agricultural town in Limpopo province, residents talk of a rich and fertile region that harvested fruits, tobacco, maize and cotton when under the control of white farmers. Today, the town's farms are mostly in the hands of black farmers who lease the land from the government. But utilization is patchy. In many areas it appears fallow, with livestock grazing. Elsewhere, abundant maize crops are being fed by huge, expensive irrigation pivots. The maize is being grown by better-resourced white farmers who, seeing the land underused, have rented from black owners. "Some of the commercial farmers are exploiting some of the people because they are ignorant, but in other places it's doing well," says Mr Mahlangu, who is also Afasa's regional representative.
He believes agriculture will only prosper if smallholder black farmers, white commercial farmers and the government work together. Such sentiments are a common theme, with the growing realization among commercial farmers that the status quo is not sustainable. A short distance from Mahlangu's farm, Willem Basson, an Afrikaner, has been helping train local black farmers at his game lodge. He wants to set up a training center and create a machinery pool so poorer farmers have access to tractors, ploughs and other equipment. He is convinced land reform can be successful, but only if support mechanisms are in place. South Africa has so far failed to find a scheme that has the buy-in of all parties, allays concerns over production and investment and meets the goals of transformation. "We need to get it right at the grassroots level,"  Basson says. "There's a lot of cultures in this country, but one common one – that's agriculture. Agriculture is the one thing that can pull South Africa through, not sport. Nothing else can do what agriculture can do."
BUT WHAT IS THE REALITY? THE SCHAGEN EXAMPLE:
"Land reform" is the racist anti-white term used to describe the taking over of farms previously owned and run by whites, and giving them to blacks on unproven "historical grounds"—even though the historical facts show that most of what is today regarded as "white-owned" farming land was largely uninhabited when Europeans first arrived in the interior of the country during the early 1800s. Now, five years after the takeover, the farm, situated in Schagen, some 20 miles from Mbombela, (the new black name for the town formerly known as Nelspruit) is collapsing, News24 said. Of course, the "farmers" have blamed their failure to make anything of the farm on "land reform officials" whom they say have "sabotaged their project by starving it of resources and support services." According to the report, the Insimu Yami Cooperative, comprised of Julius Sibiya (34), Trinity Mondlane (31), Phindile Mondlane (27), Cynthia Zitha (21), and Wandile Ndlovu (25) now faces liquidation by debtors.
"The value of the farm is depreciating. The trees are dry … Workers refuse to work without pay. We signed a contract with Spar to supply them with chicken, but all of that is gone," Mondlane told News24.  The electricity has been already switched off due to non-payment of a R2.8 million bill, and "criminals are stealing from the property piece by piece." The "farmers" were originally given a grant of R2.7 million under the "land distribution for agricultural development program," which was topped with a loan of R2.65 million from a commercial bank. Now the provincial government has offered to buy back the farm for R6.1 million, but the "farmers" are dubious. "We were tempted to sell," said Mondlane, the cooperative's chairperson, but said that they "suspected" corruption in the government department.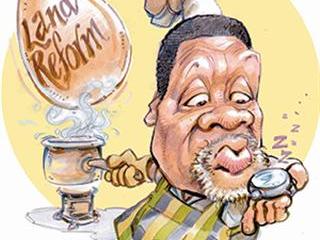 In 2007, thirteen years after adopting black rule, South Africa became a net food importer for the first time since its founding in 1652. This book tells the story of South Africa's "land reform" which, although proceeding at a slower pace than in Zimbabwe, is no less insidious and is leading to the same disastrous consequences. White Afrikaner farmers are being driven from the land through a combination of murder, terrorism, and state coercion. Almost every farm taken over by black farmers has collapsed and food production has plummeted. There are now around 30,000 white farmers left, from a high of 80,000 in 1980.
The current ANC communist Land Reform policies are disastrous.  "It can only have a negative effect on food production," says Charl Senekal, South Africa's biggest sugar producer, who would be a target of the land cap. "Things in South Africa are getting tougher and tougher – water is getting more scarce, land is getting more scarce." He says land reform "is as necessary as the air we breathe", but believes there is too much emotion around the issue. Mr Senekal urges a more cautious approach, arguing that the government could buy farms already on the market and ask commercial operations to help build them up.  Zuma responded to critics of the proposals in parliament last week – specifically mentioning Mr Senekal – by saying: "We are taking these actions precisely because the fate of too many is in the hands of too few." Yet the communist regime can expect strong resistance to the proposals from white commercial farmers. Hans van der Merwe, executive director of AgriSA, which represents commercial enterprises, says white farmers acknowledge the need for reform. But he says the proposals announced by  Zuma are impractical and affordable. "It creates a lot of uncertainty," he says. "We will look at the constitutionality of it, but only after we've exhausted discussions with the government." 
However- this is just another insidious anti white ANC plan to grab the whites land,using typical communist high handedness and lies. Since when does a communist ever tell the truth?? Just because you can cover bullshit with ice cream still does not make it taste like ice cream- shit taste like shit no matter how you try to sell it as anything else…who is the Clown Prince of the nation trying to fool? Looking back at history we know that the ANC will never relinquish power without dumping the country into a civil war. They are an utterly vindictive terrorist organization that base their rule solely on corruption,  fear and threats. This Zuma and his co-conspirator Mantashe already "warned" on several occasions.  They are power-hungry and very greedy. Zuma is an excellent spinner of words- and although he can smooth-talk a naive electorate into accepting his devious agendas on face value- he is a criminal and a pathological lair to say the least. For him to spin around 90 degrees and do precisely the opposite of what he quickly "promised"– is normal behavior. For the communist ANC then to revert to violence and genocide will be no moral obstacle at all- just as long as they succeed in retaining power around the trough. The Marikana massacre and the on-going white genocide in South Africa are hard facts of this psychopathic characteristic they brought with them from their terrorist behavior pre- 1994.
THAT murderous pattern never left the core of their organization. That is why the ANC never agreed to abandon  violence as a means to retain power. They want to keep it as a last resort should it become neccesary to ensure their stay on the gravy train. They have no respect for life, no conscience and no moral values. By constant subversive operations they ensure that most of the population are impoverished. This way they could bribe and force the majority population through state grants to keep on voting them into power or face the possibility of  loosing  the "free-bees."  To deliberately ignore the multiple white farm murders and obscene amount of brutal attacks on whites scarcely  raise an eyebrow in the isles of the Lethuli-House dungeons. They are evil and will spare no action as long as they succeed in their devious agendas. It doesn't bother them if people get hurt or get killed. This arrogant disrespect we observed in parliament this past week. While chaos reigned and the highest legislature that must take crucial decisions of the country-  were turned into a pub-brawling circus- Zuma was just sitting there- giggling like a flippen clown. This shows us how much the communist ANC have respect for it's own people and diciplinary values. How can we EVER adhere to any decision made by this bunch of hooligans? This then again brings us back to the land issue. The ANC criminals will have no second thoughts about stealing productive land from the white productive owners-irrespectable whether it will bring food shortages to their own people on the long run. Their devious greedy political agendas are more important than rising food prices due to escalating import taxes – and the starvation of the ever increasing  black population.
People often feverishly search for evidence and arguments to show that it is not really THAT bad in South Africa. And they get so very upset when you give them evidence to the contrary. Self-delusion and clutching at straws are often the only doors open to a person who is faced by the harsh realities. But they are only postponing the agony of having to admit, eventually: I believed in fables. And to saying those very difficult words: "I was wrong." Let those of us, who believed that 1994 was a new beginning, own up to our very own mistakes of the past and admit: I was taken for a ride. The minority population of South Africa is facing a crisis – the very existence of Western culture and custom is under threat of being swamped in a flood of lowering standards and accepting the unacceptable – the typical conforming attributes of Africa. After all, why would South Africa be any different from our neighbouring countries? Let us never say: "We did not know." For the truth is: we did not WANT to know. We had Angola, Rhodesia, Mozambique as examples. And we ignored it. Denying that reality and dodging our own accountability for ignoring that, cannot solve the problem.
LOOKING AT THE ZIMBABWE MODEL:
Political success but economic failure is a fair assessment of Zimbabwe's 35-year land redistribution policy, which began soon after independence in 1980. Launched on a "willing buyer, willing seller" basis with the target of resettling 162,000 families by 1985, the program won support from the donor community, spearheaded by the former colonial power, Britain. But with no more than 50,000 families resettled in a decade, Robert Mugabe's Zanu-PF party grew impatient, and the stage was set for the escalation of the stand-off between the government and the country's 5,000 to 6,000 white farmers. Matters came to a head in 2000 after the regime lost a referendum on a new constitution. Facing the prospect of electoral defeat in parliamentary polls,  Mugabe unleashed so-called "war veterans" to drive white farmers and their employees off their farms.
The consequences were disastrous. Farm production dropped 44 per cent from 6.3m tonnes in 2000 to 3.5m tonnes in 2005, according to the UN's Food and Agriculture Organisation, while two-thirds of the 325,000 farm employees lost their jobs. The collateral damage extended well beyond agriculture and by 2008 gross domestic product had virtually halved, hyperinflation was running at billions of per cent a year and millions of Zimbabweans left the country. Many of the farm seizures were violent and the regime was hit with sanctions as Zimbabwe became an international pariah. Dollarisation at the start of 2009 and the installation of a unity government restored a semblance of stability. BUT today millions of Zimbabweans are staring hunger in the face due to the same idiotic policies Zuma and his gangsters now want to follow. Why not giving those same " disadvantaged" and " restless" blacks the land already owned by the regime- but were left unproductive for years now? Why only targeting  WHITE productive land to destroy? Ostensible Zuma and his commi-cronies have not as yet learnt from the Zimbabwe disaster model- and this again is just another communist ploy to gain popularity from the ailing black population by exploiting the whites as skunks again. Whites have given blacks the entire country for free. In tact. There is nothing more to give. Today blacks are destroying all the infrastructure that we paid for and built. Then still has the audacity to tell whites they should leave. The question that SHOULD be addressed is who are going to compensate whites for all the schools, hospitals, dams, airports, harbours, railroads, etc that they have built? It is high time for blacks to start paying whites. Nothing is for free. BUT disowning whites of their property only is yet another step towards to on-going white genocide to impoverish all whites in South Africa. TRULY- KNOWLEDGE AND LOGIC BECAME THE ENEMIES OF THE CARELESS RACIST SOUTH AFRICAN SOCIETY!
SOURCES: White Nation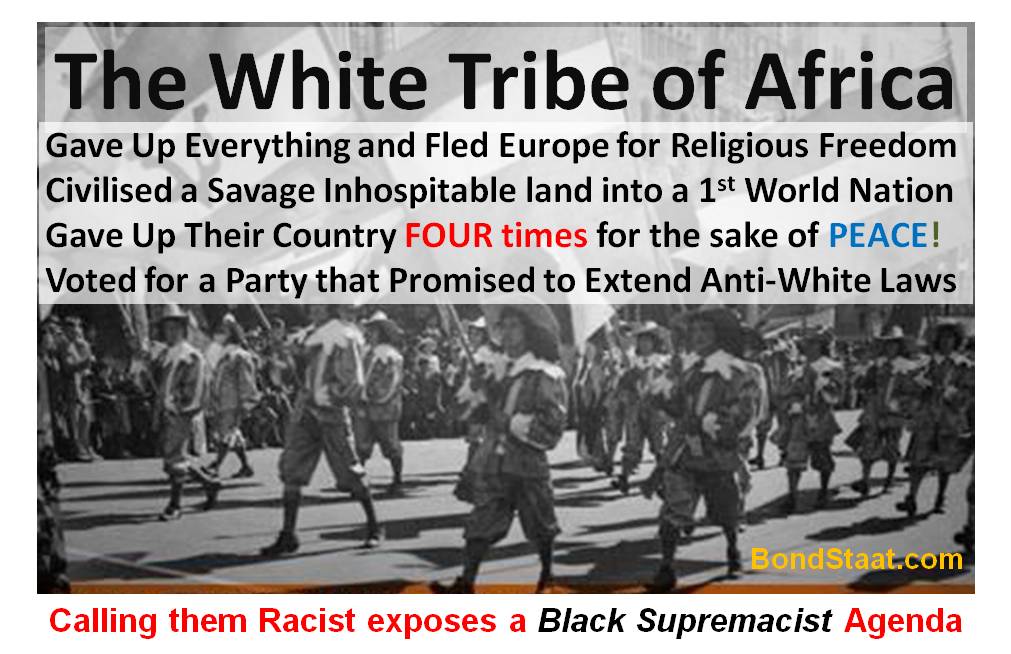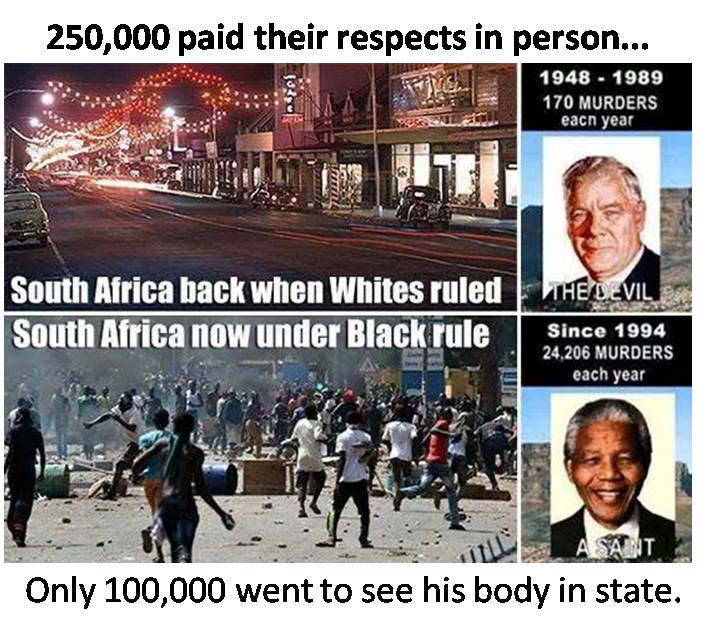 WHITE NATION– WE DO NOT HATE WHITE LIBERALS– WE DESPISE THEM!!
C'MON- SHARE OUR LINK