A SEVEN YEAR OLD WHITE GIRL BRUTALLY BEATEN WITH A PIECE OF IRON BY BLACK 'DEMOCRATIC" THUGS IN SOUTH AFRICA
Do you have news to tell us? Send your e.mails with news and inquiries to: w.nation@mail.com
 Register to follow our news on the right-hand tab
Article compiled  by: White Nation  correspondent Potchefstroom   – March 28 2017
SOUTH AFRICA– FAILED LAND OF COMMUNIST ANC ORGANIZED CRIME ,LIBFARTS, UNION CHAOS , MISDIRECTED RAINBOW MONKEYS – AND WHITE GENOCIDE
IT HAPPENED in South Africa again. To be precisely it happened in the capitol of South Africa- Pretoria. BUT as the onslaught against whites goes on unchallenged- it could have happened anywhere in the country.BUT who the hell cares? It only was another unfortunate  white that got "whacked" again.Anyhow the poor country and it's Rainbow chickens are ( as usual) too deeply entangled in their little "racist" fun and games with SPUR and Helen Zille to pay any attention or care too much about a few more dead white bodies  along the way.Factually that is what the media's job is- keeping the attention of the chickens focused on "racism" in order for the white genocide to proceed un-noticed…i.o.w " we kill you in a mass genocide – and still blame you and make you whites feel guilty for "racism." 
NOW– visualize a scene where your grandmother and your daughter of 7 years are left alone in your home-  a place you deem to be at least  " secure."  All of a sudden some unknown and unwelcome black thugs decide it is time for them to "bleed." Without second thoughts or remorse – they blatantly enter the house illegally through a window. They were somehow a bit " polite"– and in a gesture show your aged mother to keep your daughter quiet.THEN they summerarely grab your elderly mother  and start to beat the living daylights out of her with a piece of metal- unexpected- and unprovoked. AND when your little daughter start to scream out of pure shock , fright and bewilderment- they grab her as well, – push her against the sofa- and start to beat the helpless kid also with the same piece of iron they used to assault your old mother- irrespective whether they will kill or injure her. It is a nice thought- now isn't it? Later on- IF they had for instance killed your  innocent mother and your child- you at least will have the honor of identifying their bloody corpses that were beaten to a pulp in the mortuary – that is AFTER your eyes feasted on the horrible bloody scene you had to observe at your house. And in the mean-time all the news editors in South Africa sings a song of jubilation " Another white  bites the dust….and another one does …and another one does…"
You think that is too " horrible " to even contemplate? NO– Think again. THAT is precisely the gruesome scenes that plays themselves off in South Africa EVERY DAY  that is.  Except for the fact that two innocent people were lucky enough to have survived just such an attack- that was precisely what happened yesterday in that Capitol of South Africa- Pretoria- that city in that country which YOUR governments declared a " role model" for democracies across the globe.BUT hey– don't let it bother you- the two-faced black fascist regime in control recons that is " normal crime " – and "normal crime" creates many jobs- and that is why South Africans were cultivated by the media to accept such atrocities and bloodletting while they await their own horrible deaths….it creates jobs AND tax revenue from security companies to pay for the ruling regime's life of splendor and private jets of R 3 billion to jet-set around the world.!
A SEVEN year old child and her grandmother faced this horrible nightmare on March 27 2017 – when they were brutally attacked by two of Jacob Zuma's "democratic" black voters.The mother of the child- Nadia Smit Lottering– said that the child stayed at her grandmother for the day as it was a national school holiday. It was round about 15:00 pm when the two "democratic" voters entered the house through a window and gestured to the old lady to keep quiet and also keep the child quiet.
They then blatantly and without reason start to brutally attack the old lady with a piece of iron. When the child start to scream- they pushed her against the sofa- and start to brutally beat her as well. The old lady lost consciousness during this barbaric assault. When she eventually regained conciousness – the thugs already have disappeared – and her rings and wristwatch were missing as well. The thugs also rummaged through the cupboards- leaving the house in a typical squatter-camp mess. Lottering said that her mother was able to hide her cell phone in her undergarments- and thus was able to phone for help after the democratic " Zumanites " announced their " departure."
The kid came out of the ordeal quite unscathed- but with cut marks and bruises – and a swelling on her head where the piece of iron slashed the flesh. The old lady had four head wounds and her eye was injured in the attack- according to Lottering. Lottering said this attack left her hopelessly without hope. " There IS nothing one can do to prevent these criminals from entering. " If they want to access your home- they will find a way to do it"-she said.(Link)
But wait…that's not all- not by a long shot! They say the tales of the crypt in South Africa against whites have risen to a staggering 74% due to Zuma and Malema's motivational speeches to " kill the farmer" (Link) – thus we have so much more to tell you. We have yet another nice bloody and gruesome gory tale to tell you…so- don't page away….sit closer!  
SUE HOWARTH- MURDERED
Once upon a time – not so long ago – there was another old woman. She also happen to be someones grandma and someones beloved wife. She was a nice old lady that was friendly and always tried to help other people. Her name was Sue Howarth – and she and her husband  Robert Lynn stayed on a quiet remote farm far away from you in South Africa. They stayed in a black dominated province called "Mpumalanga." Now there is absolutely  nothing wrong to reside in a black province- none at all. Except if that black province happen to be in South Africa– that is. They resided on a farm in Dullstroom, a small town in the northeast of South Africa, about 150 miles from the nearest capital city.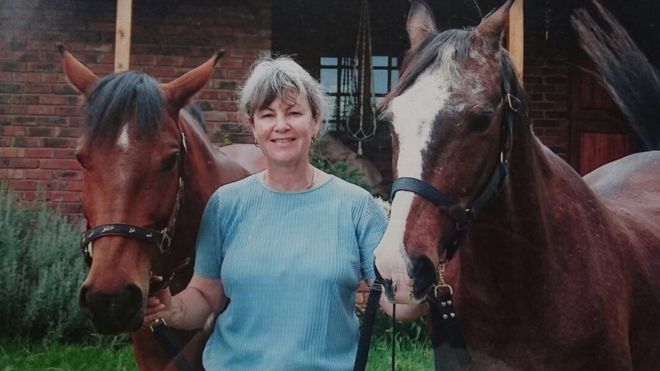 Any case- Sue and her husband stayed for years on this beautiful remote farm of theirs- and their twilight years started to wink at them. Two elderly people that only want to live the last years of their life in peace and harmony. Live was good- and they lived happily on that farm for 20 years- preparing for their last years to be peaceful and like senior citizens- one day hand over the farm to their children.
THEN one day everything changed for Sue and Robert. Everything took a turn for the worst. Africa played her triumph card against Sue and Robert – the Ace of spades!  Their once peaceful lives were turned upside down in one single moment of total  madness. THREE black "democratic" South African predators decided that they will take a hand into the docile lives of these two elderly people. One night while Sue and Robert were in bed – the predators decent on their house- and like demons sent from hell they entered their home. With the typical African brutality- the two defenseless old people were brutally assaulted and bound to chairs- and prepared for the inhumane torture that was about to follow.
After they were tied up- they then were  stabbed, and tortured with a blowtorch for several hours. The masked " democratic" predators  then stuffed a plastic bag down Sue Howarth's throat in an attempt not only to silence her- but also to suffocate her. They then turned onto Robert- and their sadistic barbarism took yet another weird and sick turn as they attempted to strangle him by placing a plastic bag around his neck and choke him. After long minutes of this torture-  the elderly couple were bundled into their own truck, still in their pajamas,-  and driven to a roadside where they were subsequently shot like stray dogs. Sue Howarth, 64, a former pharmaceutical company executive, was shot twice in the head execution-style- BAM…and then they shot her again BAM! – and Robert Lynn, 66, also was shot in the neck. THREE sadistic black predators against two feeble and defenseless old people!
ROBERT LYNN- SURVIVED
THREE BLACK "DEMOCRATIC" THUGS WAS ARRESTED FOR SUE'S MURDER. NO MEDIA FANFARE LIKE THE WELL-KNOWN REITZ " COFFIN CASE"- (Link) NO POLITICAL PARTY DANCING AND TOYI-TOYING IN FRONT OF THE COURT – SLAPPING BLACK BABY DOLLS  ON POLES…NO NOTHING! IT WAS A WHITE ELDERLY WOMAN THAT WERE BRUTALLY MURDERED- NOT A BLACK WHO STOLE COPPER CABLES AND WHO WERE  PLACED IN A COFFIN – BUT SURVIVED TO BECOME A MEDIA HERO.
Miraculously Robert survived, – and managed to flag down a passerby early on the next Sunday morning. Sue Howarth, – the nice old grandma- who police said was "unrecognizable" from her injuries, – had multiple skull fractures, gunshot wounds and "horrific" burns to her breasts. "Sue was discovered among some trees, lying in a ditch," wrote Jana Boshoff, reporter for the local Middelburg Observer newspaper. "Her rescuers managed to find her by following her groans of pain and then noticing drag marks from the road into the field. "Her head was covered with a towel. Her eyes were swollen shut. She was partially clothed with just scraps of her shirt remaining. Her breasts and upper body was bloody. The plastic bag, shoved down her throat, took some effort to remove because her jaw was clamped down tightly. "How she managed to breathe with the bag in her throat remains a mystery. One of her rescuers later recalled how Sue was unresponsive except for the constant groaning. Whilst the man ran back to the road to see if an ambulance has not arrived yet, she managed to curl one of her arms around her breasts in a last attempt to protect herself."- wrote Boshoff. She was rushed to hospital and placed on life support, but died two days later. Due to her British nationality, her murder attracted an unusual amount of overseas media attention.(Link) 
But the elderly grandma and 7-year old daughter as well as Sue and Robert were not alone to face the agony of being attacked by "democratic" predators on their land. Three white people were attacked on their property outside Machadodorp on Friday, March 24. Lyzette (51), Danie (80), and Gesina (77) heard the dogs barking for the second night in a row and two of the family members armed with handguns, went outside to investigate. Immediately after they left the house, an unknown number of black predators  fired upon them. The victims shot back at the thugs who fled on foot.(Link)
Brutal scenes in South Africa. On a farm in Randfontein, an entire family was killed in the middle of March 2016, including a nine -year-old girl Kayla . Four uneaten sandwiches in the sink (not in picture) testifies that the attack came unexpected and sudden. Photo: Nya Tider / Free West Media
BUT there still was another attack this week-  and this time it has hit close to home! One of our social site friends wrote: " My mother was in PicknPay, Bonaero Park, Kempton Park, Gauteng today and without any warning, or anything to provoke an argument, an African black man bashes into my mother's trolley, stops dead and has a "stare down" at her. When she then told him that he is rude and just should have asked and she would have moved her trolley, he then replied by calling my mother a white bitch – and that he would kill her, and all white people! This, just to paint the picture a bit clearer for you, happened inside the PicknPay, in full public view, he was screaming at her.
"Please be careful when walking in Cape Town CBD or anywhere for that matter. My nephew was stabbed yesterday in Town for being white. Told he doesn't belong in South Africa and must F@# off. Thankfully he has lived to tell the tale, it could of ended up much worse" – Liza Van As
He then said to her that this is his country and that the white people have to leave his country. When my mother responded that she was in fact born and raised in this country too, he aimed to slap her (he did not do so) my mother then called the management to assist her, as this black thug  was sticking his finger in her face and swearing at her, the management made it seem as if though it was her fault. This thug continued swearing, screaming and threatening her after he walked out of the PicknPay. He vanished before the police and security and my father reached the shop. I know this is a long read, but this is what is happening, and even though you think it will never happen to you, or your loved ones, think again, it's getting worse by the minute! All of the people in the shop just stopped and stared at what was happening, no one offered to assist her. Please share as far as this can go! People need to be aware of what is happening, and we need to start looking out for each other, for the sake of our lives, children, families and our country. Thank you."
South Africa, where it is a regular occurrence to burn people in the communities, and frequently some victims are set alight while still alive
A place where the police are vilified because they shot dead a group of charging armed protesters who were told by their witch doctor "bullets won't hurt you"…
Under the ANC's "genius" leadership – South Africa has not only become the rape capital of the world but also the murder capital of the world.
So what good has become of South Africa under the controversial ANC? Madness? Democracy? Freedom? A war zone? Political tyranny? A rainbow nation? That all is bullshit! . There is no democracy when your president has hundreds of corruption charges against him. There is absolutely no freedom whatsoever when over 50 people are murdered each day, forcing people to turn their homes into a prison. There is no rainbow nation because black and white are not in the rainbow. So,- to these useless vindictive  ANC jailbirds and communist criminals, – we thank you for painting a new undesirable flag and turning South Africa from a first class world country into a third world dump. The ruling dictators  is dragging South Africa into a pit of horror and until the current supporters and leader are replaced all hope is lost. It is the personal ambitions that drive the ANC mass murderers  – and their cromies are there for self-enrichment, and this is the price of greed.  Zuma and his ANC clique are  a real embarrassment to South Africa. In the near future a crisis is approaching that is unnerving and causes one to tremble for the safety of our country.
BUT HEY- SPUR white liberal bum nugget CEO  Pierre van Tonder  has issued a nationwide ban against a white man involved in what has been described as a "racist incident " at one of its branches on Sunday.(Link)  Van Tonder explains that the man has not yet been identified, but his picture will be distributed across all Spur branches through its internal communication portal. This gentleman's picture will be up in Spurs and he will be asked to leave, should he arrive at any of our establishments. Van Tonder have not as yet informed us whether he plans to place pictures of racist black murderers on the walls of his outlets too- and whether he plans to ban them as well – as he did with the white father that stood up for his kid- was sworn at – and now being attacked by the satanic media in South Africa. OR will there not be enough space in ALL his outlets to accommodate all the pictures of the black murderers? WAY TO GO VAN TONDER!!! At the same time, Spur liberal founder Allen Ambor says it is "unfortunate " that the incident came to light on Human Rights Day. "We are appalled that a customer can approach another customer, particularly a lady, in such an aggressive manner." Will Mr. Ambor please be so kind as to comment on the brutal attacks and murders by black racists on whites the same way he comments on his white "racist" incident as well?
A WHITE FAMILY WAS ATTACKED BY BLACK " RAINBOW" DEMOCRATS WITH MACHETES ON MARCH 28 AT REDHOUSE SOUTH AFRICA.
Elderly couple overpowered by robbers in J'Bay retirement village 
As for the mean-while- please keep on watching over your white families in South Africa. Who knows- maybe YOUR family will be the next to be added to the daily roll of death if you are in South Africa.You just hang on there- you just keep your silence- just be docile like you are now- do nothing- and when the black grim reaper visit you home- the rest of the white population also will do nothing.  Who knows- since the Jew enforced take-over by the African house of harlots in 1994 – a white's life expectancy only stretches as far as the day the racist driven black predator decide to end it.Who then will be the next victim when dusk settles tomorrow evening…your's…or mine? In South Africa whites are daily playing a deadly game of Russian roulette with a slight difference….with a FULLY loaded gun!
SOURCE: White Nation
WHITE NATION– WE DO NOT HATE WHITE (SPUR) LIBERALS– WE DESPISE THEM!!
C'MON- SHARE OUR LINK