Do you have news to tell us? Send your e.mails with news and inquiries to: w.nation@mail.com
 Register to follow our news on the right-hand tab
Article compiled  by: White Nation  correspondent Pretoria  – April 07  2017
SOUTH AFRICA– FAILED LAND OF COMMUNIST ANC ORGANIZED CRIME ,LIBFARTS, UNION CHAOS , MISDIRECTED RAINBOW MONKEYS – AND WHITE GENOCIDE
SOUTH AFRICA is retaliating against a political dictator and his cronies. There have been sporadic outbreaks of violence outside the ANC's Luthuli House headquarters where the governing party's supporters have attempted to break through a police barricade to reach the Democratic Alliance march at Mary Fitzgerald Square.
#LuthuliHouse #ZumaMarch WATCH police whisk away anti Zuma protesters who were attacked my ANC members. CM pic.twitter.com/MM1NyKVd6A

— EWN Reporter (@ewnreporter) April 7, 2017
Police fired rubber bullets to disperse Umkhonto we Sizwe Military Veterans Association (MKMVA) members and other ANC supporters on Pritchard Street. The ANC supporters retaliated by chasing the police officer who gave the order to fire bullets on President Street, where he was whisked away in a police van. A police officer who was one block away from Luthuli House told the Mail & Guardian that a group of MK veterans who were trying to reach the DA march stabbed three white people. It's unclear whether the people who were allegedly stabbed were part of the protest against  Jacob Zuma.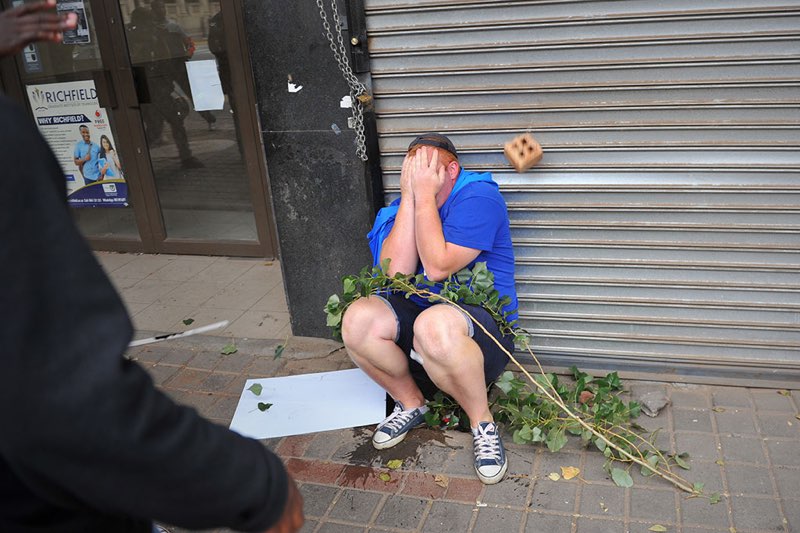 An angry group beat a young man with sticks and branches, pelted him with stones and half-bricks and kicked him in the face and head.
On Friday, following the DA's march to Mary Fitzgerald Square in Newtown calling for Jacob Zuma to step down, a number of marchers could still be seen walking around Johannesburg. One, wearing a DA flag wrapped around his neck, came within a block of Luthuli House, at a spot where a group of ANC black supporters had gathered. Noticing him, the angry group started to chase him and threw stones at him. Members of the Umkhonto weSizwe Military Veterans' Association (MKMCA) attempted to stop the mob from chasing the man down, but couldn't control the group of about 20 thugs who were after him.
Eventually the group caught up with him and proceeded to beat him with sticks and branches, pelted him with stones and half-bricks and kicked him in the face and head. Luckily some sense prevailed and some MKMVA members intervened; an older Indian man wearing an ANC T-shirt managed to bring calm. The police also arrived with pepper spray and managed to get to the injured man. At this stage a few more stones were thrown, but the police managed to carry the man into a police vehicle. He was absolutely bewildered at this stage, bleeding from the head. He collapsed twice as they tried to pick him up. Here is the sequence of photographs that tell the story.
In another incident, a group of MK veterans grabbed a poster which read "We Shall Rise Together" and beat a group of #ZumaMustFall protesters with it. The group of people appeared to have been beaten because they are white. An earlier attempt by about 100 ANC supporters to reach Mary Fitzgerald Square, four blocks away from Luthuli House, was thwarted by police firing rubber bullets. The group were eventually escorted back to Luthuli House by MK vets. Earlier, three people carrying a "You Must Be Joking" banner were roughed up and their banner was burnt after they tried to walk through Library Gardens, where the ANC has set up a stage to address its members.
http://trib.al/WCerd5X
It seems the ANC are hell bent on disturbing any opposition coming armed to protect Luthuli house. South Africa is about fed up with the communist ANC who- since their hi-jack of the country- has turned it into a daily hell-hole and crime ridden purgatory full of wolves and murderers.
The Johannesburg Metro Police Department and SAPS have formed a two-block buffer zone in the city center, preventing ANC supporters from reaching Newtown, where the DA march has culminated. The city center remains tense, with a heavy presence of police and MK veterans. Protesters have marched in cities across South Africa including Cape Town, Durban, and the capital, Pretoria calling for the removal of  Jacob Zuma. The demonstrations came after Zuma's sacking of a respected finance minister, which led to the country's credit rating being cut to junk status. The move added pressure to South Africa's already embattled economy.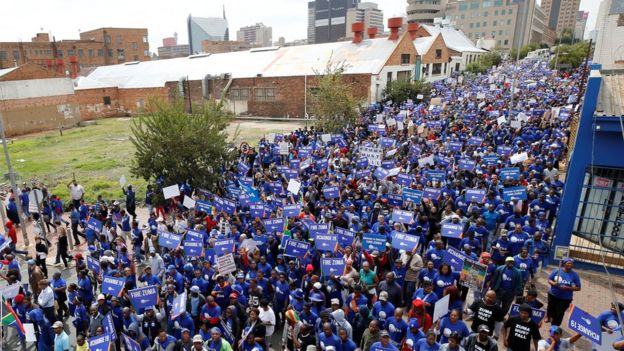 But supporters of  Zuma also turned out to defend the dictator. This week   Zuma survived calls by powerful groups allied to the governing ANC for him to go. He also got the backing of a major decision-making body within the party. He is not due to leave office until 2019 when his second five-year term comes to an end. One of the immediate sources of controversy was last week's cabinet reshuffle which saw the removal of, among others, Finance Minister Pravin Gordhan. In Johannesburg, there was a heavy police presence as protesters planned to converge near the ANC headquarters. Hundreds of misdirected black veterans of the ANC's armed anti-apartheid struggle and members of the ruling party's youth wing also gathered outside its headquarters at Luthuli House to protect the building.
Supporters of  Zuma told the BBC's Milton Nkosi that they came out to promote the dictator's policies. They said that  Zuma was promising radical socio-economic change. One supporter said that it would be wrong to force regime change in South Africa, adding that such a move would be "going back to the dark ages of apartheid". Police fired tear gas and rubber bullets at protesters in one part of Johannesburg, local media are reporting. Crowds later gathered outside a compound belonging to the wealthy Gupta family, which has ties to the dictator, in Johannesburg's affluent Saxonwold suburb.
Pictures shared on social media on Friday showed large crowds assembling in Church Square in Pretoria, despite confusion over whether demonstrations in the capital are permitted by law. Police said on Thursday that marches in Pretoria were illegal because they had not been granted permission by city authorities. But this was later overturned by a magistrate. Protesters in the capital later marched to the seat of government, the Union Buildings, waving placards that read: "South Africa is not for sale."
The BBC's Karen Allen, in Pretoria, said that despite a heavy police presence, the protest there went ahead peacefully. In Durban, banners stating "Jacob Zuma must step down" were draped from buildings as part of nationwide demonstrations. Protesters marched through the city with their faces painted, carrying messages of "downgrade Zuma, not South Africa" in reference to the country's amended credit rating. The government, which has appealed for peace during the countrywide protests, tweeted that the laws in South Africa are also there to "protect the right of those who would not like to participate in protest action". Earlier this week, a major decision-making body within the ruling ANC party discarded a complaint against  Zuma that he had failed to consult executives before reshuffling his cabinet.
#DAmarch Johannesburg CBD. MK pic.twitter.com/Z1rpubm8nE

— EWN Reporter (@ewnreporter) April 7, 2017
See what people had to say at the Anti-Zuma Protests #SAUnites #ZumaMustFall #March #Protest

Posted by Joburgtoday.tv on Friday, April 7, 2017
The move to drop the finance minister angered both  Zuma's opponents and allies, causing a rift in the ruling ANC communist party, which has (illegally)  governed South Africa since 1994. It left some in the ANC leadership questioning whether Zuma should remain as president. Key ANC allies, the South African Communist Party (SACP) and the main trades union federation Cosatu, joined in the calls for him to go. But the party's National Working Committee (NWC), discussing the cabinet reshuffle, later gave the dictator it's backing.  Zuma has been described in local media as the Teflon Don because of his survival skills following the acceptance of his explanation for his controversial sacking of the finance minister.
In the mid-1990s, in the immediate sunny afterglow of the 1994 "rainbow" elections, it was not politically correct to mention the "C-word. " For understandable historical reasons, one had to tread very lightly when raising any concern about corruption, lest one fall into the trap of appearing to imply that a democratically elected "black" government was in any way prone to join that club of postcolonial governments in Africa that had succumbed to graft and extreme abuse of power. There was a good deal of self-censorship about the subject, something that at least some members of the ANC leadership have come to regret.
Meanwhile – with the decline of alleged "white racism"  through oppression from the ANC regime in South Africa- the pendulum has now swayed to the other direction- and South Africa today – especially the social sites- is polluted with  BLACK racism. BUT we do not see the same vindictive witch hunts on the thousands of black racists who utter derogatory anti-white racist slogans on a continues basis the same way we saw the ANC regime and far leftists media act upon ( many times trumped-up allegations) -white alleged "racists."  
What is amazing though- is that for 25 years white, colored and mercenary South African and Angolan soldiers were fighting a border war for  to keep the communists out of South Africa. During this time white liberals , Jews and black racists were cheering the ANC and it's communist allies- damning the white soldiers and calling them "racists."  Now again this same liberals , Jews and black racists are marching against the same communist evil they blamed those soldiers for keeping out of South Africa- and they themselves instated as "democratic." How disillusioned CAN some hippocratic idiots be? As for Zuma- he already hi-jacked the state in another planned soft koo-de-etat as he ousted Mbeki- and all it's machinery. Being a shrewd communist strategist- he very well know that the South African population in many ways are like sheep- and he will not even bat an eyelid around all the so-called "marches." First these oafs marched FOR them…now they march AGAINST them..confusing aren't they ?
THE ANC's OWN PRIVATE ARMY OF MK SOLDIERS- ALLOWED TO OPERATE WITHIN OUR BORDERS- BUT LET A WHITE PERSON OR COMPANY TRY THIS AND THE NI, POLICE, SADF INTELLIGENCE AND ALL THE NEWSPAPERS WILL BE ALL OVER THE SHOW!
Zuma will be patiently waiting for all the hysteria to blow over- then nonchalantly proceed to plunder the state coffers- and start to pump out one after the other law that will even oppress the population further and allow him to proceed with all the corrupt and clandestine deals Gordhan tried to prevent him and the Guptas  from getting involved into. Zuma will NOT relinquish power THAT easily- and the "nation" can march all they want- things will not change. To oust Zuma alone will not change things either. The TOTAL ANC despot regime must be ousted and a new government must be instated afore any real changes will be visible. Marching will do zero damage to the  ANC villains- but stop paying TAXES surely will!! Rather cut their gravy-line and disobey their one-way street "laws" – than venture on a useless exercise that will bring no changes at all. To fight Zuma and his mob ilk– is to meet them on the same playing field they themselves operated on in the pre-1994 years- and still do today- pay the same respects to them that they pay to South Africa- DISOBEDIENCE! THAT is the only language dictatorships and especially the terrorist ANC understand.
DEATH THREATS IF YOU DISAGREE WITH THE ZUMA MOB
You can only disagree with the decisions of Zuma if you want to risk being assassinated. Reports have it that ANC big-shots have been receiving death threats for questioning Daddy Zuma during ANC meetings. From our gatherings, ANC national executive committee member Lindiwe Sisulu has already received two threats of assassination. Likewise, ANC's chief whip, Jackson Mthembu and ANC secretary-general Gwede Mantashe have both received similar messages for questioning Zuma's decisions. As reported, the Human Settlements Minister received the threats in June and October 2016. She has been advised on the security measures to take. Mcebisi Jonas Like Dipuo Peters, Has Resigned as ANC MP.  While it was expressed that certain ANC members believe she's a threat to Zuma's ex-wife's ambition to lead ANC, it was hinted that the threats are why she's reluctant to take part in the ANC succession debate. On the other end, the chief whip and the secretary-general received threats of assassination for their public criticism of Zuma. One of the messages Mr Jackson Mthembu received read: "We will deal with you." (Link)
ZUMA PUSHED SOUTH AFRICA INTO A FINANCIAL ABYSS
Already S&P downgraded South Africa to junk status- and today Fitch followed suit. The rand and dollar bonds fell after Fitch Ratings became the second company to cut the country's credit assessment to junk, triggering sales by some investors tracking investment-grade debt indexes. JPMorgan Chase & Co. said it would remove South Africa from gauges tracked by $59bn of funds.
Jacob Zuma plunged South Africa into a political crisis when he fired Finance Minister Pravin Gordhan in a cabinet purge just after midnight on March 31, prompting a drop in the rand and triggering a downgrade to junk from S&P Global Ratings. The move by Fitch means the country's foreign-currency debt will now be considered sub-investment grade, and brought the local-currency assessment to the cusp of junk. "Another downgrade in just one week is a major blow," said Piotr Matys, an emerging-market strategist at Rabobank in London. "It means that even those foreign investors that are still relatively optimistic about the long-term outlook for South Africa may have to trim their exposure. In the coming weeks, we will probably witness a wave of capital outflows." Fitch reduced the foreign-currency and local-currency ratings to BB+, the highest non-investment grade, from BBB-. The outlook is stable. That means another local-currency debt downgrade by S&P would plunge rand bonds into junk territory and see them removed from indexes including Citigroup's World Government Bond Index.
Debt indexes
JPMorgan will cut South Africa from its investment-grade-only EMBIG indexes, which are tracked by $49bn of funds, on April 28, associate Nelson Chikusa said in an emailed note. It will also exclude the nation's debt from its GBI-EM GD and ELMI+ investment-grade-only indexes tracked by $10bn of funds on 31 May, he said. Yields on the government's benchmark dollar bonds due October 2028 rose eight basis points to 5.17%, widening the premium over US Treasuries by 16 basis points to 296 points. The rand declined as much as 0.6% before paring losses to trade down 0.2% to 13.7886 per dollar by 16:11 in Johannesburg, near its weakest since early January.
The downgrade, especially of South Africa's local-currency debt, is "substantially negative" for the rand, Razia Khan, head of Africa macro research at Standard Chartered Plc, said in an email. "For markets, this is meaningful, especially since S&P assigned a negative outlook to its own local-currency rating for South Africa, which is currently rated at the lowest rung of investment grade." Rabobank's Matys sees the rand dropping to 14.5 per dollar by the end of the quarter. "Looking from the mid- and long-term perspective, previous periods of weaker values proved an opportunity to increase exposure to South African assets," he said. "But I think it's way too early for that. The sell-off is not over." Assets of state-owned companies also declined. The yield on Transnet SOC Ltd.'s $1bn of notes due 2022 rose 19 basis points to 5.28%, the highest since December 6. The rate on Eskom's 2021 dollar debt increased 35 basis points to 5.84%. South Africa's benchmark stock index dropped 0.5%.
The downgrade by Fitch Ratings is proudly brought to South Africa by President Jacob Zuma and it is yet another damning indictment, opposition parties say. On Friday Fitch Ratings lowered both South Africa's foreign and local currency credit ratings to "junk status". The DA said this is a "devastating blow" to our economy and a sign that sign that confidence in Zuma has reached rock-bottom. "Zuma has sabotaged our economy, and the hopes of millions of South Africans, to benefit himself, his family and the Guptas. It is the poor who will suffer the most, as there will be less money available for basic services, and jobs will be shed," said DA leader Mmusi Maimane in a statement. "There is only one way to get rid of Zuma. Parliament must vote him out."
Maimane called upon the ANC caucus in Parliament to reconsider their decision to vote for Zuma in the Motion of No Confidence in 11 days' time. The DA reiterated that downgrade to "junk status" of both our foreign and rand-denominated ratings, will have a severe impact on our country. "The ability of our treasury to compensate our budget deficit, through the issuance of bonds, is now placed at risk. Foreign investors are now likely to also steer away from South Africa, at a time when we need investment to create jobs." The IFP said this downgrade adds fuel to a burning economy. The party said it had repeatedly, in the face of the threat of downgrades, warned Zuma against reckless, ill-informed and irresponsible decisions around economic matters. "The chickens have come home to roost. Mr Zuma simply does not get it," said IFP spokesperson on finance Mkhuleko Hlengwa. "The economy is not an instrument to settle petty factional and political scores within the ANC; and every time Mr Zuma ventures down this avenue it is South Africans that suffers."   He said South Africans must not give up the struggle for good, clean, transparent and trustworthy governance.
ZUMA IS RUNNING SOUTH AFRICA LIKE A FAMILY BUSINESS- EVEN APPOINTING THE "FAMILY" IN TOP POSITIONS!
Next week Moodeys will do the same. This is what sh*t Zuma created for the country. He feel a sh*t about the " country." We are the ones that now are going to face blown-up interest rates, sky-high commodity prices- poverty, loosing our jobs due to disinvestment and inhuman taxation…not HIM!  Verwoerd was assassinated in his innocence by the CIA and the Jews and falsely accused for the British created "Apartheid." The "Boeremag" members already languish in jail for more than 15 years for so-called trump-up charges of " Crime Against The State" by this same thugs in the communist ANC – but this criminal – who is a MAJOR threat to national security- is tolerated to ruin the country totally OUTSIDE the jail. How the f*ck does the South African judiciary's minds operate?? When will HE start to " rot in jail?" 
SOURCED:
WHITE NATION– WE DO NOT HATE WHITE LIBERALS– WE DESPISE THEM!!
C'MON- SHARE OUR LINK