FOLLOW US BY REGISTERING ON THE RIGHT-HAND TAB
Do you have news you want to share with us? Send your e.mails with news and inquiries to: w.nation@mail.com
Article compiled  by: White Nation  correspondent London –April 30 2017
WORLD NEWS
CHINA has been spotted firing missiles from a new destroyer ship in waters close to North Korea as fears of World War 3 continue to mount.
And it claims a war with the hermit state could happen "at any time" amid rising tensions with Russia and the US. China has been a long time ally of despot Kim Jong-un, but recently called for both Washington and Pyongyang to control the situation.  And the friendship has been put even more at risk after thousands of Chinese troops were recently filmed heading to North Korea's border.  Now, their navy's Xining warship – unveiled in January and boasting a huge arsenal of deadly weapons – has launched its missiles for the first time in the Yellow Sea. Shocking footage shows crew members practicing their response to an attack, as they fire the weapons into the waters between China and the Korean peninsular.
New footage shows a massive mobilization of Russian troops, helicopters, and tanks to Vladivostok, a town located just 11 miles from the North Korean border as the Kremlin prepares for nuclear war on the Korean peninsula. The video shows trains relocating the heavy military equipment to the region as helicopters conduct drills overhead. "Railway trains loaded with military equipment moving towards Primorsky region via Khabarovsk have been noticed by locals," reported a local eastern Russian newspaper.
"The movement of military equipment by different means of transport to southern areas is being observed across Primorsky region over the past week," said a Russian military expert. "Many relate this to the situation in the Korean peninsula." The mobilization comes as Russia, fearing an imminent war between the United States and North Korea, prepares for a possible humanitarian crisis of refugees fleeing the conflict and flooding in to Russia and China.   President Putin has also warned citizens living in the region that if the United States were to strike nuclear facilities inside North Korea, the atomic contamination could spill across the border in to Russia. "Should the US strike with missiles at North Korea's nuclear facilities, a radioactive cloud will reach Vladivostok within two hours," said a Russian nuclear scientist.
North Korean state media has warned Washington of a "super-mighty pre-emptive strike" which would "reduce the US to ashes." It comes after US Secretary of State Rex Tillerson said Washington is looking to pressure Pyongyang over its nuclear program. "In the case of our super-mighty preemptive strike being launched, it will completely and immediately wipe out not only US imperialists' invasion forces in South Korea and its surrounding areas, but the US mainland and reduce them to ashes," Rodong Sinmun, the official newspaper of the North's ruling Workers' Party, wrote on Thursday, as quoted by Reuters.
It comes just one day after Tillerson, as part of President Donald Trump's hardline stance against North Korea, said the US is exploring ways to put pressure on Pyongyang. We're reviewing all the status of North Korea, both in terms of state sponsorship of terrorism as well as the other ways in which we can bring pressure on the regime in Pyongyang to re-engage with us, but re-engage with us on a different footing than past talks have been held," he told reporters on Wednesday. Tillerson wasn't the only Trump-appointed US official making remarks about North Korea on Wednesday. Speaking from the 'USS Ronald Reagan' in Japan, Vice President Mike Pence vowed an "overwhelming and effective" response to any potential attacks from Pyongyang, stressing that the "sword stands ready."
Defense Secretary Jim Mattis simultaneously denounced Pyongyang's latest missile launch attempt during his Middle East tour, telling reporters in Saudi Arabia that "the leader of North Korea again recklessly tried to provoke something by launching a missile." Meanwhile, South Korea's acting president, Hwang Kyo-ahn, called for his country's military and security ministries to remain vigilant on Thursday. South Korea's Defense Ministry also confirmed on Thursday that the US and South Korean Air Forces are conducting an annual training exercise – code named "Max Thunder ' – until April 28.
US and S. Korea hold military drills amidst increased tensions with N. Korea.

Posted by RT Play on Thursday, April 20, 2017
We are conducting a practical and more intensive exercise than ever," South Korean pilot Colonel Lee Bum-chul told reporters. "Through this exercise, I am sure we can deter war and remove our enemy's intention to provoke us." The Thursday threat by North Korean state media come after Pyongyang performed a music show to mark the birth of former leader Kim Il-sung, which included a video that appeared to show North Korea striking the US with a devastating missile launch. North Korea tried and failed to launch a ballistic missile last Saturday, with the weapon reportedly blowing up almost immediately after launch.
Meanwhile the U.S. Air Force scrambled two F-22 stealth fighters last  Monday night to intercept a pair of Russian nuclear-capable bombers which came as close as 100 miles from Alaska's Kodiak Island, Fox reports. This was the first time since President Trump took office that Moscow has sent bombers so close to the U.S. The two Russian Tu-95 "Bear" tactical bombers flew roughly 280 miles southwest of Elmendorf Air Force Base, within the Air Defense Identification Zone of the United States. The U.S. Air Force promptly scrambled two F-22 stealth fighter jets and an E-3 airborne early warning plane to intercept the Russian bombers. he American jets flew alongside the Russian bombers for 12 minutes, before the Russian bombers reversed course and headed back to their base in eastern Russia.
An official quoted by the Washington Examiner said that while TU-95s are capable of carrying nuclear weapons, the planes involved in Monday's incident did not appear armed. The interception was conducted in a "safe and professional" manner, the official added, as the bombers did not violate U.S. airspace or break international norms. Monday's incident comes amid escalating tension between Russia and the U.S., particularly over Syria's ongoing civil war. Trump's decision to strike Assad's government earlier this month put the U.S. at odds with Russia, which has long supported Assad. Russian Foreign Minister Sergei Lavrov said last week that the chemical attack was staged.
Lavrov also said that another U.S. military strike in Syria could prompt "grave consequences not only for regional but global security." Secretary of State Rex Tillerson said earlier this month that U.S.-Russia relations have hit "a low point" following the strike. The top U.S. diplomat added that "improvement in the long-term relationship" between both nations is required to resolve the conflict in Syria.The last time Russian bombers flew near the U.S. was July 4, 2015, when a pair of Russian bombers flew off the coasts of Alaska and California, coming as close as 40 miles to Mendocino, Calif. Russian President Vladimir Putin called then-President Barack Obama to wish him a happy Independence Day while the bombers cruised the California coastline.
The
US Military has arrived in Poland
in large numbers some may say it's the worlds largest nightmare for Putin.
ZAGAN,
Poland — The first
M1A2 Abrams
Tanks owned by
3rd Armor Brigade Combat Team, 4th Infantry Division
touched ground in
Swietozow
Soldiers assigned to
1st Battalion, 66th Armored Regiment,
and
1st Battalion, 68th Armored Battalion, 3rd Arm. Bde. Cmbt. Tm., 4th Inf. Div.
, are deploying to Poland to undergo training prior to continuing a 9-month rotation as part of
Atlantic Resolve. Atlantic Resolve
is a U.S. led effort being conducted in Eastern Europe to demonstrate U.S. commitment to the collective security of
NATO
and dedication to enduring peace and stability in the region.
"I think what's dynamic about our mission is our speed of assembly," said Lt. Col. Stephen Capehart, commander, 1st Battalion, 68th Armored Regiment. "Within less than 30 days, we prepared our equipment, put it on vessels; we had our Soldiers get time with their families, got them ready to go, and now we're in Poland." The unit is conducting the reception, staging and onward integration of its forces in Poland before moving them to Latvia, Lithuania, Estonia, Hungary, Romania and Poland.
"I think it shows our commitment to the alliance," Capehart said. "It shows how we can deter any threat to the alliance as we move forward." The arrival of 3rd Arm. Bde. Cmbt. Tm., 4th Inf. Div., marks the start of back-to-back rotations of armored brigades in Europe as part of Atlantic Resolve. The vehicles and equipment, totaling more than 2,700 pieces, will be shipped to Poland for certification before deploying across Europe for use in training with partner nations.
AN UNARMED INTERCONTINENTAL BALLISTIC MISSILE WILL BE LAUNCHED WEDNESDAY FROM VANDENBERG AIR FORCE BASE TO TEST THE WEAPON'S EFFECTIVENESS, ACCURACY AND READINESS, ACCORDING TO THE AIR FORCE GLOBAL STRIKE COMMAND.
According to sources president Trump has authorized a military strike on the rogue nation of North Korea, and tomorrow will be a very busy day. For starters, shortly after midnight tonight, the U.S. Air Force will test fire a Minuteman III ICBM off the California coast. Then, President Trump will have a closed door meeting with the entire United States Senate to discuss military options to be exercised against North Korea.  The Minuteman III missile test launch will occur between 12:01 and 6:01 a.m. from the north end of the base near Lompoc, according to Vandenberg's 30th Space Wing. The 576th Flight Test Squadron, which will help oversee the operational test launch, is responsible for telemetry, tracking and command destruct systems on the missile. In a statement, Col. Chris Moss, Vandenberg's 30th Space Wing commander, said missile launches are "essential to verify the status of our national nuclear force and to demonstrate our national nuclear capabilities."
MINUTEMAN III ICBM TEST LAUNCH:
This is what tonight's missile test will look like.
The Nuclear Age Peace Foundation, a nonprofit, nonpartisan organization, criticized the timing of the launch, citing heightened tension between the U.S. and North Korea. In recent weeks, North Korea has stepped up its testing of ballistic missiles.
REPORT: NORTH KOREA LAUNCHES MASSIVE MILITARY DRILL
"When it comes to missile testing, the U.S. is operating with a clear double standard: It views its own tests as justified and useful, while it views the tests of North Korea as threatening and destabilizing," foundation president David Krieger said in a statement. "What is needed is diplomacy rather than military provocations. Threats, whether in the form of tweets, nuclear-capable aircraft carrier groups, or nuclear-capable missile launches, only increase the dangers to us all."
North Korea test-fired a ballistic missile on Saturday shortly after U.S. Secretary of State Rex Tillerson warned that failure to curb Pyongyang's nuclear and ballistic missile programs could lead to "catastrophic consequences". U.S. and South Korean officials said the test, from an area north of the North Korean capital, appeared to have failed, in what would be the North's fourth straight unsuccessful missile test since March. The test came as the USS Carl Vinson aircraft carrier group arrived in waters near the Korean peninsula, where it began exercises with the South Korean navy on Saturday, about 12 hours after the failed launch, a South Korean navy official said.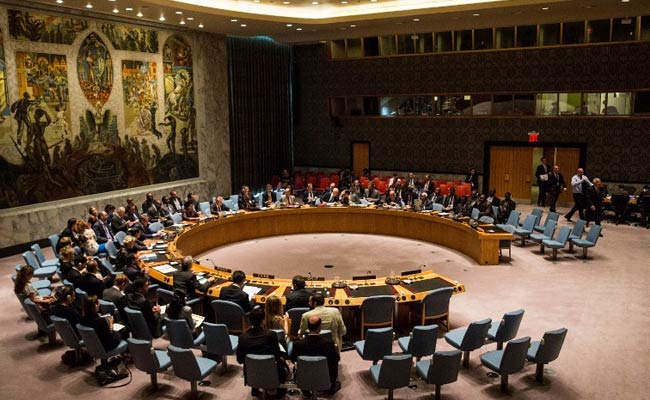 Tillerson, in a U.N. Security Council meeting on North Korea on Friday, repeated the Trump administration's position that all options were on the table if Pyongyang persisted with its nuclear and missile development. U.S. President Donald Trump, asked about his message to North Korea after the test, told reporters: "You'll soon find out" but did not elaborate on what the U.S. response would be. Separately, in excerpts of an interview with CBS News released on Saturday, Trump said the United States and China would "not be happy" with a nuclear test but gave no other details.
Chinese Foreign Minister Wang Yi told the U.N. meeting it was not only up to China to solve the North Korean problem. "The key to solving the nuclear issue on the peninsula does not lie in the hands of the Chinese side," Wang said. In a commentary on Saturday, China's official Xinhua news agency said both North Korea and the United States needed to tread cautiously. "If both sides fail to make such necessary concessions, then not only will the two countries, but the whole region and the whole world end up paying a heavy price for a possible confrontation." Trump, in an interview with Reuters on Thursday, praised Chinese leader Xi Jinping for "trying very hard" on North Korea but warned a "major, major conflict" was possible.
The North has been conducting missile and nuclear weapons related activities at an unprecedented rate and is believed to have made progress in developing intermediate-range and submarine-launched missiles. Tension on the Korean peninsula has been high for weeks over fears the North may conduct a long-range missile test, or its sixth nuclear test, around the time of the April 15 anniversary of its state founder's birth. Pope Francis, speaking to reporters, called for another country to mediate the dispute between Pyongyang and Washington, saying the world risked a devastating war.
JAPAN PROTESTS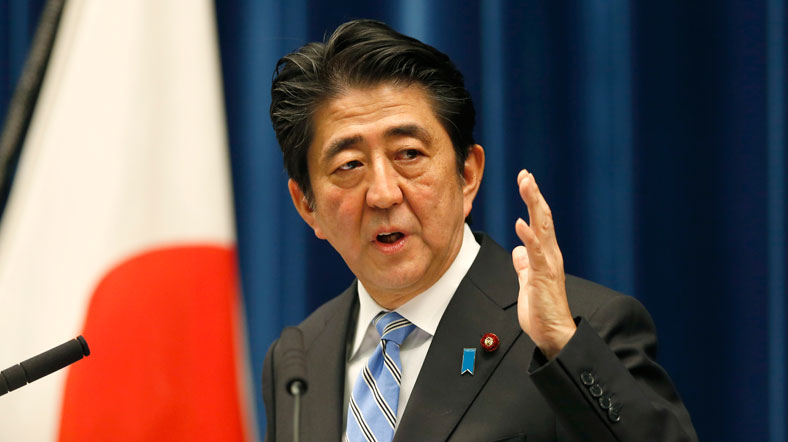 Japanese Prime Minister Shinzo Abe condemned the test as a grave threat to the international order. "I urged Russia to play a constructive role in dealing with North Korea," Abe told reporters in London. "Japan is watching how China will act in regard to North Korea." U.S. officials, speaking on condition of anonymity, said the North Koreans had probably tested a medium-range missile known as a KN-17 and it appeared to have broken up within minutes of taking off. The South Korean military said the missile reached an altitude of 71 km (44 miles) before disintegrating. It said the launch was a clear violation of U.N. resolutions and warned the North not to act rashly.
With North Korea acting in defiance of the pressure, the United States could conduct new naval drills and deploy more ships and aircraft in the region, a U.S. official told Reuters. The dispatch of Carl Vinson to the waters off the Korean peninsula is a "reckless action of the war maniacs aimed at an extremely dangerous nuclear war," the Rodong Sinmun, the official newspaper of North Korea's ruling Workers' Party, said in a commentary on Saturday. Inter-continental ballistic rockets will fly into the United States "if the U.S. shows any slight sign of provocation," the newspaper said.
ON TUESDAY, THE U.S. 7TH FLEET SAID IT WAS CONDUCTING MARITIME EXERCISES WITH NAVAL SHIPS FROM SOUTH KOREA AND JAPAN.
"Both exercises demonstrate a shared commitment to security and stability in Northeast Asia as well as the U.S. Navy's inherent flexibility to combine with allied naval forces in response to a broad range of situations," the U.S. 7th Fleet said in a statement. The Vandenberg test would be the second missile launched from the base this year. The other launch was conducted by the strike command's team from the 91st Missile wing at Minot Air Force Base in North Dakota in February. The missile was equipped with a nonexplosive payload that recorded flight data, according the strike command. The missile was launched at the base just north of Lompoc and traveled 4,200 miles to a test range in Kwajalein Atoll in the Marshall Islands. Three Minuteman III missiles were launched in 2016, according to Lt. Col. Jason Turner,2d Range Operations Squadron commander.
In another development  Israeli Defense Minister Avigdor Liberman hurt the "dignity of the supreme leadership" of North Korea, state-run Korean Central News Agency (KCNA) reported Saturday. The comment was in reaction to Israeli remarks on how the Jewish State is affected by North Korean tension with the United States.   In an interview with Hebrew news site Walla this week, the hawkish Liberman stated that North Korea's leader Kim Jong-un is a madman and that together with the leaders of Iran and Syria was part of an "insane and radical" gang that was bent on undermining international stability.
North Korea immediately released a statement: "The reckless remarks of the Israeli defense minister are sordid and wicked behavior and grave challenge to the DPRK [North Korea]," the North Korean statement read. The statement also claimed that Israel, while working with the US, was the Middle East's only illegal owner of nuclear weapons.  "This is the cynical ploy to escape the world denunciation and curse as disturber of peace in the Middle East, occupier of the Arab territories and culprit of crimes against humanity," the spokesman said. The access to nuclear power is a "righteous right for self-defense to cope with the US provocative moves for aggression," the statement read.
The statement threatened Israel and anyone who "dares hurt the dignity of its supreme leadership," with "merciless, thousand-fold punishment." The statement ended with a warning to Israel to "think twice about the consequences to be entailed by its smear campaign against the DPRK [North Korea] to cover up the crimes of occupying Arab territories and disturbing peace process in the Middle East."
blob:http://www.jpost.com/fbf80799-9ca6-4b1c-9f51-4d35c092fa28
Last Tuesday a senior IDF officer told reporters at a special briefing that ongoing tension between North Korea and the US could impact Israel's security. The officer referred to the developing diplomatic rift between the US and the peninsula following North Korea's recent and defiant attempts to extend its nuclear activity, despite repeated warnings from the West. He explained that Israel could bear the brunt of such an escalation in the relations between Washington and Pyongyang should it occur, because the US would have to divert security resources from the Middle East to Korea.
JAPAN gave it's citizens a 10-minute warning drill in case of a Korea nuclear strike.  It would take 10 minutes for a North Korean missile to hit Japan, Tokyo estimates, as tensions between the countries grow. Guidelines on what to do if a strike actually happens have been published online and have recently seen a huge surge in interest. A Japanese civil security website – the Cabinet Secretariat Civil Protection Portal Site – says that a North Korean missile would reach the country "in a very short time," adding that a missile could cover a distance of 1,600km and reach Japan in 10 minutes.  The number of people searching for guidance on the Civil Protection Portal Site has risen almost sixfold since March, with 2.6 million visiting the website in April compared with some 450,000 in February, the Japan Times reports.
People would actually have much less than 10 minutes to find safety, according to Osaka Mayor Hirofumi Yoshimura. "A missile may not be detected as soon as it leaves the launch pad . . . and that could take several minutes," the Japan Times cites the official as saying. "Depending on the case, the warnings and alarms might only sound four or five minutes before a missile arrives." The Osaka mayor's statement came after the government called on prefectural disaster and crisis officials "to make additional efforts to warn residents and establish their own plans" during a meeting in Tokyo. In the event of a strike, the government recommends that citizens calmly go to the "strongest concrete building" nearby, stay "low to the floor," or get under a table.
In Osaka guidelines issued separately, schoolchildren are advised to "get under their desks" and not to leave their classrooms, should a strike come during a school day. Japan has a special service, J-Alert, to convey all urgent messages to citizens. If there were to be a potential strike, the system would send a warning to local authorities via satellite, telephone and cyberspace. Citizens would then hear the warning message through loudspeakers, an emergency broadcast on TV and radio, or cell phone alerts. In a bid to facilitate possible evacuations, prefectures are seeking to make legal changes, such as introducing new laws on mandatory evacuation and a nationwide system of drills.
SOURCES:
http://www.jewsnews.co.il/2017/04/20/chinas-deadly-new-warship-fires-missiles-off-coast-of-north-korea-as-ww3-fears-mount.html
http://www.hannity.com/articles/hanpr-election-493995-493995/russia-moves-military-to-north-korean-15759210/
https://www.rt.com/news/385418-north-korea-pre-emptive-strike/
http://www.nowtheendbegins.com/u-s-air-force-launch-test-icbm-missile-california-coast-tonight-preparation-striking-north-korea/
http://www.jpost.com/Israel-News/North-Korea-threatens-Israel-with-merciless-thousand-fold-punishment-489316
https://www.rt.com/news/386092-japan-missile-strike-guidance/
http://www.reuters.com/article/us-northkorea-missiles-idUSKBN17U2XB
U.S. Fighter Jets Intercept Two Russian Tactical Bombers 100 Miles Away From Alaska
WHITE NATION– WE DO NOT HATE WHITE LIBERALS– WE DESPISE THEM!!
C'MON- SHARE OUR LINK