Do you have news to tell us? Send your e.mails with news and inquiries to: w.nation@mail.com
 Register to follow our news on the right-hand tab
Article compiled  by: White Nation  correspondent Sydney Australia  – May 05 2017
SOUTH AFRICA– FAILED LAND OF COMMUNIST ANC ORGANIZED CRIME ,LIBFARTS, UNION CHAOS , MISDIRECTED RAINBOW MONKEYS – AND WHITE GENOCIDE
THE media in South Africa is the biggest enemy of the white people. Every single day, we see coverage of alleged "white brutality "  (black people being killed by white farmers) along with violent protests in front of court houses. As 2017 saw the dawn of light- all we see is both races being pinned against each other, and many folks have been convinced they have to take sides and literally FIGHT for their race.
Violence is already very prevalent. Clearly, the majority of South Africa wants peace between black and white people, but with enough propaganda and malicious news coverage, that majority could drastically sink. The  ANC communist government and media convince people to be racist and hateful,- and are the main instigators of most South African race-related riots. Remember that the real enemies are the media and South Africa's corrupt government.
For the South African media it's all about the ratings with mass social media. Notice how when they described the Reitz,Parys case and now the Coligny case ? And as always- it's the " racist"  white farmer against an "innocent" black victim. That type of propaganda makes the people viewing "pick a side " instead of looking at the case objectively. Why are white on black racial issues so frequently in the news? Why is it that we're hearing about all these "new cases " of white " racism " and protests when we rarely heard about them beforehand? Was there just a huge spike and white brutality and protests at a completely random time? Every day, all day. What is happening in South Africa is that the ANC communist regime is busy exploiting their biggest mouth-piece- the media- to create racial division in order to stay in power and to divert the attention of the general public away from the true issues of maladministration and corrupt governance.
In South Africa the use of the ANC state-run mass media is to create an atmosphere of fear and hatred among blacks by spreading exaggerated and false messages of racially based attacks by whites and white farmers in particular against the majority black  people. In South Africa today-  the use of media for black communist ends and objectives formed part of a well thought through plan – itself part of a strategy of conquest and affirmation of identity. Most of the leading black political parties work in cahoots in a concerted effort at misrepresenting the true situation on the ground – and exaggerate the "threat" of a white business dominance , "white racism"  and " majority white land ownership."   This false propaganda now is  widely spread by the state-controlled media of South Africa.
Governments all over the world are manipulating the mass media for their own ends. That's where the digital false foot soldiers come in – smearing opponents, spreading disinformation and posting fake texts for 'pocket money." This also then is the case now in South Africa- and it already started with the British press with the murder of Dr. H.F Verwoerd.  We don't know who these faceless cowards  are, or what their mission is. BUT we all know they share the same characteristics- they would sell their own mothers to the nearest pimp for the right amount. We only know that there are thousands of them out there, pretending to be "siding with us. " They may be at home, or in special offices, or sitting beside you on the train. They use the mass media, the social media, and write blogs and comments. You can hire your own troll army if you have the cash. In 2011 the PR firm Bell Pottinger told undercover journalists that they could "create and maintain third-party blogs", and spruce up Wikipedia profiles and Google search rankings. Indeed marketing has a rich history of so-called "astroturfing", which is laying down fake grassroots. Take Forest, "the voice and friend of the smoker", which at least admits in nearly invisible small print that it is paid for by the tobacco industry.
Now, however, manipulating the mass media and social media has become part of the business of government. It may yet influence how governments are formed. Recent reports suggest that many of Donald Trump's most fervent online supporters are not themselves Americans, but Russians being paid by their government to help him win. One told Samantha Bee that she pretends to be a housewife from Nebraska. Why she would confess it now is unexplained, but when you look around it begins to feel like everybody does it. It's just that no two countries' methods are the same. AND the South African communist ANC regime  also are utilizing the same methods and tactics to keep the population divided between white and black through manipulating the mass media and social media to the same effect. They also run their own troll factories.  Paying black radical stooges from  hidden "slush funds"  to demonize whites – especially in court cases such as the Reitz case and now the Coligny case-  has become about as routine for the ANC communists  as hiring traffic wardens.
THE REITZ ACCUSED WHITE FARMERS IN THE FAMOUS "COFFIN CASE" WHERE A BLACK CABLE THIEF WAS PUT IN A COFFIN AND THREATENED TO BE  BURIED ALIVE.   MOSTLY ALL EVIDENCE IS "ALLEGED"- NO FACTS. YET THE MEDIA RUNS THE CASE LIKE THEIR OWN PERSONAL  SOAP OPERA.
Correspondents in the South African media troll factories  are expected to post on news articles numerous times a day. Those who wrote blogs had to maintain a certain amount of Facebook accounts and publish a specific number of  posts daily. On Twitter, they also have  to have at a number of accounts, on which they would tweet numerous  times. All have targets for the number of followers and the level of engagement they have to reach. As you might expect, many South African media trolls lack a certain polish when it comes to posting the truth.
IN THE PARYS CASE- AN OLD WHITE MAN WAS ATTACKED BY TWO BLACKS IN A FARM ATTACK. SIX WHITE FARMERS TRACKED THE ATTACKERS DOWN AND APPREHENDED THEM THE TWO DIED IN POLICE CUSTODY. NOW THE THREE FARMERS- COR LOGGERENBERG (20), LOEDIE VAN DER WESTHUIZEN (19)- AND MIELA JANSE VAN VUUREN(23) FACE MURDER CHARGES. AGAIN THE MEDIA ARE PLAYING A CENTRAL PART IN WHIPPING UP PUBLIC OPINION AGAINST THE WHITE FARMERS WITHOUT TAKING INTO CONSIDERATION THAT WHITE FARMERS ARE UNDER CONSTANT ATTACK FROM BLACK VIGILANTES ON THEIR FARMS.
TWO OTHER ACCUSED FARMERS IN THE PARYS CASE- BOETA VAN DER WESTHUIZEN (46) AND ANTON LOGGENBERG (50) 
Promoting " hate speech" and proffering "racism" on-line and from political podiums by the regime- using the mass media and social media – is contributing to escalating race tensions in South Africa. As the white genocide escalates and farm murders reaching an unprecedented level- on-line deliberate hate speech and rumor from mainly black instigators is becoming crystal clear. Added to the tension, paranoia and misplaced anger among the black population , is the fact that there are numerous government-controlled individuals with clear agendas ranging from political machinations to hate. The internet and social media afford an avenue to express such views as well as to act on them.
Adrian Groenewald's house was set alight by an angry black mob in Coligny near Lichtenburg.White properties were attacked and burned to the ground in Lichtenburg and Coligny- yet the media prefer to keep mum about the black on white racism.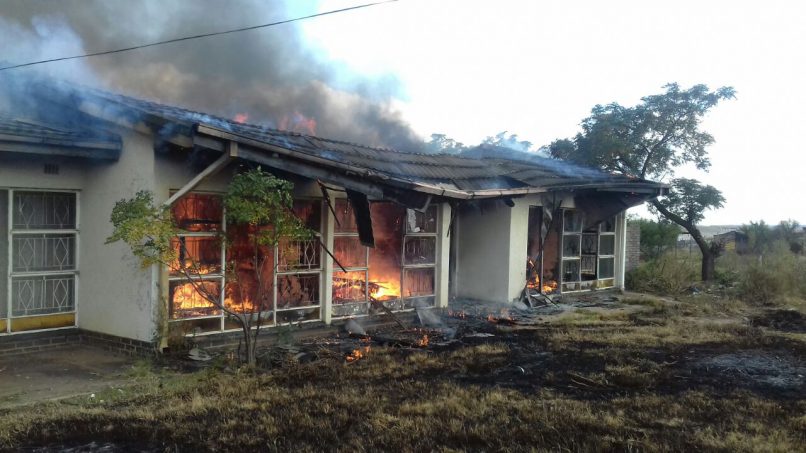 THIS S WHAT BLACK THUGS DID TO WHITE PEOPLE'S PROPERTY IN COLIGNY- YET THE MEDIA SUFFER FROM PARKINSON'S DISEASE ABOUT THIS BLATANT RACISM. ALL CAMERAS ARE FOCUSED ON THE TWO WHITE FARMERS THAT "ALLEGEDLY" KILLED A BLACK BOY.
In the past – in South Africa  and other contexts – hate and direction of violence were spread using the paper back and state-controlled radio. Currently in South Africa messages of hate are being spread via Facebook, Twitter and WhatsApp. In this context, the role of those controlling the country, notably the diaspora, has increased with the ability to communicate directly and quickly with these new tools to contacts and people throughout South Africa, especially in cases where white people are under attack- such as the recent Lydenburg and Coligny cases. With social media being used prolifically by malicious journalists (as sources and means of transmission) and a proliferation of leftist commentators online claiming credibility, – such messages quickly gain authority and visibility. Messages of hate and rumors are now often originating, or at least spread by those inside the ANC intelligence structures. Various media outlets grant "credibility " to such rumors- whether misinformed- or through control. People then spread the rumors and hate messages under the guise of open sharing of information. Combined with the paranoia and anger of a misdirected mainly black population, this new factor in the conflict dynamics of South Africa, and in many other settings, is a recipe for disaster.
MORE THAN 4000 WHITE FARMERS AND THEIR FAMILIES WERE BRUTALLY MURDERED BY BLACK SAVAGES SINCE 1994.AS RECENT AS A DAY AGO -MAY 05 2017-AN ELDERLY WHITE FARMER CHRIS HOLSTHAUZEN WAS BRUTALLY ATTACKED BY 5 BLACK SAVAGES ON HIS FARM CLOSE TO LEEUORINGSTAD. THE FAMILY WAS BRUTALLY ATTACKED WITH MACHETES AND THE OLD WOMAN WAS STRUCK WITH A GUN BUTT THROUGH THE FACE. YET YOU WILL NOT READ ABOUT IT IN THE MAINSTREAM SOUTH AFRICAN MEDIA.
What has clearly been missing from the mixture of interventions in South Africa is the effort by a supposed to be concerned government to find ways to remove, or at least limit, the dangerous effects of hate and rumors being transmitted by mainly black politicians and black socialites against whites. On the contrary do the South African communist regime underwrite such profanities and discrimination against whites like the racist-based BEEE laws still on their law books- and the discriminating " land retribution" law they now are about to pass. . While many governments have moved to deal with extremism online when it is connected with Islamist militant and extremist groups, the same has not been the case with extremism, hate, and proffering war and the extermination of whites by despots such as Zuma and Malema in South Africa. Canada for example has legislation about hate speech and has long been an advocate about the responsibility to prevent and protect but does little to intervene when people in Canada and/or Canadians have engaged in such hate and extremism online. There are similar situations in Australia, UK and the USA.
The media on the other hand  love hate crimes because they seem to explain everything that's wrong with South Africa and put the blame on someone who can handle it: white people. Unfortunately, there aren't enough hate crimes against blacks to go around, and leftist liberal journalists are forced to invent them. What they don't realize is that the biggest hate crime hoax is the press itself. By creating an imaginary reality where blacks are constantly under siege, they are all but daring them to attack and murder whites. Bludgeoned to death, tortured for hours, black men raping the women and children and then murdering the white farmers in South Africa. There is no end to the horrendous killings and there is no intervention to stop these murders. Yet the media choose to concentrate all their efforts in demonizing white farmers.
The media have created the racial tension they were going for, only they got everything backwards. In an attempt to create a fictional world where whites hate blacks, they accidentally created a real one where blacks hate whites.Again this scenario plays itself down with the case of the two white farmers now being accused in the Coligny case- and as with Parys and the Reitz sagas- not the prosecution- nor the investigators have a case- now the state and the media invent their own "evidence. Pieter Doorewaard' 26' and Phillip Schutte' 34' are accused of "allegedly" murdering Motlhomola Mosweu."All is about the "alleged" murder of the boy. "Alleged" racism." The two Coligny men accused of killing a teen boy "allegedly"  made a witness drink to the point of intoxication, shot at him, and warned him not to tell anyone about the incident.( Link)   THIS is how the South African media fabricate their own case and verdict….it's all about "alleged" evidence- no proof- all false media propaganda to incite hatred and racism. Meanwhile 12 white farmers has been brutally attacked and murdered by black thugs this past 2 weeks – yet this same malicious media trolls does not report one word about it. This is the media hippocracy in South Africa.
AND like in the Reitz case where white farmers were accused of killing black cable thieves- no hard evidence could be found whether the victims were killed by the white farmers – or during police custody. In the Parys case evidence still are gathered and no definite conclusion can be made. BUT the white farmers already were found guilty by the media. Such is the recent Coligny case- where a black youth was caught stealing sunflowers- apprehended by two white farmers- and taken to the local police station. However- when the pick up they were transported in slowed down around a corner- the youth jumped off and during the fall- apparently broke his neck. BUT this was NOT good enough for the false media- the farmers HAD to become the murderers- and now all of a sudden the white farmers are accused with murder charges. And all the time the malicious media troll factory are instigating more and more black hatred against the two white farmers.
THIS IS WHAT BLACK THUGS DO TO THE LIVE STOCK OF WHITE FARMERS- HAPLESS ANIMALS ARE HACKED TO DEATH AND SOMETIMES CHUNKS OF MEAT HACKED OFF THE STILL LIVING ANIMALS. THIS CAUSE MILLIONS OF RANDS LOSS TO WHITE FARMERS- YET THE MEDIA IN ALL THEIR HIPPOCRACY NEVER HIGH-LIGHT THE BRUTAL ONSLAUGHT AGAINST WHITE FARMERS.
But the horrible fact that white farmers in South Africa are targeted for daily brutal attacks by black vigilante groups are summarily ignored by the political and media white bashers. In not one of the hundreds of cases where white farmers were attacked or murdered were the case high lighted and dragged on for weeks against the black murderer. In not one single case did we see black rioters dancing with black baby dolls on sticks. In not one case did we see any political party rioting against the black murder/s in front of the courts.black rioters destroys South Africa's infrastructure on a daily basis, loot businesses, set white property alight and decimate livestock- but again the ghoulish media trolls make sure that they abstain from high-lighting the excessive black racism and destruction going on in South Africa.
THE MEDIA CREATED THEIR OWN DELUSIONAL PICTURE AND ALLEGED THE ONE WHITE FARMER HAD A HISTORY OF "RACISM." INSTIGATION TO HATRED IS RIFE BY THE SOUTH AFRICAN MEDIA AGAINST THE TWO COLIGNY FARMERS.
But this case doesn't get the media going the way certain others do, because it doesn't fit their narrative: that whites are going out left and right to mow blacks down. This case proof to be more inflated with lies and distorted truths than the media expect it to be. So they now start to fabricate a lie to influence public outcry against the white farmers. This is a dangerous lie to tell because it encourages revenge farm killings. These murders are pointless hate crimes instigated by black politicians and the South African media.There were dozens of farm attacks on whites  like this recently – and the media have tamped them all down. YET the Reitz and Coligny cases are high-lighted for weeks on end. In the pretend South Africa  they constructed,white "racists" randomly shoot blacks because they're bored. In the real South Africa the reality is the contrary. Whites are murdered on a genocidal scale by blacks. Blacks committing this kind of senseless violence is a real pattern. "Racist" whites shooting innocent blacks or bumping innocent black kids from pick-ups  is not.BUT this the media choose to ignore. No front page news about the farm murders. No instigated hate correspondence. No fabricated cases against the black murderers as with the Reitz and Coligny cases against the white farmers.
The common refrain used to deny this reality is that the above cases involve mostly black criminals who get arrested, while "killer whites  " apparently avoid prosecution because of "institutionalized racism." But in truth, whites  are under so much scrutiny from the liberal media race baiters that one study found they are more hesitant to defend themselves against armed black suspects .  In South Africa , criminals are getting away with murder. By ignoring the white genocide and pretending their murders is about mistreating blacks- we are ignoring the real victims—mostly of whom are white Of course we need to prosecute the thugs who are responsible,( which in most cases does not happen)- but where is the media's culpability?
In one of the most horrible cases of anti-white propaganda in a so-called entertainment soapie- Isidingo–, a black is buried alive after being assaulted by white Afrikaans men. (Referring to the Reitz coffin case) The impression is that all-white Afrikaner people are racists who will assassinate or kill blacks. It is not the first time that the SABC uses entertainment to promote anti-white sentiments. Whites are continually portrayed in advertisements and sly or depicted as ugly retards.
THE ANC'S HIDDEN AGENDA- TO EXTERMINATE WHITES. AND THEY ARE WELL ON TRACK IN FULFILLING THEIR OBJECTIVE
Their mantra of "If it bleeds, it leads" has left them with blood on their hands. By editing the Reitz and Coligny cases their own way so the public didn't see them leading a false fabrication -they started to instigate riots at the court houses. They polarized the country and got people killed. By continuing their racist attacks against whites in the media –  they created whites as a "racist" ethnic group in South Africa- a common enemy to be despised- and a race that "deserve" to be exterminated.  Gangbangers are animals who deserve an early death, but at least they have some rules. They tend to avoid killing a rival when he's with his kids and they keep their wars mostly within their own turf. The South African media has no such boundaries. They are happy to plunge the entire country into a state of chaos for a few extra rands. They burn communities to the ground and enable thousands of white murders in order to get a desk by the window or a pat on the back by the boss. Pushing the "Hands up, don't shoot" agenda isn't as bad as personally torturing and murdering two white teenagers, but you don't get one without the other.
BLACKS- ON A DAILY BASIS- VENTURE IN DESTRUCTIVE RIOTS- BURNING AND DESTROYING THE INFRASTRUCTURE- YET THE MEDIA REFUSE TO REPORT THE TRUTH ABOUT IT- BUT IN CONTRAST CREATE AN EXCUSE SUCH AS " SERVICE DELIVERY" TO HIDE THE REAL DESTRUCTIVE NATURE AND HATRED OF THE BLACK THUG .
That narrative is poison to us all. The purpose of blaming white farmers in Reitz and Coligny  is not specifically to kill white people, but to invoke white rage and hatred toward blacks in general- an emotional tinder box ready to be manipulated by the globalist-controlled media to steer South Africa into a state of open, bloody, civil war. Civil war does not help anyone except for the globalists. They feed off violence and chaos because it creates the justification for totalitarian government control over society. Simply put, when a population is divided, it is easier to control and profit from. If we respond to violence with more violence, then the globalist manipulators win. That is their goal: To plant hatred and rage in our minds and hope we act on it to tear each other part in bloody street battles. The more we give in to that hatred and rage, the more the corrupt establishment such as the ANC communists wins (and even grows its power).
The KFC racist incident that happened in Cape Town recently, received no media cover and Renaldo Gouws delves into what really happened. What probably started out as a non racist incident, turned into a nasty experience. Basically it tells the story of the "minority" having no rights and if a white person interrupts a black person while talking, it's called "white privilege".
THIS IS WHAT BLACK THUGS DO WHITE FARMERS- YET THE MEDIA REFRAIN FROM REPORTING THIS CASES ON SUCH A GRAND SCALE LIKE THEY DO WITH THE PARYS, REITZ AND COLIGNY CASES. INSTEAD THEY FUEL BLACK HATRED AND RACISM AGAINST WHITES.
That's why it is crucial that we must not escalate this violence. If blacks are shooting whites, and then whites respond by executing blacks, we all spiral into open insurrection and deadly chaos. There are no winners in a bloody civil war… only countless victims.
This does not mean we should not seek to arrest and prosecute those who violate the law and participate in such violent acts. Active promoters of violence on the radical left such as Zuma , Malema and the news moguls in general must be brought to justice to halt their continued attempts to spill blood on our streets. Just as important, we as a nation must sharply enhance our respect for law and order in our society who are the last line of defense between our families and total lawlessness in society.
THE HORRIBLE TRUTH ABOUT BLACK RACISM IN SOUTH AFRICA- YET THE MEDIA WILL NOT UTTER A WORD ABOUT IT. GUNNING FOR WHITES IS MUCH MORE IMPORTANT.
In refusing to participate in the escalation of violence, it's also crucial to understand where that violence is coming from. Most of South Africa's black political parties  is funded by George Soros and other globalists. Its purpose is to instigate widespread racial hatred while disrupting society from coast to coast. The end game of this agenda is to cause America to collapse into a civil war from which globalists can assert totalitarian control via martial law to "re-establish order." The way this will be accomplished is by carrying out race-based executions that are highly visible and extremely bloody, evoking rage and vengeance by those who share the same race or skin color as the victims. Yet this race war will ultimately be waged against people of all colors. Some attacks will target whites. Others will target blacks. Still others may target Coloreds or Indians. What they all have in common is that they are deliberately planned and carried out to stir up hatred, rage and bloodshed. They are part of an actual conspiracy plot to pit the races of South Africa  against each other in the hope that society will collapse into such chaos that nationwide martial law is demanded.
We the People must not allow ourselves to be caught up in this emotional trap. We must recognize these actions for what they are: contrived media false flag operations that are carried out for an insidious cultural engineering purpose: to get South Africans  screaming for martial law and nationwide gun confiscations. That is the end goal of all this, and the globalists don't care how many innocent people have to die to achieve their goal. If we stand firm in our awareness of how this is all contrived and manipulated to evoke a public outcry – problem, reaction, solution – then we have a real chance to resist the march toward tyranny that has now been planned for South Africa. It thus is our submission and plea to all whites in South Africa NOT to purchase , support or subscribe to ANY of the South African media websites- irrespective if they are an Afrikaans "Afrikaner" news website- as all of them factually wage a direct and psychological war against whites and utilize your subscription money to help pay those and defend those that demonize and brutally attack your white kinsfolk.
YOU ARE BEING PLAYED. It is easy to go along with it and ride the wave of anger against those who commit mass murder on our streets. It takes far more mental discipline, however, to see the bigger picture and realize this is really a war being waged by the globalists against ALL people of South Africa, regardless of their race or color. The globalists win if they can convince whites that blacks are their enemy (and vice-versa). The global attack on whites in South Africa is not about "racism" at all- but it is a pre-prepared agenda to exterminate whites. "Racism" is only a tool being used to keep whites " in check." The Reitz, Parys and Coligny cases all have the same characteristics- while many whites are brutally murdered- not a word are spoken. But when a black is involved- the Jew-controlled BLACK politicians in South Africa instigate racist hatred and make sure they organize enough riots at the court houses and see to it that the media report every morsel of it. It is a very deliberate organized "psi-ops" game to intimidate whites and to infuriate them enough to start a civil war on the one side- and on the other- to instigate black hatred to start a white genocide on their side. Which-ever side start a war first- on both ends the globalist vultures will win.  They lose if we wake up and realize it's actually the globalists who are our common enemy….not the whites.  We must direct our anger towards the black politicians for instigating this racist hatred in South Africa. In all three cases there was a common ground- POLITICAL INFLUENCE. Let our slogan rather be " ONE SETTLER- ONE POLITICIAN!!!" than turn against each other. If we start a war among ourselves- who will be the losers- US! Who will be gaining the most out of this human suffering? The globalists and their black political lap dogs. Let us rather turn our anger against the political heathens that are busy destroying our societies!Let us start a campaign to demonize them , stop voting and participate in their evil agendas- and openly show our resistance  against them.
SOURCE: White Nation
WHITE NATION– WE DO NOT HATE WHITE LIBERALS– WE DESPISE THEM!!
C'MON- SHARE OUR LINK