Do you have news to tell us? Send your e.mails with news and inquiries to: w.nation@mail.com
 Register to follow our news on the right-hand tab
Article posted  by: White Nation  editorial  Cape Town – May 14 2017
SOUTH AFRICA– FAILED LAND OF COMMUNIST ANC ORGANIZED CRIME ,LIBFARTS, UNION CHAOS , MISDIRECTED RAINBOW MONKEYS – AND WHITE GENOCIDE
MANY people ask me why we only report about the negative things going on in South Africa- and never about the beauty and splendor- the good things South Africa has to offer? Well- that is quite a good question I suppose- coming from someone not residing in South Africa.
It is quite easy to understand the misconception of many international observers , media-  and the general populace as they are exposed and  be easily confused as what really is happening in South Africa, Most of their information are sourced from false propaganda derived out of unreliable graveyards of  the Main Stream Media such as CNN, FOX, Washington Post, British Daily Mail, NASPERS, etc- and we all know well just who controls the main stream media- now don't we?
Coming back to the question as why we- the alternative media- and specifically White Nation– always point out the negative side of South Africa- the answer is quite simple: There ARE no positive side in South Africa anymore. THAT segment- that dream- that outlook of hope simply died in 1994 when the world at large- controlled and intimidated by the big corporations- chose to cast South Africa to the communist dogs in exchange for lucrative plundering of her natural and mineral resources.
South Africa was a country of plenty- she was a country that defied all odds flung at her from the Jewish-orchestrated world powers…sanctions, resolutions…alienation- even wars. Her people – under reasonable good governance (if you take away the thievery of the National Party)– stood up to inhuman challenges and succeed in defying the curse the Zionist bankers and globalist mass murderers imposed upon her. In her isolation years she started to build her own economy. Looking back with hind-sight sanctions maybe was the best solution for South Africa- against all reasonable expectations. The South Africans turned around sanctions- which was meant to be a "punishment" from the global greedy "establishment" and their United Nations puppets- into a golden opportunity to start operating as an independent country- protected by sanctions against all Babylonian worshiping such as homosexuality, transgenderism, multiculturalism, pornography and liberalism- all factors that today are destroying our young and upcoming leaders of tomorrow.The South African population was a worshiping God-fearing nation in general with strict disciplined moral codes and values.
Sanctions gave South Africa the perfect opportunity to start it's own macro economy and manufacture it's own industry- which lead to super technological, medical and scientific achievements in both peace and war times. Powerful industrial giants such as TRANSNET, SASOL, ATLAS, TELKOM, ESCOM and many other world-leading technological advances were born out of the dark era of sanctions. The South African industrial power was exploding to such an extend that literally thousands of black civilians that suffer in misery in Africa flocked across her borders to come and work in the gold, platinum, coal and asbestos mines in South Africa. Not bad for such an "evil" apartheid state?
South Africa was just becoming stronger and more powerful with each onslaught. She had the resources- was properly protected from outside influence by sanctions- and most of all-  she had the united  nationalist support from all her people. South Africa truly was in her prime successful era under sanctions. Then the globalists tried their age-old tactics by waging a war against South Africa in order to sap her strength, resources, finances- and moral high ground. For 25 years they kept up their cowardly war in South West Africa (Namibia) – and infiltration of terrorist activities across her borders from neighboring communist black countries to cause death and destruction in the cities and towns of that country.
AGAIN the globalist warmongers were defied and their attacks repelled when the South African industry unleashed it's power of preparedness and technological achievements- when new weapon systems such as the Kukri missiles, G5 and G6 long-range field artillery, mechanical motorized field vehicles, Impala, Bosbok Aermacchi fighter planes, Rooivalk helicopter, Dassault Mirage F1, F111 and cunningly converted  Mirage Cheetah were thoroughly tested in the war arena.Not only that – but young white, black , Indian and colored boys and girls from as young as 19 years were drafted straight from school- and in a 2 year program- turned into the most professional and most feared bush fighters in the world by the most superb commanding officers- according to Jane's Weekly at the time. For 25 years this nation fought against 5 of the most powerful enemies, 7 of the most villainous communist "freedom" movements- and insurgents amidst their cities. For 25 years they kept the evil- the communist abomination threatening their peaceful societies- outside  of the countries borders.
BUT all of that were about to to  change when the Jewish banking "elite" and globalist mass murderers  reverted to one of the deadliest tactics to jerk the carpet from underneath this once prosperous country and it's people.- TREASON!. Treason by it's own people- treason by paid usurpers posing as co-South Africans- treason by grey Jude-horses to lead the nation into a globalist perdition in exchange for that symbolic and proverbial 30 pieces of silver- treason by chameleons that changed their colors and posed as nationalist leaders with only the interests of the country at heart- and treason most foul by political insurgents that pretend they are doing their evil deeds in importance of the country and it's people.The leaders of the country suddenly became the worst enemy-  and  catalisators to a post- deliverance anarchy.The initiation of the death of a country had begin!
With the most reprehensible deception and fraudulent fabricated lies these political conspirators deceived and falsified their promised objectives they promoted in their manifestos to the public. Behind all their despicable lies they hid their secret agendas- agendas to hand over the country to the hordes of Sekhmet – and it's people to the communist priests of Anubis. After a series of secret and diabolical meetings in London with the enemies of the people -this conglomeration of evil participators consolidated at Kempton Park in one of the biggest capitulation exercises in the South African history since the British invasion- called CODESA. Without any shame or compunction these reptiles under the watchful eyes of the globalist destroyers  gathered for the final surrender of a once flourishing country into the hands of a bunch of murderous below-intelligent revengeful communist jungle Cercopithecidae. The invasion of the planet of the apes has begun! As an aftermath- the National Party and their ANC co-conspirators cleaned up the Federal Reserve of R 4 TRILLION – and sent it to the New York Jews via CITIBANK!
SINCE that day South Africa's spiral to calamity has begun- and one after the other Les habitant de la jungle in control played his hand in escalating the country's corkscrew into the abyss of oblivion. Today- 20 years after that fateful day De Klerk and his crowd of betrayers caballed South Africa and it's people into submission under the rule of Annubis' dynasty- South Africa are nothing more than a wasteland full of scavengers and cutthroat savages-  roaming the countryside to feed off the left-over carrion that vaguely represent a pre-collonial industrial boom. Today South Africa drifts aimlessly on an ocean of deception, lies, trumped-up racism, corruption, hatred, division and a financial catastrophe.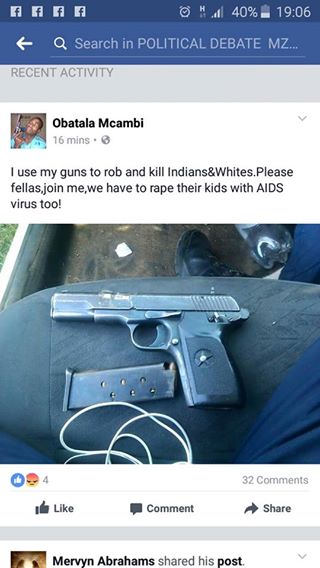 Today South Africa represents a war zone where the corrupt communist overlords are in direct confrontation in the cities and rural expanses with their uncontrollable brood of pernicious black sycophants. Today there are more impoverished squatters strewn across South Africa than working people in the cities. Today there are more poor people on state grants than people earning a living. Today South Africa are ravaged with continuous violent anarchism on a daily basis. Today South Africa is synonymous with the biggest white genocide in it's history.Today South Africa is ruled by a villainous con artist that does not now the difference between reason and plundering. Today South Africa is an impoverished country- stripped from all her riches by scrupulous political con artists and glutenous corporate mobsters.
THIS IS WHAT BLACKS DO IN SOUTH AFRICA: THROWING BOULDERS FROM OVERHEAD BRIDGES ONTO CARS.
THIS MAN HAD TO STOP WITH A CAR BREAK DOWN HE WAS ATTACKED BY BLACK THUGS AND STABBED MULTIPLE TIMES.
John Easton, an eyewitness who stopped to help, had the following to say: "I spotted a guy in an altercation with a couple of black males who pulled out knives and started stabbing him in his back as he tried to run away.  I pulled over and reversed trying to cut them off from their prey, but they simply ran across the freeway laughing while the poor man lay on the floor bleeding to death. While waiting for the police and ambulance I asked the guy what happened, and from what I could understand, his car broke down and while he was calling some friends for assistance he was approached by these individuals offering 'help'.  Once they had scoped their prey and cellphone, they started stabbing."
THE FACE OF SOUTH AFRICA UNDER THE ANC REGIME- A RESEMBLANCE OF THE MOVIE " THE SHINING."
Today South Africa is at the mercy of a bunch of racist half-witted brawling clowns in parliament that sells themselves as so-called political "leaders" – who- like a pack of stray dogs- scuffle and fight in their parliament for the few crumbs and morsels that may fall from the tables of their London masters. Today South Africa is under control of the London slave drivers and their fat and ugly black political concubines that holler from podiums to steal land again. Today South Africa is the pinnacle of gross discrimination against not only whites- but also against any other ethnic groups not aligning themselves with the corrupt ruling dictatorship. Today South Africa is relinquished to the reign of unsolicited trepidation at the hands of a posse of harrowing and mucilaginous monocrats that only hunger for power and might.
MILDRED OLIPHANT- PUDGY RACIST ANC CADAVER- PUSHING MORE EXTREME LAWS OUT AGAINST WHITES
AFFIRMATIVE ACTION- ANOTHER WORD ABUSED BY THE SOUTH AFRICAN BLACK VINDICTIVE REGIME FOR A WHITE CLEANSING
Affirmative action" is an innocuous phrase coined by US president John F. Kennedy in Executive Order No. 10925 on 6 March 1961 whereby he wanted to give blacks access to government jobs in America. However, in majority-black countries like South Africa and Zimbabwe it has become a barely disguised form of ethnic cleansing directed against those of European descent.
In practice, affirmative action imposes racial quotas on companies in South Africa that require them to either get rid of white employees or no longer employ whites altogether. The other day I was talking to an Afrikaner man in the service of a listed cellphone company in South Africa. With the new racial quotas adopted by the company, he is no longer allowed to do his normal job. So the company has transferred him to another section where he would be "less visible". He and other whites in the company were told that if ever they should resign, they would never get another job with the firm because henceforth practically no whites would be employed.
Kennedy's original executive order required government contractors "to take affirmative action to ensure that applicants are employed, and employees are treated during employment, without regard to their race, creed, color, or national origin". The more modern form of affirmative action or "positive discrimination" as it is called in Britain and France, has become the opposite of that definition, as it precisely "treats employees with regard to their race, creed, colour or national origin".
Affirmative action was a kind of euphemism used by Kennedy. But the idea has become so Orwellian that even this type of euphemism for racial quotas in employment no longer suffices. Therefore, in both South Africa and Canada, affirmative action laws are referred to as "employment equity". This term qualifies as Orwellian doublespeak, of which Wikipedia has a pretty good definition: "Doublespeak is language that deliberately obscures, disguises, distorts, or reverses the meaning of words."
So there you have it. There is no more pristine example of doublespeak than the Canadian-South African notion of "employment equity", which is the exact opposite of what "equity" or "equality" means. In fact, the word comes from old French équité (fairness, even-handed dealing) which may be traced back to the Latin aequus, "equal". In South Africa and in Canada, legislators call precisely not treating employees equally, or discriminating against people of European descent… equity. How perverse that is.
Somehow, I have the impression that not only every statue in the Western world will be overturned at some point, as is already happening in South Africa and in the American South, but all of our meanings, our age-old concepts extending back to Greek and Roman times, will be twisted into their opposites. "They told me I must hide, because of 'equity'," my compatriot said. I tried to console him by saying that sooner or later this madness must end, that the system must come crashing down, undermined by its own perversity and inefficiency. But he was not to be consoled. He only wanted "to get out", to go to Australia. He had been to Australia once, lived there, even had some children left back there who are now Australian citizens. "But if so many of us left, what about those remaining behind, what would happen to them?" His reply: "Everyone has to make his own decision."
Listening to him, I realised in that one instant that South African-style affirmative action or "equity" in doublespeak had nothing to do with creating opportunities for blacks who, after all, had a monopoly on political power and whose happy, consumerist faces graced all the billboards. Unlike in America, where Kennedy had meant it to "level the playing field" for the black minority against a white majority, in South Africa it was intended to drive whites out. It put so many obstacles in the path of job-seekers or even those wanting to start or run their own businesses that it was easier to, as my interlocutor put it, "pay $13 000 to get into Australia".
Over the weekend in Soweto, the radical group Black First Land First run by Andile Mngxitama said that people of European descent had no right to criticize government corruption, as exemplified by the Gupta brothers from India who got various lucrative contracts due to their being friends with Zuma. "The first people who must go here [from South Africa] are white people," Mngxitama shouted, to boisterous approval from the crowd. At least in South Africa, affirmative action represents a form of ethnic hatred expressed in official legislation. The contorted logic behind it, that it will supposedly "help blacks to overcome the effects of past discrimination" is only an excuse. It is meant to make members of the white minority in the country feel unwelcome and stigmatizes them as second-class citizens.
Unfortunately, as my conversation with the cellphone-company employee showed, it works. Coupled with violence in the form of farm attacks and home invasions, it chases people away. Short of mass killings and genocide, it is a very effective way of cleansing a country of an "unwanted" population, even if that population had made the country into what it is today. Affirmative action or "equity" should be exposed for the sham that it is. In Europe it is less developed than in the USA, Canada or extremist South Africa, but as immigrant populations grow, there will be more and more calls for exactly this kind of "positive discrimination". Already the new French president, Emmanuel Macron, has declared himself in favor of "positive discrimination" against Europeans by paying a state bonus of €15 000 to companies employing "people from disadvantaged areas". As we have seen in South Africa, once affirmative action starts, it inevitably gets more radical and draconian. Then it becomes ethnic cleansing under another name.
THIS IS THE MENTALITY THE JEWS PUT IN COMMAND OF A ONCE FLOURISHING COUNTRY
Today South Africa is an arid  desert full of struggling nomads fighting for their own survival between the daily tribulations of murder, hi-jacks, corruption, rapes, skulduggery, human trafficking, child abductions, white genocide, gun and drug smuggling, gangsterism , job losses, riots, misdirected church leaders, disinvestment, total implosion of state and municipal departments and services, malfunctional or non-functioning security forces, deliberate instigation of race wars, witch hunts, despotic political warmongers, gluttony, greed, disarmament of law abiding citizens, empowerment of criminals, cash heists, –  and negative downgrading. Today South Africa is an illusion of pink liberal hegemony and communist degradation. South Africa became a country where the law obeying citizen is criminalized- and the criminal glorified. South Africa became a country where the despots in control are plundering the state coffers at will- and steal oil resources without remorse or prosecution.Today South Africa is on the brink of a total catastrophic disaster that eventually will see her final performance as a country that once was a first class technological leader that wrote her name in  the historical global roll of honor  of outstanding accomplishments.
Coming back to the question of  why do we never report about the beauty and splendor- the good things South Africa has to offer? Well- as you can see- there are no more glory to report about. Beauty? Splendor? That is words long, long ago forgotten in the past history already. There are no more dignity to be a South African. There are no more respect and mutual nationalism. There are no more pride and the will to promote a country that is ruined and stripped from it's previous glamour. There is no more unity. South Africa is a country cursed by the international world- banished by the investors- and left to rot in a quagmire of self-destruction by the same hounds of hell that spawned their devil seed into her womb  in 1994. Show me another country more devastated by deception and treason than South Africa- and I will show you a frozen statue of liberty in hell.
HOW PROUD ARE WE TO REPORT TO THE WORLD ABOUT THIS- THEIR BIGGEST MISTAKE EVER!
WHITE NATION– WE DO NOT HATE WHITE LIBERALS– WE DESPISE THEM!!
C'MON- SHARE OUR LINK