Do you have news to tell us? Send your e.mails with news and inquiries to: w.nation@mail.com
 Register to follow our news on the right-hand tab
Article posted  by: White Nation  correspondent Cape Town June 07 2017
SOUTH AFRICA– FAILED LAND OF COMMUNIST ANC ORGANIZED CRIME ,LIBFARTS, UNION CHAOS , MISDIRECTED RAINBOW MONKEYS – AND WHITE GENOCIDE
WHILE a massive storm rages in the Western Cape, the Southern Cape is having to contend with fatal fires that are spreading due to strong winds fueling veld fires along the N2, forcing people to flee their homes.
Three people have been confirmed dead in Rheenendal. A farmworker, his wife and son died in the fire. Currently the fires in and around Knysna still burn out of control, fanned by gale force North Westerly winds; ground teams have been struggling to contain the fires. Many houses in the Phantom Pass to Rheenendal area burnt and 4 lives have been lost, 3 directly due to the current fire and one due to a heart attack, presumably agitated by the current conditions in the area.
The fire has jum
ped the N2 near the Buffelsbaai turn-off, leading to the closure of the N2 at this point as well. The section near Kruisfontein, outside Knysna, on-route to Plett still remain close as well but in this section the fire has been brought under control . Confirmation has been received in terms of the following assistance, currently being dispatched from throughout the Province to assist in Knysna:
· 8 additional WOF teams to arrive in Knysna overnight as well as tomorrow morning (approximately 160 people);
· 2 medium tankers and one strike unit from the Overberg DM to arrive in Knysna later tonight;
· The City of Cape Town will assemble a team to come and assist from tomorrow;
· The SADF has been placed on standby by the PDMC to assist in Knysna, weather permitting;
MASSIVE FIRES STARTED AND SPREADING ACROSS  SUCH A LARGE AREA IN PRECISE CHRONOLOGICAL SEQUENCE AT ABOUT THE SAME TIME . THE SPECULATION OFFERED WAS LIGHTNING. WHAT IS THE CHANCES OF THAT EVER HAPPENING ? KNOWING THE VIOLENT SOUTH AFRICAN BLACKS AND THEIR PREVIOUS LONG HISTORY OF ARSON IN THE WESTERN CAPE– IS THERE MAYBE MORE THAN MEETS THE EYE LIKE ORGANIZED ARSON INVOLVED?
In Sardinabay residents were chasing two black thugs that were throwing petrol in the area and start igniting fires.  In Plettenbergbay four black thugs were caught red-handed by the police starting  fires. Messages from a black racist- Sam Hendrycks–  after the news of the fires broke read: "Fuck all you white Eglo arrogant bustards, that are so hatred of a black government, you even hated Nelson Mandela, let's not forget how corrupt the apartheid regime government was who empowered themselves for 330 years."
It very much appears the fires was politically motivated.  Simultaneous fires starting at the same time' "raises a big red flag" and suggests "deliberate agency"' says forensic investigator David Klatzow. On Tuesday' it was reported fire fighters were battling 26 separate fires in the Knysna area. Klatzow said an investigation was needed whenever there were multiple fires simultaneously.
FIRES NOW ALREADY REACHING PORT ELIZABETH! DO YOU STILL BELIEVE THAT ONE "LIGHTNING" STRIKE IN 234 KILOMETERS FAR-AWAY KNYSNA WERE RESPONSIBLE? THINK AGAIN- THIS LOOKS MUCH MORE LIKE A  A COORDINATED BLACK ANC-RELATED ATTACK IN ORDER TO DESTABILIZE THE COUNTRY.THIS IS THE ANC's TRADEMARK FOR MANY YEARS…ARSON.THE WESTERN CAPE WINE-LANDS ARSON ATTACKS ORCHESTRATED BY COSATU GANGSTER TONY EHRENREICH-SUPPORTED BY TINA JOEMAT PETERSEN AND  MILDRED OLIPHANT WERE PROOF OF THIS.
More than 10'000 people have now been evacuated from various Knysna suburbs and 150 homes destroyed by flames fanned by heavy winds. "It is unusual for fires to start simultaneously'" said Klatzow' one of the leading fire investigators in the country. He said "hard questions needed to be asked". "When you start an investigation' you need an open mind. You start looking for an innocent source [for a fire]. You look at negligence such as cigarettes tossed away and carelessness….somebody who was welding' a camp fire not put out properly. "There could be an Eskom power line that fell down and short circuited. This could start two fires."
But he said "once there are three' four' five' 20 fires [ at the same time] you need an investigation [into the cause of the fires]". News 24 previously reported an acting municipal manager Bevan Ellman as saying that fires in Knysna in December were arson. Helicopter pilots battling blazes last year spotted black children starting forest fires. More than 40 fires were reported in the Knysna area in December. Children who started them returned to help firemen put out fires' according to Ellman. Some of the fires in Cape Town in the past year have been arson' said Klatzow. Some were caused by negligence. A fire in January this year in Signal hill was arson' according to JP Smith' member of Cape Town's mayoral committee. A teenage colored boy was identified by Bo Kaap locals as starting the Signal Hill blaze. When several fires broke out in the Western Cape in January' Premier Helen Zille also asked if the fires were the result of arson. Nine people died during the storm and as a result of fires in Knysna, which were fanned by the winds that ravished most of Cape Town on Wednesday.
A YOUNG FAMILY DIED IN THE INFERNO. 
The couple Tony and Madré Johnson and Madré's son died in the Knysna fire. Madré was pregnant. Both are civil engineers.
Due to the fires all telephone communication to the Knysna Municipality has been lost, some areas are experiencing power outages as well. Belvedere and the Western Heads are being evacuated, areas close to Brenton on Sea has been evacuated to the beach. The elderly are being evacuated to the Mont Old age home and the Chris Hani community Hall in Dam se Bos is used to accommodate evacuated people. Hooggekraal fire (Karatara)(also known as Elandskraal fire) –Sedgefield fire service on scene
Evacuation vehicles arrive in Knysna from George to assist

Posted by Greg Alastair on Wednesday, June 7, 2017
Fire is out of control and there are still houses in danger an unidentified number of houses have been lost. Clinton Manual has requested help from Eden, people have also been evacuated from the area. Kruisfontein fire (Knysna)-Knysna fire and rescue deployed at this fire Fire Chief, Clinton Manual has reported that the fire is totally out of control, the N2 remains closed and an unidentified number of houses have been lost in the fire and some houses are still in danger-people have been evacuated. The Southern Cape fire siege has led to evacuations, road closures and at least one home being gutted along the N2 in Touws River.The N2 between Knysna and Plettenberg Bay has been closed. Scores of people have had to evacuate their homes, while Knysna Hospital had to be evacuated.
Knysna
Fires at Hooggekraal (close to Rheenendal), Kruisfontein plantation (next to N2 close to Nekkies).The N2 remains closed outside Knysna en route to Bitou. Motorists have been requested to travel along the Langkloof Road as an alternative route from Port Eliabeth to Cape Town.
George
Thirty-two informal structures have lost roofs and a tree landed on two houses in New Dawn Park and one in Borcherds.The fire brigade has cut down and removed 12 trees that landed in roads around George. Power outages are reported in Thembalethu, Wilderness Heights, Industrial area and Parkdene due to either trees on lines or wind damage. Power has been restored in Herolds Bay, Oubaai and Hansmoeskraal power restored. The fire brigade is currently active at a veld fire in Hoekwil, Serpentine Heights, and another in the Touwsranten area. A total of 26 fires have been dealt with by George fire brigade.
Mossel Bay
Fire brigade deployed at various fires, but no serious disruptions at this point in time; It has been reported that it is burning in the valleys and teams cannot reach the fires.
Hessequa
Kruisrivier fire – fire and rescue teams are on scene. The fire is under control.
Kannaland
Forty people have been evacuated in areas where dwellings lost their roofs due to the gale -orce winds; The Ladismith Hospital reported that they were without water. Electricity disruptions have been reported, affecting mainly Ladismith. A house along the N2 in Touws River was also gutted in a blaze. People in the upper part of Knysna were urged to evacuate their homes immediately. The elderly are being evacuated to an old-age home and other evacuated people to the Chris Hani Community Hall in Dam se Bos. "The fire in a plantation is completely out of control and 13 houses at Springveld were evacuated. Knysna has requested assistance from all available resources at adjacent local authorities," a statement said. Fire services were battling blazes in Wilderness and Plettenberg Bay.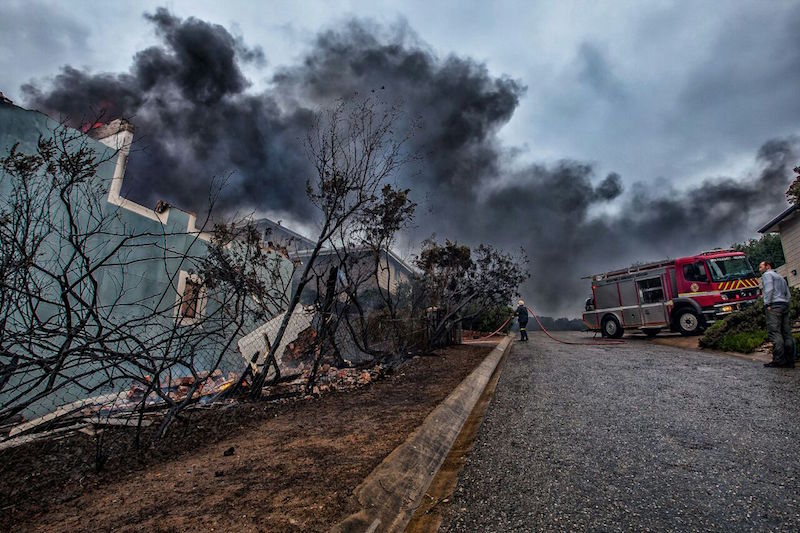 Belvedere, Western Knysna head and Brenton-on-Sea have all been evacuated after strong winds fanned the flames of 26 fires around the Knysna area on Wednesday, Local Government MEC Anton Bredell's spokesperson James-Brent Styan said. Earlier, three people died as a result of the fires. Eden district municipality disaster management community services manager and spokesperson, Gerhard Otto, said a farm worker, his wife and son died in the fire near Rheenendal in Knysna.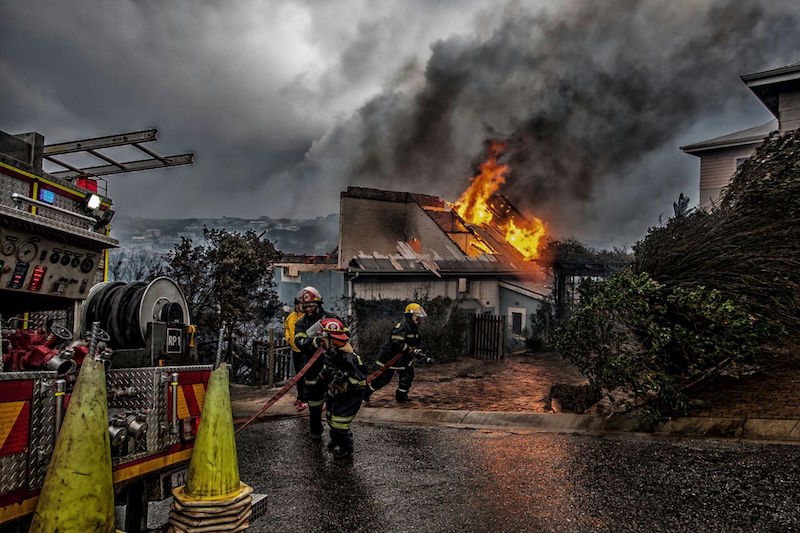 Western Cape traffic head Kenny Africa said fire rescue services were struggling to contain the mountain fire that was being fuelled by the strong winds as a result of the monstrous storm gripping the province. According to Africa, other areas affected by the raging storm include Beach Road and Helen Suzman Boulevard and Three Anchor Bay in Sea Point, which are closed due to high tide. Motorists were asked to use Main Road, Green Point, High Level Road, Sea Point, Regent Road, and Sea Point as alternative routes.

Africa also confirmed that numerous trucks had been blown over by rough winds, including one outside Worcester, one in Piketberg, and two trucks on the N2 between Caledon and Bot River. Baden Powell Drive had also been closed off with Strandfontein Road, 5th Avenue and Main Road, Grassy Park and Prince George Drive as alternatives. The South African Weather Services has advised that the current weather conditions will persist until approximately 06:00 on Thursday. Showers were likely to subside thereafter.
" When the electricity went out on Wednesday we knew the fires that had been raging in Knysna were getting close to Plett.To protect the firefighters working in the forest that surrounds the area' where live electricity lines run underground' electricity to most of the town was cut. We haven't had rain for months and it was hot the previous day' so when the strong winds started' we knew that we should be on high alert.
Ironically' a level 1 dought warning was issued on Wednesday. I also recently tore the ligaments in my foot' so I have very limited mobility and am using crutches. In the darkness we went to sleep and woke up at around midnight with hectic 50km/h winds raging outside our windows and rattling our roof. The roof access hatch was violently banging' an emergency NSRI (National Sea Rescue Institute) siren was sounding across the town for what seemed like a very long time and' while my four year old daughter slept' I started to pack.
A few weeks ago' a friend's house burnt down. She told me that she'd had 20 minutes to grab her essential belongings and flee the property — so I knew I'd better be prepared. I don't have content insurance' so I took some family heirlooms and some of my daughter's favourite dolls. I took the passports' some jeans and jerseys' hiking shoes and Wellington boots. I couldn't resist taking an expensive dress that was hanging in my closet — though if I'd had less time I know I would have left it. With the help of my domestic worker' Sarah Chatora' we packed the car to capacity.
We felt like refugees fleeing some violent coup. By then' the approaching fire had burnt down the cell phone towers so communication was difficult. I managed to contact a friend who lived just below Whale Rock Ridge. She said the fire was very close and she was leaving with her two young kids and going to stay with family further away. Later I heard that the whole of Whale Rock was evacuated. She added me to a WhatsApp group residents had started which had a ''point" person informing members of the movements of the fire and when each street should evacuate. The air was thick with smoke and the sky was an eerie orange.
From the WhatsApp group I learned that the fire had already burnt most of the Robberg Peninsula. At about 3:30 the wind changed and the fire leapt across Solar Beach burning down luxury beach houses as it moved closer to us. The Qolweni township was in the fire's path too. Emergency stations were quickly set up on the edge of the forest where it meets the township. A response unit was set up at the community hall but when the fire got too close to that building it was moved to Plett Primary School. I felt panicked as I watched the fire getting closer and a friend phoned at 6:30am and said that it was time to move. I put the cat in a box' got dressed and told my daughter that we were going on an adventure.
Leaving the house' and trying to drive' in pain and with a moon boot' I was anxious because I didn't really know which parts of the town were safe. It felt like a refugee wasteland — soot coming down from the sky' the feeling of smoke in our lungs and the sense that the whole town was watching the sky' praying for rain. When we got to Main Road there was a sharp polarity' people seemed like they were going about their everyday lives — if you ignored the smoke. There were even tourists taking pictures of the lagoon which looked beautiful' reflecting the orange sky. At the evacuation point people were arriving in their pyjamas. I realised that many friends had lost their houses.
People were saying that 26 fires had been set simultaneously.One person on the group said that he'd seen a man trying to set a fire. I asked why — for looting' was the answer. I learnt that my friends Stuart Palmer and Rhian Berning's house had burnt down. It was recently featured in the cover of the Sunday Times Home Weekly. Friends that own the Cairnbrogie farm on Airport road spent the night chopping down their for trees to try and save their cows.Later' on Thursday morning' rain began to fall and the smoke cleared. The rain put out the fires but they're still smouldering. Last night was another night of high alert."
*Emma Jordan is a writer who lives in Plettenberg Bay with her four year old daughter.
WHITE NATION– WE DO NOT HATE WHITE LIBERALS– WE SIMPLY DESPISE THEM!!
C'MON- SHARE OUR LINK