JOHAN BOTHA (Right)-WELL KNOWN 50/50 PRESENTER AND BELOVED TV PERSONALITY- BECAME ANOTHER BLACK THUG STATISTIC WHEN HE WAS SHOT AT CLOSE RANGE.
Do you have news to tell us? Send your e.mails with news and inquiries to: w.nation@mail.com
 Register to follow our news on the right-hand tab
Article posted  by: White Nation  correspondent Johannesburg June 08 2017
SOUTH AFRICA– FAILED LAND OF COMMUNIST ANC ORGANIZED CRIME ,LIBFARTS, UNION CHAOS , MISDIRECTED RAINBOW MONKEYS – AND WHITE GENOCIDE
THE evil curse of the godless South Africa has struck again. Like so many times before the evil came in the form of black thugs. Like so many times before the innocent victim was a white. 50/50 Presenter and Carte Blanche producer Johan Botha and another white victim was killed senselessly without provocation to  any-one  on Wednesday night in an armed robbery at the Zebra Inn in the Maboneng district.
Botha was also a radio personality and an environmental and investigative television producer. He also worked on KykNet's Projek Aardwolf. Carte Blanche executive producer George Mazarakis says the team is devastated. "Johan Botha was a remarkable highly experienced television producer and presenter. He was an immensely invaluable member of the Carte Blanche team and it is a considerable loss. We're devastated."
According to RSG he was shot during a robbery at a bar at the Maboneng Precinct on Wednesday night at 19:30.  Pretoria FM reporter, Anton Meijer tweeted that the owner of the Zebra Inn bar was also killed during the robbery. Meijer added that the police are currently looking for four suspects, three black male thugs  and a black female thug in connection with the shooting.
Botha was also a producer on Carte Blanche. The investigative journalism television series on Thursday morning released a statement regarding the incident. "He had an enormous talent and a big heart," George Mazarakis, executive producer of Carte Blanche, wrote in a statement to the press. A friend of Botha, Johan Marais, posted a touching tribute on Facebook offering his condolences to the family: "The charismatic and talented Johann Botha has been killed in a robbery. My sincere condolences to those close to him. Many of you will remember Johann from 50/50 and Aardwolf as well as a variety of radio broadcasts on classical music." Botha was also a well-known radio presenter with an in-depth knowledge of music. Botha's elderly parents Hansie and Mollie are staying in Pretoria.
Police say the thugs took 2 firearms and unknown amount of cash, after killing Botha and the owner of the restaurant. Johan Botha and the restaurant owner was declared dead at the scene. Celebrities, friends and colleagues paid tribute to Johann Botha on social media on Thursday.According to Captain Kay Makhubela, police spokesperson, four people entered the bar – three males and a female – bought food, and then pointed a gun at the owner. The owner was then shot as well as Johann Botha. Both were shot in the upper body and died on the scene.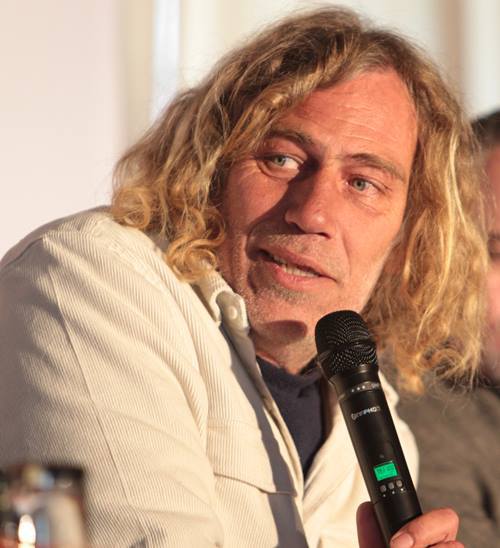 Botha currently worked as a producer on M-Net's Carte Blanche investigative magazine show, mostly doing environmental impact stories where he's also presented some inserts in the past. After having studied drama, Botha started working for the SABC in 1988. In his career Botha also worked as a SABC radio presenter on the public broadcaster's Afrikaans radio station RSG where he used to present several shows in the past, notably successful youth centered music programs. Since the beginning of the year he was a radio presenter at PretoriaFM of the Sunday night show, Nagmusiek.
THINGS LIKE THIS MAKES ONE WONDER WHAT REALLY IS GOING ON IN THIS GOD-FORSAKEN LAND?
Johan's exuberant energy on camera and investigative journalistic insight made him a champion for the environment and his love for wildlife his seen him lauded with numerous environmental awards. The environment, the animals, and his close friends and family have lost a truly courageous human being, who made a tremendous difference to the world, that will be felt still for many years to come.
More whites  attacked or murdered by black thugs this past two weeks :
Elderly woman Blackie VD Berg (61) was attacked and raped by two black thugs on her farm at Sannieshof
An elderly couple was attacked by black thugs with a steel pipe and butcher's knife on their farm.
A Mother and daughter was brutally assaulted by black thugs in their home in in Port Elizabeth 
Another white woman was attacked by black thugs on her farm on her farm in North West
White victim murdered by black thugs in a hi-jack at Bryanston
Another white farmer attacked by black thugs with a machete
White mother of four was tied up, assaulted and robbed by three black hugs in  Eikepark 
The body of a woman with gunshot wounds was discovered in Kameeldrift, Pretoria
A white farmer was attacked by three black thugs  in his home at Witrivier early this week
A White university student was brutally murdered by colored thugs in Stellenbosch Western Cape
Stefan Scholtz and his family were attacked on their farm by black thugs at Altimora outside Clocolan.
A white victim was found murdered in the street in Empangeni Natal.
Black thugs hit white student over head with bottle
WHITE NATION convey their condolences to the family of Botha with the sincerest regret as the editor of White Nation knew Botha and his family personally. RIP brother.
WHITE NATION– WE DO NOT HATE WHITE LIBERALS– WE SIMPLY DESPISE THEM!!
C'MON- SHARE OUR LINK