Do you have news to tell us? Send your e.mails with news and inquiries to: w.nation@mail.com
 Register to follow our news on the right-hand tab
Article posted  by: White Nation  correspondent Cape Town June 11 2017
SOUTH AFRICA– FAILED LAND OF COMMUNIST ANC ORGANIZED CRIME ,LIBFARTS, UNION CHAOS , MISDIRECTED RAINBOW MONKEYS – AND WHITE GENOCIDE
"The condemnation of a whole category of people because of their (white) race is the new face of racism in South Africa, " – Western Cape Premier Helen Zille.
IT APPEARS there is now terrible  racism going on  against whites in the inferno-stricken Knysna.  Incoming reports have it that black thugs are hi-jacking relief trucks and steal the relief food sent to the area. Even more disturbing are reports now coming in of naked racism by the DA-controlled Knysna city council and it's workers.
According to unconfirmed disturbing reports on the social media the DA Councillors again expose themselves to racism against whites- even in hard times like this. The reports want to have it that when relief food are distributed- hundreds of blacks from nearby squatter camps are  also queuing for relief food parcels- blacks that do not even qualify for food parcels as none of their houses were burned by the raging fires that engulfed most of the Knysna residential area.
https://www.facebook.com/leon.peacock1/videos/1705940926101672/
Alta…kyk bietjie hier. Sover ek weet het die lokasie nie af gebrand nie…nou wat nou….

Posted by Martie Correia on Saturday, June 10, 2017
IN THIS VIDEO ABOVE IT CAN BE SEEN HOW ILLEGAL BLACKS THAT WAS NOT AFFECTED BY THE FIRE ARE WAITING FOR FOOD PARCEL HAND OUTS AT KNYSNA
We are South Africa

Posted by Andre Gross on Friday, June 9, 2017
Reports state that the DA council at first assist these hundreds of black chancers- and then lastly in the que- are the white victims that actually are the ones that need the relief food the most. Further-more are there reports of colored policemen that deliberately rammed domestic goats in the area with their police vehicles- take it to black residential areas- slaughtered – and distributed the meat among black residents that were not affected by the fire. Nothing are given to the white victims.The irony is that most of the relief fund food arriving in Knysna are donated by white sympathizers and donors- but nothing get distributed to white victims! Then- in a last act of despicable ungratefulness- these blacks complain that they do not want soup and bread- but instead prefer CAKE being handed out to them!
HUNDREDS OF HAMPERS DESTINED FOR WHITE VICTIMS WERE OFF-LOADED INTO BLACK RESIDENTIAL AREAS THAT WERE NOT EVEN AFFECTED BY THE BLAZE
Reports also have it that there were proof of more black arsonists caught in the act of trying to start new fires. The ANC police– as expected- vehemently denied these allegations- and again are blaming the "weather" to hide the truth from the  public that black arsonists are responsible for this terrible human suffering and loss of  property. Black perpetrators caught, admitted that they form part of a bigger organized syndicate that deliberately set fires to predominantly white residential areas. Their devious plan is to extend the fire-line right up to Port Elizabeth. Two perps were caught in George with 5 lt cans full of petrol on their way to start new fires. After the Vryburger yesterday revealed the racist remarks about the devastating fires in Knysna, it now appears that the fires were deliberately perpetrated.By the time it was reported in the Southern Cape about 20 separate fires were still raging over a distance of 90 km, and suddenly fires broke out in the vicinity of Port Elizabeth. These fires are apparently definitely intentionally ignited.
According to reports it was  confirmed that the fires in and around Knysna are arson as suspected. More than twenty black thugs  have already been arrested. More fires are expected in Port Elizabeth and Wilderness. All the black thugs caught in the act acknowledged guilt and confirmed that it is all organized fires and that there is a syndicate. Fires are politically oriented. A socialite on Facebook said that they personally caught these black thugs  in the act  in the township this morning and caught three thugs who had thrown a petrol bomb and started fire. "We chased them to a house in the white location where only six houses were burned – and there they climbed into a white-red Jetta with three other black thugs without a registration number. I Have taken pictures of the house and the vehicles around the house where they were, also reported it to the police. Photos will follow later."
Fire fighters pushed to contain the fires around Knysna on Sunday morning as weather conditions improved along the Garden Route on day five of the infernos that have wreaked havoc in the region. Many residents were evacuated and have lost their homes as the blazes raged through the areas. Watch drone footage capture the devastating aftermath of the fires in Plettenberg Bay and Knysna.
The general state of fires in the Bitou area is that they are largely under control however; the Kransbos and Brackenridge areas will be monitored throughout the night. Other areas where flare-ups have been reported during today, are being mopped up.All roads in and through Plettenberg Bay have been reopened. We would still like to urge motorists to take caution when traveling on the roads as there might still be smoke in some areas, which may limit visibility.
Video of fire along the N2 west of Port Elizabeth on Saturday 10 June 2017. Supplied

Posted by Algoa FM News on Saturday, June 10, 2017
EVEN IN THIS HUMAN DISASTER THE BLACK LEFT-WING RACISTS IN SOUTH AFRICA REVEL AT THE PERIL AND HUMAN SUFFERING OF WHITES- YET YOU CALL WHITES "RACISTS."
FURTHER political instigation to burn white-owned farmlands and residential areas comes from black left-wing extremists such as Lindsay Maasdorp and Andile Mngxi. "If a farm is owned by black people, curse the gods. If white-owned, it must burn." This is the message posted on social media by Lindsay Maasdorp of Black First Land First. Knysna is a disaster area, and some people are continually being insensitive and raising suspicion. (Link) Yet the useless racist ANC regime fail to take action against these black instigating despots for "racism" and "hate speech"– simply because they are not white. Even useless ANC bum nuggets such as Mmusi Miamane of the DA up to now have not spoken a word of condemnation against these black arsonists- or a word of condolences for the white victims- lest even go through the trouble of visiting the stricken area.
When posts over social media smack of hatred for white people, then the fear of arson becomes a reality. No action from the ANC regime against these black racist thugs on the social sites – who so many times barfed they "will act against racism" – are visible- simply because "racism" and "hate speech " laws only applies to whites. Although the gusty winds are also responsible for the fires flaring up, and as the firefighters work under severe situations, it is disgusting that people take this disaster and turn it into a racial/land claim element.
The racist idiot of Black First Land First (BLF) Andile Mngxitama again blames the white for the disaster. In an opinion piece written by the BLF leader Andile Mngxitama stated that "White-owned monopoly capital is to blame for the storm that raged across the Western Cape this week."(Link)
The civil rights organisation AfriForum has denounced several black racist posts in the wake of the natural disasters in the Western Cape and more specifically Knysna. Campaign officer at AfriForumGuido Urlings said sentiments so openly expressed in the social media posts were extremely troublesome. "We will ask the South African Human Rights Commission for an immediate investigation. In addition, we will include these posts in the mass hate speech complaint that AfriForum will soon lay with the South African Police Service."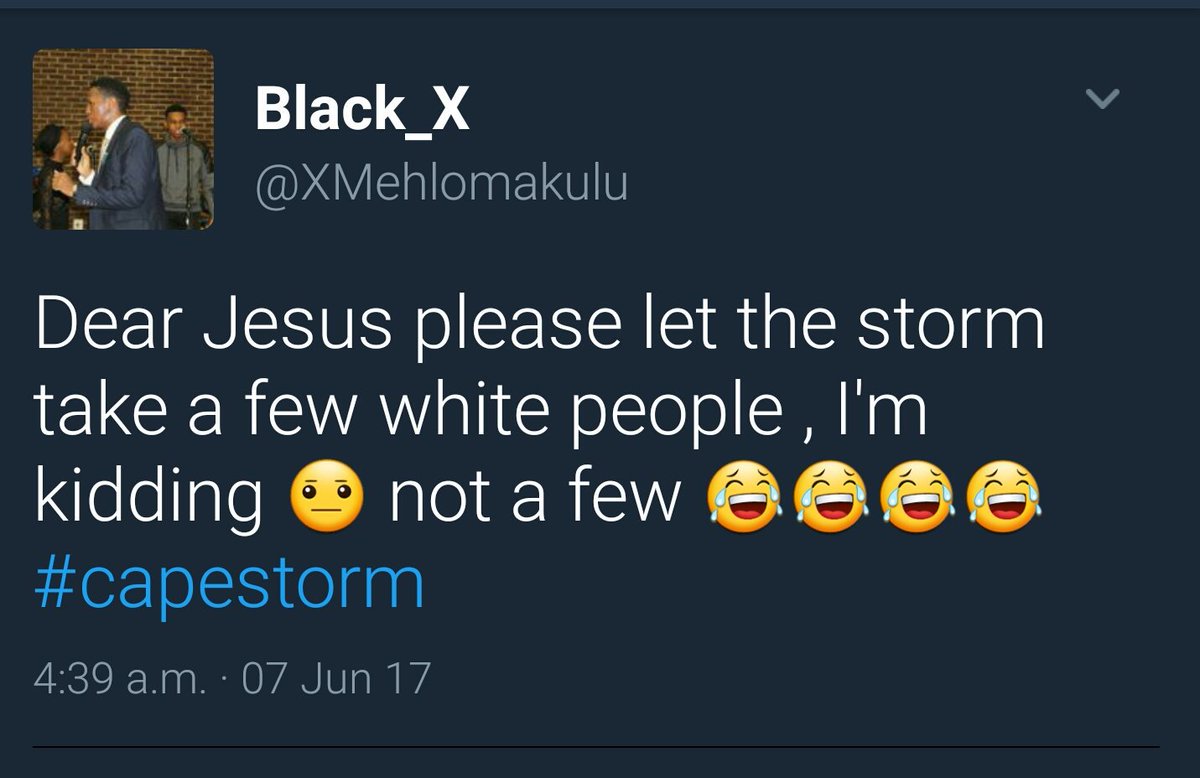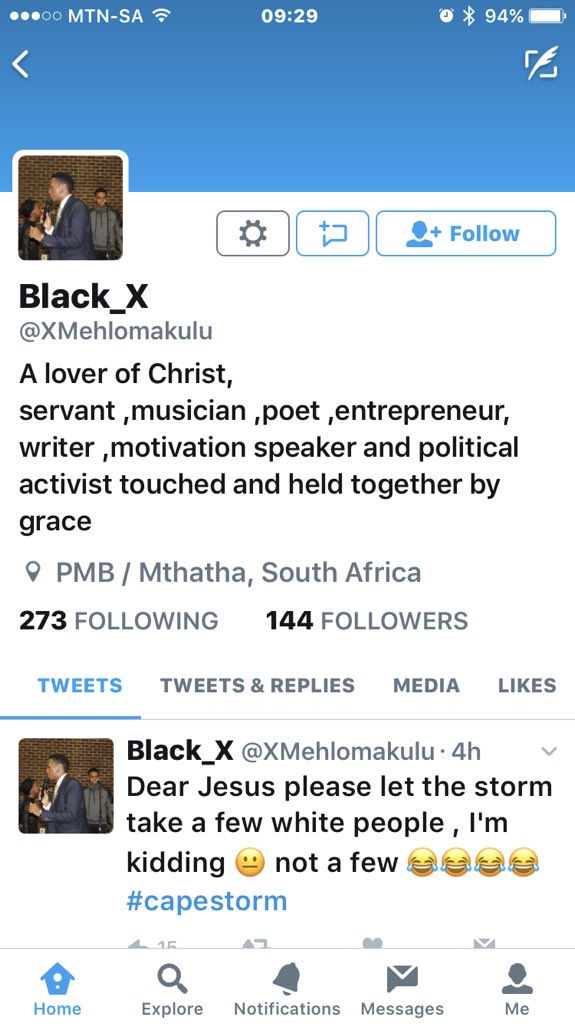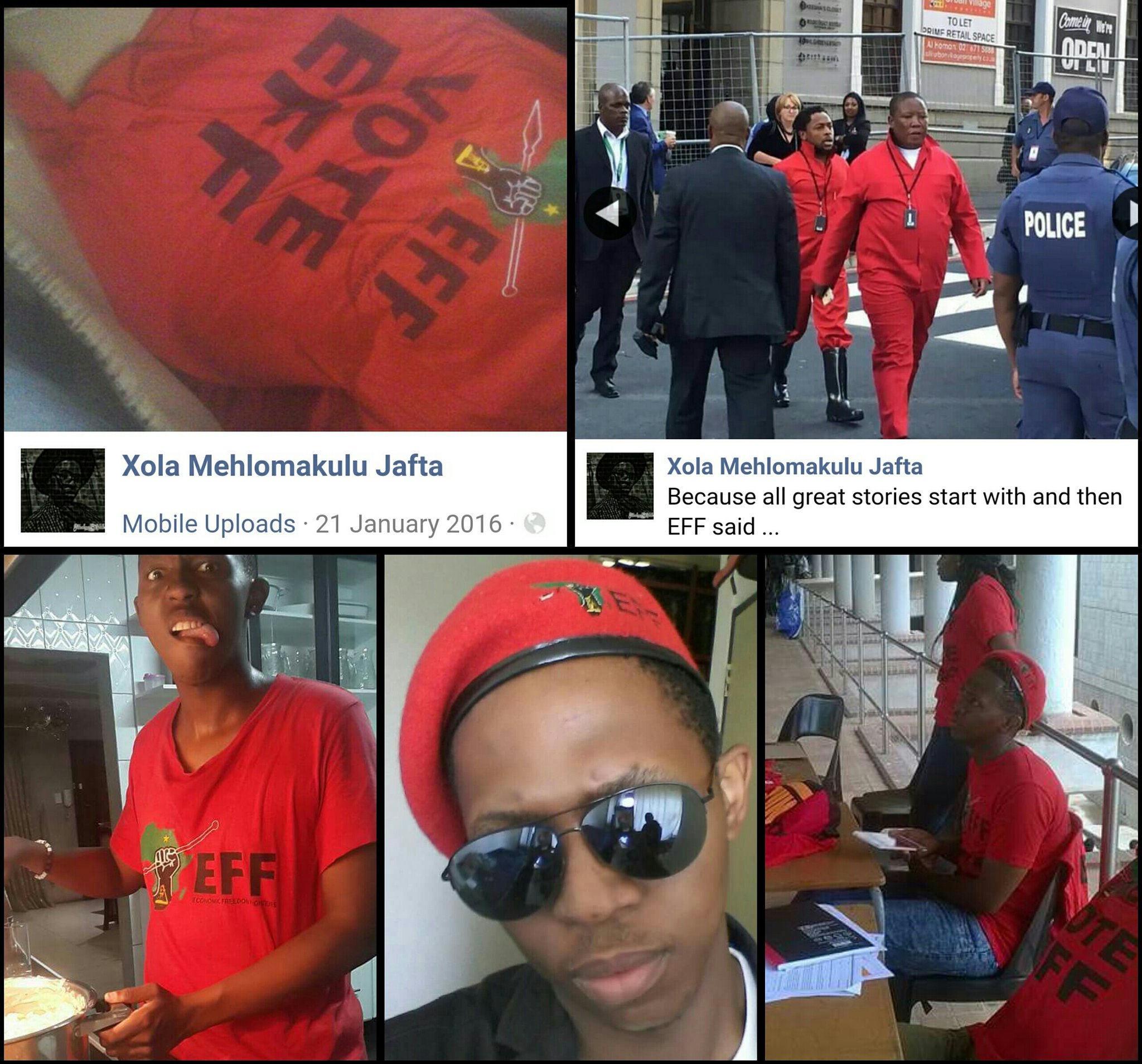 He said AfriForum would consider instituting civil litigation against the individuals responsible for these callous posts if the complaints with the Humans Rights Commission or police did not yield any results. Some of the screenshots AfriForum received include: "Dear white people what is happening with #KnysnaFire is called #Vutha and only black people can save you from it, just bring the land back." This was written by Mathandazo Wabo Lova @JabulaniKhesa.
Savagéé @KeNegroAkere said: "I actually smiled when I saw that Knysna is going thru it all, 'cause we all know what the majority of the population is there [emoji]."
Black_X (@Mhehlonmakulu) tweeted: "Dear Jesus please let the storm take a few white people, I'm kidding (emoji) not a few (emojis) #capestorm."
Mlunguza Mthembu Luxolo wrote: "Pray this great #capestorm is here to take white people away to Europe. #WantOurLand."
Urlings said they would like individuals and communities to come together and provide aid to all those affected by the events, rather than spewing racism.(Link)