Do you have news to tell us? Send your e.mails with news and inquiries to: w.nation@mail.com
Register to follow our news on the right-hand tab
Article posted  by: White Nation Editorial July 15  2017
SOUTH AFRICA– FAILED LAND OF COMMUNIST ANC ORGANIZED CRIME ,LIBFARTS, UNION CHAOS , MISDIRECTED RAINBOW MONKEYS – AND WHITE GENOCIDE
THE TERM "human" normally describes a creature that have the ability to reason, think, act and generally produce standards that are well above those displayed by any of the other creatures living on this earth. In the Word of God we read in the book of Genesis the following: "  And God said, Let us make man in our image, after our likeness: and let them have dominion over the fish of the sea, and over the fowl of the air, and over the cattle, and over all the earth, and over every creeping thing that creepeth upon the earth.So God created man in His own image, in the image of God created He him; male and female created He them."- Gen 1:26-27. Thus- it clearly states that when God made man- His intention was to create a being that was mentally far above the standard of intelligence found between the rest of the animals He created- and furthermore- He created this specific creature to be like His image and rule above the other creatures He created…right?
Well- apparently we now have discovered a huge discrepancy or misinterpretation with this "creation"  being spoken of in the book of Genesis. Today I had to go into a black area near the town of George in the Western Cape. The reason:- I had to go  and asses damage done by unruly black thugs – rioting the night before in a black township called "Zwelinthemba. "  It was upon entering the township that I already had my doubts whether this was part of that specific creation we read about in Genises verse 1- or do we maybe have another type of undiscovered creation not as yet described in the Bible?
Firstly – upon entering I was met by an environment equaling that of a dump-site. The whole place was strewn with filth, rotten sewerage water flowing down the dilapidated dust streets – with pigs, goats, chickens  and cows roaming freely around..shitting and p*ssing wherever they go. This whole messy affair took place in-between the houses ( if we can roughly call it that) – where this appearant  "undiscovered species"  stay. I cannot phantom the Bible could refer to this species as "humans" that choose to live in such disgusting circumstances and embrace such ghastly conditions? Is this now   the "majority"pets that the villainous politicians suck up to during election times? Is this the creatures that holds us as normal citizens at ransom and destroys our lovely country with their "voting power?"  Even animals (bar pigs) are more disciplined  and ordered on their environment than this I have seen today. I dunno what we can classify them as. "Human" they certainly are NOT appearing to be- judging by the environment they create around them! It is hard to imagine that an intelligent creation of God could ever choose to live in an environment not even fit for pigs….or not?
PIGS ARE KEPT IN-BETWEEN HOUSES IN  BLACK "INFORMAL" RESIDENTIAL AREAS. NOW IF A WHITE SHOULD TRY A STUNT LIKE THIS IN A WHITE RESIDENTIAL AREA- IMMEDIATELY THE CITY COUNCIL WOULD JUMP ON HIM AND EITHER HAND OUT HEFTY FINES OR CALL THE SPCA TO REMOVE THE ANIMALS FOR TRESPASSING "BYLAWS " FOR   "UNHYGIENIC" REASONS- BUT LO- THE COUNCIL APPARENTLY ALSO REASONS THAT THE BLACK "INFORMAL" RESIDENT IS NO "HYGIENIC" CONCERN TO HIS NEIGHBORS AND BROKE NO BY-LAWS. DO WE HAVE 2 SETS OF LAWS IN SOUTH AFRICA- ONE FOR WHITE RESIDENTS AND ONE FOR BLACK RESIDENTS?
EVEN CATTLE GRAZE AMONG THE STREWN LITTER IN THESE BLACK "INFORMAL" SETTLEMENTS. AGAIN- ARE WE LOOKING AT 2 DIFFERENT SETS OF LAWS IMPOSED BY THE CITY COUNCILS IN SOUTH AFRICA HERE- ONE FOR THE BLACK "VOTER"- AND ONE FOR THE WHITE "SCAPEGOAT?"
ROTTEN SEWERAGE FLOWING DOWN THE STREETS- YET TO THE "INFORMAL" BLACK RESIDENTS THIS IS THEIR WAY OF LIFE – AND TO THE CITY COUNCIL APPARENTLY NO CONCERN. MOST OF THESE BLACK "SETTLERS" ARE ILLEGAL IMMIGRANTS ANYWAY.
THIS IS HOW THE BLACK "SETTLER" PREFER TO LIVE- IN THEIR OWN CREATED FILTH AND UTTER SQUALID CONDITIONS. BLAMING 'SERVICE DELIVERY" AND GO ON A NIGHT OUT RAMPAGING AND BURNING CITY COUNCIL PROPERTY AND TYRES  APPARENTLY IS MUCH MORE CONVENIENT TO SCORE MORE FREE SERVICES DELIVERED AND YOUR PIG STY CLEANED UP BY SOME-ONE ELSE-  THAN ACTUALLY START CLEANING UP THE MESS AROUND YOUR OWN DWELLING YOURSELF.
Anyway- The black thugs rioted again because for the usual reason: " Service Delivery." Actually the real reason was mobs have been instigated by the devious black taxi owners because the Council started sending their own buses into the area – and the taxi thugs retaliated because they alone want the monopoly of transporting people in George . Now it again is changing into a political issue as the ANC thugs try to create chaos and destabilize George municipality to blame the DA thugs again. Well- two council cars was set alight and was it not that one council worker jumped out of the car- he would have been fried alive- such is the 3rd world African compassion for another human life. The black marks you see on the road is where these political pets burned tyres. The whole settlement was alight last night. Will you ever see a white doing this?
A CITY COUNCIL WORKER NARROWLY ESCAPED WITH HIS LIFE WHEN UNRULY BLACK MOBS ATTACKED THE COUNCIL VEHICLE AND SET IT ALIGHT- WITH THE COUNCIL WORKER STILL INSIDE. IS THIS GOD's CREATION DOING THIS TO ANOTHER CREATION?
THE SILENT EVIDENCE OF YET ANOTHER NIGHT OF BLACK HOOLIGANISM AS BLACK MARKS ON THE ROADS INDICATE TO THE MANY TYRES THAT HAS BEEN BURNT TO EXPRESS THEIR "GRIEVANCES" AGAIN- A TELL-TALE SIGN OF THE SICK AND VIOLENT DESTRUCTIVE CULTURE AMONG SOUTH AFRICAN BLACKS.
BUT ironically both black communist politicians such as Zuma, Malema , Mngxitama  and black racists keep on blaming whites and "apartheid" for the chaos these despots create on a daily basis across South Africa. Whites are continuously being sent down "guilty lane" by psychopathic white liberals such as Max Du Preez, Piet Croucamp, Jeremy Cronin et al–  deranged black politicians – and many racist black socialites for all the mismanagement, corruption , ineptocray and destruction caused by specifically these black vagrants that now are sucking South Africa into the abyss of an African turmoil.
BURNING AND LOOTING ON A DAILY BASIS…..THIS IS YOUR NEW " DEMOCRACY" THAT IS SUPPOSED TO BE BETTER THAN " APARTHEID."
A HISTORICAL VOORTREKKER SCHOOL THAT NOW IS A MONUMENT IN LYDENBURG -166 YEARS OLD- ALSO WAS DESTROYED BY BLACK VAGRANTS.
The problem is every time these useless eaters destroy property- the city council want to suck up their arses again for their votes- and sheepishly (and obediently) replace whatever they have destroyed at the mainly (white) ratepayer's cost.This is the evil culture in South Africa: The majority non tax paying black "voters" keep on destroying everything on a daily basis- and the minority (white) taxpayers again end up paying for it on a monthly basis through escalating property taxes and services.Blacks in black "informal" settlements pay as little as R 5000.00 for a sizable plot of land in these "informal" (illegal) settlements- I am told by the council informants. Should whites settle illegally-they immediately are removed(forcefully by court order)- but blacks apparently have all the rights in the world to "settle" wherever they see fit without being forcefully removed by court order. Again this expose the hippocracy in the South African "rainbow" justice system.
They pay no rates and taxes either. On top of that do they get 400 liters of water free daily- as well as paying the minimal rate for electricity. White areas on the other hand pays TRIPPLE the amount for electricity than black "settlers" in this "informal" settlements- whether they "settle" illegally or not. Garbage and ablution facilities are for free. Whites have to pay rates and taxes in their areas for this services. This week the City Council of Cape Town announced it will write off ALL debt created on it's electricity bill by black non-paying leeches.Further-more do the council  repair all pipe leaks, installing geysers- and repairing all leaking taps, toilets and water related items to these ever demanding " previous disadvantaged" leeches for free as well.
Yet Cape Town is not the first council to bend backwards to the "demands" of this leeches- many city councils already have written off arrears to please their black pets- such as Johannesburg who wrote off millions of dollars to the Soweto pets-and Pretoria that wrote of the Mamelodi debt to please their "unhappy" pets too. Yet whites NEVER have the royalty of their debts being "written off." Their electricity are summarily cut off if they are in arrears– if you have any doubts ask ANC Major Amos Masondo of Pretoria or DA Patricia De Lille of Cape Town how this double standards are being applied  effectively. AND because of this "generous" approach of these devious politicians towards their voting pets – most city councils dither on the brink of financial collapses . AGAIN 2 sets of rules apply in South Africa- one for the majority " unhappy" voters- and one for the "minority" white scapegoats.
BLACK ILLEGAL AND FILTHY SQUATTER CAMPS NOW LITERALLY CLUTTER THE SOUTH AFRICAN LANDSCAPE.IS THIS WHAT YOUR "DEMOCRACY" WAS ALL ABOUT? THE CITY COUNCILS PREFER TO "LOOK THE OTHER WAY" WHEN IT INVOLVES ENFORCING THEIR BY-LAWS SUCH AS HYGIENE, RATES AND TAXES, PAID SERVICE DELIVERY, LEGAL PLANS FOR STRUCTURES BUILD, PERMITS FOR OPERATING A BUSINESS FROM HOME AND MANY MORE WHEN BLACKS AND BLACK RESIDENTIAL AREAS ARE INVOLVED. SO THESE COUNCILS RATHER TARGETS WHITE SUBURBAN AREAS AND BUSINESSES (SOFT TARGETS) TO ENFORCE THEIR DOUBLE AGENDAS AND TO PAY UP FOR THE MILLIONS LOST IN THIS EVER GAPING BLACK HOLES NOW JUMPING UP FROM NO-WHERE ALONG OUR HIGHWAYS AND AROUND EACH TOWN AND CITY. BUT LET US RATHER FABRICATE MORE " ANTI-RACISM" LAWS AGAINST WHITES THAN TACKLE THIS EVER INCREASING OVER POPULATED TICKING TIME BOMB THAT SOONER OR LATER WILL EXPLODE IN A FULL-SCALE CIVIL/XENOPHOBIC WAR.
This all now are wiped under the carpet of "saving water." I never saw any council project doing the same for white impoverished settlements. Next year the " offended" black settlers  again will have heaped-up a bill of millions that again will have to be " written off" as devious politicians again will suck up into some black arse for votes to stay in power. When was the last time any of these councils wrote off the arrears in white impoverished areas? Just who will have to fork out this millions of dollars  needed to repair all the carnage and non-paying cultures going around in these black slums? Go figure.
CLEANING UP OPERATIONS , RENDERING SECURITY SERVICES AND REPLACING DAMAGED LOGISTICS COSTS MILLIONS OF DOLLARS- YET THE COUNCILS AGAIN AND AGAIN WILL REPEAT THIS LOST VENTURE JUST TO SAVE FACE AND GAIN BLACK VOTES AGAIN DURING THE NEXT ELECTIONS. MEAN-WHILE THE WHITE TAXPAYER AND BUSINESS ARE FORCED TO FOOT THE BILL OF THIS EVER-DESTRUCTIVE BLACK CULTURES.
So just WHO is going to foot the bill for this outstanding debt and millions of rands squandered on ever dissatisfied parasites of which many are illegal aliens in this country? Somewhere that lost funds will have to be re-capped.  You can take a guess. It is then no wonder these black " previous disadvantaged" settlers  "prefer" to stay in these black slums- as everything comes for free while the mainly white residents and business must foot the bill for money wasted by the councils on this gaping black holes that appears overnight along all our major highways and next to every white town or city.Ironically you find many expensive cars standing next to these dilapidated shacks- another proof that many of these so-called " previous disadvantaged" settlers actually work, get a lucrative salary- but abuse the already corrupt system to their own selfish advantage.
SOUTH AFRICA currently are caught up in the worst destructive era of it's existence. The destruction are mainly 100% due to the British greedy corporation influence on the ruling mafioso mob- and black murderous rioting cannon fodder that are busy turning South Africa into a wasteland.More than 50 violent riots currently are taking place across South Africa- a culture started by the communist ANC- and today are part of the every-day South African life. A good example is the Knysna incident where mainly ANC operatives set many fields alight which literally burned the whole town to ashes and killed 3 white residents. BUT as always the black culprits were caught and subsequently " politically correct" released- and no rooster will ever crow again about 3 innocent white lives lost. Ah yes- there were many excuses and blame shifting- like it was ONE single lightning bolt…then again it was the wind that spread the wild fires over an area of 290 kilometers in one single night. Then all of a sudden it was black " children" that went out at 2 in the morning JUST to start fires around the whole Eastern seaboard. Yea right!
On Sunday 16/7/2017 at about 18h00 a man and his wife from Bronkhorstspruit narrowly escaped death when a concrete black was thrown  onto passing cars below by black thugs living in a squatter camp next to the highway from the bridge, right through the window of the driver. This is yet another dangerous past time of mindless blacks in South Africa. 
ANYTHING bar telling the truth and say it was black thugs with a political motivated agenda- just as they started the Western Cape fires that destroyed millions of acres of grape farms as well. The excuse that time was – yea..you guessed it right…. "wage disputes." Blacks in South Africa are getting so predictable- when they riot- it always revolves around " service deliveries" or "wage disputes" – depending against which race they want to feel "unhappy" about again. If it is against the government- it is "service delivery"– and if it is naked racism and hatred against whites- it is " wage disputes."  Another example is the Fishoek incident where " unhappy" black rioters again are turning the coastal town into a war zone too due to "service delivery"– iow they stay in another recently erected illegal settlement and want "freebees " again such as free services and electricity…..they are waiting for FREE services to be DELIVERED.  And so there are many other towns suffering under the " unhappy" black curse. Talking , complaining about it – or fingering the race of the culprits are immediately deemed " politically incorrect" and "racist."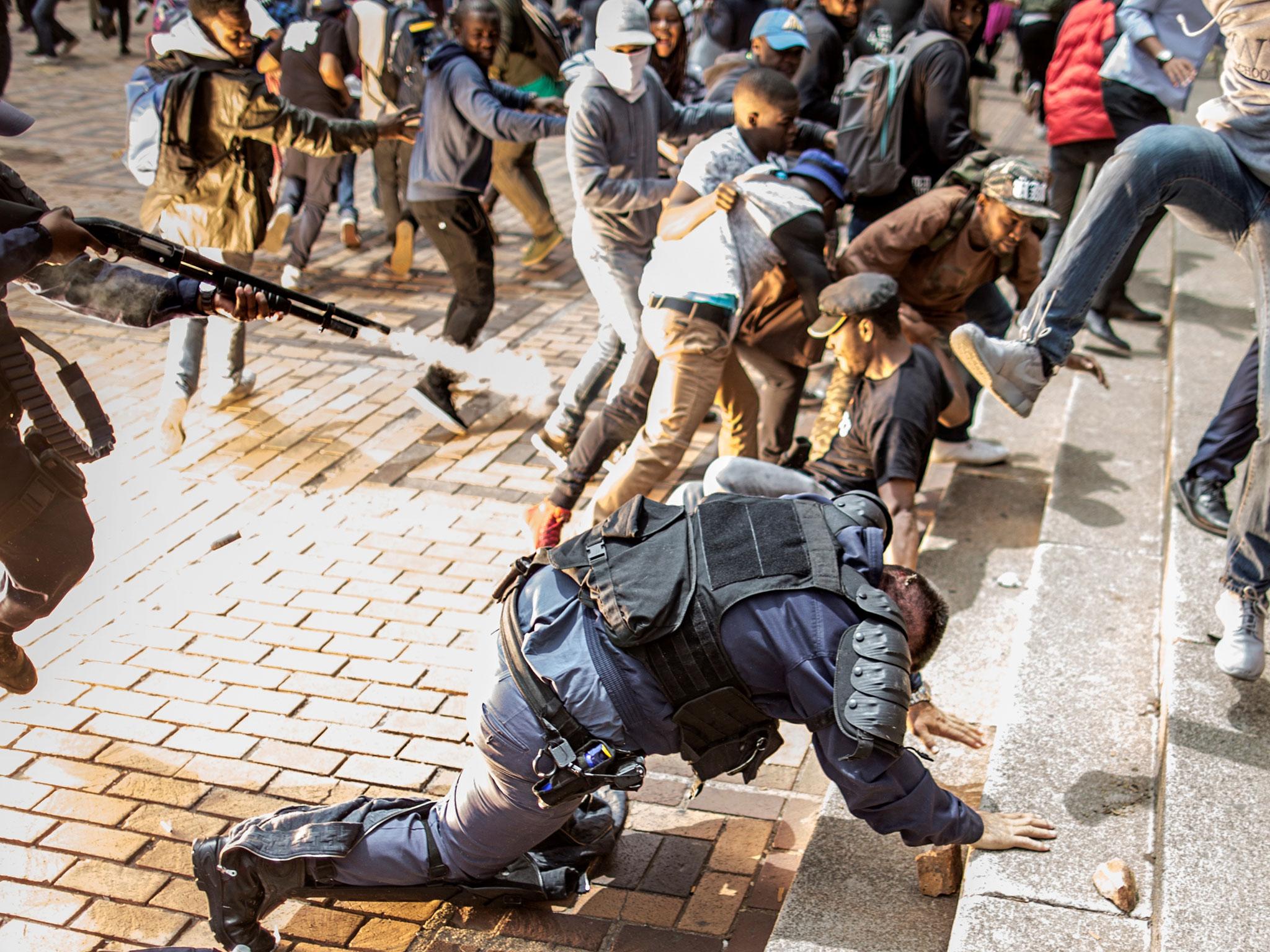 THE VIOLENT AND DESTRUCTIVE BEHAVIOR OF SOUTH AFRICAN BLACKS ARE WELL DOCUMENTED. THEY OSTENSIBLY ARE THE MOST DESTRUCTIVE NATION ON EARTH. NO OTHER COUNTRY HAVE THIS CHAOTIC CULTURE . THIS CULTURE COSTS THE COUNTRY(AND TAX PAYER) MILLIONS OF DOLLARS EACH YEAR. BUT TO HIGH-LIGHT THIS SICK DETRIMENTAL MENTAL CONDITION IS TO OVERSTEP THE " POLITICAL CORRECT" NARRATIVE PROPAGATED BY THE RACIST BLACK POLITICAL MOBS AND MEDIA ALIKE.
They are nothing less than criminal barbarians with no respect for human life.I was to determine if it is safe enough for the council workers to be sent in to mop up the carnage created by these black African heathens- just so they can again riot next week and torch and destroy more property. The white is the one that are exploited to pay for all the destruction- not only of his country- but also to keep the despots in power and mainly- for the silent personal and financial genocide against his race as well. This carnage is happening on every front. Time, we the "economic majority" make our stand. Until then, we can bleat as much as we like, while we e-file our tax returns. Only 5% of this country's population are legitimate and registered tax-payers. 5% Paying for their own demise… how smart is that?
Whites in general are producers that plan ahead their finances. Whites in general create a neat and livable  environment around them.Whites in general are searching for new ways to enhance their current socio-economic environment.Because of this pe-panning culture of whites in general – they are making more advancements in their socio-economic environment than blacks. This is now where the blacks cannot understand why whites always "has it all"– and as ever- because hey cannot figure this out(with the help of sub-schooled idiots like Zuma ,Malema,Mngxitama et al  )– start to blame whites without having a foundation for their allegations- to "has it all."
Black Africa on the other hand for millenniums now have taken one step forward due to Western Aid- and three steps backward due to this specific destructive cultures and ill-educated leaders. Africa does not want to hear the truth. For example if we take the new French president Emmanuel Macron– when he made a comment at the G 20 summit that one of the reasons Africans are suffering – is that many African women have 7 or 8 children- and that is one major problem to feed all this children(Link)  Ostensibly and as expected-  did the majority black Africans go ballistic on their social sites about this comment.  Macron was torn apart on Twitter and Facebook for his crude " racism. This is in stark contrast with for example the African Zuma/Malema "pump that girl" rhetoric.
Blacks in general are historically proven not to be very fond of reading books – and therefore will not remember what happened to countries in the past if you cannot control your libido.To me and you the man's comment makes sense- if you cannot feed them- don't breed them- PERIOD! Macron's comment coincides with another French politician- Nicolas Sarkozy-  to become president of France in 2007 – the year when he also dropped a clanger in the African basket  during a visit to Dakar when he said that "The Tragedy of Africa is that the African has not fully entered history".  But as always will the black African wave the "racist" card whenever he is confronted by undeniable facts.
Although you have a very small percentage of blacks that are well schooled (and you never hear them complain)- the majority of sub-schooled black leaders and masses are continuously blaming the whites for being "rich." Devious white/Jewish  liberal politicians , academics and black racist dictators such as Mugabe, Zuma and Malema exploit this default in the African mind- and blame those "rich whites" on a continuous basis just in order to stay in power. By handing out "free bees" to blacks on a constant basis, giving "grants" and free service deliveries keep the lazy non-productive non tax paying black masses under control and by "pleasing" them keep their votes rolling into the right direction.
In contrast are whites blamed for being " fortunate" and "owe" that "previous disadvantaged" blacks everything- from taxes to land as those whites " stole" everything from the black previous "owners." Laws are specifically manufactured by mainly white liberal criminals like Rob Davis to enhance black empowerment- but in the same breath oppress whites and disown them. As a "minority" white votes does not count- whereas black "majority" votes keep the political thugs in power.So why feeding a dying dog then? Whites are "rich" – and blacks are "poor"– thus whites get taxed to death, must pay exuberant amounts for levies,services and rates- all  while the majority blacks in squatter camps pay zero and all their debt gets "written off."
Meanwhile black businesses like taxi owners and taxi drivers make millions of dollars in cash- yet pay not a cent in taxes. Whites don't burn tyres, destroy municipal buildings, kill law enforcement personnel- and don't go on riots. So now the whites can  be squeezed for every penny they have- just manufacture a "law"- and the poor "law abiding" white sheep again will fork out more dough to feed the ever " unhappy" black population.  – while blacks are living in paradise and get everything for free. This way the political demons and genocidal maniacs in control sitting  in parliament stay in control- corrupt and empty the state coffers at will- and stay in power " 'till Jesus come." 
 BUT then it is not only the local blacks in squatter camps that live in this newly-created "Mandelatopia." We now also have the millions of newly found " black citizens"- the Chinese- who are flocking into the country as " honorary citizens"– can squat wherever they want- start those " Chinatowns"– and pay not a cent tax as well- but can enjoy all the social and medical benefits off the mainly white taxpayer's funding. JUST because China assisted the terrorist ANC during those " struggle" years. South Africa are sold piece by piece to the Chinese due to "loans" they give to Zuma & Sons as well. Then we have the Pakistanis with all their cell phone shops too who are flocking illegally into the country. Also they do brisk business – send millions of dollars out of the country- and pay not a cent in taxes. Add to that all the illegal Nigerians, Zimbabweans, Angolans, Ethiopians, Mozambicans and God knows who else- and we have MORE illegal infiltrators in South Africa living off the dwindling white tax base- than homogeneous South Africans living off it. Then we did not even mention Zuma and the billions he wasted and his pals the Guptas–(Link) – that slowly are draining the South African coffers. But lo- instead of arresting these political criminals and Indian white collar thugs- SARS are busy looking for new ways to choke even MORE taxes out of the already overtaxed South African worker.
Yea…my line of work is not always roses and moonshine.With this destructive black culture on the loose – danger lurks around every corner and stone…not only for me- but for the taxpayer's wallet as well. Yes- I know- not "all blacks" are acting this way…but ironically it appears the MAJORITY of  blacks in South Africa recently are acting this way – if by anything you can go by the daily reports in the media. One day we vote ANC to keep those "racist" whites out of power- the next day we riot against the same ANC communists we voted for yesterday because the following day we are " unhappy" about their poor "service delivery" they gave us the day before we voted for them yesterday. I am somewhat confused- Any logic in this? The question is just how long still will we tolerate this black hoodlums and their political mobster-handlers to destroy the country before a total civil war erupts? How long are we still going to " look the other way?" Only time will tell.
The mismanagement that prevails in South Africa because of ignorance, corruption, ordinary crime and similar actions is surely not the Boer Afrikaner's problem, and has been forecast  a quarter of a century ago. If whites have paid their municipal bill for garbage removal today -and then being praised because they sacrifice Saturday to Saturday to pick up litter of other pigs in streets and parks, – then it becomes open policy and acceptable culture that they are willing to pay the bill and then still do the municipality's work for them. Or worse: They are prepared to spoil the littering masses of South Africa by cleaning up their rubbish behind them.
The solution is quite simple: Stop paying taxes to feed these ever ungrateful destructive mobs. Stop being the ANC communists' milking cows. Whites showed their power in the SPUR incident how they quickly can bring a leftist corporation into making back flips and somersaults. Thus- wherever whites can do cash deals and withhold taxes- do just that! "Only Africa can solve Africa's problems" – said Jacob Zuma. Right- let BLACK taxpayers from Africa now start carrying the bill for this black destroyers. Let Africa start solving Africa's problems!  Let white liberals such as all the British, German, Chinese and other  foreigners carry the bill. Let us then see if they also will take it so docile as they do now. Let white money go to white ventures and create Broad Based WHITE Economic Entrepreneurship – rather than give your money to Black enhancement. Support WHITE business rather than Jewish-controlled Pick & Pay/Checkers business. At least you will see the fruits of your labor helping your people. White businesses can ALSO assist by giving discounts to other whites to promote white capital. How come must you be drained of taxes and yet occupy a " non important" second degree citizen status in a country that only exploit you for your taxes- but gives nothing back in return? 
Is it still correct to describe these creatures in this black squatter camps as the same "human" that is supposed to have the intelligence to rule all the other creatures that walk the earth? Human beings…or as yet undiscovered species? I sometimes have my doubts…or am I "politically incorrect" and "racist" again?
"The burden of the beasts of the South: into the land of trouble and anguish, from whence come the young and old lion, the viper and fiery flying serpent, they will carry their riches upon the shoulders of young asses, and their treasures upon the bunches of camels, to a people that shall not profit them." Isiah 30:6
"If I cause noisome beasts to pass through the land, and they spoil it, so that it be desolate, that no man may pass through because of the beasts" :- Ezekiel 14:15
WHITE NATION– WE DO NOT HATE WHITE LIBERALS– WE SIMPLY DESPISE THEM!!
C'MON- SHARE OUR LINK