Do you have news to tell us? Send your e.mails with news and inquiries to: w.nation@mail.com
Register to follow our news on the right-hand tab
Article compiled  by: White Nation correspondent Cape Town  July 29  2017
HISTORY
BEHIND each of our national leaders there was a woman who, in one way or another, helped shape the destiny of South Africa. And while the names of the men are recorded in the history books, these are the people, premiers and presidential women behind the men- who disappeared in the background. 
When the body of Marike De Klerk was discovered on the  morning of December 5, 2001, the little vertebrae in her neck were broken-  and the cruel finger marks around her throat indicated she was strangled. A sharp knife was stabbed in her back, and the pathologist – Dr. Deon Knobel – later declared that he could not say with certainty whether she was also raped or not. The  autopsy revealed that she was strangled to death at about 9am on that Monday. Professor Deon Knobel, who carried out the autopsy, said that the killer gripped his victim's neck with such force that he broke several bones in her throat and burst a blood vessel in her eye. She was probably on her knees when she died. Prof Knobel said a steak knife with a broken handle was embedded in Mrs de Klerk's back, although it was not what killed her. She also had several wounds to the head.
Marike De Klerk- A bitter battle against a deceiving husband and opposing against a changing hostile environment
Knobel said that when he did his autopsy, he found that two "horns" of the thyroid cartilage, or voice box, were fractured, as were two small bones slightly higher in the throat. "In my opinion considerable force would have been necessary to fracture all four structures," he said. He found a stab wound on De Klerk's left shoulder blade, which had a broken knife blade still in it, bruises on the head consistent with a "severe assault", along with scratches, bruising of the deep muscles of the neck and haemmoraging inside the right eye. Knobel also told the court that changes to De Klerk's brain and lung indicated that she was still alive for a while after her system was starved of oxygen "but I cannot say for how long".
It was not as if Marike was unaware of the need for security. As the wife of a high-profile politician, she was accustomed to life accompanied by bodyguards. After the divorce, however, she was reduced to driving around with a can of insect spray on the passenger seat for protection. Her ex-husband did not even took care of her security.  Detectives – for the want of an alternative theory – are focusing on the possibility that Marike  was murdered by someone she knew. But who? A political killing seems unlikely, not least because the former first lady was little more than a shadow to her husband's role as president. But there is politics and politics. A lot of far leftist and liberal South Africans could be unjustifiably  angry at the conservative Marike. Maretha Maartens, who ghost wrote Marika's  autobiography, said it was the former first lady's personal life that made her most unhappy. Speaking  after news of the murder broke, she said that Marika had often contemplated death. "She missed FW a lot and she was extremely lonely. She said to me once or twice that life was not worth living and that it would be better if she were dead," she said.
The murderer was pointed out as  Luyanda Mbowisa – a security guard at the complex in Dolphin Beach where she lived. Mboniswa, 22, a former security guard at the Dolphin Beach complex in Table View, Cape Town, where Marike  lived, is alleged to have broken into her flat on the night of Sunday, December 2, and raped and murdered her before taking her cellphone, cash and two pocket torches.The rape charge produced some interesting speculations.  Earlier, the defense obtained an order for, among other things, a hair sample found in the flat and a toilet mat from the guest bathroom to be handed over to its own DNA expert.In its application on the Wednesday in court, the defense asked for this order to be enforced, and for another order forcing police forensic experts to hand over three pieces of semen-stained carpet from the flat. In an affidavit supporting the application, Mboniswa alleged the semen stains "relate to Willem de Klerk". In another twist, the prosecution has refused to hand over the DNA found on two yellow gloves which the state alleges belong to Mboniswa. It was also refusing to hand over copies of all fingerprints or palmprints found on the crime scene, in Marike's Mercedes-Benz and on the yellow gloves, and Mboniswa's lawyers asked for the court to order this.Also interesting was evidence that came out that Mbowisa received a mysterious R 50 000 in his bank account from the intelligence agency right after the murder.
The apartment blocks at Blouberg strand where Marika was brutally murdered
MEET LUYANDA MBONISWA- THE STRANGE MURDERER THAT SUDDENLY APPEARED ON THE SCENE:
 Luyanda Mbowisa– the alleged murderer...but was he acting alone- or being set up as a "lone nut" operator for a "black ops" intellegence operation to act as the "fall man?"
Dec. 8, 2001 – The Sunday Times of Johannesburg published this picture of Luyanda Mboniswa, 21, the security guard employed by Securicor Gray, the company assigned to protect the apartment block north of Cape Town where South Africa's previous First Lady,  Marike de Klerk, was strangled to death. The security guard was arrested and confessed before a magistrate to the murder ot Marike. Jounralists Bonny Schoonakker and Michael Schmidt of the Sunday Times reported that Mboniswa's family, friends and employers were shocked at the confession by the guard – whom they said was " a model employee and a breadwinner who supported the rest of his family."Nothing was robbed from Marike's apartment although her cellphone still seems to be missing. It was a call made from Marike's aparment from this missing cellphone which was traced by police to a Khayelitsha telephone — and which had led to Mboniswa's arrest and confession.
Also, journalist Freek Swart of the Rapport Afrikaans Sunday newspaper wrote that the security guard may not have acted alone – police are still investigating the possibility of a murder conspiracy. Swart quoted unnamed police detectives as saying that South Africa's former first lady might have been murdered  to silence her, because she might have threatened to inform police about a diamond smuggling network (Project Hammer) -which involved someone close to her (FW De Klerk?) . "The person involved either murdered her personally or hired someone to do it at a fee," the source said. The security guard will appear in court on Monday, but the investigation continues. Cape Town East Metropole police spokesman Superintendent Wicus Holtzhausen said the security guard had confession before a magistrate in court on Thursday night.
Meanwhile back in Motherwell, near Port Elizabeth, Sunday Times reporters noted that the security guard's mother's eyes had filled with tears as she watched a TV broadcast of the press conference retired South African President F W de Klerk had held following Marike's memorial service in Cape Town on Saturday. Mrs Cynthia Mboniswa said that Luyanda – her eldest child whom she had raised alone since the age of one when she divorced his father – paid the school fees of his younger siblings, Ayanda, 18, in Grade 10, and Andiswa, 10, in Grade 4. He also supported her and his 85-year-old grandfather. "I cried when I heard," she said. "I want to go to Cape Town, but I have no money. I'm afraid for him. He was not politically involved. " In Khayelitsha, Lilian Dyasi, who lived a few doors away from Mboniswa, said she was the mother of Mboniswa's 22-year-old girlfriend, Victoria Dyasi. She said both she and her daughter had been taken to Bishop Lavis Police Station for questioning on Friday afternoon. There, they saw Mboniswa for the first time since his arrest on Wednesday night at the Dolphin Beach apartment complex in Table View, where he worked and where the murder took place.
Dyasi said that although she was allowed to return to her home in Khayelitsha later on Friday afternoon, her daughter Victoria was detained for further questioning. But police insisted that no charges were being considered against any other suspects. Dyasi said her daughter had known Mboniswa since he moved into their street in December last year, five months after he was employed by Securicor Gray in Cape Town. Mkhumbuzi Ncedani, who rents out Mboniswa's squatter shack to him for R100 a month, said that when detectives arrived at the premises on Friday afternoon, he thought they had come to investigate a burglary at the shack which Mboniswa had reported to police last weekend. Police had arrived last Sunday and lifted fingerprints at the shack, from which Mboniswa's hi-fi set and other personal items had been stolen.
The shack is a 2m by 4m wooden structure with barely enough room for his double bed and a table. On Friday afternoon, the bed was strewn with Mboniswa's clothing after detectives had rummaged through the shack, looking for Marika's cellphone and any other clues. The shack's only decorations are a poster of football player Doctor Khumalo and a newspaper clipping of a successful local businessman. Luyanda Mboniswa, 21, the mysterious South African security guard with a clean criminal record, who also is the sole financial supporter of his mother and siblings – but who confessed to the murder of South Africa"s previous first lady, Mrs Marike de Klerk before a magistrate . A week before the De Klerk murder, the security guard had also reported a burglary at his rented $100-a-month squatter shack in Khayelitsha township to police , during which music equipment had reportedly been stolen.
Now one can ask as to why this man- who had a clean criminal record, was supporting his family and had no previous convictions- suddenly "decided" that specifically Marike- a high profile person- must be – among hundreds of other residents- the one to be murdered. For that matter could he have murdered any-one of the hundreds of residents in that complex. But why specifically Marike- and why in such a horrendous and brutal way as-if he wanted to make SURE she is dead by firstly bludgeoning her over the head with an object, then stabbing her- then brutally strangling her- and all this for a mere cellphone? Why not just robbing her?
Something sinister is surrounding this case- the same as with Eugene Terreblanche where the murderers also acted as "fall men"- and made sure Terreblanche was dead due to a "wage dispute?" Things just do not add up. As with Eugene Terreblanche's murder- this definitely reeks of a political National Intelligence funded  "lone nut" conspiracy indeed. Speculation and prima facie evidence  point directly to a planned assassination- the same as Terreblanche. FW conveniently made sure he was far-far away when she was murdered. In both cases the victims posed a threat to "someone" – and had to be "silenced." Was she posing a threat to FW and maybe could spill the beans about his notorious past? Was "someone" scared she could expose the secrets behind her husband and his NP conspirators? NI is long time- as with the American CIA- notorious for their state slush-fund assassinations on both sides of the political spectrum. Even ANC caders such as Dulci September. Anton Lubowski, Joe Modise and Peter Mokaba also were "silenced" by this notorious state murderers. Such was Chris Hani too- and Clive Derby Lewis and Janusz Walusz the "fall guys." 
Happier times together- but Marike could never know what her husband was up to.
MARIKE- THE POLITICAL DRIVE

Marike De Klerk- nee Willemse – was born on 17 November 1941 in a tough Afrikaner family. Her father, Wilhelm, was an academic and professor of Social Pathology and Psychology at the University of Pretoria. It's a politically conscious family and when Marike completes her school career and enrolls at the Potchefstroom University for CHE for a B Degree in Trade and Economics, she is now involved in the National Party on campus. Indeed, her head is itself was directed at politics. Years later, a conservative German newspaper would say: "She would have been a better president than he."And in a strange way, Marike de Klerk was to become  a sign of the future "New South Africa " that her treacherous husband helped created- and which she totally resented and resisted against.
But then she meets the law student Frederik Willem de Klerk. He is 5 years older than she – and is a popular man on campus. He also comes from a tough National Party family – his father is the famous Jan de Klerk, who later became a senator and minister. Marike completed her studies and in 1959 she married  FW. The greatest sadness of their marital life is the fact that there can not be children. So they adopted three children: Jan, Willem and Susan. With both of their heads facing politics, Marike decided to focus on her household and rather to throw her full weight behind FW's political career. She is acting for the road behind him and after ten years of married life, he becomes Parliamentary for Vereeniging. The De Klerks is known as very conservative and when the NI agent John Vorster took up his cabinet as Minister of Education in 1978, FW stricktly applies  the policy of racial segregation at schools and universities . And brought  his fierce political upturn to an end. He remains in one or another lesser Ministerial Portfolio throughout the John Vorster and PW Botha era.
In these years, Marike raised the children and honors her duties as a Minister's wife . She laid down the principles with which she and FW grew up on the children, and with her active intelligence many a times advised him in his work.   The only time  when Marike came into the spot light was in 1983 when she noted about the Colored population: "They are a negative group of people, non-personae. They are the people left after the races have been sorted out. The left-overs. " for this remark she underwent heavy criticism from the leftist contingent and newspapers.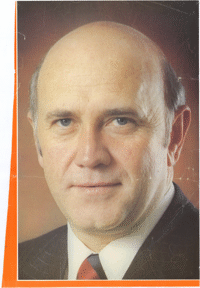 THE TRAITOR WITHIN- FW DE KLERK BEGIN UP HIS "CHANGES" AND A MARRIAGE ON THE ROCKS
1989 is the year in which everything suddenly changes. After months of conflict and struggle in the cabinet, FW consolidates his position by treason and takes over the presidential office in a soft koo-de-etat from PW Botha with the assistance of Pik Botha and on instructions from the Jesuit secret society  B'nai B'rith. Marike pretends to be a worthwhile presidential woman, and she realizes it will be a demanding task to fill Elize Botha's shoes. The problem is that the first cracks already began to show in her marriage. FW no longer talks about his work with her. And whenever he speaks vaguely about "changes that are necessary"– , she agrees. Argainic  uses such as the black hat that ministers should don at a parliamentary opening dates still coming from the days of Hertzog and Malan, immediately was eliminated by  FW. These are changes that she can live with, but she has no suspicion of exactly how far he will carry the so-called "changes". The February 2, 1990 speech in which he suddenly unbanned the ANC,  released the terrorist Mandela-  and sharply veered from the road of South Africa since 1948, struck  her as unexpectedly as with the rest of white conservative South Africa. She was not prepared for the real "changes " he was about to make in the country. He only briefs her vaguely before the session of what he plans to announce. She puts on a expressionless face sitting between the ministers wives on the gallery.
From here-on, FW start drifting more and more   away from her. She tries her best, but when she begins to suspect that there is a secret  relationship between him and the wife of Greek millionaire Tony Georgiadis, her world starts to crumble. It is a humiliation for her that the whole cabinetknew about the relationship, – even the opposition knows about it. Clive Derby-Lewis wanted to use this information for a long time, but worthy old-school doctrinist and CP leader Dr Andries Treurnicht told him: "It's not the CP's style, Clive."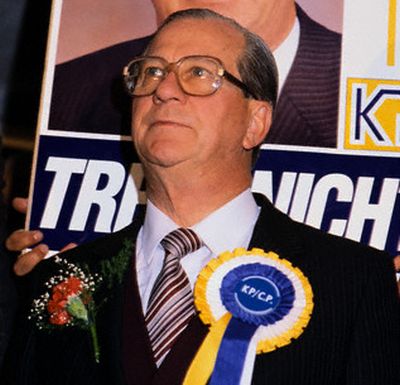 CP leader Andries Treurnicht knew about De Klerk's secret affair- but choose not to play dirty political games
Marike's marriage becomes a sequel of bitter confrontations and quarrels  with her renegade husband. When she complains to FW due too the fact that the terrorist Mandela does not even treat him with sufficient respect,-  he surprisingly defends Mandela's side. Marike fights against depression brought about by the sudden treacherous acts of her husband – and visits beauty consultants to help her with the make-up tips to hide the dark circles under her eyes. When she appears in public,which became  common with the eyes of the world suddenly on South Africa, – she hid her eyes behind big dark glasses and she seldom smiles. "Marike has nerve problems" was whispered behind cupped hands at Parliamentary events. And instead of getting any sympathy from parliamentary wives , they all looked at her in a judgmental way. Just now that FW needs the support of his wife the most, she is not there for him.
Marike's worst nightmare came true when her son married a colored girl.
But FW became a stranger and an alien to her. Mandela's shadow falls dark over her marriage. In 1991 another shocker struck  her. The media announces that Willem, the youngest son, is involved in a relationship with Erica Adams – the daughter of a Colored Politician. Her comment of 1983 of the colored people again was thrown at her face in the headlines of liberal newspapers. Marike pleads with FW to act, this unheard of  relationship of their son is totally against everything she believes in. But even in this, she does not get any support from her treacherous husband , and she has to fly to Cape Town to sort out the issue.
In the run-up to the election she must swallow another humiliation. The agreement is that she and FW will remain in Libertas after the election and Mandela and Winnie will occupy the Presidency. She is informed out of no-where by telephone that the ANC refuse to this agreement. Mandela has to stay in Libertas – and she must go and occupy  the Presidency. It's a hard blow to her, because she changed  Libertas to a home where she felt safe. FW in all his spineless fear for the ANC- does not even want to talk about it. But hardly did she made peace with it – or again she was informed that the Presidency was also suddenly claimed for the ANC's use. She has to go over to occupy the old administrator house, Overvaal. The old building  has been out of use for a long time – and is partially dilapidated. She demanded that restoration work be done, and Mandela promised he will visit the building  himself to see exactly what is needed. It is a terrible humiliation for her that Mandela will decide what her home should look like and what she needs. She is, after all, the Presidential Lady!
RESISTANCE TO FW'S CAPITULATION TO THE COMMUNISTS
A true reflection of the reality at the time De Klerk was starting his treason.
And again, she does not get any support from her cowardly husband. Eventually comes the day she decides that she will not be part of the " New South Africa" circus anymore. At the presidential inauguration she again wears her dark glasses again- and stared emotionless  in front of her. She was 7 years old when the National Party came to power, a student when the Republic came … and as a 53-year-old presidential wife she had to watch this she had worked so hard for during her life- suddenly being destroyed right before her eyes   And this by means of her own treacherous husband. When Mandela enters the reception rooms of the Union building after the inauguration, everyone gets up and starts clapping hands. Everyone except her, because in this moment she decided that the world should see: This was FW DE Klerk's path…, it's no longer her way. She sat down. "Marike, get up! You are rude! "was said by  one of the nationalist parliamentarians. But she merely gave him a dead stare  and remained inextricably in her place without giving the least recognition to the terrorist Mandela's arrival. Marike realizes that the rupture  between her and the traitor FW can never again be healed again. Over the next 18 months, they drifted further and further apart until he announces on February 14, 1996 that he plans to divorce her after 37 years.
There is another woman in his life. Marike, for the sake of the children, once again pleads with him: "If you decide otherwise I will forgive you for everything, up to 70 times 7 times." Then he simply looked away from her and said, "My decision is final, Marike. Stop trusting on hope. I'm going to leave you now. " In her biography she wrote: " "I told him: 'If you change your mind, I'll forgive everything – up to 70 times seven. He whispered: 'I'm certain about my decision. Stop hoping'." Just a mere week after the divorce he married Elita Georgiadis– the wife of one of his best friends. Thus FW not only betrayed his wife- but also his best friend by cavorting with his wife behind his back.
THE JESUITS TOOK CONTROL OF DE KLERK AND THE NATIONAL PARTY
BUT it must be mentioned that for  2 decades accusations against the FW de Klerk government have been flying about. Many people have been whispering about huge sums of money being paid over by Swiss bank accounts to NP politicians and government operators to hand over the SA government to the ANC. For 18 years nothing could be proven, till now. De Klerk and his NP regime secretly was following the orders of the Jesuit  B'nai B'rith secret society. South Africa was sold out by De Klerk and the National Party to the Jesuits with the ANC as front-men. During the CODESA farce R 4 trillion worth of gold was subsequently stolen by the nationalist regime in co-ordination with the ANC and the Jewish banksters via City Bank– and sent to New York to boost America's ailing economy. The whole transition of South Africa to communist hands was done on a foundation of lies and deception. This is why the current ANC regime today still "govern" in a total illegal capacity.They were jetted into the country on a heap of lies and deception. This is why all the "laws" they manufacture today also were based on a 1994 lie – and thus nil and void – and must be regarded as such. They are not a legal "democratic" government- but merely  Jesuit pseudo  controllers of illegally obtained  property. They just followed the footsteps of the old National Party conspirators. They are kept in power not by the people's choice- but by the British and American corporate money mongers. This goes for Julius Malema and Andile Mnximata as well- paid puppets to create division among South Africans.
The beginning of the end of South Africa: De Klerk's devious plans jumps into action
De Klerk and his NP conspirators were involved in a Jesuit secret project- called "Project Hammer." Project Hammer" in short  was a desperate undertaking by the USA government to rescue some of its major banks, who, by the end of the 1980's, faced insolvency. These banks included Citibank, HSBC, Chase Manhatten and the Bank of New York. The project was designed to cipher gold and diamonds as collateral as an emergency buoy for the ailing banks and to put the USA's economy on track again. It is at this stage that South Africa's De Klerk government entered the fray – as major gold and diamond supplier it was the easiest and cheapest way to rescue the USA banking sector.
Only one small problem: South Africa was in political turmoil with the white right wing challenging the leftist NP government on all fronts. The best smokescreen Citibank could think upon to move large amounts of money and gold bullion was: – Create political instability (between the old government and the ANC), then create a political vacuum where dodgy gold and diamond deals could be done without too many questions (maybe even an interim NP/ANC government where the minimum control would facilitate covert gold and diamond movements).
Sleeping with the enemy: De Klerk was prominent in selling South Africa out to the communist ANC for the 30 pieces of Judas silver.
Two brothers of the secret society "Knights Templar " holding hands…
Project Hammer involved the trading of US$13.6 trillion in debentures resulting in a "fallout" of about US$1.1 trillion which was stashed in the Howard Hughes account in Credit Suisse. Obviously, in a project of this size, a lot of organizations had to be involved: The CIA, the FBI, the National Security Agencies of all types, The Pentagon in the broadest sense of it and as such, and the Treasury, Federal Reserve. Nobody got out of the act, everybody wanted to get in the act – for there was lots and lots of money to be made. Such was the National Party conspirators also involved- with Jew Harry Oppeneheimer, FW De Klerk and Pik Botha spearheading the operation in South Africa. Marike never was aware of what her devious husband were doing or being involved into. IF she could ever know what "changes" this devious man was talking about she most probably would have divorced him – rather that him her. He also belonged to the South African "Broederbonder" society- the Illuminati strong-arm version controlling South African politics.
De Klerk shared the Nobel prize with Mandela for his treason against his country, his people, his wife- and his best friend.
MARIKE STARTS TO SPEAK OUT
BUT Marike did  not quit. She founded the Women's Outreach Foundation to uplift the standard of women in rural areas. She travels to America to investigate educational processes for her WOF foundation.  In Geneva, she receives the Women for Peace award for her work among rural women. And she stays in the news headlines because of her ongoing criticism of the ANC government because of their corruption. Eventually, the communist ANC reacts with a strong-termed press release stating her as: "… a bitter woman who can not make peace with her being merely a former presidential woman …"
In 1998, she wrote her autobiography: "A trip through summer and winter",-  but again she must swallow the humiliation when  FW gets permission through a court order to ban the chapter on his relationship with Elita. She also writes a book called : "A place where the sun shines again" – in which she talks openly about her path to recovery after her divorce. And in 2000 she met the businessman Johan Koekemoer. The sun seems to eventually shine again to her.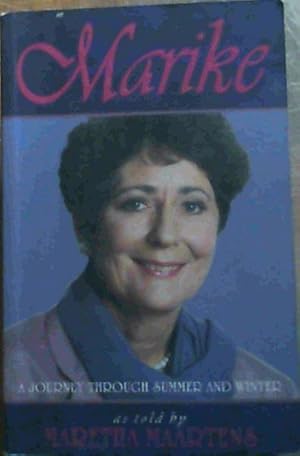 Marike's book " A trip through summer and winter" which quickly prompted FW De Klerk to get a retsraining order against his affair described in the book.
But was to be short-lived. They lasted eight months until coverage of their engagement prompted several of his former acquaintances to allege that he was a con man and wanted for fraud. A week later Mr Koekemoer took off. Koekemoer suddenly were liquidated, -and the relationship crumbled which led to  Marike ending up in a nerve breakdown clinic in Pretoria. By the winter of 2001, she recovered sufficiently to return to Bloubergstrand where she owned a residential unit. She was finally ready to resume her life, and she was eager to implement her plans. She never surrendered her principles, her resistance was a sole act, and had no influence. But she resisted her to this new demonic " changes" because she had to. She owe it to her origin, her education, her predecessors. She could not let go of the work of Nonnie de la Rey, Tibbie Steyn, Annie Botha, Ouma Isie Smuts, Tant Mynie Hertzog, Maria Malan, Susan Strijdom, Betsie Verwoerd, Tinie Vorster and Elize Botha. And she was at peace that she did her best. Her work was finally done. . In the new year she will start again … And then came the night of December 4 ….
Today more than 70 000 white Afrikaners has been brutally attacked and more than 5000 brutally murdered by savage Africans due to De Klerk's capitulation and hand over of his people  to the Jesuit masters in New York and London.Marike's murder initiated the beginning for what's to come to the rest of the white conservative population. But De Klerk's new wife also divorced him – and today De Klerk is a lonely old decrepit remnant of yesterday's treacherous past. Maybe she also could not bear the thought of living in the shadow of a traitor any longer.
De Klerk still busy cavorting  with ex-communists to make a "return" to politics
Smutted hands- the sign of treason.
Today- De Klerk is still a godless atheist that believes in Eastern cults.
Special thanks to Front National's Daniël Lötter for extractions from his article that made it possible for us to compile this article.
SOURCE: White Nation
WHITE NATION– WE DO NOT HATE WHITE LIBERALS– WE SIMPLY DESPISE THEM!!
C'MON- SHARE OUR LINK