Do you have news to tell us? Send your e.mails with news and inquiries to: w.nation@mail.com
Register to follow our news on the right-hand tab
ADD YOUR COMMENT AT THE BOTTOM OF THE PAGE
Article posted  by: White Nation correspondent Johannesburg  August 08   2017
ARAB EMIRATES
A MASSIVE

blaze which engulfed one of the tallest residential buildings in the United Arab Emirates has been brought under control. Dubai's firefighters battled the huge fire for hours before snuffing out the flames at the 79-storey Dubai Torch Tower.
Firefighting brigades from four stations have been sent to battle the flames at the Torch Tower, the fifth tallest residential building in the world.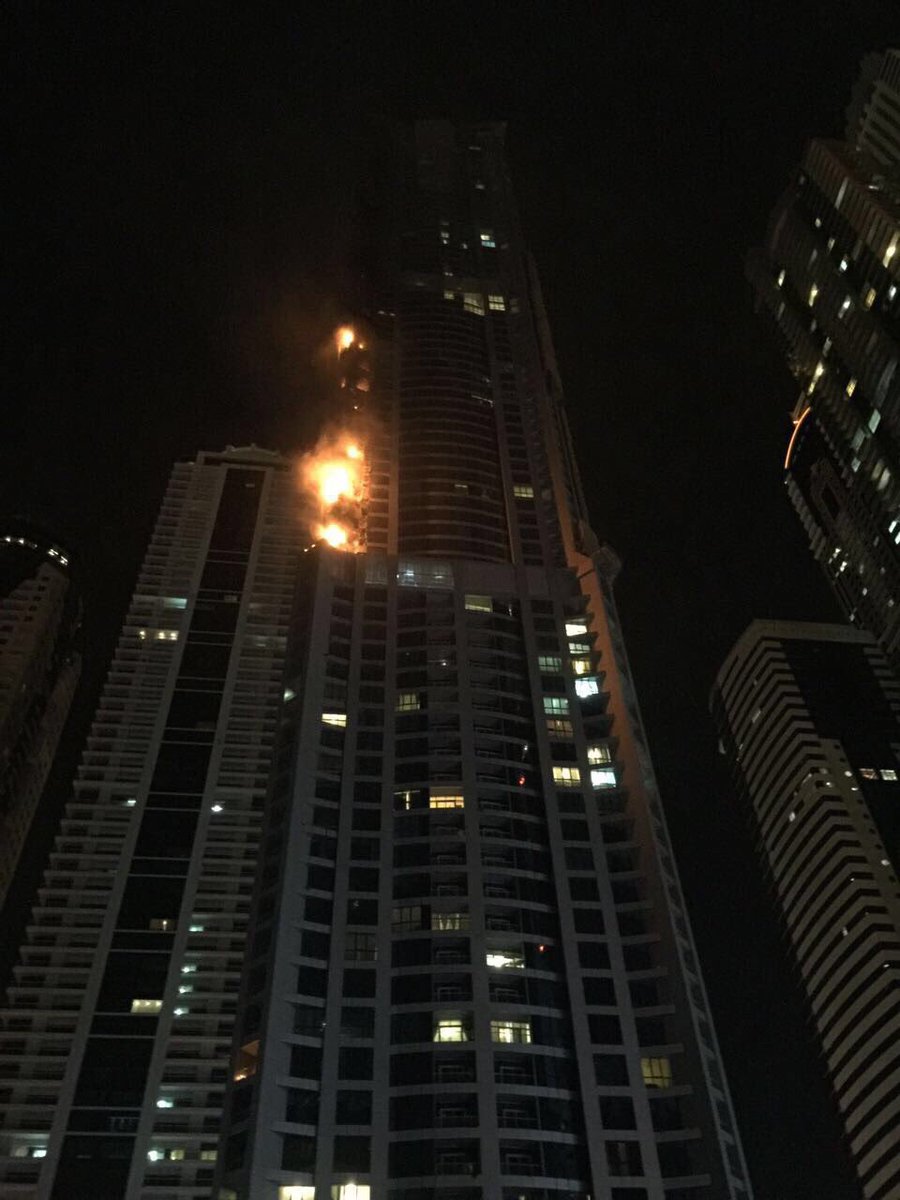 Videos posted online show the flames spreading upwards while pieces of burning debris are falling onto the streets of Dubai's marina. There is no word on casualties, but Dubai's government media office announced that residents have been successfully evacuated from the building. "No injuries have been reported so far in the Torch Tower fire incident," Dubai's media office said in a tweet.
Police and medics on the scene said there were no fatalities or serious injuries. Many people evacuated from the building, however, have suffered from smoke inhalation, according to Gulf Business.Strong winds had hampered efforts to beat back the blaze on the top floors of the building, and it took fire crews over two hours to bring it under control.
The fire is believed to have started on the ninth floor before ascending towards the top stories. "It's big fire started on 9th floor. Civil defence and police in the scene now to control the fire," a Dubai police spokesperson told Gulf News. It's the second time in two years the Torch Tower has been engulfed in flames. In a February 2015 incident, seven people suffered smoke inhalation but the fire was quickly brought under control.
Torch Tower on fire in Dubai 😱😱😱#dubai #dubaimarina #torchtower pic.twitter.com/j7AoPSpOsu

— Filomena (@filssang23) August 3, 2017
The fire alarm went off shortly after 2am, according to a tower resident, who said it wasn't the first incident over the past few weeks."There have been three fire alarms every week recently and all were false," he told Gulfnews. "This time I heard it and said it must be false. But then I smelt smoke. I took my wallet and ran down along with my wife. We live on the 59th floor."
WHITE NATION– WE DO NOT HATE WHITE LIBERALS– WE SIMPLY DESPISE THEM!!
C'MON- SHARE OUR LINK