Do you have news to tell us? Send your e.mails with news and inquiries to: w.nation@mail.com
Register to follow our news on the right-hand tab
ADD YOUR COMMENT AT THE BOTTOM OF THE PAGE
Article posted  by: White Nation correspondent Tennessee USA  August 27  2017
AMERICA
FLOYD MAYWEATHER confirmed that he is once again retired after defeating Conor McGregor with a tenth round stoppage in a true boxing masterclass.
In a result that shocked few, Floyd Mayweather Jr. defeated Conor McGregor by technical knockout before a crowd of 14,623 at T-Mobile Arena in Las Vegas on Saturday. McGregor, though, surprised many by going toe to toe with Mayweather until the 10th round. "He's a lot better than I thought he was," Mayweather said after the bout.  ayweather's record is now 50-0, surpassing Rocky Marciano, who went 49-0. After Saturday's win, Mayweather said this was the final fight of his career, calling McGregor "a hell of a champion."
Two-weight UFC champion McGregor came flying out of the blocks to take the fight to American Mayweather, with the Irishman claiming the opening two rounds on the scorecards much to everyone's shock. But Mayweather stepped the bout up a level and started to take control from the start of the third, and as McGregor tired, the Dubliner was there for the taking with a supreme performance from Mayweather leading to a 10th-round stoppage.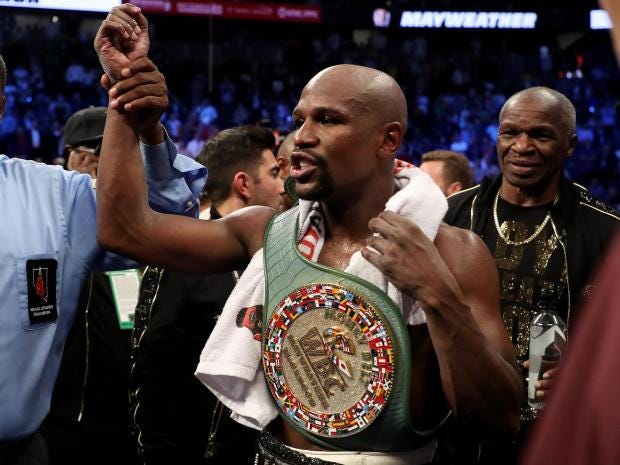 Mayweather and McGregor exchanged positive words afterwards, but despite the allure of another $200m-plus fight to remain active, Mayweather confirmed that 50-0 will be his final record after surpassing Rocky Marciano's existing record. "This was my last fight tonight, ladies and gentleman. Tonight was my last fight for sure," Mayweather said afterwards.
"Tonight, I chose the right dance partner to dance with. Conor McGregor, you're a hell of a champion." The American also paid tribute to professional boxing debutant McGregor, and believed that his desire to reward the fans following his poor showing against Manny Pacquiao two years ago inspired him to one of his best showings in the last decade. "He (McGregor) is a tough competitor and I think we gave the fans what they wanted to see. I owed them for the Pacquiao fight," McGregor added.
"He's a lot better than I thought he was. He was a tough competitor but I was the better man tonight. "Our game plan was to take our time, let him shoot his heavy shots early and take him down at the end."We know that in the MMA he fights 25 minutes real hard. After 25 minutes (tonight) he started to slow down. "If I'm not mistaken, I guaranteed everybody that this fight wouldn't go the distance. Boxing's reputation was on the line."
WHITE NATION– WE DO NOT HATE WHITE LIBERALS– WE SIMPLY DESPISE THEM!!
C'MON- SHARE OUR LINK