Do you have news to tell us? Send your e.mails with news and inquiries to: w.nation@mail.com
Register to follow our news on the right-hand tab
ADD YOUR COMMENT AT THE BOTTOM OF THE PAGE
Article posted  by: White Nation correspondent Cape Town September 12   2017
SOUTH AFRICA– FAILED LAND OF COMMUNIST ANC ORGANIZED CRIME ,LIBFARTS, UNION CHAOS , MISDIRECTED RAINBOW MONKEYS – AND WHITE GENOCIDE
WE all know that the stinking mobs in the corporate business are the main reason that we as the public must pay through our necks for every morsel of basic living conditions we enjoy. This is an age-old way of enslaving the masses. We already saw what big corporations like ENRON, BP, TEXACO and many other mobster corporations do to free thinkers and free energy inventors like Nicolai Tesla and many more. It all revolves around controlling the world's energy resources, food and minerals.
Just recently we read about the "mysterious" murders of doctors, scientists , inventors and pharmacologists. Now we understand the reason why we still are driving outdated oil/petrol driven cars while the first fully water driven engen – or  water fuel cell – which was a technical design of a "perpetual motion machine" created by American Stanley Allen Meyer (August 24, 1940 – March 20, 1998), around which a case of controversy developed. O and do thy ever screw us with the price of petroleum. They have all this very "technical" explanations why the price of petrol "must" go up- but they never tell you as to why the price of brent crude can drop overnight from $ 137.00 per barrel to a mere $ 48.00 per barrel…or why half the price of petrol are spiked with unnecessary government royalties– loosely referred to as "levies." The truth is "they" manipulate world prices as frequent as they see it fit. The price of Brent crude factually IS $ 47.00 per barrel-what you should pay-  but "they" (globalists) will screw you every which way but loose!
Also ever wondered why we still have to cling to the vintage electricity supplier while free energy in the form of magnet propulsion generators (Link) are abundantly available on the internet and fairly  easy to manufacture that  could give us free energy until the corporate gangsters rot over? Simply follow the money line. "They"- the globalist vultures- are controlling us like yo-yos. It's an evil circle. Every time the price of fuel, floor commodities, food or any item goes up….so does the illegal VAT (Value Added Tax) also. What is "Value Added Tax" really- an unnecessary scam– like "Carbon Tax"- to again enrich the globalist establishment- and to enslave you again. Smart terms they use abundantly  to cover-up their evil agendas...just as long as they can nail your wallet.
You see- the more they can force you ever so closer to the bread line- the more you are compelled to take out bonds and loans- which again force you to pay exuberant interests to guess who? Yip- you guessed it right….the loan-sharking "elite!" That is why your country have a PRIVATE owned company called the "Federal Reserve"- a PRIVATE institution that determine YOUR country's currency, de-valuate it,  print it- regulate it- and yea….controlling the loan-sharking banking mecca. You ever heard of another private institution that has that much power over state entities? Nope- you didn't! And who runs the whole bloody despicable show from the top? Yip- the Jewish CABALLAH! THAT was why JF Kennedy and H.F Verwoerd was assassinated…they were reluctant to keep this evil nest of vipers running their countries into the ground and impoverish the people through debt!
With all the talk and rhetoric these days, about "global climate change,"-  it is worthy to mention the works of some alternative scientists in the automobile industry. Of course, we all know that the so-called "scientific community " is being controlled by a hidden (financial) interest. The purpose of this article is to let you know that there are scientists who have invented car engines that run completely on water- and how devious corporations are manipulating the big industries- leaving no space for so-called " free thinkers."  If these scientists had received the necessary support, probably today, we wouldn't be wasting time and resources talking about the reduction of air pollution and combating climate change.
Nonetheless, because of greed and selfishness, the few corporate vultures who control us saw these inventions as a threat to their industry, and therefore used clandestine methods of elimination, or see these distinguished scientists halt some of their best work, stopping their inventions from thriving. Water-powered cars are a threat to the oil industry, which threatens the petrodollar and thus, US foreign policy – particularly in the Middle East; and that is why these scientists were either killed or silenced in order to suppress their inventions.
For example a Cambridge Professor has made the astonishing claim that three scientists investigating the melting of Arctic ice may have been assassinated within the space of a few months. Professor Peter Wadhams said he feared being labelled a "looney" over his suspicion that the deaths of the scientists were more than just an 'extraordinary' coincidence. But he insisted the trio could have been murdered and hinted that the oil industry or else sinister government forces might be implicated. The three scientists he identified – Seymour Laxon and Katherine Giles, both climate change scientists at University College London, and Tim Boyd of the Scottish Association for marine Science – all died within the space of a few months in early 2013.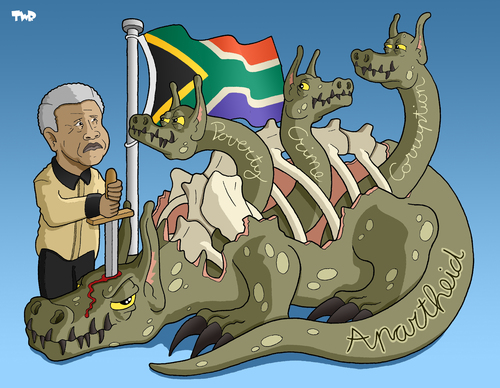 ESKOM- ANOTHER GREEDY CORPORATE VULTURE THAT DOES NOT TOLERATE COMPETITION
Energy minister Mmamoloko Kubayi shocked the private power industry by announcing that all previously-negotiated power tariffs must be lowered to 77c per kWh, and has left companies reeling, reported the City Press. The minister acceded to Eskom's decision to only accept contracts where the cost of energy was below 77c per kWh, affecting 27 energy projects representing over R60 billion.
Mark Pickering, managing director of solar industry lobby group Sapvia, told the City Press there is no legal basis for the decision and attempts to reach out to the minister have failed due to her schedule. "The minister drops this massive bombshell, then promptly leaves for China. After that, we are told, she is on leave for two weeks," Pickering told the City Press. Pickering said Eskom is clearly attempting to squash the renewable energy Independent Power Producer programme and the minister has bought Eskom's story "hook, line, and sinker".Meanwhile the devious criminals running the ESKOM show now again asked NERSA for another 20% tariff increase- PURE RACKETEERING!! AND as a prelude to this sickening action- they again are thinking of implementing "load-shedding" to intimidate the public- starting with 27 towns in the Free State next month.
WHILE ESCOM PAID THE MINISTER TO DROP TARIFFS TO KEEP THE COMPETITION OUT – CITY COUNCILS ARE STACKING UP THE (MAINLY BLACK) DEBT TO WRITE IT OFF AGAIN
The announcement of the tariff requirement follows recent news that many municipalities owe Eskom up to R12 billion, which has resulted in the provider threatening power cuts – due to unmet payment agreements. Eskom has also been plagued by multiple scandals, including its executives being accused of corruption and mismanagement.(Link) 
Forty-eight municipalities still owe Eskom billions of rand in combined debt, Cooperative Governance and Traditional Affairs Minister Des van Rooyen said on Tuesday. Twenty of those municipalities had registered progress in terms of compliance, he said following a quarterly presidential coordinating council meeting at Tuynhuys in Parliament. "Some of the issues that have been raised are currently being looked at by the Eskom board as well," Van Rooyen told journalists in Tuynhuys.
Eskom has agreed that it will align its credit policy to that of municipalities. The power utility currently gives a credit deadline of 15 days, whereas municipalities have a 30-day deadline for their lenders. "There is a positive correlation between the economic status of municipalities and the rate at which they pay their creditors, including Eskom," he said. "It's very clear that the lack of economic basis in many municipalities is one of the key contributing factors of municipalities not being able to pay."
As a result, government would continue to review the current formula for the equitable share of the budget between municipalities, Van Rooyen said. The inter-ministerial task team would continue to mediate the issue, he said. As high as R12bn Van Rooyen did not have the exact figure owed to Eskom on hand. Media reports have put the figure between R8bn and R12bn. iAfrica reported on Tuesday that the combined debt is R11.54bn. Eskom plans to cut electricity to around 42 municipalities due to bills being in arrears, the report said.
Other items on the agenda at the PCC included the progress of the Back to Basics programs in the various provinces and municipalities around the country. Three provinces presented on their progress in the Back to Basics program – the North West, Western Cape and Free State. Jacob Zuma,  Cyril Ramaphosa, key ministers, the South Africa Local Government Association and various premiers were in attendance for the quarterly meeting, including Western Cape Premier Helen Zille.(Link) 
Metropolitan municipalities are owed R64.4bn (R63.1bn reported in the first quarter) in outstanding debt as at December 31 2015. This is caused mainly by black squatter camps, informal settlements and mainly black residential areas. This represents an increase of R9bn (16.3%), from the second quarter of the 2014/2015 financial year. The City of Johannesburg is still owed the largest amount at R21.6bn (R21.1bn in the first quarter). This is followed by Ekurhuleni Metro at R13.6bn (R13.4bn in the first quarter), City of  Pretoria at R7.5bn (R7.2bn in the first quarter) – and Cape Town at R6.9bn (R6.5bn in the first quarter).
Households in metropolitan areas are reported to account for R42.1bn or 65.3% of outstanding debt to metros, followed by businesses which account for R18.4bn or 28.4%. Debt owed by government agencies is approximately R1.6bn (2.5%) of the total outstanding debt owed to metros. Municipalities owed their creditors R27.4bn as at December 31 2015, an overall increase of R1bn on the R26.4bn reported in the first quarter of 2015/2016.
The Free State has the highest percentage of outstanding creditors greater than 90 days at 80.5%, followed by North West at 74.4% and Mpumalanga at 70.3% respectively. The year-on-year increase in outstanding creditors could be an indication that municipalities are experiencing liquidity and cash challenges, said Treasury. Aggregate municipal consumer debts amounted to R117.9bn (compared to R115.8bn reported in the first quarter) as at December 31 2015. A total amount of R574m has been written off as bad debt. On aggregate, municipalities spent 42.7%, or R159.4bn, of the total adopted budget of R373.5bn by the end of 2015. In respect of revenue, aggregate billing and other revenue amounted to 48.6% or R180.3bn of the total adopted revenue budget of R371.1bn. Of the adopted operating expenditure budget amounting to R306.6bn, 44.9% was spent by the end of 2015.
Municipalities have adopted the budget for salaries and wages expenditure at R84.9bn for the 2015/2016 municipal financial year. This represents 27.7% of their total operational expenditure budget of R306.6bn. At December 31 2015 spending was R41bn or 48.3%. Treasury pointed out that waste management continues to perform lower for both metros and secondary cities when compared to other core services.(Link)
Many municipalities are also plagued by illegal electricity and water connections, ( mainly in black residential  areas)  due to ailing infrastructure and poor maintenance. The eight metropolitan municipalities alone forfeit R6.5bn annually through losses in water and electricity.Municipalities will receive a subsidy of R335 per household per month to provide free basic services to over 9 million (black) households, but this is significantly higher than the reported 5.3 million who have reportedly received such services.
O WELL- LET US WRITE OFF THAT DEBT AGAIN- THEY ARE "PREVIOUS DISADVANTAGED." 
Municipal debt should be written off and strict measures for a better collection system put in place, the South African Local Government Association (Salga) has proposed. On Wednesday, Simphiwe Dzengwa, Salga's executive director, said at the Business Day Dialogues, presented with Salga in Johannesburg, that some of the municipal debt is historical debt.
SA's municipalities are owed R128.3bn as at March 31 2017. R1.6bn has been written off as bad debt. The government accounted for 5.1% or R6.6bn, as was reported by Treasury in its Local Government Revenue and Expenditure: Third Quarter Local Government Section 71 Report. The largest component related to (mainly black) households, which accounted for 67.1% or R86bn. The report made it clear that not all the outstanding municipal debt is realistically collectable as it includes debt older than 90 days, interest on arrears, and other recoveries. If consumer debt is limited to less than 90 days, the realistically collectable amount is estimated to be R24.1bn, the report said.
SOMEONE HAS TO PAY- SO…LET'S SCREW THEM "WHITEYS" AGAIN….
HOWEVER- while all is going "honky-dory" in the black residential areas with all the bad debt being written off by various city councils- the same cannot be said about white residential areas- that 'rich" whites. The City Council of Cape Town for example- now are on a witch hunt to target especially white residents to pay up for the loss of income in the black areas. They recon they are going to "clamp down" on all the arrears payments.(That will exclude the mainly black non payers.) Whites on the contrary- are a different story. Many whites in Cape Town suddenly received humongous service account bills – with threats to discontinue services – unless the fictitious amounts schemed-up  by the devious city Councillors added to their accounts- are not paid within a few days. Confronted with this- the Council simply tells white residents that they(the council) have " re-calculated" their accounts and determine they have been charged "too little" for their services- and now they have to pay the " arrears." The same is not done against black residents.
In the black residential areas where most of the wasting and illegal connections take place- the City Council of Cape Town are willing to repair /replace all "leaks" , toilets and taps for free at the tax payer's cost – whereas not ONE council member visited white residential areas with the same offer! (Rich) whites don't struggle to pay for their services- at least this is what the city council implies. No "relief program " for whites consumers- we are afraid! 
White residents got one helluva surprise when suddenly astronomical amounts were added to their accounts- ( fully paid up accounts) – and the council threatening to cut off their services if they do not respond with payment or negotiations within ONE week! One old lady and her husband got a service bill for R 32 000.00!!
LET US HAVE A CLOSER LOOK HOW THE BLACK RESIDENTS IN CAPE TOWN's BLOEKOMBOS INFORMAL SETTLEMENT  ARE " SAVING WATER" –ALL WHILE THE WESTERN CAPE DAMS ARE DANGEROUSLY LOW ON WATER AT PRESENT:
IN ABOUT EVERY STREET YOU FIND EITHER A TAXI -OR A CAR BEING WASHED. WAS IT IN A WHITE AREA- WELL- IN NO TIME THE "  COPSHOP "WOULD HAVE BEEN THERE- GIVING YOU A STIFF FINE.
Just look how those " white racists" are wasting water! Watch below how our African "brethren" are getting their "free " electricity…
Strangely enough did the City Council not sent ONE official into this black areas with the same letters they delivered to white areas- adding astronomical amounts to their accounts (if they get any)– and threatening black residents with service cuts like they did with the white areas. The council does not even lift a finger to address this flagrant theft, wasting and lawless culture in black residential areas….they simply write off the debts year in and year out. There's always the white areas to hit with high taxes and service rates to compensate for the loss of revenue in the black areas. Here you can see how water is wasted at a large scale- but no media frenzy , no threats- just good old black arse licking – and debts being " written off." White areas- the " soft targets"– are pestered and continuously targeted for astronomical taxes and service escalations to pay for all the "written off" black accounts- while black residential areas come off Scott free!
You see- whites, coloreds and Indians are the "minority– so their votes to keep these scrupulous politicians in power does not count. The "minority" does not riot on a daily basis, burn tyres, torch buildings, go on looting sprees and does not steal water and power by simply bypassing city council connections. So- "someone" has to pay for all the "majority's" flagrant theft and destruction- and that "someone" is the "minority." Thus again- 20% of the already oppressed minority must carry 80% of the already free-loading "majority's" burden. THAT is how the South African "democracy" works. Where is the justice- this is blatant discrimination against the white residents! Can Patricia De Lille and her anti-white gangsters in the  City Council of Cape Town explain this to us?
WHITE NATION– WE DO NOT HATE WHITE LIBERALS– WE SIMPLY DESPISE THEM!!
C'MON- SHARE OUR LINK