Do you have news to tell us? Send your e.mails with news and inquiries to: w.nation@mail.com
Register to follow our news on the right-hand tab
ADD YOUR COMMENT AT THE BOTTOM OF THE PAGE
Article posted  by: White Nation correspondent Johannesburg September 30   2017
ALSO READ: The world now talking about the South African white genocide on the farms
SOUTH AFRICA– FAILED LAND OF COMMUNIST ANC ORGANIZED CRIME ,LIBFARTS, UNION CHAOS , MISDIRECTED RAINBOW MONKEYS – AND WHITE GENOCIDE
WE all by now have read about the "horrendous" experience which 36 Dutch tourists had while being on a sight-seeing tour in their own "wonderful" sponsored  "democratic" South Africa. For three whole days it was head line news in Europe.  A bus carrying 36 Dutch tourists to their hotel on Sunday night was stopped by a black thug wearing police uniform along with five plainclothes accomplices travelling in a SAPS car.
The black thugs  then tied up the driver and tourist conductor and allegedly ransacked the group's luggage and assaulted some of them.It was world news- even in the Netherlands. Even the  Southern African Tourism Association want to meet with police to discuss ways to increase protection for their beloved tourists. The tourism association's David Frost said: "The issue of crime and a security thing is an ongoing issue in our country. But clearly, when tourists are targeted it has a major economic impact because it has the potential of those who were thinking of coming here, not coming anymore."How noble! How concerned! Suddenly the poor misdirected Dutch ANC lovers had a rude wake-up call to a horrible reality they helped creating.
LET US HAVE A QUICK GLANCE AT THE NETHERLANDS A BIT- AND HOW THEY WHOLE HEARTEDLY SUPPORTED THE COMMUNIST ANC TERRORISTS INTO POWER:
For a long time the African National Congress had the sympathy of the Dutch government. Since Verwoerd came to power the Dutch already showed their pink undergarments. More and more Dutch citizens  were beginning to feel uncomfortable with the Dutch origin of the term 'apartheid' and with the fact that South Africa's Prime Minister Hendrik Verwoerd was of Dutch descent – Verwoerd, the British media labelled 'architect of apartheid', was born in Amsterdam in 1901.
In April 1960, immediately after the Sharpeville incident , the Dutch Labour Party leader in parliament, Jaap Burger, introduced a motion in the Dutch Lower House condemning "apartheid " as being contrary to the United Nations Charter and the European Human Rights Convention. The government was called upon to take steps both within and without the UN.
Burgers motion was only supported by the Labour Party, the left-socialist Pacifist-Socialist Party (PSP) and the Communist Party (CPN). Another motion was adopted, though, appealing to the South African parliament to "consider a policy that rules out racial discrimination and that will effectively prevent any violation of human rights". The De Quay government, a coalition of the Christian Democratic and right-wing liberal parties, refused to commit itself, citing the time-honored argument that this was a "domestic affair of the South African government". The cabinet therefore felt in no way compelled to take steps against South Africa. However- since the assasination of Verwoerd by the Oppenheimer conspirators- the Dutch government started to support the communist ANC financially and factually supported them in the UN as well. Still today the Netherlands government donate roughly 1 Milliard Euros to the ANC...but not a cent to impoverished white people in squatter camps.
Recently we remember the Steve Hoffmeyer saga.  Afrikaans singer and activist Steve Hofmeyr was barred from addressing an audience in a Netherlands restaurant because of his "alleged " racist commentary. This comes after leftist terrorist  Johan Sloet de Villiers spread lies at the restaurant  Dudok Den Haag of what he calls Hofmeyr's "racially provocative statements".
The face of a liberal white traitor- Johan Sloet De Villiers
Said the white liberal wretch at the time: "I have just spoken to Sandy at Dudok Den Haag. The planned event of Steve Hofmeyr at their restaurant and studio on June 1 has been cancelled! This follows my initial appeal to them to not be associated with his racially provocative statements. My post on their FB-page was supported by other South Africans. Well done, Dudok and all of those in support!"  The restaurant apologized for associating with Hofmeyr, saying it wasn't aware of the controversy surrounding him. Now one wonders if the self-appointed rainbow " representative "  De Villers will await this poor rattled tourists' arrival at Schiphol airport – and explain to them that they actually have been robbed by "white supremacists"– who pulled yet another "black face " racist stunt on them? 
According to this treacherous  de Villiers of the African-European Indaba – a community for Africans living in Europe – the Hofmeyer talk was cancelled after he appealed to Studio Dudok in The Hague"not be associated with his racially provocative statements".  Weeks earlier, de Villiers had warned of Hofmeyer's impending visit.  On their Facebook page, Studio Dudok explained their decision to can the Hofmeyer talk.  "We as Dudok have always taken a stance against any kind of discrimination and racism. We like to be a place where everyone feels welcome as a guest or employee." 
Yeah. What a bunch of hypocrites. "Taken a stance against any kind of discrimination and racism"…My arse. Why don't you idiots take a stance against Affirmative Action, Black Economic Empowerment, racial quotas in sport the brutal killing of thousands of white farmers in South Africa, the expropriation of white land, etc? 
And as for the liberal twat in Holland, Slut de Villiers...if everything is so nice in SA why did you and your followers/petitioners leave South Africa? Why are you now living in Europe and not in a township in South Africa? Tell you what you do mate. If it so OK in rural SA for whites, why don't you buy yourself an African farm and live there without a gun, with burglar bars and without alarms? Let us see how long you last! Anything else…and you are a freakin liberal hypocrite- sharing the stage with other two-face white liberals the likes of  Kevin Fine, Max Du Preez, Pierre Van Tonder , Carina Papenfus  and Gillian Schutte.
So as we can see- the Dutch was no angels when it came to supporting the capitulation of white South Africa to the claws of black terrorists. They are a bunch that appeared to be VERY verbal against "apartheid." Before 1994 they sponsored the terrorist regime with buckets full of money.  Many anti-white "apartheid" and "free Mandela" riots started in that same little floating ark. They even supported Mandela and invited him to visit their tiny little floating island. BUT while the whole world now go ballistic when reality at last hit the naive Dutch cheesers– not a word was /is mentioned about the horrible deaths of farmers in the same time period this poor Dutch "victims" was robbed.. Let us have a look how many whites were attacked and murdered in the same time the Dutch cheese cakes  had their terrible "ordeal" with their black house pets:
Elderly Johan Kunneke (72)  from the farm "Tonteldoos" in the Limpopo province was attacked by three black thugs on his farm this morning. (Link) They attacked him, hit him and strangled him in search for the keys of his safe after they robbed him of his money and fire arms. Did you note the Dutch media and South African media did not mention this-  and the Southern African Tourism Association also seem to have "overlooked" it as well. 
Phillip Du Rand  was attacked by a black thug with a machete on his farm in Tzaneen. He survived the attack.(Link). Again the South African media and Dutch media forgot to mention it.
Then we have Sandra Bates and her son Sean (19) – who were attacked by three black thugs , armed with knives and a hammer, in their home on their farm in Polokwane  last night. Sean shot and killed one of the attackers and wounded another after receiving stab wounds to his head. Sandra managed to disarm one of the attackers. Yes- you guessed it right- the Dutch and South African media slipped up in this one as well.
Sandra Bates' son Sean- bloodied after the attack- and the attacker. Yea….as you can see….he was black. 
4. Then also we have Boet and Jessie Pienaar who was attacked near Mooinooi in the Western Transvaal yesterday morning just after 07H30.
JESSIE PIENAAR after the dastardly attack
5. AND we have Johannes Hermanus Fourie of Louws Creek outside  Barberton in the Eastern Transvaal who was attacked by black thugs at around  18H00 .
6. We also took note of the white father and daughter that was attacked and held at gunpoint in their home by  three black thugs in Lynwood Glen in Pretoria.(Link) 
7. But let us not forget the dastardly attack on Johnny Muller (45), of Frankfort in the Free State- who was bluntly shot  in the head on his farm on Sunday  by two black thugs. ( Link) 
8. We can talk about Herman Du Plessis– another elderly 78 year old farmer who also was attacked on Sunday  by three black thighs on his farm in North-West and had to fight to protect his family. (Link)
9. Can we ever  forget the sick murder of Dr. Werner Emslie (55)  on his farm in Ellisras .Emslie, his wife , dr. Mariëtte Emslie (55), – and the couple's daughter Barbara (19), was attacked on Wednesday night around  20:00 by four black thugs on their farm in the  Afguns region. (Link) 
10. Then I suppose the Dutch and South African media forgot about Piet and Tilla van Zyl– who was brutally murdered by SEVEN black thugs on their farm also in Limpopo too. (Link) 
The murderers of Piet and Tilla van Zyl-: Mhlabane Bheki (30),Mbuyane Mpho Panuel (33),Nkosi Dumisani (33),Shabane Ntando (29),Mlazi Sfiso (36),Bhokodisa Vision (42) and Phiri Nhlanhla Willis (37)  (Link) . As you can see- they are NOT white "supremacists." The question is what would the reaction of the media be if it was 7 white murderers standing accused of murdering an elderly black couple? Where is Al-Jazeera,NASPERS, New Nation, London Times and all the communist media mouth pieces with their daily coverage of this atrocious deed now? The Dutch and South African media will not even show you THIS pictures- simply because the reality in South Africa is the most murders against whites are committed by BLACKS- and the media thrives on DISINFORMATION against whites !! 
11. We also think of Anton Muller- another white that was horrendously tortured with a hot iron and pliers by four black thugs on his smallholding in Vischkuil near Springs. (Link) 
12. May we also remind you of the elderly white couple that was brutally attacked and murdered by black thugs in Schoenmakerskop in Port Elizabeth. The elderly man was shot in the head and his wife repeatedly hit with a telephone wire over the head  and body.The horrifying scene was discovered by a member of the Schoenmakerskop Neighbourhood Watch who received a panicked call from resident, Rheta Taylor, who informed the patroller Greg Kerr that a resident had been attacked. ( Link) 
13. Then we had the white farmer of Jeffreysbay who had to fight off black attackers on his farm in yet another farm attack. ( Link) 
14. Then there is Kuifie Mouton and his wife Karin that was attacked and robbed by four black thugs on the farm in Lydenburg. (Link) 
15. Also an elderly white resident of Graaff-Reinet was killed in his house in the early morning hours of Friday, September 29.  His wife was admitted to hospital in a critical condition.(Link) 
30. Two elderly white people also was attacked in Yaverland on Sunday October 1. Black thugs used an axe. ( Link)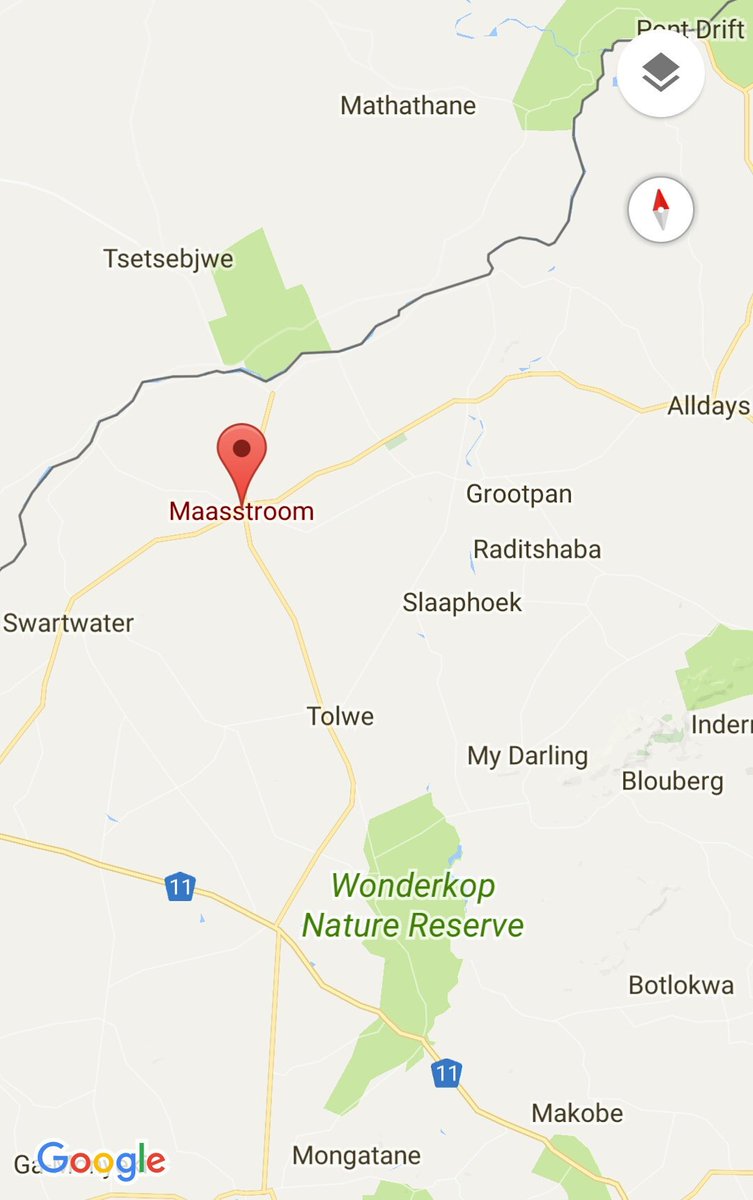 FARM ATTACK: Maastroom Limpopo,farmer checked on his water pumps was attacked by 2 suspects farmer draw his pistol and fired at suspects.(Link)
The Dewald Els is the Orighstad region was attacked by 4 black thugs during the evening of October 01 2017 on his farm "Haak Hoek"– and shot in the lower back. The thugs also had chicken carcasses with them- induced with poison called "Tumik" to poison the dogs with. As always the scum escaped. ( Link) 
EIGHTEEN attacks and  23 assaults  on white farmers this past two weeks that left six white people dead-and the whole world cries a river over 36 Dutch tourists that was merely ROBBED? Even a drunk shebeen shooting in Cape Town enjoys more attention in the media than the onslaught against the white farmers- being referred to as a "massacre."  ( Link) Most people like David Frost also  are carelessly blind – and does not think by murdering farmers  may have a bigger economic  impact than those neo-con Dutch tourists. Yet these Dutch pink slippers just do not learn. Remember when another  Dutch national – 55-year-old victim, Peet van Es–  was killed on April 10 2017 on his  Moseley Farm on the R40 road to the small town of Barberton in the North Eastern part of South Africa? (Link) The news also has caused a stir in the Netherlands- even in their parliament…but still they keep on financially supporting the wretched ANC terrorists! .
BUT– Let us show you just HOW these black thugs – the pets the Netherlands, Belgium, United Kingdom, Sweden, Norway and God knows HOW many (white) European countries are sponsoring- are murdering the white people in South Africa. We quote:
" A Schoenmakerskop white elderly resident who died during a home invasion was so savagely beaten that police initially believed he had been shot. Police said yesterday Ken Alexander, 76, had, in fact, been brutally bludgeoned to death. A postmortem on Alexander, who was found dead on his kitchen floor in the early hours of Tuesday, showed he had died from blunt-force trauma to the head and face, virtually obliterating his jaw.
Alexander's partner, Elaine Allwright, 78, was also badly beaten on the head, but managed to escape by climbing through a window of the house and contacting resident Rheta Taylor, who flagged down patrolling Neighbourhood Watch member Greg Kerr. After emergency services arrived, a bloodied Allwright was rushed to hospital with severe head injuries. Police spokeswoman Colonel Priscilla Naidu said police were not yet sure what Alexander had been bludgeoned with.
Alexander was killed outside his house after getting up to investigate a noise in the garden. His body was then dragged into the house and left on the kitchen floor, according to officials on the scene. "Originally, due to the severity of the wounds, it was believed that he had been shot," Naidu said. "However, the coroner's report has revealed that the cause of death is blunt-force trauma." She said detectives were still waiting for a forensics report. The Trio Task Team from the Walmer police station was handling the investigation.
Schoenmakerskop resident Gail Brown, after a visit to Life St George's Hospital where Allwright remains in the intensive care unit, said Allwright was recovering steadily. "She has improved since [Tuesday]," Brown said. "However, she has quite severe fractures of the skull and there is some bleeding on the brain. "The doctors said she will remain under observation in ICU until Monday at least. "But she is conscious and responding to us now, so she is improving steadily and, hopefully, will continue to do so. "It is a positive sign, though, and very reassuring to have her responding again."(Link)  
TWO months ago , British woman Sue Howarth and her husband Robert Lynn were woken at 2am by three men breaking into a window of their remote farm in Dullstroom, a small town in the northeast of South Africa, about 150 miles from the nearest capital city. The couple, who had lived in the area for 20 years, were tied up, stabbed, and tortured with a blowtorch for several hours. The masked thugs stuffed a plastic bag down Howarth's throat, and attempted to strangle her husband with a bag around his neck. The couple were bundled into their own truck, still in their pyjamas, and driven to a roadside where they were shot. Howarth, 64, a former pharmaceutical company executive, was shot twice in the head. Lynn, 66, was shot in the neck.
Miraculously he survived, and managed to flag down a passerby early on Sunday morning. Howarth, who police said was "unrecognizable" from her injuries, had multiple skull fractures, gunshot wounds and "horrific" burns to her breasts. "Sue was discovered amongst some trees, lying in a ditch," writes Jana Boshoff, reporter for the local Middelburg Observer newspaper. "Her rescuers managed to find her by following her groans of pain and then noticing drag marks from the road into the field.
"Her head was covered with a towel. Her eyes were swollen shut. She was partially clothed with just scraps of her shirt remaining. Her breasts and upper body was bloody. The plastic bag, shoved down her throat, took some effort to remove because her jaw was clamped down tightly. "How she managed to breathe with the bag in her throat remains a mystery. One of her rescuers later recalled how Sue was unresponsive except for the constant groaning. Whilst the man ran back to the road to see if an ambulance has not arrived yet, she managed to curl one of her arms around her breasts in a last attempt to protect herself."
She was rushed to hospital and placed on life support, but died two days later. Due to her British nationality, her murder attracted an unusual amount of overseas media attention. In any other country, such a crime would be almost unthinkable. But in South Africa, these kinds of farm attacks are happening nearly every day. This year so far, there have been more than 70 attacks and around 25 murders in similar attacks on white farmers.
Earlier this month, for example, 64-year-old Nicci Simpson was tortured with a power drill during an attack involving three men at her home on a farm in the Vaal area, about two hours drive from Johannesburg. When paramedics arrived, they found three dead dogs, and the woman lying in a pool of blood, spokesman Russel Meiring told News24. "They used a drill to torture her," police spokesman Lungelo Dlamini said. Official statistics on farm attacks are non-existent, due to what human rights groups have described as a "cover-up" by the notoriously corrupt — and potentially complicit — South African government.
A SPECIAL WORD OF TRUTH TO OUR WHITE  SANCTIMONIOUS TRAITORS IN EUROPE: 
THIS is the naked truth!THIS is what the WHITE  Europeans' black pets are doing to white elderly people in South Africa. THIS s your bourgeois "democracy" which YOU did holler "Free Mandela" for. THIS is now the country controlled by YOUR corporate thugs – and controlled by disgusting WHITE liberals like all the Sloet De Villiers types sitting  behind a bunch of half-wit Nguni despots that think they can play "government."THIS is suppose to be better than "apartheid?" This is what yo hail as a "rainbow nation"– and a "Democracy."
Yet when a few blacks in Darfur, Nigeria  or Somalia gets murdered by renegade black rebels- immediately the United Nations and Red Cross  sends  special envoys. Immediately the EU acts and supplies humanitarian aid. But when whites are murdered on a genocidal scale in South Africa – the world appears to be blissfully ignoring what really is happening in South Africa. Ironically enough is it not the blacks killing the whites in South Africa that pose the biggest threat to the whites – but the powers BEHIND the black assassins. And that "powers" are situated in WHITE Europe! The most demonization, financial attacks, media scourges and willful oppression comes from WHITE European liberals- not even the blacks themselves. But through all this mass murdering and silent discrimination against the whites in South Africa- the world still advocates that "democracy" is far much better than "apartheid."  If you really believe this bullsh*t- You are truly mentally handicapped- strewth!
BUT then again we are talking about white LIBERALS here- and we all know that Europe is the portal of hell itself- with umpteen irrational white demonic spectacles  running rampant and posing as " politicians" in the parliaments of most European countries and a human conundrum full of malicious misdirected goats sucking up dearly  into non-white arse out of pure desperation and  last-ditch survival convulsions . WE know the majority Europeans are well beyond psychological  assistance. Their brains are totally wired up back-wards. This again was proven when the majority Scotts voted NOT to secede from that devilish Britain- but rather prefer that anti-white vixen Nicola Sturgeon to keep them under the Jew-EU control – which ultimately will impoverish and alienate all the whites  from their country- just like South Africa.
Speaking of Britain – we also are well aware that the British elite  are supporting the black terror movements in Africa- and the British Jewry still funds despots such as Mugabe, Malema, BFL Mnxitamaet al to create civil wars and rebellions. Certain South African ANC high-ups screwed many a white libtard during  their M5-sponsored visits to London as well – that also is no closed secret. It comes to show really how low the British moral values has stooped as well. Looking at the Lee Rigby case and how the British government, judiciary and press treated the affair – one just can shook your head in dismay at the degradation of the normal British citizen's moral  values.
And Theresa May certainly is NOT your every-day "conservative"  -minded leader either. She also is heavily entwined in the EU Jews' pocket strings- and will gradually pull Britain BACK into the EU- Brexit or not.  The Jews need the British taxes in their bank accounts – and they need it BAD! The shrewd Jews in the EU will find a way to entrap Britain with the help of the likes of May herself – sooner or later!  We  also already are well aware of the fact that the Netherlands are way beyond human help too with half of their country smut with white liberals who secretly allows thousands of non-whites into slums such as Bijlmermeer.
We now again saw how that she-demon Merkel AGAIN was voted back into power. So much for the German "patriotism." Germany by now are overrun by Arab camel jockeys that dictates the election box. We saw how Sweden descended into a total black conscious abyss. But then again Sweden went into a moral decay years ago already- sponsoring terrorist movements such as they ANC – and advocating multiculturalism BIG time. So as for Sweden- their liberal dream turned into a black nightmare with only South Africa still beating them to the rape-capitol punch! We noted how Norway capitulated just like Canada into a total disarray of a multicultural mess-  and heading for a  liberal apocalypse through the assistance of the Jew masters and abyssinial she-devils  like Barbara Spectre.  We took note how the French toads voted sanity in the form of Marine Le Pen out in favor of a  bleak  pipsqueak libsh*t Cockerel   and his sugar mommy to allow their country again to be overrun by dark invaders even more.
THE TRUTH IS….
Would white Europeans  care if it was THEIR elderly mother and father that was brutally murdered like this? The answer is NO– these white liberal scumbags  would not even care for their own parents- as liberals have NO conscience  , no compassion- and no respect for another human life- PERIOD! To them it's all about money and power. Now why would they care about an an elderly couple that happen to be the parents of someone else- especially a white AFRIKANER? Their ostracized mental capability does not allow them to reason very much beyond  their limited minute brain capacity.
AND you recon these white European apes are going to assist the white Afrikaner in his desperate plight facing  a whole world full of hippocrates, corporate wolves and plunderers? I have a feeling that is NOT going to be the case. The white Afrikaner is on his own- do NOT expect any help from a white EUROPEAN..….they already are too deep into the invasion trap the Jesuit snared them into- they cannot even help themselves! I am not even talking about the so-called white South African "ex-pats"– who supposedly fled South Africa for the same reason of oppression and white murders. Yet where they now comfortably sits overseas-  their own silence is deafening. Not a sound from their lips  to help spread the word of what is happening in South Africa. They now conveniently forgot about their own brethren who still face this genocide on a daily basis. They have become the same type of treacherous dregs as the rest of Europe, Australia and New Zealand. You really are the worst kind of traitors- even worse than the homogeneous whites of Europe.These "ex-pats" are supposed to be the ambassadors for the white people- messengers that will tell the world about the suffering of their people back home- but they also became careless mute minions of their respective alien hosts. And when a war should break out in South Africa- these traitors will quietly sit and watch the news- no support- no front-line duty for their country. After the war subside and peace reign again- they again will slither back like the reptiles they are – and tell everybody how they "missed" South Africa.
Here's the CCTV footage of the Bedfordview hijacking we posted about this afternoon – https://www.facebook.com/LocalsSA/photos/a.427121014164311.1073741828.151590018384080/709952869214456/?type=3

Posted by News, Accidents, Robberies & Incidents on Sunday, October 1, 2017
THIS is the true face of South Africa- a criminal utopia for black savages.
Then we also have those false "Christians." Where is all the "Free Mandela" stamina now? Where is all those supposedly "Christians" now?Why don't you also march for the white people of South Africa as you marched for a communist instigator to  mass murder?  You- as with most bourgeois "Christains" in South Africa – are no more children of God than you are patriots of your country. You also voted for the criminal Barnabas– rather than the innocent One. O how vile have you become? How treacherous have you become? Your religion has become powerless and your resistance feeble.
This comes to show that the majority of "Christians" also are hippocratic weaklings- weak agents of a false  world religion with a Babylonian Bible under the arm. You KNOW what's happening in South Africa- you SEE what's happening in South Africa on a daily basis – you are well AWARE of what's happening in South Africa- yet you prefer to uphold your "diplomatic" silence and not get "involved." Your silence is deafening- your guilt is uncountable– for your silence gives power to thee reptiles killing your Christian brethren. It is of you that God spoke when he said He will spit you out of His mouth. 
ESCALATING FARM MURDERS
To date this year Limpopo has experienced 302 farm attacks with 61 fatalities recorded, a clear indication that on some days more than one farm attack occurred. These figures were made available by Transvaal Agricultural Union (Tau) former Chairperson North Region, Steven Vermaak during the official launch of the Provincial Rural Safety Plan at the Polokwane Show Grounds on Friday. Vermaak urged communities to work with Police to fight these crimes.
Officials from law enforcement units demonstrated how they operate when dealing with farm attacks and what was likely to happen during these attacks.

Provincial Crime Prevention Coordinator, Martin van Staden said the purpose of the gathering was to educate farmers and the community about scenarios that can occur during a farm attack. He said neighbors should always look out for one another to be able to alert the Police when an attack occurred. He added that neighbors can safely monitor the situation and provide the Police with information that will help with investigations.
Deputy Provincial Commissioner responsible for Policing, Jan Scheepers, emphasized that the aim of the Provincial Safety Plan was to improve safety and security within the community and strengthen relations between the farming, rural community and relevant stakeholders. Rural safety plans will be inclusive of all communities within the rural environment including farmers, farm workers and subsistence farmers.
The launch of the plan followed a meeting between Police Minister Fikile Mbalula and South African Agricultural Industry Association (AgriSA), represented on Wednesday. Mbalula reportedly stressed the duty of the Police. "It is our duty to protect our people. The majority of farmers are hard-working persons who ensure food security for our country. There are a few farmers who may be racist, but not all. Good farmers contribute to the economic growth of our country."
It was agreed in a meeting that within two weeks a plan of action must be developed and a task team established up to implement the plan. The plan includes an increase in Police visibility and an accessibility of Police to farmers and farm workers.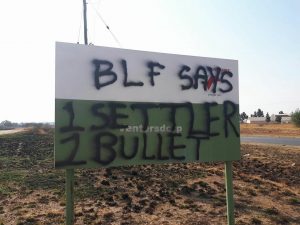 What about " One Taxi- One hand grenade?" Or " One settler – One Newspaper Editor?"  Will the hippocratic media also be silent if this type of slogans appears on road signs? What about the Boers sing "Kill the Ngunis  , kill the blacks'" at the next funeral of a murdered farmer? I bet THAT will leave a shake up in the media vipers nests afterwards
In 1980 there were 127 000 commercial farmers serving a population of 25 million people. As a result South Africa used to feed nine neighboring countries. In 2016 there are only 30 000 commercial farmers left serving a population of 55.9 million people. The communist ANC  are well informed on this statistics-  but show no concern.
Souh Africa is  now a net importer of food, where we used to be a net "EXPORTER" of food, yet the criminal ANC show no concern, even as the Rand devalues substantially, eroding our purchasing power.
Why has the South African farmer become the world's most endangered species? Why are South Africa's few remaining commercial farmers now most at risk of being murdered in the whole world? They are being murdered at 264 per 100,000 population group. It is the highest in the world! A Nedbank probe a while back  described these farm attacks as 'deliberately targeting specific homesteads to kill the Afrikaner victims.'"
USELESS GOVERNMENT ADVOCATING FARM MURDERS
The illegal ANC terrorists  has created a scenario where we are only a few years away from facing tremendous food shortages that will result in human suffering and hardships for all South African citizens, a humanitarian crisis beyond anyone's comprehension. The danger to South Africa is not "Jellyfish" , but a citizenry capable of entrusting an illegal  political party like this. Ironically it will be far easier to limit and undo the follies of a "ZUPTA" presidency, – than to restore the necessary common sense and good judgment to a depraved electorate, willing to have such a man for their president, who would undermine our future food supply.
The problem is much deeper and far more serious than "Jellyfish" , who is a mere symptom of what ails South Africa. Blaming the prince of the fools should not blind anyone to the vast confederacy of fools that made that prince.
The common values that draw all good South Africans together is under threat by an elite-black government that is rotten to the core, and obsessed with self-wealth accumulation. Deep down the incompetent ANC terrorists are  embarrassed by their  own lack of black values, and is propped up by a group of blindly loyal voters who are starting to awaken to the two decade-long foolery that has occurred.
With the useless cleptocratic ANC  in power, they did nothing to further the cause of Africans. No advances in agricultural production, no investment in manufacturing, unforgivable dumbing down in educational standards, blatant avoidance of much needed land re- appropriation, – and massive neglect of infrastructure and service delivery.
The  ANC ghouls  made no effort at unifying black languages. They did not set up schools and universities or teach black languages/culture on any significant level. In fact, the plundering communist leaders made a point in sending their own children to be taught in English. Many seemed deliberately to choose schools where most of the teachers are non-black. With good schools for their own children, they betrayed our children with a truly awful schools, all whilst promising they would do better. The criminals in charge have betrayed the country.
The problem that whites today are facing is that "white guilt " is now being used as a tool to promote abortion! Our enemies are desperate to bring about our demographic demise."Diversity" simply means no more white countries, no more white families, no more white people. "Diversity " is just another "smart term" for a  white genocide. Soon it will be a registered crime to be "Caucasian." In South Africa this outlook already is propagated by the British communist Jews and their black heathens in control- there the diabolical onslaught against the whites in general- on social level, in the work place, on the financial level- and on their lives. 
A betrayal that cannot be forgiven. We cannot stand for this any longer.For the citizenry to awaken, they need to understand that their so-called " leaders " are not who they appear. They are Illuminati chameleons in South African colors.  It is clear that the communist  puppets and their cronies are predominantly 'Afro-Saxon'. The louder they shout about African values, the more ashamed they are of them. A deep and profound self-doubt about their African identity cripples them psychologically, and manifests itself in resentment, as you can read almost every day in the sections of their controlled newspapers, and as revealed by deflecting blame at easy targets. Targets like – Minorities, The West, Apartheid, The Weather, White Monopoly Capitalism… yes, it's all been a game of deflection -!!
Whenever you hear an ANC rat politician calling for "African solutions " for African problems, you know that by "African solutions" he means a German car, English suits, Italian shoes, a clinic in London and, above all, education for his children in an European language. Do we  dare mention the name of the most famous Afro-Saxon, Robert Mugabe -?? The African leaders who have these self-doubts are painfully aware that other proud cultures have no such self-doubts – other cultures are proud of their advancement, their traditions, their language, their ability to thrive and self-sustain. Clearly the African "elite"  lack this pride in South Africa, otherwise why knowingly erode our ability to sustain our own long term food supply -?? If South Africa's vicious farm murders had occurred in America, these would have been world news. But these 'only' occurred in South Africa, and so the rest of the world remains oddly silent. Post-apartheid South Africa is apparently "immune "  from the usual investigative journalism being conducted in the rest of the Western world."
The secret is now public – our capitalist ANC infested  rulers doubt their true identity as Africans, in fact they relish in their secret hatred for their own people, enough to where they would actually create a master plan for the starvation of millions in order to continue their domination. Millions of us in South Africa are now aware of this trickery and deception. It is time to remove the self doubters and those who plan for the starvation of our country, and put a halt to the suffering of our people. We MUST protect our white food suppliers- for farming Africans can not- and protecting those whites that can farm- this pseudo regime will not! As for those 36 Dutch tourists that could not get out fast enough from the hell-hole they have helped creating- well- we hope to see you smiling faces back soon again. (Although I doubt it very much. Traitors and cowards seldom return to be struck by reality twice!Reality sometimes is a bitch especially for blind hippocrates.)
SOURCES:
http://ewn.co.za/2017/09/27/tourism-association-to-meet-with-police-over-dutch-tourist-robbery
WHITE NATION– WE DO NOT HATE WHITE LIBERALS– WE SIMPLY DESPISE THEM!!
C'MON- SHARE OUR LINK