Do you have news to tell us? Send your e.mails with news and inquiries to: w.nation@mail.com
Register to follow our news on the right-hand tab
ADD YOUR COMMENT AT THE BOTTOM OF THE PAGE
Article posted  by: White Nation correspondent Witbank October 01   2017
ALSO READ: The great South African land scandal
SOUTH AFRICA– FAILED LAND OF COMMUNIST ANC ORGANIZED CRIME ,LIBFARTS, UNION CHAOS , MISDIRECTED RAINBOW MONKEYS – AND WHITE GENOCIDE
RECENTLY we have seen how the illegal communist regime in South Africa mounted a massive drive to disown white farmers from their productive land. The fact is that there are millions of acres of inhabited empty land laying around in South Africa- but the terrorist regime of Jacob Zuma only have productive white farms in their cross hairs- and we already are aware as to why. Looting farm equipment forms part of their so-called " Land Expropriation" plans as most black have no clue precisely what to do with a fully productive farm-  bar squatting on it.
Except for the fact that the land issue is a huge political propaganda ploy to try winning votes for the next election- it also forms part of the communist illegal rulers' hidden agenda (pre-1994 manifesto) to drive white people out of South Africa. We have heard Jacob Zuma, Julius Malema and that half-wit dork Andile MNxitama singing the same tune about land grabs too.
EVEN upcoming wishful thinking despots such as that dyno-pachyderm Nkosana Dhlamini Zuma want to keep the evil legacy going by blaring about land grabs too.  What Dlamini-Zuma barfed  was the "redistribution of our land which was taken from us through the barrel of the gun". "We need to return our land to our people. We need land for residential purposes, to build businesses, schools and universities, recreational purposes and, of course, agricultural purposes," she bellowed at fellow blood-suckers at the Osizweni Community Hall.(Link)  We know this poor uneducated looser has her eyes focused and back-side warmed for the presidential seat as well.
The attacks on white sovereignty in South Africa can be seen as one of the world's most atrocious abuses  against human rights . The latest Land Expropriation Act approved by the majority black communists only forms part of a whole string of anti-white laws the ANC depots want to utilize to substantiate their anti-white racist drive in eliminating white ownership in South Africa.
Since the illegal take-over in 1994- the British-sponsored communist regime in South Africa systematically ensured that they create numerous abusive systems and laws specifically aimed at disowning whites from about everything they posses- which includes their jobs, heritage, language, history, representation, basic human rights- and property. Gruesome murders on whites also is nothing new in Africa- THAT already dates back to the days the first whites set foot in the Cape Colony.
Attacks on white farmland also is nothing new in Africa. This land-grab thievery by black African dictators goes back to the days when Jomo Kenyatta of Kenya also ventured on the same evil quest to drive whites out of Kenya and Tanganyika in the late 50's through the creation of government-sponsored rogue militant black rebels such as the Mau-Mau. Then we again observed the same tactics in Mozambique and Rhodesia under the despots Joshua Nkomo and Robert Mugabe.What Jacob Zuma and his ANC les miserables are doing today trough their own black rebel forces such as the EFF and BLF  only is a repeat of what other earlier African dictators did.
BUT then there also is another age-old hidden agenda surrounding the the latest zest to disown white farmers fro their land- the self enrichment program. As always this evil agenda were propagated as a "victory" for blacks who were "dispossessed " of their land. This obviously is a false political fabrication and they know it.  Again this is nothing new as we already saw how black African Stalinist  fascist autocrats use the same tactics in order to  gather umpteen riches through the illegal theft of especially white farms. Robert Mugabe did the same thing- and we also now see it happening in Namibia under the reign of Hage Geingob– irrespective of his feeble "promises" that no white land will be taken away. Proof of this South African  tyranny can be found again in the latest incident which involves the communist ANC's minister of Rural Development and Land Reform – Gugile Nkwinti.
Gugile Nkwinti helped an ANC comrade take over a R97- million farm in Limpopo, which then fell into ruin, reported the Sunday Times. The minister denied wrongdoing to the newspaper. "Bekendvlei Farm was bought for R97-million and handed over to Errol Velile Present, who had been working at Luthuli House for more than 10 years, and his partner, businessman Moses Boshomane, to manage," reported the newspaper on Sunday. "The senior department official had prioritised the deal by bypassing required procedures. A day after the deal went through." Nkwinti was the speaker at Present's lavish wedding. "Neither Present nor Boshomane had an ancestral claim to the farm. They also had no experience in agriculture." (Link)
The newspaper said the farm was bought by Nkwinti's department, although it was not subject to a land claim, and handed over to Present and Boshomane to manage. Although the department spent another R30-million on running costs, the farm workers were not paid for five months and the farm became run down. "About 3 000 cattle, worth almost R18-million, were sold off, machinery disappeared and crops died," said the newspaper. Nkwinti eventually evicted the men in March last year. The minister's involvement was exposed in a forensic investigation by auditors Deloitte, with a draft report in May last year recommending that Nkwinti be charged with corruption, but the final report in November does not mention Nkwinti or recommend any action against him.
The department's deputy director-general, Vusi Mahlangu, was fired over the matter and the department's director-general was suspended, said the newspaper. Nkwinti confirmed to the newspaper that he knew Present but denied any wrongdoing as usual and as expected. Last week in his annual State of the Nation Address (Sona), Jacob Zuma emphasised the ANC drive and so-called "the need for land reform,"-  with only 8 million hectares of arable land (10% of the total) transferred to black people. What Zuma and his cohorts meant that only white PRODUCTIVE land must be "transferred"– iow STOLEN.
This was what Zuma  said about land reform in the Sona:
"It will be difficult if not impossible, to achieve true reconciliation until the land question is resolved. Only eight million hectares of arable land have been transferred to black people, which is only 9.8 percent of the 82 million hectares of arable land in South Africa.There has also been a 19 percent decline in households involved in agriculture from 2,9 million in 2011 to 2,3 million households in 2016.

We had stated our intention of using the Expropriation Act to pursue land reform and land redistribution, in line with the Constitution. I have now decided to refer the Bill back to Parliament for reconsideration on the basis that the Bill might not pass constitutional master. This is due to inadequate public participation during its processing. We trust that Parliament will be able to move with speed in meeting the requirements so that the law can be finalised to effect transformation.

The reopening of land claims is also still on hold because the Restitution of Land Rights Amendment Act, 2014 was declared invalid by the Constitutional Court. The Constitutional Court found that the public consultation process facilitated by the National Council of Provinces and some Provincial Legislatures, did not meet the standard set in the Constitution. Going forward, government will continue to implement other programmes such as the Strengthening of Relatives Rights programme, also known as the 50-50 programme.

In this programme, the farm workers join together into a legal entity and together with the farm owner a new company is established and the workers and the owner become joint owners. To date 13 proposals have already been approved benefiting 921 farm dweller households at a value of R631 million. We applaud farmers and farm workers for this innovation. Most importantly, we appeal to land claimants to accept land instead of financial compensation. Over 90 percent of claims are currently settled through financial compensation which does not help the process at all. It perpetuates dispossession. It also undermines economic empowerment.

Government has committed itself to support black smallholder farmers. I received a memorandum from the African Farmers Association of South Africa who say the year 2017 must be the year of the commercialisation of the black small holder farmers. Indeed, Government will implement a commercialisation support programme for 450 black smallholder farmers. We encourage more women to consider farming. I have as a special guest today, the 2016 Female Farmer of the Year, Ms Vanecia Janse from Koukamma municipality in the Eastern Cape."

BUT WHAT IS THE REALITY AROUND THE ILLEGAL ANC REGIME'S LAND CLAIM DRIVES?
THE reality of "land distribution" is that it is a miserable failure- both for the white farmers- as well as fo the "new" black farmers.  Ask two neighboring farmers and the answer probably will depend on their race. There's so much bitterness beneath the competing narratives, it's difficult to discern what is fact, what is misinformation and what is just an ingrained disinclination to see the other point of view.
There's no dispute, however, that the government has spent about $4 billion (tax payers money) – on the effort and that most of the farms have failed, raising the specter of the kind of catastrophic agricultural collapse that Zimbabwe suffered after large white-owned farms were seized and handed to political cronies.
South Africa's target, to give 30% of commercial farmland to blacks by 2014, has been put back a decade, and will cost an additional $10 billion.(More taxpayers money.) The policy was marred by corruption , non-competent black farmers- and bureaucratic inefficiency. But the main problem was that, like Zimbabwe's program, land was handed out to people who did not know how to farm. "The government didn't have a strategy to ensure that the land was productive. If there was a strategy, it was not backed with proper resources," Land Reform Minister Gugile Nkwinti said recently.
About 90% of the redistributed farms have failed, leaving idle nearly 15 million acres of once productive farmland, about 6% of South Africa's arable land. "The whole policy is set up for failure," said John Kane-Berman of the South African Institute of Race Relations. "This is a very tough country to farm in, and you take people without a great deal of experience and without the dedication and commitment to farming and it's not surprising that they fail. "You can speed up the redistribution of land, but you can't conjure up farmers."
BUT this is a lesson the ruling communists in Lethuli-House and other political parties seemingly refuse to acknowledge. To them it revolves around scoring political points– and not really caring for the people who's lives they turn upside-down. For despots like Julius Malema and Andile Mnxitama it's all about trying to get ultimate power. They have no sense about political or agricultural dilemmas and what the financial and socio-economic consequences might be. For these empty heads that barely can calculate weights and counterweights – barfing and instigating race hatred around land issues show us that with their unrealistic  miscalculated policies- South Africa soon will be nestling in with Zimbabwe on the British hand-out wagon of starvation. That is the reality! Now add to this the horrendous onslaught against the white farmers- and that stark reality becomes more serious than ever.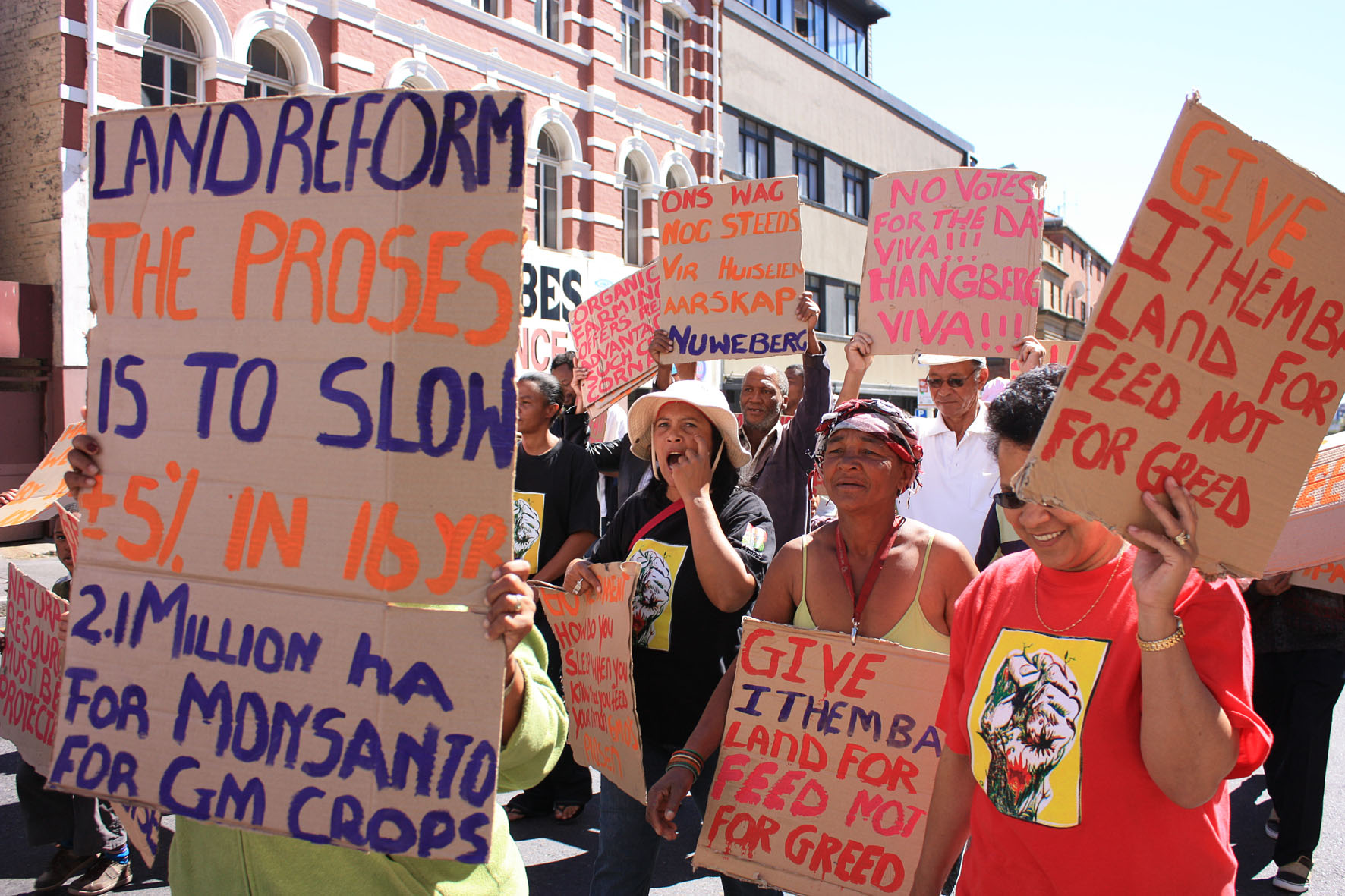 It is one thing for an uneducated  city dweller to go on the rampant and 'demand" land….
It is quite another story to cultivate that land into a productive business..
For example:  Johan Van Dyk is a farmer that sort of help new "upcoming" black farmers. . His neighbor is a black farmer- Michael Zulu. During a visit from the Los Angeles Times  he took the reporter along- and drifts by Michael Zulu's farm and another farmhouse where a white family once lived. "The fellow that used to live there was murdered," he remarks blandly.
Van Dyk, one of the wealthiest men in Zulu's district, drives by the farms now run by blacks, gesturing toward the ruined buildings, the missing tin roofs and tumbledown walls. "That's a white farmer now," he says, pointing. "All the roofs are on." It's pretty, rolling country, greened by the summer rains, but resentment and racial stereotypes slither beneath the surface. There's bitterness on both sides, even violence: white farmers' dogs poisoned; break-ins, family photos smashed; farmers slain.
Men like Van Dyk, 56, would rather shoot a prowler dead than hit him in the leg. He calls his son a "bad shot" for doing just that to a black thug, armed with a knife, who broke into their house recently. Van Dyk carries a switchblade knife. So does his wife. And their black farmhands and gardeners never cross the threshold of their home. Van Dyk's new black neighbors are disturbed by what they call his habit of carrying a gun whenever he turns up, "as if we were enemies." They falsely believe most white farmers are just waiting for them to fail, so they can swoop in and buy the farms back, cheap- just like the white farmers wait for the government to swoop onto white farms to buy it and sell it cheap to their cronies. .
PLEASE HAVE A LOOK-SEE HOW THE IDOTS THAT FABRICATE  SOUTH AFRICAN OPPRESSIVE LAWS BEHAVE….
https://www.facebook.com/Ramkatlee/videos/10211471110028006/
-AND THEY EXPECT US AS INTELLIGENT PEOPLE TO ADHERE TO THEIR LAWS? THINK AGAIN!
Eight years ago, Michael Zulu joined a group of about 206 blacks who called themselves the Sizanani farming company. A few were farm workers, the rest township dwellers with no farming background. With government grants, they bought seven farms, elected a committee and planted crops. Zulu doesn't know anything about the Sizanani farm finances, just that the money ran out after a few bad maize crops. Then he sold the tractor tires and radiator. He sold chickens. He gave up trying to farm his own land, and hired himself out on other farms, herding other people's cattle or working as a gardener in the nearest town. "We think we should go to the government again, for more money," he says.
He's the farmer now, not just a tractor driver for a white farmer named Engelbrecht, like he used to be. But he has a shirt full of holes, the roofless ruins of a dairy and a stretch of farmland whose only crop is cow manure, bagged up and stacked against a wall as a substitute for firewood. There's no electricity on his farm, just an hour's drive South-East of Johannesburg. The fences and phone lines have been stolen, along with the dairy's roof and fittings. He has to fetch dirty pond water for drinking and washing and set out rickety rabbit traps for meat. "I thought I'd be much better off. But I think it was better with Mr. Engelbrecht. We lived high with Mr. Engelbrecht. We got money from him and we could look after our children." he said bitterly. To him, it comes down to one wrong turn: He applied to get a farm under South Africa's land reform program.
While Zuma, Malema and Mnxitama are living far, far away from reality in their little enclosed world of misdirected corrupt politics- the reality of their misplaced actions can clearly be seen and felt hundreds of kilometers away on the rural farms where normal people suddenly were faced with unexpected troubles and the realization that you cannot change from a illiterate and uneducated squatter camp dweller into a professional business farmer within a day.
An all-too familiar sight in Zimbabwe- and soon in South Africa: Political thugs instigating white land invasions. The result now is Zimbabwe on the brink of starvation.
Between 70% and 90% of the projects have failed and the debt is now placed on academics and politicians' shoulders due to lack of support from the landowners. The lack of knowledge, poor planning and internal struggles in communities are given as reasons for the failure of the projects. Aspirations and the ability of the new landowners are obviously not taken into account. To that end, the observations of even highly developed and profitable farming enterprises were turned into ghost farms where the infrastructure has collapsed and production ceased. However, the communist government idiots with their hidden agendas maintains that they want to continue with this failed project, based on pure African culture.
Still irrational nincompoops like Zuma, Malema, Mnxitama et al proceed to pursue a failed exercise that ultimately will cost South Africa dearly in the future. Those  same " previous disadvantaged" voters they claim to represent will on the end of the day eventually die from starvation. The only victors that will benefit from this failed venture will be the communist ANC polit buro and their cronies when they again will buy derelict farms at garage-sale prices. It is because of this communist despots that so many white farmers are murdered- murdered because illiterate naive blacks actually believe this malicious propaganda and culture a hatred against white farmers for "stealing" their land. On the end of the day it will be the African dictators who again will reap the benefits they sowed into other people's blood and misery.
SOURCE: White Nation
WHITE NATION– WE DO NOT HATE WHITE LIBERALS– WE SIMPLY DESPISE THEM!!
C'MON- SHARE OUR LINK