Do you have news to tell us? Send your e.mails with news and inquiries to: w.nation@mail.com
Register to follow our news on the right-hand tab
ADD YOUR COMMENT AT THE BOTTOM OF THE PAGE
Article posted  by: White Nation correspondent Cape Town  October 08   2017
SOUTH AFRICA– FAILED LAND OF COMMUNIST ANC ORGANIZED CRIME ,LIBFARTS, UNION CHAOS , MISDIRECTED RAINBOW MONKEYS – AND WHITE GENOCIDE
WARNING- GRAPHIC CONTENT. NOT FOR SENSITIVE VIEWERS!
SOUTH AFRICA ostensibly is a country who's controllers exercises the worst kind of naked racism and discrimination  in order to stay in power. South Africa also is a country with the most vindictive, cruel and racist black population on earth that refuses to obey any Western law bar those in favor of themselves. It is a country that is ruled with double standards and a questionable judiciary that rather would apply unfair  " political correct" bias verdicts- than honest and righteous judgments.  Racism and discrimination after "apartheid" changed  into a new jacket of human rights abuse and we have a new kind of racism in place – they call it BLACK racism! 
Because in the new "democratic" dispensation only "Black lives matter"– the "majority " population of South Africa only have three basic laws in place:
Rule  1)The communist government have ALL the rights- the right to murder, oppress, steal, discriminate, plunder , sell out the country and it's assets, , live in extraordinary wealth, set up private armies, right to impose inhuman laws violating the rights of other race groups- and be utterly corrupt. They are the "untouchables." They are "indemnified" against any legal action or prosecution.  
Rule 2)  The "majority " are the only ones that are allowed to have human rights, rights to strike, rights to destruction, rights to claim land, rights to go on violent riots and plunder businesses and torch property, rights to demand free education, rights to destroy the cultures and statues of other race groups, have the right to discriminate against other race groups,rights to call other people "racists",  have the right to call other race groups derogatory names, place inflammatory and dehumanizing  posts on social sites,  rights to victimize against the cultural inheritance ,   history , language and sovereignty of other races,right to  free services and free government grants, rights to live for free in " informal settlements" , rights not to pay taxes, rights to the job market , rights to have their own " black only" areas and homelands- , rights to have private armies or militant political parties like the EFF, AZAPO, NARYSEC, BLF, Black lives Matter, Umkhonto Veterans, etc,(all sponsored on the tax payers funding) – rights to exercise their cultural heritage, rights to have their own race based organizations, rights to have BEE laws to protect them, -and rights to be represented on every level of governance.
Rule 3.)  If you happen to be unlucky enough to be part of the "minority" – and feel otherwise or deem yourself out of sheer arrogance to be  important enough to claim any rights- please refer to laws no. 1 and 2. Thus there is no place ,  tolerance – or any rights for any other minority group in South Africa.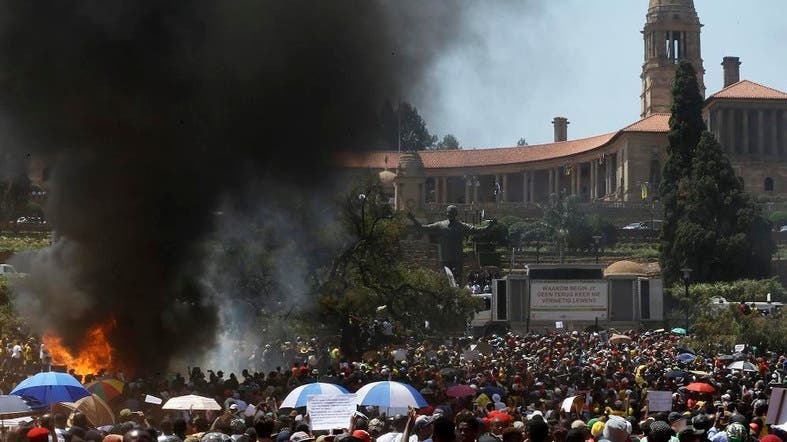 A PICTURE SPEAKS A THOUSAND WORDS– THE TRUE REFLECTION OF YOUR "NEW " SOUTH AFRICA- THE CREATOR OF THE CHAOS SPREADS HIS HANDS IN A BLESSING GESTURE IN FRONT OF THE CAPITOL OVER THE VIOLENT LEGACY HE LEFT BEHIND.
The fact and evidence that the "majority" are hardened  hippocrates that does  not cherish any sympathy or favor any feeling of grace towards  other human beings also are legio. The "majority rule " of law in  South Africa mainly revolves around their own personal selfish gain- and have no respect for any other culture or belief that does not accommodate benefits for the majority rule as well- or embrace any system where they have to work hard or toil for any benefit other people have to struggle to obtain. The majority base their rights on chaos, murder, strikes, violent riots and bias outcomes that only favors their racist culture. Whether this actions or culture destroys the very same system or infrastructure they – or for that matter anybody else-  depends on for their daily livelihood- doesn't bother them at all.
For example: South Africa is the only country that ranks higher than Venezuela when it comes to  violent riots-  according to Bloomberg's "Misery" Index. The only ones guilty of this notorious honor- is the "majority"– as no other race in South Africa were recorded or  documented for violent riots up to date.  In 2017 South Africa recorded the most violent riots- more than 1200- in the world. The question is why does the "majority" then venture on this obvious path of destruction? Is it race related- or is it culture- or is it bad choices of governance?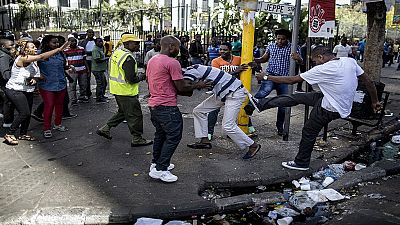 THE SOUTH AFRICAN "MAJORITY" ALREADY HAVE THE NOTORIOUS HONOR AS THE MOST MURDEROUS, VIOLENT PRONE AND DESTRUCTIVE NATION IN THE WORLD BY FRIEND AND FOE- AN HONOR THEY LIVE UP TO EVERY SINGLE DAY.
IN THE END THE RESULT OF THEIR VIOLENT NATURE ALWAYS IS THE SAME…
The statistics show that political violence and protests in South Africa over the first few months of 2017 have steadily increased. May 2017 witnessed an upsurge in conflict events and protests with levels of violence and protests not seen since October 2016. Riots and protests by the " majority" continue to comprise the majority of events in South Africa. Last week saw some of the highest rates of violent demonstrations reported thus far in 2017 –  well above the average number seen in other weeks. The number of conflict and protest events by the "majority" has steadily risen in South Africa due to student demonstrations in universities across South Africa concerning a rise in tuition fees. They want free education- as always- irrespective just who is going to pay for that losses on the end of the day. The recent spike in protest activity represents a repeat of the student riots in 2016.  South Africa witnessed the highest levels of political unrest by the "majority" in mid-October since the country was hit with a series of xenophobic riots in April 2015. The irony is the "majority" chose this same regime again to rule for this past 20 years they  also were violently protesting against for 20 years. Any logic in this?
Crime:
SA protesters at their best !! Spar looted in minutes 😡😡 This sort of behaviour seems to becoming the norm in South Africa and thieves use protests as an excuse to commit crime!

Posted by Viral Leaks on Friday, September 29, 2017
THE "MAJORITY" EXERCISES THEIR "RIGHTS" TO GO ON A "AFFIRMATIVE SHOPPING" SPREE.
Crime is a prominent issue in South Africa. The country has a very high rate of murders, white farm attacks, assaults, rapes (adult, child, elderly and infant), and other crimes compared to most countries. … The South African Police Service (if we may be naive enough to still call it that) -is totally outnumbered and outgunned by the amount of criminals from the "majority" in the streets- and is responsible for managing 1,115 near non-functional police stations across South Africa. This is because – generally – the number of crimes committed will increase as the "majority"  population grows- and grow it does- especially in the "majority" slums and squatter camps that now are busy infesting about every town and city in South Africa- spreading their evil unhygienic and crime-infested tentacles onto private land and farms as well.
In all nine provinces, the greatest percentage of households surveyed believed that violent crime was increasing in their area. What crimes do South Africans fear most? Interestingly, it appears that South Africans are more afraid of being robbed in their houses than killed or assaulted, with housebreaking and burglary emerging ahead of murder. "It appears that the fear is driven by experience rather than the severity of the crime," notes Stats SA: "The most common crimes are also the most feared."
From parliament to schools lol

Posted by Sunil Behari on Tuesday, October 3, 2017
THE "MAJORITY's " OFFSPRING PRACTICING TO FOLLOW THE FOOTSTEPS OF THEIR LEADERS AND BECOME TRUE "DEMOCRATIC" SOUTH AFRICAN CITIZENS
How did the "majority" fare this past 20 years in ruling their so-mach hailed 'democracy" then?
Magnus Heystek  wrote in Moneyweb:
" We are firmly on the Low Road which is characterized by rising unemployment, theft and looting of state coffers, rising crime and social unrest and a widespread collapse of infrastructure (water, sanitation, roads and electricity) in major swathes of our country. I often travel to the smaller cities and larger dorpies in our countryside, meeting with business people and farmers, and hear first-hand the conditions under which they operate their businesses and enterprises.
Our economic growth rate over this period of time (2007-2017) has been almost 2 percentage points below the longer-term average which, apart from the obvious loss in potential employment for a country with a rising population, has also led to a steady deterioration in the key national financial metrics, such as debt to GDP, interest cost as well as tax buoyancy.

The result of ten years of economic sabotage and disastrous economic policies are now playing out in front of our eyes on TV and in the media. The collapse in revenue collection — a budget shortfall of between R40-R50 billion for the current fiscal year — are but superficial signs of the financial rot that has set in. The next target for state capture in its most brutal format is the trillions of rands being managed by the Public Investment Corporation on behalf of its clients, mostly the GEPF. And thereafter, I'm sure, will be the private sector pension funds. As Jesse James, infamous bank robber in the US wild west, once said when asked why he robs banks: "Because that's where the money is".
As a country we have now run out of the easy money. The easy money was the yearly increase in tax collections, which always seemed to match or even exceed budget figures. Those days are gone. The global commodity cycle — which generated super-duper profits for our mines from 2002 to 2008 — is now over, perhaps for a very long time.
For the past number of years Treasury, alongside our private sector economists, have been over-optimistic as far as economic growth rates were concerned." ( Link) 
The "Majority " having their own inside battles raging while  investors flee..
Amid robust demand for emerging-market equities, there's one place global investors are avoiding: Africa's biggest stock market. With almost a full quarter to go, outflows from the Johannesburg Stock Exchange (JSE) have already reached R90.5bn this year, on track to equal last year's record R125.8bn. By comparison, net sales reached R56.6bn in 2008, when emerging-market assets bore the brunt of a selloff sparked by the global financial crisis.
While the JSE's benchmark index is hovering near a record after climbing 11 percent this year, the stocks aren't an attractive prospect for foreigners who have to factor in a weakening rand on top of anemic growth, rich valuations and political risks. While SA emerged from a recession in the second quarter, the fiscal deficit is set to widen as revenue falls short of projections. The ANC, meanwhile, is also heading for a bruising leadership battle in December amid allegations of corruption and mismanagement.
"GDP growth is still very tepid at about half a percentage point, so vis-a-vis the other emerging markets it's extremely disappointing," said Jaap Meijer, head of equity research at Arqaam Capita in Dubai. "Some of the other emerging markets are picking up and recovering and South Africa is actually not showing any momentum." South Africa relies on portfolio flows to finance its current-account deficit, which widened to 2.4% of GDP in the second quarter from 1.9%. Bond inflows of about R68bn this year are not enough to offset the stock outflows. A widening shortfall would add pressure on the rand, which has already weakened 4.9% this half.
Martyn Davies has warned that even tougher times may lie ahead, as South Africa is in a increasingly bad way following in the footsteps of fellow BRICS member, Brazil."South Africa could potentially follow in Brazil's economic footsteps, albeit with an approximate two-year time lag," he said. "Looking ahead, pressures on South Africa's sovereign credit rating include very weak real GDP growth; public sector underperformance; twin deficits showing a shortfall both in the fiscus and the current account; waning investor confidence; the continued structural challenges of high unemployment; inequality; and poverty.
"Unless the state can reform itself, provide greater confidence for private capital and create a greater enabling environment for business, further downgrades can be expected," he said. The similarities between Brazil and South Africa are both not economic, but rather political – involving large allegations of corruption, legal battles and parties approaching courts to make sure the law is upheld. "Unless the South African political environment is 'fixed' and an essential improvement in governance occurs, the country may well follow in the footsteps of Brazil, a downward spiral of economic contraction and multiple sovereign debt rating downgrades," Davies said.
"Due to pervasive and damaging control of SOEs – determined most often by ideology rather than pragmatic policy – both Brazil and South Africa suffer from an overbearing state. A crisis in government has led to an economic crisis. Until the politics is fixed, there is little vision for the economy."
The "Majority" turning  once pulsating cities into slums-invading private property
The Germiston CBD is the latest in Gauteng to be targeted by black building hijackers after a group of tenants illegally occupied more than 10 flats and houses on Tuesday.  They claim the owner's failure to settle a R60 million municipal debt as their reason for occupying the residential properties. The group of close to 100 forced their way into two unoccupied buildings in Selkirk and Kinross streets on Tuesday morning.
Security officers initially physically tried to block the gates but later gave up as the crowd, which included children and drunk adults, was getting rowdy and forceful.  By late afternoon, most of the rooms in both buildings, which have no electricity, had been occupied.  The buildings belong to 42 Power Street Properties, which owns more than 30 properties in the city. The owner, José Manuel Moneiro, lives overseas. A property and business search conducted by The Star showed that he was a director of 29 companies and owned 10 properties, valued at R996000 at the time of purchase. He bought them in the early 1990s.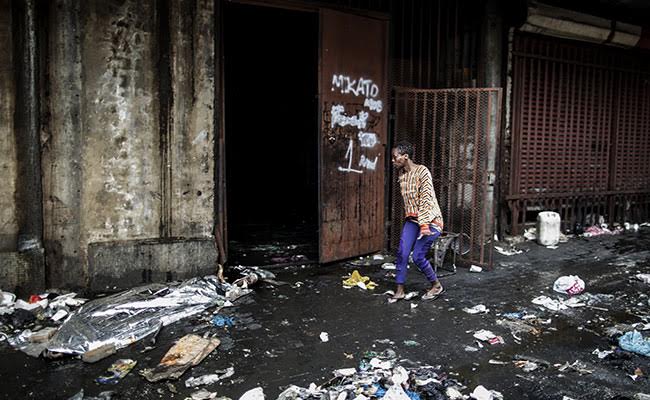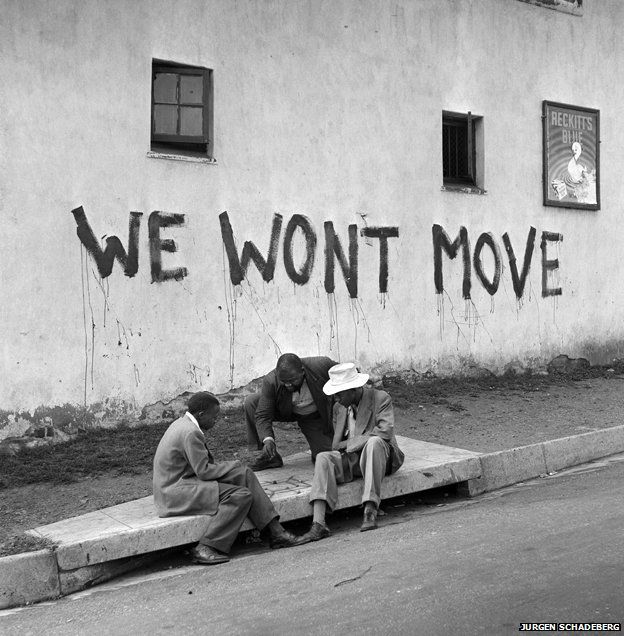 THIS IS WHAT THE "MAJORITY" DO TO YOUR PROPERTY IF THE ILLEGALLY OCCUPY IT AND GET EVICTED FOR NOT EVEN PAYING RENT.
JOHANNESBURG- ONCE THE HEARTTHROB OF THE ECONOMY- NOW AFTER THE INVASION OF THE "MAJORITY."
Ekurhuleni metro spokesperson Themba Gadebe said although they had been investigating the hijacking of buildings, they were not aware of this particular case.  "The city is busy with a law enforcement strategy as emphasised by a mayoral #Siyaqhuba interventions campaign, and officials from the affected department will be sent out to obtain the necessary information for intervention," said Gadebe.  He could not confirm whether Moneiro owed the council millions in rates as claimed by the illegal occupants.
The leeches occupied the two buildings at night, and Moneiro's office manager was found with a gunshot wound in his leg in his car, which was parked outside the company's offices in Victoria Street. Germiston police spokesperson Captain Manaka George Rathulu said police found the man bleeding and called for an ambulance.  "We don't know if the shooting is related to the hijacking of the building which occurred on the same day, but investigations are under way," Rathulu said.
This is the latest criminal attack on property in Gauteng. Similar cases were reported in Joburg's inner city as well as the suburbs of Windsor East and Rosettenville.  Most of these buildings have been abandoned by their rightful owners and taken over by slumlords. In July, 98 undocumented illegal aliens  were arrested during a crackdown in Doornfontein.
The group involved in the Germiston incident have been occupying buildings located south of the CBD for many years. They were renting directly from Moneiro, but claimed that the City of Ekurhuleni had told them three years ago to refrain from doing so because Moneiro had a big municipal debt.
They claim they were instructed to pay the rent directly to the metro in order to settle the bill. "Since we started paying to the municipality, we have been getting threats from the owners' bouncers. They would break our doors and demand we give them the rent or face eviction," said Boitumelo Seitlhamo, the leader of the group. Hellen Botha at the 25-room building that Boitumelo Seitlhamo currently owns on Power Street. Picture: Matthews Baloyi/ANA
Seitlhamo admitted that most of the people have since taken over several buildings owned by Moneiro and that attempts to seek intervention from the municipality had failed. Other people who were not tenants had also taken advantage of the situation by invading empty buildings.
Celeste Botha, who manages the buildings for Moneiro, feared that the company's nine vacant properties would also be invaded.  She said the leader of the "syndicate" was known to them and that last year they won court evictions against her and others. She said the alleged ringleader was collecting rent from tenants who she had illegally put into the buildings.
Botha said Tuesday's invasion began around 4am. "We realised that it was the people who were evicted from previous properties.  "When the police arrived they tried to calm the situation, but were not successful. They then instructed us to let these people in and obtain a court order to evict them. Can someone please explain how is this possible?  "How can we allow people who have no respect for the law or the courts to do as they please?"
Seitlhamo, however, claimed that the council had given them the right not to pay Moneiro.  She showed The Star a letter from the council's credit control officer, MD Nkosi, stating that in terms of the Municipal Property Rates Act, she should not pay the rent to the rightful owner to recoup his debt to the municipality.(Link)
The "majority" power hungry Hyenas slugging it out for a place at the rotten carcass…
THIS IS HOW THE "MAJORITY" RULES – NOW WE KNOW WHY SOUTH AFRICA IS A VERY, VERY SICK COUNTRY WITH VERY, VERY SICK PSYCHOPATHS IN CONTROL- INDEED!
WHEN the head of a snake is dangerously sick- it ostensibly will   spread to the body like an epidemic as well….
Police had to intervene when ANC thugs and delegates attending the Eastern Cape elective conference at East London ICC turned on each other, with fists and chair flying across the venue. Supporters of Phumulo Masualle and Oscar Mabuyane exchanged blows inside the conference venue with the fight spilling outside as the former's supporters fled for their lives. Scores of delegates were injured and ambulances rushed into the ICC to attend to those that needed emergency services.
WATCH: This is how the violence started at the #ANCEConference in EL last night, resulting in some delegates leaving the venue. @ZineGeorge pic.twitter.com/UGE6sSdy0m

— The Daily Dispatch (@Dispatch_DD) October 1, 2017
THIS IS NOW HOW THE MAJORITY's "LEADERS" SET AN EXAMPLE HOW TO SETTLE THEIR DISPUTES- DOG EATS DOG.  STILL WONDERS WHY THE "MAJORITY" ALSO FOLLOWS SUIT?
Menzi Solomon Shange wrote: 
Zombies in The House'
The ANC Provincial Conference in the Eastern Cape degenarated into a mass of writhing bodies, flying chairs, blood splattering, fists flying, growling, spitting, biting – all this resembling a surreal scene out of The Walking Dead, which not surprisingly describes exactly how the average black South African regards the African National Congress – a political movement that has gone brain dead. Will ANC members please salvage what's left of this party's dignity? Maybe get out your shivs and slide them mercifully into their primitive brains, because those neuron sputtering meat heads are barely able to maintain bowel function. Sad state of affairs for sure.
We repeat, members of the ANC attack each other like caffeinated walkers at the conference, afterwards the ANC delegates walked around zombie-like, eyes glazed over, no remorse, no different really to how they are normally, hoping that their actions appealed to the tribal instinct of their constituents, harnessing some new votes. Eish, and these are so called civilized leaders?
The ANC are a sad reflection of what corruption, lack of discipline, lack of leadership, lack of proper education, and pure desperation for control will create. A group of sad and wretched power hungry dimwits who have become a burden on the suffering and woefully neglected citizens they are supposed to represent.
These ANC zombies give animals a bad name, it's time to euthanize them.
Viva Afrika!
Several outgoing provincial executive committee (PEC) members, including Masualle and former ANCYL deputy president Andile Lungisa, were whisked away by security. All these events unfolded in the wee hours of this morning and saw 755 delegates believed to be pro-Masualle fleeing the venue, leaving behind 951 who were predominantly rooting for Mabuyane. ANC national spokesman Zizi Kodwa condemned the violence. "It's unheard of in the ANC that such an incident would happen in the ANC conference. We have tried to abolish what's called slates and factionalism, that is to an extent to which factionalism was so entrenched," Kodwa said. "We are a democratic organisation what we are beginning to see is people who are prepared to contest but they are not prepared to lose."(Link)
Killing the farmer that feeds the "majority."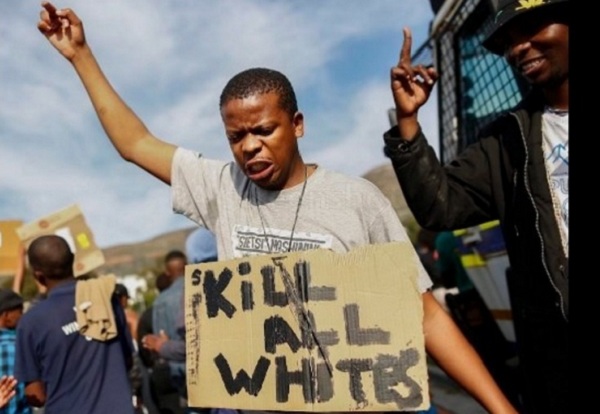 The terms "farm attack" and "farm murders" are popularly used to refer to "certain crimes committed on farms and smallholdings", the South African Police Services' head of communication and liaison, major-general Sally de Beer, told Africa Check. 
blob:https://www.youtube.com/946f0a80-244b-4e52-a0bf-028140ae8146
THE "MAJORITY" ARE CLEVERLY EXPLOITED TO FULFILL THE COMMUNIST IDEOLOGIES OF THE ANC TO EXTERMINATE WHITES
"In addition, all acts of violence against the infrastructure and property in the rural community aimed at disrupting legal farming activities as a commercial concern, whether the motive/s are related toideology, land disputes, land issues, revenge, grievances, racist concerns or intimidation are included."
The AfriForum Research Institute collected and assessed statistics for 2016/17, recording 357 attacks and 74 murders between 1 April 2016 and 31 March 2017. The police's statistics differ, showing 457 attacks for the first nine months of that financial year. A total of 46 murders were recorded. The institute's report notes that their statistics were collected by monitoring traditional and social media. They also rely on security networks and victims to directly report attacks. Author of the report and researcher at the institute, Lorraine Claasen, said that they record incidences that occur on residential smallholdings and rural plots, which differs from the police's definition.
However– the communist regime, media and police are doing their utmost to cook stats and keep a media black-out on this genocidal willful pre-planned genocide against the whites. The illegal communist establishment even put a ban on the media reports indicating the race of the perpetrators as NOT to identify the race of the real culprits responsible for the most murders- and especially the silent white genocide in South Africa. Even on social sites there is a "law" put in place prohibiting socialites placing incidents where the "majority" are guilty of committing the most and atrocious and horrible crimes against whites. It cleverly are hidden under a "hate-speech" etiquette.
Farm Attacks directed at the minority group of white South Africans living in rural areas of the country consequently become brutal Farm Murders and thus the term …."Cultural Marxism" The (SAPS) South African Police Service write (log) incidents under a disguised name; for example; a farm attack can be reported as a "domestic dispute"-, or a " dispute over wages " which are not correct. A good example of this is the past Western Cape violence against the wine farmers- ad the Eugene Terreblacnche who was deliberately assassinated under the false pretense of a "wage dispute." 
RACISM– The blatant hippocrisy from the terrorist regime and their South African lapdog media: 
Do you still remember the vicious onslaught by both the illegal regime and their lapdog media reptiles against Penny Sparrow for her alleged "racism?":
Yet the same illegal terrorist regime of Mandela and their lapdog South African media network refuse to take any "hate speech" action against even worse "racist" utterances as below- simply because the racists below happen to be coming from the "majority" again..
The result of this direct instigation to a white genocide is horrendous..
THE INSTIGATION TO A WHITE GENOCIDE- NEVER TO BE PROSECUTED OR BROUGHT TO THE FAKE "HUMAN RIGHTS COURT" FOR "HATE SPEECH"  LIKE THE PENNY SPARROW CASE- SIMPLY BECAUSE IT's "POLITICALLY INCORRECT" TO LABEL ONE OF THE "MAJORITY" A "RACIST." IN SOUTH AFRICA "RACISM" IS A NOTORIOUS  HONOR RESERVED FOR WHITES ONLY.
THE VICTIMS
THE VICTIMS OF SOUTH AFRICA's BOURGEOIS "DEMOCRACY." THEIR ORDEAL DIRECTLY A RESULT BECAUSE THE INTERNATIONAL COMMUNITY PLACED THIS CURSE ON THEM, THE TERRORIST REGIME OF NELSON MANDELA ALREADY PLANNED IT BEFORE 1994 AND DISARMED ALL WHITES -LEAVING THEM AT THE MERCY OF THE "MAJORITY's " MARAUDERS- AND THE WHITES THEMSELVES ARE TOO CARELESSLY COMPLACENT TO STAND UP AGAINST THE ONSLAUGHT OF THEIR OWN RACE.
THE PERPETRATORS:
THE PERPETRATORS- THIS IS WHAT THE ILLEGAL REGIME OF NELSON MANDELA TRY TO HIDE FROM THE OUTSIDE WORLD- AND CONTRARY TO WHAT THE SOUTH AFRICAN MEDIA TRY  TO FALSELY PROCLAIM IN THEIR PICTURES WHEN REPORTING ON  CRIME – ALL ARE FROM THE "MAJORITY." 
The SAPS will attempt to partly investigate the incidents and report to the media that majority of these incidents are done by foreigners; example Zimbabweans which is not entirely true.How many of the perpetrators committing these heinous crimes are actually incarcerated is unknown! The family of victims the incidents are threatened by the SAPS NOT to speak to the media and the media are forbidden to report such incidents.
Since 1994, more than 70000 (and counting) white South Africans have been brutally attacked  of which more than 4000 were commercial farmers that were murdered. This figure excludes the whites been murdered in suburban areas. Exact figures are very hard to come by as the South African police fail to report most of the murders that take place. These numbers are thus conservatively estimated. As the white population of South Africa was 4 434 697 according to the official state census in 1996, and more than 400 000 white South Africans have left the country, it could be estimated that nearly 2% of white South Africans have been murdered in the 18 years of democracy.
Compare that to the 7518 black people that were murdered under  the Apartheid government (of which most was done in clan wars between the Zulu and Xhosa tribes for example the Diepkloof wars and Natal Midland wars)-, which comes to a percentage of 0.02%of the black population. (And no, you can't compare people killed by the security forces with people killed by civilians, but I'm sure that if you look up white on black civilian murders during Apartheid, it would still be very low indeed."
SOUTH AFRICAN VIOLENT RURAL CRIME AFFECTING THE FARMING COMMUNITY. OCTOBER 2017-SEPTEMBER 2017 (PDF)
https://drive.google.com/file/d/0B9HI7BdOBdv4SjN6Y0JiWkdFTzg/view
AND it's not only white farmers that are targeted for despicable and horrendous attacks by the 'majority"– but also their innocent cattle too….
The true South African horror of the "majority" beasts from the field. Cattle attacked last night . Attacked is the only word for it . Vicious and savage . Small amounts of meat taken from beautiful pregnant cows . Others left with tails cut off and leg tendons slashed , so they had to be shot.

THIS is the compassion the South African "majority" even have for innocent animals. And YOU call them your   "Democratic Nation?"
Raping the Justice system: 
A White Boer – Leon Koekemoer–   appeared again in court today. He has been in custody for 8 months without receiving any charge sheet. He is a sworn enemy of the state and is thus considered a "terrorist. " This is a gross violation of human rights- yet another proof that the judiciary system in South Africa fails it's appointed duty and acts only in the interests of the "majority."
Then we can have a look at the "Boeremag" case. This ostensibly is one of the most damning cases of human rights abuses by the current illegal despot regime.A group of men convicted of treason in South Africa, whose communist government  and malicious media described  them as an "extremist South African right-wing militia." The Boeremag were arrested in 2003 and falsely accused of planning to overthrow the illegally appointed terrorist African National Congress government-  and to reinstate a new Boer-administered republic reminiscent of the era when Boers administered independent republics during the 19th century following the Great Trek. The  Boeremag case was orchestrated and a set-up by the Crime Intelligence Department of the South African ANC regime to entrap white Afrikaners– as exposed by ex-crime intelligence captain Deon Loots in his affidavit to the High Court which was published in various media articles. It has also been revealed that the South African communist dictators provides an annual slush fund of R600,000,000 for its crime intelligence department to source any anti-government white movement, which does not require accounting for.
 Twenty-two white Boer men were charged with forty-two counts of trumped-up charges such as  treason, murder, and illegal weapons possession. Six pleaded not guilty, two have not entered pleas, one refuses to plead, and thirteen are challenging the court's jurisdiction, alleging that the post-apartheid constitution and communist government of South Africa are illegitimate. Juge Eben Jordaan– a cold calculated minion and puppet of the "majority" regime who would not allow the testimony of Deon Loots to play any factor in court- sentenced the Boers with harsh sentences- ranging from 10 to 35 years. These men have been imprisoned since 2002. The trial lasted 11 years while they were kept in tight security as " awaiting trial." Nelson Mandeala was kept awaiting trail for one week. The Pretorius brothers appealed for leniency and parole- but again faced the hardened pro-communist Jordaan in court-  who again denied their parole. Many cold killers and rapists from the "majority" were released by both Mbeki and Zuma on "presidential" parole- but no presidential parole were offered to the Boers. Again we look at a judiciary system that acts totally on behalf of the "majority"– and is bias to certain groups that does not carry the blessing of the "majority." 
Also we look at Clive Derby Lewis– who was a co-accused with Janusz Walusz in the murder of the terrorist king-pin Chris Hani. Derby-Lewis did not kill Hani- but only was an accomplice by supplying the murder weapon. For this the media and the "majority" targeted Derby-Lewis and branded him as the "Hani-Killer." Despot Charles Nqacula– ex Security minister – gloated that Derby-Lewis can "rot in jail." He was never to be released.  After multiple times being declined parole, his appeal was taken to court where the judge granted him medical parole on 29 May 2015. He was released from prison in June 2015 after serving 22 years, due to his terminal lung cancer. He died from the disease on 3 November 2016. Here again the judiciary system failed miserably in it's duty to be fair- but rather acts as a political tool to punish those that do not step "in-line" with the communist dictatorship of the "majority." NO up-rise or milita wll be tolerated from the "white supremacists." 
The leftist media playing Judge, Prosecutor and jury: Hippocrisy against white farmers-politically instigated street action at courts
The "majority" and the anti-white  media such as NASPERS, IOL, Al-Jazeera, New Nation and the British media are working hand-in-hand to make sure that especially whites are demonized a, hunted – and belittled to the extend of alien status. This sick tendency and acts of dehumanization against whites (especially white farmers)– now has been going on since the communist puppet Peter Mokaba hollered that first phrase of "Kill the Farmer- Kill the Boer" in 1994- right after the "majority" received a once beautiful country on a platter from the National Party conspirators.
The facts are on the table. Looking at a few recent court cases that hit the headlines for weeks on end this past year- one can clearly detect that the "majority" -and especially the media – creates and exploit every opportunity to at first ostracize whites- then  in every way possible try to blacken their race. Most of cases where white farmers were maliciously and  falsely accused of willfully murdering blacks- is a ploy directly instigated and driven by the South African leftist media and their political cohorts.
One such case we now will discuss was the "Coligny" case. This is a case where the media drove the case and made lots of false accusations and assumptions the vile reporters sucked out of their thumbs – leading the judiciary and the poor misdirected "majority" to believe that the white farmers actually were guilty. This was a shrewd tactic to generate race hatred and create an environment where the sales numbers could escalate.
On the other hand is it a shrew tactic to whip up tensions between white and black in order for blacks to continue voting for the mostly black ANC illegal rulers. On the other hand -by creating race division- does the ruling maggots ensure they keep the nation divided in order to rule. But as always were the white "Boer" targeted to play the " villain" in this sickening game of power. Two white farmers Pieter Doorewaard (26) en Phillip Schutte (34)– were accused of killing a black thief- Matlhomola Jonas Mosweu, 16, – on April 20 at Scotland informal settlement in Coligny after accusing him of stealing sunflowers from their employer's field.
Pieter Doorewaard (26) en Phillip Schutte (34)

– Two innocent farmers that were maliciously stripped of their rights and already found "guilty" before an official verdict by a court of law on groundless accusations by the vindictive anti-white media in South Africa . The two were acquitted at last- but had to endure months of witch hunts, demonetization and accusations in the South African media. As always the same hounds of hell that wrote that incriminating articles against them will not do the honorable thing and restore their good names again- simply because South African news reporters are manifestations of demonic influence. 
The two claimed they put Mosweu at the back of a van, intending to take him to the police, but according to them, he jumped out of the moving van and injured his neck in an attempt to escape. 
However, suddenly  an "unknown" (planted) "eyewitness" (person never named) –  told police Mosweu was " thrown " out of a moving van. He died on his way to hospital due to a broken neck. 
The innocent men suddenly were  facing a charge of murder and attempted murder, for allegedly killing Mosweu, and for shooting at an "eyewitness."  Up to today no autopsy report were handed to the court that would irrefutably proof the cause of death- nor were the mysterious "eyewitness" ever found or asked to appear in court.
This case is so smut with misplaced conspiracy and obvious trumped-up accusations- it stinks with police double standard corruption. It never even should have made it to the front steps of the court house. BUT the MEDIA was in the game as well- and the dregs behind their little laptops far, far away from Coligny made sure the case were driven day after day- made sure the illiterate "majority" gets enough false accusations and assumptions against the white farmers that a race war nearly erupted in that small town- precisely what these vermin in the media vipers nests wanted. 
Through continuous false propaganda media articles – Mosweu's death triggered violent community protests by the "majority" that left a trail of destruction in the small maize growing town and divided the community. At least six houses and three trucks of innocent white farmers that had nothing to do with the case- were set alight and several shops looted and damaged. The black semi-terrorist movement- The Economic Freedom Fighters (EFF) –  chanted "Kill the boer, kill the farmer" as the two white Boers left court on after their first appearance. They chanted behind them until the police stopped them and the two got into a security vehicle and sped off. Out of sheer vindictive hatred members of the "majority" then torched an innocent white farmers house who had nothing to do with the case.
Now the
"majority"
even went and
ADD
some
more
false charges to the case. 
Frank Lesenyego-
 chief town crier for the
"National Prosecution Authority"
of the
"majority"
handed further charges such as murder, kidnapping, intimidation, theft, unlawful possession of a firearm, unlawful possession of ammunition and  the pointing of a firearm to their attorney.
(Link).
Can you see what the "majority" are doing here? Can you see how villanious this criminals in charge are trying to turn every case into another "Boeremag" case to whip up racial tension against the white farmers as well as trying to "teach" those farmers another "lesson" and let them also "rot in jail" like Deby-Lewis?
This is willful discrimination and a plot to make sure those two farmers will be ruined financially through continuous court cases and have no way to escape the multiple charges facing them. It appears- that after months of witch hunts by the media, malicious exposure and financial losses due to willful intend by the
NASPERS
dogs- the two eventually were acquitted today.
The "majority" have no hard evidence for any of their false trumped-up charges- no autopsy report, no but the reptiles will blissfully continue to ruin the good name of these farmers as well as making sure they are totally financially ruined . And as always that disgusting media reptiles will be there, reporting false information, targeting the farmers again with their poisonous false propaganda. The case still continue- and still the false media are making sure it is kept on the front pages. Other cases that follow a similar trend was the famous "Reitz" coffin case  and  the SPUR case.
Discriminating against whites
It  by now is general knowledge that the illegal terrorist regime in control of South Africa's downward spiral are viciously discriminating against whites in general. The BEEE laws enforced on both government institutions and private companies alike also is no new news. Rob Davis is the criminal mind behind this drive to push whites out of their jobs – and into starvation. Eerily enough is Rob Davis a Lilly-white hard-line pro-British communist puppet.
But Rob Davis does not stand alone in the white category in  this wretched onslaught against whites- especially Afrikaners. There are many more pseudo white traitors in the government and especially in the corporate market such as NASPERS, Landrover, Goldfields, the banking sector, Woolworths, SPUR and many more . These are useless white skins that will murder their own parents for a few dollars more. They have no honor, no patriotism, no  guilt and no guts. They are merely there for the money and all the earthly admiration and power it may bring. This FW DE Klerk – his treacherous National Party thugs – and their conspiring cohorts in their secret societies such as the Free Masons and Broederbonders already have shown us. They are a true disgrace for that white skins they wear.
Other discriminatory laws against whites are human rights abusive laws such as:
1. No whites are allowed to set up their own cultural piece of  independant land- all while blacks heave their independent enclaves such as Lesotho, Kwa-Zulu Natal, Venda, Swaziland, etc. 
2. No whites are allowed to have guns to protect themselves against the horrendous attacks against them and their families-
3. No white babies are allowed to be adopted unless a black baby is adopted first-
4. No company are allowed to donate any funding to any white orphanage-
5. No white is allowed to start a "white only" organization- all while there is uncountable "black only" organizations-
6. No white squatter is allowed to have free food tickets, government sponsored housing , basic sanitation or services which only is reserved for black squatters-
7. No white is allowed to name any black a "K*ffir"- that is deemed "racist"- all  while blacks AND the media scoundrels are allowed to call whites "Umhlungu"(Trash coming from the sea), "white supremacists", "Neo Nazis", "Racists" , "Colonials" and "White extremists"- all very neatly concocted smart terms with the deliberate intention of demonizing and dehumanizing whites in a "democratic" way"- yet the intention to alienate and cause psychological harm is still the same-
8. No white is allowed to paint his/her face black- that is seen as "racist"- but on the contrary does MILLIONS of blacks (especially virgin girls )- paint their faces white- that again is seen as "culture."-
9. No white is allowed to touch any black with the intention to cause personal or physical harm- immediately the villainous media, politicians and courts will act decisively to crush such a white person- yet we have more than 80 brutal attacks on whites on a monthly basis – and more than 2o white murders on whites by the "majority." Nothing is said or done when a white gets murdered or brutally attacked-
10. Whites have no real representation in parliament- bar a very weak multi-party VF plus-while the "majority" runs all three leading communist political parties-
11. Whites are not allowed to appoint whites only in the companies- but are forced to appoint blacks in their managerial positions or face draconian fines- even closure- if found "guilty. " Meanwhile there is NO black company that appoints any whites- lest into it's managerial positions-
12. Whites are not allowed to start their own cultural enclaves or towns- yet South Africa sports more than 800 "blacks only" shantytowns and townships.
ANOTHER PROOF OF THE ILLEGAL REGIME's ROAD TO DOUBLE STANDARDS
SEE VIDEO:
These are but a few other gross discriminatory "laws" and double standards applied by the illegal regime now trying it's utmost to break away from it's natural habitat of corruption and destruction. There are many more- many even cleverly hidden under other discriminatory laws- of which the " Property Expropriation Bill" forms part of it- a ploy to disown whites again. Then there is the gun laws aimed at whites, "hate speech" laws aimed at whites, "anti-racist" laws on the internet aimed at whites and a whole vipers nest full of other malicious intended actions aimed at whites obscured.
Ironically enough have we as yet not heard a single "chirp" from that false United Nations- who very quickly could act with sanctions and counter resolutions to "punish" the white government pre-1994- even waged a 25 year war against the Afrikaners– for "abusing" black rights and apply certain "discriminatory" laws. Yet here we have precisely the same scenario in reverse- only ten times worse- and yet the United Nations in all their falsehood prefer to maintain their double standards and anti-white stance of " politically correct" silence.
South Africa -after 1994-became the breeding grounds for the worst kind of political felons and corporate rapists. There is no more "law " –(bar those continuously pumped out against whites)-  in place, no more discipline- and no more pride in calling yourself a "South African" anymore. With an imploding economy, state capture by the Indian Mafia, non-existent government, imploding defense force, state departments and questionable security  force- South Africa is no more a "nation" but only a remnant of this what the corporate Zionists in any case planned it to become- a stinking quagmire full of liberal infested leeches and communist plunderers- a wasteland full of criminal scavengers. Nepotism, double standards and hippocricy are in the order of the day in South Africa- it even are written in it's discriminatory "constitution." This is the curse the international world forced onto the innocent whites of South Africa- and all just for the sake of plundering it's Federal Reserve and rake in it's rich mineral contents.
 EPILOGUE
South Africa is a violent country- a country that – after the illegal take-over by a terrorist organization that had no experience- nor the will to govern a country- became the pinnacle of all the evil both the worlds of African dictatorial mass murderers and Zionist corporate destroyers could amass and compress into one tightly packed parcel of dangerously explosive material.
 This the poor Dutch communist supporters found out the hard way two weeks ago during their sight-seeing exploration in South Africa. My advice to all whites from the international reptilian dormitory  thinking of visiting this country or trying to give "advice" – is to stay far far away from your own despicable creation which you forced onto white South Africans when you released Mandela and the demons that followed him afterwards onto a hapless country that did you no wrong. You have done enough damage to this land. It is time Europe, America and Australasia face up to the karma they created in 1994- and hopefully that karma will be in the form of the Muslim and Mexican invasions.
Today's so-called "democracy" under useless mafia mobs better than "apartheid?" I don't think so. "Democracy" is nothing else than a system for tyranny by the masses. And that is no more evident than what's happening today in South Africa. When good governance comes to an end- there exists a vacuum. And in that vacuum is when the criminal mind comes to it's own right. That also s quite evident of what's happening in South Africa today- of which Zuma and his illegal communist cronies are leading the wolf pack.
South Africa became the most deadly and corrupt country in the world- it's murderous cleptomaniacs in control have no respect for human life, no sympathy for it's populace- and no remorse for the apocalyptic destruction  they have done to a once prosperous nation. Between the whole caboodle of them- they have not enough intelligence between their ears in that Lethuli-House viper's nest  to curb the path of crime and destruction that derived from their own historical terrorist hegemony- which is destroying the lives of millions of South Africans today. This is the hippocrisy curse of the "majority" rule which was bestowed upon South Africa by the international mobsters.
It is then for this reason the the white Boers/Afrikaners do not accept this alien devil reign,- nor adhere to their double-penny "laws" they pump out against the white in this country they stole from the Boers – and never will bow to their disgusting morals and values like the white liberals does. For the present the Boer/Afrikaners are oppressed- oppressed not only by this evil African dispensation and the criminal Zionist plunderer from Britain- but also by their OWN kind in the form of the white liberal hiding behind the black oppressor. BUT there will come a time soon when the day of reckoning will be there- and all these oppressive and treacherous scum bags- black and white- will be rounded up and dealt with the proper way. 
Penny Sparrow was quite wrong in her analyses about the monkeys being on the Durban beach. Factually  they all  are grouped together in Cape Town in parliament. Is there any hope this country will ever heal from this terrible wound inflicted by the Zionist corporate plunderers and their Nguni scavangers? Not most likely- it will take a cleansing civil war to root out all the sick and malicious viruses ostracizing it's economy and suffocating  it's society.
SOURCE: White Nation
WHITE NATION– WE DO NOT HATE WHITE LIBERALS– WE SIMPLY DESPISE THEM!!
C'MON- SHARE OUR LINK
. .