Do you have news to tell us? Send your e.mails with news and inquiries to: w.nation@mail.com
Register to follow our news on the right-hand tab
ADD YOUR COMMENT AT THE BOTTOM OF THE PAGE
Article posted  by: White Nation correspondent Potchefstroom October 20   2017
SOUTH AFRICA– FAILED LAND OF COMMUNIST ANC ORGANIZED CRIME ,LIBFARTS, UNION CHAOS , MISDIRECTED RAINBOW MONKEYS – AND WHITE GENOCIDE
THE global corporate mass murderers' experimental house of horrors- South Africa- again had it's name written for the umpteenth time in the annals of history this month when it again topped the notorious ethnic cleansing list by being voted the slaughterhouse of the world where the most whites were brutally butchered in the shortest period of time.
While the hippocratic international world and it's insidious liberal politicians deliberately ignores the repugnant slaughter of white people in South Africa by mainly the black communist abomination the international world themselves instated in 1994- white farmers in South Africa proceed to be rounded up again like cattle to an abattoir for the next month's culling process.
SINCE the capitulation of the National Party conspirators in 1994 at CODESA- and subsequent pre-planned hand over of the country to the New York Jews and black communist executioners in exchange for millions of dollars in blood-money- especially the country's mainly white farming community were subjected to the most horrendous coordinated  government supported ethnic cleansing clandestine operations in the history of the Afrikaner since Britan's "Scorched Earth" white holocaust against the Boers. 
The scenario is basically the same – with history again playing itself out against the white homogeneous tribe of that land. As with  the British invaders who indulged themselves in the horrible blood-letting and raping of thousands of innocent Boer women, children and the elderly farmers- invading and torching their farms and sent thousands of Boer people to concentration camps in 1899- the communist Jews in Britain again today since 2009 repeated their inhuman and heinous barbarism by organizing and sending in bands of  criminal black miscreant murderers through their ANC communist coadjutors to exterminate white farmers on a weekly basis this past 20 years of their foul and mendacious "democracy."
THE TRUE MOTIVE BEHIND THE FARM MURDERS
As with each passing month this past 20 years- the month of October 2017 also added it's dreadful tally of apprehension to the already growing long list of abhorrent murders on white farmers.   The Afrikaner people's growing destitution, deliberately created by the British communist Jews and  African National Congress (ANC) regime, has been a steady process that began in 1994, when the ANC came to power as a result of an oppressive, worldwide, and carefully orchestrated boycott and disinvestment campaign similar to the one currently being waged against Israel. In March of this year, the corrupt president Jacob Zuma called on parliament to change South Africa's constitution to allow the expropriation of white owned land without compensation.
MEET THE BIG CORPORATIONS BEHIND THE WHITE FARM MURDERS…
The main objective behind the farm invasions and farm murders is to eliminate the natural food production in South Africa. Big Corporations such as Monsanto need to muscle in on the food production market in order to gain control of the South African natural food resources and production. If Big Corp could gain control of all food production- the global  "controllers" then easily could manipulate the food index market, monopolize and fix selling prices, create GMO farms at will- and in the end manipulate and control the hungry black masses into surrendering their sovereignty and rich mineral resources.
At this point in time the white farmer still pose an obstacle to the total fulfillment of that plan. Thus the white farmer must be exterminated in order for all productive farms to cease to exist- opening the door for Big Corp to gain control of that farms through government legislation  and clandestine extermination offensives to start GMO farming. For this exercise the black mainly illiterate masses are exploited effectively through malicious false propaganda and the destructive South African media  to invade farms under the false pretense of whites that supposedly "stole" their land. The illegal ANC regime also are part of this bank-rolled conspiracy – and will see to it that illegal "laws" are tabled and approved such as the unconstitutional and human rights abusive "Land Expropriation Act " – now geared into place to disown white farmers of their productive land.
THE BRITISH INFLUENCE- BIG CORP STEPS IN – CONTROLLING THE GOVERNMENT MEANS CONTROLLING THE FOOD RESOURCES
The ANC is influenced by both the British secret Jewry organizations with their main acting conspirators in the South African Broederbond– and the radical "Economic Freedom Fighters" led by Julius Malema. FW DE Klerk– the previous "planted" head of State- was responsible with the task of overseeing and organizing the total capitulation of the white government and the subsequent handing over of the country to the communist Jews and black terrorist regime of Nelson Mandela.
After the capitulation was finally signed by a very incompetent NP lame donkey- Roelf Meyer–  Mandela took over as a mere icon while the British M15 and M16 secret services worked in close co-operation with the CIA and the black ANC Intelligence Service  into formulating a plan to start the immediate exterminating of especially white farmers and to prevent any white nationalism and/or uprising against the black communist dictatorship. It was during this time that the extermination plan was formulated, done and dusted- and the media and black holocaust advocates such as Peter Mokaba and later-on Julius Malema came into  play and acted as  major role players in instigating the white cleansing operation against the farming community.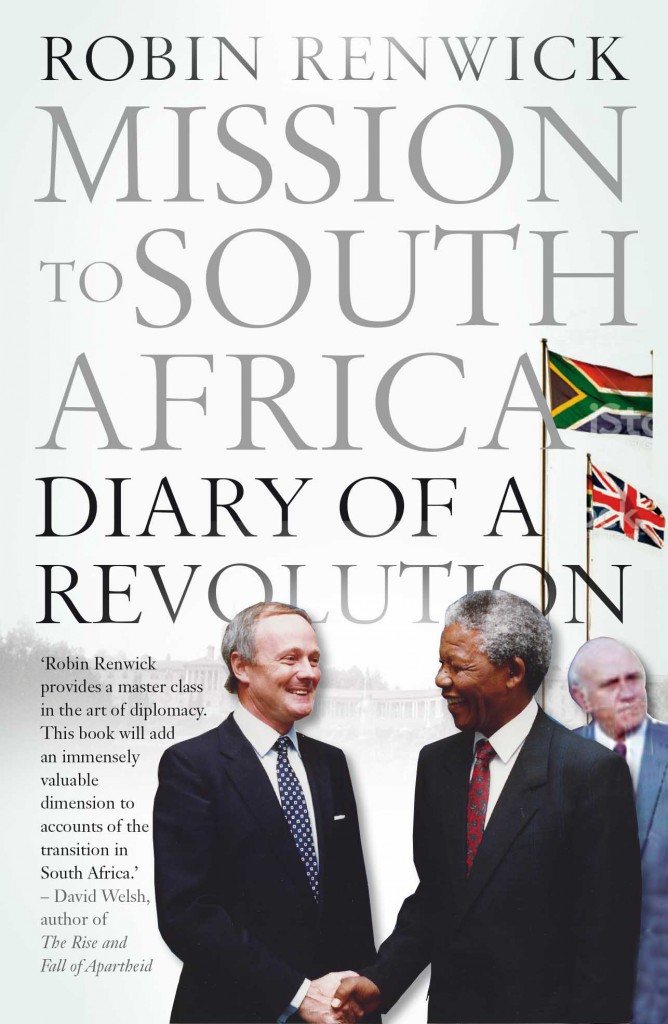 The British elite manipulated the capitulation of South Africa into communist hands..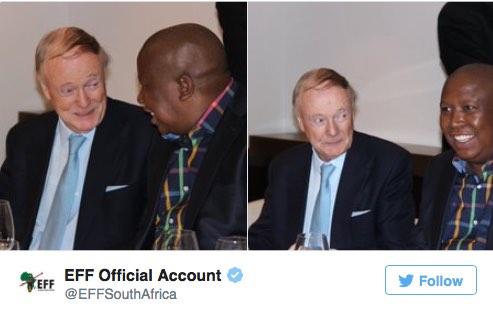 JULIUS MALEMA is a paid puppet of the communist Jewry elite in Britain…
AND the old Broederbond National Party was financially in the pockets of the Big Corp as well.
On the ANC Intelligence side- white Afrikaner leaders such as Eugene Terreblanche would be exterminated and "radical" Afrikaner activists such as Steve Hoffmeyer, Dan Roodt and Sunette Bridges will be subjected to constant malicious media attacks and ridicule in order to dehumanize them in public to stop any Afrikaner unification and/or nationalism ever rising again. So far this devious conspiracy have worked well in favor of the British "masters"  of deception – with the white Afrikaner community now finding themselves disorganized and lost without any true leader to take them back to the "promised land." 
EXECUTING THE "PLAN"- DISARMING THE WHITES AND SUPPLYING  TERRORIST MOVEMENTS
The plan was simple -yet effective: FIRST:Disarm all whites and arm all the terror groups earmarked to assist in the genocide. Thabo Mbeki – a hard-line anti-white communist- when he was sworn in as president- immediately disband all the commando units that assisted in protecting rural farms and communities. Thus the farming community was left unprotected and vulnerable against any attack.
Secondly did he ordered all weapons in the commando unit's possession to be taken to main weapon supply depots. He also opened all the old ANC terrorist weapon smuggling routes through the Swaziland, Lesotho and Mozambique borders as well. This was to become a major step in the ANC communist regimes own weapon smuggling exercises whereby thousands of "written off" army and police weapons (and all the weapons confiscated from the commando units) were to be sent from depots  to rebels and illegal ANC military units in training in these countries especially Zimbabwe and Mozambique. The ANC 's Military  and National intelligence agencies are in charge-  and operates this illegal government weapon smuggling operations.Millions of dollars worth of illegal weapons found their way out of South African supply depots across this borders each year while faceless ANC fat cats dig deep into this rich source of illegal racketeering. Yet no probe was ever done as  yet in all the military and police weapons that mysteriously went "missing." It is one of the deepest "hush-hush" cover-up operations of the illegal ANC regime that we hope one day will be exposed.
The third phase he implemented- was to impose a strict gun-law whereby all (mainly white) gun owners had to hand in their weapons for "examination" of validity. Many (most) of these guns were destroyed and never handed back again. Legal gun owners faced a schlep of red tape and deliberate incompetence when it comes to reclaiming their weapons back from the police again. Tough licence laws quickly were made to assure that obtaining a legal gun licence (especially if you are a white) become near impossible. Mean-while literally thousands of illegal guns (taken from white gun owners) found their way- with the assistance of police officers and "high-ups"- to criminals operating in the Cape Flats, against farming communities- and in cash heist operations. Guns even were "rented" out to criminals on a daily basis. The South African Police changed from protectors of society – to the biggest state-sponsored crime syndicate in Africa.
Nearly three thousand five hundred  un-certified  members of the South African Police Service carry firearms. On an answer to a parliamentary question from the DA it was also revealed that about eleven thousand police officers do not have skills certificates. DA parliamentary member Dianne Kohler-Barnard says it's important to know how many of these police officers illegally used their weapons and injured civilians in the process. Anyone who has a firearm without a license can be imprisoned for up to 15 years…bar naturally if you belong to Africa's biggest state sponsored crime syndicate- that is. 
Phase four : Use the media to demonize and alienate the white farmer from his land- and exploit the black masses through false propaganda and ill-based misconception that the white is the "enemy." Target the white farmer for any  false or suspected " illegal weapons" or "racism" – and organize political interference and attendance  in court cases against the white farmers with lots of negative media attention. Create hatred and race division by constant misleading propaganda in order to unite the black masses against the whites. The British Jewry and Secret Services in turn would fund and train Malema and his cohorts- and even send secret operators and agents posing as "NGO's" to assist them in organizing a militant political party which we now know as the Economic Freedom Fighters– in reality a "legalized" illegal private army with the power of parliamentary representation. This Economic Freedom Fighters – or EFF- was financed  and their election campaigns bank-rolled by the British Secret Service through secret slush funding.
ZERO IN ON TAKING THE PRODUCTIVE LAND OF THE WHITE FARMERS- IMPOVERISH THOSE WHITES!
The Telegraph reported that Malema traveled the country urging black South Africans to take back land from white invaders and "Dutch thugs". He told parliament that his party wanted to "unite black people in South Africa" to expropriate land without compensation. "People of South Africa, where you see a beautiful land, take it, it belongs to you," he said. Meanwhile, vast, sprawling squatter camps which lack water or sanitation are home to hundreds of thousands of destitute Boer Afrikaners. Cholera and other diseases claim lives. Aid workers blame the deaths on the deliberate neglect of the local ANC councils. Gideon van Deventer, one such aid worker, was quoted by ProjekNehemia saying that hygiene is a great problem in the shantytowns, while the councils "want us gone".
Tactics include forceful removal, denial of vital services, and council/police harassment. "Every year," according to van Deventer, "these brave descendants of the proud Boer people have to fight court battles against evictions by town and city councils everywhere." "Sometimes these councils employ sly tactics, like charging the destitute for allegedly contravening all sorts of obscure council regulations, which is clearly a form of harassment and intimidation, as they own nothing, are clearly indigent, and can by no means be perceived as a threat to the mighty ANC in any form whatsoever. "The ANC council and government policies of 'blacks first' will eventually be their ruin, especially if this case turns into an epidemic or a human rights disaster," van Deventer said.
South African-Dutch journalist Adriana Stuijt wrote that surveys have found that in most of these little camps, more than 98 percent of all the camp-dwellers are Afrikaners. "That's why it's also been mainly the Afrikaner cultural structures putting up a valiant fight – in the courts and with hands-on help – to try and stop this tsunami of Afrikaner poverty. It's conservatively estimated that at least 1 million of the 3,4 million Afrikaner population now live in dire poverty, many in these camps and in backyard shanties.
" People are being ethnically cleansed from traditional 'Afrikaner' areas and are forced to move to marginal sites – which are moreover also increasingly encroached upon by very aggressive, very demanding and very large black groups, often illegal foreigners from other African countries demanding free municipal services," Stuijt reported. The death toll among the Afrikaners – often horribly slaughtered and mutilated in hate-crimes – is rising by the month. A South African farmer is reported killed after three gunmen attacked his homestead, marking the continuation of a sustained violent campaign across the country, reports Breitbart's Jack Montgomery. The brutal attack took place in Potchefstroom in the North West province, according to Times Live. The 69-year-old victim was pronounced dead at the scene by paramedics from the private ambulance company ER24.
THE PRE-PLANNED EXTERMINATION OF WHITE FARMERS CONTINUE UNCHALLENGED…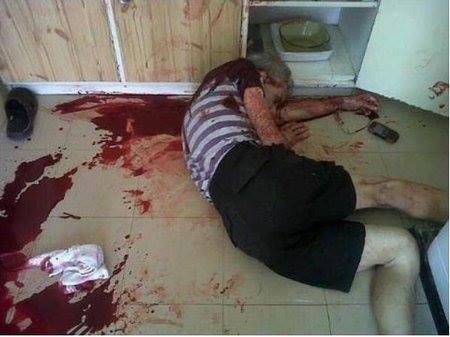 Police in Mpumalanga on Tuesday asked the public to help track and bring to justice a gang of armed black men who blew open a safe at a petrol station before fatally shooting a motorist. In a statement Brigadier Leonard Hlathi said the police were looking for assistance in "tracking and bringing to justice a group of men who robbed a filling station and killed a motorist in the wee hours of yesterday" in Kamhlushwa, near Tonga. (Link)
Police are investigating a case of farm attack and theft of motor vehicle following an incident in a Bluewater farm on Monday 16 October 2017. Police crime scene expects including detectives descended on the scene combing every little detail that could lead to the apprehension of the suspects. It is alleged that a 71 year old white man was attacked at knife point by four black thugs  at Bluewater farm. The thugs fled the scene with the farmer's white Isuzu bakkie, cellphones and a pellet gun. The man was rushed to an East London hospital for medical attention.(Link)

A black thug who killed a Welsh couple who emigrated to South Africa has told a court he and a companion kidnapped them then decided to "get rid" of them. Roger and Christine Solik's hands and legs were tied and they had pillow cases over their heads when they were thrown off a bridge into a river. Xolani Brian Ndlovu, 32, admitted murder and other charges at Pietermaritzburg High Court. Thulani Moses Mthembu, 43, has pleaded not guilty. His trial continues. The Soliks, who emigrated from Abercynon, in Rhondda Cynon Taff, in the 1980s, were found murdered after being attacked at their home in the KwaZulu-Natal area of South Africa – about 100 miles (160km) from Durban – on 17 February. Mrs Solik, 57, was found dead in the river 45 miles from their home. She had drowned, but had also been stabbed and suffered multiple other injuries. The body of her husband, 66, was discovered the next day in the same river. A post-mortem examination found he probably died of asphyxiation.

Earlier this month an elderly white man who lives alone in Bothas Hill, let his dog out for its morning business. As he unlocked his security gate however, he was attacked by two black thugs who were waiting in hiding. One was armed with a spade and the other a knife. The older man fought bravely but was no physical match for two much younger thugs intent on overpowering him and stealing his belongings from his humble home. The man was hit in the head with the spade which caused his head to bleed profusely. Disoriented, he was dragged by his assailants from room to room whilst the hooligans ransacked the house.
A white farmer- Mark Fagan–  was shot dead by black thugs while defending his family and guests, most of whom were teenage girls, at a farm near Philadelphia in the Western Cape, police have said. The man was shot dead when he approached four-balaclava wearing thugs who had entered his family's house where they were having a birthday party, Captain FC van Wyk said on Sunday. "The owner approached the suspects and they shot him. He was taken to a nearby hospital where he later died due to injuries sustained," said Van Wyk.(Link)

A white man- Bernie Wood – and a friend were attacked by three armed black thugs  at his house in Drakensberg Road at about 21:00 when they arrived home from his business in Brits. They were tied up, tied their mouths with adhesive tape and tortured for more than three hours before the thugs  fled with cash and property.(Link)

 There was a farm attack in Potchefstroom around 10:30 at Octber 11 2017 . The white farm owner did a routine check on his electric fence where by 3 black thugs  attacked him.  A fight insude between them where by they shot the owner pointblank in the chest with a shotgun . The owner's son heard the shot he ran out towards his father and made contact with the thugs whereby a fight between them also insude.  The thugs managed to get another shot off- luckily not hitting the son . He did manage to wrested the shotgun away from the one suspect and they fled on foot whereby they left a knife behind and the shotgun and the phone of the one suspect plus a watch that also came of from the suspect . The owner was declared dead on scene there was some blood on the sons jeans of the one suspect that he struck with a knob kierie on the head . All 3 suspects still at large saps is currently busy with the investigation.
8. Another white farmer- Edward Els– also was attacked with a spade on his farm.
9.  A white woman at first hid in a closet on Saturday morning in the early hours of the morning – and then clung to a window sill in the rain and called for help while four armed black thugs  detained the other residents of the house in Schoemansville and repeatedly assaulted them.  "The black perps tied my hands and feet with the dogs' leashes. Some of them went to my father's and mother's room and they kicked the door. " The 27-year-old Yvette Visser clinged for life and death on the window sill on the second floor of the house in Van Velden Street while she waited for help. Yvette, her fiancé André du Toit, 36, and his parents, Celia, 53, and Jacques, 57, were in the house when the four  black thugs  with firearms and one armed with a knife, broke  a window at about 03h00 to get into the house. (Link)
10. In another attack in Middelburg– a white elderly victim – Fanie Nel– was attacked by a black thug during a brak in at his security complex. (Link)
11.  Home invasions and attacks on whites in their private homes became a  regular culture among black thugs in South Africa. In another incident of this kind white people in Erasmia, East of Pretoria, are believed to be attacked in their homes and shot dead by black thugs. Three attacks and murders apparently occurred on the 9th of October in this area. 
12. A White farmer was attacked and stabbed 20 times with a knife on his farm in Ceres- Western Cape.Two black thugs came onto his farm and attacked the white victim without any provocation.The white farmer currently is in intensive care.
13. Last sunday night, Irma van Deventer, 22, from Bethlehem was in her parents' house where she was alone, was attacked by a black thug who stabbed her several times in the head, neck and lung. Her hands were also severely cut when she tried to defend herself against the vicious   attack. She was taken to hospital after the incident and operated after her lung collapsed  and is currently in a serious condition in the Highland MediClinic guard unit in Bethlehem. At the time of the incident her parents returned from Sasolburg where they visited family. Irma heard a window being broken in their home  and called her brother Ruan, who called the TLU Free State Security Department as well as a security company. The black thug stabbed and stabbed her, but the response of the security agencies was so fast that the thug was still in the house and was subsequently shot dead by a security guard in a struggle.(Link)
14. In Hoopstad in the  Free State- another white  farmer was attacked by unknown attacker's during October 09 2017. . The  farmer was wounded during the incident. The Police air-wing and support were looking for 2 black suspects. (Link) 
15. In another incident two white youngsters were brutally attacked in Margate by black thugs. They were beaten with a Sjambok and repeatedly beaten with a brick- then robbed. ( Link)
16. Another attack on a white farmer occurred in the Bothaville area around 02hoo am on the 09th of October 2017. It happened on the farm Linden. Two black thugs broke the back door of the homestead while the residents were asleep- and also broke the corridor security gate. A Security company responded within 10 minutes. The thugs then fled with house and vehicle keys in Nampo's direction. The possibility is that they were picked up on a passing road by a taxi or another accomplice.
17.  Two  women in Nylstroom ( now redubbed Modimolle by the terrorist regime) had a close escape when two black thugs arrived uninvited at a farm and demanded money. Christine Vermaak (79) was on Friday morning, 29 September, at home on her son, Neels Smit, on the Jasper Road. Only Vermaak and the housekeeper, Fransina Makai, were at home at the time. The owner- Smit and his wife, Martie, – were in town. Vermaak  frantically called  for help after the thugs  stopped at a gate next to the house after 10:00 and demanded money. They opened a gate behind the store and overpowered the housekeeper after she came from the bathroom in the storehouse, a few meters from the house. They tied her in  the store before they walked home to her. Smit's six-fully bred Jack Russell dogs did not allow the thugs to push openthe gate next to the house. Only 2 meters  from the gate was a security gate that was locked but not closed. However, Makai told them all the gates were closed. "I immediately realized here is trouble. They first said they wanted work and wanted to come in, but then asked for money. I called my son and asked them to come right away, "said a daring Vermaak. Smit also has four big Boerboel dogs in an enclosement behind the house. Only the Jack Russells  held the fortress that day. Vermaak did not see if the men were armed. Smit returned home and called for help. The community policing forum (CPF) and police responded quickly. The roads were cut off and a search for the thugs was launched. However, it was canceled at noon because there were suspected that the thugs fled in a vehicle.(Link)
18. In another farm attack – a white farmer read on WhatsApp about an attack by black thugs on his wife and child at their farm.Marius Brummer tried numerous times to make contact with his wife and daughter- but did get no response from them. ( Link) 
Three black thugs  were arrested last week in Hammanskraal in connection with the murder of Pattie Peterson (73) and the attack on her husband, Cecil (83), on the farm TNT Trading between Modimolle and Bela-Bela.
19. A white man on the Lisbon plots outside Potgietersrus was attacked by a black thugs with a spade. After a wrestling ensued between the white victim and the thugs, the thugs then  fled. The Falcon Neighborhood Watch and other neighborhood guards reacted to an emergency call, but rain made a follow-up difficult.
20. Then there also was a report on Facebook about a farm attack between Viljoenskroon and Bothaville on October 06 2017  at the peanut factory of Francois and Karlien Van Huyssteen. Karlien van Huyssteen wrote:
"We woke up at 2:00 this morning due to our dog Archer which were barking frantically. Then I heard voices in the house and called for John from rural security. He immediately sent people out and luckily Ryno Uys and his people arrived very soon. They found the entrance  where people came into the  home-  but did not get out and ran away . Rural security suspects people were still in our  house. We broke the burglar barrier at another wing's playroom and came in. The thugs had already have broken open the doors and into our rooms when the burglar gate was opened. Think they ran away only when we turned off our lights and went to Archer. We had to just time to wake up and wake the children and hide inside the room with the gun because the police came into the house to see if they ran away and were still hiding in ceilings, etc. Philip got the front door's extra spare key from Mom – and brought them. Could take Kaylie out of the window and send Philip to the pick-ups and got her and get her safe because we thought the perps  were still hiding in our ceilings. Was afraid they came in with us. The two big men had to wait until Johan and police arrived after almost 2 hours to get home and make sure that they could advance  safely before us. It was so scary. 4 men with Ak's who together with us have to run out at front door over the lawn to the pick-ups in the road. Me and kids then came to my mother at half past five to get themto safety. Not sure mom thinks 4 people, Francois are still busy there." 
21. A white farmer and his wife as well as two farm workers who was shot at point blank range in the head by  three black thugs on October 03 2017- survived the attack in yet another farm attack in the Gravelotte region . The reason they survived was because the thugs used a low-calibre weapon. ( Link)
22. AND in Jefferysbay an elderly white woman Wilna van Rooyen–  was brutally attacked by 5 black thugs. They attacked her and ad far as information  gathered took her firearm. FIVE thugs  in a dark blue or black SUV possibly heading away from Gamtoos in direction of PE or J bay.(Link) 
23. In Bloemfontein a young man was assaulted by black thugs at the dumping facility on the 21st of October 2017 . He was dragged across the ground and was hit from behind A knife was used to rob the man from his cellphone. (Link) 
NORMAN DOUGLAS– DECIDED HE WILL NOT BECOME ONE OF THE COMMUNIST ANC's LONG LIST OF STATISTICS- AND TOOK THE BLACK THUGS ON.
24. In a turn of events  a group of armed black thugs  have attacked a white farm house in the Leeukuil Plot in the Westernburg Policing area outside Polokwane on the 2017-10-19 at about 23:30. It is alleged that the owner- Norman Douglas (42) – of the plot heard his dogs barking and went out to investigate where he saw about two unknown suspects armed with firearms walking outside his house. He took his rifle and fired a warning shot and the thugs ran away. It is alleged they later came back shortly and started to shoot randomly into the house, damaging the glass door. The owner then fired back and subsequently, one thug- aged around 30's – was fatally shot. The other thugs ran away and disappeared in the bushes.
These thugs then were cornered at Makgofe village outside Polokwane in a rented house ,when they noticed the Police ,they started shooting at them and the Police retaliated where one thug was shot and all three were arrested.
CCV TV CAMERAS CAUGHT THESE BLACK THUGS WHEN THEY TRY TO BREAK IN AT NORMAN DOUGLAS's HOME ON THE LEEUKUIL PLOT. AS YOU CAN SEE- THEY ARE NOT "WHITE SUPREMACISTS"– THAT THE REASON WHY NO SOUTH AFRICAN MAIN STREAM MEDIA OUTLET COVERS THE INCIDENT.
During the arrest, the following items were recovered from :
* 03 x firearms.
* 24 x cell phones.
* 01 x sports bicycle
* 01 x Mercedes Benz key.
* 03 x Plasma TV's.
* 01 x Laptop, 05 x speakers, 04 x DVD players, 04 x spotlights
* 02 x Digital cameras
* 01 x Cooler bag full of workshop material
* 06 x pairs of shoes (takkies)
* 01 x Refrigerator (KIC)
* 01 x Identification document
The injured thug was  hospitalized and under police guard-and the one who was killed during the farm attack  is not yet identified.
25. A Louis Trichard boy- JT de Fin and his mother was attacked by  black thugs during a break-in and robbery on friday October 20 2017. They forced JT to hand over his jacket as part of the stolen loot. Luckily the family escaped unharmed. ( Link) 
26. The last words Martin Beneke spoke to his family were that he had been hijacked, hours before his burnt body was found on a remote farm, metres from his car.  Police and Beneke's family are now trying to figure out why the 45-year-old Roodepoort pastor was allegedly kidnapped and murdered on Tuesday.  To find out who could be behind the crime, Beneke's father Karel believes, police need to find two black males who were seen in a Nissan Nivara double cab metres away from where Martin's body was found.  "Somebody was very upset for some reason," said Beneke.  The discovery of Martin's body on Tuesday afternoon on a remote farm in Magaliesburg ended a frantic search by his family, who for hours had tried desperately to track his cellphone. (Link) 
27.  A white man was shot and robbed after his car broke down on the N4 in Pretoria in the direction of Rustenburg on Friday night, paramedics said. Netcare 911 responded to reports of a shooting on the N4 just before the Rosslyn off-ramp at about 8pm, Netcare 911 spokesperson Nick Dollman said in a statement. "Reports from the scene allege that a 45-year-old man was travelling home when his car broke down on the freeway. A short while later he was attacked by robbers and then shot. The incident and preceding events still need to be investigated. "A Netcare 911 advanced life support paramedic was first to arrive at the scene and attended to the man who was in a very serious condition. The patient was transported by an ambulance from Tshwane EMS to hospital for the urgent medical care and surgical intervention that was required," Dollman said.(Link)
28. A white man was tortured by three black thugs at Brits. The black thugs surprised him at his home, bound his hands with wire- and poured boiling water on his back. They tortured him for hours on end. (Link) 
29. Another white farmer- Dewald Els– was shot in the back by four black thugs on his farm in Orighstadt. 
30. An elderly couple were ambushed in White River, in their garage by two black thugs.  An elderly couple, estimated to be in their 70s were ambushed at their smallholding Yaverland, outside White River. The two black thugs  hacked Mrs Kruger with an axe before fleeing the scene when security services arrived, according to WillShir Security. The thugs  reportedly made off with none of the victims' possessions. (Link) 
31. Facebook: Johan Coetzee's farm across the Jorge Resort was attacked on the night of October 21 2017. The two black thugs was armed and stole his white Cruiser reg. BKX843L . The Cruiser was found after it had been in an accident. The black perps got away.
32. Facebook: Also there was another farm attack in the Lydenburg region reported on Facebook. No further details.
33. Facebook: Another farm attack occurred in the Jagersfontein area in the Free State at approx. 15h30. The owners of the farm were brutally attacked and one young white male victim was murdered on the scene. The Black perps got away.
34.Facebook: On October 21 four black thugs attacked another white farmer- Norman Douglas– on his farm outside Leeukuil smallholdings at Pietersburg. Douglas was assaulted- but managed to get a rifle and shot one thug who died on the spot. No further information available.
35. Another white man- 45 Year old Mr. Chris Le Roux– subsequently died in the Steve Biko hospital after he was shot on the 19th of October 2017 on the  N4 highway. He was robbed by black thugs of a cellphone and wallet. " We thought he was going to pull through because he was a strong man," said his stepmother Cathrin. She said they went home to get some sleep for just half an hour after they had been with him at the hospital for eight hours. When they came back it was already too late. The shot went through one of his arteries resulting in internal bleeding." They tried all they could but unfortunately, they could not sustain him and his blood pressure was so low. He died of heart failure," she added.(Link)
36. Two sixty-year old white gentlemen- Hans Nothnagel and Frik Grobler of De Deur was attacked , bound-  and brutally assaulted by four black thugs on their small holding at Elandsfontein on October 22 2017.(Link) 
37. And in Balfour there were another attack on an elderly white couple- David and Lena Streicher. David was shot in the face but survived. The arrogant black thugs even forced the old woman to help push their stolen pick-up to make it start. (Link) 
38.
39.
. 
40.
41. An elderly  white woman of 70 years was attacked and stabbed with a screwdriver by black thugs on a smallholding North of Pretoria.(Link)  
42. Facebook:Another farm attack on October 22 2017 at Buffelskloof. Farm belongs to Salome Van Der Vyver. Police on their way.
43. Joubert Conradie (47) was shot several times in another far attack in the Klapmuts area in the Western Cape on October 24 2017. . He died en route to the hospital. Several black thugs participated in the attack. ( Link) 
THE THREE BLACK THUGS THAT WAS RESPONSIBLE FOR THE HORREDOUS MURDER OF KLAPMUTS FARMER JOUBERT CONRADIE.NO MEDIA ATTENTION OR POLITICAL SYMPATHY WILL BE FOR THE CONRADIE FAMILY OR ATTENTION PAID TO THEIR COURT CASE LIKE THE COFFIN CASE IN COLIGNY AGAINST THE TWO WHITE FARMERS.
44. Joe Fitter of the Madola District in Piet Retief also was attacked on his farm by black thugs. He was shot from a distance after he investigated why his dogs were barking. ( Link) 
SEE VIDEO BELOW- THIS IS YOUR DAILY SOUTH AFRICAN LIFE- A LIFE OF CRIME…
This is what South Africa is all about today. This white victim was brutally assaulted and tortured with a hot clothing iron. Does the world care? The answer i s a resounding  "no"- Canada precisely sent the message in a recent court case what the international world feels towards whites in South Africa. 
A VERY HOSTILE WORLD THAT PLUNDERS THE COUNTRY – BUT CARES LESS ABOUT IT'S WHITE PEOPLE.
FOURTY  FOUR attacks on whites and many murdered by black thugs this past October 2017. All of them typical " hit and run" tactics and many well orchestrated. AND  the stinking racist South African non-white media correspondents and psychopathic political parties keep on with their witch hunts on the two white farmers at the Reitz coffin case that threatened to put a black man in a coffin. He survived without a scratch- but are being made a national martyr by he media. This same media despots care less about this 44 assaulted and sometimes  brutally murdered whites that had it ten times worse than the media's new-found black "suffering" hero.  This really is one helluva sick country with very deranged demons ruling it – and mentally retarded anti-white monsters writing articles for the main stream leftist media.
There is a full-scale offensive going on against the whites in South Africa while the deranged media falsely sing the praises of the "Rainbow Democracy" to hide the real horrible truth. So far NO reports could be found of any white " supremacist" that attacked any black or murdered a black- bar the bogus court cases against white farmers the South African political parties and media now want to turn into international freak shows of "racism" – but selectively ignore any of the above mentioned attacks on whites by black heathens.  If this was to happen in any other Western civilized country- immediately the news media and government would have acted in a corrective manner- and the world's attention would have been focused on the incidents.
BUT because of the malicious propaganda by the mainly British press this past 40 years- the world somehow seem to think that murdering whites in South Africa is sort of 'correct" for all the " atrocities" supposedly committed against blacks  during  "apartheid" This very sick and deranged mental attitude from mainly white leftist liberal cretins can clearly be seen in a court case recently in Canada. Now we also understand that the Canadians- like the Swedes- are a bunch of political "correct" liberal hookers and harlots that would think nothing of it to sell their own mothers if it takes to protect non-whites- but even this judgement by their court of law is just too unbelievable for any right-minded person to even contemplate.
In a recent case a Canadian federal Court rejected a white Afrikaner family's application bid for assylum in the country- based on the misplaced reason that whever a black attacks you in South Africa- then surely you must be a "white supremacist."
The  white family from South Africa has had their refugee claim for asylum in Canada rejected, having been accused of submitting "white-supremacist hate literature" to bolster their claims of violence by the black majority in their homeland. The claim of the family of six was based on being white South Africans at risk of persecution due to their race, namely Afrikaners, the white minority descended from Dutch settlers in Southern Africa.
Eric Williams Endre and Sonja Endre, a married couple, along with two of their children and Sonja's parents, all came to Canada in 2016 to visit relatives living here and made refugee claim 10 days later. The Endres said they were victims of carjacking in 1995, were assaulted on their farm by four black men who entered their home and robbed them in 2004, had their home burglarized in 2013, their car stolen from outside their house in 2014 and, that same year, three black men tried to steal Sonja's cell phone while she was working.  (Link)  WTF? – the Canadians REALLY have their minds wired up the wrong way.But then again Canada only voiced the international community's sentiment towards the white Afrikaner– and we can thank the British press for being the main instigator of that distorted mind-set.
In a recent interview with Political Annayses- Dr. Pieter Groenewald of the VF PLus pointed out that as far as can be determined- there were altogether 3100 farm killings in 15 000 attacks this past 20 years- and that is a moderate assumption- as the illegal ANC  regime and police are deliberately hiding the true figures to safe face and hide the horrible extend of the farm killings. The full interview with Stephanie Naidoo could be viewed here. SO– our question to the false United Nations is where precisely are you drawing the line on the horrendous hate-related murders of a race to classify it as a genocide- and when do you one day decide to start acting on this hard facts in front of you? OR– like the Canadian misdirected Judge- do you also recon these 3100 murdered farmers were " white supremacists" as well? It is time organizations like the United Nations, European Union, Red Cross and many other  bogus " Human Rights" movements stop their deliberate hippocracy against the white race and stop applying double standards- and do the job they themselves advocate they are supposed to do.
. But then again the UN itself left lots to ponder about. If an organization of that magnitude decide to appoint a psychopath mass murderer and human rights abuser the likes of Robert Mugabe as "goodwill ambassador– well- then you can deduct what the UN's true agenda , sentiment and approach will be to the white massacre in South Africa. Zimbabwean president Robert Mugabe's appointment as a "goodwill ambassador" for the World Health Organisation is "surprising and disappointing" given his regime's record of human rights abuses, the UK Government has said. But then again Theresa May cannot throw stones at the UN if her country itself stands in a glass house. After all Britain still financially supports Mugabe's regime  with millions of pounds every year- all while they are quite aware of the fact that the same despot are pushing British farmers off their land. (Link) 
SEE VIDEO HOW A BLACK SLAPPED A WHITE WOMAN IN SOUTH AFRICA- NO MEDIA ATTENTION PAID HERE AND NO CROCODILE TEARS FROM ANY POLITICAL PARTY.
WATCH | WOMAN VIOLENTLY SLAPPED AND BEATEN BY DRUNK AT SHEBEEN GOES VIRAL
BUT WHO IS THE INSTIGATORS BEHIND THE WHITE GENOCIDE THEN?
Bar Big Corporations that want to exterminate the white farmer that poses a oppositional threat to their "world domination" plan and controlling all resources including food- there is the single entities that act as instruments of destruction for that corporate thugs- or as they are generally known as – the "Deep State"– iow the real villains that controls our governments from behind their secret societies and banking  offices. Bar the Afrikaner Broederbond that have direct ties to the Jewish secret societies- there is but one man that can be seen as the real devil in disguise…GEORGE SOROS!
One such corporate villain is no other than the well known arch fiend George Soros. But where did Soros come from and what influence does he have in the South African economy to be seen as a threat to the white genocide?
George Soros has been living a double life and a lie since God knows when. George Soros is a Jew- a Hungarian Jew-there is no doubt about that fact-. He was born in Budapest in 1930.Like most of the  Jews – Soros also jumped were opportunity presented him a chance to enhance his own selfish nature- whether siding with friend or foe. Soros can be seen as the single most destructive leftist demagogue controlling certain assets in  the country.With an empire worth 80 Billion dollars– his evil tentacles spread wide across the world- and like other leftist destroyers of our societies such as the Rothschilds, Rockefellers, Oppenheimers , Bilderbergers and many more Jewish demagogy- he is focused to rid South Africa's white food producers to make space for the Zionist "world control" program.
Gives billions to left-wing causes:  Soros started the Open Society Institute in 1993 as a way to spread his wealth to progressive causes.  Using Open Society as a conduit, Soros has given more than $7 billion to a who's who of left-wing groups.  The globalist seed was sowed for young George by his father, Tivadar, a Jewish lawyer who was a strong proponent of Esperanto. Esperanto is a language created in 1887 by L.L. Zamenhof, a Polish eye doctor, for the purpose of "transcending national borders" and "overcoming the natural indifference of mankind." Tivadar taught young George Esperanto and forced him to speak it at home. In 1936, as Hitler was hosting the Olympics in Berlin, Tivadar changed the family name from Schwartz to Soros, an Esperanto word meaning "will soar."
THE DARK SIDE OF SOROS- BEING A TRAITOR SINCE EARLY  AGE:
Recently documents were found linking Soros being a Nazi sympathizer. In  1944, 14-year-old George Soros went to work for the invading Nazis. It is said that until the end of the war in 1945, he worked with a government official, helping him confiscate property from the local Jewish population. Whether this claim is true or false- is still uncertain. There is much controversy going on about this specific issue.  In an 1998 interview with 60 Minutes, Soros described the year of German occupation as "the happiest time in my life." Soros's Venture into finance when the war ended, Soros moved to London and in 1947 enrolled in the London School of Economics where he studied under Karl Popper, the Austrian-British leftist philosopher who was one of the first proponents of an "Open Society." Soros then worked at several merchant banks in London before moving to New York in 1963. In 1970, he founded Soros Fund Management and in 1973 created the Quantum Fund in partnership with investor Jim Rogers. The fund made annual returns of over 30%, cementing Soros's reputation and putting him in a position of power—one he utilizes to this day to advance the agenda of his mentors.
The photo on the internet claiming to be Soros in a SS uniform. There is still uncertainty about the true authenticity of this photo and claim. 
SOROS' INFLUENCE TO DESTROY THE WHITE WESTERN WORLD
Soros's agenda is fundamentally about the destruction of national borders. This has recently been shown very clearly with his funding of the European refugee crisis. The refugee crisis has been blamed on the civil war currently raging in Syria. But did you ever wonder how all these people suddenly knew Europe would open its gates and let them in? The refugee crisis is not a naturally occurring phenomenon. It coincided with OSF donating money to the US-based Migration Policy Institute and the Platform for International Cooperation on Undocumented Migrants, both Soros-sponsored organizations. Both groups advocate the resettlement of third-world Muslims into Europe. In 2015, a Sky News reporter found "Migrant Handbooks" on the Greek island of Lesbos. It was later revealed that the handbooks, which are written in Arabic, had been given to refugees before crossing the Mediterranean by a group called "Welcome to the EU."
Welcome to the EU is funded by—you guessed it—the Open Society Foundations. Soros has not only backed groups that advocate the resettlement of third-world migrants into Europe, he in fact is the architect of the "Merkel Plan." The Merkel Plan was created by the European Stability Initiative whose chairman Gerald Knaus is a senior fellow at none other than the Open Society Foundations. The plan proposes that Germany should grant asylum to 500,000 Syrian refugees. It also states that Germany, along with other European nations, should agree to help Turkey, a country that's 98% Muslim, gain visa-free travel within the EU starting in 2016. Now you also will understand why Angela Merkel are selling out Germany to the Muslim invaders. As with De Klerk in South Africa- she is a paid traitor to her people.
SOROS INFLUENCE IN SOUTH AFRICA…THE DEADLY DEAL TO SELL OUT SOUTH AFRICA
EVIL MEETS EVIL- Now we know why De Klerk handed South Africa to the leftist communist demons.
Between this two traitors the last signature was made to hand the country to a black terrorist movement.
THE SECRET CONSPIRACY OF THE NATIONAL PARTY AND THEIR  COMMUNIST ANC BEDFELLOWS
Secret meetings between the ANC and prominent members of the Afrikaner Broederbond elite followed at a stately home, Mells Park House, in England. The prime movers were those who had deep influence over the National Party – such as the British mining giant, Consolidated Goldfields, which picked up the bill for the vintage wines and malt whisky scoffed around the fireplace at Mells Park House. Their aim was that of the National Party regime – to split the ANC between the mostly exiled "moderates" they could "do business with" (Tambo, Mbeki and Mandela) – and the majority who made up the those resisting in the townships known as the United Democratic Front.(Another Jewish creation) 
The deal, in effect, was that whites (Jews) would retain economic control in exchange for black majority rule: the "crown of political power" for the "jewel of the South African economy", as Ali Mazrui put it. When, in 1997,  Mbeki was told how a black businessmen had described himself as "the ham in a white sandwich", he laughed agreement, calling it the "historic compromise", which others were called it a betrayal. George Soros put it rather more bluntly. "South Africa," he said, "is now in the hands of international capital."
THE NEO-SOCIAL ORDER
Three Jews- Johan Rupert, Nikki  Oppenheimer and George Soros then took up after the country was sold out- and now owns up to a staggering  60 % of the South African economy! South Africa's elite transition from apartheid to polyarchy provides a devastating example of the power of capitalism to penetrate and dismantle a vibrant nation-  demanding massive social change-  and effectively force them into a neoliberal social order. As Ian Taylor reports, "[o]ne of the most active groups within the change industry" in South Africa was the Institute for a Democratic Alternative for South Africa – a group that later became known as the Institute for Democracy in South Africa. The co-founders of this Institute, liberals Van Zyl Slabbert and Alex Boraine, represented what might be considered the "compassionate face of liberalism," and prior to setting up their Institute (in 1986), both been part of the "corporate-funded Progressive Federal Party, an organisation that 'bore the Jew Oppenheimer imprint from the start'.
VAN ZYL SLABBERT AND ALEX BORRAINE- EVIL CONSPIRATORS TO CHANGE WHITE CHRISTIAN RULE INTO NEO-LIBERALISM…THE GEORGE SOROS CONNECTION
Despite their elite backgrounds, Slabbert and Boraine had initially failed to garner foreign support from the US leading liberal foundations, and it was only when they were introduced to George Soros, who immediately decided to support their venture, that the equally well-endowed American foundations reconsidered working with them. Slabbert recalled:
"We wanted $150,000 and he signed a cheque of $75,000. In the lift, Boraine and I passed the cheques to and fro in disbelief. Soros did not ask for any guarantee and said, in passing, that we could send him a report if we wished. We obtained the rest of the money from the ever-reliable Scandinavians and the Friedrich Naumann Stiftung."
From that day on, the Institute for Democracy in South Africa (ISASA) became a favored recipient of foreign aid, obtaining lucrative grants from bodies like the US Agency for International Development, and smaller albeit important funding from organizations like the National Endowment for Democracy (NED). Little surprise then that this mediating organization, IDASA, played a key role in smoothing the transition from apartheid, and indeed…
…the dissemination of ideology in favor of the neo-liberal project has continued unabated in the post-apartheid era. In this period, IDASA has advanced ideas that seem to propagate the notion that keeping the people away from the real levers of power i.e. the economy, is a "good thing."
The Open Society Foundation of South Africa happens to be another of George Soros's polyarchal ventures, and Soros recruited Slabbert to become the founding chair of this organization when it was founded in 1993. In addition to Ramphele, two other notable members of the Foundation's board of directors are the editor of Financial Mail, Barney Mthombothi (who is board member of the democracy-manipulating International Press Institute), and Jody Kollapen, the former chairperson of South Africa's principal human rights body the SA Human Rights Commission. Incidentally, Kollapen is a board member of IDASA and is the chair of the Legal Resources Centre. Judge Fikile Bam, a former board member of the Open Society Foundation of South Africa, served as a director of the Legal Resources Centre in Port Elizabeth in 1985, and is presently a board member of the Centre for Development and Enterprise, a think tank that focuses on "development issues and their relationship to economic growth and democratic consolidation," which received a grant from the NED in 2006. Can you now see why only whites are summonsed and found guilty for "racism" in the bogus "Human Rights Court" and no liberal or blacks? 
Since it was formed in 1995 "with core funding from South African businesses," the Centre for Development and Enterprise has been headed by Ann Bernstein,- another Jewess-  who had previously served as the executive director of the Urban Foundation from 1989 until its demise in 1995. More recently, from 2005 until 2006, Berstein served as a Reagan Fascell Democracy Fellow at the NED. Given the openly pro-corporate polyarchal agenda of Berstein's Centre it is intriguing to note that their board of directors includes Ishmael Mkhabela. On top of being a board member of the conservative South African Institute of Race Relations, Mkhabela serves as the chairperson of the Steve Biko Foundation, which was ostensibly set up to commemorate the murder of a revolutionary activist and thinker, Steve Biko. Surely Biko himself would be most distraught with the manner by which his name is used to deflect criticism from polyarchal elites. Writing in 1970, before his murder at the hand of the state (in 1977), Biko said:
' Nowhere is the arrogance of the liberal ideology demonstrated so well as in their insistence that the problems of the country can only be solved by a bilateral approach involving both black and white. This has, by and large, come to be taken in all seriousness as the modus operandi in South Africa by all those who claim they would like a change in the status quo. Hence the multiracial political organisations and parties and the "nonracial" student organisations, all of which insist on integration not only as an end goal but also as a means."
In 1997, George Soros, intent on expanding his polyarchal ambitions in Africa, formed the Open Society Foundation for Southern Africa to work in ten Southern Africa countries, and again Slabbert helped him set up his latest philanthropic behemoth. The current deputy chair of this foundation is the wife of Max Sisulu, Elinor Sisulu, who is the media and advocacy manager of the Johannesburg office of the NED-funded Crisis Coalition of Zimbabwe, "which she was instrumental in establishing in 2004." In addition, Reginald Matchaba-Hove, the former chair of the Open Society Foundation for Southern Africa, sits on the steering committee of the NED's World Movement for Democracy (sitting alongside IDASA executive director, Paul Graham), and he is the chair of the NED-backed Zimbabwe Election Support Network. Two other NED-connected board members of Soros's democracy-manipulating foundation include Godfrey Kanyenze, who "served for a long time" as the director of the NED-funded Zimbabwe Congress of Trade Unions, and Immaculée Birhaheka, "one of the Congo's leading human rights activists," who was the winner of the NED's 2006 democracy award and is the co-founder and president of the NED-funded Promotion and Support for Women's Initiatives.(Link) 
THE RUTHLESS BLACK ELITE
Public services fell in behind privatisation, and low inflation presided over low wages and high unemployment, known as "labour flexibility". According to the ANC, the wealth generated by a new black business class would "trickle down". The opposite happened. Known sardonically as the wabenzi because their vehicle of choice was a silver Mercedes Benz, black capitalists proved they could be every bit as ruthless as their former white Broederbond  masters in labour relations, cronyism and the pursuit of profit. Hundreds of thousands of jobs were lost in mergers and "restructuring" and ordinary people retreated to the "informal economy". Between 1995 and 2000, the majority of South Africans fell deeper into poverty. When the gap between wealthy white Jews and newly enriched blacks began to close, the gulf between the black "middle class" and the majority widened as never before. Even middle class whites were subsequintly pushed out of the job market and into poverty where more than 400 000 now resides in squatter status.
Soros ostensibly are behind the land grab exercises.  As part of the Soros-funded Ndifuna Ukwazi, landgrab activists are currently conducting an information war against property rights and ownership. Soros' surrogates are working worldwide to encourage violence and insurgency. For instance Reclaim the City, a Soros-front, occupied two provincial government buildings on Friday in Cape Town in the hope of pressuring local authorities to hand out "affordable downtown accommodation" in Cape Town. But they draw no distinction between "affordable" and "free" housing.
KILLING THE FOOD SUPPLIER IN SOUTH AFRICA- GMO SEEDS- BIG CORP PLAYS BIG BROTHER…
Genetically Modified Organisms (GMO) are mostly said to be engineered and produced, to save on pesticides and have a better yield, however the contrary is mostly true and they also hold a very huge risk to your health and well being.
Hybrid Seeds
Hybrid seeds are generally also GMO products, who cannot be grown from their seeds and you will have to buy more (original)hybrid seeds- thus continuously enriching the Big Corp.  Hybrid seed was the first step whereby agribusiness corporations wrested control of seed away from farmers.
"Any politician or scientist who tells you these [GMO] products are safe is either very stupid or lying." — David Suzuki, CC, OBC, PH.D LLD, Geneticist
Between 70% and 80% of maize consumed in South Africa now is genetically modified, and South Africa  the only country in the world whose staple is primarily GMO. The Genetically Modified Organisms (GMO) Act of 1997 sowed the way for generations of genetically modified cotton and mielies to be imported and even cultivated especially in the Eastern Cape by mainly Chinese invaders.
This act was generated due to pressure and bribery from companies such as Monsanto who were looking for new dumping grounds of their bad surplus GMO laboratory seeds the rest of America rejected. Before 1997 South Africa depended on their brisk farming community for it supplies of maze- even to the extend than maze farmers in South Africa themselves had created a surplus stock which then was exported into poverty stricken Africa.Thus the white South African farmer was a direct opposition for the Monsanto mass murderers that earnestly were looking for a new profitable and lucrative  dumping ground for their poisonous laboratory generated seeds.
While the corrupt regime in South Africa allowed GMO seeds to enter the country and poison the people- Italy Becomes the 9th EU Nation To Ban Monsanto's GMO Corn. The Italians are on to something big that could cause a ripple effect throughout the EU. Three Italian ministries have signed a decree banning the cultivation of Monsanto's genetically modified corn, citing environmental concerns, the agriculture ministry said last week.

Earlier this year, Poland had become the eighth EU member state to ban the cultivation of genetically modified (GM) crops. Seven other EU member states have already imposed bans on the cultivation of GM crops approved by the European Food Safety Authority (EFSA) as safe: Austria, France, Germany, Hungary, Luxembourg, Greece and Bulgaria. Now Italy has joined the ranks.
BUT Following in the footsteps of nations like France and Russia, South Africa may soon be the latest nation to enact a ban on Monsanto's GMO corn that was recently linked to tumor development and organ damage in rats. South Africa's African Centre for Biosafety (ACB), a watchdog organization that was created to protect consumers from various biotechnology dangers, is now calling on South African authorities to enact a ban on Monsanto's tumor-linked maize crop known as NK603. This is particularly important when it comes to South Africa as white corn is a large staple food, making up for 80% of the harvest just last year. In the event that the maize were to be banned, it would be a major hit for Monsanto and an even larger victory for the 50,586,757 people who live in South Africa. If authorities take the advice of ACB, then it would not only ban the cultivation of the GMO corn, but the import and export as well.  In a letter to the South African minister of agriculture, the ACB said: "We urge the South African government to take the necessary steps to protect its citizens."

Nations around the world are currently passing or requesting bans on Monsanto's crops following the study, which is one of hundreds of studies to identify the dangers of both Monsanto's herbicide Roundup and GMOs. Coinciding with previous pieces of research that have linked Roundup with conditions such as cancer and infertility, the French GMO study found that around 50% of the males and 70% of the females fed 100% GMO corn died prematurely. What effect this will have on the multiple farm murders – and IF the corrupt South African ANC cleptocratic  regime ever will waver the huge bribes paid by Monsanto– is yet to be seen. The bottom – line is that the farm murders in South Africa can directly been linked to the Big Corporations behind the ANC regime that need our minerals, our energy, our natural resources- and our farming land to expand their own selfish corporate agendas.
White farmers in South Africa are "culled " for a specific agenda. The villainous news media deliberately are keeping these murders out of their news stories. While our attention are focused on "racist" farmers in Coligny, Reits, and Lichtenburgh- while the evil NASPERS are focusing our attention on Jacob Zuma and all his monkey tricks- the corporate thugs are busy destroying our country through mass actions, riots and plundering of our mineral resources. They are pushing our economy into the abyss, downgrading our financial status, devaluating our currency and flooding our country with alien squatter infestations.
The police deliberately are keeping the murders on whites under wraps and change the real causes of deaths to "normal crime." The illegal ANC communist regime keep the impoverishment and murders on whites under a cloak-and-dagger operation. One must ask oneself as to why such a huge conspiracy are being orchestrated to keep murders on whites and farmers in South Africa a secret? There could only be one reason for that- and to find that reason one just have to follow the money-line. Many experiments have been tested on the free citizens of the world- programs such as the Manhattan project, project Bluebook, HAARP, Chemtrailing and many more. This all forms part of the globalists' "New World Order" control programs. Deliberate starvation and impoverishment also are areas being tested thoroughly by these globalist mass murderers. Genocides have long been an excellent weapon to "cull" the "useless eaters."
 Food shortages are another superb way of starving a nation- and by exterminating the white farmers in South Africa will ultimately leave the country with food shortages and place the country's masses directly under the "food for mineral" programs whereby the "masses" will solely depend on Big Corporations for their daily food supply. The rich globalists will then be able to control the food resources and all food supplying farms will belong either to the illegal government, – or Big Corporations like the Ruperts, Oppenheimers , British elites, Guptas, the Chinese and Soros dynasties who now already control our precious mineral resources and most of our land. Everything will ultimately belong to a few " elite" controllers.We are continuously being forced like sheep into neon illuminated jungles where we are controlled by municipal oppressors through taxes , levies and hefty price hikes in order just to survive from day to day- incarcerated between the concrete walls of a jungle we cannot escape from- while these alien criminals already  stole our  free rural landscape and our farms – and arrogantly parade like conquering heroes with illegal government sponsored "deeds " of  stolen property. 
Breaching this conspiracy by planting your own crops will also be lawfully "punishable " by lengthy jail sentences for bogus charges such as " food smuggling." They will table new "laws " to prevent any free food production, gathering rain water- or generating free energy. Already the controllers in South Africa are preparing to force the general public to register with the National Energy Regulator- and soon start paying TAX on free energy.  (Link) Now you must pay tax on something God gives for free! Again we are looking at yet another globalist scam to plunder our bank accounts, take our freedom of development away-  and make a few "elite" thugs in Pretoria rich again.
The question is when will this useless South African masses realize what this current two-faced politicians and the motley crew in their parliament are busy doing to them? The country are burning to ashes through hundreds of violent black strikes and riots, the farmers are murdered at a genocidal scale, the cleptocrats in control are plundering the state coffers and selling out the country to scrupulous Jews, Indians and Chinese- yet the country 's devilish media focus our attention on a few bourgeois court cases involving white " supremacists" such as Coligny, Reitz and Lichtenburg? Just another ploy to exterminate our white food producers from their land. White farmers in South Africa are paying the ultimate sacrifice for the aristocratic globalists and their Big Corporations to conquer and plunder our country and all it's natural resources for their own selfish benefits and enslave us with the rest of the world population in their "world control" program.
IDENTIFYING THE VILLAINS
Who is behind the white farm murders in South Africa? No other than the Big Corp– iow Soros, Oppenheimer, Rupert et al who controls and bank-roll the ANC communist lap dogs and all three political parties running the motley crew show in parliament. As you clearly could see- The National Party AND the PFP was supposed to be political "rivals"– but behind the scenes BOTH these villainous parties were in bed with George Soros- JUST as the National party and ANC both were sponsored by the Jew Harry Oppenheimer- and the British 'elite" now financially sponsoring the ANC, DA and EFF- the three leading political parties in South Africa. The VF Plus is also just another face of the old National Broerbond Party.  Who is the ones taken for a ride during their bogus 'elections" then other than a very naive populace? .Strange how supposed to be "intelligent" people like yourself that run businesses still are taken for a Mickey every 5 years?
As long as we are gong to sit in passive mode, as long as the farmers themselves do not voice their anger in a more aggressive way, as long as we are going to allow the media to manipulate our law system, as long as we proceed to be arrogant and careless – and refuse to unite against this demonic onslaught- we ourselves-  through our constant obstinate and deliberate silence- will continue to give power to these big corporations and their government cohorts to plunder our land, steal our resources- and proceed to murder our farmers in a silent white extermination program. It is time to start moving away from government control.
Your deliberate complacent silence gives them power to continue the war against our white nation-  and makes you an indirect accomplice of these dark powers in the war against the white in South Africa. Our food resources are dwindling fast,- our farmers become an extinct specie- just how long are we going to sit in silence while our next generation of white children now are being prepared to become unwilling manipulated slaves to these political thugs, media hypnotism-  and corporate vultures  through starvation programs as well? JUST who are the ones that always have to suffer this political and corporate deception and financial onslaughts time and again? The normal populace- the white farmers- the illiterate black rioters, the tax paying milking cow in the cities and farms- and the naive " my pa het alli jare NP gestem" voters...that's who. You are living in a political hoax all these years- they are taking you for a ride on a permanent basis.
ALL POLITICAL PARTIES AND COUNTRIES ARE CONTROLLED BY THE "DEEP STATE"– OR "SHADOW GOVERNMENTS."
ALL political parties – and I mean ALL of them irrespective if they pose as an "Afrikaner" conscious party – are set up and run by the corporate controllers. STOP VOTING FOR THEM! How many times still do you have to be slapped through your face before you wake up? How many so-called "Afrikaner" political parties started on the right-  and eventually ended up on the left? They are all BOUGHT ( forced) by big corporations to serve their agendas. If any of their leaders refuse to buckle before the demands of the "deep state"– well- you can always ask leaders such as JF Kennedy, Verwoerd, Saddam, Terreblanche  and Ghadaffi to name but a few that also thought they could stand up against the globalist " controllers" what was the outcome of their " rebellious" actions against the "controllers." That is politics for you- a damn dirty game. Now do you for one moment think if this is the way they operate behind the scenes – they all of a sudden will be honest in any way governing YOU?  ALL their bogus "elections " are rigged … are you blind? 
As a white in South Africa this is your destination and that of your children if you do not act decisively NOW! Tomorrow will be too late. 
During sentencing of the Reitz farmers in the now renown "Coffin Due" case– Theo Jackson and Willem Oosthuyzen. Just look who is sitting in the benches- the DA- who came to power with LOTS of white votes- now turning against whites again. Just another example how devious political parties are being manipulated by the money powers. AND at the ready is the reptiles of the media with their cameras to fill the internet again with deadly anti-white poison.  Yet you  will not see ONE political party- lest the DA or Afriforum or any of this reptile mainstream media ghouls  attending any court case whereby black thugs are involved in the gruesome murders of whites. Now the "poor" victim Rethabile Mlotshwa has asked the High Court sitting in Middelburg to impose a 15-year jail sentence on Willem Oosthuizen and Theo Jackson.(Link)
Take note the "poor" black "victim"  that was put in the coffin was not nearly assaulted so brutally as the  whites above were assaulted- but came out unharmed- yet the villainous racist media hounds and political Hyenas' hatred against the white is so huge they will see to it that this two innocent farmers get the most harsh sentence possible- all while the black murderers get slapped on the wrist with light sentences. The Government, politicians and media are waging a war against whites in order to unite blacks against a "common enemy" for the communists to rule " 'till Jesus come." 
It is time to rebel against this deliberate oppression and blatant discrimination against the white people of this country. It is time to boycott all government laws. It is time to boycott all big corporations that act in contravention of our people's race. It is time to boycott all the South African intimidating media outlets and political parties. It is time to stop paying attention to black political psychopaths like the Zumas . Mnxitamas and Malemas- and stand up and take your rightful inheritance back from these scrupulous political  bank-rolled thieves that proclaim themselves as "representatives " of the previously disadvantaged "owners" of your land. You did not vote for them. They stole your country through deception, conspirators  and lies. You don't have to adhere to their laws and oppressive anti-white legislation. Stop being a bum-brush and a rainbow chicken for an illegal instituted regime that has no place or right  in this country and not elected by you to serve them as their gutless obedient slaves. Unite your people- stand up- and for once in your life start to fight against this deliberate extermination of your people.
 It is time to stand up against the deliberate persecution of the white people, the victimization of white farmers, the impoverishment of our people in squatter camps, the marginalizing of our people from their basic human rights, the alienation of our race from the country that belongs to them- assassination and incarceration of our leaders and our people, discrimination against our children,  – and the control big corporations exercises on our daily lives. The end to this evil dispensation of secret societies, corporate controls, communist oppression, media brain washing, political dictatorship and government instigated genocides are predictable-it only will end in  starvation , enslavement,  impoverishment – and corporate induced political tyranny. 
Conspiracy or facts California fires natural or energy weapon your thoughts ELITE Enslave US credit to odd tv

Posted by ELITE Enslave US on Thursday, October 19, 2017
The Northern Carolina wildfires…..accidental….or deliberate super weapon testing on old "useless eaters? "
THE "controllers" at work? Some had just celebrated marriages of half a century or longer. They spent their time volunteering and playing with grandchildren. A few had lived through both world wars. The vast majority of the 42 people killed in the wildfires that have ravaged Northern California were in their 70s and 80s. Several were couples who died together, including childhood sweethearts who had grown old together. A 95-year-old man and his 75-year-old wife spent their final moments huddled in the wine cellar of their home where they had lived for 45 years. The oldest victim – 100-year-old World War II veteran Charles Rippey, who used a walker – is believed to have been trying to make it to his 98-year-old wife, Sara, who had limited mobility after a stroke. Their caretaker barely escaped alive before the roof collapsed and the blaze engulfed the house.
An 80-year-old man never made it past his driveway after getting his 80-year-old wife into the car to escape. The two were born four days apart and died together. Some simply clung to each other until the end.
Armando Berriz, 76, held his wife of 55 years, Carmen Caldentey Berriz, afloat in a swimming pool as walls of fire burned around them.  He let go only after Carmen stopped breathing and the flames had burned out, laying her on the steps of the pool with her arms crossed over her chest. He then walked 3km to find help.(Link)
SEE VIDEO BELOW HOW AFRICANS TREAT WHITES IN THE DRC
http://www.ilovemyamerica.net/wp-content/uploads/2017/10/greenpolitcian.mp4?_=1
AND as can be expected- you have the white liberals that also contribute their part in the persecution and genocide of the white people in South Africa…
Against the back-drop of all the farm murders and whites being killed like flies in South Africa- you still get these white liberal traitors that resides overseas- spitting venom against white South Africans on their social sites and stabbing other whites in the back. How these disgusting creatures sleep at night is still a mystery. 
 SOURCES:
http://www.israelnationalnews.com/News/News.aspx/236786
WHITE NATION– WE DO NOT HATE WHITE LIBERALS– WE SIMPLY DESPISE THEM!!
C'MON- SHARE OUR LINK