Do you have news to tell us? Send your e.mails with news and inquiries to: w.nation@mail.com
Register to follow our news on the right-hand tab
ADD YOUR COMMENT AT THE BOTTOM OF THE PAGE
Article posted  by: White Nation correspondent Pietermaritzburg October 29   2017
ALSO READ: What if whites strike back?
SOUTH AFRICA– FAILED LAND OF COMMUNIST ANC ORGANIZED CRIME ,LIBFARTS, UNION CHAOS , MISDIRECTED RAINBOW MONKEYS – AND WHITE GENOCIDE
IT happened again!!  In a disgusting display of anti-white hippocracy a political-influenced judge in South Africa has buckled under sheer media pressure and political influence -and sentenced two white farmers found "guilty " of kidnapping, assault and intent to do grievous bodily harm to more than 10 years in prison after they shoved a black man in a coffin and threatened to set him ablaze. Although this would never have happened- the anti-white media hounds of hell pursued this two white farmers literally into perdition  itself!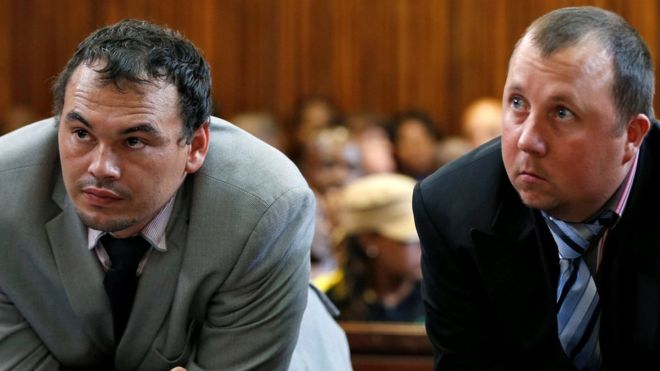 Willem Oosthuizen and Theo Martins Jackson had denied any wrongdoing
This is the first time in modern  history that such an gross human rights abusive sentence was handed down for such a felony. AND the anti-white ANC and DA political vultures also was there to celebrate the occasion in a display of macabre  vindictive anti-white sentiment.  South African white farmers are terrorized on a daily basis by black cattle thieves, cable thieves and bands of black thugs that made it their mission to brutally murder innocent white farmers. South African white farmers are literally living on a knife's edge- and in this case the black "victim" factually  was a bloody cable thief turned "martyr" by the villainous media hounds an anti-white political parties.
The controversial coffin case has degenerated in a massive political propaganda campaign in the court case that took place this week. The complainant acknowledges that he is unemployed and maintained by the ANC. He also admitted that the ANC paid for his counseling. The street in front of the court was blocked by an ANC modified trailer with the party's colors and equipped with speakers and a DJ. On the trailer, a fake coffin was glued to the pictures of the two accused. If the party propaganda is ignored, it is clear: "Vote ANC." Deafening music provides inspiration for the screaming mass.
Your so-called" nation builders" who were "threatened" by the two white accused – expressing naked racism outside court against whites by slapping white baby dolls on display – all while they are supposed to be protesting against so-called "racism" inside the court against blacks. This is typical your South African black hippocricy.  
In the link above you can see  how the black communists in South Africa are "building" their bogus rainbow " nation" – through sheer racism against whites- but whites are the only ones dragged into court for the same offence blacks are guilty of. 
http://mytodaytv.com/videohot-White-Genocide-in-South-Africa_fmQQE8s6iZz4.html

It was clear that the matter is an ANC campaign to derive the attention of pressure on the uncertain ANC and try to create anti-white propaganda in the service of the struggling ANC. Within the court, the prosecutor declared that it is about "nation building threatened by the accused;"  Outside the court, the so-called "nation-building process"  is broken down by the hatred-bearing anti-white party propaganda of the ruling party's supporters. While the show takes place, the left-wing media, newspapers, and TV, the willing lapdogs to optimize the hate campaign against whites with the unilateral sensational reporting.
7 geslag op Endicott vanoggend. Eienaar Janus Oosthuizen. Totaal laaste twee maande = 29.Die vers op die video het ons nou op afgekom. Kyk lank en hard daarna.

Posted by SP Potgieter on Friday, October 28, 2016
On a daily basis white farmers have to face gruesome scenes like this when illegal black squatters from the nearby illegal black settlements trespass on their farms- just as Mlotshwa and his accomplice did- and hack their livestock to death or hacking off the tendons of the animals-stealing farm equipment and material- and  leaving the farmers with thousands of dollars worth of damage. The farmers are desperate as the criminal ANC regime does nothing to assist them.
BUT IT IS NOT ONLY  THE ANIMALS THAT THESE BLACK THUGS ATTACK IN SUCH HORRENDOUS WAYS…
This white woman was attacked tonight at 18h00 October 28 2017-  in their home in Edenburgh when she wanted to save her 2 year old daughter from the hands of a black thug who  attacked them and held a knife against her daughter's throat. The attack was 6 o'clock last night. She was severely stabbed 9 times with a knife and many cuts. The attacker has confessed to the police he went to kill her. No media coverage of this- no political outcry- no "outrage" …..no charges of "racism."
Hans Nothnagel and  Frik Grobler– two farmers of De Deur– was brutally assaulted by black thugs for hours on end on Sunday October 29 2017. Yet again no media hysteria or politicians giving free houses and cows to them. (Link)
 BUT the black public, political heathens , media and even the black judge refuse to accept hard facts-  and turned the whole incident into one big political and media spectacle to again favor black rule. Scenes like the video clip above these media thugs will not show you- and the bias BEEE judges do not want to see. But on the end of the day these vermin now screaming against these two farmers want to go to the shopping mall and buy meat- meat that you now have to pay exuberant prices for- all because criminal elements like  Mlotshwa  are trespassing and robbing the farmers –  slaughtering their livestock on a daily basis- and many a time murdering the farmer as well…..leaving black families that earned a living on that farm without jobs and means to feed their families as their employers now are dead.
How freakin stupid CAN you get by screwing your own people out of a job because you are a brain dead criminal with no sense of logic? Then the same black racists at that court still want to riot because they cannot afford food anymore? Mlotshwa was a common thief suddenly glorified as a "martyr" of "racism"  by mainly the media laptop thugs. It is time the white people stand up and take this anti-white racist regime and their cohorts head-on in a white back-lash.Our silence for 20 years gave them too much arrogance and power to oppress us.
SHARE SHARE SHARE!!!!!! #StopDiePlaasmoorde 🇿🇦🇿🇦🇿🇦🇿🇦 Let our voice be heard 🙏🏻Stop murdering our Farmers!!!!!Wear black 30-10-2017

Posted by Chris Van Heerden Full on Friday, October 27, 2017
-AND this is what it looked like when these black media "national heroes" have finished their "job" on the white farmer and his family- beautiful eh? Liberals- don't fret- your parents may be next! 
Dankie Patric Lekota, " Kyk" en " SHARE" asb!

Posted by Johan Frederik Lee on Sunday, October 29, 2017
AGAIN we have seen a repertoire of the famous "Boeremag" case here where racist anti-white politicians and media skunks instigated and meddled into a case to make sure those "white racists" are destroyed. Irrespective what the truth is- or the reality of  the thousands of white farmers that was brutally murdered by blacks from this illegal settlements entering their farms- and many a time also hacking their live-stock to death – this despicable political and media thugs tightened a protective circle of solidarity around a black thief which they never even would dream of doing for a white man. South Africa is smut with political and media racism against whites. Even dipshit Cyril Ramaphosa has welcomed the sentencing of the coffin assault duo, calling it a step in the right direction towards obliterating "racism" –(Link) JUST as long as no black arse lands in court for the same charges.

Governing ANC party supporters have been backing cable thief Victor Mlotshwa (C) throughout  the case. He even will get a free house and a cow. (Link) Again we observe heavy political nepotism and interference in a case where a white farmer is involved. While all three major black parties in the ANC, DA and EFF supported Mlotshwa- on the contrary  the absence of white parties like the VF Plus, Front National and the white organization Afriforum that was expected to supposedly support the white farmers at the court  – was clearly noticeable. Again a case of whites not supporting each other in South Africa – and leave their own at the mercy of the oppressors when the heat is on? 
Day after day these political scum and media serpents attended the court case to make sure those two white farmers  are dehumanized above comprehension. They WANTED this case to go "viral" in the international world, they want this case to send a message to whites to submit to total communist control. They want to tell whites they are the "minority" and become intimidated unwilling slaves of their black communist "masters." They want whites to be dehumanized and brought below the level of the black African. They want whites to fear "reprisals" should they ever dare again to stand up against a black "master." This case was a important propaganda tool for the current illegal regime to enforce their dictatorship onto whites to become their obedient slaves – or face harsh reprisals.
Willem Oosthuizen and Theo Jackson were sentenced to an inhuman  11 and 14 years in jail, respectively. Sentencing proceedings, which had been postponed since Monday, were heard at the Middelburg Magistrate's Court on Friday. The court fell silent as the heavy sentences were handed out. Family members of Oosthuizen and Jackson sat together in court and cried. The case has shocked the country and seen an liberal and anti-white sentimental outpouring of support for the "victim,"–  Victor Mlothshwa. The incident, which took place in August 2016, caught the country's attention after mobile phone footage was widely watched online.
Black Judge Segopotje Mphahlele buckled under political and media pressure- handing out inhuman sentences- but that will not bother her – as it was not her race or her sons she sent to jail.
THE LIBERAL VIDEO VERSION….
BUCKLING UNDER POLITICAL PRESSURE
Judge Segopotje Mphahlele buckled under political and media pressure and said the most "appalling " thing done by the white men was to put a living person inside a coffin. "The conduct of the accused fueled racial division … in a society of increasing racial intolerance" Mphahlele said. There were buoyant scenes outside the Middleburg Magistrates Court as news of the sentencing was announced. About 500 racist black anti-white political puppets, many in party regalia of the ANC and the Democratic Party,-  could be seen waving party flags and holding up banners that called for an end to "racism." (All while they themselves support racist BEEE discriminatory laws against whites.)  The sentences were way too harsh and that the courts have become politicised, with relatively rare cases like this one – where there were obvious discrepancies throughout the case with weak evidence and Mlotshwa lying in many instances– getting all the attention. Meanwhile away from the spotlight – white farmers are routinely robbed and murdered on a grand scale and the regime as well as the media keeps it under wraps.
COMMUNIST ANC WHITE HATERS STAGING A POLITICAL PROPAGANDA CAMPAIGN
A mobile stage, sponsored by the illegal ANC, was set up outside the court as local and regional BLACK racist  leaders took turns to address the hundreds of anti-white racists who had come from surrounding areas to show support for Mlotshwa.  About 30 white farmers also came to show solidarity with the accused. They stood adjacent to the entrance of the court looking on, mostly in silence, as the unruly crowd danced, sang, and shouted slogans. Defense lawyers representing the accused men earlier asked the court to be lenient,pointing out that Mlothshwa was riding a wave of public outrage ever since the video of him being assaulted in a coffin went viral in 2016.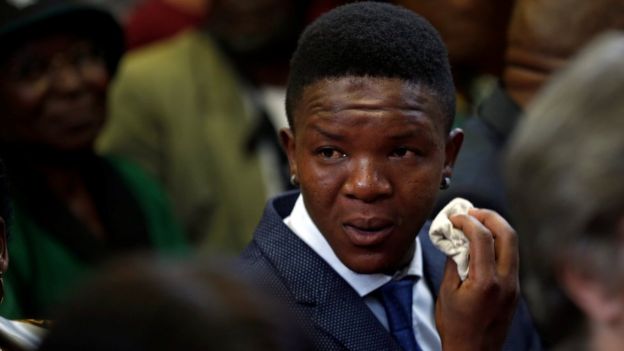 Victor Mlotshwa – cable thief turned into a national hero by the media
Though they argued the men were sorry for the consequences of their actions, the political inspired prosecution argued the accused had shown" little remorse. " The final judgement is expected to have far-reaching consequences for race relations in the country. In the video, Oosthuizen and Jackson can be seen trying to close the lid of the coffin with their boots as Mlothshwa begged for his life. The men can be heard hurling abuse and threatening to douse him with petrol and set him on fire. The incident took place on a farm close to Komati power station in Middelburg, a North-Eastern town, and spurred national anti-white racist outrage.
Carel Taute, Jackson's lawyer, said he believed the sentencing was too harsh. "The whole case is strange – even the fact that it was taken to the High Court when there was no murder," he told Al Jazeera. "Then we had media attention almost the entire time. The media attention, to me, seemed to fuel the tenor of the trial. "I find it ironic that the judge said that the judgement had to build relations within the community. I am afraid this will do the opposite."
In her judgement on August 25, Mphahlele found the white farmers guilty of kidnapping and assault with intent to do grievous bodily harm to Mlotshwa. Oosthuizen and Jackson pleaded not guilty to charges of attempted murder, saying they merely wanted to scare Mlotshwa, who they accused of cable theft. Mlotshwa – as expected- denied any wrongdoing and said he was picked up by the two men while taking a shortcut towards Middelburg. We all know this man is lying- we all know he was caught for stealing cables together with his accomplice that got away. We know that he received instructions and financial support from all three mainly black political parties. Deep-seated racial inequality persists in South Africa two decades after the end of white  rule today -especially from blacks.
Zaakirah Vadi, a communications officer for the Ahmed Kathrada Foundation, – another ANC side-winder organization- told Al Jazeera the sentencing had to be seen within the larger context of racial and social dynamics in South Africa. "This ruling sends a strong message that there is no place for blatant racism in South Africa and we hope that it serves as a deterrent to others," Vadi said. The Hard-Line communist Minister of Arts and Culture Nathi Mthethwa – family member of Jacob Zuma– "praised " the jail terms in a tweet. "We welcome the sentences handed down on the #CoffinAssault culprits who were respectively sentenced to 11 & 14 years direct imprisonment." The minister described the prison terms as "a stern warning" that "illustrates that we will not tolerate racism in our society". Nathi naturally is a hippocrate that operates on strict double standards as he fully supports the discriminatory BBEEE against whites.
APPLYING DOUBLE STANDARDS- ONLY BLACK LIVES MATTER- THE ANTI WHITE MEDIA CORESPONDENTS ON THE HUNT FOR "WHITE RACISTS." 
NO COMMENT- THIS IS NOT "RACISM"-ACCORDING TO THE SOUTH AFRICAN MEDIA AND "HUMAN RIGHTS"  DEFINITION. WAS HIS NAME "PENNY SPARROW"– HE WOULD HAVE BEEN IN DEEP SH*T!
REMEMBER PENNY SPARROW WAS RUINED BECAUSE SHE CALLED BLACKS "MONKEYS"– YET WE HEAR NOTHING FROM THE MEDIA OR CORRUPT ANC REGIME ABOUT THIS BLACK FREAK SHOW CALLING WHITES ' FOKON PIGS." 
Strangely it is the ruling ANC themselves that exercise gross racism on the highest  level with all their 119 racist discriminatory laws against whites. South Africa truly reeks of black anti-white hippocricy! The South African justice system again was brutally raped by anti-white media sentiment and black political interference.It's clearly revenge on all whites because of " apartheid!"
Truly- this is disgusting how political parties-  and the filthy media correspondents the likes of  the liberal Tanya Page of Al-Jazeera , Azzad Essa,  Milton Nkosi of BBC, Pelane Phakgadi  of EWN, Jeanette Chabalala of News 24, Nomsa Maseko of BBC,  Laura Smith-Spark and Katie Polglase of  CNN, Naledi Shange of Times Live, Kaveel Singh of News 24, Sibusiso Bongo of Amandla Awethu, Alex Mitchley of News 24, Gareth Davis of MailonLine, Dinky Mkhize of Reuters ,Abdur Rahman Alfa Shaban of African news, Ziyanda Yono  of EWN, Maryke Vermaak of The Citizen,  Yeni Safak of Anadolu Agency and many other mainly non-white and liberal racist  correspondents continuously hounded this two white farmers in their zest to wage a war against whites in South Africa.
Willem Oosthuizen and his wife Chane
As you can clearly see- these non-white and liberal Afrikaner haters made sure the international world knows about this "white racists" well enough. This was a main scoop- and every psychopatic white hater had a field day when "victory" against the "white racists" was at last announced. However– you will find NONE of this same non-white and liberal Afrikaner haters – the anti-white black politicians – or world news agencies such as CNN, ABC, BBC , etc chirp a single word about informing the world of the three black murderers of  the white farmer Joubert Conradie- or the black attackers of the 44 whites that were brutally assaulted and many murdered during the same time the whole villainous non-white and liberal media dregs of society were zooming in on those two white farmers.
Whites in South Africa must stop supporting this  evil media , the evil non white reporters- and  their evil black communist masters in their parliament. The liberal world at large is at war against the white race- PERIOD!  Even their great "white" VF Plus , Front National– and Union Solidarity was eerily silent in coming out of their blocks to the defense of the white farmers at the court. It tells you something about who is feeding who bullsh*t- now doesn't it? 
THE COFFIN CASE: NOW YOU CAN LOOK AT THE TRUE STORY- VIDEO
YOU WILL NOTICE WORSE RACISM GOING ON OUTSIDE THE COURT – THAN INSIDE THE COURT. Somehow the liberal media and their white-haters seems to have missed it. Who is bulsh*tting who about "racism?"
All while South Africa's racist mad masses and media gathered around this two white farmers that did this "unthinkable" deed against a "poor" black- FORTY THREE white farmers have been brutally assaulted and 11 brutally murdered during the same time by black thugs.The poor "victim" in the coffin case did not nearly suffer the same ordeal at the hands of those whites as did those 43 whites suffered at the hands of those black thugs- yet you did not hear ONE political  maggot or media reptile utter a single word against the black murderers.
White racism is constantly aggressively condemned by politicians and media ghouls with double standards- , while black racism is mostly deliberately ignored, or even defended in some cases. To fight one form of racism while accepting, defending or even promoting another form of racism, is also a form of racism.
In the latest incident a white farmer of Klapmuts in the Western Cape- Joubert Conradie– was shot at point-blank range by three black thugs that broke into his house.  Farmer Joubert Conradie, 47, of Uitkyk Farm in Klapmuts, died on Tuesday after he was shot by three black thugs  in the early hours of the morning, and died shortly afterwards during emergency surgery, police have confirmed. "The victim reacted to a noise in his residence [just before 01:00] when he was attacked and shot by unknown suspects, who fled empty handed," police said in a statement, as reported by South Africa's News 24.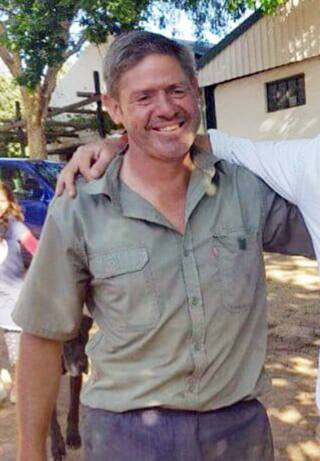 Western Cape white wine farmer- Joubert Conradie– brutally murdered by the three black thugs below- but we bet their court appearances will not receive nearly the same media attention – their faces plastered into the newspapers headlines across the world- or they have to go through the same dehumanizing attacks from both political parties and media alike as with the white farmers in the Middelburg case. Neither  will the judge in the case  be politically influenced to hand out harsh sentences the same way as was evident in the two white farmers – Oosthuizen and Jackson's  case- and no political masses will cheer if they are sent to jail. Another evidence that the South African political system is smut with black anti-white sentiment and it's courts ruled by false media accusations. 
DA MP Dianne Kohler Barnard posted a message on Facebook on Tuesday from Fanie Hattingh, of Mount Vernon Farm, on behalf of Marlene Conradie, of Uitkyk Farm in Klapmuts, confirming Joubert Conradie's death and decrying "another farm attack…. another murder." "Joubert Conradie passed away at Stellenbosch MediClinic following a tragic shooting incident on Uitkyk Farm in Klapmuts around 01:30 this morning," she wrote. "The patient was rushed to hospital and treated by a team of Emergency doctors and surgeons on arrival. He unfortunately passed away during Emergency Surgery at the hospital."
There have been three reported farm attacks over the past few weeks in the Western Cape, which resulted in two deaths. Conradie and 46-year-old Mark Fagan from Klein Dassenberg near Philadelphia, were shot dead just over a week apart. A third farmer, from Ceres, was allegedly attacked and stabbed with a knife several times in his roadside stall but survived the attack.(Link) 
Another white woman was brutally attacked by black thugs in Johannesburg last night- October 28 2017. Sy was assaulted with a piece of iron to such an xtnd lost her one eye. The thugs burned her with a hot clothing iron on her legs- as well as raped her and left her for dead. This all to rob a cellphone and a credit card. yet this disgusting ANC hounds, DA two-faced heathens, EFF racists and disgusting media will not even raise an eyebrow.
Another white couple in Van Der Bijlpark also was assaulted by black thugs last night. The white male was shot in the leg and his female companion shot in the hip. Again this mentally retarded media correspondents and sicko political parties will not say a single word about it.(Link) 
Then ironically black thugs assaulted  a white woman during a robbery at AVBOB in Orkney- and left her unconscious  in a coffin as well. Now here we have another case the same as what the white farmers did- BUT then again we can expect no media attention here as well. Simply because she was white. ( Link) 
A WHITE Farmer was shot 9 times and was brutally attacked before he was shot. The Farmers 12 yr old son was also brutally attacked.
BUT then again killing whites became a national sport among black politicians and black thugs in South Africa. Killing a white is totally "acceptable"-it  even became a favorite past-time  culture among blacks in South Africa- as long a no white dare touch or even sound "offensive" against any  black. Julius Malema, the leader of South Africa's Economic Freedom F*ckers (Communist and very anti-White), literally says that they won't slaughter Whites — yet — as long as they give them what they want. "The land must be expropriated without compensation." "We are not calling for the slaughter of White people, at least for now." "The rightful owners of the land are Black people. No White person is a rightful owner of the land here in SA and the whole of the African continent."
The EFF's national spokesperson, Mbuyiseni Ndlozi, echoes Malema's threat: "We hope land restoration will not have to come to a situation where Blacks have to also slaughter Whites." What's shocking is that this news has been censored from the Western media. Instead, they're going crazy over Donald Trump saying that he *suggested* temporarily banning the immigration of one group, or something like that. The BBC is just one of those corruption establishment media groups downplaying this news. A racist black politician openly talks about slaughtering White people, so what headline does the BBC write?
In the video below you will see illegal black squatters threatening a farmer with death if he does not vacate his property and hand it to them. Again no resistance or action from the communist regime or media. Whites are fair game in South Africa:
Now the farmer is expected to pay up R 500 000 to get a court order to remove these black leeches from his property.
Yet we have not heard or seen this same disgusting political parties or the media hounding the black killers or Malema the way they hounded the white farmers of Coligny, Reitz and Lichtenburg for alleged "racism." What went wrong in South Africa is that we now have another "apartheid" – a BLACK apartheid" in place- an "apartheid" that commits TEN times worse human rights atrocities against whites that the original "apartheid " ever committed against blacks- WITH the blessing of their racist government and lame-duck judiciary puppets which lately are effectively exploited to intimidate and oppress white farmers from the court houses .
That this case will have  far-reaching consequences is not to be disputed- as this case was a bench-mark that was specifically driven by both the communist rulers and villainous media alike to send a clear message to white farmers: Do not dare touch a black –IRRESPECTIVE if he enters your property legally or illegally- with good intentions- or malicious intentions. This case now left the door wide open for farm murderers to enter a white farm at will without the fear of being opposed- and to murder yet another white farmer as any resistance now will be seen as an act of "racism" – even if the black thug like Mhloshwa are lying through their necks to cover their criminal arses. Farmers must now fear even touching a trespassing black on their property as all blacks- even black terrorists- are protected by the  communist "law." "Racism" are being made the prime evil felony in South Africa- and murders a "second degree" crime. White murders are not even recognized as a crime by this criminals in charge anymore- but rather "hidden" from the public eye- iow a silent white genocide is in the offing.
Black rights  normally are protected by this evil communist dispensation- and cases now even come to light whereby black farm murderers that received sentences for brutally murdering whites applies for parole only after a few years- but two white men that wanted to rather scare a black cable thief than factually killing him– received ten times harsher sentences than a black murderers- even harsher than Oscar Pretorius...and that for alleged "attempted" murder?
A 12-year-old white boy was drowned in a bath of boiling water by black thugs  who raped his mother before killing both his parents in a violent house robbery.
Three black  thugs  broke into the family's home in Walkerville, Johannesburg, where they assaulted and shot dead Tony Viana, 53, and brutally raped and killed his wife, Geraldine. They then tied up and gagged the sobbing boy, Amaro, and pushed him into a bath of boiling hot water to drown him, 'because he would be able to identify them'. The family's gardener, Patrick Petrus Radebe, 24, their domestic servant's son, Sipho Mbele, 21, pleaded guilty to three charges of murder and one charge of rape each, reported The Telegraph. David Motaung, 20, pleaded guilty on Tuesday to robbery charges.
The Viana family- brutally murdered and the black killers laughed about it.
According to the accused, "we mutually raped Geraldine Viana." Sipho Mbele raped her first while Petrus Radebe helped to restrain her by standing on her face. Afterwards Radebe raped her too. The white family's dog apparently barked tremendously during the burglary. The animal was killed by disembowelment. They then left the South African court and walked back their cells laughing, according to Beeld newspaper. As the death penalty was abolished in South Africa, they will probably get lengthy prison sentences but could be out on parole within five to ten years. But two white farmers that did not even kill a black are going to serve longer sentences. 
Two black thugs arrested in relation to the gruesome murder of John (78) and Bina Cross (76) in the Gravolette area in Limpopo on April 16, 2000 (17 years ago) are applying for parole. Ephraim Mokwena and Michael Malemela were both found guilty of the horrific murder of the Cross couple who were both tortured and shot. The couple was returning from church on, April 16, 2000, and the two suspects were already in the house when the pair entered. Apparently, Malemela once worked for the Cross couple. According to their daughter, the thugs had already found John's firearms before the couple returned. The thugs tortured both Johan and his wife for five hours a poured boiling water over Bina and shot her three times. She did not die immediately but lay on the floor and bled to death.(Link) 
The discrimination against whites and the farm murders are now beginning to hit the international community as more and more people overseas are starting to protest against the white oppression in South Africa. People from Mexico, Iran, Belgium, Montenegro, Ukraine, Venezuela, Mongolia, Russsia and  Afghanistan now start to show their support for the white South African farmers that are brutally murdered on a genocidal scale every day while local libs such as Heinz Winkler still believes in the bogus South African "democratic" hoax.TV personality Aletté-Johanni Winckler, wife of singer Heinz Winckler, yesterday shared a moving video on her Facebook profile in which she surprised their Zimbabwean housekeeper Thoko with money to help pay off her house-(Link)  but never raised a dime to help impoverished white children
A clear indication that the illegal ANC regime uses the courts to discriminate and victimize whites also became evident in  the case of Matthew Benson– a white farmer of Brits. Benson was arrested on his farm in Mooinooi after he was charged for murder on one Tebobo Ndlovu (24). Ndlovu and his two cohorts entered Benson's farm with the intention of stealing scrap metal. Benson subsequintly fired a warning shot with the intention of scaring them away- but somehow the bullet found it's mark in Ndlovus LEG. After the warning shot the other two black villains ran away- and Ndlovu suddenly "mysteriously" disappeared- not ever to be seen again. Now the incompetent police accused Benson of "murdering" Ndlovu and the media already found Benson guilty in a case of corpus dilicti- no body to support their accusation at all. There even were false accusations that Benson murdered Ndlovu and buried the corpse "somewhere" on his farm- but again no substantial evidence was delivered support this wild malicious allegations. He died because of a shot in the leg?????
Even the black police commanding officer- Lt kol Isaac Tlhapi- acknowledged that the police are still searching for the "victim" or his body. Another case of miscarriage of justice against a white. Indications are that Ndlovu was told by political insurgents in the case to lie low to give the case more time to become another racial explosive incident. Now they already arrest white farmers on wild allegations and unsubstantiated assumptions! Everything is "alledged, alledged"- but no proof! Benson was subsequently denied bail by a judge that also was politically influenced by hundreds of white-hating black rioters from the Majakaneng illegal black squatter township. (Link)
Then we have the case of the Lichtenburg farmer that shot a black youth during a protest whereby his life and the life of his workers was put in direct danger as they were pelt by the unruly black mob and even threatened with bodily harm and death. (Link) The workers jumped ship from the pick-up and ran for their dear lives- which left the white farmer alone to face a horde of black unruly rioters coming for him. It was then that he decided his life was in danger- and also fired a warning shot to scare them off. The bullet also found it's mark and one of the protesters – 15-year-old,  Joseph Spencer Tshukudu of Blydeville- was fatally wounded.
As could be expected- the media hounds immediately conspired with the black rioters- and the truth was distorted to make place for the media lie that it was only a "peaceful demonstration" and that Tshukudu was not involved in the riots. They now claim that the white farmer acted in a "racist" manner without provocation and blatantly  fired shots into this "peaceful" crowd. This we know is an utter lot of bullsh*t as sources directly connected to the accused contacted White Nation and testified to the contrary that the farmer ( who White Nation have the name of)– factually is a peaceful God fearing man and he indeed was in a life-threatening situation. He told the sources how he was attacked with stones and objects pelted at his vehicle by the mob.
 Pieter Doorewaard and Phillip Schutte-another case where the disgusting media hounds again was looking for "white racists" to persecute. 
Then we have the famous Coligny case where two white farmers- Pieter Doorewaard and Phillip Schutte – also have been falsely accused of killing Matlhomola Jonas Mosweu. (Link) The pair  caught Mosweu stealing sunflowers on April 20 on their farm. They were driving him to the local police station with their pick up  when he tried to escape judgement by jumping off the pick up as it was slowing down for a bend- landed wrong and broke his neck in the fall.AGAIN conspirators from the media and local vagrants concocted a story that an "unidentified witness" saw the two white men assaulting and then pushing Mosweu off the pick up. The "witness" then also "mysteriously disappeared??" What a bloody dastardly lie!   Mosweu's death sparked black riots in the small North West town of Coligny with residents taking to the streets and looting and burning buildings.
Again discrepancies sneaked into this blatant abuse of the truth- when the police fail to produce a post-mortem report- which immediately would indicate whether Mosweo actually was assaulted or not. Secondly why would they suddenly decide to bump him off the pick-up if they were driving him to the police station to hand him to the police – like they did so many times before with other trespassing black thieves from the Majakaneng illegal settlement? These black settlement are a big problem to farmers in the area as they are continuously harassed by black thieves entering their lands and stealing their material and crops.
Pieter Karsten,- nephew of one of the accused farmers   told News24 his nephew was one of the men arrested for the murder, which led to the protests breaking out in the North West farming town. Residents claimed the death was racially motivated. Karsten said he had advised his nephew and another man to hand themselves over to police.  "Before last week, no-one knew who this boy was," Karsten said in his empty garage. It was one of the businesses on the town's main road, Voortrekker Street, that was looted and damaged during protests that week. "Who would hit a 12-year-old child? That's typical political propaganda, that's all that it is. Now the whole community is up in arms because of this boy's death. He died of a broken neck, not of being hit."
Sunflower theft
According to Karsten, two boys were caught stealing sunflowers . Two farmers, including his nephew, told them to get on their bakkie so they could take them to police. One boy allegedly ran off, but had since told police his version. Karsten said the other boy voluntarily got onto the pick-up. "When they slowed down around the bend, close to the black township, he realized that they were slowing down and he jumped off the bakkie." Karsten said they called an ambulance.
He said the violence that erupted was due to external political factors and misinformation from the media about what happened. He said police had let residents down by failing to protect them. "The people from the townships love our town, but the people that instructed them and threatened them for action is not community people. There were buses with people that were transported into town. Those buses were loaded with liquor, and loaded with everything that was looted." "It's very difficult to say how much we have lost. Our liquor store has been vandalized and looted. Our hotel has been vandalized and looted; all the windows have been broken. All the plate glass has been broken. Everything has been stolen and broken, so we've incurred huge losses," he said.
SO– another case of misplaced miscarriage of justice- whereby two white farmers were falsely accused of murdering a black- and black rioters exploiting the case to plunder shops in the town. Can you now see what is happening here? White rights are deliberately abused and trumped-up charges fabricated  to benefit black political agendas. Courts are instructed to hand down harsh sentences on any white farmer irrespective whether he is guilty or not.  The judiciary are now used to oppress whites in South Africa.It now is time to wipe all the "political correct" bullsh*t off the table- time to drop this minority inferior complexes and fears for this evil regime and their black cohorts- time to challenge their intimidation tactics and screwed-up anti-white judiciary systems, time to fight against the deliberate incarceration of our people on bogus charges, time to fight this BEEE racist laws and farm grab policies -stand up- and tell the world what really is going on in this South African cesspool of black on white blatant racism, oppression, discrimination- and the direct white genocide that has been going on for 20 years already.
SO many times you read about black racists like Malema, Zuma, Mnxitama, Black Lives matter and many radical blacks on social sites that flings racial abuse and threats against whites- yet these criminals are blissfully ignored when it come to the "hate speech" and "racist" issues. Most of these "anti-racist" laws were fabricated especially to target the white people alone.
THIS IS WHAT SOUTH AFRICA HAS BECOME- A HAVEN FOR TERRORISTS. EFF TERRORISTS MIXING WITH HEZBOLLAH TERRORISTS? AND THE COUNTRY AND THE WORLD CONDEMNS AND INCARCERATE TWO WHITE FARMERS FOR "RACISM" – BUT ALLOW DANGEROUS TERRORISTS TO WALK AROUND FREE? WHITE MAN- TIME TO TAKE UP YOUR WEAPON AND START FIGHTING BACK- YOUR TIME IS NEARLY UP!
The media are used to instigate racial tension and anarchy. "Racism" is a Communist invented tool being used to discriminate and punish whites if they "step out of line" by daring to touch  political black "protected game."  Race division is promoted by the black illegal regime and their newspapers to ensure black communist control- and the judiciary system politically manipulated to support the blatant abuse of the rights of whites. Again- where were the so-called VF Plus , Front National – or Solidarity to visibly support their white farmers  against this blatant lies and set-up from the liberal political criminals? I suppose they " politically correct" decided to stay far-far away from that court as not to be branded "racists" again- and maybe  in all their double agendas – loose a few of their  colored and black supporters. 
A Well-known Musician & Singer Vernon Muso of the Vaal Triangle writes an open letter to the Minister of Police:
"Dear Minister, I am addressing you today in an open letter as a very concerned South African citizen, and I truly hope that this letter, which comes from the bottom of my heart, somehow reaches you. There is clearly a full-on crime spree on white South African farmers going on in our beautiful country, leaving a trail of blood, devastation and unspeakable hurt in its wake, while it looks like, from where I am sitting, that the SAPS is incapable of stopping this barbaric acts… Mr. Minister, I truly hope that it is indeed "incapable" and not "unwilling" that hampers your efforts to stop this barbarism, because if it's indeed "incapable", it means that resources can be added to and suitably deployed to gain the upper hand over these ruthless killers.

I believe in your abilities. I really do. Could you please do more to save white farmers' lives? Do they deserve to be slaughtered like animals just because of the color of their skins? I am devastated to see the absolute brutal nature of these attacks, and I can't even imagine the horror that the victims of these attacks go through. Please help here, Sir.
I wish you all the best in your remaining term in this seat, and pray that my trust in you is just…

Kind regards
Vernon Muso
(Oh, by the way Mr. Minister… I'm Co loured)."
-and no action will be taken against these lot of half-wit criminals below either…they are not white "hate speech" supremacists…
THIS IS NOW YOUR "DEMOCRATIC"  NON-RACIST BLACK SOUTH AFRICANS THAT YOU HAIL SO MUCH ABOUT…
AND THEN YOU GET THE PITS OF IDIOCRACY TOO- AS EXPECTED….
Dear male afrikaaners…let's replay for you this one more time.

Posted by EFF Malema on Monday, October 30, 2017
SOURCE- White Nation
WHITE NATION– WE DO NOT HATE WHITE LIBERALS– WE SIMPLY DESPISE THEM!!
C'MON- SHARE OUR LINK