Do you have news to tell us? Send your e.mails with news and inquiries to: w.nation@mail.com
Register to follow our news on the right-hand tab
ADD YOUR COMMENT AT THE BOTTOM OF THE PAGE
Article posted  by: White Nation correspondent Potchefstroom November 26   2017
SOUTH AFRICA– FAILED ILLUSION OF COMMUNIST ANC ORGANIZED CRIME ,LIBFARTS, UNION CHAOS , MISDIRECTED RAINBOW MONKEYS – AND WHITE GENOCIDE
SOUTH AFRICA now literally finds itself on the junk heap as S&P Global Ratings on Friday evening lowered its long-term foreign currency sovereign credit rating on the Republic of South Africa to 'BB' from 'BB+' and affirmed the 'B' short-term foreign currency sovereign credit rating.
The outlook is stable.
At the same time, the long-term local currency sovereign credit rating was lowered to 'BB+' from 'BBB-' and the short-term local currency sovereign credit rating was lowered to 'B' from 'A-3'.The outlook is stable. "We also lowered the long-term South Africa national scale rating to 'zaAA+' from 'zaAAA' and affirmed the short-term national scale rating at 'zaA-1+'," the rating group said. "The downgrade reflects our opinion of further deterioration of South Africa's economic outlook and its public finances. In our view, economic decisions in recent years have largely focused on the distribution–rather than the growth of national income. "As a consequence, South Africa's economy has stagnated and external competitiveness has eroded. We expect that offsetting fiscal measures will be proposed in the forthcoming 2018 budget in February next year, but these may be insufficient to stabilize public finances in the near term, contrary to our previous expectations," S&P said.
The Rand lost ground against the dollar, weakening almost 2%, to R14.11 against the greenback. S&P said that the stable outlook reflects its view that South Africa's credit metrics will remain broadly unchanged next year. "It also speaks to our view that political instability could abate following the party congress of the governing African National Congress (ANC) in December 2017, helping the government to focus on designing and implementing measures to improve economic growth and stabilize public finances."
It said that downside pressure on the ratings could develop if economic performance and fiscal outcomes deteriorate further from its forecasts. "Further pressure on South Africa's standards of public governance, for example in our perception of a threat to the independence of the central bank, could also cause renewed downward pressure." S&P said: "We could raise the ratings if economic growth or fiscal outcomes strengthen in a significant and sustained manner compared with our base case. Upside rating pressure could also rise if risks of a marked deterioration in external funding sources were to subside, in our view, and external imbalances decline. "Upward pressure on the ratings could also develop were policymakers to introduce economic reforms to benefit job creation, competitiveness, and economic growth."
Compared with its last publication in June 2017, S&P said it now projects lower real GDP growth of 0.7% in 2017 and 1.0% in 2018. Moody's Investors Service meanwhile, placed the Baa3 long-term issuer and senior unsecured bond ratings of the government of South Africa on review for downgrade. "The decision to place the rating on review for downgrade was prompted by a series of recent developments which suggest that South Africa's economic and fiscal challenges are more pronounced than Moody's had previously assumed. "Growth prospects are weaker and material budgetary revenue shortfalls have emerged alongside increased spending pressures. Altogether, these promise a faster and larger rise in government debt-to-GDP than previously expected," it said.
The review, Moody's said, will allow the rating agency to assess the South African authorities' willingness and ability to respond to these rising pressures through growth-supportive fiscal adjustments that raise revenues and contain expenditures; structural economic reforms that ease domestic bottlenecks to growth; and improvements to SOE governance that contain contingent liabilities. The review period may not conclude until the size and the composition of the 2018 budget is known next February. This will also allow Moody's to assess the policy implications of political developments during the review period, the group said.
In the meantime, South Africa maintains credit strengths that still support its Baa3 rating. "These include deep domestic financial markets and a well-capitalized banking sector; a well-developed macroeconomic framework; and low foreign currency debt. Adherence to the Constitution and the rule of law continue to be the key pillars of strength of South Africa's institutions."
Ahead of the rating decisions, analysts had expected the worst.
A downgrade of LC and FC debt by Moody's and a of LC by S&P – the worst case scenario – was put at a 10% probability;
A downgrade of LC debt by either Moody's or S&P, but not both, was at a 40% probability; and
No changes from either were put at a 45% probability.
While economists have been bearish on South Africa, saying a downgrade to full junk is inevitable, they have been cognizant of the fact that the Friday rating decision was very close to the ANC's elective conference in December, which will have a profound impact on the country. One of the biggest consequences of a full junk rating from these firms is that South Africa will be kicked out of the World Government Bond Index, which would lead to a forced sell-off of South African bonds.
The financial impact of this is staggering, with economists saying that it will lead to R100 billion disinvestment almost immediately, going to over R200 billion in the long-run. Fitch's rating, which has had South Africa in full junk for some time, does not impact the country's standing in the WGBI, which is why the impact of its ratings wasn't as hard-felt. Rating agencies have long issued warnings about South Africa's low growth; high levels of government spending; stubbornly high levels of unemployment; and political and policy uncertainty.
HOW WILL WE AS "THE PEOPLE" SUFFER DUE TO ZUMA AND HIS CORRUPT ANC's MALADMINISTRATION?
When a country is considered junk, it basically means it is not investable. Investors are wary to put their monies in junk-rated economies because they aren't growing. As their investments leave the country, it means fewer job opportunities in South Africa.Junk status is also especially worrisome for a country's lenders. They worry that the country will default on payments owed to them. To bridge this worry, they may charge South Africa higher interest rates. This means that the amount of money going to meet debt repayments will also increase — and this affects consumers in the long run.
Petrol and food get more expensive
A downgrade might likely result in a weaker rand, thus increasing the price South Africa pays to get goods into the country such as oil and food — subsequently pushing the price of these goods to make up for the shortfall. And as expected, within minutes of S&P's announcement, the rand had plunged from R13.88 to the dollar to R14.15, according to Times Live.
This means that inflation — which is the sustained increase in the general price of goods will also increase. In response, the SA Reserve Bank might decide to increase interest rates to curb inflation, affecting our personal rate of borrowing. Servicing debt such as a credit card, loan, car and property repayments will also then cost us more.
This will leave us with less money in our pockets for food and other household expenses. South Africans may also find it harder to qualify for new loans and if they do, may pay higher interest rates. A possible ratings downgrade is especially concerning in South Africa's case, as the country's debt already stood at more than R2-trillion in February, and "growing significantly", pointed out Nazrien Kader, managing partner at Deloitte Africa's tax and legal services.
"Currently our (fiscal) policy gives rise to what is called a deficit. This means that currently the government is spending more than the revenue (taxes) collected," explained Zothile Manqele, the founder of ZML Accounting Solutions. "Moody's and S&P's have already cut us a lot of slack, what with cabinet reshuffles that happen overnight. My gut feel is that they will allow us to get through the ANC's elective policy conference in December — which is an opportunity to address some fiscal issues, and then make decisions from there," pointed out Kader. Until then, advises Manqele, "it is important for South Africans to be careful with their spending, save more and keep the bank account healthy, because oit goes without saying that our beautiful country is facing tough times."
ZUMA SELLING OFF SOUTH AFRICAN ASSETS?
MEANWHILE Jacob Zuma now tries to sell majority stakes in Denel to Quatar. The Sunday Times has reported that Jacob Zuma is in talks to sell a majority stake in the state-owned arms manufacturer Denel to Qatar. Zuma is reportedly also in talks with Qatar to sell stakes in South African Airways and Eskom, but these negotiations could not be confirmed by the Department of Public Enterprises or the Presidency.
The Sunday Times said the discussions between Qatar Defence Minister Khalid Bin Mohammed Al-Attiyah and Zuma took place during a state visit to South Africa this month. Denel and Zuma's spokesman, Bongani Ngqulunga, denied (as expected) that Denel is selling a stake to Qatar, however. Ngqulunga said the Qatar Defence Minister simply "paid a courtesy call" to Zuma, and that no deal was discussed. The Department of Public Enterprises, Treasury, and the National Conventional Arms Control Committee reportedly have no knowledge of the deal. We by now are quit aware of this illegal regime's power of "flat denial"- just as they also lied about selling South Africa's oil reserves and denied that as well. Tina Joemat Petersen lied through her neck- but on the end had to admit she sold the reserve oil at garage sale prices. Up to today Joemat Petersen was not charged with fraud and racketeering as yet. Furthermore who gave Zuma -an appointed public servant- the right to sell off public interests without notifying the public first? 
Challenging position
Denel is struggling financially, and the arms manufacturer recently tabled an incorrect annual report. The auditor general told parliament it requested auditing firm SizweNtsalubaGobodo to change its clean audit opinion on Denel after irregular expenditure (as expected under the corrupt ANC kleptocracy) had come to light. Denel has faced financial problems for years, and in 2015 it was reported that Denel could not pay its suppliers after exhausting its cash reserves on an ill-advised acquisition. According to Rapport, the cash troubles started after an acquisition of land mine-resistant vehicle manufacturer BAE Land Systems SA for R855 million. The company has also been linked to dealings with the Gupta family. (Link) 
IF OUR PLUNDERING COSTS THE COUNTRY TOO MUCH- THEN LET US TAX 'EM AGAIN!
Jacob Zuma directed the Minister of Finance, Malusi Gigaba, to trim down expenses and increase revenue to find a solution to the R40 billion gap identified in the Medium-Term Budget Policy Statement and by ratings agency Standards & Poors ahead of its ratings cut on Friday. This would equate to cuts in expenditure amounting to about R25 billion as well as revenue-enhancing measures amounting to about R15 billion, including where appropriate, tax measures, the presidency said in a statement.According to a report by BusinessDay, Treasury has since confirmed that these amounts were over and above the R15 billion in tax measures and R31 billion in spending cuts for the 2018-19 fiscal year already included in former finance minister Pravin Gordhan's budget in February. This means that government is looking to implement a total of R30 billion in tax hikes and more than R50 billion of spending cuts in 2018 – just to help cover the shortfall.(Link) 
SARS RUNNING RAMPANT TO HUNT DOWN TAX PAYERS
News also has reached our ears that SARS- that state owned kleptocracy in Pretoria- now are literally phoning and hunting down tax payers to present their tax returns (IRP5's)-  in order to squeeze the tax payer again to fund the devious state department with funds to try to balance that back-log of R 52 billion. SARS- itself rife with corruption- ( with 25 700 official complains already launched against SARS ) (Link) – apparently are loosing rats as they jump that racketeering ship in droves.  The list of experienced SARS employees who are leaving the institution appears to be continuing unabated, with the latest resignation coming from a senior manager in the criminal investigations of the tax and customs enforcement unit.  News24 has learnt that Ronel van Wyk resigned this month and is working the rest of her notice period at home. Van Wyk was allegedly escorted off the premises on the day she resigned. (Link)  When will the public take action- and summons SARS to present THEIR "IRP5" to the public- explaining what they have done with each and every taxpayer's taxes this past 20 years- iow when will a full independent audit be done on the books of SARS itself? You see- SARS deem themselves as " untouchable"- little gods demanding your unsolicited obedience in departing with your hard earned money. Why must we pay taxes? Because it's "law." Who's "law?" 
There is no justification in taking your money without fully declaring what "they" are going to do with it- and how you per se will benefit from your "investment." Up to today SARS have – like the Reserve Bank which is a private institution running the GOVERNMENT's finances- not disclosed ONE single cent they have squandered. So- if they refuse to disclose their income and expenditure- then that make them thieves as well-  and must be met with the same "law" they slam you with- and their chief and all the managers operating in SARS be sent to jail for tax disclosure evasion- just as they send you to jail if you fail to hand in your tax return every year…not so?
They are a PUBLIC department and all their staff PUBLIC appointments paid by the PUBLIC to render a service. As we as taxpayers are their employers then – they are compelled to declare to us as major stakeholders what they have done with our money they take every month…not so? It is because of their (and the Reserve Bank's" ) CORRUPTION and false conspiracies that we "belong to them" – that they oppress us and throw us in jail where-as we as the public actually have the FULL right to refuse to pay a cent tax UNLESS we know what it is been used for. Did the Revenue Service ever disclose their own income and expenditure to the public on a yearly basis like we are forced to do as yet? I think you know the answer to that one. It is time we stop paying taxes until SARS become transparent in  official audits what they are doing with our money – and how we benefit from each cent we pay.
It is time a full audit be done on the Reserve Bank and disclosed why a FOREIGN private company registered in New York  are running OUR country's finances.Will SARS disclose to us- seeing that the SA Reserve Bank is a privately owned institution– how much the Reserve Bank owners so far have paid in taxes – and proof of submitted income tax returns as all private companies are "supposed" to do by "law??" When do we see banks being audited for all their racketeering and loan sharking?  When will Pick & Pay also start running our provincial budget then? Can McDonalds also run our city council budget? They are a private company too you know? The government is supposed to control the banks- but ironically in South Africa the banks are controlling the GOVERNMENT! 
Anyhow- With yet another huge devastating fuel  increase looming in December/January – linked to soaring food commodity index prices by scrupulous corporate racketeers – it looks as-if the poor South African consumer will again be pummeled into starvation and impoverishment by a corrupt greedy regime that has no brains, will- or capability to govern. With corrupt kleptocrats in control that are plundering the state coffers- like the R 12 million these ANC mob hooligans  spent on luxury cars (Link)– The Gauteng ANC regime paying suspended employees to stay at home doing nothing is getting worse, with nearly R76 million of taxpayers' money blown in the past seven years. (Link),- the communist plunderers that defrauded the state coffers out of R 1.2 millon (Link)  ,Transnet involved in SIX Gupta deals (Link)– and Zuma himself that splashed £370,000 of state funding  on 11 cars for his four wives (Link)  –  one can understand South Africa being degraded into full junk status.THEN we also have all those ANC-controlled municipalities that owes ESKOM MILLIONS of rands:
The municipalities, and how much they owe, are listed below:Municipality Outstanding Debt

Matjhabeng Local Municipality R1 849 226 784
Vhembe District Municipality R642 876 734
Mopani District Municipality R 520 803 422
Lekwa Local Council R450 200 841
Msukaligwa Local Municipality R384 958 301
Mangaung Metro Municipality R349 227 064
Mahikeng Local Municipality R228 855 994
Emfuleni Local Municipality R270 153 387
Maluti a Phofung Local Municipality R233 925 397
Kopanong Local Municipality R196 689 402
Dr Ruth Segomotsi Mompati District Municipality R195 078 429
Mafube Local Municipality R159 850 740
Emalahleni Local Municipality R144 654 434
Nala Local Municipality R126 954 981
Maquassi Hills Local Municipality R114 632 660
Mbombela Local Municipality R103 031 636
Nama-khoi Local Municipality R97 794 551
Dr Pixley Ka-seme Local Municipality R86 787 181
Ngwathe Local Municipality R85 522 099
Jbmarks (Potchefstroom) Local Municipality R69 551 269
Dikgatlong Local Municipality R64 577 101
Ngaka Modiri Molema Local Municipality R62 933 833
Dipaleseng Local Municipality R62 604 901
Madibeng Local Municipality R59 837 027
Zululand District Municipality R56 360 784
Amatole District Municipality R50 661 382
-and then many municipalities owe huge sums – a total of R10.3 billion -to the Department of Water Affairs as well- and these will be cut due to nonpayment. The 30 municipalities are: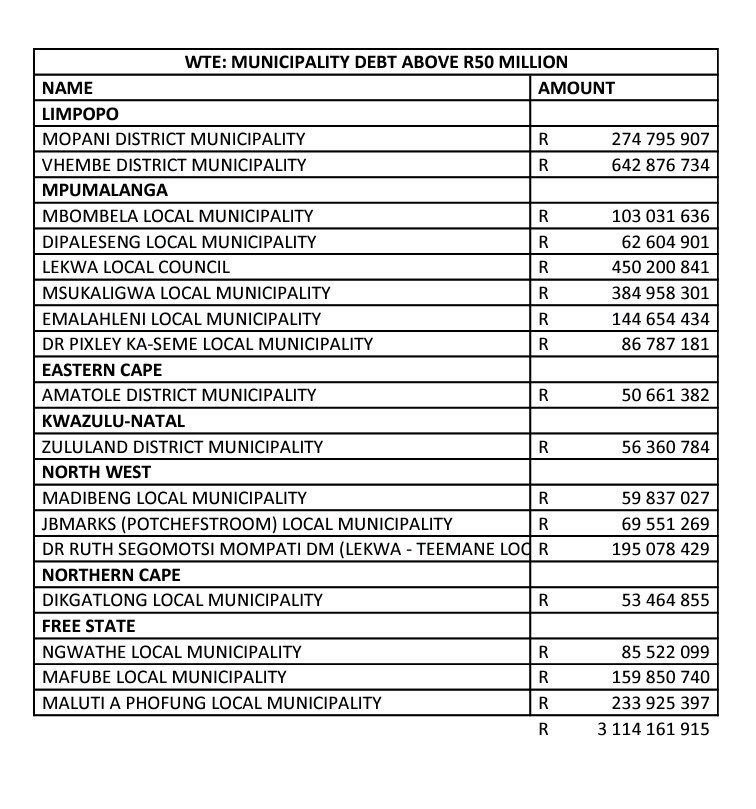 AGAIN the question is what are they doing with all the rates and taxes they rake in at a humongous rates from the rate payers every month?
OUR "NEW SOUTH AFRICA LEADERS…
The DA yesterday in Pretoria. There's nothing from eNCA, News 24, M&G, Daily Maverick…is this probably the NEW DEAL?

Posted by Siliziwe Mazilazila on Tuesday, November 28, 2017
CORRUPTION…CORRUPTION…CORRUPTION GALORE..
South Africa's leading pay TV service provider' Multichoice' – a Broederbonder brainchild- is in the hot seat once more with new revelations from the Democratic Alliance over a R100-million a year plan to gain access to the SABC's "political influence over digital migration".
In a statement on Tuesday' the DA's Phumzile Van Damme said SABC board minutes from 6 June 2013 revealed the payments were to be "in exchange" for the SABC's 24-hour news channel which would be aired on DSTV' and it would be up to the public broadcaster to monetise the channel. The SABC's migration from analogue to digital broadcasting has been mired in controversy' as allegations of bribery' corruption and tender manipulation surfaced regarding the procurement of five million set top boxes (STBs) which could receive the new digital signal. The STBs would be distributed for free' while a further three million would be sold by private retailers.
26 companies were awarded work on the contract to supply the STBs but the process has been subject to a court challenge that ended up before the Constitutional Court' a probe by the Competition Commission and an investigation by the Special Investigations Unit. In August' the Constitutional Court upheld a decision by former communications minister Faith Muthambi that the STBs did not need to have the capability to decrypt broadcast signals' which was a move in favour of Multichoice which holds a strong monopoly in the pay TV sector in South Africa.
Controversially' Muthambi was in 2015 awarded powers by Jacob Zuma that led to her being able to make the decision. This would play in favor of state capture culprits' the Gupta family and their ANN7 news channel. Last week it emerged that Multichoice had agreed to pay the Gupta family R25-million for their channel to be aired' in what has been described as a "kickback" agreement – also allegedly for influence over the STB project.(Link)
It is then no  wonder Zimbabweans like Peter Compus Ndlovu  said they  are inviting whites who are being abused by black South Africans to come to Zimbabwe! Christopher Mtsvangwa of Emmerson Mnangagwa administration says all white farmers are welcome back and they will be compensated for land seized by Mugabe's administration.
It now is the time to start the tax revolution and stop paying for a racketeering mafia mob that only are looking after their own interests on the expense of hard working people. South Africa since 1994 became a country that has been seized by a group of communist opportunists and run as a private business venture . To the present state of sacrificing innocent lives of patients  to cut state expenditure on health in the endless looting of State treasury . South Africans are living in a fake state with a fake policy – no more a herd  of national sheep led by political herdsmen- but rather a herd of naive goats led by a pack of corporate wolves. Why is it that South Africa now are degraded to  total junk status? The answer is because of this criminals in control  it now BELONGS there!
JOB OPPORTUNITIES FOR WHITES:
Farmers across the country are looking for jobless white men and women to work on their farms at R70.00 a day, accommodation is included as well as other extra benefits. Pse contact Andre Nienaber at 0718779094.
SPONSORED ADVERT:
WHITE NATION– WE DO NOT HATE WHITE LIBERALS– WE SIMPLY DESPISE THEM!!
C'MON- SHARE OUR LINK