Do you have news to tell us? Send your e.mails with news and inquiries to: w.nation@mail.com
Register to follow our news on the right-hand tab
ADD YOUR COMMENT AT THE BOTTOM OF THE PAGE
Article posted  by: White Nation correspondent Tennessee USA  December 12   2017
AMERICA
QUESTIONS about how the California fires started and still continues now – were asked. And not only asked- but there now is speculation filtering through as to why just certain homesteads were "targeted" by the raging fires- and others "escaped" untouched? To many people "out there" the coincidence is just too uncanny. The inferno seems to have a mind of it's own and seems to  "know" which homes to destroy- and which not. It will burn down one home to the ground- while the home next door are left untouched. And this phenomena occurs right through whole neighborhoods.  Only houses were in fire…no trees or vegetation was on fire, just homes, and in heavily wooded areas . 
WAKE THE FUCK UP HUMANITY!!!!!!!!!!!! CAN YOU SEE THIS WITH YOUR EYES!?!? CAN YOU USE 👉 LOGIC AND REASON!?!?! IF YOU CANT, YOUR FUCKING BRAIN IS SO MARINATED IN COGNITIVE DISSONANCE AND FLUORIDE, THERE IS NO HELP FOR YOU AND YOU ARE INDOCTRINATED AND BRAINWASHED INTO THIS SLAVE MATRIX. 👉 DO YOU FUCKING SEE THIS. MY GOD – THIS IS MURDER!!!!!!!!!!!!!!!!!!!! #operationwakehumanity #OpWakethe3 #WEAREUNDERATTACK #WEARETHETERRORISTS @Regranned from @anon4lif3 – If this video doesn't prove to anyone #athenalaser and/or #DeirectEnergyWeapons were used in California, you are either blind, heartless careless or just a coward for crossing your arms and not admit the FACTS #WEARETHEIRTARGET #ELITEORDELETE #deletetheElite #endthefed #USORTHEM #theydontcareaboutus #anonymous #anon4lif3dom – #regrann 💔

Posted by Kelly Brown on Friday, December 8, 2017
The possibility of deliberate malicious "dark forces" behind government agencies  using Direct Energy Weapons– (DEW's) now are surfacing across the internet and on social sites. Conspiracy theories maybe- but still a possibility if one looks at the evidence. If the government can embrace other secret programs such as HAARP to control the weather- it surely can accommodate other devious "secret" programs such as "DEW's as well. One of the more powerful and less known tactics is the "Delphi "method, another "secret" weapon developed by the Rand Corporation. It's used by bureaucrats and government insiders to control public meetings and quash opposition.
Another example is the secret "Geo-engineering projects. For instance in the aftermath of the devastation wrought by Hurricane Harvey and Hurricane Irma, and Hurricane Jose brewing in the Atlantic, many people are looking for answers as to the increasingly volatile weather being witnessed. And while climate change is one potential cause, there are other lesser known activities that could potentially be playing a role in the manifestation of these weather anomalies.
While weather modification like Chemtrailing  and geo-engineering are still somewhat taboo subjects to the mainstream, often considered to be in the realm of "conspiracy theory,"–  there is a significant body of academic research and science that confirms that these technologies not only exist but are being operationalized. No, the Free Thought Project is not claiming the government, nor anyone else is making hurricanes or actively controlling the weather. We are only presenting this information because it exists and people should be aware that it exists.
In a segment aired on CBS in 2013, respected scientist Dr. Michio Kaku, a physics professor at City College of New York, discussed – with Charlie Rose and Norah O'Donnell – the science of weather manipulation. During the interview Kaku, in discussing the experiments with weather modification notes that "We're shooting trillion watt lasers into the sky," referencing the use of lasers to induce changes to naturally occurring weather phenomena.
Later in the conversation, Kaku briefly touches on the history of weather modification that has been carried out for decades by the government – with the CBS hosts quickly interrupting him to note these programs were only "alleged." Of course, these hosts must be ignorant of the declassified history of "Operation Popeye," which was a weather manipulation program enacted during the Vietnam War as a means of creating ongoing monsoon conditions in an effort to impeded the Viet Cong's mobility in the region.
This is no "conspiracy theory."
In fact, research published in the Proceedings of the National Academy of Sciences specifically notes that laser beams create plasma channels in air, which in turn, cause ice to form. Professor Jean-Pierre Wolf and Dr. Jerome Kasparian, both biophotonics experts at the University of Geneva, actually organized a conference at the World Meteorological Organization to discuss how powerful laser pulses can be used to generate changes in the atmosphere that influence the weather. (Link)
Directed Energy Weapons (DEW's)

Posted by Adam Asing on Thursday, December 7, 2017
Now we can understand the concern about the fires in California that sporadically erupted in "targeted" places only. This type of incineration that occurs in California now which turns even car engines into molten rubble can only be done by a source with a very high heat concentrated intensity- and definitely NOT by a normal fire. But there is other sources that have that ability- sources like"Fahrenheit 662″ plastic melts and evaporates without a vestige...No soot evidence.No glass also so…lets call it even "Fahrenheit 2600″ These have the characteristics of  surgical strikes, definitely fires way too hot- resembling  Microwave blasts.  Without a doubt it takes a blast furnace to "dehydrate" bone so it looks like a the bone from a cremation. No way can a forest fire create the kind of heat to damage bone. Ask any funeral director to easily prove that true.
Debora Tavares' interview with Jeff Rense in 2015 conclusively provides documented proof of premeditation of fire destruction of Sonoma and Mendocino Counties, in Northern California using microwave weaponry.
It starkly reminds us of yet another horrifying incident where many questions also still are unanswered- the Twin Towers. The mechanism to blow up the towers is called direct free energy. Check the website of Hutchinson Effect to get an idea of how the mechanism works. It was discovered by Tesla. The force combines electromagnetic energy from the magnetic fields around the earth, and electric energy. Set at a particular wave length, the waves break the molecular structure of the atoms where it is directed. The dust disintegrated to the size of red blood cells.
All you folks who think you know the answer…explain to my how the 1,400 cars were demolished at the same time. Exploding the towers would have left a debris pile. Exploding and/or fire would have left some things for us to see…e.g bathroom fixtures from the 3,000 bathrooms. Where are the desks? There was one mangled file cabinet left. Why did all the paper survive. How about this? A billiard ball dropped from the top of the tower, in a vacuum, would take 9.2 seconds to hit the ground. Actual time for the tower to hit NOT in a vacuum was about 8 seconds. How did that happen? The top never hit the ground. It was turned into dust. Private investigators check the videos at the Pentagon. That red streak was NOT an airplane. It was a missile. How do you explain the round hole in the building which is FAR too small for a passenger jet. No bodies. No luggage. No seats. The twin towers turned to dust. Airplane fuel does not do that. A space-based laser weapon does. See QTZ1009 for the source of that weapon.
Meanwhile thousands of firefighters are making headway against the vast Thomas Fire burning in Southern California, expressing hope that conditions are becoming more favorable. The blaze is larger than all of New York City and was about 20% contained as of Monday evening, according to the fire protection agency CAL FIRE.
The wind was cooperating with firefighters Monday and pushing the fire away from nearby communities, Santa Barbara County fire spokesman Mike Eliason told CNN. The breeze had also cleared the air somewhat, leading to improved visibility for fire crews. "It's still not great. It's bad, but it's a better bad," Eliason said, warning that there was a fine line between winds helping firefighting efforts.
"You want the breeze to clear the air, but you don't want the breeze to fuel the fire," he said. "Hope springs eternal. Every day we're going to hope that this progressing and getting closer and closer of being put to bed. But right now we're going to need some rain and the long range forecast doesn't show that." The Thomas Fire is only one of six major wildfires torching the state. In total, the fires have destroyed more than 1,000 structures since igniting last week.
The blazes vary in size. Together, they are larger than the areas of New York City and Boston combined, or bigger than the area of Singapore.
This also reminds us of the sudden wild fires raging in the George and Knysna region that basically wiped out the whole town of Knysna in South Africa as well. Similar characteristics with similar
"excuses"
from the government and faceless
"kids"
blamed for the devastating fires that ran over
70 miles
wide. Was the
"kids"
in
Whats-App
contact with each other- synchronizing the fires to start at chronological order? . Now the police are blaming an unknown
"arsonist"
– 23 year old
Mohammad Islam
from Teheran
Iran. (Link)
Does this now sound eerie or what- perfect
pseudo
name
 . Mohammad– (Prophet's name)
–
Islam
(religion)
from
Iran
(Only country opposing America's influence in the Middle East.) Do they really expect us to be THAT naive?
Here we have the
PERFECT CIA
–
created
Muslim terrorist if you ever heard of one.
What a pot of crap!! 
Latest developments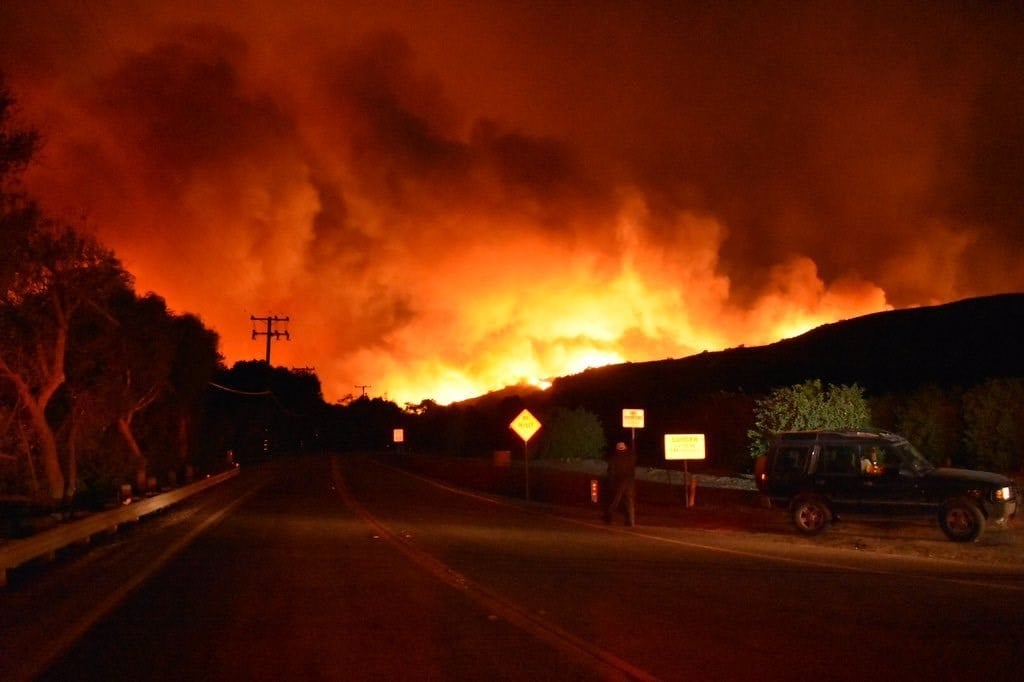 Making history: At more than 230,000 acres in Ventura and Santa Barbara counties, the Thomas Fire is now the fifth largest wildfire in modern California history.
Elevated conditions: Fire conditions are much better than over the weekend, but winds will continue to be a bit breezy at 20 to 40 mph through the middle of the week, according to CNN meteorologist Taylor Ward. Ventura County and surrounding areas are under an elevated fire outlook through Tuesday. Temperatures will remain in the upper 70s and low 80s for the week, as humidity remains low.
Warnings: A "red flag warning" for Los Angeles and Ventura counties has been extended into Wednesday evening, the National Weather Service said. That means elevated fire weather conditions are expected due to gusty winds and low humidity.
Evacuations: Some 93,243 people were under mandatory evacuation orders in Ventura and Santa Barbara counties Monday afternoon, county fire officials said.
Death toll: The death toll from the Thomas Fire stands at one. Authorities believe Virginia Pesola, 70, of Santa Paula, died in a crash while fleeing the fire. Her body was found Wednesday.
Firefighters tested
Santa Barbara County Fire's Mike Eliason said firefighters were working 24 or 36 hour shifts, typically on two week rotations. Their priorities were saving lives first, then property and then the environment, he said. "This is the job they all signed up for, so they're all aware of what can happen and how the job can go. I think spirits are good, they've made some saves. I think they realize they have a mission here and a job and they're really working hard," Eliason said.
Limited visibility had made it difficult to tackle the blaze. "This poor visibility has really hindered the fixed wing aircraft because they can't maneuver in these canyons if you can't see where you're going, so we've been forced to use helicopters that have been pounding it with gallons and gallons and gallons of water," he said. The onshore winds were also pushing the fire back up into the canyon. "The longer the fire burns uphill, the bigger the burned area is going to be (behind it) so when the wind does shift, it's not going to have anywhere to burn back down into the community,' he said.
While the outlook was looking more positive, Eliason said he expected the fire to burn for another couple of weeks at least. "Our hearts go out to all the folks who have lost homes already. Especially this time of year with the holidays coming, you've got to feel for these folks who've lost just everything. In some cases they had just minutes before they could evacuate and left with just clothes on their backs. We're trying our best to make that not happen anymore."
The National Weather Service in Los Angeles tweeted Monday that smoke was expected to affect coastal areas of Ventura and Los Angeles Counties by the afternoon and early evening.
'They're nervous'
Southeast of Montecito,Megan Tingstrom, owner of the Red Kettle Coffee in Summerland, has stayed open most of the week since the Thomas Fire started in Ventura County last Tuesday. She offered free coffee to the firefighters and evacuees who trickled in. "Some were crying," she said of the evacuees. "They said they lost their homes."She said residents in Summerland, Montecito, Carpenteria and Santa Barbara are hopeful the blaze doesn't spread to their communities. "They're nervous," Tingstrom said.
On Monday night, flames were visible in the hills by Carpinteria. Fire officials said it was a controlled burn.
"We are basically trying to slow it down so all the crews can get in there and stop it from coming down to save these structures"
'The worst I've seen'
As the flames burned in the foothills on the edge of Montecito in Santa Barbara County on Monday evening, some hoped for the best. Barbara Nimmo said she had lived through massive wildfires, including the Zaca fire that burned more than 240,000 acres in 2007 and one in Romero Canyon more than 40 years ago. She was staying put, she said, even as blaze glowed on the hillside behind her.  "We're from here. We know fires and we feel absolutely dedicated to our clients," said Nimmo, an estate manager for several mansions in the affluent Montecito area. "I'm just devastated overall. This is the worst I've seen."
Man loses 2 homes in wildfires
In just two months, Dr. Antonio Wong lost two houses in two separate California wildfires. The anesthesiologist, his wife and his son escaped their Santa Rosa home before a wildfire engulfed it in October.
Weeks after Wong sifted through the charred remnants of that house, he learned that his other home in Ventura – which he was renting out to members of the military – burned down last week. While those tenants are safe, "it was pretty devastating," Wong said from Santa Rosa on Monday. "I still haven't processed the fire down there (in Ventura). I have so much to do to rebuild my house here (that) the thought of trying to rebuild a house down there at the same time is overwhelming. I don't know what I'm going to do."
Sporadic natural caused fires- or "Deep State" instigated

Direct Energy Weapons

….YOU decide!
WHITE NATION– WE DO NOT HATE WHITE LIBERALS– WE SIMPLY DESPISE THEM!!
C'MON- SHARE OUR LINK