Do you have news to tell us? Send your e.mails with news and inquiries to: w.nation@mail.com
Register to follow our news on the right-hand tab
ADD YOUR COMMENT AT THE BOTTOM OF THE PAGE
Article posted  by: White Nation correspondent Pretoria December 25    2017
SOUTH AFRICA– FAILED ILLUSION OF COMMUNIST ANC ORGANIZED CRIME ,LIBFARTS, UNION CHAOS , MISDIRECTED RAINBOW MONKEYS – AND WHITE GENOCIDE
SOUTH AFRICAN  blacks lately accelerated their destructive  culture to burn trains at an alarming rate. Black commuters in South Africa have a long history of burning trains and rioting in stations, often on the flimsiest of pretexts. But they always fabricate an excuse for their violent actions. This among the thousands of buildings they destroy, schools they burn down, towns they leave in chaos, universities they create into shambles , statues they destroy , crops they burn to ashes and  businesses they loot during their ever-lasting riots and marches – up to 1000 per year- when they decide they feel " unhappy." 
The newly appointed CEO of the Passenger Rail Agency of South Africa (PRASA), Cromet Molepo, said on radio last week that his organisation was "losing 80 coaches per week due to arson and vandalism". Not only is PRASA in a crisis due to corruption and financial mismanagement, (as all ANC-"controlled" entities do)- but its mainly black passengers that are also attacking trains in an astonishing display of destructive rage. But no-one dare speak out against it as the leftist media quickly will label such a person as a "racist" for identifying their black pets as the culprits- irrespective of the thousands of photo evidence available.
The black curse in South Africa at work.
On 9 May this year, the country's rogue president Jacob Zuma, appealed to commuters not to burn trains. "We have experienced shocking incidents in this country where people burn trains because they arrived late at the station and made them late for work. That is too drastic and is totally unacceptable. As we hand over such infrastructure, we appeal to our people to handle it with care. These are your trains. Look after them so that they can carry you for many years to come." He was speaking on the occasion of launching a new Metrorail service in Pretoria, known as the "People's Train". However, since his appeal to rail passengers, arson and vandalism have continued unabated.
A month ago on 20 November, Riana Scott, a spokesperson for Metrorail, a subsidiary of PRASA, confirmed that 70 whole trains with many coaches were vandalized every month. Reacting to the setting alight of a train in Cape Town, Scott said the Century City line in Cape Town had to be temporarily closed down after an arson attack. "The fire brigade arrived on the scene within minutes and started dousing the flames immediately' after Transnet Freight Rail (TFR) switched off the overhead power. The railway line is currently closed until the flames have been doused and infrastructure assessed for any fire damage," Riana Scott said in a statement at the time.
Torching trains is a stone-set culture among blacks in South Africa. They care less who will pay for the ultimate damage- as long as it does not involve them. Another sick culture blacks in South Africa nurture- destroy everything if they feel "unhappy."
In October 2017 Scott revealed that 101 trains had been rendered non-operational since 2015. The cost to replace the trains stood at R312-million' she said. What is worse, is that the PRASA workshops where the trains are supposed to be repaired, were also being stripped of their copper wiring by copper thieves. Sometimes electricity thefts on railway lines cause train delays, after which the black commuters would riot and even burn down stations. On 19 February 2001 the historic Pretoria Station building, designed by Sir Herbert Baker, was completely destroyed in a fire caused by rioters. It cost R18 million to rebuild and restore.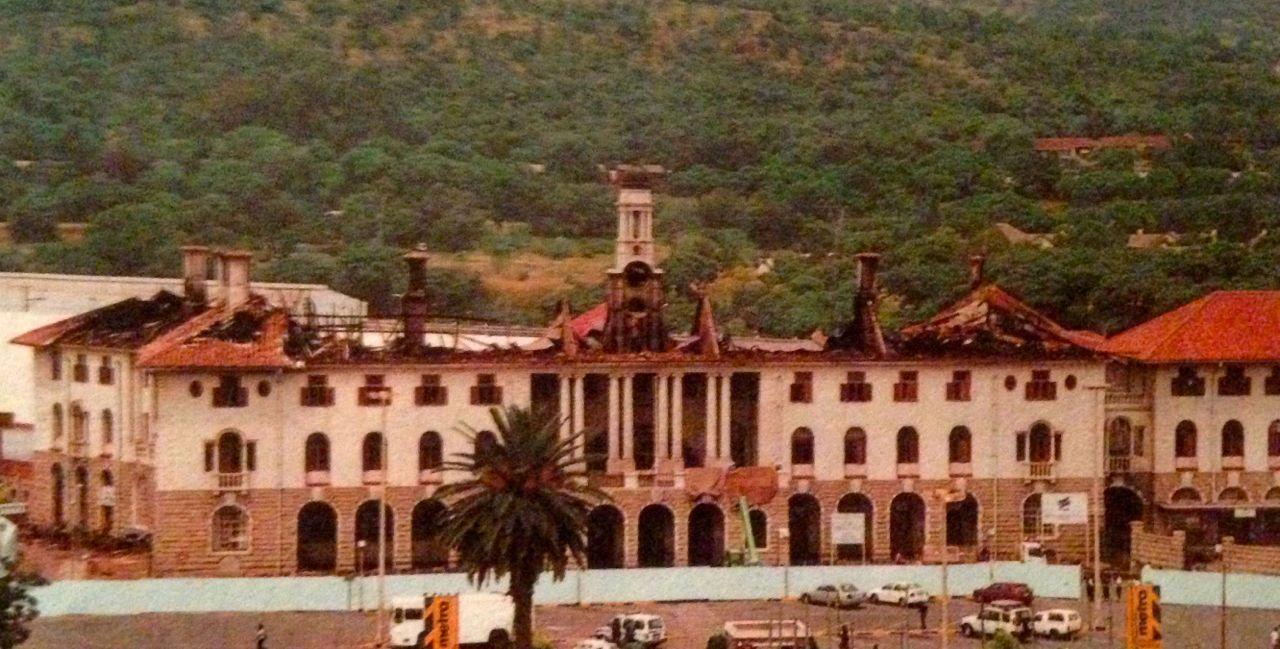 Pretoria Station- an old grand colonial gateway destroyed by yet another African hoodlum and his unruly mobsters.
However, in March 2013, the leader of protesting black railway commuters, Albert Mokoena, decided not to burn down the station once more, but threatened to set the modern Gautrain serving the Johannesburg airport alight. Mokoena told a deputy director general in the transport department, Maria du Toit, that unless their demands were met, they would burn the Gautrain: "Before March 28 you must have responded to our demands. We have resolved amongst ourselves that it is really not good for us to burn our own trains [the Metrorail trains]. We are going to burn the Gautrain," he said outside the Bosman railway station in Pretoria. "I know that I am on record and I am doing this deliberately. It would be useless for us to burn our own property, but that Gautrain is not for us, it's for the rich people. It is for the bourgeois," Mokoena said to cheers of approval from the crowd.
Train terrorist Mokoena now want to target the Gautrain for his imbecilic destruction
Why then isn't this train burning leader , Albert Mokoena , in jail? This is a deliberate action and crime against the state– which is punishable with up to 10 years imprisonment. Was it whites that did it- the ring-leaders would long ago being arrested and sent to lengthy jail sentences- but because Mokoena represent the majority of the black "protected pets" – he will be left alone to proceed with his subversive destruction.
Metrorail now finds itself in a desperate struggle for survival as this violent black behavior not only destroy their infrastructure- but besides that does thousands upon thousands of blacks also  not pay for their train fares on a daily basis. They simply wait on bridges at stations- and when the trains arrive- they stampede down the platform stairs- overrun the ticket inspectors at the turn-stiles- and board the trains until each coach is too overcrowded to even move. They hang outside the train doors- sit on every available open space outside- and even on the roof- any place that gives them a free ride to their destination.
GONE are the days of discipline, law and order when trains in South Africa were still safe and a joy to ride. Today- under the incompetent ANC kleptocracy the rail service imploded into a rag-tag commuter nightmare and as in India- thousands of 3rd-world non-paying fighting and scuffing leeches overcrowd the trains in any way possible- forcing paying passengers to take a ride in the open on the locomotive in front. Where are the so-called "safety" measures PRASA is suppose to impose on their trains?
Really Metrorail this is what your trains are like Just recieved this video from one of my staff travelling from netreg station how do u allow your trains to departure looking like this .. Is this what people pay u for …This is bloody disgusting people have to put there lives at risk just to go and earn there daily bread and this is how they need to travel .

Posted by Marian Goliath Bruiners on Tuesday, November 14, 2017
AND this malicious culture quickly are adopted by thousands of  new infiltrating alien "refugees" from African countries as as well when they illegally settle in South African cities. South Africa sunk into a third world "free for all if you are black" circus country since the ANC was handed a well-oiled infrastructure in 1994 by the notorious National Party conspirators at the CODESA debauchery. Transnet was one of the first operational pedestals to succumb to black plundering abuse and money-laundering operations to empty the state coffers and channel millions of tax payers' money into private bank accounts by ANC politicians through dubious tenders – among others such as the SAA, ESCOM, SABC and the Post Office. It's for that reason that PRASA is at the bottom of the barrel- their government's lazy tolerance with these destructive leeches and terrorists who now cost them their regular paying customers – who in turn were replaced by black non-paying and destructive bloodsuckers. 
SOURCES:
WHITE NATION– WE DO NOT HATE WHITE LIBERALS– WE SIMPLY DESPISE THEM!!
C'MON- SHARE OUR LINK