Do you have news to tell us? Send your e.mails with news and inquiries to: w.nation@mail.com
Register to follow our news on the right-hand tab
ADD YOUR COMMENT AT THE BOTTOM OF THE PAGE
Article posted  by: White Nation correspondent Witbank January 06 2017
SOUTH AFRICA– FAILED ILLUSION OF COMMUNIST ANC ORGANIZED CRIME ,LIBFARTS, UNION CHAOS , MISDIRECTED RAINBOW MONKEYS – AND WHITE GENOCIDE
SOUTH AFRICA– since the illegal hand-over by the treacherous National Party to the incompetent communist ANC- has largely become a synonym  of failure among the world's educated countries. AND this notoriety now becomes more and more evident in the huge failure rate among the black matriculants- the so-called 'leaders" of tomorrow.
Not only did South Africa become a state in deep financial, military, crime infested and lawless trouble- but due to it's illiterate and greedy leadership on top – it also become a country filled to the brim with young  uneducated les miserables who's tertiary certificates mostly are rejected or shy-ed by other first world countries due to too much "lenient"  BEEE political interference in the education system. The South African current curriculum is rated as the worst curriculum in the world- passing learners rather on lowered marks for general knowledge – than actual acceptable standards to compete in the fast developing international technological requirements.
Since illiterates such as Naledi Pandor and now Angie Motshekga became "ministers of education" ( themselves not the sharpest pencils in the box) – South African pass rate requirements has been lowered and tampered with to even pass a sub-graded learner into university. And most of the times the general public are being misled by false figures and tampering with results presented by the ANC "incompetents" to make the majority black learners "look good" compared to the white learners. Any challenge to this obvious conspiracy immediately is met with a barrage of "racist"  accusations and "apartheid" blame shifting  from the leftist media and regime puppets.
But this very damaging culture already started way back in the seventies when the prime domain of leftist educational evil- Wits University– already applied this handicap-culture and threatened facilitators with expulsion should they not pass enough black " liberation before education" rioting and  school burning students for university degrees. Now that culture was quickly brought forward by the same uneducated ANC terrorists- and applied into the South African school curriculum– hoping they could swindle black students into the international arena with typical " we are the previously disadvantaged" Mandela fanfare and red carpets rolled out for the " rainbow" students to drift into top international jobs . Unfortunately this evil little plan backfired heavily back into their miserable faces.
What the poor sods did not take into account- is that other countries do not apply the same monkey business into their own tertiary institutions. Although many international liberal hooligans hollered " Free Mandela" and pretend to kiss some black arse- these same countries bloody well acknowledge the importance of high education for their own people to compete in the ever changing international technological advancing market. This resulted in many international countries refusing to accept a South African matric certificate as it now appears to be at least 3 YEARS below the standard of other international matriculants. Still the ANC ineptocrats and their lapdog media try to push their " political correct" agenda and keep on to deceive the public, shifting goal posts – and tamper with the educational structures to make natural drop-outs pass just to look "politically correct" acceptable with the false flag that just as many blacks as whites passed their senior final exams. The result- as before-  was to say the least- disastrous!
ONE reason why black students keep on failing- their violent culture fueled by their political anarchists in parliament that promotes ill discipline. Here two hooligans attack their teacher. The tail now is wagging the dog.
But as ever before does the ANC les incompetents again try to hide the truth with more lies and more deception. And as expected- to compensate for the ever growing sub-standard matriculants entering the labor market now- does the ANC communists apply more stricter  BEEE "laws"– forcing companies to now "accept" below-standard achieving black matriculants above educated matriculants of other races-  or face draconian penalties.This again leads to a systematic implosion of the technological level and gross incompetence in senior positions. South Africa as a once leader in the technological field now are paying the price as most of the country's brains and technology move abroad and to China. The state already is smut with failing ventures such as the SAA, Post Office, SABC, Telkom , Transnet and many other parastatals. This again cost the taxpayer BILLIONS in reparations or the procurement of international accredited specialists to come and repair the damaged caused by incompetent BEEE appointees.
Juggling with figures
Motshekga released the 2017 National Senior Certificate results, revealing a matric pass rate of 75.1%. However, the official pass rate does not tell the full story – ignoring the large percentage of students who drop out before they write the matric exams. Equal Education has described the matric pass percentage as a superficial and misleading indicator of public education quality. "The pass rate reflects only the performance of those learners who managed to stay in school for 12 years and obscures how many dropped out along the way," said Equal Education. It said the Basic Education Department has systematically failed to address learner retention. For a broader perspective, you must use a cohort matric pass rate, it said. Equal Education defines the cohort matric pass rate as the percentage of learners in grade 2 who pass matric 11 years later.
South Africa's true pass rate
Of the 1,022,853 grade 2 cohort class enrollment, only 629,155 students registered for the matric final exams. This is a dropout rate of 38.49%. When one considers only the 534,484 grade 12 students who actually wrote matric, this dropout rate increases to 47.75%. The 2017 cohort matric pass rate, which Equal Education has referred to as the true pass rate, is therefore 39.25%. It should be noted that where Equal Education uses the total number of enrollments across public and private schools in its calculations, the table below uses enrollments in public schools, which is what the DBE matric pass rate is based on.
The Democratic Alliance has offered another analysis of this year's matric results, comparing the pass rate to the number of learners who enrolled for grade 10 in 2015. "Last year, 41% of the learners who had enrolled in Grade 10 in 2015 did not enrol for matric," the DA said. "The number of Grade 10s from 2015 who passed matric 2017 – was only 37.3%. This is cause for serious concern, rather than celebration."
| Year | Registered for matric exams | Pass rate | Cohort enrollment in gr. 2 | Cohort pass rate |
| --- | --- | --- | --- | --- |
| 2017 | 629,155 | 75.1% | 1,022,853 | 39.25% |
| 2016 | 674,652 | 72.5% | 1,081,652 | 41.98% |
| 2015 | 667,925 | 70.7% | 1,118,690 | 41.65% |
| 2014 | 532,860 | 75.8% | 1,109,201 | 37.2% |
| 2013 | 562,112 | 78.2% | 1,111,858 | 40.42% |
| 2012 | 511,152 | 73.9% | 1,012,892 | 38.07% |
Dropping the subject pass-rate to a pathetic 30% to "look good."
There are a number of misconceptions about what a matric pupil needs to achieve in order to obtain a National Senior Certificate (NSC) and therefore pass since the pass requirements were adjusted some years ago. While it is true that one needs to achieve 30% in some subjects to pass, it's not quite accurate to assume that this requirement applies to all subjects and will guarantee entry into a public university.
According to information [on the Department of Basic Education's website] https://www.education.gov.za/Curriculum/NationalSeniorCertificate(NSC), to pass matric, pupils need to achieve 40% in three subjects, one of which is an official language at Home Language level and 30% in three subjects. To gain entry to a university degree course, one must achieve an achievement rating of 4 (Adequate Achievement, 50% – 59%) or better in any four of these designated subjects: Accounting, Information Technology, Agricultural Sciences, Languages, Business Studies, Life Sciences, Consumer Studies, Mathematics, Dramatic Arts, Mathematical Literacy, Economics, Music, Engineering Graphics and Design, Physical Sciences, Geography, Religion Studies, History and Visual Arts. In the olden days to enter a university acceptance- one had to pass at least 80% or more.
To do a Diploma course, one must achieve a pathetic minimum of 30% in the language of learning and teaching of the higher education institution as certified by Umalusi, the quality assurance council, coupled with an achievement rating of 3 (moderate achievement, 40% – 49%) or better in any four of these designated subjects: Accounting, Information Technology, Agricultural Sciences, Languages, Business Studies, Life Sciences, Consumer Studies, Mathematics, Dramatic Arts, Mathematical Literacy, Economics, Music, Engineering Graphics and Design, Physical Sciences, Geography, Religion Studies, History and Visual Arts.
To study at a Further Education and Training (FET) or Technical and Vocational Education Training (TVET) college, a 30% pass is required in the language of learning and teaching of the higher education institution as certified by Umalusi. Institutional and program needs may require additional combinations or recognized NSC subjects and levels of achievement. MEANWHILE 9 schools achieved a 0% matric pass rate for 2017- something that was unheard of during the white rule- even among black schools! STILL– the ANC foolhardy proceed to counter this terrible loss of the next generation leaders with more and more BEEE unproductive "fun and games"  for cheap political points.
Instead of attending classes in a disciplinary manner to enhance their education- the majority of black students in South Africa prefer to attend unruly rioting in the streets- and as their predecessors- start to "demand" everything for free.
In 2006 about 1 185 198 students was rolled in for Gr.1. This was during the year after the new Curriculum 2005 was introduced by the dilapidated Kader Asmal– and education standards lowered to "accommodate" for those learners that could not cope with the normal standards. South African standards then was placed in the third lowest category of education in the world. The majority South African black students just could not cope with the world standards. Learners that failed was subsequently "promoted" to the next standard to make space for the millions of new learners that was about to enroll the following year. With a pathetic lowered pass percentage of only 30 %– still only 651 707 out of about 1.3 million  black students could make the grade. That meant that even with the much lowered standards-  533 491 black students still could not cope.
Political anarchists are using universities for violent socialist breeding grounds.
This then actually made a fool of Mandela and his liberal cohorts that bragged that education is the key to a prosperous black  future ( which is supposedly true) -but Mandela's OWN generation promoted " liberation before education"- and there the reason why 3/4 of the South African parliament today is semi-educated-  but they manufacture "laws" to keep the rest of the country " in check."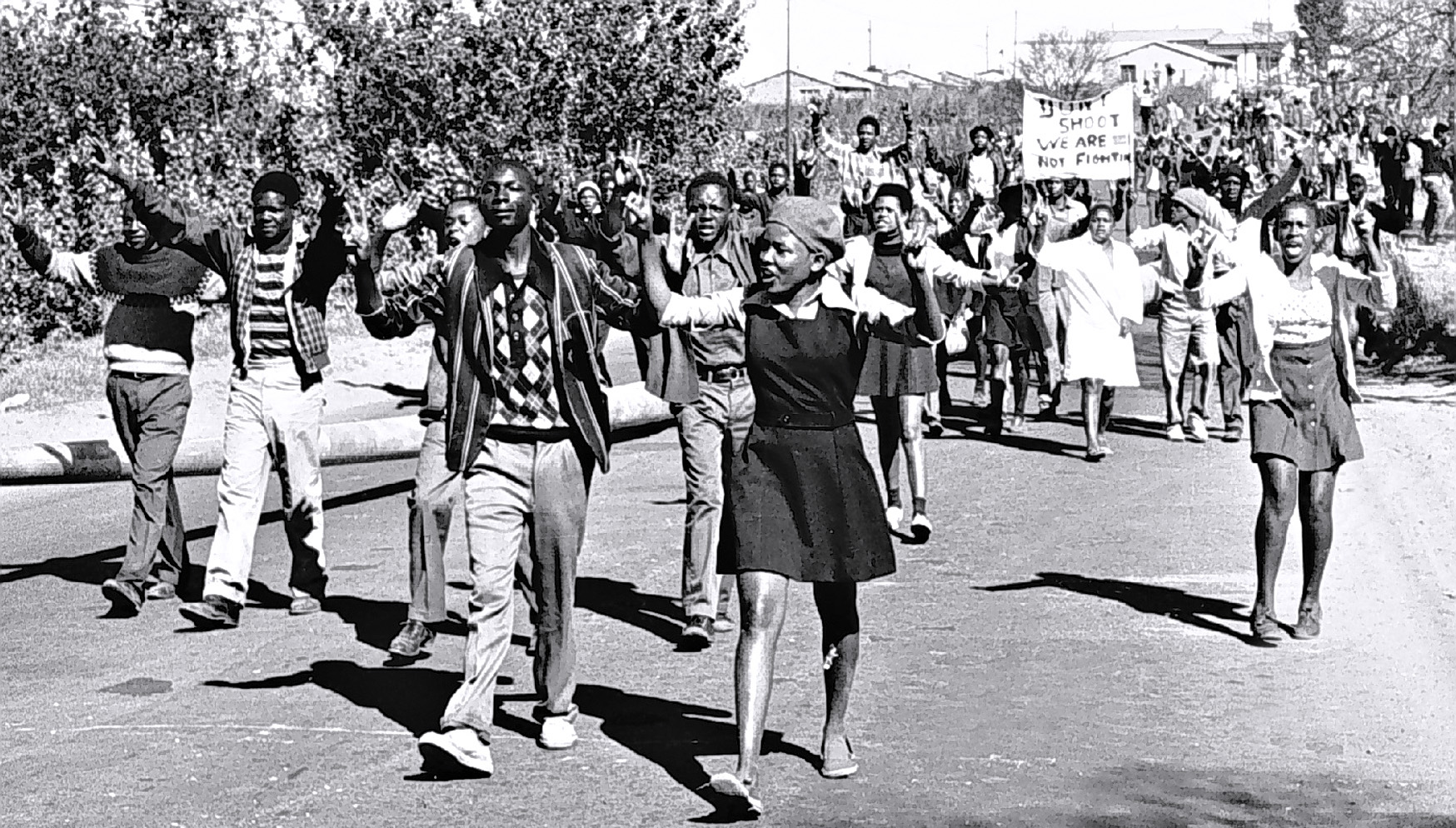 Mandela's OWN failed generation was part of the violent student riots- a " liberation before education" culture they transferred to the next generation of black losers. 
The question is just how many more whites does the current clowns in control want to keep out of the job market to "save face" with their black voting populace to keep them "happy" – and how many more semi-educated BEEE "appointees" does the incompetent political con artists still plan to push into the labor market to blow up a turbine here, crash another airplane there, bring another couple of municipalities to the edge of bankruptcy here – and turn the police force into the biggest organized crime syndicate there before their bogus "democratic" bubble eventually burst from all the bullsh*t they just keep on pumping into it?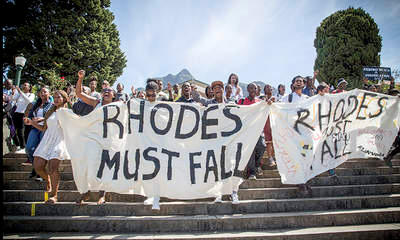 Too much time is wasted on seeking "racism" instead of studying.
Education may be the key if transferred to a receptive mind- but cannot change the cultural mind-set of the receiver. Unfortunately the rotten apples from Mandela's generation now poisoned the minds of the next generation- there the pathetic pass rate among black students today: They are more interested in rioting, burning schools, defecating monuments- turn universities into socialist breeding grounds- and again "demand" free education- irrespective of just who is going to pay for it.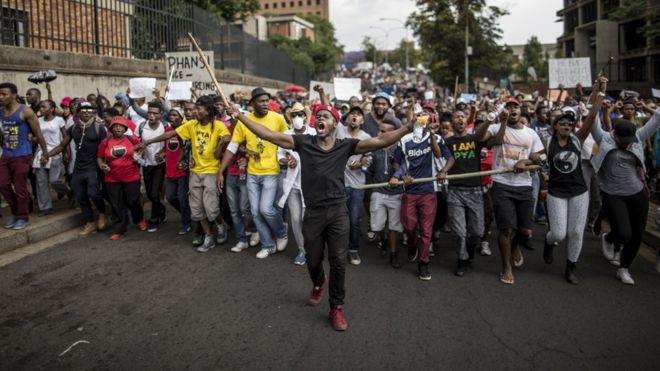 Turning to violence if they cannot get education for free is another favorite past time for black students in South Africa
Chasing "white racists"- deliberately keeping the focus away from good education
As the rest of the technological world moves on to the next level Africa again will have to wait another 300 years before incompetent cleptocrats such as these now sitting in South Africa's parliament has become extinct-  and black people will at last be able to move out of the labyrinth of nothingness  where their own leaders keep them incarcerated into. But then again we must ask who vote these cleptocrats into power every 5 years.? The permanent focusing on so-called white "racism" -created in the minds of  blacks themselves – appears to become a much worse enemy than a white ever will be able to inflict on any black man.
Maybe if political heathens like Malema and Mxitama start to educate their youth to become more responsible leaders and less violent clowns  – there is a chance that the South African pass rate might escalate in 2018 without political lairs such as Motshekga trying to swindle another lie about the true circumstances.
Did the black man as yet not learn anything from failed black economies such as the DRC and Zimbabwe? Can they not see that political despots such as Mugabe, Zuma, Malema and Nxitama only cares about their own selfish political agendas- leaving black people 100 years from now on still uneducated and living off the scraps the modern world throw at them? Will the black man forever only consume this the first world produce and manufacture- and never be able to invent their own macro first world economies? A good example of how  these political despots are poisoning the minds of uneducated black people – is clearly expressed in a reply received from an uneducated below-average Xhosa man to White Nation:
"
This is typical the mind-set of a person that has been thoroughly brain-washed by political extremists such as Malema and Nxitama. Instead of trying to help uneducated black people see the light that education is the most important cornerstone in any society's survival- these black despots instigate hate and violence and exploit black people for their own short-lived political agendas. Does this "Mr. Cebisa " now really think by killing whites, raping white woman and boiling white babies in microwaves will enhance the back-log in the education of blacks or help the failing pass rates of black students  in any way?
IF all the white Boers eventually are murdered, their women raped and their babies boiled in microwaves- who is going to feed the likes of Mr. Cebisa then as Africa so far has not even start to develop on the scale the fist world developed and manufactured? The real irony is that Africa still lives off the white Western world's "hand-outs"  for it's survival. So- will the likes of Mr. Cebisa then jump back on their mothers' backs – and start suckling on their nipples again to survive if all the food producing Boers and their women and their babies all are eventually murdered?
Another example that the majority in South Africa prefer to be rather  brutally racist than concentrate on nation building and education. THIS is what whites have to content with on an every-day basis- but the South African newspapers and bogus "Human Rights Court" blissfully ignore the "hate speech" bullsh*t  of this radical black  leftist because his name is not "Penny Sparrow."  Was it a white- well- you know the outcome. Another sign of a failed government that has no intention or will to commit themselves to their own false propaganda of "democracy."
Forever chasing and hunting whites down for this ever elusive white "racism" will on the end of the day cost the black man dearly- and will be the black man's own self-inflicted  downfall. Instead of working together with other races and form a unified nation- black political heathens , white liberal trash and black militant extremists alike keep on hammering on white "racism"– and "land issues" -taking the focus of good education away from the black populace that rather have to concentrate on their education – than running rampant on a daily basis  burning schools , destroy universities,  holler "free education" -and blame whites for all their misfortunes .
Blacks must stop blaming whites for all their woes- they themselves are primarily responsible for their own backward education- as  their own biggest misfortune now are busy governing them! And there is absolute monkey-sh*t that " free education" will do about it to better this year's pass rates as well. Maybe black students must start to free their overpopulated minds from malicious propaganda by political heathens and the trash liberal media- and start concentrating on the facts – facts such as education.  ONE thing that you cannot get for free by claiming being " previous disadvantaged"- is intelligence.
One of the most destructive elements of South African poor education results is  the malicious political interference from outside –  and the extremist mind-set of the students themselves.
You can riot as much as you want- and "hashtag" as much as you want, holler "racist" as much as you want, defecate as many statues as you want, blame "apartheid " as much as you want- and burn as many buildings and tyres as you want- if you were an uneducated sod before you start to commit all this monkey tricks- you still will be an uneducated  sod after you committed all this monkey tricks. And "apartheid" has nothing to do with you being ignorant and too lazy to study. Interestingly enough during the white rule one of the first buildings normally being torched by black rioters was the school LIBRARY! Seems South African blacks are not keen on reading books.
Burning school libraries first always seems to be the normal standard of black rioting students.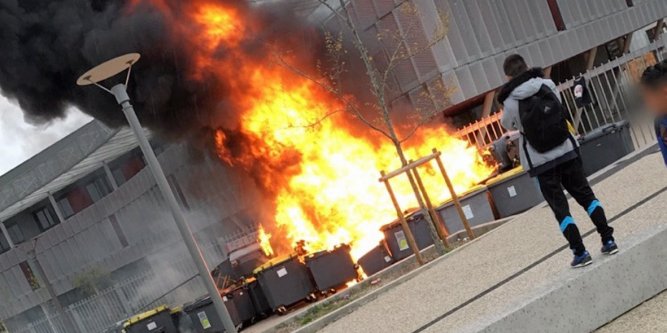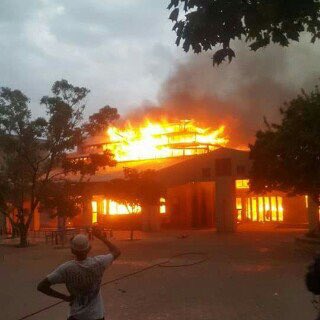 The main problem with the black culture in South Africa is that today they have a destructive culture- burning  everything when they riot- including their universities and schools. Tomorrow they will riot again because they have no school or university- blaming "apartheid" and claiming free education. They will not take responsibility for their own destructive actions- but continuously shift the blame (and the cost) onto someone else.
Education is one thing unfortunately-  on the contrary to what your political party weasel or communist union rat try to tell you- that you'll have to work for to earn it! While black students are lending their ears to malicious political thugs and newspapers- rioting in the streets and running rampant on the campuses and generally gorging themselves in hooliganism on a daily basis  – most students from the other races are quietly studying– very little of them actually participating in these riots.(that is bar the white liberals that is.)  Maybe these other students already  know something valuable black students still don't? Meanwhile the rest of us other races will sit back- concentrate on our children's education – and wait for the likes of Malema, Mxitama et al to cultivate our next generation of violent semi-schooled young black arsonists.
SOURCES:
https://mybroadband.co.za/news/government/243498-south-africas-real-2017-matric-pass-rate-39-25.html
http://ewn.co.za/2018/01/05/9-schools-achieve-0-2017-matric-pass-rate
http://ewn.co.za/2018/01/05/does-it-really-take-only-30-to-pass-matric-here-are-the-facts
WHITE NATION– WE DO NOT HATE WHITE LIBERALS– WE SIMPLY DESPISE THEM!!
C'MON- SHARE OUR LINK