Do you have news to tell us? Send your e.mails with news and inquiries to: w.nation@mail.com
Register to follow our news on the right-hand tab
ADD YOUR COMMENT AT THE BOTTOM OF THE PAGE
Article posted  by: White Nation correspondent Cape Town February 07 2017
SOUTH AFRICA– THE GLOBALIST's  COMMUNIST WASTELAND DOWN SOUTH
ANC COMMUNIST members of Parliament have called for private-owned dams in the country to be transferred to the Department of Water and Sanitation.
This comes after acting chairperson of Parliament's portfolio committee on water and sanitation Hlomane Chauke alerted the committee that out of 4000 dams, only 350 were owned by government. "We want to know who is this one that has so much water and the remaining 3000 dams. Who is in control of those dams. We have a drought crisis here but some dams are privately owned. This is something that is political and we have to resolve it. It cannot be that when so many of our people, you see them with containers everyday," said Chauke.
Pudge fat cat commi Hlomane Chauke– semi-schooled back-bencher that want to "water grab" white farmers' dams again.
MPs wanted to know who were the farmers who owned dams, which this week released water into the Western Cape Water Supply System to alleviate the drought gripping Cape Town and surrounding areas. Last week, farming community from the Elgin/Grabouw Valley released water from Eikenhof Dam, on the Palmiet River in Grabouw. The water is expected to sustain visitors and residents for about 20 days. This resulted in day zero being pushed back to mid-May.
Chauke also questioned why a large amount of water available for the Western Cape was allocated to the agriculture sector while farmers had private dams. He reminded the committee that they are lawmakers and were capable of dealing with anything that seems "not normal". "We are informed that the 78% of the water that is under the control of department goes to agriculture, with only 23% going to domestic and only 3% going to industry which is mining and others" said Chauke.
Sibusiso Mncwabe– singing the same idiotic tune as Chauke- "Let the state take over the dams.."
He said the committee will engage on the matter and find a way, including legislative intervention, to ensure that all dams are state-owned.National Freedom Party MP Sibusiso Mncwabe proposed that the committee look into the licenses of owners of private dams and have the state take over the dams."We should all be benefiting from the natural resource. Ministers must start appropriation of land with the that land where the dams are. (Sic) We appreciate their donation but it is not a correct thing to have people deciding whether to give you a natural resource or not," said Mncwabe.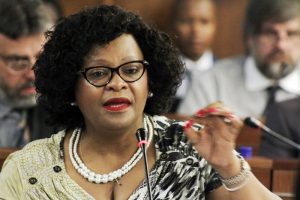 Now apparently the pudge minister of water and long drop sh*t houses- Nomvula Mokonyane–  also added her support for the Idiot Inc. as well. Many white farmers are furious about this threads and pledged to rather close the dams on their farms – than handing it to the incompetent communist locusts. Should this happen the whole locust swarm will stare imminent hunger and famine in the face.
SOURCE
https://www.iol.co.za/news/politics/mps-demand-privately-owned-dams-be-nationalised-13156073
EDITOR's FOOTNOTE:
( SO– What can we say….clap, clap , clap?  The ANC terrorists simply just cannot leave the white farmers alone! If they do not orchestrate murders against them- the threaten them from podiums. If they do not gear up to take their land- they want to "nationalize" their dams. Now another irresponsible idiot jumps up in parliament and discarded another bunch of idiotic garble to be put into legislation again? In typical socialist African-style – overstuffed pudge  Hlomane Chauke and  Sibusiso Mncwabe both appear to be thinking with that Nando's heads of them again. Too much Nando's and too little agricultural knowledge sometimes makes a rainbow chicken utter such trash- but then again what else can we suspect from these half-wit nincompoops they push into parliament to "represent" the "people."
Did you read- they just like want to "take over" privately owned dams. This friggen bags of communist shit lately have this uncanny culture of " we want to take over " on a too regular basis it appears. Does the dams belong to them? Who the hell is this "jalooka tsotsis " to simply stand up and "claim" the ANC rats must fart out legislation to capture the private dams as well? To even suggest such outrages ideas  simply exposes  the kind of intelligence we are dealing with here. What happened to "take over the mines" saga then? Why did Malema et al suddenly stop screaming to "nationalize" the mines as well? 
Why only must white owned dams now suddenly "nationalized? The answer is obvious- most of  the mines belong to the British Jews  and Chinese that pays the bribes of these oafs- and the dams belong to the "white racists." Water is NOT a "national asset" to be "nationalized"- Chauke, Mncwabe et al can go eat gun powder and fart thunderbolts. Ironically crims such as Mncwabe quickly come up with clever "Johhny talk" by saying " We should all be benefiting from the natural resource. Ministers must start appropriation of land with the that land where the dams are."-
BUT we never hear the crim say the same rhetoric about the gold and diamond mines which also happen to be " natural resources" that "all should be benefiting" from- but now only the British Jews, Guptas, Mandelas, Ramaphosas and Zumas can "benefit" from. What about "nationalizing" the land where the mines are? What about all the marine resources that also are given only to big corporate thugs and illegal Japanese  trawling companies to get the lion share that are busy plundering OUR oceans? Go have a look see how the Chinese and Japanese  trawlers are plundering our fish stock near Gansbay and Shelly Beach at night! Yet this same plutocrats are doing NOTHING about it?
6 Japanese trawlers this morning at Shelly Beach on the 2200m mark. And this is how our fish gets protected by the Goverment. And they run when you get close to them. Who gets the backhand. Just wondering.

Posted by Mike du Toit on Thursday, February 1, 2018
SIX Japanese trawlers caught red-handed poaching our fish this week at Shelly Beach on the 2200m mark. This now is been going on unchallenged for MONTHS! Where was the so-called "navy?" Where is Chauke , and Mncwabe about this- seeing that they are so "concerned" about our national resources that "everybody" must "benefit " from. Local fishermen get the crumbs of the fish quotas while these slimy bastards plunder our seas. And this is how our fish gets protected by the same "Government" that now want to "nationalize" our private farm dams? And these sea pirates   run when you get close to them. Who gets the backhanders?
Seeing that Mncwabe now all of a sudden have this "moral issue" that "it is not a correct thing to have people deciding whether to give you a natural resource or not-" why is it then legal or the "correct thing" to have politicians decide whether to give the natural mineral and marine resources to only a small clique of rich bastards alone- and not to everybody?" This shows Mncwabe and Chauke both are hippocrates- and want to apply the law as they deem fit. Today they want to "nationalize" the irrigation sources- tomorrow their "electorate" perish of hunger because there is no more food on he shelves- then they again want to "nationalize" the crops on white farms too- I presume?
God gave water for FREE to all- NOT to a corrupt ANC rat pack that now again are hunting political points for the election in 2019 again. How long will it be before all that dams also was pumped dry to keep the "electorate" happy? What happens with all the crops that suddenly cannot be irrigated? You see- these political oafs think as far as their plump noses grow!
That their "electorate" only waste water, NEVER preserve water- and never PAY for water but tap into the councils' pipes ILLEGALLY with straight connections – is NOT the white farmers' faults. Maybe Chauke et al better EDUCATE their black " electorate" to start acting more RESPONSIBLE-  not washing thousands of TAXIS on a Monday morning in the streets with DRINKING water and black squatter camps wasting drinking  water- then we will have more than enough WATER and there will be no need to STEAL water from the white man through corrupt "legislation" – or see his people "running around with containers " again!
 Maybe they should whack the DA for spilling MILLIONS of liters of water into the sea through all the underground canals underneath  Cape Town.
Daar is nie n water krises nie. Net bedrog

Posted by Werner Booyse on Friday, February 2, 2018
Maybe the idiots should waste  less money on Nando's- and spent more money to start the reverse osmosis plants as they time and again have been advised- then there will be  a whole SEA of water available or them. 
Why didnt the DA give this man a Bells?

Posted by Bhayat Faried on Friday, February 2, 2018
Will this two "honorable" idiots please explain to us :
Just WHO will be responsible for the maintenance of the newly " acquired" dams then….the poor white farmers again?
Just HOW do you two prize idiots plan to transport the water from all these newly stolen dams to your never tax paying parasite pets in the cities- by "bucket-force?" 
Just HOW do you plan to purify and clean the water from these dams before you introduce it to the ever demanding and water wasting populace?
Just WHO is going to foot the bill for this totally unpractical brain wave you two clowns now came up with?
Did the two of you ever though what collateral damage you want to inflict onto the agricultural sector?
Will the communist dictatorship pay the farmers for the loss of their water- or will it again be done a-la typical African-style?
Clearly we again now see that the incompetent rule the illiterate again. Did any-one ever tell these half-wits in Cape Town that these dams specifically are there to maintain the crops on food producing farms that again are the reason why nitwit 1 and nitwit 2 can visit their grocery store after their parliamentary nap- and load their baskets full of farm fresh vegetables and fruit- or did they think this farm fresh products are manufactured somewhere in a secret  "Proudly South African " lab somewhere in the Eastern Cape – funded by either the Chinese, Woolworths – or Pick & Pay? It is because South Africa is ruled by below-standard intelligent dimwits such as Zuma and these two that the country today became the laughing stock of the industrial world.
Someone must please enlighten  this half-wits that as soon as you start to meddle with the country's agricultural water supplies- it will not be long before your ever-populating and demanding black pets in the cities are going to change gears into  starvation mode. We but all know by now just HOW these political clowns run the state departments under their control- from a fully productive department into a total non-functional f*ck-up! We can see how they run their farms into the ground- their hospitals into haunted buildings- their schools into derelict buildings,- and their city councils into bankruptcy. How do they plan to  maintain the dams- until the "last drop" too? 
These farmers felt compassion for the people in the city- thus the reason why they released the water supplies that actually was destinied for their crops. Now THIS is the "gratitude" they get from these arrogant bozos in smart suits for their attempted good deed- THEY WANT TO STEAL THEIR DAMS!!! The MINES also is a national asset- but these clowns rather "diplomatically" will abstain from "nationalizing" that too. They are too scared the Jew-whip crackers in London will rip out their b*lls- and tomorrow they will be sitting without that smart SUV's they now drive around with to visits at  the Nando's outlets. O when will we ever see a honest politician that factually can take sound decisions? I dare say NOT in Africa. We know just who is bank rolling  the ANC and EFF cockroaches to keep the pressure on the white farmers- eh Robin Renwick and George Soros– now don't we? 
I hope the farmers now also learned an expensive lesson: If you want to maintain a healthy system and good running economy….keep the friggen government clowns OUT of it! Moral of the story- whenever this corrupt regime pledges you to help again – whenever the "majority" suffers again- the best policy is to "diplomatically" refuse to help.  -Ed) 
WHITE NATION– WE DO NOT HATE WHITE LIBERALS– WE SIMPLY DESPISE THEM!!
C'MON- SHARE OUR LINK