Do you have news to tell us? Send your e.mails with news and inquiries to: w.nation@mail.com
Register to follow our news on the right-hand tab
ADD YOUR COMMENT AT THE BOTTOM OF THE PAGE
Article posted  by: White Nation correspondent Potchefstroom  February 22 2017
SOUTH AFRICA– THE GLOBALIST's  COMMUNIST WASTELAND DOWN SOUTH
WITH the appointment of Cyril Rhamaphosa as the new South African president by the African National Corruption party- we immediately heard the "right" noises" he made especially for the black voters.  Ramaphosa wasted no time in promising his black voting "sheeple " that he will vigorously pursue land appropriation without compensation.
Cyril Ramaphosa—widely being hailed by the screwed-up media as that country's "new savior" —has vowed to implement a policy of confiscating white farmland without compensation and handing it over to blacks—even though he has admitted that land already given to black famers is "derelict." According to reports in the South African media, Ramaphosa said that the policy of land expropriation of land without compensation was taken by the ANC at its 54th Congress, where he was elected ANC President. He then also mentioned that in his SONA speech as well. 
This ostensibly send that little British paid telly tubby clown- Julius Malema-into spastic convulsions .  He attacked Ramaphosa in parliament- bellowing that Ramaphosa only made the right sounds for political gain-( as all politicians do)-and   threatened the invasion of land . According to Malema: It is a "historical fact"  land was taken from black people through genocide. The Zionist agenda of creating division and ultimately cause a civil war in South Africa between white and black was pressed onto Zuma and Malema both by the British Jewry. Malema- a poor imbecile that ostensibly cares less about the true history- then pursued this lie and gained much support from his directionless followers.
However a notable incident  happened on 21 February 2017 when  Julius Malema  surprised many this afternoon when he abandoned his response to the State of the Nation Address (SONA) speech with five minutes left on his allocated time. Sources have indicated to Black Opinion that Malema was instructed by his London handler, Lord Robin Renwick, to stop criticising Cyril Ramaphosa.
The usually fiery Malema, who has made his political career out of milking the Marikana massacre, was reduced to Ramaphosa's praise singer, while making empty feeble threats to the racist Democratic Alliance (DA). Observers say Malema stopped his speech short because he was worried that he may upset Renwick if he said one word out of script. Malema made a big deal about expressing his allegiance to Ramaphosa as president, including pledging support for Ramaphosa. This is out of kilter with Malema's known animosity towards Ramaphosa primarily because of the Marikana massacre.
Malema, who has previously referred to Ramaphosa as the Marikana "murderer", was completely silent on Marikana in his SONA debate speech. This is surprising because Ramaphosa is associated directly with the Marikana massacre. Many feel Malema has betrayed the workers and widows of Marikana with his failure to hold Ramaphosa accountable.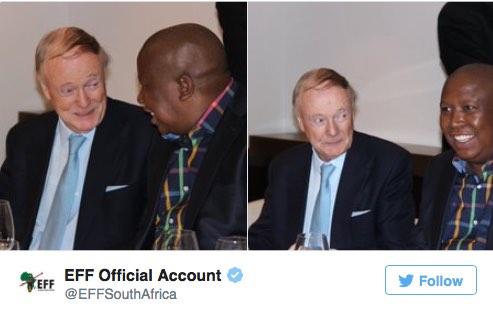 Robin Renwick– Illuminati London-based handler of Julius Malema and Mmusi Miamane.
To give some radical posture to his speech, Malema warned the racist DA on land expropriation. This was a big bluff. The DA's position is, and has always been known on land expropriation without compensation. (Take note whites!!!) Malema gave the DA political power whilst knowing this and now he is making empty threats to appear radical after failing to take Ramaphosa on. The EFF has been de-fanged of its ealier militancy as London controls more and more of its decisions and posture. The EFF has now become Ramaphosa's poodle. Malema's failure to use his five minutes shows how serious the London grip is over EFF. When white farmers are murdered or their property taken- nothing is said about it- which comes to show the pigs in London are behind the farm murders and this land expropriation theft.
Now it appears that this whole "land issue" became the ANC's foundation on which they plan to build their 2019 election. Even decrepit old "has beens" such as Gwede Mantashe had a few stinkers to fart on the issue when he said: " We must have access to land. Our people must have access to land. The question of food security cannot be left to the preserve of TAU-SA [Transvaal Agricultural Union SA], a racist farmers organisation," Mantashe told thousands of ANC supporters at the Union Buildings in Pretoria.
He said the current farmers in South Africa "want to create an impression that food production is a preserve of white farmers only"."We can be farmers (too), but to be farmers we must have access to land. You can't be be a farmer unless you farm. You can't be a writer unless you write. You can't be a politician unless you are active in politics. Why are we expected to be farmers without accessing the land? Let's access the land," said Mantashe. Poor Mantashe- as with the rest of the directionless ANC and EFF abominations he could not even pin point ONE successful black farmer in either South Africa or Zimbabwe- or even Africa without the assistance of a white for that matter. Further-more can none of these black racists explain that if blacks were so capable of farming- why then are about the whole of Africa on the West's food programs? 
THIS is the ANC's vision for their "people" in South Africa. The ANC already impoverished more than 2 million blacks in filthy squatter camps.  THIS is what happens if there are no more white farmers. Like many African countries on the border of starvation- this is the bullshit Zuma, Ramaphosa, Malema, Mantashe and the rest of the gravy train criminals want to sell to their black voters. Where is Mantashe's supposed-to-be "black farmers" in this countries? Why is it that the new Zimbabwean president are begging white farmers to come back to Zimbabwe then? I mean- Africa has more than 1 BILLION black people. Now if so- how come are most African countries dithering on the brink of starvation if black people were such good farmers?
The fact is the biggest murderers of black people are their own reckless leaders themselves! South Africa still have white farmers and nobody dithers on the brink of starvation- yet this idiotic ANC and EFF despots want blacks in South Africa to end up the same way as the rest of Africa by taking productive farmland away from professional white farmers and give it to uneducated black squatters. How bloody stupid CAN you be? Ironically is it that most of these black despots that holler to take farms away from white farmers are fat overweight pudgy pigs themselves!
The controversial discriminating land expropriation without compensation issue already was started with Malema a while ago- as far back as 2013- when the little devil himself suggested (on orders of his British masters) that especially white productive farms be taken away from whites without compensation. Although this was a direct attack on private rights to own property- nobody seems to oppose such a flagrant and preposterous discrimination against the white farmers. And this in a supposed-to-be "democracy."  When no opposition was met in this regard bar a feeble squeak from the VF Plus and Solidarity– this quickly was utilized  and thrown into top gear as a feasible political tool to gain political points with the majority  jobless masses that were created by the ANC's own destructive open border policies, corruption, empty promises – and maladministration  . For example: Under Zuma  Billions of rands have been pilfered and redirected to projects of which there is no oversight or record keeping. Conservative figures estimate it on 1 TRILLION rands. The detail of the corruption at the state security agency is contained in Jacques Pauw's best-selling book "The President's Keepers".
Jacob Zuma then decided to capture Malema's rhetoric and started to pressurize the issue to be "lawfully" dealt with. Nothing was being said about the thousands of empty land belonging to the state. Also was nothing said about the fact that 90% of farms given to blacks turned out to be miserable failures. Up to today neither Zuma nor Malema could indicate to precisely which "people" they intend to give the land to. So- it does not come as a surprise that Ramaphosa- another Jew "padawan"– also start the same senseless rhetoric to appease both his Anglo American masters and black voting masses.
When the only sound of mind person with back-bone in that monkey circus in Cape Town- COPE's Mosiuoa Patrick Lekota tried to bring sanity to the issue- he immediately was mocked , boo-ed and in typical circus-manner- heckled by the  drunken and directionless EFF clowns in the seats.
South African parliament in full session…

Posted by Johann Roodt on Sunday, February 18, 2018
THIS now is your average "intelligent" EFF clowns (political terrorists) that pump out "laws" and take decisions that will have dire consequences on South Africa's food production! The question is WHY do we ever listen to these very questionable below average critters- because their own distorted "laws" force us? Why listening to their laws at all? Start opposing and disregard these buggers because they are impoverishing us as long as we as white people listen and be "afraid" of their 'laws." They exploit our own systems to exterminate us. Do like the blacks do- start taking corrective and firm ACTION!
Lekgota attacked Rhamaphosa ( who was sitting there smiling like one of his proverbial toads)– and the EFF by asking them just who are the "our people" they keep on referring to and want to give the land to- the Basotho, the Zulu, the Venda? He want to know in this so-called "democratic" country- according to the land-grabbers'  definition- who was NOT "our people?" He also want to know where they get the right to take land away from whites that also forms part of the "our people?"
Looks like Lekota turned up the heat when asking about Land expropriation without compensation. Just whose land exactly are you going to take ?

Posted by Swaran Singh on Monday, February 19, 2018
BUT if you think the EFF was scary- watch this one below  – and judge for yourself the degree of intelligence governing South Africa into the abyss…
Just had to post this for a good Chuckle…..What can I say?

Posted by Helen Ryan on Wednesday, February 21, 2018
HOWEVER you will never hear any of this ANC prime evils talk about " mining appropriation" bills, laws- or mine invasions. Maybe you have also have noticed that fat man Julius also very "diplomatically" decided to abstain from calling for " nationalization" of the mines anymore. One wonders why white productive farms are the only "national asset" that now urgently needs to be "distributed"- but the question of other assets such as the mines, marine resources , etc are "diplomatically" overseen and NOT be distributed to " our people?" Well- let us enlighten you a bit as to WHY especially MINES are kept out of the reach of "our people." When they need to steal some state assets- they explore "our people." When they got what they want- the "our people" people and their problems suddenly becomes the TAX PAYER's problem and THEIR "people!" 
But what are the main reasons for the ANC not to "nationalize " the mines too?
Here is 10 quick reasons why the ANC and EFF VERY cautiously refuse to "nationalize" , invade or "appropriate" the mines for "our people":
1. Motsepe's sister Bridgette Radebe, is South Africa's biggest female mining magnate and the spouse of Jeff Radebe. In 1995 she created Mmakau Mining, linked to BHP Billiton through Total Coal SA. The Radebe's were allegedly among the beneficiaries of Optimum's creation in 2007 when BHP Billiton Coal SA divested its assets. Blue chip shares for ANC cronies.
2. Princess Zenani Mandela- Dlamini, Nelson Mandela's daughter, who heads Chuma Holdings, a BEE (tax payers) fund owned by women. Chuma is involved in Aquarius Platinum Ltd, which operates next door to Lonmin's Marikana mine.
3. Zwelakhe Sisulu, son of the late stalwarts Albert Sisulu  is heading Savannah Resources Consortium.
4. Valli Moosa ( the twat that imposed paid plastic bags in shopping centers) is a director of AngloPlats.
5. According to Bench Marks Foundation research, the involvement of Coal of Africa in the development of a coking coal mine, a stone's throw from the Mapungubwe World Heritage Site, involved Moosa's main business partner in Direko Investments, Popo Molefe, a former ANC Treasurer-General. Molefe chairs the board of Chancellor House, the ANC's investment arm, which is also branching out into coal mining with dozens of applications for coal and other mineral rights pending. One of Chancellor House's biggest mining deals involved Kalahari Resources, with its founding chair, Daphne Mashile-Nkosi, now a director of Eyesizwe Coal Exxaro's main BEE partner. She is also centrally involved in the Women's Development Bank, serving as the chair of its Trust, which has a stake in Anglo American Inyosi Coal along with the Pamodzi and Lithemba Consortia, and as a director of its Investment Holdings division. The Bank itself also has a stake in Anglo American Inyosi Coal, along with the BEE consortia.
6. Matthews Phosa, is deputy chairman of Jubilee Platinum and non-executive chairmanship of Alliance Mining Corporation. The Chamber of Mines held the MEC together for decades under white rule but although it has been under predominantly black leadership for a few years, it is still dominated by white mining captains. Current President Dr Xolani Mkhwanazi is also Chairperson of BHP Billiton South Africa and a former CEO of Bateman Africa, a regular partner of Chancellor House. In 1999 he was appointed the CEO of the National Electricity Regulator (NER), which he was tasked with rebuild into the current National Energy.
7. Deputy President Kgalema Motlanthe's partner, Prudence Mtshali, along with Duduzane Zuma and Jacob Zuma's ally Atul Gupta and his family are closely linked to Imperial Crown Trading, which is alleged to have dubiously secured the rights to the Sishen iron ore mine ahead of Kumba Resources.
8. Jacob Zuma and his clan have also set their sights on the coal and platinum riches through one of his non- profit organisations, Masibambisane Rural Development Initiative.
9. The first major BEE mining entrant, in 1996, was ANC benefactor Patrice Motsepe's African Rainbow Minerals (ARM), with a 10 percent stake in Xstrata SA and 20.9 percent in RBCT. Mergers and acquisitions followed in the coal rights' bonanza, making it difficult to pinpoint the size and power of the numerous BEE players on the coalfields other than that they now produce nearly a third of the 'black gold'. ARM has shares in Xstrata SA Ltd as well as Lonmin PLC.
10. The most high profile mine owner is former Cosatu leader and deputy chair of the National Planning Commission, Cyril Ramaphosa. Ramaphosa is the chair of Optimum Mines and the Shanduka group, considered to be the largest coal supplier to Eskom's coal-fired power stations, and a main mover in the platinum BEE stakes. Shanduka Resources holds just over 50 percent of Shanduka Coal and Glencore the other 49.99 percent.
Ramaphosa also outshines as a member of the board of British-based Lonmin and shares in the company through his Shanduka Resources, its principle BEE partner. He is also director of Kangra Coal, which, like Lonmin, has a stake in RBCT. The National Union of Mineworkers, which he once headed, apparently owns shares in at least two big mining houses: Xstrata and Harmony Gold. Ramaphosa married Patrice Motsepe's oldest sister.
So- as you can see- the lion share in the mining industry belongs to the ANC selective few in the clique on top. They keep it in the "family"- and most of this "share holders" are married toe each other or family related to each other- but whatever the case- they all are linked with each other. It's like a mob rule! "Nationalizing" the mines or holler for "mine expropriation" will definitely hurt the ANC "clique" and be very counter productive for their bank accounts. White farms on the other hand will eventually also fall into the clique's claws. Everything revolves around stuffing bank accounts of the "chosen ones." When it comes to sharing wealth  they care a f*ck about "our people." 
BUT LO– watch out- the communist take over only has just begun: They plan to totally disown you from all your possessions:
THE COMMUNIST "INVESTMENT BILL." TURNING SOUTH AFRICA TO A FULL COMMUNIST STATE
Any black or white South African who owns a home, a car, or unit trusts is vulnerable to outright expropriation once the Investment Bill becomes law. And this is most likely to happen when the ANC fears losing an election, according to Dr Anthea Jeffery of the SA Institute of Race Relations.
Media coverage of the Promotion and Protection of Investment Bill of 2013 (the Investment Bill) has focused on its role in replacing South Africa's bilateral investment treaties with various European states. Representatives of these countries have broken their usual diplomatic silence to warn against the reduced protection it gives investors from their states. However, the true significance of the Bill goes very much beyond this.
The Investment Bill is, in fact, a new expropriation measure that will apply to all property owners in South Africa, both local and foreign. It is also likely to result in many people receiving zero compensation on the loss of their property, provided the State takes this, not as owner, but rather as 'custodian' for the disadvantaged. In combination with the Restitution of Land Rights Amendment Bill of 2013, it could see property of many kinds taken by the State as 'custodian' for land claimants and without any compensation to its former owners. Yet most commentary on the Investment Bill has overlooked this risk, helping to lull all property owners into a false sense of security.
A new bill tabled for comment
A misleadingly named Promotion and Protection of Investment Bill of 2013 was gazetted by the Department of Trade and Industry (DTI) (That commi thug Rob Davis) in November last year. The three months allowed for public comment expired at the end of January 2014. Since then, media coverage has been sanguine or absent, helping to obscure the threat posed by the Investment.
A risk of zero compensation
Under the Investment Bill, the rights of domestic property owners will be much reduced. The current Expropriation Act of 1975 gives them the right to full compensation on expropriation, which must include not only the market value of their properties but also compensatory damages for consequential loss. The Act also guarantees them immediate payment of 80% of the compensation due, with interest on the outstanding balance. Under the Investment Bill, by contrast, expropriated owners will receive less than market value and will have no right to damages for consequential loss. They will also have to wait for the State to make payment in what it regards as 'a timely manner'.
However, the real danger in the Investment Bill is not that domestic property owners will be confined to 'just and equitable' compensation falling somewhat short of market value – but that they will receive no compensation at all. 
This danger stems from a key clause in the Investment Bill stating that various actions 'do not amount to acts of expropriation'. According to the Bill, there will thus be no expropriation where the Government's actions result 'in the deprivation of property' but 'the State does not acquire ownership' and 'there is no permanent destruction of the economic value of the investment'.
The origins of this key clause
The wording of this provision can be traced back to a majority judgment of the Constitutional Court in April 2013. Penned by Chief Justice Mogoeng Mogoeng, this ruling was concerned with whether expropriation had occurred when an unused (and unconverted) private mining right 'ceased to exist' under the Mineral and Petroleum Resources Development Act (MPRDA) of 2002.
Judge Mogoeng found that Sebenza Pty Ltd, which used to own the coal mining right in issue, had suffered a 'compulsory deprivation' of its right under the MPRDA. In addition, 'the custodianship' of this resource was now 'vested in the State on behalf of the people of South Africa'. However, the State had not acquired ownership of the mining right. Instead, it was simply a 'custodian' or 'conduit' through which 'broader and equitable access to mineral resources could be realized'.
Since the deprivation of ownership from Sebenza had not been matched by the acquisition of ownership by the State, no expropriation had occurred, the chief justice ruled. It followed that no compensation was payable. Echoing this judgment, a key provision in the Investment Bill states that various actions 'do not amount to acts of expropriation'. Among the actions it lists are 'measures which result in the deprivation of property, but where the State does not acquire ownership of such property'. One of two provisos must be fulfilled for this result to follow: either there must be 'no permanent destruction of the economic value of the investment', or 'the investor's ability to…use or control his investment [must not be] unduly impeded'.
     The real danger in the Investment Bill is that property owners will receive no compensation at all.
Since the deprivation of ownership had not been matched by the acquisition of ownership by the State, no expropriation had occurred, the chief justice ruled. Once the Investment Bill becomes law, the Government could use its rules to take further measures to vest all mining land, mining equipment, and other mining assets in the State as the custodian of the nation's mineral resources, while simultaneously inviting black South Africans, in particular, to apply to the Department of Mineral Resources for a licence to use a portion of these assets for a specified period.
In these circumstances, mining companies would be deprived of their property, but the State would acquire it as "custodian " rather than as owner – and there would be 'no permanent destruction of the economic value' of these assets. This means there would be no 'act of expropriation' under the principles established by the Investment Bill, and no compensation would be payable.
The implications of this clause
Similar measures, intended to generate a similar outcome, could be taken as regards all other 'investments' covered by the Investment Bill. These are broadly defined to include companies, equities, land, movables, and intellectual property, along with mining rights and similar 'licences, authorisations, or permits…to carry out economic and commercial activities'.
Moreover, the Investment Bill applies equally to domestic and foreign investors, for the need to ensure equal treatment for both categories of investor is a key theme of the measure. Yet media coverage has downplayed this, suggesting that only foreign investors will be affected by the Bill. The Bill's reference to 'investors' is also misleading, for it suggests that the new law will apply solely to companies and other commercial enterprises. In fact, the Investment Bill will apply to everyone, including 'natural persons' and 'regardless of nationality'.
Any black or white South African who owns a home, a car, or unit trusts is vulnerable to the Investment Bill's provisions. 
So, too, are enterprises of every size and in every sector of the economy, from mining to agriculture, banking, manufacturing, and services. Once the Investment Bill is in place, the current Expropriation Act is likely to be overtaken or repealed. The Government, which has encountered stiff resistance to its draft expropriation bills of 2008 and 2013, will also have no further need to try and push a replacement expropriation law through Parliament. Instead, all South Africans will find that their rights on expropriation are already governed by the rules laid down in the Investment Bill. And this, of course, will give the State the power to take measures to acquire property of virtually any kind as 'custodian' for the poor — and without the need to pay any compensation.
When Chief Justice Mogoeng handed down the Constitutional Court's ruling on Sebenza's rights last year, two judges on the court — Johan Froneman and Johann van der Westhuizen — disagreed with the majority's conclusion that no expropriation had taken place. They also cautioned against the implications of Judge Mogoeng's ruling, saying it could lead to 'the abolition of the private ownership of…all property' without the payment of any compensation.
     Any black or white South African who owns a home, a car, or unit trusts is vulnerable.      The Investment Bill will apply to everyone, including 'natural persons' and 'regardless of nationality'.
'Any legislative transfer of property from existing property holders' would no longer be 'recognised as expropriation' if it was 'done by the State as custodian of the country's resources', they said. The warning sounded by these Constitutional Court judges could prove prescient if the Investment Bill is enacted into law in its current form. Yet business, civil society, the media, and most South Africans seem oblivious to this threat.
The Investment Bill in the context of the Restitution Bill
The Investment Bill needs also to be read in the context of the Restitution of Land Rights Amendment Bill of 2013 (the Restitution Bill), which the Government was intent on pushing through Parliament before the May 2014 general election. The Restitution Bill extends the deadline for lodging land restitution claims from December 1998 to December 2018. In this extended period, some 379 000 new land claims are likely to be submitted, according to the Government's own regulatory impact analysis. Settling these claims could cost the State some R179bn, the analysis notes. Yet in the 2013/14 financial year, the restitution budget was roughly R3bn. How, then, is the State to find the money to settle all these new claims, especially when some 8 000 existing claims have yet to be resolved?
The Investment Bill could, of course, provide a solution. Provided that the State takes land under claim as a 'custodian' for land claimants, there will be no expropriation flowing from this deprivation — and hence no compensation to be paid. The new land claims lodged under the Restitution Bill could extend far beyond agricultural land. In the words of the deputy chief land claims commissioner, Thami Mdontswa, in September 2013, 'people might think, "Hey, there's a coal mine out there, let me place myself within its reach [by lodging] a claim"'. Given the limited investigative capacity of the Land Claims Commission and the police, there may also be little to prevent people from lodging false claims. Mr Mdontswa ha s acknowledged that 'there are many people out there who will want to take a chance', but says the penalties in the Restitution Bill will help deter this.
However, the penalties referred to in the Restitution Bill will apply only where a person 'lodges a claim with the intention of defrauding the State' (emphasis supplied), rather than the current property owner. The common law of fraud will still apply in this second situation — but successful prosecutions may not be easy to secure. Nor will they compensate property owners for losses suffered via false claims.
     Two judges caution that Judge Mogoeng's ruling could lead to 'the abolition of the private ownership of all property'.
Under the Restitution Bill, some 379 000 new land claims are likely to be submitted. As the Institute of Race Relations (IRR) has pointed out, the Investment Bill, in combination with the Restitution Bill, could 'spell the end of private property rights in South Africa — not just in agriculture but across the economy'. Adds the IRR: 'We believe that the Government and the African National Congress (ANC) are preparing the ground to seize private property and distribute it to poor communities if and when they feel the need to do so. That time will come when the political pressure on the ANC is so great that it fears losing a future election.' (2019?)
A false sense of security
Media coverage has focused mainly on the impact of the Investment Bill on foreign investors, helping to lull all property owners in South Africa into a false sense of security. Many South Africans no doubt also believe that the property clause in the Constitution will "protect " them in the event of any expropriation. But the property clause could count little when a majority on the Constitutional Court has already ruled that expropriation requires not only a deprivation of property but also a matching acquisition of ownership by the State — and that the State does not acquire ownership when it takes property as custodian for others. This Constitutional Court judgment is now being written into what is effectively a new expropriation bill. The measure might speak of 'promoting' and 'protecting' investment in its title, but its real impact is likely to be quite the opposite.
Transferring the country into the hands of the state
So to conclude : Rob Davis – a hard-line British communist already in 2013 tabled and planned this bill to be implemented. Rob Davis is a very elusive character in that he does not appear in the news very much- but that is the agenda all along. While the media keep on focusing on the "stars" of the show like Zuma, Malema, Ramaphosa et al– Davis factually is one of the most destructive weapons in the communist arsenal. Davis can be seen as a "shadow minister" for the "deep state." Many ministers have come and go- many changed portfolios- but if there is one portfolio and one minster that stayed intact-  it was Rob Davis in the Trade and Industry portfolio.
Rob Davis- the most destructive power behind the impoverishment of whites and now the transfer of private property to the state.
White Nation on many occasions warned the public against this communist destroyer in many articles. Davis was specially allocated in that portfolio to keep him out of public attention– but out of this portfolio he caused the most collateral damage to the white people for his BBEEE laws he tabled- and now he  is busy transferring all private ownership to the state as well with his new  Investment Bill. This all is done from within the Trade and Industry portfolio that factually has nothing to do with either the job market- or land affairs. Can you now clearly see how the devil's agenda is disguised from public attention? 
Ramaphosa has been chosen to fulfill the long awaited communist agenda in South Africa- an agenda that will transfer all property rights in a soft "koo-de-etat" to the state. AS you can also remember Ramaphosa was not "democratically" elected- but appointed. The "state" – as you should know by know- is controlled again by the "deep state" – i.o.w the corporate banking powers in Britain. So by transferring all private and state owned property to the state- means effectively transferring the whole South Africa in the hands of Renwick and his "deep state" vultures. Ramaphosa was appointed to – like Mandela- see through this "transition" process. You can see Ramaphosa doing the same evil work FW De Klerk did- iow transferring the country to the communist Polut Bureau in London. All the "trustworthy" ANC stall wards will be taken off from "active" duty to go and safely enjoy their spoils derived from the gravy train- and Ramaphosa will appoint new unimportant faces into his cabinet.
All is done in very subliminal ways and with hidden agendas. Systematically, with smart terms like " Poor communities" ,"  protectors" and "protection" slithering around, laws that change " for the benefit of our people"–  and beautiful promises-  the communist agenda is implemented on all levels of the South African society.  Being naturally careless , lazy and naive- the South African public does not even pay attention what really is happening right under their noses! The horrible truth only hits you when you try to oppose this subliminal control. This is where the "police state" kicks in and innocent people gets persecuted and jailed for their attempts to claim their God given right to private property ownership. South Africa thus will be moving back to the days of the Stalinist Gulags.
South Africa will thus again be "sold out" to British control under a full out communist agenda where everyone and everything belongs to the "state."  This automatically will put all the natural resources firmly in the grip of the British globalists whom  Renwick acts as "mediator" for- and prevent dictators such as Zuma to again step "out of line" -and go and meddle with the Chinese and Indian opposition as well- putting the "deep state' in danger of loosing control of the natural assets. Ramaphosa thus were appointed as the last "democratic" president before this systematic transition from private property ownership to state ownership takes place. After that the communist appointed "polatriat" will then officially be instated as soon as Ramaphosa is recalled.
This "Polatriat" will be controlled from London. It already is in place- now only called the "National Executive Commitee(NEC)" – which already controls South Africa from within Lethuli-House. They already posses  the power to approve or disapprove laws- as well as appoint and recall the president. Without their approval no president, no MEC- no state appointed director or even parliament can function or take decisions. So they already wield immense power. But because South Africa is not as yet a fully fledged communist state on paper- they still operate under the pseudo name "National Executive Committee" to make it sound "democratically."  But obscured behind the curtains they are a fully operational communist governing organization.
Only when the time is ripe it will only need a change in name to eventually come to their own right as "The Polatriat."  This is how communism works- not a sudden change in a dispensation- but rather a slow well planned progress over a long period so that it cannot be detected by the otherwise careless populace. And Rob Davis have immense power in this committee- and is the main perpetrator of this devious communist agenda now slowly yet unnoticed busy developing and devouring  all levels of our society, legislation and governance.He is the eyes , ears and instigator to monitor a "smooth" transition of South Africa into the claws of  the British Jewry.
White people in South Africa better take good notice of this. This is something much bigger than the anti-white sentiment of "racism"– or even the genocide of whites in South Africa. This is about the total capitulation of a whole country under a dispensation that will eventually totally destroy all private rights and leave whites at the mercy of their old arch enemies- Britain– to control and dictate their every day lives. And we already now about British "courtesy " and human rights history of the British against the Boers during the Boer wars – now don't we?
One look at all the white squatter camps created since 1994 due to Rob Davis' onslaught against white Afrikaners should already send out dire warnings of what is about to come- and he is only ONE reptile responsible for more than 400 000 impoverished whites. What is to become of the Afrikaners once a full panel of communists are dictating the course of the country and the lives of the Afrikaners? I shudder to even think about it! 
The time for personal vendettas, personal enrichment and personal careless attitudes are something of the past. To survive this creeping communist abomination whites better take a good hard look at their current status quo– and start to organize, work together and unite as one. Their future- the future of their children – and maybe their lives will depend on the decisions whites as a whole take to confront this approaching danger. If you still doubt the full impact which communism will present to you,  still are confused , unenlightened or not fully aware what is about to happen to whites in South Africa under a communist rule  – then we would advise you to  better tap on the books of   Aleksandr Solzhenitsyn– and especially the book: " The Gulag Archipelago." which can be downloaded HERE.
BUT as we have learned about the white Afrikaner in South Africa- he most probably will not even try the effort of investigating what true communism is all about- lest trying to come to his senses and unite as a white nation. It is because of this slack , lazy and careless culture of the Afrikaner that brought him to loose his country and today dithering on the edge of inhalation in the first place. Sometimes I think that the Afrikaner was destined to be exterminated at this point in time of history in any case- there his deliberate selfish and resilient  nature to oppose unification. This was a weak point in the Afrikaner armory De Klerk and his cronies fully exploited to their own selfish benefit. Today the Nguni still are exploiting this careless and unwilling nature of the Afrikaner as a weapon to oppress them . And so will their new communist masters do as well. Maybe the majority Afrikaners have too much French blood in them. The French have a reputation for being cowards.
https://www.facebook.com/james.cronje.902/videos/564595857237211/
WHILE the terrorist ANC is on a hell-bent quest to take farm land away- we notice that they are harboring other terrorist buddies in South Africa as well. BUT then again- evil calls upon evil ….
The white farmer  question
Meet scumbag Malema- the British bum brush and his genocidal appetite for whites.
JULIUS MALEMA was also "appointed" puppet by the British globalists to form an opposing force against Zuma and the ANC. The ANC has done their evil work and now are on the verge of being exterminated as a "democratic" political party- the same way the National Party was done with. With dwindling support due to Zuma- the party has no hopes to survive the 2019 elections. They have done their dirty work and now it's time for a regime change. Zuma again also was a planted provocateur to specifically destroy the ANC from within. But Zuma made all the wrong moves to start fornicating with the Chinese and Indian harlots.
Malema's secondary objective  was to ensure that all white owned land are vacated – and white farmers chased off their land. Together with the land expropriation bill the idea of murdering white farmers is to discourage white farmers to stay on their land. The bogus illusion that land must go to black " disadvantaged " people- as well as the malicious propaganda that "whites stole our land" all forms part of this huge diabolical agenda to transfer rural land into the hands of the British globalists. For this reason we saw many destructive witch hunts, trumped up charges and down-right persecution of white farmers .
The media were tasked  to act as a mouth piece to discredit and demonize white farmers, the courts to hand out inhuman sentences against "racist" farmers- and the politicians to ensure nothing is done to protect white farmers. Julius Malema- backed by the National Intelligence Agency and Police– organize trained black terrorists to launch offensives against white farms. Backed by secret "slush funds" from the NI budged- trained black terrorists are funded and armed for this " black ops" operations against white farmers. The media also were instructed not to expose this gruesome murders to the public- which again may sway public opinion in favor of the farmers and thus may hamper the diabolical agenda or "plan. "  For this reason international reporters like Katie Hopkins and Lauren Southern that sympathized with white farmers – immediately were barred from entering South Africa on bogus "charges " such as "spreading racism." . This now is the so-called "democratic" South Africa busy changing into a fully fledged communist state.
Businessman and former politician Kenny Kunene, speaking to The Citizen, said he was unsurprised to hear EFF leader Julius Malema's racially explosive rhetoric today in Newcastle, KwaZulu-Natal.Speaking outside the city's magistrates' court, where Malema appeared under a law from the 1950s for his alleged incitement of his followers to occupy vacant land, the EFF commander-in-chief said white people had no claim to land. He also appeared to make a rather sinister joke that "we are not going to slaughter white people … for now". "We are not calling for the slaughter of white people' at least for now … The rightful owners of the land are black people. No white person is a rightful owner of the land here in SA and the whole of the African continent'" Malema said.
Kunene, originally a co-founder of the EFF in 2013 with Floyd Shivambu and Malema, said that he had been warning South Africa against Malema and his "hatred of white people" for years, but he had not been taken seriously. Kunene said that he now felt vindicated again. He had earlier come out to criticize Malema for saying he wanted to take over the ANC in the future and rebrand it as something new in partnership with the EFF. "This is part of why I left the EFF. Malema used to make it clear how much he hates white people. He used to say the plan was to use white people and their resources to build the EFF until it could take power. "'Then when we are in power, we take everything from them.'
" Whites in South Africa are being denied jobs and will soon have their land taken away without compensation. As a result, more and more people are finding themselves living on handouts in white squatter camps because they are routinely denied help from anywhere else." – Lauren Southern (Canadian Reporter) WATCH: goo.gl/5cgEss
Kunene added that Malema told him in private that "we should learn from the example of Saddam Hussein in Iraq, who was in partnership with America until he was strong enough to become an enemy of America. Malema said we could learn from the example of Osama Bin Laden, who was trained by America to fight the Russians – he was equipped militarily by the CIA, but they only made him strong enough to become America's greatest enemy. "I warned people about this man at the Franschhoek Literary Festival last year. I was in discussion with Judge Dennis Davis, Richard Poplak and Fiona Forde. I warned them not to be fooled into complacency about this man. He hates white people. "When he said he doesn't want to slaughter white people … yet, that wasn't a joke. That was the real Malema. When he said the white man mustn't clap for the EFF, he wasn't joking, that's the real Malema talking.
"He's just waiting to come to power, and then no white person will be able to own land or a business unless 51% of that business is handed over to a black shareholder. That's how it is in Zimbabwe, and that's how it will be here. "Let's not fool ourselves. It makes me happy that he's saying these things now so that we can know who he really is. I've said before that his hatred of white people is so strong you can cut it with a blade. When he speaks to a white audience, like the Cape Chamber, which is 90% white, then he says the EFF's policy is for the state to own the land, which will be shared among blacks and whites. He only talks about taking municipal land when he talks to white people. "But when he talks in the township, he only talks expropriation without compensation."
Kunene would not elaborate on his other reasons for leaving the EFF, other than to say he was put off by Malema's militaristic and warlike nature. Malema had earlier told the crowd: "Revolution is about making those that are comfortable uncomfortable. That's what a revolution is all about! "This act they are using here … this act was passed in 1956 as a response to the Freedom Charter, which was adopted in 1955. The Freedom Charter said people must occupy the land wherever they choose to occupy the land. "The Boers … the apartheid regime, passed a law which ensured that no one is going to disturb the peace of Europeans. Mandela was tried with the same piece of legislation. "This battle of the land is in the hands of the EFF. We will fight for it. No amount of intimidation will silence us. Not even torture. Not even anything can tell us to keep quiet about the land.
The EFF says "these white fellows" clap hands while his party fights Zuma. But he says Zuma is not the EFF's "strategic position" – the "defeat of white monopoly capital" is. "Zuma is not our strategic objective. Our strategic objective is the defeat of white monopoly capital. And that defeat of white monopoly capital means the ownership of property must change and be transferred to the hands of the people. "The mines must be nationalised. The banks must be nationalised. The land must be expropriated without compensation. That's what we are talking about. Zuma is a 'by the way'. So, white man, before you clap hands for EFF, you must think twice. "We will not chase white people to the sea. We will give them [a] portion. We will share the land piece by piece. And you can't own bigger than us … you are a visitor. Visitors must behave. They must know that the land belongs to people of South Africa … indigenous people of South Africa.
Ramaphosa – defending discriminatory BEEE
NOW one can also understand as to why the ANC -and also Ramaphosa- are defending the discriminatory BEEE legislation: BEE creates black elite millionaires!! Ramaphosa recently tried to substantiate the validity of BEEE by shifting the true reason from the blue chip shareholding onto education again. He alleged that data shows that young white people still do better than their black peers in social development indicators. Ramaphosa said parties in parliament should be prepared to engage on matters of "national interest " and on matters which these organisations hold opposing views on. "One such fundamental matter is the redress of the injustices of the past, we should not simply agree to disagree," Ramaphosa said during his response to the debate on the state of the nation address. Ramaphosa again did not refer to the mines as "national interest" by the way. "National Interest " only comes into play when whites have to be sacrificed in order for the black 'elite" to gain more riches again. The "people" on the other side only are exploited for "academical" reasons and media propaganda stunts for cheap political points.
Ramaphosa said parliamentarians should discuss and debate with the aim of persuading each other. "Yesterday there was a concern raised about Black Economic Empowerment and affirmative action, one of our members raised such an issue," he said. Ramaphosa said this member suggested that young white South Africans are excluded from job opportunities, bursaries and other opportunities, based on the color of their skin. "We must not ignore such concerns because they are being expressed and we must not just dismiss them willy-nilly nor must we just say they don't matter," he said.
He, however, said when such concerns are engaged with, it is imperative to be mindful of them because statements that young white people are being unfairly disadvantaged by affirmative action bodies is not realistic. "The reality we know does not bare testimony to that. Data from the Statistics South Africa indicates that white young people still do better in develop indicators such as education, employment, entrepreneurial opportunities and well-being," Ramaphosa  said.What Ramaphosa fail to say- is that white people on average rates higher on the IQ scale than their black counterparts. But that would again be deemed "racist" we suppose. All proven facts against black people are deemed "racist."  
Ramaphosa also did not mention the ANC/PAC's  formidable earlier slogan "Liberation before Education" created this evil culture  of black people that rather would riot and burn their schools –  than study in them. About whites now being treated unfair due to Affirmative Action being "unrealistic" one can deduct that Ramaphosa prefer to be a black player only. Any fool can see that AA brought about 400 000 jobless whites into impoverished squatter camps- and that BEEE is against the UN resolutions as well and discriminatory against the white race. BUT Ramaphosa raher choose to ignore facts once again in favor of  party politics. 
He added that unemployment among Africans stands at 30% while it is just under 7% for white people. "Big difference, so one can never say the others are much more advantaged than the others," Ramaphosa said. He said employment opportunities still favor young white South Africans as compared to their black compatriots. "They [young white people] are still more likely to complete matric and progress to tertiary education than young black children in our country," the president said. What he again "diplomatically" abstain from saying- is that blacks are overpopulating in Africa- and this also is the same pattern happening in South Africa. For every 1 white baby born- 20 black babies are born. Due to the ANC's mismanagement of the economy, alien flooding, corruption and maladministration- the economy simply cannot carry the burden of an over population explosion anymore.
He further said young white South Africans are more likely to complete tertiary education and proceed into the labour market with better prospects than their black peers. "White South Africans, particularly men, still dominate at the senior levels of the economy. That cannot be denied, that cannot be disputed, ever," he said. He estimated that 10 years ago he saw a front-page article that reported that the economic situation had improved for young white people since the dawn of democracy with the black people regressing. "And we need to keep that in mind as we deal with the problems that beset our country. We have made significant progress since 1994 in addressing these racial disparities but we clearly still have a long way to go," he said. What Ramaphosa also fail to mention was that THOUSANDS of blacks got top jobs which was left open due to the discriminatory BEEE chasing whites away. Then he also fail to mention about 90% of government jobs are occupied by blacks. Then also "untouchables" like himself and his ANC "Big Wigs" that got millions and became super rich after 1994. He also fail to mention that if the ANC did not waste over 1 TRILLION rand- as well as more black companies employ blacks-  just maybe the economic situation for blacks would have been better off. Ramaphosa is playing the age old  devils advocate here- selectively blaming whites again. The ANC and EFF rats simply cannot leave them whites at peace.
THIS is what Ramaphosa accumulated after "apartheid"- among many ANC " Big Wigs" the likes of  Tokyo Sekgwale, the Mandelas, Zumas, Mantashes and many more that suddenly became stinking rich.  For example: Nestled under Lion's Head, the world's most hiked mountain,  Cyril Ramaphosa is quietly building a massive private home on two plots of prime land that he bought for R30 million in 2010 — even though he now has an official residence in Cape Town. Did you know about that? 
AND this mansion will be built a stone-throw away from District 6- another "previously disadvantaged "  community. Why is Cyril building this mansion in an upmarket predominantly WHITE area if he want to have a swipe at whites- why not building it in Gughulethu, Langa or Nyanga then? SO– if Cyril the squirrel is so "concerned" about the "poor" black people- why then does he himself not donate some of his millions to his so-called "people?" I mean –  Ramaphosa is one of South Africa's richest men, with a fortune estimated at $450 million by Forbes in 2015. The building is owned by Ramaphosa's family trust Tshivhase. The two lots are a combined 1,423 square meters. Ramaphosa snapped up one of the last undeveloped tracts of land on Head Road, one the richest streets in the city. The Jew Oppenheimer surely was good for Cyril. Apartheid then was not so bad after all- it appears!! Cyril started in South Africa as a normal black terrorist- and today he is at the top of the food chain. But he is not alone- the small "clique" of ANC kleptocracy made sure they got the cream of the cake – while their black supporters got the indigestion. This is our black hippocrates- always "fighting" for the poor blacks in poor areas- and the rest of the populace gets taxed to death…. all while they themselves live exuberant life styles in white areas. This is typical the stuff  dictators are made of.
Ramaphosa added that there is still a long walk to be taken to address gender disparities in the country which makes the acceleration of Black Economic Empowerment, Employment Equity and transformation of the education system a critical focus. He said the creation of a non-racial society does not mean the legacy of "apartheid " and colonialism should be ignored. "It requires the liberation of Africans in particular and black people in general from the economic and political bondage that still holds them back." One only can try to phantom what a f*ck-up the ANC has been into this past 20 odd years of power if they still have to "liberate" blacks from political "bondage."
Ramaphosa's financial enslavement
Malusi Gigaba– another ANC misdirected fool who now expects only 5 million taxpayers to carry his next imposed burden of 55 million non-tax paying leeches- including his own humongous salary, royal benefits, expensive cars, etc. He bragged the ANC will save R 85 billion this coming year- all while the government debt alone is an astounding R 198 billion per year! Now the tax paying public are milked and enslaved again to cover the burden of incompetent fools like this. Soon these ineptocrats will tax South Africa out of the game!
Tax revenue
Gross tax revenue shortfall estimated at R48.2 billion
About 27% of this is due to bailouts of State Owned Enterprises (SOEs)
About 10% of total budget expenditure is spent on paying interest on national debt
Government expenditure will be cut by R85 billion over the next three years
The VAT rate will increase from 14% to 15% from

1 April 2018

. Impact on poor lessened by zero rating on basic food items and paraffin
Alcohol and tobacco excise duties increased between 6% and 10%
Fuel levy increased by 52c per litre
Estates above R30 million will now be taxed at a rate of 25%
A tax on sugary beverages will be implemented from

1 April 2018

Levies on plastic bags, vehicle emissions and incandescent light bulbs were increased to encourage eco-friendly choices.
Expenditure
The focus is on economic development, education, peace and security, health, community and social development
R528.4 billon allocated to social grants
R129.2 billion to support affordable public transport
R57 billion set aside to phase in fee-free higher education. This means all new first-year university and TVET college students with a family income below R350 000 per year will be funded for the full cost of study
More than R30 billion allocated to making schools safer
R30 billion allocated to agriculture and rural development
R6 billion allocated to drought management and public infrastructure
R2.1 billion SME fund to be created over the medium term to support start-ups.
TAX, TAX, TAX….Please do

NOT

ask who is going to carry this humongous burden. 
If one now cut through all the crap and comes down to the "nuts & bolts"– what actually happens here is that because of the ANC regime's wasting, maladministration and ineptocracy– the devious tax office now runs short of R 48.2 billion. Now the already overtaxed public ( registered tax payers) must foot the bill for an incompetent regime's gravy train . And as ever the millions of taxi drivers, China Towns, Street vendors and illegal Nigerian, Sudanese, Pakistani  and Zimbabwean hair shops, PC shops, Cell shops, etc are conveniently "forgotten." On the end of the day Ramaphosa and his British ghoul masters again force the South African registered working class into a financial enslavement with little left of their wages to maintain a normal standard of living.
NOW you must understand- above you have read about all the stinking rich ANC kleptocracy that receive humongous salaries, got rich and all-in-all have a ball of a time at the expense of the tax payer– who now will be taxed even MORE by this same scrupulous villains in political suits. BUT let us have a quick glimpse how they perform to earn  that exuberant salaries and how they spend our taxes then:
JAP!!! YOU have guesed it right. THIS is how they spent your taxes!! This is the Walter Sisulu University, Butterworth Campus ! BUT they want MORE taxes!
One can only assume that blacks now have to be "liberated" from the ANC's OWN oppression and "bondage" – not from "apartheid" or "colonialism."  What is quite obvious is that Ramaphosa is now on a hunting expedition to try to save the ANC's tarnished image for the 2019 elections- and as always are the whites the poor scape goats to carry the brunt of the ineptopcracy of the useless ANC commi rats. BUT then again we know about the real truth behind Ramaphosa's appointment. Ramaphosa- according to us- will be the last "democratic" president of South Africa before the socialist "polatriat" will be instituted to take control and  to transfer the South African cart and transport to the British banking Jewry. 
VIDEO OF THE WEEK: THIS IS AFRICA…
Je depose cette video ici et je reviens pardonner ne m'insuter pas

Posted by Issoumaila Toure on Monday, December 25, 2017
SOURCE:
It is not true that young white people are disadvantaged – Ramaphosa
'Slaughterer of white people' Malema vindicates me … again – Kenny Kunene
http://www.acts.co.za/news/blog/2014/03/investment-bill-is-an-invitation-to-expropriation-without-compensation
https://www.businessinsider.co.za/cyril-ramaphosa-r30-million-mansion-2018-2
WHITE NATION– WE DO NOT HATE WHITE LIBERALS– WE SIMPLY DESPISE THEM!!
C'MON- SHARE OUR LINK