Do you have news to tell us? Send your e.mails with news and inquiries to: w.nation@mail.com
Register with us for free to follow our news on the right-hand tab
ADD YOUR COMMENT AT THE BOTTOM OF THE PAGE
Article posted  by: White Nation correspondent Cape Town   March 08  2017
SOUTH AFRICA– THE GLOBALIST's  COMMUNIST WASTELAND DOWN SOUTH
WHITE NATION has reported a while ago about the tragic death of an eight yer old white girl- Nadia  Stephanie Bond– on 18 September 2015  (Link)- who was killed by a colored drunk driver – Bradley Gysman- in Kraaifontein in the Western Cape- and how the police tried to cover up the crime at the time.  NOW– 29 months later it appears that not only the police- but the state judiciary also are playing footsie games in co-operation with the police in an attempt to get the colored perpetrator loose from being held responsible for his reckless deeds.
Four year old Nadia Bond– an innocent child that lost her life due to a reckless drunken driver whom the police and state organs – in a deliberate act of defying the ends of justice-  now desperately appear to be trying to hide and protect against prosecution. 
Sez a heartbroken farther- John Bond– on the website he created in memory for his lost child:
" 29 Months since my child's MURDER and the clowning continues.! Yeah, we sat in court listening to the cross examination of Johan Joubert of TAR Services, who we as family appointed to do a reconstruction of the crash scene after our child was killed by Bradley Gysman. The reckless speeding, unlicensed drunk slammed into my petite child at 88km/h sending her flying through the air, then together with his passenger picked up my grossly injured child loaded her into their car and with a third person drove away with her.
James and Nadia in happier times.He believes that his daughter's death was no accident- it was an act of deliberate intend- now covered-up by police friends of the accused's family. 
According to the Kraaifontein SAPS "Investigation" they run my child down at 17H30, yet she only arrived at the Kraaifontien Day Hospital at 17H50 – it took them 20min before they dropped her at the Day Hospital which is only 1.6 km from the scene. The State never brought ANY charges against the killer for removing their vehicle and my child from the scene EVEN THOUGH it is a CRIME according to the National Road Traffic Act. Instead of enforcing the law, the NPA claims (on behalf of the Killer) that they "rushed" her to hospital to try and help her.
It's really simple logic though – 20minutes… they either went on a joyride until my child had died OR it didn't happen at 17h30 like the police claim! You want to concede both ways for them now? PLUS the passenger in the vehicle who first picked up my child gave a written statement that he could FEEL that Nadia was still breathing, yet by the time they dropped her off (20 minutes later) she was not breathing – IN FACT her neck was broken and her brain stem was detached which in medical terms means she could NEVER breath on her own again.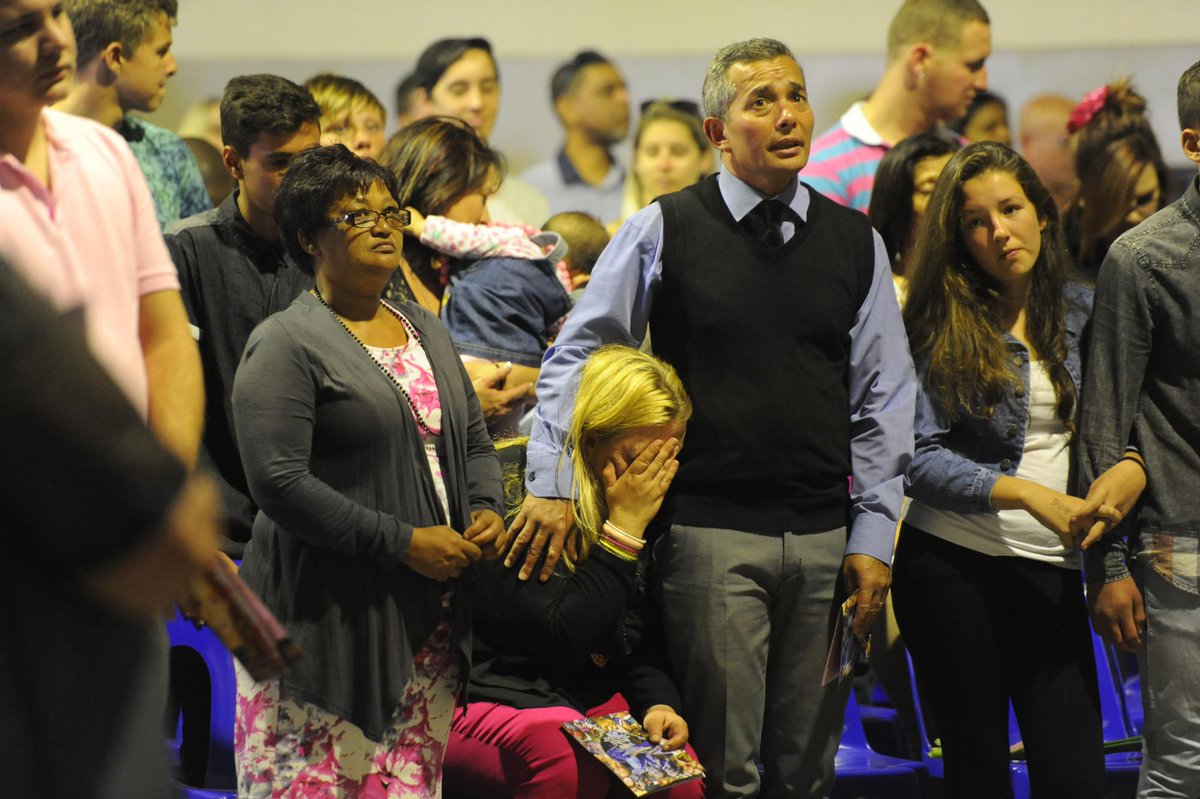 John Bond- one man's fight against an unjust system that want to protect a culprit rather than deliver justice- a system now busy destroying the very same society it pledged to protect.
The state has now advised that they wont even be calling the passenger IN THE VEHICLE to give evidence…
Really – who is determining what the Judge will hear?
Is the court not supposed to hear ALL evidence?
Or has the State decided it is not RELEVANT?
Are they REALLY that careless towards innocent victims of crime?
It is also a contravention of the Road Traffic act to give a vehicle to an unlicensed driver… In this case that driver killed a child BUT the State has still shown no interest to us as family to enforce the law on the vehicle owner either… Some criminals are blessed and seemingly above the law? Where's the Minister of Justice and the Minister of Transport on this idea of drunk drivers picking up their victims and going on joyrides? President Ramophosa? Is this country really going to allow such gross cruelty to be done to innocent little children?
A broken John Bond– now lost all his trust in a system that is supposed to be just and fair- but terribly neglected it's obligation into bringing the killer of his beloved daughter  to justice
Yes – CHILDREN! Aren't they supposed to be protected? When is enough going to be ENOUGH?
IT IS FREAKING MADNESS coz the State and the NPA's refusal to act is opening the door for DRUNK and RECKLESS drivers to do whatever they want with their victims, my little child dying, broken and torn and drunks can do with her whatever they want… Take her on a joyride without consequence?
Our Authorities do NOTHING about it? So now the next and the next drunk can do the same? Maybe to YOUR loved one? I will protest outside parliament if I must… but it cant be allowed Sir's… It is the GROSSEST form of cruelty!
The SAPS report conducted by Constable du Plessis contradicts EVERY eye-witness statement and report, (Including those who the SAPS neglected to take statements from) And contradicts ALL logical conclusions – NOBODY IN THE NPA OR SAPS WOULD DO ANYTHING ABOUT A BLATANT INCOMPETENT AND CORRUPT FALSE REPORT which FORCED us to get Private Experts TAR Services to obtain the TRUTH about what was done to our child.
No statement was ever taken from a witness that was parked 10m from where my child landed after flying more than 30meters through the air… No statement was taken from witnesses who claim to have tried to call for help about the reckless driving even BEFORE my child was run down. The Kraaifontein SAPS REFUSED to do their job diligently. And the SAPS "Road Crash Expert" did a job of covering up the TRUTH instead of exposing it. If we had not obtained the services of Johan Joubert of TAR Services this whole court procedure would have been in favor of a murderous killer.
Aswell Jantjies– uncle of the drunken killer- alleged that his nephew also was "suffering" trauma. However- since the deliberate accident- both him and his family- as well as the police – have been hiding Gysman from the public eye and attempts to meddle the case in such a way that the judiciary on the end of the day will throw it out of court. Bradly Gysman also rapidly closed his Facebook profile to hide his identity. 
The Stand-up Comedy show continued with the killers defense trying really hard to discredit Mr Joubert who is one of the LEADERS in the field of Road Crash Reconstruction in the country…. he gave the FACTUAL evidence and no matter what. The TRUTH can never be denied. From my point of view the cross examination only served to confirm Mr Jouberts professionalism, in depth knowledge and diligence to providing factual, impartial evidence to the court.
At one stage the cross examination took an Extremely unprofessional turn with a showing of total lack of integrity for the truth or any respect for my child's life or us as family. It turned into an atrocious comedy that gets rather personal with me when the defense actually tries to suggests that I (me the father of a brutally and cruelly murdered child that has showed immense patients with this "Criminal Justice System") am a VIGILANTE out to get his client. And that Mr Joubert is nothing but my "Hired Gun" – If it was not about my child and the TRUTH of the horrible gross death she faced I would actually applaud his ongoing desperate impersonation of Trevor Noah. BUT: It is about my child and the sick lack of integrity, total disrespect, ignorance and arrogance towards us as family has been noted. I will seek legal advise for defamation of character. My family and I will not be victimized or toyed with any further.
The Bond family was even harassed for trying to find the truth about their daughter's death.
FACT IS: I have not even been able to pay Mr Joubert for his valued services. Mr Johan Joubert of TAR SERVICES – Thank you, from the bottom of my broken, torn and shredded heart… it was not easy for us listening to the evidence you presented, I choked back as I consoled my tearful wife listening to how our little girl was flung through the air… but the TRUTH is all we ever wanted – whatever this court does has got no bearing on us, they cant bring her back, BUT it is their ABSOLUTE duty to save others through enforcing the law and passing sentences that will deter criminals. You Mr Joubert have been diligent, kind, courteous, professional and understanding of our situation at all times. Truly a God sent blessing to my family for which I could never thank you enough. We will endeavor to pay your total fee in the shortest possible time.
Having said that: There is points that I disagree with you:
When a child crosses a road from the Right side of a driver in full view of that driver, and he continues to accelerate towards that child (which he must have done to reach a speed of 88 km/h) he is (at least) showing reckless disregard to the safety of that child (at worst) he is showing direct intention.
When he then swerves towards that child and strikes her with the middle of his car, he has acted out reckless disregard for the safety of that child and has reconciled himself with the outcome of his actions – or is showing direct intention.
When he then further disregards that child's life and safety by threatening witnesses and loading her brutalized body into his car and takes 20 minutes to reach a hospital 1.6km away?
It's NOT an act of negligence. IT IS SHOWING CLEAR FORM OF INTENT! That = MURDER!!! And anybody that sees it in ANY other light needs to seriously rethink the unthinkable – understand that some people are sick, really sick and should be put far away before they kill again. Motor vehicles CAN be used as murder weapons.
XOXO Baby Girl, Daddy has only got started on fixing the wrongs, Your voice is going to be heard far and wide!
Love and miss you terribly much Kleinmens…"
Daddy,
John Bond
In an earlier statement John had the following to say:
" After numerous attempts requesting the SAPS to address the corruption and incompetence by SAPS Members regarding the death of my child NADIA STEPHANIE BOND (8) I received another e-mail from the SAPS Major General HS Burger of the WC: MI Complaints Nodal Point that they will not re-open the investigation. Which to me means that the SAPS refuses to take action against Corruption and Incompetence within it's ranks while I have AMPLE proof thereof! As a father and fellow South African I responded to them with the following e-mail (below) which I make public and Pray for YOUR support to force the SAPS to address my complaints. I established the NPO: Bond Against Drunk Driving BADD (Bond against Drunk Driving) www.badd.co.za in an effort to campaign to save lives after my child was killed .
The truth is, we need to fight for the State to start investigating these crimes thoroughly and competently – I am not suggesting that every Drunk driver kills intentionally, but the killer of my child, Bradley Gysman, did. He and friends had previously attacked my older son and we had them arrested, nothing came of it. In 2015 he deliberately and grossly ran down my 8 year old daughter and killed her virtually in front of their residence and Daycare Center.
Ivan Bond with Dad John- also assaulted by Gysman and his cohorts for which they were arrested. Was it pure revenge that drove Gysman to deliberately ram down Nadia with his car? 
The investigation conducted by the Kraaifontein SAPS and SAPS Pinelands Road Crash Unit is corrupt and blatantly incompetent (Yes, I have PROOF of my claims, and was warned very early in the investigation by members of the public about the SAPS members "friendships" with the accused family) but NOBODY will do anything about it. We have exhausted every channel and all our finances in our determination to fight for the truth. PLEASE HELP US FIGHT – it is too late to save my child, or what has been done to our family. But fight for the Morals of Society, fight for the TRUTH, fight against corruption and incompetence. We cant allow this to be done to families…. Please share and support BADD, we have very limited resources, as a father I have drained every financial channel in this fight, but I can not allow that to stop me. I have reasonable intelligence, and I have the will, reason and determination to fight for us all. Any support is welcome: www.badd.co.za"
Facing impossible odds.
Dirty policemen caught for fraud and corruption. In South Africa the line between perpetrator and policeman is very thin- and  as the country's financial dilemma and rising costs and taxes due to corrupt and incompetent politicians deepens- that line also is  deteriorating fast by the day.
In the Western Cape most colored youths belong to violent drug running gangs. Cape Town especially have it's " hot spots" with extremely violent gangsters  operating in the Cape Flats in dangerous   areas such as Kraaifontein, Valhallah Park, Bishop Lavis, Bonteheuwel, Mitchell's Plain and North Pine. The Cape Town  law enforcement agencies long ago has lost control over gangland's activities. They themselves became the target of drug runners and gangs. The possibility that Gysman was linked to one of these gangs is quite positive and cannot be out ruled- whether through a family member , friend- or friend's friend.
In gang infested areas children learn the dirty trade at an early age- sometimes as young as eight years old.
The police on the other hand- mostly coloreds as well- also are deep into gang activities. They most of the times have little choice- you either turn a blind eye- become part of gangland's evil network- or become yet another statistic. Most police recruits either opt for turning a blind eye – or joining the mob. On the one side do they struggle to survive on a police salary, and on the other side does greed and fame also sometimes push them to join these gangs or else get side-lined from the younger colored generation who loves to wear flashy designer trends and drive expensive cars. Many a time they were forced to "look the other way" when they confront gangsters or sometimes forced into corruption when approached and confronted by these violent gangsters- or else their police career will end abruptly , instantly and unsuspectingly with a 9mm Parrabellum or Makarov bullet in the head.
The police in the Western Cape -like the rest of the South African police force- also are deep into corruption. The corruption stretches it's evil tentacles into the highest level of law enforcement and the judiciary. A typical  example is that of  Western Cape police commissioner Arno Lamoer who recently was found guilty of  corruption, money laundering and racketeering . Then the South African Police acknowledged the service paid the Guptas R 128.6 million. (Link) Because most colored policemen and woman stay in the same area where these gangsters reside and operate – they have no or little choice but to play along or their families might be targeted by these gangs. This also could be the case with the police and Gysman- now the police deliberately are stalling and hampering the case out of fear of gangster reprisals.
The majority of the police is South Africa- and especially Cape Town- are very incompetent and irresponsible  when it comes to the execution of their duties and oath as protectors of our societies. They are not hand-picked like pre-1994- but most are Affirmative Action appointments. Their affiliation with the ruling party or skin color weights more than their competence. Their general attitude is a typical " 9 to 5 job" approach. Their careless and pride less mind set prevents them from respecting their work.  So also are most of the senior police officers as well. Four police commissioners already have been sacked due to corruption. The general policemen on the ground also become dirty cops within a short time- engaging in murky deals and corrupt ventures. It's part of their culture, part of the system- and part of their social life.
Thus one can understand the complicated and frustrating situation John now find himself in- facing almost impossible odds. He now is facing a ultra corrupt system that prevents justice to be carried out. The system protects the criminals. Ryah Payega – another questionable sacked police commissioner- long ago already told the parliamentary portfolio committee that more than 1000 policemen in the force already have criminal records. That number now already exceeds past 2000. Crime in the South African police runs deep- very deep indeed.
Just this week a sting operation by the Hawks' Serious Organised Crime Investigating Unit has led to the arrest of a six member syndicate alleged to be involved in the selling of commercial explosives and illegal firearms on Tuesday, 6 March 2018. The six suspects aged between 24 and 59, among them a former police officer and two officers who are stationed at Thabong SAPS, are alleged to be supplying criminal syndicates with explosives that are commonly used to bomb ATMs' and cash in transit vehicles. (Link) This sadly- is the reality of South Africa today. "Democracy" also brought freedom of crime to our streets- both for the criminal and the police.
Whatever the case may be- to these gangsters and police conspirators the life of an innocent child does not carry much weight. In their dark and corrupt world only financial numbers and self survival forms the nucleus of their very dangerous game.  Hundreds of young colored adolescents and minors die each month in the Western Cape due to  gang related violence.  The general life expectancy of a Western  Cape colored youth is not more than 35.  Sadly Nadia also will became one of the statistics of a violent and undisciplined sick society that has no more respect for human life or law and order since the death penalty was abolished by yet another bigger and more corrupt system.
As for Gysman- he apparently were happily married with two children of his own. ...still protected by his family and co-conspirators.  As for Nadia's father- he's audacious  fight still promise to be a long and bitter struggle against the forces of injustice now dominating the South African society. This time it was John's innocent child that died at the hands of a scrupulous drunk driver and villain – tomorrow it may be yours. Let us help John in his fight to bring about justice  for Nadia- and an end to corrupt police officials and gangsters defying that justice that is supposedly there to protect innocent children like Nadia.
People that are interested in assisting John financially or legally to proceed his quest in finding justice for his daughter are kindly requested to contact or join his web pages as printed in this article.
SOURCE:
http://news.searchsa.co.za/incidents/drunk-driving/justice-for-nadia-bond-29-months-later.html
WHITE NATION– WE DO NOT HATE WHITE LIBERALS– WE SIMPLY DESPISE THEM!!
C'MON- SHARE OUR LINK