Do you have news to tell us? Send your e.mails with news and inquiries to: w.nation@mail.com
Register with us for free to follow our news on the right-hand tab
ADD YOUR COMMENT AT THE BOTTOM OF THE PAGE
Article posted  by: White Nation  correspondent Johannesburg  March 13  2017
SOUTH AFRICA– THE GLOBALIST's  COMMUNIST WASTELAND DOWN SOUTH
GLOBAL peace is deteriorating as the economic impact of national and international violence escalates to $14.3 trillion (R178 trillion) – up significantly from a cost of $9.8 trillion in 2014.
These are the findings of the Institute for Economics and Peace (IEP) Global Peace Index, which puts the total cost of violence to the global economy at 13.4% of global GDP (from 11.3% in 2014). The biggest global contributors to this violence bill come from military spending ($3 trillion) and internal security spending ($1.3 trillion), as well as losses from crime and interpersonal violence ($2 trillion) and losses from conflicts ($817 billion).
The total economic impact of violence containment in South Africa is $66.7 billion – or $1,258 per person The IEP data showed that, while the state of global peace remained relatively stable between 2014 and 2015, four out of the nine geographical regions experienced an improvement in peace while five became less peaceful. This is balanced by specific numbers, where 81 countries became more peaceful and 78 countries became less peaceful. "The most substantial change in the index was recorded for the Middle East and North Africa — where several countries suffered from an upsurge in violence related to sectarian strife and civil conflicts, as well as a rise in actions by Islamist extremist groups," the group said.
Top 10 most peaceful countries
| # | Country | Index Score |
| --- | --- | --- |
| 1 | Iceland | 1.148 |
| 2 | Denmark | 1.150 |
| 3 | Austria | 1.198 |
| 4 | New Zealand | 1.221 |
| 5 | Switzerland | 1.275 |
| 6 | Finland | 1.277 |
| 7 | Canada | 1.287 |
| 8 | Japan | 1.322 |
| 9 | Australia | 1.329 |
| 10 | Czech Republic | 1.341 |
Top 10 least peaceful countries
| # | Country | Index Score |
| --- | --- | --- |
| 162 | Syria | 3.645 |
| 161 | Iraq | 3.444 |
| 160 | Afghanistan | 3.427 |
| 159 | South Sudan | 3.383 |
| 158 | Central African Republic | 3.332 |
| 157 | Somalia | 3.307 |
| 156 | Sudan | 3.295 |
| 155 | Democratic Republic of the Congo | 3.085 |
| 154 | Pakistan | 3.049 |
| 153 | North Korea | 2.977 |
South Africa
South Africa slipped 14 spots on the global ranking, from 122nd in 2014 to 136th in 2015 with a score of 2.376. This places the country in the lower-end of the region rankings, ranked 37th out of 44 Sub-Saharan African (SSA) nations. According to the IEP, the total economic impact of violence containment in the country is $66.7 billion (R830 billion), or $1,258 (R15,656) per person, or 10% of the country's GDP as a whole. This is the 33rd highest cost of all 162 countries covered by the researchers.
When it comes to societal safety and security, South Africa ranks as the 15th worst country in the world, and the 8th most violent with a murder rate of 31 per 100,000 people. South Africa's state of peacefulness – and slip down the rankings – appears to be more due to the increase of peacefulness in other SSA nations, rather than the abject deterioration of peace within the country.
In 2014, the country's GPI score was 2.342, showing a small 0.034 difference. In its 2014 report, the IEP singled out South Africa as having conflict driven by poverty,  inequality, and the slow pace of reform by government. This, in turn, fuels crime, violent strike action and political confrontation, the group said.
The group's long-term outlook said that, with high unemployment and income inequality – as well as buckling service delivery under the ANC administration – South Africa's positioning regarding peace and security is unlikely to change.
Homicide and safety
SOURCE:
EDITOR's FOOTNOTE:
"IF I ever saw a "political correct" pot of liberal bullsh*t about the real truth- this is it!!! The writer obviously does not want to step on some "unsavory" toes here. We ALL are quite aware of the facts on the table. We KNOW why South Africa keeps on slipping into the abyss of  degradation , violence and chaos. Just go ask Zuma and Malema how to destroy a country in record time. I took a mere 20 years to totally f*ck-up a healthy country with lots of potential for all to share- but lo…the British masters does not want all to share. They are greedy pigs and want to steal all the mineral riches and now all property for themselves.
Scary shit right here 😢

Posted by Megan Schofield on Tuesday, March 13, 2018
In an age-old classic tale of creating chaos – they again ensure "racism" are kept well alive, whites get the blame- and blacks are kept impoverished and uneducated in real brutal Western politics. This way hatred is promoted to keep the populace divided. One look to other third world countries and we can draw a distinctive scarlet thread through all these countries- from Afghanistan, Iraq, Libya, India and many more – right down to South Africa- and we see the Jew's bloody destructive footprints in every single  one of this countries.
Below is the truth as to WHY South Africa is among the most violent countries in the word- ask Malema and the South African black population- they will be able to give the answers:
So lyk een van ons nuwe treine. Ek het geen info nie behalwe dat dit in Pretoria is.

Posted by Petrus Visser on Thursday, March 8, 2018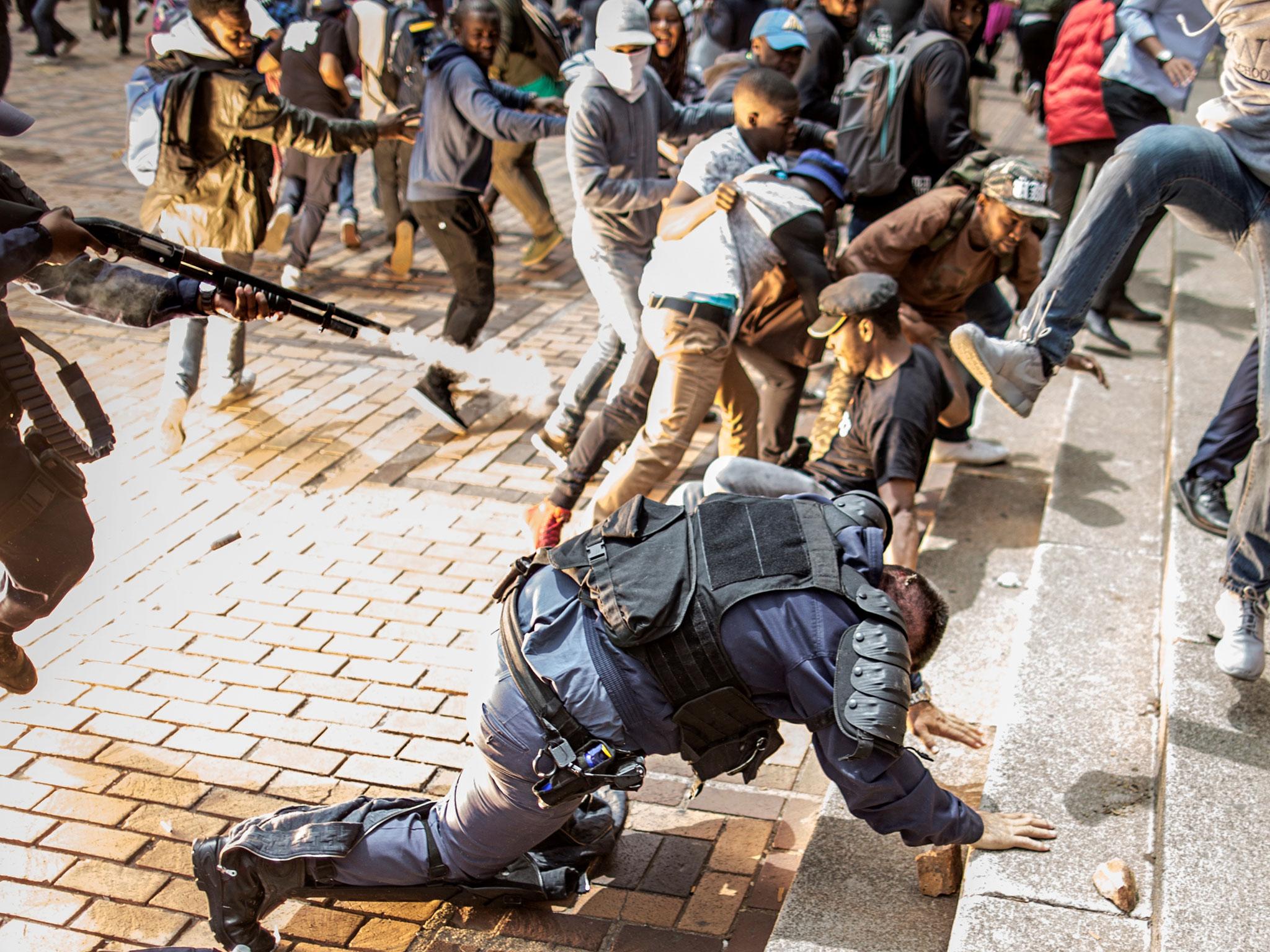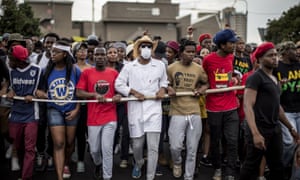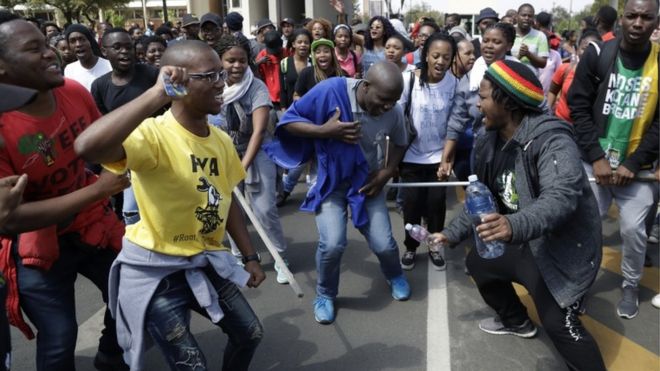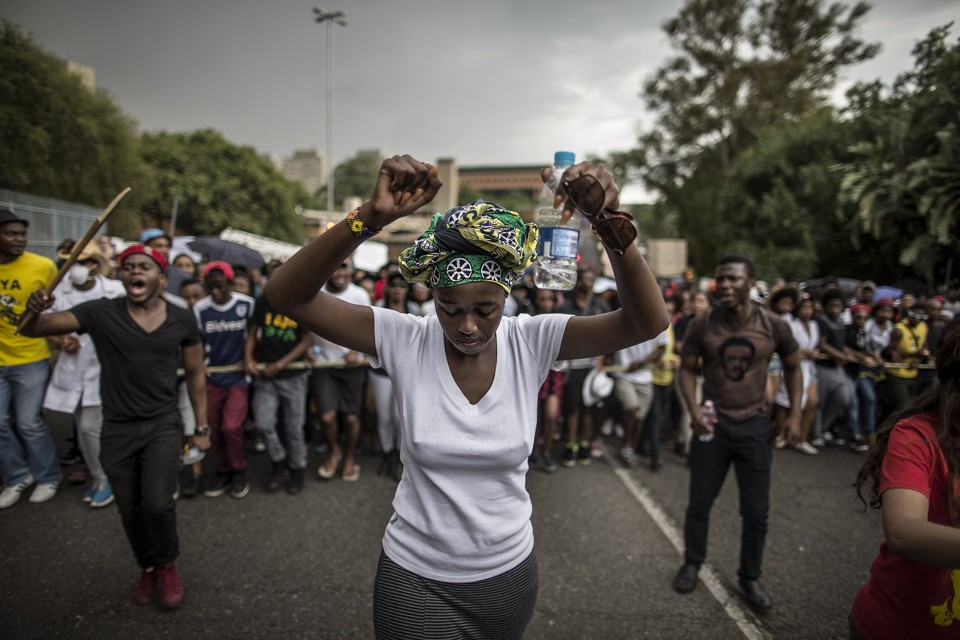 –AND they are taught from young age to be as violent as their  parents….
These are the kinds of situations teachers deal with in the South African classrooms. In all this, teachers are expected to "keep calm and be in control." When a child beats me up, I have to be like this teacher who hasn't done anything to retaliate let alone protect himself; it's actually highly commendable for teachers to "remain calm" at all times. It's truly dangerous out there and teachers are not protected at all.

Posted by Thabiso Julian Mogane II on Tuesday, March 13, 2018
Kana what did white people say about that black child who thrown a book on her teacher?Okay lets leave that, may white people say something about this we are listening…

Posted by Tommy Dst on Monday, March 12, 2018
Ours is a thankless job! Which school is this?

Posted by Tim Hlongwane on Thursday, March 8, 2018
While the elderly steal….
The Auntie, the Granny, every body a tief

Posted by Melissa Cockett on Sunday, March 4, 2018
AFTER ALL– South African blacks are classified as the most violent black nation in Africa (and the world.)
To try playing little " political correct" mind games – and tell the world South Africa's slip into the abyssinial wastelands of violence and chaos is due to the other African countries now all of a sudden  "increased  peacefulness in other SSA nations" – is to say the least the biggest bag of baloney  I have read. We KNOW who is behind the violent instigation of slum lords the likes of Malema. We KNOW who is bank-rolling little heathens like him to instigate violent riots, land grabs and chaos. Go ask the corporate Ashkinazis…they are the masters of perdition. And they will not ease down until they totally destroyed South Africa in a civil war in order to send in their UN maggots to come and keep the "peace" while they plunder our mines like they now plunder the Middle-East oil fields. -Ed)
South Africa is one of the most violent and unsafe countries in the world
WHITE NATION– WE DO NOT HATE WHITE LIBERALS– WE SIMPLY DESPISE THEM!!
C'MON- SHARE OUR LINK