Do you have news to tell us? Send your e.mails with news and inquiries to: w.nation@mail.com
Register with us for free to follow our news on the right-hand tab
ADD YOUR COMMENT AT THE BOTTOM OF THE PAGE
Article posted  by: White Nation Pietermaritzburg March 26  2017
WARNING- GRAPHIC IMAGES- NOT FOR SENSITIVE VIEWERS RECOMMENDED.
SOUTH AFRICA– THE GLOBALIST's  COMMUNIST WASTELAND DOWN SOUTH
The video from Sammy has been removed. Below is a copy of the video.

Posted by SA Events on Friday, March 23, 2018
I FIND it quite ironic that the whole world now are up in arms about the ANC/EFF's move to expropriate especially white owned land without any compensation. I find it ironic that especially whites are caught by surprise that their private property rights now are in jeopardy from a regime that for 20 years now- did everything to eradicate whites and their history from South African soil. I find it most amazing that whites in South Africa expected anything less from an illegal regime pushed into power by forces that only had one objective in mind:  to plunder the natural resources from that country!
After all- that was the secret plan all along- wasn't  it? How could white Afrikaners then be caught by surprise one may ask? The evidence was there all along- it was an open source on the internet- only if white Afrikaners  in South Africa weren't so carelessly complacent, naive and arrogantly cretinous of the facts right in front of them! As for the international world- did they not work tirelessly hand-in-hand with the corporate Jews for 50 years specifically to force this terror movement upon South Africa? OR was that R 4 trillion in gold they stole from the Federal Reserve to save the American sinking economy too an urgent matter ? Maybe South Africa's minerals was just too important to keep on stocking the British Bank of England's vaults? Was it their fear that South Africa became so advanced under white rule that they started their own nuclear program maybe? Whatever the motive- they themselves pushed this criminals into power at the cost of thousands of  white lives.
The ANC always has been a terrorist organization. It was created by the conspiring Jews in the first place. In 1963 a group of Jews founded the "African" National Congress. The ANC was founded by Lionel Bernstein, Bob Hepple, Dennis Goldberg, Arthur Goldreich, Hazel Goldreich and James Kantor, with a few African front men — Nelson Mandela, Walter Sisulu, Govan Mbeki (father of Thabo Mbeki), Raymond Mhlaba, and Ahmed Kathrada. In this, the ANC followed the model the Jews established when they founded the NAACP in the United States, with the exception that the ANC was a much more violent and openly communist organization. These Jews and their African National Congress received funding and support from both the Soviet Union and the US CIA. So what precisely did the white Afrikaner or the international world for that matter miss in this picture? 
Conspirators Inc. The traitor and the terrorist – hand in hand.
The ANC's rule from the start was based on  deception and anarchy. From that day on 10 May 1994 that Mandela's  clerk- FW-  " triumphantly" led  him from prison straight onto the podium- Mandela already started to deceive the poor naive South African Rainbow chicken coop. But it was during his very "emotional " inauguration speech that the real deception also was inaugurated . Mandela was deliberately deceiving the world. He was "soothing" the fears of the white Afrikaner with nice promises- set the "democratic" world at ease and hushed the South Africa population to sleep with a "reassuring"  sugar-coated oratory. The Jewry and their lying media made sure a national communist harlot became an international hero. They made sure the poor naive "sheeple" falsely believe Mandela just bumped Jesus off – and took His place  on the right-hand side of God on the throne. The golden calf was created and the misdirected nations all bowed  down in worship when he opened his mouth and spake those "reassuring" words of "peace, prosperity" and " a country with an abundance of milk and honey for all." Ahhh…that was good! 
10 May 1994- the day Mandela made the whole South Africa eat out of his hand like obedient dogs.
But sadly that only was for academic reasons and misleading propaganda  value. The second stage of the Jew state capture of the country was set in motion. One of the worst deception punch lines he used that day was when he declared- and I quote:
"  The time for the healing of the wounds has come. The moment to bridge the chasms that divide us has come. The time to build is upon us.  We must therefore act together as a united people, for national reconciliation, for nation building, for the birth of a new world. Let there be justice for all. Let there be peace for all. Let there be work, bread, water and salt for all. Let each know that for each that for each the body, the mind and the soul have been freed to fulfill themselves. Never, never and never again shall it be that this beautiful land will again experience the oppression of one by another and suffer the indignity of being the skunk of the world. Out of the experience of and extraordinary human disaster that lasted too long, must be born a society of which all humanity will be proud." ( You can go read the whole speech of beguilement  here.) 
Now- let us -after 20 years of so-called " freedom" under  Mandela's ANC legacy have a short summary of what really happened in South Africa about all that beautiful promises  of " bridging the chasms that divide" , "Let there be work, bread, water and salt for all."– and " Never, never and never again shall it be that this beautiful land will again experience the oppression of one by another and suffer the indignity of being the skunk of the world."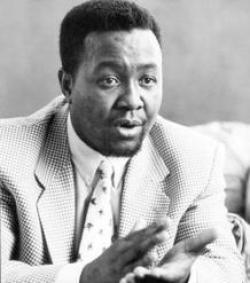 Peter Mokaba– First terrorist to chant "Kill the Boer- Kill the farmer.
In 1994 Peter Mokaba hollered for the first time " Kill the Boer- Kill the farmer." Was this not already the first cracks in that "chasms that divide us" rhetoric? This also was the start of the horrendous murders on white farmers that was to proceed for the next 20 years- leaving more than 4000 white farmers and their families dead- and more than 70 000 whites in general being brutally attacked and/or murdered. In 2008 an official complaint was sent to the Criminal Court in The Hague about the escalating farm murders. Nothing came from it. Farm murders increased with 23,8%  that year due to Thabo Mbeki's decision to end the commando-rural policing system Mokaba never was reprehended or charged with willful instigation to a genocide. This chant later on was adopted by Julius Malema– which up to today openly instigate a white genocide and chaos against whites. Malema himself never was brought to trail and fined.
On March 28 1994 Mandela himself ordered the killing of 19 Zulu protesters at Shell House– and acquitted all 11 ANC shooters (Link)  This was the first signs that a new form of oppression of "one by another " was in the making. Mandela never were charged or questioned about this deliberate massacre.
The Shell House massacre- Mandela himself ordered the butchering of 19 Inkhata Party members. 
In 1998 Affirmative Action was instituted that barred all whites from the job market (Link) : Is this not in stark contravention of Mandela's promise that " "Let there be work, bread, water and salt for all?"  Section Nine of the Constitution of South Africa guarantees equality before the law and freedom from discrimination to the people of South Africa. This equality right is the first right listed in the Bill of Rights. It prohibits both discrimination by the government and discrimination by private persons; Under the heading "Equality", the section states:


9. (1) Everyone is equal before the law and has the right to equal protection and benefit of the law.

(2) Equality includes the full and equal enjoyment of all rights and freedoms. To promote the achievement of equality, legislative and other measures designed to protect or advance persons, or categories of persons, disadvantaged by unfair discrimination may be taken.

(3) The state may not unfairly discriminate directly or indirectly against anyone on one or more grounds, including race, gender, sex, pregnancy, marital status, ethnic or social origin, colour, sexual orientation, age, disability, religion, conscience, belief, culture, language and birth.

(4) No person may unfairly discriminate directly or indirectly against anyone on one or more grounds in terms of subsection (3). National legislation must be enacted to prevent or prohibit unfair discrimination.

Rob Davis– the white Afrikaner enemy #1. A Hard line liberal communist and sworn enemy of the white Afrikaner. Single handily he was responsible for the impoverishment of more than 400 000 whites through his BEEE discriminatory policies. 

This gross discrimination against whites also was neatly incorporated in the constitution as well to give it"  legal "grounds . It was later on to be followed up and " refined" by the communist arch villain Rob Davis with BEEE  in 2007 and again more "fine tuned" with BBEEE discriminatory laws under the    B-BBEE Amendment Bill in 2012. 32 Court cases were launched against the communist regime , all dealing with affirmative action in view of the fact that the regime  holds that "all institutions have to reflect the national race demographics.  " So what happened to Mandela's promise of " Let there be work, bread, water and salt for all" then? It very much appear that those same "work, bread and salt " were just taken away from whites by Davis and his communist ANC cohorts . Mandela's lie quickly was starting to be exposed. But still worse was to come!

All whites had to be eradicated from all levels in the country, whether it is financially, schooling, sports, historically, work- you call it- whites had to be  eliminated and excluded from having a voice by force. The ANC has their  smart "Diplomatic" terms for it- Affirmative action, BEE, Quotas, Equity acts, Land Distribution, etc, etc– but their bottom goal is to clean Africa from whites! Hundreds of aliens are welcome to work, stay- and vote in SA- so long they do not appear in their WHITE pajamas- otherwise- they are free to enter and get all the royalties SA can offer. Their parasitism were deemed more important than local South Africans' homogeneity. As for the startled white citizens in SA – they can only get ONE royalty the regime has to offer: The royalty of leaving SA! Uncanny -isn't it: The ANC- mostly aliens themselves- are now alienating true SA citizens- and claiming the country belongs to "THEM " ( Sounds very much parasitic to me)

The discriminatory laws still are on the books of the ANC- leaving most whites jobless and more than 400 000 whites impoverished in more than 60 squatter camps (Link) country-wide. No condemnation or action from either the United Nations or any Human Rights group were launched. After all- the Afrikaner Broederbond -in their secret Free Mason meetings of the "enlightened six " – decided that no white will rule South Africa again. The world toed the same line.

Rob Davis's BEEE policies saw to it that more than 400 000 whites were forced out of the job market into  rag tag squatter camps under inhuman conditions of poverty.

4. In total 119 anti-white laws has been tabled- yet not ONE anti-black law passed through parliament.

5. In  2003 the  Broad-Based Black Economic Empowerment Act, 2003 (Act No. 53 of 2003) was tabled which forced all companies to share at least 25% of ownership with black partners. Companies that does not comply will not be eligible for state tenders. Huge fines were imposed if companies does not comply with the equity of black empowerment. This factually meant that the majority of all companies must be black. These penalties can be anywhere between R1.5 million and up to 10% of an employer's annual turnover, depending on the nature and frequency of the non-compliance.

6. In 2012 Jacob Zuma ordered the new  Firearms Control Act (FCA) – which forced all whites to hand in their firearms. Most whites never got their firearms back again- thus whites  effectively was disarmed and left defenseless against any attack. Criminals and farm attackers on the contrary were supplied with firearms by both the government and police.

7. On 16 August 2012 the ANC (Cyril Rammaphosa) – ordered the South African Police to massacre striking mine workers at the Lonmin mine at Marikana- leaving 34 dead and 78 seriously injured. The incident was systematically wiped under the carpet- and up to today Ramaphosa- now the newly appointed president of South Africa- never were charged with homicide or brought to justice. Blood now again started to drip from the ANC communists' hands again.

The 2012 Marikana massacre. Cyril Rhamaphosa gave instructions that the police must shoot the protesters. 34 Protesters were left dead. Ironically the ANC commemorates the Sharpville massacre  every year to shame whites- but selectively ignore to commemorate the Marikana massacre as well. 

Die ou vlag: Is apartheid wreder as kommunisme?

Die ou vlag: Is apartheid wreder as kommunisme?"Indien die ou Suid-Afrikaanse vlag dus op grond van die aanstootlikheidswaarde daarvan tot haatspraak verklaar en verban moet word, kan 'n veel sterker argument aangevoer word dat die SAKP en selfs die ANC se vlag ook verban moet word." Kyk hier hoekom Ernst Roets so sê.

Posted by Forumtv on Tuesday, March 27, 2018

8. In 2013 the ANC cut all subsidies to white orphanages- and impose a law that prevent any private donateur to donate to white orphanages.  The  Wabenzi ANC sushi eaters say that white orphaned children don't deserve any government support. Most white children have been taken away from their parents due to, for example, substance abuse by the parents,- and /or  the inability of the mother to provide a home due to stringent BEEE laws that prevented parents from getting jobs to care for their children.

9. On 10 June 2016 a white woman- Penny Sparrow- was charged with "racism" and dragged in front of a judge. Her offense: She made alleged "racist" comments against blacks by stating that blacks mess the Durban beach like"  monkeys." (Link) She subsequently was fine R 150 000.00 and lost her job. Her life was totally ruined. A whole list of whites suddenly found themselves wanted due to alleged "racism." However– blacks that also ranted racist comments worse than Sparrow on the contrary never were even reprimanded or lost their jobs. According to Connie Mulder, head of Solidarity's Research Institute (SRI), the analysis of the results repeatedly showed that there was an inconsistency and a "certain selectivity" as far as the extent was concerned of the media attention slurs made by black people received compared to those made by white people.

South African Major  M V Mohlala – left a gross racist comment on Facebook about a gruesome attack on two white elderly males which left one – Cobus Naude (76)–  murdered. His comment was that " They(the thugs) should have coughed the eyes of the murdered man out before he was killed so he could endure hell before he died. "Mohlala was only "reprimanded" by his black senior- in stark contrast what happened to Penny Sparrow and whites after her in which case some received inhuman long jail sentences for making  alledged "racist" comments.

10. In March 2015 black students started a country wide campaign to desecrate all white historical statues – starting off with the statue of Cecil John Rhodes.

11. On Jan 11, 2017 – The department of education has instructed two Afrikaans schools to change their language policies, following a landmark 2016 Constitutional Court decision which will limit schoolgoverning boards' control over policies, admissions, fees and dress codes. This effectively meant that Afrikaans no longer was regarded as a medium in schools.

12. On 27 February 2018 the EFF tabled a motion to "expropriate" all private property ( especially white farms) without any compensation in South Africa. This was fully supported by the ANC, National Freedom Party, AgangSA, and the African People's Convention. The onslaught against the white race was picking up momentum.

Being white in South Africa has just about become a crime.  When Johan Nel killed black people a while back, it was headline news for weeks, the newspapers and online agencies were falling over themselves to cover the story and sensationalize it. Why? He was white. A white man killing a black man in South Africa is unheard of, the pinnacle of injustice and sin. Not to mention of course, it must have been racially motivated, as are all events that put whites against blacks.

However, when a farmer is killed, his wife raped and burned with boiling water, it makes the headlines for about 6 minutes, and then swiftly disappears into the realms of being another day in South Africa. Dozens of [read: white] people are shot at, hijacked, and murdered in South Africa on a monthly basis yet still there is a vast majority of black people that criticize whites of being racist? I read News24 columnist articles often, and often I see a black individual insisting that the country's white population "apologize " and stop their racist ways. Am I missing something here? The vast majority of violent crime in this country is committed by black people, so what must we apologise for? Only whites, it seems, have the ability to be racist. Racial acts committed by any other color always have an excuse.

Australians  respond more and more to farm murders. 

https://www.facebook.com/dreyer.v.merwe/videos/10204407338018801/Then there was David Bullard.

According to the media, Bullard is the reincarnation of the devil himself, a prime example of a modern day racist. Viva. To quote another News24 user, Unathi Kondile, "We all know Bullard is an unapologetic anarchist writer with a tendency for taking a swipe at blacks now and again.". Then, we have columnist Mr. Jon Qwelane, of whom I can say exactly the same if I change black to white: "We all know Qwelane is an unapologetic anarchist writer with a tendency for taking a swipe at whites now and again.". Have a look at any of Jon's articles. I cannot recall one where he did not cast the racist blanket over just about every single white person in this country. David Bullard was fired for what he wrote; yet I am amazed that Mr. Qwelane's drivel gets printer week in and week out. Why, David Bullard is the wrong colour. Again – Only whites, it seems, have the ability to be racist. Welcome to another day in sunny South Africa.

To summarize then – let us go back to the inauguration speech Mandela made on that day of 10 May 1994 when he "promised " that "  Equality includes the full and equal enjoyment of all rights and freedoms. To promote the achievement of equality, legislative and other measures designed to protect or advance persons, or categories of persons, disadvantaged by unfair discrimination may be taken. The state may not unfairly discriminate directly or indirectly against anyone on one or more grounds, including race, gender, sex, pregnancy, marital status, ethnic or social origin, colour, sexual orientation, age, disability, religion, conscience, belief, culture, language and birth. No person may unfairly discriminate directly or indirectly against anyone on one or more grounds in terms of subsection.  National legislation must be enacted to prevent or prohibit unfair discrimination." Am I missing something here? 

Again– this is just proof that the ANC never intended to adhere to what they promised South Africa on that day. They KNEW they will soon divert from their own promises. Why? Simply because the ANC does not adhere to any "constitution", laws – or moral codes. The ANC is a fully fledged communist organization– born out of violence and deception– and rule by violence and deception. They only abide by those rules their terrorist organization invented. Long before they even came to power their communist agenda was set in stone. This clearly was set in their communist manifesto – and we quote a document leaked to the public which states the following agenda:

1. The armed and constant threat of violence forced the white, spineless regime to negotiate for so called peace.

2. The psychological warfare through the churches to create a guilt complex with whites was a victory over Christians.

3. The MASS ACTION was a successful method to rip the nation economy to pieces and create panic in the rich settlers.

4. The constant uproar in Black Education is the fourth try for liberation through education because the white regime simply cannot meet all our demands.

5. All four tactical attacks leaves the regime powerless and  gradually giving in to our demands.

6. All these help to create a feeling of helplessness and dispair and to loose confidence in their government.

Be careful not to upset the farmers too much before we gain control over the SAP and SADF.

7. The constant pressure of violence and economic uncertainty force De Klerkto surrender power to the suppressed people like in Namibia.

Affirmative Action Strategy after April  27, 1994

The greatest fear of the white settler is to loose his job, his farm or his house and all the luxuries! This will enable the new "Democratic Government"  to tax them to the utmost while our comrades in MK and APLA continue with their part of the struggle.

1. Surplus land will be redistributed among our people.

2. All positions in public service will be replaced by comrades.

3. The security forces will be reconstructed with our comrades to protect our people. Whites were protected for 350 years. Get them experience to be second class citizens!

4. No ammunition will be available to white settlers.

5. Health institutions will be Africanized and whites will pay according to their income to enable thus to contribute to their liberated brothers.

6. Some white schools will be allowed because most settlers will pay their last cent for white education and this will provide some money for our people.

7. Pension funds and insurance companies collected billions over the years, will be to our disposal for education of our comrades in years to cost.

VIVA KILL A BOER KILL A FARMER

Looking back to the time from 1995 until now it is relatively easy to see that almost every point mentioned in this document has to a lesser or greater degree taken place as described. The ANC may well try to label this document as "innocent morale boosting" on the part of some low ranking official within the ANC at that time –however the parallel between this document and what has happened in reality so far  is simply too hard to ignore. Mandela was a communist. Mandela created Umkhonto We Sizwe– the ANC's branch that executed the terror attacks against hapless innocent civilians in South Africa. Mandela wrote a book " How to be a good communist." Mandela refused to denounce violence as a political tool although he was offered pardon from jail twice by PW Botha. Mandela was classified as a terrorist until 2008  by the  US Government – stating he was engaged in "calculated terror … the mining of roads, the bombings of public places, designed to bring about further repression." The ANC was listed among 52 of the "world's more notorious terrorist groups."

The Church Street bomb. Mandela's most renown legacy- masterminding bomb attacks against innocent civilians . 

The ANC were involved in 13 attacks during the 1980s, many of which targeted government facilities, including a military command headquarters, an unfinished nuclear plant, a courthouse and SASOL, the government-owned coal-to-oil conversion facility. Of those incidents that resulted in deaths, the biggest was a car-bombing of the South African Air Force headquarters in Pretoria that killed 19 and wounded 200. There were significant links between the ANC and Communist countries,-the  ANC received support from the Soviet bloc, Cuba and a number of African nations in addition to contributions from the West." A DoD report added that the ANC received many of its weapons from the Soviet Bloc and listed among its political objectives the establishment of a "multiracial Socialist government in South Africa."

The ANC's bloody history among their own people

"In Mbokodo: Inside MK: Mwezi Twala – A Soldier's Story, Mwezi Twala writes:

In 1981 began a time of terror and death for ANC members in exile. In February a strong ANC National Executive Committee entourage which included President Tambo made the rounds of all ANC camps in Angola. Cadres were warned of the presence of a spy network and the need for vigilance was emphasized. Enemy agents and provocateurs were rudely warned by Piliso, in Xhosa, ".. I'll hang them by their balls." An "internal enemy" psychosis had been whipped up and whenever ANC leaders visited camps they were heavily guarded. Many men and women were apprehended on suspicion of dissidence were to be exterminated in the most brutal manner in the months ahead. Those disillusioned MK cadres who returned from Rhodesia were the first to go.

The death rate grew to horrific proportions, some by suicide but mostly by murder. Others went insane under the constant stress or from everlasting pain. From time to time prisoners were removed from our cells and we forced ourselves to believe that they were being transferred: we preferred to look on the bright side because we could not handle the psychological devastation of facing probable reality… No-one knows how many people were slaughtered at Quatro and the other camps, not even the ANC leaders. The use of MK names and Quatro names added to the confusion of keeping track of who was dead or alive: I heard one bizarre case where due to a confusion in code names a prisoner being tortured confessed to having murdered himself. Another confessed to murdering cadres who were subsequently found alive. Many of the guards (and prisoners) were young teenagers and were not particularly responsible people. The youngest prisoner at Quatro was a ten year old boy named Inzindlebe… because he was an "enemy agent". (Link)

In 1998 the TRC has found that torture and executions occurred in ANC camps in exile. Some of those targeted were killed as a result of bad leadership, jealousies and paranoia. Chris Hani was once sentenced to death by Umkhonto weSizwe's (MK) high command in Tanzania for putting forward the grievances of MK cadres. In the mid-1960s, recruits had complained about camp conditions and wanted to fight. MK high command, in the form of Joe Modise and Joe Matthews, sentenced Hani to death for plotting a mutiny. African National Congress president Oliver Tambo stopped the execution. Minister of Defence Joe Modise today refuses to comment on the issue.

ANC guerrillas later became involved with Zimbabwean freedom fighters, taking part in the Wankie Campaign of 1967. But after 1980, many guerrillas -the Luthuli, June 16 and Moncada detachments – refused to return to the Angolan camps. Others began protesting at being held in poor conditions, rather than being permitted to fight. The ANC leadership said this discontent was evidence that a spy ring was intent on replacing the leadership with South African security branch plants. The security arm began a witch hunt during which many were detained and tortured. At one stage almost half of the people at the organisation's Quibaxe camp in Angola were suspected of being involved in the plot.

The ANC's security organ had became far tougher since the post-1976 cadres had returned from training by the notorious East German Stasi. They became known as Mbokodo (the grinding rock) or "The Panelbeaters" by those in exile. By early 1979, work had begun on a camp 230km east of Luanda that for a decade would be a place where ANC cadres accused of spying would be terrorized. Named the Morris Seabelo Rehabilitation Centre, or Camp 32, it was better known as Quatro. The camp's first commander, 19-year- old Mtunzi Gabriel "Sizwe" Mthembu, was a graduate of Stasi training. Today a senior official at the National Intelligence Agency, he was prepared to be interviewed, but his superiors forbade it.

In a Truth and Reconciliation Commission Section 29 hearing, Mthembu said: "It's difficult to describe the conditions we were exposed to. The conditions were extreme, in a word I would say inhuman, because of deprivation … most of us were affected and are still affected." Mthembu admitted: "We had people who committed acts of indiscipline – very serious cases. We had comrades who abused their positions. Others ran away with murder. They were not punished, so we did not have a watertight system of dealing with these people." Atrocities at Quatro included pouring boiling water on men's heads until they burst or dripping burning plastic on their backs. Others were left in their own urine and feces in tiny cells.

Inside Camp Quatro where the ANC tortured and murdered hundreds of their own people. Nothing of this was ever brought to light and no ANC senior staff- some still in power today – ever were brought to trail like the whites were persecuted and hunted like animals for alleged "Apartheid" atrocities.

While some detainees were spies, others had committed offences like smoking marijuana, "stealing Angolan peasants' bananas" or having accidents in vehicles. Some had spoken out of turn, or posed a threat to others' leadership ambitions. Minister of Transport Mac Maharaj told the truth commission "there were people who were executed without as much as a hearing, let alone a legal one". One such victim was Ephraim Nkondo, brother of United Democratic Front activist Curtis Nkondo, who was last seen dragged through Quatro with a rope around his neck in 1984. He had not been afraid to criticize the leadership, particularly Modise and security boss Mzwai Piliso. It was a flaw that was to see Timothy Kgotsiele Seremane (known as Kenneth Mahamba) executed.

Born in Bekkersdal in 1952, Seremane was the youngest of six brothers. Two sisters followed. His eldest brother Joe – now chief land claims commissioner – joined the ANC at a young age and was arrested in 1962 and sent to Robben Island. His sister Mabatho recalls: "I was in standard one when they took him. The house was surrounded by police. It was frightening. Because of Joe I don't think it would occur to Timothy to be a spy. We used to hate cops …" As a camp commander, Timothy Seremane's behavior was often unorthodox. "He didn't use drivers like other camp commanders, and sometimes wrecked cars," said Andrew Masondo, the ANC's national commissar in Angola, whose son served under Seremane at Pango.

A former Quatro inmate, who asked not to be named, said Seremane "was a bit like a hippy, he was unconventional. He was a very strict camp commander, and was not popular with all his men." In May last year, the ANC submitted to the truth commission that Seremane had been implicated in beating to death an attempted escapee. Then in its October submission it mentioned only an alleged theft of weapons. But in March and April this year, neither Mthembu nor Masondo mentioned this theft at the Section 29 hearings. In its October submission the ANC claimed that, before Seremane's "infiltration" into the ANC, he was told by the security police "to maintain a high level of discipline, secrecy and care when collecting information".

And remarkably, it said he was instructed "to deny any involvement in political activity at home [and] was to avoid detailing his family background to the ANC". Interviewed for this piece, ANC past and present intelligence officers, former South African security branch and a former senior CIA operatives all found it unbelievable that Seremane would have been instructed to avoid mentioning his family's ANC credentials.

General Herman Stadler, former head of security branch intelligence, claimed no knowledge of Seremane. "A person like that would have been ideal. We would have encouraged him to talk about that sort of background." If the ANC had researched Seremane's past, they would have found that although a brilliant student with leadership qualities, he was expelled from three schools for wild behavior. He completed school in Hammanskraal. Here too ANC information was wrong. They said he completed school and was recruited in Mafikeng, 300km away. In 1976 he went into exile via Botswana. He trained in the former Soviet Union and East Germany and became camp commander of Quibaxe, a transit camp holding around 200 cadres. One of the fastest-rising stars, he succeeded Thami Zulu as commander of Pango, one of the most important camps, with an average of 400 to 500 cadres.

During the camp protests of 1980 and 1981, the leadership was caught off guard. Having held its last consultative conference in 1969, the new cadres were demanding another conference and open elections. A paper, A Miscarriage of Democracy: The ANC Security Department, published in the London-based Trotskyist publication Southlight, states the leadership began trumpeting the existence of a spy network. Paranoia and repression set in. "Most of those arrested were known critics of the ANC leadership and were labelled anti-authority. During the whole period of investigation they were tied to trees and slept there. "In Camalundi camp in Malanje province, Oupa Moloi, head of the political department, lost his life during the first day of interrogation. Zulu, who was the camp commander, … threatened to kill more of these culprits who, swollen and in excruciating pain, were lined up in front of the detachment."

As a test for Seremane, Masondo took an ambulance to his camp and forbade him to drive it. Seremane did, and was involved in an accident. He was summoned to Quatro. His weapons were removed by Mthembu, who said he had been implicated as a spy by a cadre whom Seremane had apparently beaten up and himself accused of spying. Gordon Moshoeu, who was also accused in the 1981 "plot", and William Mashotana – now a South African National Defence Force major – were taken to Seremane's cell and confronted with him. This was a technique to force confessions once cadres had seen the condition of their comrades. Moshoeu said Seremane was unrecognisable. "We could only recognise him by his voice."

Moshoeu denies the existence of a spy ring. An embittered Mashotana refused to be interviewed without an assurance from either Modise or his deputy Ronnie Kasrils that he would not be victimized. Both declined repeated requests to give this assurance. The ANC's official roll of deaths in exile states Seremane was executed in 1981, but Mthembu says 1982. He was taken into a ravine behind Quatro and shot, at the behest of Masondo, on the recommendation of Mthembu. His crimes: driving cars badly, going out drinking, beating up cadres and speaking his mind. Joe Seremane only found out about the fate of his brother last year, when he asked the ANC two simple questions: "Why was Timothy executed? Will the ANC facilitate the return of my brother's bones?" Receiving no response, he approached the truth commission. Commissioners and researchers admit his quest caused anxiety and division. An investigator recalled: "No one wanted to take on the ANC."

The ANC has initiated four commissions of inquiry into abuses in camps, but has not spoken openly about torture and abuses in its camps. The ANC was a signatory to the Geneva Convention, which specifically excludes the torture and execution of prisoners. A couple of years ago during  December, the SABC's Issues of Faith  screened a documentary on the quest of Joe Seremane. During the making of the film, requests for interviews with Mthembu were turned down by his superior, Joe Nhlanhla – even though Mthembu was willing to speak. Modise, Kasrils and the Reverend Frank Chikane all turned down interview requests. The offices of President Nelson Mandela and Deputy President Thabo Mbeki failed to respond.

Seremane experienced pressure at work from Cabinet ministers and colleagues. He told the truth commission it would be "blood money" if he put his job before his family. Mail disappeared from film-maker Kevin Harris's postbox, telephones were tapped and hackers destroyed files in Harris's computer. A former Quatro inmate says: "Even today we live in fear. Since 1980, 57 former Mbokodo have been assassinated and seven former Quatro inmates – who is killing them? We believe they are being killed because of what they know about those who are in power now. Quatro left a dark shadow that has not retreated. ( Link) 

Take the the former African National Congress (ANC) president Oliver Tambo, for example. South Africa's main Johannesburg International Airport was renamed after him along with dozens of streets, buildings, institutes, etc. His bust also beautifies a prominent park in London, unveiled by none other than the UK's ex-Foreign Secretary Jack Straw."But who was Oliver Tambo really? Was he really the 'saintly' fighter forhuman rights and dignities, as portrayed by Hollywood and believed by all white liberals? Oliver Tambo visited Pango [ANC-exile camp] at the height of the terror. The path from the entrance to the admin building was lined — like a scene from 'Spartacus' — with men, bloodied and filthy, hanging from trees. When his entourage arrived at admin, where I was officer on duty, Tambo's chief of staff told us that there would be a meeting at 'the stage' (a clearing in the jungle… where we held meetings and discussions). Runners were sent out to notify everyone in the vicinity. On his way to the stage [Oliver Tambo] again passed the men tied to the trees. Being officer on duty, I could not attend the meeting, but my deputy went. After a while I saw guards come up from the stage, release the prisoners and take them to the meeting. There, my deputy told me, instead of objecting to their treatment, as I had hoped, Tambo berated them for their dissident behavior and appeared to approve when Andrew Masondo declared that on the president's next visit they would be in shallow graves behind the stage. The prisoners were returned to their trees.. where the president [Oliver Tambo] passed the unfortunate men without a glance on his way out, and they hung there for another three months — followed by three months hard labor.

More attrocities in camp Quatro could be found HERE


Playing double standards when concerning whites

Ernst Roets of Solidarity wrote:

"  I recently listed a series of examples of modern-day double standards at universities. The words "just imagine if it was the other way around" are mentioned more frequently between young Afrikaners when a black person says something racist without experiencing any consequences. Incitement on social media is a very good example of this.

This probably arises from the fact that history is also viewed with double standards. The Black Sash leader, Jill Wentzel, already complained in 1995 in her book, The Liberal Slideaway, that liberals cannot hold a balanced view on something like apartheid. This phenomenon she called the "twenty-to-two rule".

In short, it means that liberal people like herself were aware of the atrocities committed by the ANC, but they were afraid of being disparaged as racists should they take a stand against these crimes. Consequently, people first uttered 20 statements about the cruelty of apartheid before uttering two lines on the ANC's atrocities. "It was like saying grace before a meal," Wentzel said. You were not allowed to say anything negative about the ANC before you firstly raged against apartheid.

Buys refers to the alleged number that 76 people, between 1960 and 1991, died whilst in police custody. The number is debatable for several reasons, but still needs to be condemned. It should have been zero. What is less frequently mentioned however, is that between 1984 and 1992 more than 1 200 people were burnt to death and more than half of them by the so-called "necklace" method. ANC sympathetic activists committed the majority of these murders and contrary to popular belief, there is proof that various ANC leaders encouraged this method of struggle.

Today, people who have nothing to do with apartheid are presented and condemned as "apartheid figures". At the same time, a despicable figure such as Andrew Zondo, to name one example, is a hero in the ANC's eyes. The only thing Zondo did was to plant a bomb in a shopping mall in Amanzimtoti. In doing so, he killed five innocent people (three women and two children) and injured approximately 40 others. 

Hector Pieterson, shot dead at the age of 13 during the Soweto riots, is a national symbol. However, someone like Nasie van Eck's name is forgotten. Nasie was three years old when he was killed alongside his mother and sister when their bakkie detonated a landmine near Messina. The ANC accepted responsibility for the murders.

The torture of ANC activists by the apartheid police's Vlakplaas unit, is mourned and condemned worldwide. At the same time, a dark cloud hangs over the secrecy of prisoner tortures that took place during the 1970's and 1980's in the ANC's own camps. When former president Nelson Mandela proposed to set up a commission of inquiry into these atrocities, Chris Hani and Jacob Zuma, both involved at these camps, strongly advised him not to do so.

Clive Derby Lewis, who was involved in the murder of Hani, the leader of the South African Communist Party, is still in prison and his medical parole has been refused time after time. The Truth and Reconciliation Commission (TRC) refused Lewis amnesty. On the other hand, Bassie Mkhumbuzi, Gcinikhaya Makoma and Tobela Mlambisa received amnesty by the TRC. They were involved in a mass murder at the St. James Church in Cape Town. During their TRC hearing, they testified that the party they were members of, the Azanian People's Liberation Army (APLA), considered all white people as legitimate targets. Therefore, the 11 innocent churchgoers that they murdered, in their opinion, were also political targets.

To see how double standards are applied in South Africa- watch HERE. Was it a white that did this to a black- all media hell and social site hysteria would have been in the order of the day!




These double standards still have a strong hold today, thanks to the media. A senior journalist commented that AfriForum's statement about Andrew Zondo was "insulting" and "extremist" and an African correspondent at an international media company telephonically told me that there is still a reason to honour a mass murderer like Zondo, even though he exclusively went for soft targets, because "at least he fought against apartheid".

Eric Arthur Blair (better known as George Orwell) said that the most effective way to annihilate a people is to destroy their understanding of the past. We are currently living in an era of constant deceit. This arises from a misconception about the past of which not enough is spoken about. "In times of deceit, telling the truth becomes a revolutionary act," Blair said. Maybe the time has come to dump the "twenty-to-two rule" in the dustbin. What this country needs, is less deception and more truth, and that includes the history as well."

ALL these atrocities committed by the ANC were conveniently wiped under the carpet– and while the South African skunk media blared out alleged "Apartheid" atrocities such as this of Eugene De Kock and Wouter Basson– none of the above documented atrocities by the ANC themselves ever were made public or was reported in the media. So how could you expect Mandela and the ANC to come clean and suddenly became "democratic" peace loving arse-kissers  then?Which of Mandela's so-called "promises" that day of May 10 1994 were honored with regard to white people? Which of those promises did the white Afrikaner community enjoy so far- bar being labelled as the skunks of the world and being treated as such? THIS is the ANC  the Jews and De Klerk and his ilk jetted into South Africa.

While white "transgressors" such as Eugene De Kock were brutally persecuted for his part in the Vlakplaas murders( instigated and ordered by the National Party)– the ANC king pins in the above gross human rights atrocities and murders of innocent civilians quickly jumped for "amnesty"- and not one ever was charged and did receive the same treatment as De Kock for example. Ironically Jacob Zuma- who was the intelligence chief of Mkontho We Sizwe– and kingpin of their assassination  squad "Mbokodo"- was accused of overseeing the murders of his own cadres in Quatro (some evidence point to him choking his own cadres to death with his bare hands) – but was made PRESIDENT of South Africa for 15 years! Thus a convicted  mass murderer  just changed his environment from overseeing the murders of his own people – to overseeing the mass murders of white farmers! A serial killer became a mass murderer. Do you copy this?

Jacob Zuma– serial killer turned mass murderer, rapist, thief and corrupter. Yet he was allowed  to plunder the state coffers for 15 years while South Africa sank into poverty and chaos. 

So much has been said about the so-called "New South- Africa", the "Rainbow Nation"– the "Democratic South-Africa"…or whatever beautiful term the liberal media wants to slap on it since that well-known speech of Mandela in 1994. The outside world- that will be the International Community that is- NEVER really see the South- African context – the way we see it-for what it REALLY is. It's only now- after 20 years of total chaos- that certain members of the E.U started to wake-up to the REAL South-Africa. The United Nations still battles their mental impairment to conquer their obstinate silence and refusal to accept  the massacre of their own created ISIS in Syria, their illegal approved invasion of the Ukraine, their sanctioned assassinations of both Saddam Hussain and Muhammar Ghadaffi– and now their next preparation for unleashing WW3 on the world with a possible conflict between Britain and Russia.  The white genocide in South Africa concerns them less than a street brawl in New York.

What the liberal-Afrikaner Broederbond/Gupta/ANC controlled media is sending overseas- and portraying to the International community, is a beautiful country- with luscious pastures, a land with so many diverse communities- rich in culture- and a open invitation to invest….as well as hosted the 2010 Danny Jordaan soccer ding-dong. A prosperous country indeed– with a solid well "educated "government in place! Realty- sadly- depicts otherwise. Reality- to the people living in South Africa- shows a country ravaged by crime-(The highest per capita in the world), a country that are torn between trade logic from the business community- and sheer thieving madness from the "supposed-to-be" government….if we loosely might use the term "government."

Since the ANC Jailbirds – the little liberation gods created by the liberal U.N and his allies, hi-jacked S.A – all hell has broken loose. This madness was a three pronged attack on the hapless land: One prong was the new "government"– who made a mad dash for the top seats- and illogical high salary packets, the second prong was aimed at the rich resources of the land- to get those resources into ANC /Jew controlled paws as soon as possible,- and the third prong- directed by the ANC at the white "settlers" of the land- the Boer people who- as they so gleefully claimed- were "responsible" for the back-draught lives of all blacks in South-Africa. ( Everything that goes wrong- or blatant blunders by the ANC- is always blamed on those racist whites)

As for Mr. "Red Goblin" Malema- and interesting fact just surfaced: An Avid public commentator has slammed the leading anarchist  of the Economic Freedom Fighters EFF of having biological origin in Ethiopia, while getting assertive and speaking down on White South Africans who have contributed immensely to the economic well being of the country, with Malema contributing nothing but violence and social unrest to the South African Economy.  Don't give this peanut (Malema)  some media publicity,60 percent and more of his members are  foreigners, he- Malema- looks already like an Ethiopian. In recent weeks, Malema has characteristically heated up and disrupted the political/social discourse by harping  relentlessly on racist comments, hence causing apparent security breach without been invited by appropriate security authorities for questioning.

THIS is the South Africa both Ramaphosa and Malema are working towards- and will achieve. – let 53 million blacks in South Africa  hug shoulders with their Venezuelan counterparts in the trash for scraps of food with dogs and pigs. Go ahead Cyril and Juliaaas…….you are close to start a black genocide among the two of you single handedly! But then again…who cares?  Blacks themselves chose to start their own extermination program….leave them to be. 

https://www.facebook.com/100015564902285/videos/296659307529564/

Returning back  to the point of "Expropriation" of white farm lands and property- what else do you expect? This was in the ANC's broader agenda all along- it only was the Afrikaners themselves that were to naive and complacent to – instead of stumbling around on the FBI-controlled Facebook all the time- try to use the services of Google a bit. Then maybe they would have being able to predict their future under ANC rule by merely comparing the past of the ANC's rule while still being in exile. They say to determine one's future you simply have to take a glance at his past. And with the ANC this truth could not be more accurate. They were a terrorist organization then , they still denounce violence- which still makes them still a terrorist organization now. With Malema's militant extremist  EFF they again have again resurrected their military wing Mkonto We Sizwe in just another form. And they are the ones dictating the political future of South Africa today- blaming whites for being "racist."

Do you still wonder why whites are being murdered at a genocidal level in South Africa and their land to be taken away soon ? I for one do not. It was in the communist plan all along. Now you can understand why white farmers are murdered at a genocidal rate. The ANC murdered their own people then- and now are murdering the white farmers using the same strategy they used on their own people while in  exile. They say when something terrible is left for long enough- it slowly will pass into oblivion. That is what the ANC want- all their past human right abuses and murders to be "forgotten" to slip into past history- never to be remembered again while they keep on high-lighting so-called "white" racism and atrocities. With a new young generation of blacks growing up now- it will be easy to hide the ANC terrorist organizations own dark past. One wonders how blacks still can vote this utterly disgusting murderers back into power every 5 years?  

Anarchy in South Africa: Illegal land grabbers turns the coastal town of Hermanus into a fiery cauldron after the irresponsible decisions taken by the EFF and ANC to grab land without compensation.

White Boers/Afrikaners NEVER will trust this terror mob, never will acknowledge or submit to their rule- never adhere to their racist discriminatory "laws"– for they have been mass murderers, terrorists and serial killers all along- and today they still practice that same acts of terror against the white farmers – and their property. The same horrendous methods used in Quatro now are used on white farmers and their families- the similarities are just too striking! Then there is the more than 400 people they killed in the horrendous "necklace" style murders. Winnie Mandela was the executioner par exelance in this. Yet noting was said about it and again no ANC rat ever were caged for it.

The ANC's favorite torturing method in South Africa- placing a petrol-filled tyre around the neck of a hapless victim and set it alight. The victim literally burns to death. It has been coined as "necklace" murders. This barbaric method still is in use today. Yet again no ANC rat ever was caged for it. On the contrary whites  are sent up to 15 years jail terms for alleged "racist" remarks. 

 Like Malema they are alien infiltrators that came to steal the inheritance and plunder the state coffers of true South Africans- turning South Africa into a wasteland of crime, chaos, financial degradation – and genocide. Changing Zuma for Ramaphosa does not change the game- one psychopathic communist mass murderer just were exchanged for  another.  They are wolves in sheep's clothing- a dangerous and cancerous infestation that South Africa can do without! Their main objective is self enrichment and the destruction of the white infrastructure. It was already in the plan long ago!

The dusty bogan was at it again. We had a great day today standing with our South African mates. The South African Farmers are being pushed off the land and we need to help our mates. I got a great interview with Senator Fraser Anning, what a great bloke. It's great to see a politician speaking his mind and getting amongst it. Shout out to my mate Jessie Casson for helping me film today. https://www.youtube.com/channel/UCYuaZ_i4kRYLGCP1q8_9ALg check out the dusty bogan on YouTube and have a look at the other videos we got from today. Keep it Dusty.

Posted by Ben Shand on Saturday, March 24, 2018

"The only history of governance that the ANC has had was characterized by incompetence, corruption, cruelty and a callous disregard for democracy and human rights. Under the tutelage of the SACP, the Mbokodo subverted Albert Luthuli's ANC into Oliver Tambo's, which Nelson Mandela has found expedient to retain. He has ignored the recommendations and advice of the two ANC-appointed commissions of inquiry and decided that no reparations will be made, nor will the Mbokodo be punished. The ANC's dismissal of the matter is typical of the manner dissidents were treated in exile." – Mwezi Twala– Inside Quatro. 

SOURCE:

https://www.facebook.com/1585264711581443/videos/1619015818206332/
Mense het gevra dat ek Die Video Deel, en nie net die "Youtube Link" nie…. Hier is hy nou.SHARE GERUS.

Posted by Danie Van Der Westhuizen on Tuesday, March 20, 2018
WHITE NATION– WE DO NOT HATE WHITE LIBERALS– WE SIMPLY DESPISE THEM!!
C'MON- SHARE OUR LINK