Register with us for free to follow our news on the right-hand tab
COMMENTS CLOSED TEMPORARILY DUE TO MANY COMPLAINS FROM LEFTIST "FUNNY BUNNIES."
Article posted  by: White Nation Johannesburg April 12   2017
SOUTH AFRICA– THE GLOBALIST's  COMMUNIST WASTELAND DOWN SOUTH
A LOT already have been said about the illegal ANC regime and  it's  involvement in many a clandestine operations since it came to power through the "courtesy " of the corporate instated/controlled  and treacherous National Party in South Africa. 
I do not believe one has enough space on this page to name the countless illegal deals, mysterious disappearance of literally billions of dollars from the state coffers, humongous salaries, terrorist activities against farmers, secret  al-Qaeda , Hezbollah and Black Panther training camps, instigated genocide, corruption, money laundering through state parastatals, state supported terrorist camps in Mozambique and Zimbabwe, gun running, illegal mining and tender fraud-  and God knows what else this lot of corrupt hoodlums in control are into.
ONE of their illegal ventures is the creation of supposed to be "secret" private armies within the framework of the state itself. Armies such as APLA, AZAPO, the PAC, Umkhonto We Sizwe Veterans, NARYSEC, Black Panthers, ANCYL  and the EFF all form part of this huge conglomeration  of "private armies " funded by the ANC on the tax payers money. AND as always do the ANC communists will "distance" themselves from this armies by "flat denial" as they are not "recognized" as real "armies " as such- but more like "civil" protection services and "revolutionary" groups. Yea right- as if! ALL these so-called "liberation" armies are nothing short of government trained terrorists. This excludes all the zillions of communist Unions such as COSATU which turns the country into  violent chaos on a daily basis with their riots and strikes.
BUT let a white organization like for instance the AWB DARE raise such a resistant /liberation/revolutionary movement – and all hell brakes loose in the British and local media, parliament- and anti-white social sites. They immediately are demonized as " An extremist right-wing Organization" by the leftist media reporters such as  Elles van Gelder and Ilvy Njiokiktjien and many others, However the same media hounds keep silent about this black surge towards extremist "revolutionary" organizations .
A flag raising ceremony at one of the Kommando Korps camps. This camps have the leftist gremlins up in arms as "extremist right wing" training camps- yet much more dangerous black terrorist training camps seem to have slipped through their usual "vigilant" reporting net. 
The ANC bloody well make sure they rule "until Jesus come"– for if they ever will be challenged- they immediately will activate these illegal militarized hoodlums against their adversary- turning South Africa into the biggest battlefield South of the Equator. They ensured ( through tax money) that they build their own "ring of steel" around them- that is bar having control over the armed forces and the police. How many legal -and illegal-weapons the ANC supply to these rogues in uniform- is still a mystery.
This is unacceptableGood News is – they have been arrested

Posted by Tania Du Preez on Wednesday, April 11, 2018
Let us investigate only  ONE of the multiple extremist groups supported and sponsored and supplied by the ANC- The PAC (Pan Africanist Congress of Azania)
THE HISTORY OF THE PAC
The The Pan Africanist Congress of Azania is a South African Black Extremist  movement that is now called a political party. It was founded by an extremist Africanist group, led by Robert Sobukwe, that broke away from the African National Congress (ANC).
The PAC's origins came about as result of the lack of consensus on the Africanist debate within the African National Congress (ANC). When the anarchist  Freedom Charter was adopted at Kilptown in 1955, those who championed the Africanist destructive ideological stance felt that this was a betrayal of the struggle. The deepening of political differences broke out into the open in November 1958. At the Transvaal provincial congress of the ANC, 'Africanist' members were excluded from the hall. This group of people resolved to break away from the ANC and form a political party. On 6 April 1959 the PAC was formed at Orlando Community Hall in Soweto. Robert Mangaliso Sobukwe, an ardent extremist Africanist, who was key to the breakaway, was elected as its founding president and Potlako Leballo as secretary.
On 21 March 1960 the PAC launched the first of a series of so-called " peaceful anti pass campaigns "  across the country. This campaigns mainly were funded from Britain through the Anglican and Presbyterian  churches. Members of this extremist group were called upon to leave their passes at home, gather at police stations and present themselves for arrest. Thus the stage was set for direct confrontation with the white government. The British conspirators needed black martyrs- and the PAC was the fools that was about to give it to them and their media. British M 16 infiltrators masqueraded as "NGO's" came into the country and start to instigate riots and spread malicious propaganda in the black townships.
Blacks responded in large numbers particularly in Sharpeville, Langa and other places. In Sharpeville, the police opened fire when attacked by hundreds of black rioters who were armed with stones, machetes, bricks and Molotov cocktails. Heavily outnumbered and threatened- the police opened fire – killing 69 violent rioters  and injuring 180 others. Subsequent to this, the PAC was banned and thousands of its unruly members were arrested while others skipped the country and went to exile. In 1961 the PAC launched its armed wing Poqo, later renamed the Azanian Peoples Liberation Army (APLA) to launch the terrorist acts  against the white government.
Today that terrorists of the ANC have a free hand- and not only a free hand- but they get supported by the illegal ANC regime as well. The PAC is no exception to the rule. Under the hospice and guardianship of the communist ANC it became an illegal  militant army with lots of illegal guns supplied through the back door by the ANC army stores , police stores and gun smugglers. With it's so-called "leader"– former APLA terrorist  Chris Sankara ( real name Prince Mathebulu) – the PAC now is changing into it's real image of radicalism, racism and extremism .
Prince Mathebulu- aka Chris Sankara– hailed as a "revolutionary. " In a supposed to be 'democratic" country which their own kind rule- against WHO are they planning a "revolution" against? 
Mathebulu played a pivotal role in uniting the two  radical Pan- Afrikanist organizations, the NBPP and PAC. He says he stayed in communication with Attorney Malik Zulu Shabazz for "well over a year", communicating going back and forth to get the every detail right.  "Members of opposing White parties threatened to do harm, it was clear the criminal settler racist, were vehemently, concerned with the apparent overthrow of the old slave Apartheid ways. As the NBPP delegation and PAC commanding terrorist leaders  pulled into headquarters, the African's were everywhere, stunned at the arrival of their long lost " brothers and sister,"–  who are now dressed in Black Battle fatigues, berets, and patches that read, "Freedom or Death."  Now you must ask yourself the question- IF South Africa is a supposedly "democratic" country- where whites are oppressed, discriminate against, impoverished , alienated and disarmed by the terrorist ANC regime– who are these terrorists preparing to fight for "freedom" against? 
The true motives behind all this so-called "private armies" is quite clear.
CLEARLY there is a hidden agenda at play here- and a big one at that. Behind this secret warmongering and training of terrorist groups such as al-Quada, Hizbollah, the PAC, APLA, Umkhonto , the ANCYL and SACPYL there is the British establishment and the ANC front runners. Then it also excludes the zillions of communist UNIONS such as COSATU which turns the country into a daily war-zone and the economy into a waste land with all the violent strikes. With a "legal" terrorist organization such as the EFF and PAC now playing the tune- just how far are South Africans from facing a real civil war? With all this armed and dangerous " revolutionary" spectacles running wild- when will the powder keg ignite? Why is it so that whites are disarmed and these black renegade terrorist organizations armed? How many farm murders were executed by these armed terrorists from the ANC regime? Why is it so that they are "legalized" while white training camps such as the  Kommando Korps and AWB are slandered and demonized as "racist" and/or "supremacist" organizations? 
NOW here is quite an interesting picture. Do you see it? Here we have militant illegal terrorists in full battle dress on parade- and just who do you see stand right next to them on parade? None other than the SOUTH AFRICAN POLICE! Need we say more? Would the SAP so happily be standing next to the AWB's "Ystergarde?" I don't think so. They are white and they are "supremacists." Only "legalized" private black armies are allowed to share that honor. Why was there no mentioning of this armies – or this nonconformity mentioned in the Main Stream Media- or why was there no inquiry about the operations going on here? This is proof the illegal ANC regime approves the existence of this illegal militant private armies. 
AND here we have them again– Umkhonto We Sizwe veterans- this time in full battle dress in the public eye- sporting illegal firearms! Yet again NOTHING was done and NO media coverage! So the conspiracy goes on. 
AND again at a funeral they parade – full battledress and arms. Nobody asked questions- for they are not white and they do not belong to a white "supremacist" organization.
THIS is a clear indication of a call to arms and a call for a civil war- yet Facebook( with all their anti-white "supremacist" hippocracy , rhetoric and bogus "hate speech" bullsh*t against whites) – allowed this posting to be done without banning this instigator/s and/or lay charges against them. Whites again are banned for merely showing pictures of farm victims as "hate speech." Again the conspiracy are allowed to proceed with it's black/media hippocracy. 
The National Rural Youth Service Corps (NARYSEC) – another leg of the ANC's illegal private militant organizations- hidden under the lie that they are just a  "rural service corps" – but as you clearly can see- all are fitted out in military-style uniforms- AND receive military training in military camps on the taxpayer's expense. Do you see any WHITE faces here?
Need we say more about the true objectives of the so-called "NARYSEC?"
So black militants are armed and supplied while whites are disarmed and incarcerated on bogus charges of "illegal weapons" such as air guns? When will someone decide to investigate these illegal private armies? When will the police act against them the same way the jump onto innocent law abiding white fire arms owners? Why are these illegal armies even allowed to operate on South African soil? When will the state stop sponsoring this illegal militant vagrants on tax payers funding?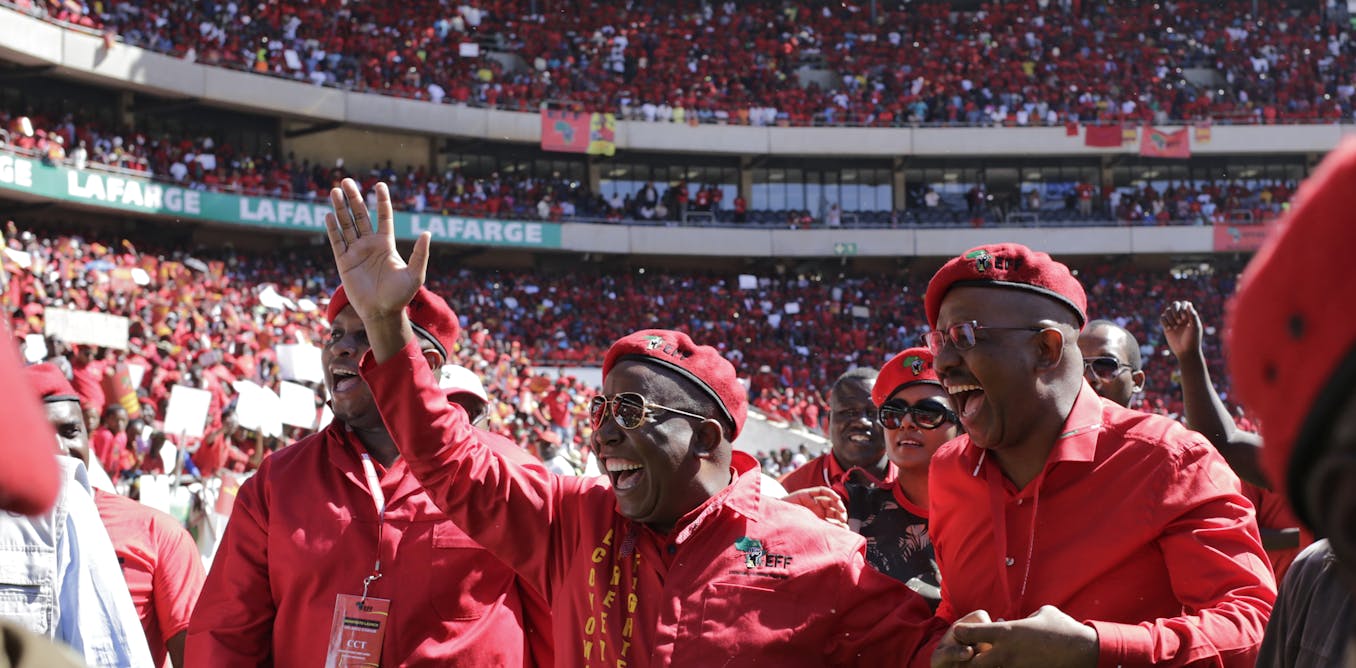 The EFF– another militant black organization– wearing red berets. Why is it that so many black organizations are allowed to wear military garments and sporting illegal military guns in the open – but on the contrary even flags from white Afrikaners are deemed a "threat" to the so-called "democracy? Even so-called "racism" and "Hate Speech" on the social media enjoy a much more prominent place in the law books than open terrorism and acts of violence and destruction against the state and the people of South Africa. Go Figure. 
Thousands of illegal firearms and war material can be found in black townships- yet the police will not even venture into this areas- but rather target innocent white farmers for their hit and run witch hunt operations. 
ANOTHER terrorist act by the ANC regime- chaos in Hermanus where they (ANC member  Cameron Dugmore ) organized and bussed in hundreds of unruly vagrants from elsewhere to turn the coastal town into a war zone. This is subversion by the state itself- yet this is allowed to continue on a daily basis.
This is how the ANC run their Police State- no opposition or rebellion will be tolerated as clearly can be seen in the Marikana incident- but they keep on reminding the populace about the "Sharpville" incident. 
THEN THERE IS THE ANC's OWN STATE-SPONSORED PRIVATE ARMY
Jacob Zuma's legacy includes a 6'600-strong private army that costs R2,6-billion a year and is accountable to no one' according to new research. In a report entitled "South Africa's Secret Police"' researcher Gareth van Onselen says spending on VIP protection "exploded" during Zuma's presidency. In nine years under his predecessor' Thabo Mbeki' it cost R4.3-billion. Over the next decade' that rose to R18,2-billion.
" Cyril Ramaphosa -in  just the first two years of his new administration -will cost R5,8-billion in VIP protection'" Van Onselen says in the new South African Institute of Race Relations report. The document bristles with statistics' yet Van Onselen says the budget for VIP protection is "shrouded in bureaucratic obfuscation". Some of the figures the report reveals include:
– 6'585 people work for VIP protection;
– 4.4 guards are allocated to each of the 450 South African and foreign dignitaries they protect (2012/13 figure);
– 24.6 protectors guard each of the 137 residences and locations they are assigned to (2012/13);
– 47 guards are assigned to each of the 18 dignitaries covered by presidential protection services (2012/13); and
– 88 protectors are assigned to the president.
Under the illegal ANC rule South Africa has become a country ruled by chaos , anarchy and militant vagrants. Every jack-rabbit is sporting an illegal gun- so much for  the bogus gun-laws. Yet "racism" , "hate speech" , pre 1994 flags – and white website/domain names on the internet are deemed a more dangerous threat to the poor " previously discriminated" society.
The ANC  slum lords are playing dangerous games- VERY dangerous games indeed . Together with their lapdog EFF race biters , private armies and neo-Nazi police force they are moving South Africa closer and closer to a civil war. Farm attacks are becoming more and more frequent- and more and more organized with military precision. One now can clearly see just where these attacks come from, by whom- and how. They are trained to go out and attack white farms. South Africa were turned into a fully-blown terrorist state and a war now is waged against the populace of South Africa- and especially against the white farming community by the communist ANC themselves – who were a terrorist organization themselves ( and still maintain that status quo today.) Still the Department of International Relations and Cooperation (Dirco) and  Lindiwe Sisulu blatantly lied in the face of the world by stating that no South African "is in danger from their own democratically elected government"  – and Australian minister Peter Dutton must stop "spreading incorrect information sowing panic and fear". Unfortunately for this ANC lairs the evidence speaks of another truth. South Africa since 1994 became the biggest terrorist state in Africa.
SOURCES:
White Nation
https://www.timeslive.co.za/politics/2018-03-22-the-shadowy-r26bn-private-army-at-the-heart-of-government/
WHITE NATION– WE DO NOT HATE WHITE LIBERALS– WE SIMPLY DESPISE THEM!!
C'MON- SHARE OUR LINK