Do you have news to tell us? Send your e.mails with news and inquiries to: w.nation@mail.com
Register with us for free to follow our news on the right-hand tab
COMMENTS CLOSED TEMPORARILY 
Article posted  by: White Nation correspondent Potchefstroom  13  July  2018
ALSO READ:
South African Liberalism and South African History: An Ongoing Challenge
What really drives communism in South Africa?
Mandela's legacy: The Collapse and Destruction of South Africa
Mandela and the communist Jews
Proof & Naked Truth of White Genocide in South-Africa NO MYTH!!
SOUTH AFRICA– THE GLOBALIST's  COMMUNIST WASTELAND DOWN SOUTH
" Modern liberalism: made in much the same way as a sausage — it's a blend of fascist, Communist, and socialist ideologies from twentieth century Europe, with a pinch of Nazism, all ground together, yet retaining the flavor of its various parts. "  —Michael Savage
THE ideas of Leftists such as the ANC, DA, EFF , BLF and AGANG are rooted in such dangerous insanity that if liberals got what they are currently demanding, they would destroy the South African civilization.
All of their key ideas are horrible failures. That's because they're rooted in delusional thinking rather than rationality and logic. The very fabric of the South African  civilization is systematically being torn  apart by Leftists who currently are getting a country   they're demanding. Sadly, they're all too indoctrinated or insane to understand the consequences of their own demands, and that's exactly why they must be defeated and stripped of power over the rest of the South African population.
Among their insane demands, you'll find the following priorities (South Africa already are far advanced in this following points- see blue high-lighted parts):
Abolish all border security, unleash an invasion wave of African, Arab, and Eastern illegals to occupy and overthrow South Africa's economy.
End the free market and seize all private businesses, private land, willing buyer willing seller policies, creating a centrally-planned economy run entirely by the (incompetent) ANC government "polatriat."
Close down all prisons, set  prisoners free on "presidential pardon" across South Africa, including violent murderers, rapists, child traffickers and more.
Terminate all civil security forces, private protection services,  shut down police departments by means of corruption and tight budgets – and let lawless chaos rule the streets of South Africa, all in the name of "social justice."
Divide the populace into "camps"- whether political , religious, cultural or based on skin color in order for better manipulative control
Increase taxes in order to force the populace into poverty and submission to the ruling "elite."
Imposed laws to control every level of society
Clamp down on free speech in order to hide atrocities  against the society and open the door for institutional propaganda to gain more ground
Promote "diversity" in order to exterminate different races and cultures
Destroy parental discipline at home and in tertiary institutions  in order to cultivate a new generation of socialist degenerates
Promote Babylonian cultures in order to create division between traditional cultures and "democratic correct" acceptable cultures
Disarm the population to give the regime full control of all weaponry.
Control the economy through unions and city councils
Use the national media to promote socialism
Re-Write history books in educational institutions and curriculum  to promote socialism
Eradicate Christianity from all walks of life.
Ban capitol punishment and physical punishment in schools.
Intimidation tactics through security forces and judiciary organs
Promotion of " Politically correct" narratives to control free speech and actions
Introduction of "racist" and "hate speech" laws to curb and prosecute resistance and retaliation  from conservatives.
These ideas are, of course, utterly and completely insane. But this is what is happening in South Africa since 1994- and they now represent the dominant thinking of the Socialist politicians in control of South Africa today, which no longer pretends to love or be patriotic towards South Africa  at all. And Cyril Ramaphosa is a hard-line socialist. Liberals now are waging a total war against the human civilization in South Africa. Voting against the black Stalinists and white liberal  conspirators in parliament  is no longer merely an exercise in politics; it's necessary to save the country  from the very kind of destruction that deranged Leftists have already unleashed in countries such as Venezuela, San Francisco, Chicago, Cuba, North Korea and the former Soviet Union, among other examples.
SOME of the most prominent malignant liberal conspirators -bearers of the mark of Cain- that were directly responsible for the destruction of a once healthy country.
There are many more such as George Bush, Dawie De Villiers, Lang Hans Van Rensburg, Constant Viljoen,  Neil Van Heerden,Andrew Mlangeni, Elias Motsoaledi, Mac Maharaj, Ahmed Kathrada, Desmond Tutu, Denis Goldberg,  Lionel "Rusty" Bernstein, Bob Hepple, Alan Paton, Alan Boesak, Patricia De Lille, Arthur Goldreich,  Harold Wolpe,  James "Jimmy" Kantor, Albie Sachs, Joe Slovo, Ruth Bernstein, Peter Mokaba,  Julius Malema–  and a whole list of liberal leftist destroyers that were responsible through devious secret acts of treason , acts of  subversion and deception  that led to the  total destruction South Africa now finds itself in. Mostly this was done for  selfish greed and enrichment. Today Cyril Ramaphosa proceeds with this destructive socialist agenda to totally push South Africa into a full socialist African state whereby a free market system is demolished and the populace will have nothing while  the communist "polatriat" will be in total control of the country.
" In short, we need to intensify radical economic transformation. Economic freedom means that the land that was taken from black South Africans needs to be returned.We are committed to accelerate the redistribution of land, both in urban and rural areas . Among the measures we will use to accelerate redistribution is that of expropriation without compensation where it is necessary and justified. This is a day on which the dream of a free Africa was brought ever closer to realization – as South Africa, one of the last colonial outposts on the continent, tasted freedom. This is a great victory for the workers of this country and is a tribute to the social partners who worked so hard to make it a reality. We will use our leadership and membership in SADC, BRICS, the G20, the Commonwealth and other international bodies to forge a new world order founded on equality, dignity and mutual respect."- Cyril Ramaphosa (  Freedom Day celebrations 2018, Dr Rantlai Petrus Molemela Stadium, Mangaung.)
What comes as very strange- but again shows how the ANC is applying double agendas as it sees fit- they want to change Article 25 of the constitution to steal all property from whites. Not only that- but in the ANC's OWN Bill of Rights they declare the following: "
The Right to Home Life
All South Africans shall, without discrimination, have the right to undisturbed enjoyment of their personal possessions, and, individually, in association or through lawfully constituted bodies, be entitled to acquire, hold or dispose of property.(27) No-one shall be deprived of or removed from his or her home on the grounds of race, color, language, gender or creed. 10) Any redistribution of land or interest in land required to achieve the above objectives shall be subject to just compensation which shall be determined according to the principle of equitable balance between public interest and the interest of those whose existing titles might be affected." (Link) Yet they want to remove whites from their land and homes on the grounds of their color without compensation!. 
Socialist actions to gain control of a country
Cyril Ramaphosa– newly "appointed" president of South Africa- deep rooted hard line socialist and Oppenheimer puppet- his discontent for whites is legio. 
Sedition and Treason
"Sedition " is not a word we hear very often. So, what is it?  Sedition is legally defined as "the criminal act of revolting against an established authority, usually in the form of treason or defamation of a government." In other words, if you are conspiring or plotting to overthrow by violent force, harm in any way, or more specifically, kill any authority figure in government, you have committed sedition. Sedition not only covers a person's actions but also any words or writings in print that may incite, encourage or promote the overthrowing of a government; it's seditious libel. And in this case the ANC and Julius Malema are masters of sedition. The PAC and ANC used this method to come to power in South Africa.
Tyranny
The face of tyranny in South Africa – Julius Malema- a radical extremist that want to bring about a civil war
Tyranny can come in many forms; whether it's government overreach, propaganda pushed by the mainstream media, lies from corporate behemoths or corrupt government agencies, there is a war on freedom going on that simply cannot be ignored. If we look at the South African situation we clearly could define this methods. Though tyranny is defined as an oppressive government or rule, the truth is that there are many players in this game: Government bodies, toxic industry leaders and the legacy media are tied together in all kinds of ways — and these days, it makes the truth scarcer than hen's teeth. But what if you could get the real scoop on what's actually going on in the world, no strings attached? That's what the independent media is for.
South Africa at war with itself
South Africa is burning. South Africa at his point is turning into chaos and anarchy. Thousands of black vigilantes are running rampant across the country- torching malls and cities. In Kimberley several black terrorists have been in clashes with police- a mall was set on fire. 19 Terrorists were killed according to reports.Chaos erupted and the whole city came to a standstill.(Read full report here.) In Hermanus  WC black terrorists have been rioting for the past month and new terrorist movements and riots flared up again this past week as thousands of black terrorists again took to the streets armed with corrugated iron, rocks and home made weapons.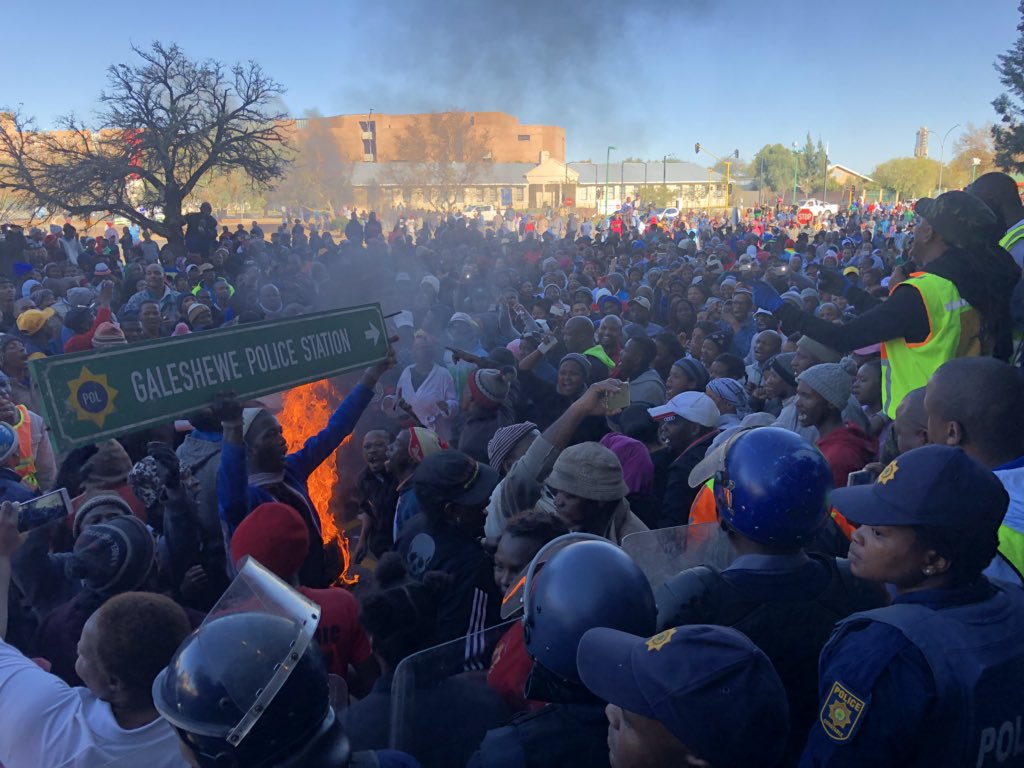 Kimberley burning pic.twitter.com/SicpEYTAGX

— vincent midzi (@vincentmidzi) July 12, 2018
In Durban yet another bomb scare was sounded at the Cornubia Mall – the 6th bomb warning this pasty 2 weeks. Earlier – June 05 another mall was set on fire in Nelspruit–   on the 25th of June 2018 the  Mall@eMba mall and an Engen filling station in Secunda was set alight-  and on  June 28 another mall- this time in Limpopo was torched by black terrorists.  T. A scourge of protests kept South African police officers busy in three provinces – the Northern Cape, Western Cape and Gauteng at the moment. In Pietermaritzburg vagrant black terrorists also are rioting and blocking roads- leaving residents without electricity. In Pretoria black terrorists  have barricaded the N14 and the R55 with burning tyres and rocks. Black terrorists  were also throwing burning material and rocks from a bridge onto passing cars. In Cape Town the   Guguletu Fire Station  was set alight by black terrorists.
The United Nations already secretly took control of the North West Province as the chaos now are out out control of the useless South African Police.Hundreds of UN vehicles was stashed secretly at the Wahlmansthal base- specifically for this reason- to take over when a state of emergency would be declared- which appear to be very soon.The unruly chaos across the country is holding the country at ransom. This is how "democracies" is at work- destructive systems under the excuse of "social rights." Democracies is nothing more than state-controlled chaos to keep unwanted oligarchs in power.
As you can remember- this is a scenario we all are well acquainted with. We saw it pre-1994 in South Africa when the international thugs brought about a regime change in South Africa through violence, anarchy and chaos. We again saw it in Iraq- the same international thugs created anarchy, violence , the United Nations- and a regime change. We saw it in Libya- the international instigated chaos, anarchy and as ever again- a regime change. We saw it in Afghanistan- the riots, chaos, anarchy- and a regime change. Now we see it again today in South Africa: The riots, chaos, anarchy- the UN interference- and soon before the 2019 elections- a possible regime change again. White Nation already predicted in an earlier article  that this is the last time the ANC will rule- and Ramaphosa is the last ANC communist "president."
After the 2019 elections a new potpourri regime under the banner of the Democratic Alliance will be in control. The preliminary preparations and international "3rd force" activities for that show-down  is already at play. Gwede Mantashe long ago already warned that some dark "3rd force" powers are at play to unseat the ANC regime. Just look at the Afrikaner Broederbond, Rothschilds and Oppenheimers to find the conspirators behind the burning curtains. As the country is busy burning the lame-duck Ramaphosa and his obedient  media donkeys are still playing their deceitful political "games of thrones " to keep the populace unaware of the approaching  holocaust and see that the whites are kept "in check." Those that still are too blind to see what's going on in South Africa either are paid to look the other way- or are downright bloody ignorant fools. White Boers/Afrikaners better prepare themselves for the worst- and not hand in their weapons at all. It will be a self-inflicted suicide. We are fast moving into the cauldron of a civil unrest/war now. 
And the attacks and murders has increased since this video was made

Posted by Ingrid Meerbeek-de Jager on Sunday, July 8, 2018
Preventing the truth from being told
Though left-wing tech giants like Google and Facebook are trying to quash free speech and independent thought, there are still alternatives to be had. As part of the independent media, Tyranny.news brings you coverage on all things government tyranny and overreach, lies propagated by the legacy media, social media censorship deception piloted by big business and the latest scams being peddled by federal administrative agencies.
In South Africa the leftist  Facebook are trying to quash free speech and independent thought.
Tyranny is a growing problem
While the left-wing media may call it a "conspiracy theory," the problem of tyrannical figures in places of power is quickly reaching its apex. Look no further than the massive censorship efforts underway at Facebook for proof of that: As a social media platform, Facebook's ability to influence the thoughts, feelings and opinions of its users simply cannot be overstated.
With sweeping censorship of "dissident" thought on a wide array of topics, Facebook is paving the way to blatantly shut down open conversation on the internet. Combined with Google's blatant censoring of content as well, and the average internet user is only able to see what the "powers that be" want them to see. Shockingly few people are aware of the fact that they, their thoughts and their opinions are being manipulated in this manner.
Censorship is one of the first steps toward total tyranny: When you censor what people see, you control what they know. And when you control what they know, you can start to control what they think. It all goes down hill from there — and that's why staying informed and armed with the knowledge of reality is so important.As Mike Adams, author of Food Forensics and director of CWC Labs, reports," In the latest wake-up call that Facebook, Google, YouTube and Twitter censorship is completely out of control, Facebook recently banned a post that shared a section of the Declaration of Independence." Under the ban, Facebook labeled the section of the historic document "hate speech."Adams continued by noting that while profoundly disturbing, it is sadly not surprising that Facebook and other tech giants oppose pro-liberty content. In South Africa criticism against the illeagl ANC regime – and the display of articles of farm murders also are banned by Facebook. The old South African anthem also is banned under the excuse of "hate speech." 
There is a massive cultural rejection of the increasingly insane Left that will occur throughout Western civilization and will last at least a century. In recent days the entire European Identitarian movement was banned by Facebook in an incredible act of censorship that will is already triggering social repercussions. Like their fellow Marxists in America and Europe , the South African  Left has decided that any defense of Western culture and 'identity' is "racist, bigoted, "– and thus criminal behavior — though no one is advocating violence against minorities and illegal migrants.
As reported by Breitbart London, Facebook has decreed there shall be no "Europe First!" movement that mirrors the UK's Brexit and President Donald Trump's "MAGA."
The site noted:
The anti-mass migration Generation Identity movement has been banned permanently from Facebook, after all of their official pages were deleted due to "extremist content."
For weeks movement supporters had seen scores of pages steadily removed from the social media behemoth's platform with hardly an explanation. But a recently-published reportclaimed that Facebook arbitrarily banned the "hipster-right identitarians, accusing them of posting 'extremist content,'" Breitbart noted. The news report noted that the identitarians have also been dubbed "hipster fascists" — which is the Left's most common slur against Right-leaning policies which include limited immigration and migrant resettlement. What's frustrating about the Facebook censorship and the banning of "Alt-Right, racist" groups who are trying to push for immigration and migrant relocation limits is that no one on the Left even wants to hear why such limits are important. (Related: Former Facebook exec: Social media is "ripping society apart".)
Real democracy doesn't include censorship and bans
But because some countries in Europe have a bigoted history and the continent has been ravaged by global war twice in the past 100 years, the Leftists running things would rather welcome all who come no matter how disruptive it has become while tamping down any and all opposition — which is actually having the effect of creating more unrest. And all while they claim to be running democracies.
Shutting one side of the debate down isn't democratic. It's authoritarian. What's more, doing so doesn't make the issue go away. Sometimes overly authoritarian attempts to quash a movement only causes the movement to grow, and that's happening in Europe like Democratic outrageousness in calling for Trump supporters to be harassed in public is decreasing national support for their party.
Facebook, by the way, has confirmed it has banned the Identarian Movement from its platform, "citing their policies against extremist content and organized hate groups." When is Left-wing content considered "extreme" — or is it? When are Left-wing organizations and movements considered "hate groups" — or are they? In a republic like South Africa , "democratic socialism" should be considered very extreme for the principle reason that socialism isn't "democratic" it's authoritarian. Maybe the speech Nazis at Facebook should pick up a social studies or history book and do a little reading.
SOURCE:
White Nation
WHITE NATION– WE DO NOT HATE WHITE LIBERALS– WE SIMPLY DESPISE THEM!!
C'MON- SHARE OUR LINK