Do you have news to tell us? Send your e.mails with news and inquiries to: w.nation@mail.com
Register with us for free to follow our news on the right-hand tab
Article posted by: White Nation correspondent Pretoria   September 04  2018
SOUTH AFRICA– THE GLOBALIST's  COMMUNIST WASTELAND DOWN SOUTH
THIS is so hilarious- it's worth placing!  The so-called provincial people's assembly (PPA) of the Economic Freedom Fighters (EFF's) held in Midvaal at the weekend descended into chaos, leaving dozens of EFF rats  wounded from live ammunition allegedly fired by party leader Julius Malema's own bodyguards.
According to sources, the Weasel had to flee for his life after angry party members attacked his luxury vehicle with stones. A member,
Siyabonga
tweeted: "Fighters were attacking Julius Malema and his car was smashed with stones. His bodyguards were firing live ammunition escorting him. They are angry because in the provincial congress he is imposing his own people in Vaal."
According to
Mphahlele Phasoane Mpho
, who took to
Facebook 
on Sunday
 morning, one EFF rat was beaten and admitted to the intensive care unit at a nearby hospital. "
We managed to be safe all of us after the DOR came and attacked us innocently chilling awaiting results of the assembly. Unfortunately, its only one cadre who was beaten to unconsciousness and he is in hospital, sure to head to ICU because his condition was brutally unappealing. The DOR that was instructed by Julius came and nearly killed our people. When Hitler fell during his times, it was because of dictatorship. 

Tonight

 we survived. We dodged bullets from Malema's military."
According to sources, the gathering descended into chaos when it became clear that the Weasel wanted to impose his preferred candidate as the provincial leader and not the one preferred by delegates. The source said when it became clear that the Weasel's preferred candidate was facing defeat, he told the conference delegates that their preferred candidate, Abednigo Mathole, popularly known as Msholozi had been fired from the party.
The source said, despite Mathole being fired, five of his comrades on his slate sill managed to make it to the top Six of the EFF's Gauteng provincial leadership. Mathole is a fierce critic of the Weasel whose decisions he has questioned including supporting the DA in Joburg and Tshwane Metro Councils. Mathole declined to comment only saying, "I wasn't there". An EFF rat who was at the conference who was also beaten up by the Weasel's  bodyguards said the trouble started when the Weasel addressed conference delegates whom he told that Mathole couldn't stand for any leadership position as he had been expelled from the EFF.
The delegate, who spoke on condition of anonymity said the Weasel claimed Mathole had been expelled because he had assaulted EFF secretary general Godrich Gardee at the party's Joburg headquarters. "We knew this was a blatant lie aimed at preventing Msholozi from standing for the position of provincial chair." The delegate said Mathole's supporters stormed out of the conference venue and while they were gathering on the street a car drove past them. "Julius was inside the car and he opened his window and fired a gun in the air. While everyone ran in different directions, a Toyota Quantum full of defenders of the revolution(DOR) arrived. These thugs then started viciously attacking everyone including myself."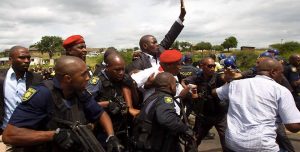 The delegate said one conference delegate, whom he only identified as "Mike " from Alexander was savagely beaten and is currently fighting for his life in hospital. "We called the police, who surprisingly upon arrival, told us that they could not meddle in EFF's internal conflicts." Africa News 24-7 is in possession of an audio in which Gardee can be heard contradicting Malema's version regarding the assault on himself.
While the Weasel told conference delegates that Mathole had been expelled from the party because he had assaulted Gardee, in an audio, Gardee can be heard telling a  party member that he was assaulted by Mathole's friend who he identified as "Goba. " In the audio, the woman can be heard pleading with the EFF leadership to reconsider its decision to expel Mathole whom she described as an asset. Sources say the audio was distributed by EFF deputy rat Floyd Shivambu as a ploy to justify Mathole's expulsion from the EFF. Africa News 24-7 is also in possession of the audio in which the Weasel addresses conference delegates telling them why Mathole was expelled from the EFF.
Another source who also spoke on condition of anonymity said Mathole's fallout with EFF leadership was triggered by his public condemnation of Shivambu after he was filmed assaulting a journalist outside parliament. In the audio with the EFF rat, Gardee also mentions the incident and accuses Mathole of saying bad things about Shivambu on social media. EFF spokesman Mbuyiseni Ndlozi and Gardee did not answer their phones.
So- the rat pack now start to devour themselves. Let us hope this merry interloping continues and start to roll-over to the ANC rats as well. The little fat Weasel is a very brave rodent when he can stand on podiums- guarded by his security rats- and provoke whites with a war. But when "war" have a tendency to come too close to the Weasel- suddenly all that bravado disappears like a cool fart in hot air and the Weasel runs like the coward he really is. Typical of this loud mouth African Hitlers. All barf and no brawl! 
SOURCED:
 https://www.youtube.com/watch?v=Mhs9VR4NvJY
WHITE NATION– WE DO NOT HATE WHITE LIBERALS– WE SIMPLY DESPISE THEM!!
C'MON- SHARE OUR LINK