Do you have news to tell us? Send your e.mails with news and inquiries to: w.nation@mail.com
Register with us for free to follow our news on the right-hand tab
Article compiled  by: White Nation correspondent London    December 09   2018
ALSO VISIT:
Yellow Vest Protests Grow in Belgium and The Netherlands
British goverment 'breaks promises' and will sign UN Migration Pact
Outrage after British MP suggests Irish food shortages could be used to force EU to drop Brexit back-stop
South Africa's crazy power plan: Ramaphosa, China and Limpopo coal
VBS looting: ANC mayors linked to banking scandal refuse to step down
In Final Plea, Economists Implore South Africa to Abandon Expropriation Plan
Finland Shocked by Migrant Grooming Gangs Assaulting Girls as Young as 10
Mngxitama calls for the killing of whites, their woman and children- no hate speech charges by the ANC regime.
Macron Puts Paid Mercenaries on the Streets
British diplomat warns "UN Migration Pact will flood Europe with 59 million migrants"
POLITICS
THE liberation of the people in Europe from the oppression by the liberal Jew-controlled European Union  has started. It factually started with Britain's vote to exit the European Union.
People in Germany , Italy, Belgium, Poland, The Netherlands  and Hungary then joined their comrades in Europe – and a drive for freedom from the captivating chains of enforced liberalism and alien infestation start to sweep across the white European continent. The latest victim to crumble before this wave of white nationalism is Emmanuel Macron . And his fall is accompanied with violence only compared to that of the fall of the Bastille during the 1799 French revolution. Ironically does this also happen on more-or-less the same month -November . You will find the Main Stream Media either try to downplay the reality- or even fell deadly silent about this.
Less than a month ago, French President Emmanuel Macron staked his claim as the flag-bearer for globalism. In a speech to 60 world leaders at the Arc de Triomphe, he eulogized the United Nations and declared nationalism the "betrayal" of patriotism. Last Saturday, tear gas and cobblestones flew in the same part of Paris as protesters trashed the iconic monument and demanded Macron's embattled government withdraw a proposed fuel-tax (carbon tax) increase. For the first time in his presidency, he backed down. It was a humbling moment for opponents of the populist revolts that spawned Donald Trump.
Europe has seen many a critical juncture in recent years, from the Greek debt crisis to the anti-immigrant backlash against refugees and Britain's Brexit vote. Rarely, though, have so many political eagles  been circling around one liberal vulture with so much at stake for the world order. Poland is changing it's political environment to the   the far right and nationalist parties supporting  Hungarian Prime Minister Viktor Orban are planning a rebellion at European Parliamentary elections in May. Meanwhile, Italy has collided with the European Union by taking a defiant stand on its budget spending.
With the Jew-controlled EU's erstwhile firefighter, Angela Merkel, planning to step down as German chancellor, the baton was supposed to pass to Macron to uphold liberal oppression.  But Merkel's power on the world stage was underpinned by a political fortress at home, and the French leader now looks anything but solid.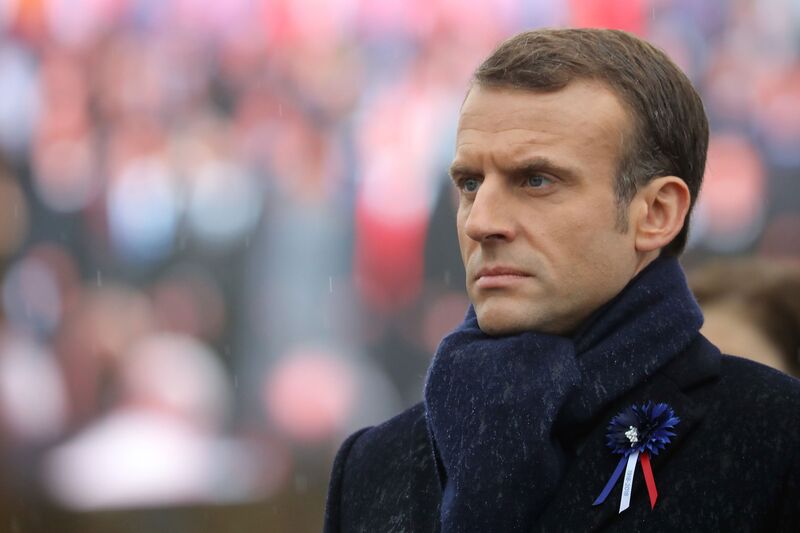 THE

video below shows the disdain the French people have for Macron. He got humiliated publicly by being smacked with an egg in the face. 
"You can't make speeches about defending the international New World Order when your popularity is at 20 percent and there are protesters in the street," said Nicholas Dungan, a Paris-based senior fellow at the Atlantic Council. "It's very difficult to get your credibility back." It's a stark contrast to the weekend of Nov. 11 as leaders marked a century since the end of World War I. Macron championed the need for global cooperation while Trump cut an isolated figure. Europe's divisions were laid bare that day as Polish government officials marched through Warsaw with nationalist  groups to mark the country's Independence Day. Macron, though, stood firm as Europe's liberal statesman.
The images televised around the world last weekend were of burning cars in the French capital. The retreat by the 40-year-old French leader was mocked by Trump. Macron admitted, via his prime minister, that he's not been able to connect with the French people. "No tax merits putting our nation's unity in danger," Edouard Philippe said in a televised address. "The trouble for opponents of Trump-style nativism and protectionism is that there's no one else to take up his mantle, " Dungan said. After Macron was elected in May 2017, he sought to work with Merkel and a friendly government in Rome to deepen European integration. He reached out to Trump to convince the American president to stick to international agreements. But Trump would have nothing of this. Trump ignored him and withdrew from the Iran nuclear accord and the Paris climate agreement. Trump tweeted that Macron's climb down over a carbon tax that would raise fuel prices was proof that he'd been right all along.
Prevailing Wind
Merkel, meanwhile, was wounded in German elections in September 2017 by the nationalist Blue Party. She  as formally replaced on Friday as the head of her party by Annegret Kramp-Karrenbauer, albeit an ally whose presence boosts the likelihood Merkel will see out her final term. Italy elected an  Euroskeptic government in March. "His ambitions for a strong Europe had already taken a hit from events in Germany and elsewhere," said Philippe Moreau Defarges, an adviser at the Paris-based French Institute for International Affairs.  "But he emerges seriously weakened from the recent events. He's just not appeared up to the level, and France's image has taken a terrible blow."
At home, his popularity has been sinking, hurt by the failure of his early unpopular changes to labor and tax law to revive the French economy. Macron's policies are seen to favor the wealthy, and poll after poll have shown the French electorate thinks the former banker is aloof and arrogant. His approval rating is at 28 percent, according to an average of seven polling institutes. Then came the "Yellow Vests." The grassroots protest movement was sparked by opposition to his environmental policy of hiking taxes on diesel and gasoline to fund incentives to buy cleaner cars and home housing systems. But it's evolved into widespread anger about the rising cost of living and declining services in rural and small-town France. The French sent a clear message to the Jew-controlled EU that they will no longer stand the oppressive taxation which the Jews impose on white countries- especially the evil "Carbon Tax" they intend to force down on white Europe.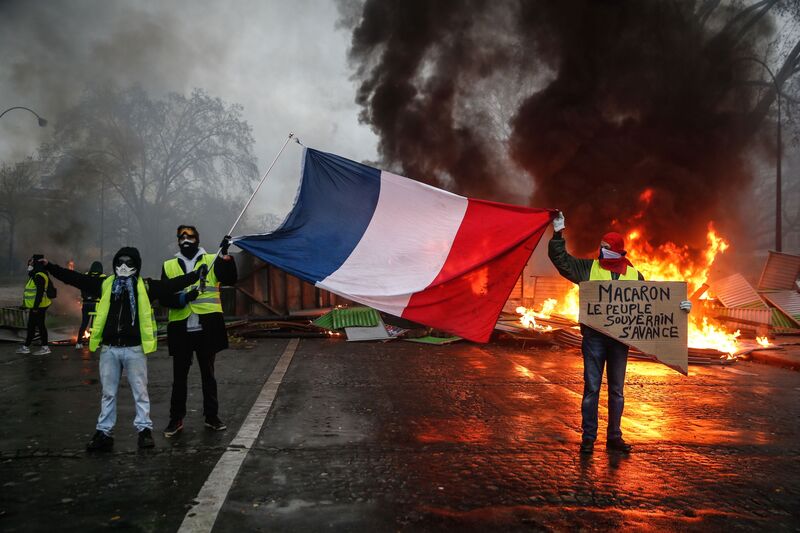 The protesters' demands have expanded accordingly. Some want to restore the wealth tax, increasing pensions, raising the minimum wage, cutting the salaries of politicians, and call went up  to Macron to resign and replacing the National Assembly with a "people's council." Polls show three-quarters of the French support their demands, even if they also disapprove of the violence that's accompanied many of the protests. It's also been felt in the bond market. The yield on French securities compared with Germany, a barometer for political risk, rose to the highest level since Macron was elected. He doesn't face national elections again until 2022, and he's always said he doesn't care about popularity polls. French opposition parties will file a joint no-confidence motion against the government on Monday. It's unlikely to make much difference.
But European elections and a series of municipal and regional votes over the next two years could shape up as referendums on his policies, according to Antonio Barroso, an analyst at Teneo Intelligence, which looks at political risk. "Whether Macron will have enough political space to implement more economic reforms will probably be determined by the European Parliament elections, which will likely be interpreted as a 'midterm vote' on the presidency," Barroso said.
Isolated
Even after Macron climbed down on the fuel taxes, the Yellow Vests have said they won't dismantle their roadblocks and blockades. While they don't have the formal organization of populist groups Italy's Five Star Movement, the momentum is with them. Copycat protests have spread to Belgium and the Netherlands. Most of its members will vote for either Marine Le Pen's anti-immigrant National Rally or Jean-Luc Melenchon's far-left France Unbowed, said Marc Lazar, a professor at Sciences Po in Paris. Both party leaders were defeated by Macron last year and eye another shot at power. The worry for the Jews in the EU is that neither of them are defenders of the bloc's integrity. Any breakthroughs by those parties in May's European elections will make it difficult for Macron to push on with his agenda — for France and beyond. "Macron emerges from this extremely weakened and isolated," said Lazar. "Both at home and in Europe."
The sudden spin to the right
Donald Trump met with his first foreign ally just a few days after winning the U.S. presidency. But it wasn't one of the world's leading statesmen who got the invitation to Trump Tower. It was Nigel Farage, a man once considered a footnote in British politics—but who, in 2016, found himself on the snug inside of one of history's hairpin turns.
As the face of the United Kingdom Independence Party, a nationalist  group on the fringe of British politics, Farage campaigned for 17 years for the U.K. to leave the European Union, styling himself as a "middle-class boy from Kent" who was not afraid to tell hard truths about the failures of the European Union project, from out-of-control immigration to the coddling of radical Islamism. On June 23, British balloters finally granted Farage his wish, voting to leave the E.U. in the stunning Brexit referendum. The result was one that Europe's pundits, pollsters, bookies and politicians said would "never happen. " Farage then spent weeks in the U.S. stumping for Trump, who took to calling himself "Mr. Brexit."
Germans marched against uncontrolled migration and the crime they bring to Germany yesterday

Posted by Russian Bots 4 Trump on Tuesday, August 28, 2018
Nationalism is spreading in Germany…
The outsiders won again with Trump's victory on Nov. 9, and Farage has become a kind of roving ambassador for Trumpism ever since, giving speeches and campaigning for the dawn of a new world order—or at least the destruction of the old one. It's a movement, a revolt, that is rising throughout Europe, including core E.U. nations like France and Germany. "I'm in no doubt that the European project is finished," Farage told TIME over a pint of stout in London one chilly afternoon in late November. "It's just a question of when."
Britain…
But even Farage, the 52-year-old soothsayer with the arsonist's grin, has no clear idea of what to put in place of that establishment. The contours he describes  cast Europe as a kind of patchwork, broken down to its constituent nation-states and unbound by what he calls the "false identity" of European­ness and all its prim ideas of tolerance and multiculturalism. He also has a deep mistrust of institutional power. Real power in the modern day resides, Farage says, ever more "massively" in personalities, not formal titles. What keeps it alive is the charisma of those who possess it, their ability to rally the masses and make deals and connections as expediency dictates. It is a world of horse traders, not bureaucrats.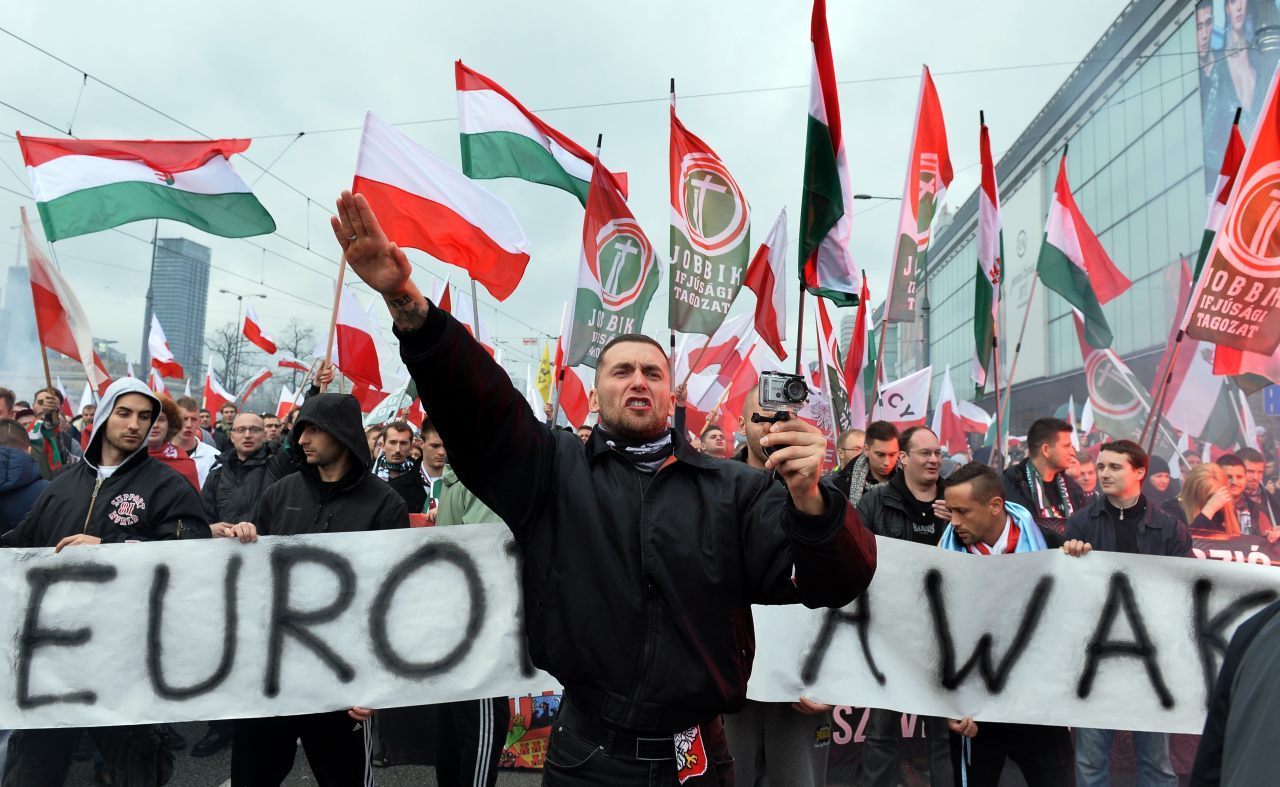 Poland…
Given how fast the dominoes are falling in Farage's direction, that world might soon be upon us, for better or worse. Italy's nationalist  parties helped swing a referendum result on Dec. 4 that forced Prime Minister Matteo Renzi to resign. The Netherlands and France have crucial elections scheduled next year, and front runners in those countries are tapping the same veins of anger at the establishment that fueled the rebellions of 2016. Marine Le Pen, the leader of the far-right National Front in France, has chosen a blue rose as the logo for her presidential campaign, a symbol, she says, of the freak events that now seem almost natural. "I think the British, with the Brexit, then the Americans, with the election of Donald Trump, did that," she tells TIME. "They made possible the impossible."
The Netherlands..
Not evenGermany looks like such a stable pillar of the Western world these days. Angela Merkel, who has served as Chancellor since 2005, plans to run for a fourth term next fall. But her party, like her country, has felt the backlash against slow economic growth and mass migration across Europe. A November poll found that 42% of Germans want a referendum on E.U. membership. After Brexit, that's more than enough to make TIME's 2015 Person of the Year and her allies nervous. "What we are seeing is a re-emergence of state egotism and nationalism," says Norbert Roettgen, a senior lawmaker in Merkel's center-right party, the Christian Democratic Union. "This is our disease, and it goes right to the foundations of the European idea."
France..
By voting to leave the E.U., the British people showed that the integration of the West is neither inevitable nor irreversible, a message that Trump's campaign drove home by calling for the U.S. to pull back from its commitments around the world and to focus on "America first." It is a world where the international agreements of the past are up for renegotiation and the interests of the nation-state are not bound by an established global order. "None of us conform to any of the rules by which politics is operating," Farage says. "And people like that!"
Driving for independent states
For more than a generation, the Western liberal elites settled into a consensus on most major issues—from the benefits of free trade and immigration to the need for so-called "marriage equality. " Their uniformity on these basic questions consigned dissenters to the political fringe—further aggravating the sense of grievance that now threatens the leftist mainstream.
Hungary…
That is what helped Farage, Le Pen and other European nationalists  find an audience in 2016. They wanted Europe to be a mosaic of independent states instead of an integrated mixed-grill commonwealth with a shared currency and open borders. They wanted, in short, for Europe to look more like it did before the E.U.'s grand failed experiment, an experiment that was advocated  to prevent the nations of Europe from engaging in an endless cycle of wars. "What we've tried to do in Europe is go against all the trends globally," says Farage. "Globally, the world is breaking down into smaller units." The desire to reverse that trend shows Europe's "complete lack of understanding of how human beings operate." In the world of Farage and his allies, most people in Europe now gravitate more toward tribal confederacy notions of identity – than to lofty misdirected principles of "integration."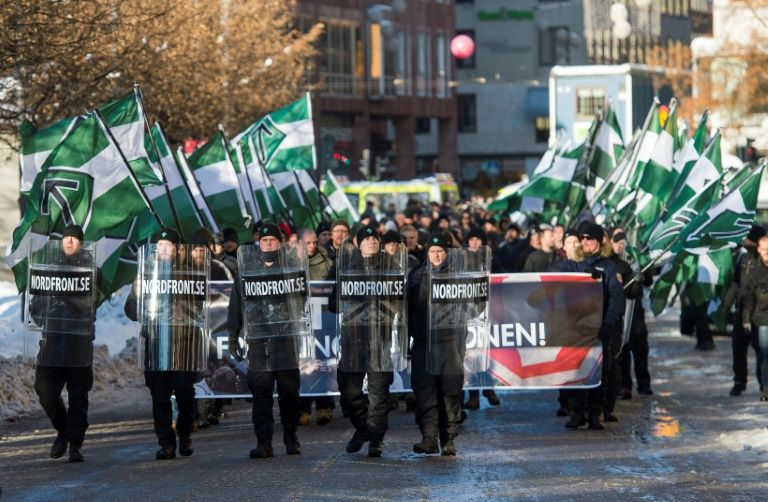 Sweden..
The coming months and years will test that theory. While most leftist European leaders were still scrambling on Nov. 12 to establish contact with Trump, Farage was sitting with the President-elect in his penthouse in midtown Manhattan. They even posed for a photo together that day, smiling  in front of the gilded doors of Trump's apartment; Farage sent a chill through leftist European capitals when he posted the picture online. Christoph Heusgen, who has served as Merkel's top foreign policy adviser since 2005, says the image was "very confusing." Farage does not hold any formal power in Britain and never has. Yet there he was, leapfrogging the line of world leaders desperate to arrange a meeting with America's President-elect." 
Greece…
Adding insult to injury, Trump's transition team broke with the tradition of arranging all calls with foreign leaders through the leftist State Department. So the Australian government had to get Trump's cell-phone number from one of his golfing buddies. Heusgen tells TIME the Germans were forced to seek advice from Henry Kissinger, the German-born former U.S. Secretary of State, who suggested reaching Trump through his son-in-law Jared Kushner. "That has been proven successful," Heusgen says.
Norway..
But it's not exactly comforting for the leftist politicians. Trump has already risked infuriating China by accepting a call from the leader of Taiwan, which Beijing considers a breakaway province, and his breezy pledge to Pakistan's Prime Minister Nawaz Sharif to "play any role you want me to play" in future talks left Indian diplomats aghast. So the  U.S. President  doesn't care for its niceties. Farage has a more simplistic answer: "If [Trump] believes in you, if he trusts you, then you're the man he wants to deal with."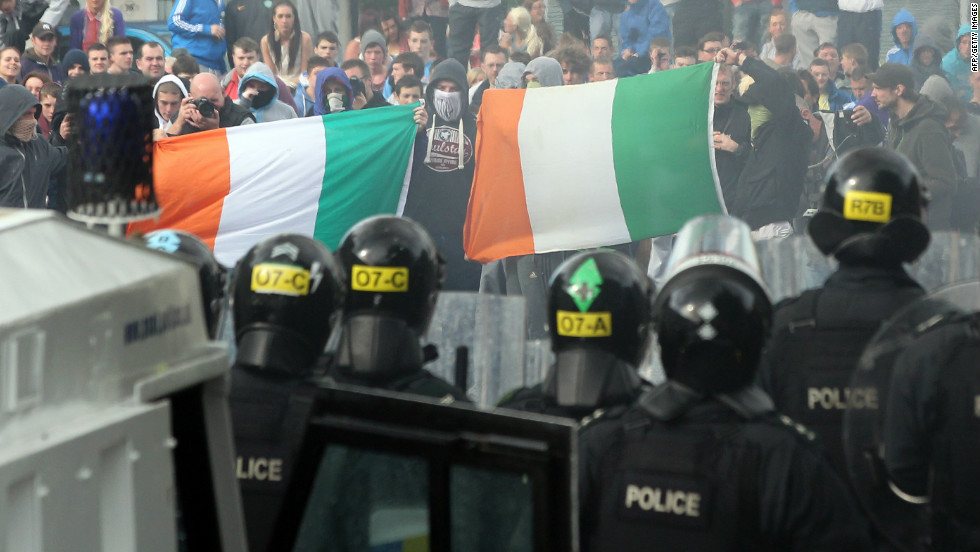 Ireland….
And sure enough, a week and a half after their meeting in New York City, the President-elect tweeted that "many people" would like to see Farage as London's new ambassador to the U.S. "He would do a great job!" Trump wrote,  The British liberal government of Theresa Mey   was then forced to issue an equally bizarre response, reminding the President-elect that its Washington embassy had "no vacancy." Farage found this all rather amusing. "A bolt from the blue!" he says. "I had no idea it was going to happen." Trump's tweet came as he was sleeping in Strasbourg, the seat of the European Parliament, and Farage says his phone didn't stop ringing all night.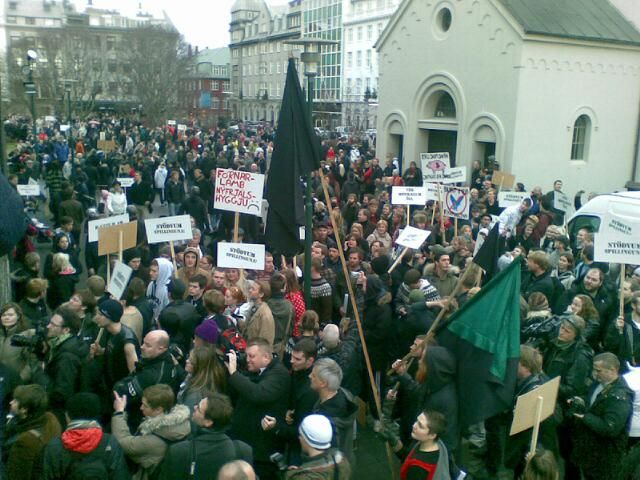 Iceland…
"It's been an amazing year," he says after draining the rest of his pint. What comes next is far less certain. Putting Brexit into effect has been monstrously difficult, and while the British economy has proved more resilient than expected, growth is still predicted to be slower than if the Brits had opted to remain in the E.U. But as Trump took power and France ponders whether to put an icon of the far right in the Élysée Palace, the West seems to belong to the nationalists. Only the brave would bet against them after the year they've had.
Spain….
Times are a changing- the era of the liberal domination of world politics now seem to near it's end. Nationalist peoples now are standing up and rebel against the liberal socialist inhuman taxation and illegal infestation of their countries. While the liberal Main Stream Media fell silent  about the true events across Europe – it now has been taken over by the Alternative Media. Across Western Europe nationalism is spreading like wildfire. Soon there again will be conflicts between the New Western World and the old forgotten socialist radical political relics  such as Eastern Europe, North Vietnam, South Africa, Indo/China and South America.
An independent political analyst Jonathan Aldridge sums it up best in his  review " From a French president to a Political Pauper."  :
" I think what now happens in France is not a type of retaliation against Macron per se. I think Macron was just the catalyst of a much deeper and much more dangerous time bomb that was ticking  across Europe for some time now. For some time now whites across Europe rebelled against invasions of their countries such as Germany- and also the unnecessary taxation imposed by the European Union's greed  to support mainly those migrants  forced into European countries. They became tired of being governed from within the European Union- which do not have any sympathy for their own homogeneous prosperity.
Warning signals  already appeared  in many other countries such as Britain, Italy , Greece and even Sweden that something terrible is brooding and especially about the migration issue – but our corrupt and dirty governments deliberately choose  to ignore it. On direct instructions -and sometimes threats from the European Union- they keep on pushing the flooding of Europe by the alien invaders agenda. That was a very reckless and a downright careless approach. 
I'M NOT ALONE IN THIS FIGHT: Gerrard Batten "This is not immigration this is invasion"

Posted by Councillor Jolene Bunting on Friday, September 7, 2018
  The recent elections in Germany and Italy already should have sent red lights flickering that something very explosive is about to happen soon. Now it exploded into a full-scale revolution across Europe. It only needed a flint to spark the keg- and Macron did just that. I don't think Macron read the signs correctly. Being a bit of a egoist he fail to notice the tell-tale signs of an up-rise in Europe against the EU. If he was a good leader- or alert by any means- he would at first consulted his people by means of a referendum around the carbon tax issue. But he decided to walk the road alone- and now he is facing the back-lash alone. That unfortunately is the nemesis of most of the European leaders today- their own arrogant self esteem with which they drive their one-sided secret agendas.
BBN: Confirmed! EU wants rid of our sovereignty. MAKE THIS VIRAL Share this to as many people as possible. This little Hitler reveals the real face of the EU.

Posted by Breaking Brexit News on Saturday, November 17, 2018
Taxation concerns the whole populace as they are the people that on the end of the day must produce the funding for any project the government intend to launch. And Carbon Tax on the other hand is nothing but a racketeering scam direct from the EU which has no legal grounds to be imposed. The people gain nothing out of it and therefore will not support it. The only ones benefiting from it is the small band of racketeers sitting in the EU. For this reason I believe Macron made a terrible mistake of not thinking of the French people first and foremost- asking their permission to impose such a burden on them. To be a good politician and especially a leader of a country one have to read your environment correctly. I think Macron in this case was out of touch with the French peoples. He- like most of the European socialist politburo members of parliament- got confused between serving the people of the country-and pretend you owe the country. Maybe we ought to move back to where the people choose their leaders- and not the EU. But Macron does not stand alone in this careless euphoria.  I believe most European Union governments underestimated the reality of the immense power that lies in the hands of their predominantly white populace. They are uniting into a formidable force that could destroy the globalist dream totally.
Hmmmmmm sien, ek ken n gemors as ek een sien, hier gaan die Nasionaliste ook begin lyk dit vir my

Posted by Leonie Lenie Maritz Booysen on Sunday, December 9, 2018
This is not a bunch of Syrian Jihadi goat herders  running around in sandals shouting "Alahu Akbar." This is very high intellectual people with very sophisticated methods  and enough resources to back it to overthrow their governments in a jiffy or start a full scale civil war that would bring the whole of Europe to it's knees.  Now they demonstrate how they will use that power- and it's going to turn very violent and very ugly. I believe they have taken the white populations of their countries for granted- which I would classify as  bordering to sheer  arrogance. "
Finland…
Socialism is a system where the greedy dictatorships disown the populace just in order to "distribute" the wealth among the "slaves" so they themselves can rule "supreme" in splendor and"bling." Mao, Pol Pot, Stalin, Mugabe and many other dregs of society showed us what happens in countries such as that. And white Europe eventually took a stance against that type of totalitarian rule of the European Union and their socialist policies. They had about enough of their sovereignty being threatened by the European Union and their maggot front men and women  that allowed alien infestations into their homogeneous  countries. The white nationalists across Europe now are busy transforming Europe back to it's original status- that of a white dominant bastion. China is for the Chinese, Africa for the Africans, India for the Indians and Europe for the white Europeans. And the transition from oppressive financial globalism to free nationalist independence appear to  be a violent one too.
MORE videos about the France riots HERE
SOURCE:
White Nation
WHITE NATION– WE DO NOT HATE WHITE LIBERALS– WE SIMPLY DESPISE THE FILTH!!
C'MON- SHARE OUR LINK