Do you have news to tell us? Send your e.mails with news and inquiries to: w.nation@mail.com
Register with us for free to follow our news on the right-hand tab
Article compiled  by: White Nation correspondent Christchurch   March 24  2019
ALSO READ:
Why I Now Believe the New Zealand Event Was a Complete Hoax With Zero Dead
NEW ZEALAND
WHILE that pathetic she-lib Jew puppet Prime Minister of the liberal bastion New Zealand-Jacinda Ardern – are now in top gear busy disarming whites in her country because of the pre-planned false flag operation orchestrated by the Security Services– Muslim gangs are massacring Christian people in other parts of the world. New Zealand will ban all types of semi-automatic weapons and assault rifles following the Christchurch attacks." Our actions, on behalf of all New Zealanders, are directed at making sure this never happens again.  " – Ardern has said.
The announcement comes less than a week after 50 people were "allegedly" killed at two mosques, allegedly by a "lone gunman."   Ardern said she expected new legislation to be in place by 11 April, saying: "Our history changed forever. Now, our laws will too." All of the "dead "have now been formally identified, police have confirmed. Australian Brenton Tarrant, a "self-proclaimed white supremacist," ( note how only whites again are exploited in this farce mock-up conspiracy)  – has been charged with one murder and was expected to face further charges. However, police said on Thursday that the person he was formally accused of killing had been wrongly declared dead. They said they had apologized to the woman and her family, and that the charge sheet would be updated when the suspect appeared in court on 5 April.  The prime minister has called the Christchurch attacker a" terrorist " -and said she "will not utter his name." ( What a drama queen indeed!-Ed)  The gunman, armed with semi-automatic rifles including an AR-15, is believed to have "modified"  his (Standard SAS ) weapons with high-capacity magazines – the part of the gun which stores ammunition – so they could hold more bullets. As of Thursday, several weapons have been reclassified as military style semi-automatic firearms, making them harder to buy. "For many people, you will now be in unlawful possession of your firearm," Police Commissioner Mike Bush said.
IN New Zealand it appears that stupidity simply knows no boundaries!
In a pathetic non-patriotic-style New Zealand politicians and journalists have embraced Islam in their efforts to show "solidarity " with the Muslim community after the Christchurch shootings.Thousands of New Zealanders engaged in  nationally sanctioned displays of " Islamic faith Friday"- , ranging from the national broadcast of the Islamic call to prayer and non-Muslim women donning hijabs to newspapers running Arabic greetings on their front pages. Prime Minister Jacinda Ardern, police officers, and news anchors joined in the displays of "faith " throughout the day.What a display of total capitulation of  liberal anti-Christianity. New Zealand really has lost it's Christian sovereignty in exchange for LGBT fantasy propaganda dreams. We long ago already suspect  the Kiwis are way down the liberal slippery road…but THIS  treacherous capitulation even surpassed our wildest imaginations!  We did not realize the mental  deterioration was THAT bad down "South." BUT then again what else COULD one expect from a nation in the outer hebrides of the ocean – that spends most of it's entire existence  on two islands being engaged in a mortal combat – pitting their daily resources against  a herd of sheep to determine who actually rule  the supreme intelligence  anyway? 
NOW we do not suggest ALL Kiwis are idiots- but hey...New Zealand is just that big……..the intelligent ones must be far in the minority we suppose? you are being conquered by "political correctness " and virtue signaling.
New Zealand prime minister Jacinda Ardern opening her address to Parliament today: "As-salamu alaykum, peace be upon you, and peace be upon all of us." pic.twitter.com/tFnXxXoL7e

— Anna Fifield (@annafifield) March 19, 2019
WATCH: New Zealanders of all faiths observed the Muslim call to prayer on Friday in memory of the worshipers killed during the Christchurch mosque attacks.

50 people were killed in shootings at two different mosques one week ago. pic.twitter.com/nDwb8BJbAi

— KUTV 2News (@KUTV2News) March 22, 2019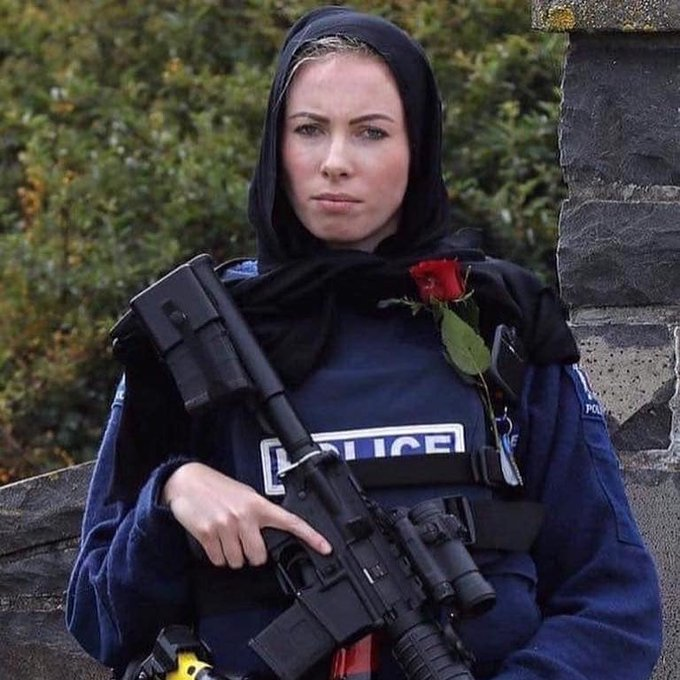 "Why am I wearing a headscarf today? Well, my primary reason was that if anybody else turns up waving a gun, I want to stand between him and anybody he might be pointing it at. And I don't want him to be able to tell the difference, because there is no difference," Bell Sibly, a poorly informed liberal police woman in Christchurch,
The Quran was recited during New Zealand's parliament session on Tuesday, the first since last week's "terrorist attack " on two mosques that" claimed " 50 lives. A Muslim imam led prayers in parliament, in what is being seen as a  "gesture of solidarity " with the "victims " of the shooting.   Ardern-  who has received international praise for her response to the attack including offering to pay the funeral costs of victims, ( which should only be a few dollars for Roti's  and Coke for the "dead" actors)– started her speech with the phrase "As-Salaam-Alaikum", an Arabic greeting meaning 'peace be unto you'. She encouraged people to acknowledge the Muslim community's "grief"  on Friday – the Muslim day of worship, and one week since the attack, and vowed that the "full force " of the law will come down on the attacker. The verses come from chapter al-Baqarah (The Cow), which emphasize patience, prayers, and justice on judgment day.  This is thought to be the first time the Quran has been read in the New Zealand parliament. Ibrahim Kalin, Chief Counselor to the President of the Turkish Republic, said: "I commend the [parliament] for this heartwarming and graceful act. It is these acts of kindness and resolution that will defeat terrorism and fascism."
What will change and how soon?
"Six days after this attack, we are announcing a ban on all military style semi-automatics (MSSA) and assault rifles in New Zealand,"  Ardern said in a news conference. "Related parts used to convert these guns into MSSAs are also being banned, along with all high-capacity magazines." An amnesty has been imposed so the owners of affected weapons can hand them in, and a buy-back scheme will follow.
NOW come the skepticism around  this near-perfect government/ media-concocted "Shakespearian" play: 
Just how 'right-wing' was this guy? His father, an industrial worker,  died rather early of an asbestos- induced cancer – hardly your  typical 'right-wing' background.  Besides, the idea of guys with
terribly modest bank accounts,  however contrary in character,  purporting to be 'right-wing' is  nothing but ludicrous.  And this  is pretty non-controversial  Marxist analysis.  For example, the erstwhile white Australia policy had nothing  'right-wing' about it.  It was the  officially espoused policy of the  Australian trade unions, politically  enforced on their behalf by the  Australian Labor Party.  The Tory  support of white Australia policy  was at all times nothing but  pure political opportunism.  For example, a conscientious trade  unionist – typical of this guy's  grandfathers' contemporaries –  regarded himself as being duty-bound to put a brick through  the skull of any blackleg laborer.  And non-white labor was black,  except in the jobs habitually  taken by the Aborigines. 
This guy put out a 'manifesto' –  a smörgåsbord of other people's  ideas.  Even his allergy to Islam  was entirely second-hand.  The guy was a meticulous planner.  But did he ever count on being –  for the rest of his natural life –  woken up every night by the blood-curdling wailing directed  to 'Allah' by a convicted jihadi  in the cell next door?
ARDERN– clearly left her ancestry back at the Ardern woods near  Warwickshire to embrace the sand fleas near Riyadh
Now- let's have a look at this " lone gunman."
Brenton Tarrant– the "lone ranger" on a mission to target especially Muslims. More questions now are asked if he REALLY acted alone- or was he part of a huge orchestrated covered-up   false flag operation  and excuse to pass a law that will disarm white New Zealanders? Many skeptics now think so. 
3. His plans  were somewhat less than complete,  weren't they?  Perhaps he should  have taken them to Texas, where  they love their capital punishment.  And last, but not the least, there  were some insinuations made by  both the lefties and the truthers  that the guy was assisted by  some shadowy network.  And if there is the smallest grain  of truth to such allegations, then,  rest assured, the money would  have come from the Jews – and  the putative network – just like  the rest of 'Tommy Robinsons' –  is totally Jew-controlled.  This stupid little weasel thought  the hapless slaves of 'Allah' made
those mosques 'target-rich'.   The Jews' targets, however, were –  and are – the freedom of speech,  the citizens' right to self-defense,  their right to honest banking and  equitable immigration policy, and,
ultimately, their very right to exist.
BUT– Let us closely inspect the video of the shooting:
https://153news.net/watch_video.php?v=DGWO29DXGY6D&fbclid=IwAR3jWY9cRu1f68kYITEXuldhrURHPUSclBXNE0Qizrp5sXnTy9mBifx25Ns
No one was killed in this video. All violence is simulated like a video game, and is done in the style and content of a video game, but with lower resolution, such that no one would buy it. The purported "dead " are actually Reticulated Dummies. The Crisis Actors are from Jordan. The Gun is a Replica Air Gun, sometimes not even based on a real gun. 100% of the content is already up on line, except for two men sitting down and chatting about obvious frauds within the fake video game. The non-bullets emitted from the Replica Air Gun were added in post editing. There is no Violent footage. There is no real blood. There are no real injured. The character is shooting a noise-making stick that is not a real gun. No one was injured. No one died. It has very low resolution.
It is actually a Government film, approved by the Government. It is a Gun Control Propaganda movie being analyzed. All the blood is stage blood that costs US$100 per gallon. All the faces are blurred over so no one is recognizable. The Replica Gun is a CO2 propelled Air Gun that shoots blanks and emits sound and costs US$100. Actors use Replica guns in every action movie, so all the time. The main character is a 5'4″ Actor who was paid. The movie is a fraud, about a fraud, about an event that never actually took place as stated. It was not filmed on the day claimed. The movie is another step in the fulfillment of Predictions. The whole world is run on Predictions. There is no violence in the movie. Two men chatting and exposing a Government Propaganda Movie is not violence.
The Government has admitted that this movie is Government Propaganda. There are no Community Guidelines breached. Everything in the movie is self evident. No ideological claims are made. None of the purported victims went to Hospital, nor to a Funeral Home, nor were they buried, nor were they transferred to another Hospital. We checked. The main character in the movie did not go to Court. We went to the Court at the time of the hearing (Set Down) and no one was there. We phoned and went to the Hospitals and there were no gunshot victims there. The entire Video is about fake claims to an event that was never real, and never happened on the day claimed. It was an occult event. The whole conspiracy was a set up….a bullsh*t political game to substantial law to disarm the white New Zealander- and Arderen also is a pathetic "actress" – not even worth nominated   for the Golden Rasberry award. When you hear the term "right wing extremist"-  you immediately can connect the liberal trash behind the conspiracy.
blob:https://www.nbcnews.com/b14255ba-bf7e-4cf8-803f-f15dbd0b0727
THE DESTRUCTION OF THE WHITE  RACE ALWAYS STARTS HERE…..
New Zealand Prime Minister Jacinda Ardern quotes the Prophet Muhammad before a national broadcast of the call to prayer and tells grievers: "New Zealand mourns with you. We are one." pic.twitter.com/741rsEIoY6

— Pillars Fund (@pillars_fund) March 22, 2019
NOW let us see what is the REALITY:
An offensive by Islamists in northern Burkina Faso has left dozens of civilians dead and forced tens of thousands to flee their homes, Human Rights Watch said Friday. "Atrocities by Islamist armed groups in Burkina Faso's northern Sahel region and by security forces during counterterrorism operations have left scores dead and created widespread fear and displacement," the group said in a 62-page report. "The violence has forced tens of thousands of villagers to flee since early 2019," it said. "Scores of people have been murdered in what amounts to a dramatic deterioration in the rights situation in northern Burkina Faso," said Corinne Dufka, Sahel director at Human Rights Watch. "Villagers are living in fear as both armed Islamists and government forces have demonstrated utter disregard for human life." More than 100,000 people have been displaced in the poor former French colony, over half of them since the start of 2019, officials have said. Around 4.3 million people have been driven from their homes in the worsening violence that has engulfed the entire Sahel region, including one million over the past year, according to UN humanitarian officials. Jihadist groups have gained ground in central Mali, Burkina Faso and Niger, while Chad is battling unrest on its borders. Since 2015, more than 300 people have been killed, typically in hit-and-run raids, and the Burkina Faso capital Ouagadougou has been hit three times.
 Dutch police have arrested a 37-year-old Turkish Muslim man suspected in a deadly 'terrorist-motivated' shooting on a tram in the Dutch city of Utrecht, after an hours-long manhunt which saw schools and businesses in lockdown. Gökmen Tanis was allegedly targeting one of his own relatives in this morning's shooting, which left three people dead and five others injured, and saw the terrorism threat level in Utrecht raised to the highest possible. The suspect was detained during a raid on the Oudernoord district of Utrecht, and authorities have now lowered the threat level in the province by one notch as a result of the arrest, police confirmed. Dutch prime minister Mark Rutte said some wounded in the tram attack 'are still in critical condition', with 'three people fighting for their lives'. Tanis' relatives in Turkey told Anadolu news agency that the 37-year-old had opened fire on a relative 'for family reasons' and later shot at others trying to intervene. The Turkish intelligence agency are investigating whether the attack was personally motivated or an act of terrorism, President Tayyip Erdogan said in a televised interview.

A group of Islamic  gunmen who disguised themselves as traditional hunters have surrounded a Mali village and killed at least 134 Fulani herders.  It was the deadliest such attack of recent times in a region reeling from worsening ethnic and jihadist violence. The Fulani ethnic group are semi-nomadic, primarily Muslim and live in various West African nations. Moulaye Guindo, mayor of the nearby town of Bankass, said armed men, dressed as traditional Donzo hunters, encircled and attacked Ogossagou. Pregnant women, children and the elderly were among those slain. The attack may have been in retaliation after an Al Qaeda-linked group killed 23 soldiers. Jihadist groups linked to Al Qaeda and Islamic State have exploited ethnic rivalries in Mali.  He said another nearby Fulani village, Welingara, had also been attacked, causing "a number" of deaths, but he did not yet know how many. Security sources said the dead included pregnant women, children and elderly people. The armed attacks took place as a United Nations Security Council mission visited Mali seeking solutions to violence that killed hundreds of civilians last year and is spreading across West Africa's Sahel region.

An attack on morning Mass at a Christian Catholic church in central Nigeria left 2 priests and at least 17 parishioners dead, adding to the hundreds killed by Muslim herders in the region so far this year. Police suspect Muslim Fulani herdsmen were responsible for the shooting rampage at Saint Ignatius Catholic Church in Mbalom, where about 30 attackers also ransacked a burial ceremony and burnt dozens of homes in the community, according to reports. A local source contacted by the Nigerian Vanguard newspaper described a scene of horror: "The services had barely started and worshippers were still coming for the Mass, after which a burial ceremony would take place, when sounds of rapid gunshots rent the air. "People started scampering and wailing: 19 persons, including Reverend Fathers Joseph Gor and Felix Tyolaha, who were holding the morning Mass, were gunned down in cold blood, while many sustained injuries, including bullet wounds. "After attacking the church, the invaders descended on the community and razed over 60 houses, farmland, food barns, after carting away what the people had in their barns. "As usual, after killing the helpless worshipers and razing the community, the attackers fled from the scene."

M

I5 Director General Andrew Parker has made a rare public appearance to talk about the intense threat Britain faces from Islamist terrorism. The head of the UK's Security Service said jihadists were now conceiving and preparing attacks in a matter of days, referring to both the number of thwarted and successful attacks the UK has faced this year. The UK has been rocked by four terror attacks in 2017, with the most recent attack taking place at Parsons Green tube station last month. But despite this string of attacks, relatively few people have been killed by terrorist attacks in the UK in recent years.
Somalia's Muslim al Shabaab stormed a government building on Saturday, detonating a suicide car bomb in the heart of the capital Mogadishu with at least 15 people, including an assistant minister, killed during the ensuing gun battle. In the latest bombing claimed by al Shabaab, an Islamist group which is fighting to establish its own rule in Somalia, based on a strict interpretation of sharia law, a huge explosion shook central Mogadishu and a large plume of smoke rose above a building housing Somalia's ministries of labor and works.Police later said the fighting at the building had ended and that the premises had been completely secured."The building was secured by security forces. The four militants who attacked the building were shot dead. Another militant was a suicide car bomber and so he also died," Major Ali Abdullahi, a police officer told Reuters.
A twin bombing at a public ceremony in southern Afghanistanon Saturday killed at least four people, including a provincial official, and wounded more than 30, officials said. Omar Zwak, spokesmanfor the governor of Helmand province, said the bombings targeted a celebration of Farmer's Day in a sports stadium in the provincial capital, Lashkar Gah. Mohammad Khan Nasrat, the economic director of Helmand, was among those killed in the attack, the government said in a statement. Zwak said 31 other people were wounded in the blasts, including provincial council members and provincial security officials, but he said none were in critical condition. The Muslim Taliban, who effectively control half the country, including large parts of Helmand province, claimed the attack. The insurgents have kept up their daily attacks on Afghan security forces and government targets even as they have held several rounds of talks with the United States in recent months aimed at ending the 17-year war.
An Islamic suicide bomber on Friday killed one person and injured four, all members of the same family, in an attack in Afghanistan's southern province of Kandahar, police said. The explosion in the village of Chinar took place during celebrations of the new year festival, Nowruz, with media saying the family were on their way to a party. Police were also injured in the explosion, said provincial police chief Tadeen Khan.  There was no immediate claim of responsibility. Friday's attack comes after six people were killed and 23 wounded in several explosions the previous day during Nowruz celebrations in Kabul, the capital.  Though widely celebrated in Afghanistan, the ancient Persian festival has drawn opposition from some hard-line Islamists, who call it un-Islamic. Kandahar, the birthplace of the Taliban militant movement, has long been a center of the insurgency that has battled U.S.-led forces since the strict Islamist regime was toppled in 2001.
AGAINST the back-drop of all this Muslim attacks and atrocities world-wide – the New Zealand liberal authorities still are bending over backwards to make sure that Muslims feel welcome after the New Zealand mosque massacre, . One wonders if the Prime Minister of New Zealand would be calling upon everyone to wear a Star of David if a synagogue had been attacked, or broadcasting Christian prayers if a church had been attacked? Her statement about the Islamic faith is entirely whitewashed, without a hint of the fact that "according to the Muslim faith," Muslims must wage war against unbelievers. All this will make that war impossible for non-Muslims in New Zealand to oppose.  New Zealand broadcast the Islamic call to prayer nationwide Friday to honor the Muslim community in the wake of the Christchurch mosque attacks. Prime Minister Jacinda Ardern, adorned in a hijab, attended an Islamic service in Hagley Park near the Al Noor mosque, in which thousands of mourners observed the Islamic call to prayer, or adhan, live at 1:30 p.m. local time. The ceremony was one of several conducted throughout New Zealand "to honor victims of the March 15 attacks" – and also included a 2-minute national moment of silence, which people across the country were encouraged to observe as a time of reflection, according to the BBC. Ardern recited a passage from the Koran just before the recitation of the call to prayer, first in Arabic and then in English.
JUST to enlighten our Kiwi "I love Islam" degenerates- this is what you can  expect from your "new" masters if you foolishly proceed on your path of self castration:
SHAIRA LAW demands:
Make sue that you are not going to loose your head over this ….."Mate." 
"According to Muslim faith, the prophet Muhammad .The believers in their mutual kindness, compassion and sympathy are just like one body. When any part of the body suffers, the whole body feels pain," she recited "New Zealand mourns with you. We are one," she added. An imam then gave the call to prayer, which was broadcast on both television and radio across the country. A social media campaign also called for non-Muslim women to wear a hijab on Friday in solidarity with the Muslim community. "I know many New Zealanders wish to mark the week that has passed since the terrorist attack and to support the Muslim community as they return to mosques," Ardern said prior to Friday's ceremonies, according to BBC. "How we choose to reflect during the silence will be different for each of us. Everyone should do what feels right for them, wherever they are, at home, at work, at school." BUT we  never heard ONE word from Ardern or her lefties in parliament- not ONE call to prayer- not ONE word of condemnation when Muslims slaughtered hundreds of people in Africa! THAT substantiates the filthy type of liberal hippocracy in it's cruelest form – that now rules Western Nations. 
Political leaders and public figures were falling over themselves this weekend to condemn the mosque attacks in New Zealand, while dozens of Christians were slaughtered by Muslims in Nigeria to the sound of crickets.

Dr. Thomas D Williams

wrote: 
"The mosque attacks were indeed a horrific affair and worthy of universal condemnation. Presidents, prime ministers, royalty, and religious leaders rushed to extend their condolences to victims and their families — as well they should — while decrying the hate that purportedly motivated the shootings. Without exception, the mainstream media gave top billing to the shootings, with newspapers carrying the story on their front pages and television news channels leading off their broadcasts with the story.  The bizarre aspect of the coverage was not, in fact, the attention paid to a heinous crime committed in New Zealand, but the absolute silence surrounding the simultaneous massacre of scores of Christians by Muslim militants in Africa. As Breitbart News alone reported among major news outlets, Fulani jihadists racked up a death toll of over 120 Christians over the past three weeks in central Nigeria, employing machetes and gunfire to slaughter men, women, and children, burning down over 140 houses, destroying property, and spreading terror.The New York Times did not place this story on the front page; in fact, they did not cover it at all. Apparently, when assessing "all the news that's fit to print," the massacre of African Christians did not measure up. The same can be said for the Washington Post, the Chicago Tribune, the Detroit Free Press, the LA Times, and every other major paper in the United States. The news shows from the three major television channels did not mention the story, and nor did CNN or MSNBC. There are several possible explanations for this remarkable silence, and none of them is good.  Since, in point of fact, Muslim radicals kill Christians around the world with alarming frequency, it is probable that one more slaughter did not seem particularly newsworthy to the decision-makers at major news outlets. Muslims being killed, on the other hand, may strike many as newsworthy precisely because it is so rare. A second motive for the media silence around the massacre of Christians in Nigeria may be geo-political and racial. New Zealand is a first-world country where such things are not supposed to happen, whereas many people still consider Africa to be a backwards place where brutal killings are par for the course. Moreover, the slaughter of black Christians in Africa may not enkindle rage among westerners the way that the murder of white and brown Muslims in New Zealand would.Finally, the story simply does not play to the political agenda that many mainstream media would like to advance. How much mileage can be gained from Muslims murdering Christians, when Christians in America are often seen as an obstacle to the "progress" desired by liberals? The left sees Christians in the United States as part of the problem and seeks to undermine their credibility and influence at every turn rather than emboldening them. Anti-Christian bias has been rightly called "the last acceptable prejudice," one that few bother condemning. "No one much cares about offending Christians," wrote the coalition of African-American pastors in an essay last Tuesday. "In fact, mocking, belittling, and blaspheming Christianity is becoming a bit of a trend in our culture. Anti-Christian bigotry truly is the last acceptable prejudice." "The hypocrisy on display is astounding," the pastors continued. "Christianity is the dominant religion of our country. It is the foundation of our government and morality. And yet, Christians are treated as fair game for mockery and insult." Christians are by far the most persecuted religious group in the world, but the mainstream media routinely ignore this fact as if it were unimportant or uninteresting. As a result, many people do not even realize how widespread the persecution is or that 75 percent of the victims of religious persecution around the world are Christians.Whatever the reason — or reasons — for the media silence surrounding the most recent massacres of Christians in Nigeria as well as numerous other such events, it should give right-thinking people pause. By all means, the lethal shootings of dozens of Muslims in New Zealand is a massive story and merits extensive coverage. But it only stands to reason that similar coverage should be devoted to the slaughter of Christians. For the moment, it serves as a poignant reminder that a double standard is at work when it comes to news coverage, and that it is Christians who inevitably draw the short straw."

LIBERAL socialist democrat  Western governments the likes of Merkel, Sarkozy, Ardern, Macron, Solberg, Ramaphosa, Löfven, Rutte , Obama, Bush, Sturgeon,  May et al are the ones killing the white races across the world. They are the butchers, the mass murderers that deliberately allow terrorists and killers from all walks of life to enter  into our white countries and set up organized crime cells to operate from, ban all guns, handicap us by "laws"– and then release these alien executioners  among our white societies. They are the ones planning and executing false flag operations to murder and maim Christians. They are the cancerous tumor in our God fearing countries.

THIS IS WHAT LIBERALS OFFER YOU: 
Swedish corporations are now implanting their workers with microchips. Employees are taking to social media and posting the surgical procedure photos. Swedish medical staff surgically implants the chips into the area between the thumb and index finger. The goal is to offer Swedes more convenience in everyday life. Earlier this month, we reported that U.K. companies are beginning to ask that their employees be microchipped similar to the Swedes. Many Swedish companies ask employees to voluntarily sign up for a microchip implant. And workers are accepting the offers and volunteering to have the procedures done. Of course, one must consider the ramifications of such "volunteer-based" microchipping.
THIS is what liberals bring into our countries…an abomination against God's creation. Creating freaks….Microchipping…."control", …taking our freedom away…turning humans into clones. They are the ones setting up and operating numerous "secret societies" to infiltrate – and destroy our homogeneous conservative church going societies from within. They are the ones creating and approving un-biblical and demonic cultures and laws such as "LGBT, " Transgenderism, interracial marriages, "diversity", pedophilia, homosexuality, bestiality, micro chip tagging, union activities and riots, communism, "human rights" movements against whites, open border policies, the abandonment of guns to protect one-self and capital punishment for heinous crime offenders, disciplinary actions in schools and at home,- and all signs of white nationalism from society – all under a neat smart term called "democracy." As long as this liberal abominations are going to be allowed control our societies- we as white Christians will be persecuted and exterminated for a long time to come. Negotiating" with them long ago already proofs totally useless. Hard action from the white conservative world now is the answer- even if it means the "final solution."
THE PROPHETIC WARNINGS….
" But woe unto you, Pharisees! for ye tithe mint and rue and all manner of herbs, and pass over judgment and the love of God: these ought ye to have done, and not to leave the other undone.  Woe unto you, Pharisees! for ye love the uppermost seats in the synagogues, and greetings in the markets.  Woe unto you, scribes and Pharisees, hypocrites! for ye are as graves which appear not, and the men that walk over them are not aware of them.  Then answered one of the lawyers, and said unto him, Master, thus saying thou reproachest us also.  And he said, Woe unto you also, ye lawyers! for ye lade men with burdens grievous to be borne, and ye yourselves touch not the burdens with one of your fingers.  Woe unto you! for ye build the sepulchres of the prophets, and your fathers killed them. Truly ye bear witness that ye allow the deeds of your fathers: for they indeed killed them, and ye build their sepulchres.  Therefore also said the wisdom of God, I will send them prophets and apostles, and some of them they shall slay and persecute: That the blood of all the prophets, which was shed from the foundation of the world, may be required of this generation;  From the blood of Abel unto the blood of Zacharias which perished between the altar and the temple: verily I say unto you, It shall be required of this generation.  Woe unto you, lawyers! for ye have taken away the key of knowledge: ye entered not in yourselves, and them that were entering in ye hindered.  Let them alone: they be blind leaders of the blind. And if the blind lead the blind, both shall fall into the ditch.  " – Luke 11:42-52
" Her princes within her are roaring lions; her judges are evening wolves; they gnaw not the bones till the morrow. Her prophets are light and treacherous persons: her priests have polluted the sanctuary, they have done violence to the law."– Zephaniah 3:3-4
"  There is a conspiracy of her prophets in the midst thereof, like a roaring lion ravening the prey; they have devoured souls; they have taken the treasure and precious things; they have made her many widows in the midst thereof.  Her priests have violated my law, and have profaned mine holy things: they have put no difference between the holy and profane, neither have they shewed difference between the unclean and the clean, and have hid their eyes from my sabbaths, and I am profaned among them.  Her princes in the midst thereof are like wolves ravening the prey, to shed blood, and to destroy souls, to get dishonest gain.  And her prophets have daubed them with untempered morter, seeing vanity, and divining lies unto them, saying, Thus saith the Lord God, when the Lord hath not spoken.  The people of the land have used oppression, and exercised robbery, and have vexed the poor and needy: yea, they have oppressed the stranger wrongfully."- Ezekiel 22:25-29
"Living easy, living free
Season ticket on a one-way ride
Asking nothing, leave me be
Taking everything in my stride
Don't need reason, don't need rhyme
Ain't nothing I would rather do
Going down, party time
My friends are gonna be there too
I'm on the highway to hell
On the highway to hell
Highway to hell
I'm on the highway to hell
No stop signs, speed limit
Nobody's gonna slow me down
Like a wheel, gonna spin it
Nobody's gonna mess me around
Hey Satan, paid my dues
Playing in a rocking band
Hey mama, look at me
I'm on my way to the promised land, whoo!
I'm on the highway to hell
Highway to hell"
– Highway to hell- ACDC
HIGH TIME WE TAKE BACK CONTROL OF OUR OWN LIVES!!!!!!!!

Posted by Gert Jordaan on Sunday, March 24, 2019
White countries must rid themselves from the evil liberal Zionist yoke. They must take hard-line zero tollerance actions such as what the Yellow Vest movement now are doing across Europe. When whites start retaliatory actions and storm the Bastille- immediately these socialist gangsters show who they really are- hiding like cowards behind their safe bastions – while their security forces start to wage a war against the free peoples of that country. Macron is one good example of such cretins. They have no remorse in murdering people e-masse: Lenin, Stalin, Churchill, Rooseveld, Pol Pot, Amin, Zuma, Mugabe, Turnbull, Ramaphosa and many other socialist dictators are examples of that. First they started with Africa and South Africa to eliminate the white Christians, – then turned their attention to Europe- now it's time Australasia come into their cross-hairs. Next it will be the creme-a-la-creme….America!  AS for most of  the white  inhabitants of New Zealand- together with Sweden and Norway you are a despicable shame to the white race…..indeed! A sheep is a sheep- they know their kind. A wolf is a wolf- they know their kind– and the two species will NEVER mix. God made them that way…one the predator- one the prey. But as with you- you are trying to sleep with the wolves…kindle them against your bosom…..you do not even realize you have become the prey and the infiltrator the predator. You are blinded by your deceitful  politicians-and you are going to pay dearly  for your obstinate stupidity. Even your  dumb flocks of sheep will one day survive you as a specie- for they at least  know WHO they are and who is their enemy- something you apparently do not.
SOURCE:
White Nation
WHITE NATION– WE DO NOT HATE WHITE LIBERALS– WE SIMPLY DESPISE THE FILTH!!
C'MON- SHARE OUR LINK