Do you have news to tell us? Send your e.mails with news and inquiries to: w.nation@mail.com
Register with us for free to follow our news on the right-hand tab
Article compiled and posted by: White Nation correspondent London  15  April  2019
BRITAIN
WIKILEAKS co-founder Julian Assange has been arrested at the Ecuadorian embassy in London. Assange took refuge in the embassy in 2012 to avoid extradition to Sweden over a sexual assault case that has since been dropped. At Westminster Magistrates' Court on Thursday he was found guilty of failing to surrender to the court.
He now faces US federal conspiracy charges related to one of the largest ever leaks of government secrets. The UK will decide whether to extradite Assange, in response to allegations by the Department for Justice that he conspired with former US intelligence analyst Chelsea Manning to download classified databases. He faces up to five years in US prison if convicted on the charges of conspiracy to commit computer intrusion. Assange's lawyer Jennifer Robinson said they would be fighting the extradition request. She said it set a "dangerous precedent" where any journalist could face US charges for "publishing truthful information about the United States". She said she had visited Assange in the police cells where he thanked supporters and said: "I told you so." Assange had predicted that he would face extradition to the US if he left the embassy.
What happened in court?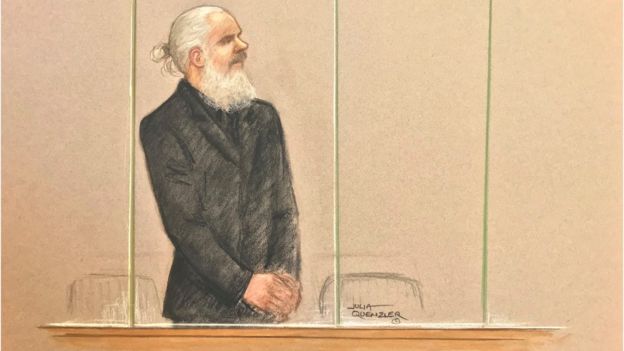 Image copyright JULIA QUENZLER, BBC
After his arrest, the 47-year-old Australian national was initially taken to a central London police station before appearing in court. Dressed in a black suit and black polo shirt, he waved to the public gallery and gave a thumbs up. He pleaded not guilty to the 2012 charge of failing to surrender to the court. Finding him guilty of that charge, District Judge Michael Snow said Assange's behavior was "the behaviour of a narcissist who cannot get beyond his own selfish interest". He sent him to Southwark Crown Court for sentencing, where he faces up to 12 months in prison. The court also heard that during his arrest at the embassy he had to be restrained and shouted: "This is unlawful, I am not leaving."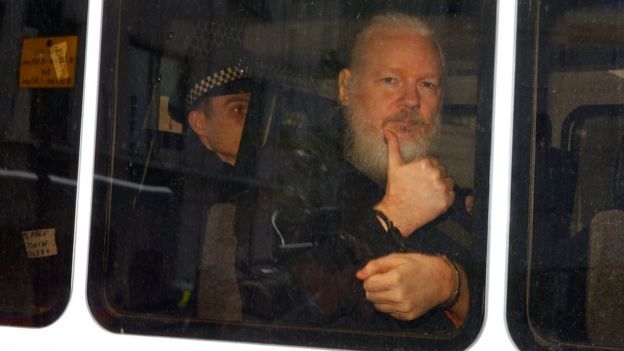 Why does the US government want to extradite Assange?
Assange set up Wikileaks in 2006 with the aim of obtaining and publishing confidential documents and images. The organization hit the headlines four years later when it released footage of US soldiers killing civilians from a helicopter in Iraq. Former US intelligence analyst Chelsea Manning was arrested in 2010 for disclosing more than 700,000 confidential documents, videos and diplomatic cables to the anti-secrecy website. She said she only did so to spark debates about foreign policy, but US officials said the leak put lives at risk. She was found guilty by a court martial in 2013 of charges including espionage. However, her jail sentence was later commuted. Manning was recently jailed for refusing to testify before an investigation into Wikileaks' role in revealing the secret files.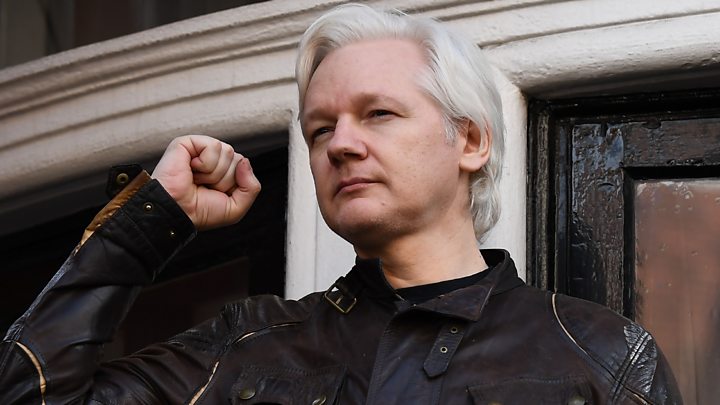 What are the US charges against him?
The indictment against Assange, issued last year in the state of Virginia, alleges that he conspired in 2010 with Manning to access classified information on Department of Defense computers. He faces up to five years in jail. Manning downloaded four databases from US departments and agencies between January and May 2010, the indictment says. This information, much of which was classified, was provided to Wikileaks. The US Justice Department described it as "one of the largest compromises of classified information in the history of the United States". Cracking a password stored on the computers, the indictment alleges, would have allowed Manning to log on to them in such a way as to make it harder for investigators to determine the source of the disclosures. It is unclear whether the password was actually broken. Correspondents say the narrowness of the charge seems intended to avoid falling foul of the US Constitution's First Amendment guarantee of freedom of the press.
Why did the Ecuadorian embassy stop protecting him?
The Wikileaks co-founder had been in the Ecuadorian embassy in London since 2012, after seeking asylum there to avoid extradition to Sweden on a rape allegation. The investigation into the" alleged rape, " which he denied, was later dropped because he had evaded the arrest warrant. The Swedish Prosecution Authority has said it is now considering whether to resume the inquiry before the statute of limitations runs out in August 2020. Scotland Yard said it was invited into the embassy on Thursday by the ambassador, following the Ecuadorian government's withdrawal of asylum. Ecuadorian president Lenin Moreno said the country had "reached its limit on the behavior of Mr Assange". Mr Moreno said: "The most recent incident occurred in January 2019, when Wikileaks leaked Vatican documents. "This and other publications have confirmed the world's suspicion that Mr Assange is still linked to WikiLeaks and therefore involved in interfering in internal affairs of other states." His accusations against Assange also included blocking security cameras at the embassy, accessing security files and confronting guards.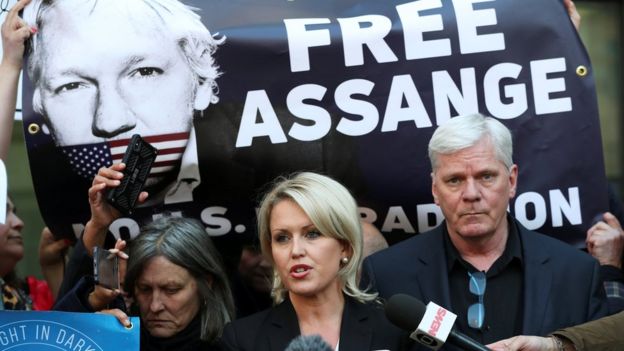 Mr Moreno said the British government had confirmed in writing that Assange "would not be extradited to a country where he could face torture or the death penalty". The arrest comes a day after Wikileaks said it had uncovered an extensive spying operation against its co-founder at the Ecuadorian embassy. There has been a long-running dispute between the Ecuadorian authorities and Assange about what he was and was not allowed to do in the embassy. BBC diplomatic correspondent James Landale said that over the years they had removed his access to the internet and accused him of engaging in political activities – which is not allowed when claiming asylum. He said: "Precisely what has happened in the embassy is not clear – there has been claim and counter claim."
How have people reacted?
Prime Minister Theresa May told the House of Commons: "This goes to show that in the UK, no one is above the law." Foreign Secretary Jeremy Hunt said the arrest was the result of "years of careful diplomacy" and that it was "not acceptable" for someone to "escape facing justice". But Labour leader Jeremy Corbyn said that Assange had revealed "evidence of atrocities in Iraq and Afghanistan" and his extradition "should be opposed by the British government". Press freedom organization Reporters Without Borders said that the UK should resist extradition, because it would "set a dangerous precedent for journalists, whistleblowers, and other journalistic sources that the US may wish to pursue in the future". Australia's Foreign Minister Marise Payne said he would continue to receive "the usual consular support" and that consular officers will try to visit him. And actress Pamela Anderson, who has visited the embassy to support Assange, said the arrest was a "vile injustice".
---
Timeline: Julian Assange saga
August 2010 – The Swedish Prosecutor's Office first issues an arrest warrant for Assange. It says there are two separate allegations – one of rape and one of molestation. Assange says the claims are "without basis"
December 2010 – Assange is arrested in London and bailed at the second attempt
May 2012 – The UK's Supreme Court rules he should be extradited to Sweden to face questioning over the allegations
June 2012 – Assange enters the Ecuadorean embassy in London
August 2012 – Ecuador grants asylum to Assange, saying there are fears his human rights might be violated if he is extradited
August 2015 – Swedish prosecutors drop their investigation into two allegations – one of sexual molestation and one of unlawful coercion because they have run out of time to question him. But he still faces the more serious accusation of rape.
October 2015 – Metropolitan Police announces that officers will no longer be stationed outside the Ecuadorean embassy
February 2016 – A UN panel rules that Assange has been "arbitrarily detained" by UK and Swedish authorities since 2010
May 2017 – Sweden's director of public prosecutions announces that the rape investigation into Assange is being dropped
July 2018 – The UK and Ecuador confirm they are holding ongoing talks over the fate of Assange
October 2018 – Assange is given a set of house rules at the Ecuadorean embassy in London. He then launches legal action against the government of Ecuador
December 2018 – Assange's lawyer rejects an agreement announced by Ecuador's president to see him leave the Ecuadorean embassy
February 2019 – Australia grants Assange a new passport amid fears Ecuador may bring his asylum to an end
April 2019 – The Metropolitan Police arrests him for "failing to surrender to the court" over a warrant issued in 2012. He is found guilty and faces up to 12 months in prison, as well as extradition over US charges of conspiracy to commit computer intrusion.
THE disembowelment of free speech
"I saw him, the way they dragged him down the steps, the coppers, he didn't look good. I'm 74 and I look better than him and he's 47. It's such a shock. For months and months he has been living like a high-security prisoner, he can't even go to the toilet. There have been cameras watching his every move"- said John Shipton, father of Julian Assange. If ever there was an opportunity for journalists to show they have more spine than a jellyfish it was with the released images of handcuffed fellow journalist Julian Assange being dragged by Britain's burly secret police from his betrayed sanctuary. This was the God-given moments when all who work for the Press had the opportunity to protest against Soviet-style state interference in the broadcasting of news. In any self-respecting country boasting a genuinely free press, journalists would have cleared their desks and announced they would not return until their colleague's release. Instead of clearing their desks the Main Stream Media's journalists hid under their desks. As the shocked world now knows we now live in a dictatorship with is no more democratic than was the Soviet Bloc's East Germany, dubbed the 'German Democratic Republic'.  In the Soviet Bloc and in Britain no one dare tell the truth for fear of losing their well-paid jobs that comes with Soros supplied perks.
Today, journalists have become hacks and hackers have become real journalists.
When the award-winning Australian journalist, Julian Assange, released footage of a U.S. Army helicopter gunship hovering over a Baghdad city street as its chortling crew machine-gunned defenceless women and children. Those killed in the gratuitous slaughter included two Reuters journalists. Washington DC went ballistic whilst the Main Stream Media, who had just lost two journalists in the slaughterhouse provided the silencers.  Indeed, instead of shooting the horrifying news the state's hacks shot the messenger, the leaker's goose was cooked ~ by his fellow journalists. This single cowardly massacre was a blatant war crime, one of a great many committed by American and NATO forces. This atrocity should have been headline news, priority for television and radio news bulletins. In reality, there was just one real investigative journalist, Julian Assange who had the principles to say " enough is enough "- and turn his guns on the political elite. His breaking news release news leak riddled the U.S. war machine and its obedient journalists with bullet holes.
"You cannot hope to bribe or twist, thank God a British journalist – But seeing what the man will do, unbribed, there's no occasion to."   – Humbert Wolfe (1885 ~  1940)
When Julian Assange learned of his imminent arrest at the Ecuadorian Embassy in London Thursday, he wasn't even allowed to go back to his room, because authorities feared he would hit a reported "panic button" with potentially disastrous effects, Ecuadorian Foreign Minister Jose Valencia said. As in the Soviet Union, the 'gentlemen of the press' obediently did all what they could to keep the damning evidence out of the newspapers and off the television screens.  Had it not been for the uncontrolled internet their readers would have been blissfully unaware of crimes being committed by Washington DC, Westminster and the European Union. In fact, Julian Assange had heroically gone where plastic journalists fear to tread. His rolling news exposé humiliated the fakers of plastic state journalism, exposed it for the sham it is, and removed the credibility of Western journalism. For this reason, there will be no mass walk out from news desks but the journalists guns instead will be turned on Assange. When the only journalist with guts and principles shot American foreign policy down in flames the media's credibility ended up in the wreckage too.
A CURSE FOR ENGLAND
A curse for England, false and base
Where nothing can prosper but disgrace
Where crushed is each flower's tender form,
And decay and corruption feed the worm,
The winner's shout, the loser's curse
Go with Old England's black funeral hearse.
William Blake
(1757 ~ 1827)
SOURCED;
https://www.bbc.com/news/uk-47891737?fbclid=IwAR3DAejrPFg9duoy95IGB2GewgbfPBt_y2a1Hnmg17knxr3vmizGSxS2VNM
BRITISH MEDIA NOT JULIAN ASSANGE STANDS IN THE DOCK
EDITOR's FOOTNOTE:
( The "Deep State" will NOT allow anybody spilling the beans on their murderous spree of destruction, chaos , wars  and plundering of free independent countries. They will make sure Assange is  locked up far-far away and so deep you will not even be able to shoot food to him with a  catapult from any contact with the outside world out of fear he may hit that "panic button" with potentially disastrous effects for the deep state and it's devious agendas again.  The Main Stream Media stray dogs live up to their devious treachery by not protecting one of their own- and Theresa May also simply keep tight to her agenda being a bloody sell-out for a few Soros silver pennies more as well. Jeremy Hunt also must stop lying! There were no " Years of careful diplomacy" either. Why don't the twat admit that Lenin Moreno also turned dirty politician as politicians  all are- and eventually accepted Soros "hand-outs" to stab Assagne in the back too instead of coming out with a cock-and-bull excuse of " reached its limit on the behavior of Mr Assange." About Hunt's statement regarding  "not acceptable for someone to escape facing justice" – I rather think Julian tried to escape facing INJUSTICE from a murderous secret clan that does not want it's dirty linen hanged out in the open. Hunt rather must keep his forked tongue in endless night! AND  as for  Michael Snow that said Assange's behavior was "the behavior of a "narcissist " who cannot get beyond his own selfish interest".- well- we believe that phrase is more fitting for Snow's own Free Mason handlers. -Ed)
WHITE NATION– WE DO NOT HATE WHITE LIBERALS– WE SIMPLY DESPISE THE FILTH!!
C'MON- SHARE OUR LINK