Do you have news to tell us? Send your e.mails with news and inquiries to: w.nation@mail.com
Register with us for free to follow our news on the right-hand tab
Article compiled and posted by: White Nation correspondent Cape Town 07 May  2019
SOUTH AFRICA– THE  PIRATE's REALM DOWN SOUTH
TOMORROW– May 08 2019- millions and millions of brain washed sheep in South Africa  will again flock to the ECC processing booths to sign  away their free will and consent for the political   mass slaughtering process that will last another 5 years again. AND they will – as ever again- vote the same racist butchers  back into power that slaughtered them for the past 25 years already. Some sheep will offer their hides to the ANC butchers- who already needs NO introduction to the evil side of political thuggery, murders, assassinations, bad service delivery , discrimination , terrorism and corruption. Some again  will give their consent to the   EFF- who also needs no introduction to the dark side of war mongering, instigation of genocides, looting, racism, destruction of property and hooliganism. Then you get others that will offer their hides to the Democratic Alliance- the godless fiefdom who brought repugnant abominations and cultures such as homosexuality, same sex marriages, transgenderism, LGBT, interracial sex and marriages, water scandals, exuberant service fees , taxes and levies to the shores of Cape Town. Others again will abdicate their freedom to the VF Plus– a Brotherhood watchdog organization that for 25 years have not done much in stemming the communist tide in South Africa bar " Big Talk" in Parliament- who's main peanut submitted his services for a few dollars more to the ANC terrorist rulers and who's party now totally became confused  and disorientated where  their destination is located- whether  the right or the left side of the political spectrum. Then you will get the few stray animals that will offer their hides to the "underdogs" such as the IFP , AGANG and  ACDP that only are non-important and non-productive silent winds that now and again quietly drifts through the parliamentary benches to pick-up updates of what actually is happening in parliament whenever they have a bit of time to kill in their busy private schedules splurging their humongous salaries to actually attend parliamentary sessions.
SOMEHOW this poor misdirected sheep think that by handing their total freedom to one of these useless greedy old wolves in Gucci suits will improve their daily struggle to survive the soaring taxes, petrol prices, ESKOM load sheddings, bad service deliveries, riots, out of control crime, state captures, corruption in government, looting of banks, plundering  of the state coffers , rioting and pension funds, etc, etc. And they have this fantasy that the same old political hoodlums and grinning criminals will somehow now honor all their lies and cheap promises they made during their election rallies and spat all kinds of nice looking rubbish on their election banners. What a pathetic bunch of naive retards this poor sheep must be to be snookered for the umpteenth time into literally a black hole of political trickery again…being prepped up for yet another 5 years of Soros-controlled  butchering indeed! May God have mercy on their souls as millions of disillusioned lambs again will be lined up to be silenced!
Voting stations all over South Africa are running low on ballot papers, leading to major delays on Election Day. Between isolated incidents of voter intimidation, electoral misconduct, late starts and grim weather, it's safe to say that Election Day has gotten off to a sluggish start. Yet, the greatest threat to a smooth and simple voting process is the dire lack – and obvious mismanagement – of ballot papers.
THEY already are showing their future colors…..and you TRUST them with your freedom and rights? There is not one other monitors of any other race exept black people at the voting point and computers. It is very easy to manupilate the computers. There should be a monitor of every race because we are so called "democratic ."  What grab !!! The voting is not going according to plan
ANC councillor linked to dead people listed on special vote list in Limpopo
https://www.facebook.com/jabu.thwala/videos/2324978674235334/?t=1
https://www.facebook.com/dana.kruger.754/videos/2663138980366839/?t=1
IEC official suspended over roadside ballot boxes
Is this How U going to Win Ma ANC?? Rigging Votes?? This was found today in the House of an ANC agent.. Is this How they Win Elections?? EFF make ppl wanna Rob Votes.. How come an ANC be in Possetion of this??  Corrupt ANC & u still want our Votes..
In a statement on Wednesday, the EFF said they condemned ANC members who were allegedly organizing themselves to vote twice in different voting stations around North West.
Party spokesperson Mbuyiseni Ndlozi said one ANC councilor was reportedly caught voting in two voting stations in Marikana. He named one ANC ward councilor who voted at the Marikana High School and Marikana Community Hall. "In essence these people remove the ink that is put on our thumbs, then go and vote in a different voting station. "We call on the IEC to tighten its systems to avert this madness of ANC thugs. No one must vote more than once. The principle is one person one vote. It is not only illegal, but a direct assault on our democracy." An anonymous caller revealed to talk radio 702 on Wednesday that he had personally proven that he was able to vote twice by going to two different schools in Westbury because his ink came off. There have been various calls and tweets about the voting ink coming off too easily.
Goudrif Ballot Box open. It is becoming increasingly clear that this election is being cooked.
Very concerned about the lack of control at Rosebank Primary , Rosebank JHB- my friend had voted and was merely walking along the queque with me – when we reached the table for me to receive my voting papers, they asked my friend for her ID, she showed them her ID and they were prepared to give her another set of voting papers!!!! She had to tell them that she had already voted
Meanwhile, the Election Commission in Mpumalanga said two electoral officials had been fired after the EFF filed a complaint that a ballot box had been tampered with in Ermelo. An EFF member recorded a video showing how electoral officials place ballots in an unsecured ballot box. The provincial IEC spokesperson, Sibusiso Nkosi, said the two electoral officers admitted that they had not followed the correct procedures, but denied doing so maliciously. According to Nkosi, the specific ballot box will be handled separately to determine if there were any irregularities. RSG 8 MAY
THE Social media has erupted in outrage over a viral video showing EFF supporters allegedly heckling an elderly woman. The video popped up on social media at around the same time the red berets issued a statement condemning the Independent Electoral Commission of South Africa (IEC) for allegedly allowing elderly voters who got the opportunity to cast their special vote on Monday and Tuesday, to do so again on Election Day. The issue of a potential flaw in the IEC's security system has been the talk of the day. Political parties and observers have been very critical about the indelible ink that can, in fact, be easily removed, allowing the possibility for chance-takers to try and vote at others polling stations This issue has caused alarm since people have been granted the ability to cast their ballot at any voting station in the country.
THE election farce…
https://www.facebook.com/WillieMoller/videos/10156363438990098/?t=1
The spokesperson for the Independent Electoral Commission (IEC) in the North West, Tumeloentle Thiba, confirms that a ballot box located in Ward 19 in the Ikageng township in Potchefstroom was indeed torched on Monday, May 6. Provincial police spokesperson, Sabata Mokgwabone, tells OFM News no arrests have been made in connection with the incident, but a case into the matter has been registered. Mokgwabone cautions angry residents that they are within their rights to vent their frustrations but this "must not impede on other people's right to vote", he adds. This as six people were arrested in Ganyesa on Monday, also for allegedly torching an electoral officer's vehicle on the day that special voting started. A ballot box was also reportedly torched. Mokgwabone says IEC officials are on the ground keeping an eye on the situation.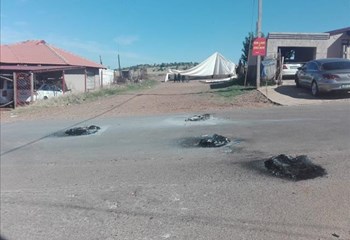 WITH SOUTH AFRICA GOING TO THE POLLS TODAY TO VOTE FOR THE COUNTRY AND THEIR FUTURES, THE "CHRISTIAN ALLIANCED PARTIES" STATE THE FOLLOWING
WE DO NOT ACCEPT THE OUTCOME OF THIS CORRUPTED ELECTION (commies dont call it "erections" for nothing)
WE CHALLENGE THE OUTCOME AS WELL AS THE ENTIRE PROCESS
WE CHALLENGE THE CORRUPT THIEVING ANC AND ALLIANCES TO THE VALIDITY.
DECLARING NOW, WITH THE AMOUNT OF FAKE VOTES, BOXES FOUND IN FIELDS, BURNED OUTSIDE CITIES, WE ISSUE A VOTE OF NO CONFIDENCE IN TOTAL LEADERSHIP 
WE STAND FOR THE EMANCIPATION OF THE ENTIRE PUBLIC, NOT RESTRICTED TO COLOUR, CREED, RELIGION, BELIEF OR SEX.
Thugs robbed a cache of weapons from the Belville POLICE STATION on Saturday evening (while the POLICE was "on duty?")
Last night thugs petrol bombed Klapmuts POLICE STATION and robbed an arms cache.(while the "POLICE" was on duty)
Tonight thugs pushed a POLICE VAN which was transporting weapons to Stellenbosch Police Station off the road near Stellenbosch at AF Louw primary school . They robbed the whole cache of weapons. (while armed POLICE was present)
SO..please explain and let's for once cut the bullsh*t "Babba Cele": WHO is loosing more weapons to criminals…the POLICE– or the public? WHO must protect who? WHO do you now again want to " disarm " and allow WHO to be the "only " ones carrying fire-arms you said????? 
WATCH how the South African Police "protect" it's citizens in the clips below.
https://www.facebook.com/125128337503452/videos/2604080212953277/?t=18
https://www.facebook.com/antonkoen4/videos/798956923810725/?t=1
WHICH political party's election poster boasted: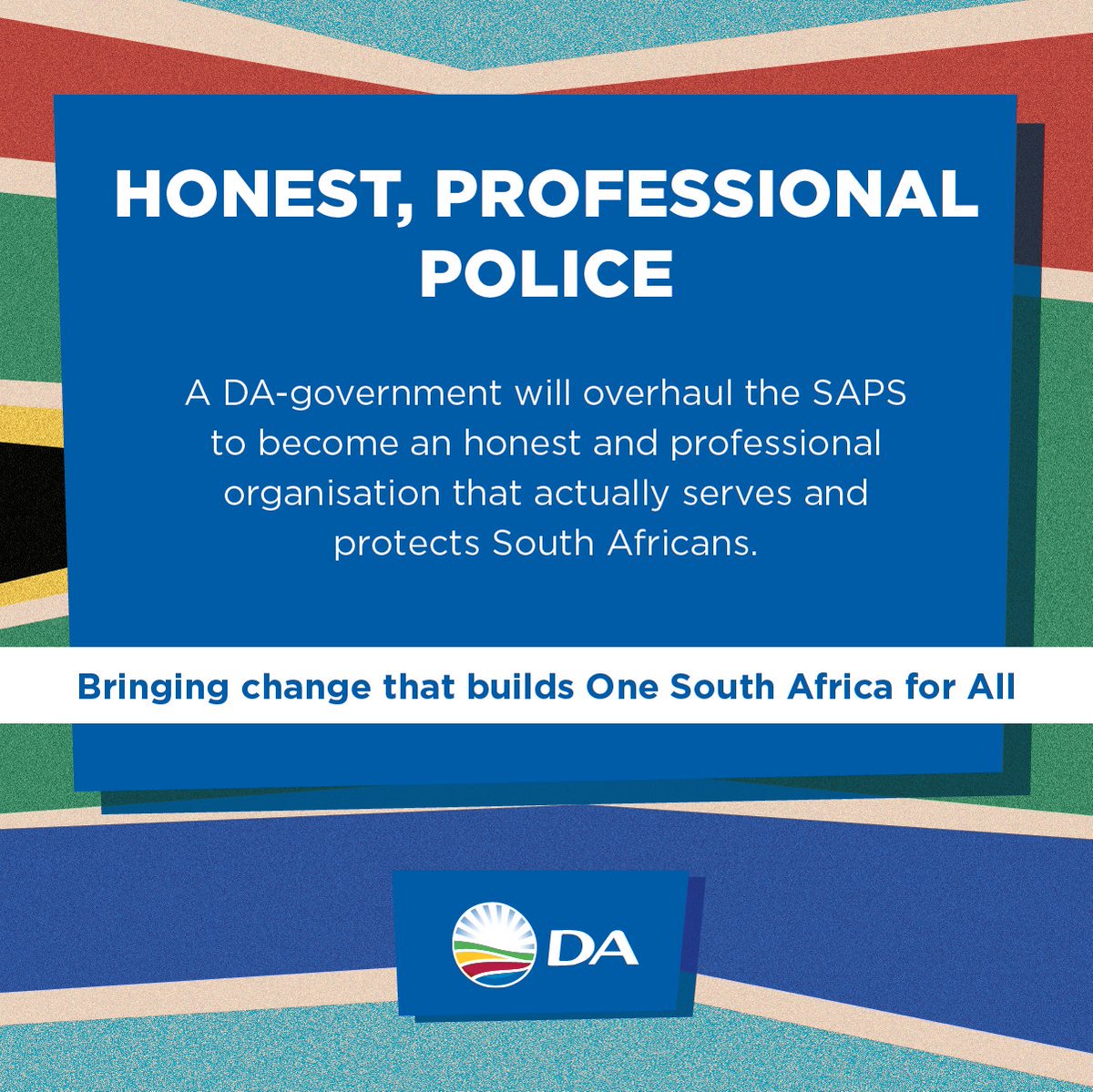 again? They cannot even control the police in their own PROVINCE– least a friggen COUNTRY!
Yea..it was "forward" all-right…"forward" into a financial and economical MESS that is! 
The"together" translated excludes whites, Colords and Indians we know.
LAST month, the DA submitted a request in terms of the Promotion of Access to Information Act (PAIA) for Eskom to release copies of all diesel contracts signed with Eskom from 1 January 2007 to 3 April 2019. This application followed Minister of Public Enterprises, Pravin Gordhan's scramble for diesel at Eskom. The fact that the terms of Eskom's emergency diesel deal is being obscured from the public is an indictment on the failing ANC, and only proves that the ANC and the "Squirrel" Ramaphosa have something to hide. The ANC's secretive and lucrative diesel deals have been made carelessly, without fear or thought for future consequences. This is yet another desperate attempt by the failing ANC incompetents  to keep the lights on until election day. Furthermore, it was reported that Eskom's chairperson, Jabu Mabuza, disclosed that the utility had approached PetroSA with an emergency request for diesel and spent an amount of R4.5 billion in just six months for diesel, far exceeding their current financial year budget for diesel which is R666 million. So desperate is the ANC that it has now resorted to spending billions it does not have in order create a false impression that there will be light at the end of their tunnel. The truth is that Eskom is on the verge of collapse and these temporary measures will not prevent the inevitable. South Africa is facing a dark and cold winter after being misled by Ramaphosa, whose only plan has been to keep the lights on till the 8th of May. Considering the severe mismanagement and corruption that has strangled Eskom over the past decade, we cannot allow the ANC government to hide the full details of any of their diesel contracts, leaving us in the dark with regards to the security and future of our energy grid. BUT you want to vote this "tsotsi" back nto power? 
Yea RIGHT– and then you ran to join the ANC payroll and still more than 400 000 whites languish in poverty in Squatter camps we noted! 
AND proceed with VBS corruption we noted…
SOUTH AFRICAN EFF MENTALITY BEST EXPLAINED: https://www.facebook.com/ian.golombick/videos/10219081429092342/?t=7
The way you "cleaned" the Transkei treasury before 1994 we take it? 
IF you plan to work on South Africa's future the same way you now work on attending parliamentary sessions we're  F*CKED!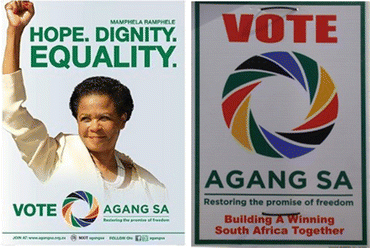 We suppose that is why you support the ANC…because of  misdirected "dignity" and "equality" 
And you- well…..I dunno WHAT sh*t you smoke- but it's GOOD stuff! You cannot even hold on to a party…..Independent Democrats…PAC… DA….now the Ganja Party…..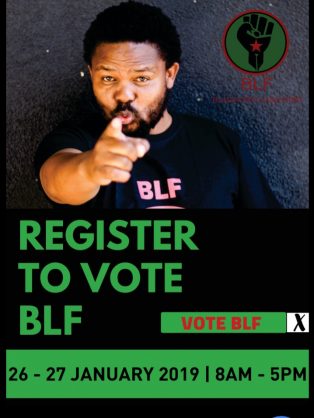 Lastly (and least) you are a very directionless opportunist . One of these days you gonna fall off your little high horse, trip over your IQ- and fall flat onto your loud mouth ego!
THIS is how you "politicians" you want to vote back into power allowed Durban to be f*ckd up!
NOW you can understand why the "majority" vote ANC….they vote with their bellies instead of their BRAINS!!
CRIMINALS– blood brothers in crime  of the ANC/EFF/DA politicians are allowed to vote. They can break into homes, rob you, hi-jack you, steal your car, murder your loved ones or do the most heinous of crimes possible- but in South Africa these scum have more "rights" than the normal citizen , do NO community service  to earn their keep, eat 3 meals a day, get all services free- AND have the right to vote. THIS is the biggest open air zoo created by the international world and the communist ANC…they FESTER and BREED  criminals who eerily enough- most land a hot seat in PARLIAMENT!
CAPE PARTY HIT DA A BLOODY NOSE
IEC Rules in favor of the Cape Party, against DA in poster dispute.
************
The DA's attempt to have Cape Party posters removed from all lampposts in the Western Cape has failed. Earlier today the commission ruled that the Cape Party was compliant with section 107 of the electoral act and dismissed the DA's application. "The DA has needlessly wasted time and effort with this frivolous lawsuit trying to suppress opponents in this election" , said Cape Party leader Jack Miller The IEC has made a final ruling on this matter after a 3 week dispute initiated by the DA. "The DA is desperate to control the Western Cape on its own and not to be held to account in a coalition with parties like the Cape Party" said Miller Miller's comments follow widespread condemnation of DA scare tactics in the run up to Wednesday's poll. "The DA has spent most of this campaign misleading voters in the Western Cape about so called wasted votes" said Miller
The IEC and several political experts have rubbished DA claims that voting for smaller parties amounted to a "Wasted Vote" "The proportional representation system used in South Africa means no vote is wasted" concluded Miller in a statement to the media. Inspirational life changing news that will transform your destiny! !! Pictured together is Jack Miller, CAPE PARTY President and the Western Cape Leader of AITSA (Alliance of indigenous and true South Africans ),as a symbol of unity and proof that we can overcome our differences when we talk openly and honesty with each other. AITSA, a formidable party with a reported membership of 200 000 and a solid foundation of representing especially Kaaplanders, will contest the Western Cape provincial election under the banner of the CAPE PARTY.
AITSA will not compromise it's identity and it's leaders will be allocated relevant placing on the CAPE PARTY candidates' list, some of the AITSA leaders are already on our list. The alignment between the CAPE PARTY and the ULA with its 350 000 members, plus the provincial support of the NKP and the FN supporters and now AITSA with its 200 000 members guarantees you the fact that you are supporting one of the big five in the Western Cape. Vote for the CAPE PARTY, if you as an AITSA member want to have your voice heard. THE Cape Party is making deep inroads in the previous predominantly DA constituancies- and for good reasons too:
1. The rest of the country will soon be in chaos (it already is)- and the Cape Party (with other smaller parties) want the Western Cape to secede from the rest of the bigger SA with it's own parliament' legislature and independent sovereignty.
2. The Cape Party want the death penalty re-instated
3. The Cape Party want all the taxes being brought back to the Western Cape
4. The Cape Party want to abolish AA and BEEE laws
5. The Cape Party want the expropriation without compensation abolished and protect private land owners' rights.
6. The Cape Party will re-institute the law forcing jailed criminals to WORK on community service programs outside jail to earn their keep- and impose strict sentences onto offenders.
This is only a few of the changes the Cape Party want to import into their rule.
STOP voting for any of the corrupt main stream political parties- take a new direction and vote for someone that can protect your rights and property. Stop being main stream idiots!
" There's a sucker born every minute" said PT Barnum . AND South Africa became the bloody  breeding ground for most of them. 
"Never argue with stupid people. They will drag you down to their level and then beat you with experience." –Mark Twain
"It's easier to fool people than to convince them that they have been fooled." –Mark Twain
"Fleas can be taught nearly anything that a politician  can." –Mark Twain
"South African  politician: A person who can holler the loudest without knowing what he is hollering about."- White Nation Ed.
"South African electorate: A bunch of naive blundering idiots that have their brains screwed-up the wrong way"- White Nation Ed.
SOURCE:
White Nation
White Nation is A-Political…but if we had no other choice but to support a political party...we would go for THIS one: 
WHITE NATION– WE DO NOT HATE WHITE LIBERALS– WE SIMPLY DESPISE THE FILTH!!
C'MON- SHARE OUR LINK