Do you have news to tell us? Send your e.mails with news and inquiries to: w.nation@mail.com
Register with us for free to follow our news on the right-hand tab
Article compiled and posted by: White Nation correspondent Pretoria 10 May  2019
SOUTH AFRICA– THE  PIRATE's REALM DOWN SOUTH
" On the other hand a ANC victory is actually a great thing for whites. We will no longer have to feel any shame or guilt for apartheid, we will be emotionally FREE at last. Now when you see poor blacks with no food, no job, living in shacks in winter, lying three in a hospital bed we can say "this is what people want, they are happy."Today we are absolved from any fault or guilt. Tomorrow the blacks again will start rioting against the same dispensation they just voted back into power yesterday. Enjoy your coming barrage of Eskom load shedding now!  NEVER underestimate the power of stupid people in large groups.""-ANNON
WHITE NATION long ago warned it's readers that politics is a dirty game- and very dirty as well. We advised it's readers not to part-take in this evil system of control, domination and trafficking of human rights called "elections." Democracies only is the fore-runners of socialism- which in turn again is the preliminary phases of communism.  Elections is just a smart way of obtaining your permission to do whatever the "controllers" want to do- good or bad- but in most of the cases- VERY bad- to eventually not act in the interest of the populace- but to  reach their own dark and most of the times- devious evil objectives. Democracies" is a socialist CONTROL system– and elections is the HEAD COUNT part of it.
Dividing the Afrikaner effectively
Now there are too many Afrikaner people – more than 3 million of them- that still are very confused and reasons- ( even truly believe) that elections is the "proper" way to appoint your so-called "political representative" in parliament to fight for your best interests. They even will tell you "At least your vote gave the xxx party 3 more seats in parliament.Now that is quite a noble gesture- or shall I rather say– "thought"- because politicians NEVER carries your best interests at heart.
Now there are too many Afrikaner people – more than 3 million of them– that still are very confused and reasons- ( even truly believe) that elections is the "proper" way to appoint your so-called "political representative" in parliament to fight for your best interests. They even will tell you "At least your vote gave the xxx party 3 more seats in parliament. You absent vote will give the opposite party more votes. " Some even reckons you do not "understand" politics in SA. Sadly it is them that do not "understand" politics in the global sense. Now that is quite a noble gesture- or shall I rather say– "thought"– when they believe their vote will make a difference and their "man" in parliament will "fight for their rights" – because in reality politicians NEVER carries your best interests at heart. Ever wondered why their is a Free Mason lodge at the rear of the Cape Town Parliament building? It's there for a reason. That is the place ALL politicians in parliament go to worship the same society and same god.
The "controllers" only will allow only so many "seats" of your party in parliament as long as they do not endanger their own rule. It is not the vote you cast that determines the outcome of the election- but those that count the votes that determents the outcome. Otherwise how come are there so much " vote-rigging" going around? It is for a reason…to prevent your party NOT to become a "liability" in Parliament and keep the control out of their hands. There always is some form of control or greed involved. Politicians are – except for lawyers and doctors that is- the worst form of materialistic predatory indulgence . Politicians always was- and always will be- controlled themselves by even bigger corporate ravenous wolves- commonly referred to as the "deep state."
It does not matter who that politician is- what he say- or what he pretend to stand for- behind his back there will always be the corporate wolves- at the ready to release their assassins if that specific politician does not "walk the line." History is rotten with the corpses of such politicians that dared to oppose this "deep state." JFK, Verwoerd, Ghandi, Bhutto, Sadat, Mubarak, Hussain, Ghadaffi, Terreblanche and many more are examples of politicians that dare oppose this "deep state" corporate filth. It all revolves around power to control- and money.
THE ELECTION CORRUPTION EXPOSED
Ballot papers that has not been counted hidden away in a store room. THIS is how you get screwed by the party that "have" to win.
https://www.facebook.com/WillieJordaanAtt/videos/2013460495629560/?t=0
THIS is some of  the corruption that took place during the "election"– but it will be declared "free and fair" because the " controllers" want it that way. THOUSANDS of ballot papers mysteriously went "missing." : 
FIRST:
The Independent Electoral Commission (IEC) said this was the first time it has faced allegations of multiple voting. Several political parties have lodged complaints, while South Africans took to social media claiming they were able to cast ballots more than once. Eyewitness News has seen videos of people able to vote more than once, easily breaching security measures at polling stations. The commission held a briefing just before midnight, as social media went on overdrive about discrepancies in the disappearance of what is supposedly indelible ink and claims of multiple voting. The IEC has confirmed it was investigating two cases of multiple voting brought to its attention. Commissioner Mosotho Moepya admitted that they have never crossed this road before. "We've never been here before, it's possible that something has happened. We're saying we'll pursue every one of these instances." In a statement on Wednesday, the EFF said they condemned ANC members who were allegedly organizing themselves to vote twice in different voting stations around North West.
Party spokesperson Mbuyiseni Ndlozi said one ANC councillor was reportedly caught voting in two voting stations in Marikana.
THEN : 
No evidence of double voting: IEC
"The IEC said there is no evidence of double voting. IEC commissioner Mosotho Moepya said this despite 20 arrests for electoral fraud. The IEC says some of those who were arrested didn't vote at all."
One queue 'for whites', another 'for blacks' in Wellington was not racist, says IEC, now we can just wonder if the white voters X are being counted or were it destroyed (video's included)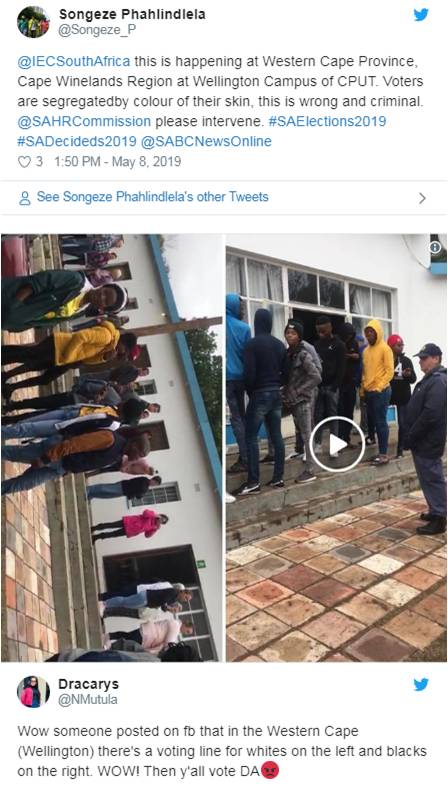 Speaking after a press briefing at the Western Cape provincial results operation centre (PROC) provincial electoral officer Courtney Sampson said he was told by electoral officers at the scene that the incident in which voters were apparently separated into two different lines according to race was not racist at all. During this morning's national voting day excitement, many took to social media to share their voting day experiences, good and bad. Among one of the more prominent incidents was various videos coming from a voting station in Wellington in the Western Cape where voters were allegedly separated into lines according to race.
https://www.facebook.com/LefighterPotisaMohlala/videos/325176738167633/?t=1
These corporate blackguards control all spheres of politics,- from the election campaign , the Electoral Commission- to the election result to the winning politician. There is no such thing as a "right wing" or a "left wing"– because both these sides of the equilibrium belongs and are controlled by the same vultures. Politicians are chosen – and NOT elected- to win because in the bigger picture- they are to serve their corporate masters in siphoning minerals and precious metals, natural resources, etc to these corporate Hyenas in return for lucrative back handers. We saw this happening time and again with the National party…and now with te ANC again. Does the names Renwick, Soros, Kissinger, Rupert and Oppenheimer sounds familiar to you? Such also was the case in the recent South African elections as well and that thank God – passed us by a day or two ago.
On the surface itself it was all too obvious there was much, much corruption, vote rigging and non-conformative tricks at play in the recent South African 'election" – and according to any reasonable observer's verdict- the whole election farce should be scrapped and thrown into the dustbin. But it won't. The ANC will at first only adapt a docile approach- then slowly turn off the media about the corruption surrounding the elections- and after a while turn on the media's volume up again – but onto a different station– one that suddenly leaves out the "corruption" part- and only propagate the "democratic" version. As time goes by- the corruption part will fade away into oblivion and the media will tell us all about the 6th "democratic" elections only.
It already was planned and set in stone that the ANC simply has to win- whether by vote- or by crook. And as it turned out to be- it ended up "by crook. " We already lambasted the Afrikaner's naive approach to politics in previous articles for their blind and blunt approach to the elections and the parties they want to support to "represent" them in parliament. It appears they all went for the VF Plus. Well- maybe in their desperation that was the least destructive of the two evils…but so did they also reasoned with the National Party , Conservative Party and the DA a few years ago.
What most of them do not realize is that the VF PLus is just another creation of the Afrikaner Broederbond- the same evil villains that created the National Party. The Broederbond never died- and so did their interest in politics also not die. They just changed the name of their previous failed and corrupt National Party to revive it into a new form and called it the "Vryheids Front Plus " to further confuse the poor naive Afrikaner – as they confused them with the creation of the AWB and the Conservative Party as well. It all is about creating devision among Afrikaners in order to control them better in separate "camps. " Then also is your beloved VF Plus flatly denying they are a party watching after white interests only:
"The Freedom Front Plus (FF+) denied being a white conservative party, saying it appeals to all races. FF+ MP Wouter Wessels says with the country's politics changing over years, his party has had to adapt." 
The Afrikaner– sadly never pay any attention in class of what's happening around him- and time and again stumbles into the same trap. Now they stumbled again between two equilibriums – The Freedom Front and the Front National…both supposedly "right wing" elements. Now if both was /is "right wing" elements- why create two OPPOSING sides on the same side of the fence? Why not create only ONE "right wing" element that could embrace and incorporate ALL white Afrikaners and so unite the lot…why two..or even more? All the "right wing" policies and ideologies should be the same is it not? So why do we have TWO "right wing" parties running for the same goal then? The Bible clearly states you cannot serve two gods at the same time- yet the Afrikaner somehow got the knack of doing just that. Again- the "deep state" managed to divide the Afrikaner into two camps .
TOTAL RESULTS ELECTION 2019 ARE: 
ANC 230 seats
DA 83 seats
EFF 43 seats
IFP 13 seats
VF Plus 9 seats
ACDP 5 seats
UDM 3 seats
ATM 3 seats
GOOD 3 seats
NFP 2 seat
AIC 2 seats
COPE 2 seats
PAC 1 seat
AL JAMA-AH 1 seat
BUT that being said- let us return to the ANC and why it was imperative that they had to win.
THE RUSSIAN CONSPIRACY:
Russian specialists planned to influence the South Africa's general electionin order to strengthen the ruling African National Congress party (ANC), documents seen by the Guardian and local media in South Africa suggest. The documents were apparently prepared by an organization linked to Yevgeny Prigozhin, a St Petersburg businessman who is close to Vladimir Putin. They promise a campaign "to support the ruling ANC ahead of elections" and to counteract and "discredit" the pro-western Democratic Alliance party. It is unclear whether the plan was executed. The plan was first reported by the Daily Maverick newspaper. Voting booths opened on Wednesday in South Africa's sixth general election since the first free polls in the country in 1994. The ANC has held power ever since but faces widespread discontent among voters angered by a series of major corruption scandals, power cuts, inflation and unemployment.
There is little doubt that the ANC will obtain a majority in parliament and that the incumbent president, Cyril Ramaphosa, will get a new mandate. However, supporters say he needs to show he has reversed a steady decline in the ANC's popularity if he is to implement an ambitious reform agenda that has stalled since he took power last year. The plan to interfere in South Africa's election was coordinated by a Russian political technologist, Peter Bychkov, who works for Prigozhin, according to the documents. The disinformation campaign was plotted by a Russian-owned NGO, the Association for Free Research and International Cooperation (Afric), under the guise of research. In February, according to the documents, Bychkov dispatched a small team of political analysts from St Petersburg to South Africa. They were based within Afric and another research outfit, the International Anticrisis Center(IAC). This appears to be the first time the Prigozhin network has been active in South Africa, but there is no evidence it had any effect, the paper said.
The documents were obtained by the Dossier Center, an investigative unit based in London and funded by the Russian businessman and Kremlin critic Mikhail Khodorkovsky. Moscow's goal was to tarnish the reputation of the leaders of the Democratic Alliance (DA) and the Economic Freedom Fighters (EFF), a far-left party headed by a former ANC official, the documents suggest. Tactics include "public rhetoric", "generating and disseminating video content", "coordinating with a loyal pool of journalists" and "producing pro-ANC videos". The documents include several pages of analysis that suggest the ANC will struggle to poll above 50% and that the EFF is likely to come second. This runs against most experts' projections, which place the ruling party on between 55% and 60%, the DA on about 20% and the EFF on 15% at most.
In recent years, Russia has sought to play an increasing role in Africa and to boost its military and political presence on the continent. In October, Putin will host an Africa-Russia summit in the resort of Sochi. The Kremlin's apparent strategy is to support incumbent presidents and to work against "pro-western" parties and reform movements. According to the US special counsel Robert Mueller, who investigated Russia's attempts to influence the 2016 US election, Prigozhin runs the notorious troll factory in St Petersburg – the Internet Research Agency (IRA) – and was responsible for an extensive social media operation in 2016 to mobilize support for Donald Trump and to disparage Hillary Clinton. Afric and the IAC are IRA offshoots, according to the documents. Prigozhin is linked to the Wagner Group, a paramilitary organization that has been active in several African states, including the Central African Republic. His political operatives popped up last year in Sudan and tried unsuccessfully to keep President Bashir in power. They also travelled to Madagascar ahead of elections there last November.
The South Africa operation was smaller and more lackluster than Moscow's recent extensive effort in Sudan. Nevertheless it appears to be an example of the Kremlin's ambition, opportunism, and desire to stop dead in its tracks any "pro-western" shift, whether in Africa or elsewhere. Bychkov denied any knowledge of the operation, the Daily Maverick reported, saying: "Yes, listen, well, if someone somewhere wrote something, it's a fantasy. I have never dealt with all this African politics. I am in St Petersburg and doing other things." The ANC has had good relations with Moscow since the days of  the  apartheid regime. It also is no big secret that secret services of international countries such as Britain, Israel and America also are very active in South Africa since the early years. They realize the ANC is rotten with corruption and thus an easy mob to cut special "deals" with. Jacob Zuma is one EXCELLENT example of such ventures- and Ramaphosa also is a very greedy African dictator to deal with. This then the reason why the ANC is so valuable to international gold diggers- they plunder South Africa's resources much more comfortably with such a corrupt regime in control.
https://www.facebook.com/danroodt/videos/10218821631635755/?t=458
SOURCED:
https://www.theguardian.com/world/2019/may/08/documents-suggest-russian-plan-to-sway-south-africa-election?fbclid=IwAR1IJ8K5zIa_jKv4GJIy_qk2j1_e4ys_QHEy3xWldhrcIYZ5-mBNj24L5Pw
WHITE NATION– WE DO NOT HATE WHITE LIBERALS– WE SIMPLY DESPISE THE FILTH!!
C'MON- SHARE OUR LINK