Do you have news to tell us? Send your e.mails with news and inquiries to: w.nation@mail.com
Register with us for free to follow our news on the right-hand tab
Article compiled and posted by: White Nation correspondent Cape Town  21 May  2019
SOUTH AFRICA– THE  PIRATE's REALM DOWN SOUTH
"For hundreds of years, Whites have been going to Africa to help "uplift" the Black race, and for hundreds of years Blacks have been paying back their generosity and altruism by literally eating them for dinner, raping and murdering them, yet remarkably Whites seem to be undeterred and continue to put their lives on the line for these savages. If the Black race were redeemable, we would have seem some results by now, but we haven't. They are a failed race, and even the best of them succeed only by literally aping what Whites train them to do. Of course, the Jewish-controlled media quickly sweeps these stories under the rug and write them off as "random acts of violence," and to a certain degree that's true, but only in the sense that Blacks are violent, and they randomly attack Whites for no reason other than the fact that the Jews have taught them a brand new term that the White man is "racist" – and symbolizes everything evil in their lives. This kind of violence was far more rare under Apartheid, which was actually good for Blacks, contrary to how the Jewish press portrayed it. If Whites simply abandoned Blacks to their own devices, Blacks would be begging Whites to come back and help them within a few years, like they are now doing in Zimbabwe."- Annon
ON the night of 15 May or early hours of 16 May 2019, another white farmer was brutally murdered during an attack on the farm Mynrust, near Vredefort in the Northern Free State. It was just another white farmer- and the horrendous tale of his agonizing death did not even hit the headlines anymore. In a country like South Africa where murder and crime is a daily occurrence topping that of a country in a civil war- news of murders became part of the very sick society South Africans became after 1994. A society filled to the brim with diversity, racism from both sides of the spectrum- and a society that lost their humanity.
South Africa really is in a bad state after the incompetent and violent ANC took control. The country spiraled into a cesspool of violent crime and chaos. It became so bad even South African paramedics started carrying guns this week – to protect their own lives as they try to save others' lives. Early on Friday morning, two Cape Town paramedics were held up at gunpoint en route to the Melomed Hospital in Mitchells Plain with a code red patient in their ambulance – they stopped to attend to a man lying in the road, but it was just a ruse for him to draw his gun and hold them up. Last week, the president of the SA Emergency Personnel Union (Saepu), Mpho Mpogeng, called on all the union's 7000 members to arm themselves following a spate of more than 30 attacks on members in the past six months. "Our position is very clear," Mpogeng told Independent Media on Friday. "We are treating fire with fire. "We don't have to be apologetic when dealing with crime because crime will remain crime."
This then comes as no surprise that another farm murder went by unreported…unnoticed- and forms part of the communist government's agenda to exterminate white property ownership in South Africa to please their globalist masters in Britain. Theunis Frederick Jacobus Bosch (73) was found on his property 30km outside Vredefort, in the direction of Kroonstad, next to the R721. His bloodied body was discovered on Friday morning 17 May 2019, with two small caliber gunshot wounds. The black terrorists responsible for his death  gained entry into Bosch's home by breaking a window and then making presumably a child climb through the burglar bars to unlock the back door. The farmer's ID, bank cards and .22 revolver are missing. No further information was released by the SAPS.
BUT  Botha was not the only victim of the South African notorious game of death. Also on May 16, Niels Muhl was attacked on his farm in Kroondal, a village situated in North West Province of South Africa with a large German speaking community. He was severely beaten, tied up and his black assailants had jumped on his head. Left for dead, he managed to escape, but the black terrorists had taken his vehicle, phone and farm keys. With great difficulty, he then reached his brother Mark's house about half a kilometer away. His vehicle was later found in some fields not far from where the attackers had left him. Niels was rushed to hospital with a broken jaw, several missing teeth and severe bruises.
Then the  body of another white farmer was found earlier in a river after a brutally attack on his Kapteinsdrift farm in Bonnievale in the Cape Winelands District on Monday, May 13. According to reports, Mr and Mrs Tool Wessels were attacked by four black terrorists  wearing balaclavas. Me. Liezel Wessels was found badly tortured and stabbed in the chest, wearing only underwear with a necktie around her mouth. The black butchers  had poured boiling water over her back, but the badly tortured woman managed to escape to a neighboring farm.The body of her husband was later found a few hundred meters from the home in a nearby river. He was shot execution-style through the head. Police spokesperson Lieutenant Colonel Andrè Traut said the circumstances surrounding the murder and attempted murder "are being investigated". Traut said four armed black suspects attacked the couple, both 55, in their residence and held them hostage. "The female victim who sustained a stab wound managed to escape and alerted police. The body of her husband was later discovered approximately 200m from the house," Traut confirmed. He said the suspects fled with two firearms and are yet to be arrested.
And so the culling of white farmers goes on indiscreetly- escalating in the face of the flat denial from the country's incautious ANC regime's Cyril Ramaphosa that farm murders does not exist in South Africa. Whites have lost their grip on Government entirely and have become fair game for the non-white majority. But the onslaught against white farmers not only subsist around the killing of farmers- it also dwells in other forms of genocidal operations by regime-perpetrated offenses against whites. In another incident on May 14, the storage buildings of a white-owned farm in Koster in the North West Province, were destroyed in an arson attack. The farm manager, Dirk Kruger, said the damage amounted to around R5 million after several farm implements and fertilizers were reduced to ashes.According to Kruger, the arsonists had doused the implements in fuel to set them alight.
On May 16at approximately 19h00 a white woman and her teenage daughter was traveling on the N4 highway near Onderstepoort in the Pretoria region when suddenly two of their vehicle's tyres burst- which subsequently forced them to stop and investigate. It was found that the road was deliberately strewn with rocks, sharp objects and litter with the intend to force motorists to be trapped. The woman driver immediately contacted her husband on her cellphone- who in turn immediately dispatched an acquaintance he knew that lives nearby the incident to assist. But the two women's fate were already sealed when suddenly a band of black thugs appeared from no-where- forcing the doors of the vehicle open and dragging the two hapless victims out of the car. The woman driver was forced on the ground near the vehicle and subsequently brutally raped. Her daughter was dragged off a few meters into the adjacent field and met the same fate as her mother- also indiscriminately raped after which both women were robbed of their belongings. And as the normal story goes did the black perpetrators disappear and the best the incompetent police in South Africa can do- is to "investigate" again. And there unfortunately- the whole incident will lead to a dead stop. Nothing about it will be heard of again.
In another incident a young teenage girl was also attacked by a black thug and also raped on a farm in Fochville near Gauteng.
Then on May 17 2019 another incident was recorded of a black thug attacking an old white woman- this time in her home in Kimberly. With a knife pressed against her neck and the chilling words "keep quiet or I'm going to kill you", is how a Monument Heights white resident was woken up early on Friday morning. The elderly woman, who lives alone, said she was sleeping in her bedroom when she was roused from her sleep by a figure with a blanket over his head at around 6.30am. It is believed that the black perpetrator  gained entry to her home through the study window where he broke the burglar bars with a wooden pole. The thug first went through the woman's entire house, opening all the draws he possibly could, before going into the kitchen and taking a bread knife out of the drawer and entering the woman's bedroom.
"He had a knife against my throat and he told me he would kill me if I didn't keep quiet. He then told me to undress because he was going to rape me. He also told me that he had four other friends waiting outside if I screamed or made a noise," the woman said after the ordeal She said that while the thug was talking to her, memories flooded back to her about an earlier incident when her black garden worker had attempted to rape her. After the thug had taken off her pajamas, he asked her where her cellphone was. "I told him I don't have one as a result of the last robbery. I thought I could bluff my way out of having to give up my phone as it had my family's contact numbers on as well as pictures," she said.
However, the thug pulled her naked body off the bed and started ripping the blankets and pillows off the bed in order to find the phone, which he did. She added that she then tried to bargain with him not to take the phone. "He asked for money because he claimed he was hungry. I found R200 in a hidden compartment in my purse and gave it to him. He then laughed in my face and told me he wasn't as stupid as he looked and obviously he didn't give me back my cellphone." All this time, she said, she was wondering where her dog was. "He normally barks if he wants to go outside, but I heard nothing." She said that while the thug  was ransacking her room, her dog eventually came in and the intruder ran to the dog and held the knife against its throat and said, "I told you to stay in the other room."
The victim  said that some of the items that were stolen held a lot of sentimental value to her. "My husband passed away approximately three years ago and I still had a lot of his clothes in the cupboard. It made me feel safe knowing that it was there although I was planning to donate some of it to the church. A lot of it was name brand clothing." Other items the thug managed to get away with was jewellery. "Fortunately I had a lot of costume jewellery on my dressing table and my more expensive jewellery was in a cupboard right next to the dressing table. Thank goodness he didn't go in there and take that." She said he also emptied out her handbag and took all of its contents. "My make-up and even some Beechies I had in it." She said that the thug ripped off all the mattresses in the spare rooms and threw the pillows out of their casings. "I think he was looking for money." Once the thug had finally finished ransacking the house he told her to stay in the room and wait 15 minutes before coming out. She said as soon as she heard he had gone she quickly got dressed and ran to her neighbors for assistance.
Then there is another incident where a farm attack took place on 17 May 2019, in De Doorns, Western Cape province. At around 21:15 five armed black terrorists violently assaulted an elderly white couple after which they were tied up and robbed.
The black thug  accused of murdering three Port Elizabeth women, including young mother Kelly Bain, has detailed how in between the brutal killings he went on a housebreaking spree across the city, helping himself to goods valued at more than R300,000.
 Laerskool Goudrand Afrikaans teacher, Linda Breytenbach, was murdered on Sunday morning, May 19. According to one of the late teacher's colleagues, Stefan Jacobs, the 66-year-old Breytenbach had been working as a teacher for decades. "We don't understand why this happened to her because she was such an angel," said Jacobs.
Family distraught after senseless murder: "He left behind his wife, two sons, daughters-in-law and grandchildren just for a car and a firearm he did not own." These painful words came from Louise Coertz, the daughter-in-law of Gert Botes from Witpoortjie, who died during a botched house robbery on 2 May. Botes, an elderly open-hearted community member of Witpoortjie, as described by his bereaved daughter-in-law, lost his life after being attacked by black thugs  with an unknown object.  Coertz detailed the traumatic events. "At around 5pm on 2 May, Oupa (Botes) went outside to the garage to assist his wife with packing her work items into the car for the next day. Three assailants jumped over the gate and in the garage they attacked him by hitting him on the head with an object. His sister-in-law cam out to see what was happening and was beaten as well. She was taken to her bedroom, which was ransacked as the attackers searched for jewellery and a firearm," she said. "Oupa's wife ran out to find help but nobody could come to her aid," she further explained.  According to Coertz, this was not the first attempt to rob the property. "On 27 April at about 7.30pm while Oupa and Ouma were getting ready to go to bed, they heard the dog barking outside. Ouma indicated to Oupa that someone had broken the burglar gate and was at the door. The intruders subsequently broke the door but when Oupa called for help, the men fled the property," she explained. Coertz added that the two cases were reported and that the police believe they are linked. She said that the stolen gold Corsa with registration HD 51 CP GP was still missing. Roodepoort Police confirmed that they were investigating a case of armed robbery and murder on the property.
WHO would ever forget the horrendous murderof Amaro Jose Viana, a South African of Portuguese descent n 2012 , was first gagged and then drowned in a bath full of boiling water because he would have been able to identify his family's assailants, according to court reports? The sobbing child had been forced to watch as his father Tony Viana, 53, was tied up and assaulted with a machete  and a golf club before his mother Geraldine was raped and then shot with his father's gun. His father was then also shot dead and the family dog's stomach was cut open.  Patrick Radebe, 24, the family's gardener, Sipho Mbele, 21, their domestic worker's son, and Sphiwe Motaung, 20, were led back to the cells laughing after Radebe and Mbele pleaded guilty to three charges of murder and one of rape and Motaung pleaded guilty to house robbery charges.
Or will we ever forget the callous brutality with which little Wilmien Potgieter, the 2-year-old daughter of Free State farmer Attie Potgieter was murdered in 2011? , During  the autopsy it was found she  had a cut to her head caused by a sharp instrument and then she was shot dead. This was the evidence the Free State High Court heard  when six black thugs accused of killing the Potgieter family on their farm near Lindley in December 2010 appeared in court.  The thugs, aged between 18 and 33, pleaded not guilty to three counts of murder one of robbery with aggravating circumstances and other charges relating to the illegal possession of firearms and ammunition. The six are Stemmer Mofokeng, 23, Tapa Mofokeng, 34, Paulus "Vusi" Khumalo, 23, Tshokolo Lelala, 19, Telleko Seekoei, 20, and Diphapang Motaung, 18, all from Lindley.
151 wounds

Giving testimony, pathologist Dr Robert G Book said that Potgieter, 40, had 151 stab and laceration wounds when he examined the body. Potgieter's wife, Wilna, 36, had several deep lacerations to the head and a gunshot wound to the neck. Indications were that the woman and child were shot at close range, he said. When asked by State prosecutor Jannie Botha on his first impressions of Potgieter's body,  Book said: "The deceased "had been tortured to death."Testifying on the autopsy done on Potgieter, Book said the injuries could have been caused by tools such as a garden fork, machete, spade or sharp knife, while other injuries could have been caused by a brick or stone. The State alleges the six attacked Potgieter outside his house with knives, a garden fork and a machete, killing him. They then attacked the woman and child inside the house and shot them, the State said.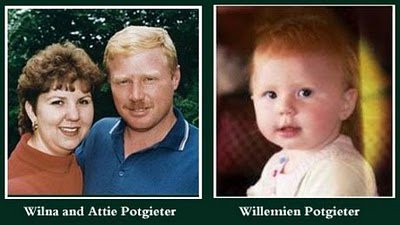 BUT the filthy media and regime always try to protect these callous black murderers under a barrage of "human rights" laws. Was it a politician and his family tyhat were brutally murdered we suspect there would be immediate retributions. The onslaught against whites by black political parties and blacks in general  became a national culture- not only by black terrorists on farms or vigilante blacks braking into white residences – or bands of blacks waiting next to roads to attack whites- but also by workers that work  feed off whites in order to survive. Such was the case on May 19 2019 when a white resident was brutally attacked by his black worker in the Brackendowns area in Alberton . A call was received for a stabbing that had just occurred. The white resident  was attacked by his gardener at 13:40 with a Ukapi knife. The black gardener is from Malawi and demanded  money. The villain  asked the resident  for a toilet-  and when the white resident  turned his back to unlock the outside toilet, he was stabbed unprovoked in the back multiple times from behind. He turned around to fend off the attack with his arm and was seriously injured in the arm and was also stabbed in the back and the leg. He survived the attack and the black thug fled the scene and was chased by security personnel towards the Klipriver road and subsequently arrested.
So far 126 farm attacks took place and 16 farm murders were committed since the beginning of 2019. Up to today there is  not ONE single case or incident registered where a gang of white thugs entered a black residence and murdered anyone- yet the vile politicians and sick South African media correspondents keep on blaming whites as the 'perpetrators." Under the false flag of "apartheid" politicians, the media and blacks in general are committing the most disgusting human rights abuses against whites- and time and again it get's blamed on "apartheid." They are so detestable they even create  their own "white on black" media-driven attacks to make whites also look like the "bad" guys – like the three cases of alleged " racism" committed by white farmers from Collligny, Reitz and Middleburg. So far the filthy South African media skunks are eerily silent about this dastardly deeds by blacks- but the whole liberal black world is up in arms because Hellen Ziille "offended" blacks by saying black privilege is to loot the state coffers- something the ANC scoundrels is a living proof of.
The resident that was attacked for no reason at all- and the vermin responsible for it. As always it is a black thug responsible for white attacks. 
Another form of this ostensibly orchestrated genocide agenda against whites is the so-called "land expropriation" plan the ANC, EFF and BLF are planning to impose on mainly white owned farms. To substantiate this reality is a  document purportedly distributed by the Black First Land First (BLF) radical movement, warning of their intention to invade white owned wine farms in the Western Cape. This document  has spread fear among white farmers – so much so that D'Aria Winery has sought an urgent interdict against the BLF organization. However, BLF ront instigator Andile Mngxitama said not even a court interdict would deter them from taking farms and warned they were planning massive land invasions, including the farms in the Winelands. This again is solid proof that the ANC regime who stole the previous election majority vote through utter corruption and vote rigging- supports this white extermination agenda.
The false propaganda and communist rhetoric against whites are driven from the highest ANC positions. ANC secretary-general Ace Magashule says "dark forces" in the ruling party are hellbent on distracting from the struggle for economic freedom and the battle against white monopoly capital. He was speaking at a memorial lecture in honor of struggle stalwart Walter Sisulu, held at the Waaihoek Methodist Church in Bloemfontein this week. In a prepared speech, he said it is unacceptable that the economy is still in white hands. "The struggle for economic emancipation of our people is and must be unstoppable. We can no longer be slaves in our own nation. We can no longer be counted as the poorest of the poor, while those who hold our wealth through historic theft still enjoy it," he said. "It just cannot be that 25 years after our first democratic elections, the control of the resources of our country is still primarily in the hands of white people, who are the descendants of colonists who stole our wealth and land in the first place. We cannot allow a few to be co-opted into the power structure (of the mainly white rich), while many, (indeed most blacks and African people) still remain poor. We cannot defeat white monopoly capital by allowing it to co-opt us."
Even the white Afrikaans language is not spared by the communist villains in control in their attempt to eradicate everything "colonial" from the face of South Africa. Top racist ANC cader Panyana Lesufi are on a hell-bent quest to destroy Afrikaans as a medium in schools. He already ended up in court in a battle to stop Afrikaans as a medium- but to his own surprise  he lost his fight. Lesufi lost his battle to force Hoërskool Overvaal' an Afrikaans medium school' to take 55 English-speaking pupils. In a unanimous judgment' the Constitutional Court dismissed his appeal and backed the decision made by the Pretoria High Court. In January' Hoërskool Overvaal' went to court to block the education department's attempts to force it to enrol the 55 pupils. The court found in the school's favour.  The ANC racist this week retaliated after licking his wounds – and has made it clear that Afrikaans schools will not use Afrikaans to prevent any child from going to school in the language of his choice. "My mission in this world is to reverse everything this man called Verwoerd has done to our education system," he announced in a tweet on Monday evening.
Uneducated Lesuvi again busy with his racist war against white Afrikaners.
So here the ANC les miserable  again want to shift the blame of the ANC's miserable education  failure onto Verwoerd again- the same as that other half wit Mnxitama of the BLF blames Zuma's persecution on "Apartheid" again. . The commi wretch  also referred mockingly to the Afrikaner  history and said that no laws would prevent children from being taught in any school before 1994. " Integration is our founder,"  he said. Afrikaans  Universities are now dead and Afrikaans parents will " unjust " their children not to become part of the ""- iow a merged socialist  picture where interracial sex, multiculturalism and interracial marriages are in the order of the day.  This is typical communist propaganda direct from the teachings of Karl Marx to wipe out all white Afrikaner cultures beginning with the mind- cloning of the  next generation "hybrids." 
HELEN ZILLE must have experienced  a moment of "enlightenment" after her career in liberal politics- now a fierce fighter for white privvy. She shook the liberal fraternity in their foundations this past year with some very painful reality check tweets about the false propaganda war against whites. Ostensibly her black boss- Mmusi Miamane back paddled like hell- saying: " "Any view that seeks to polarize South Africans on the basis of race is not a view I will support."– but he apepars to be VERY quiet about the discriminatory laws such as Affirmative Action  and the other 118 laws that specifically were fabricated to discriminate against whites. Maimane is just another example of black hippocracy whenever it suits him. 
Whites never can be the victims- blacks again can never be "privileged"- that will totally destroy the pillars onto which the fake land of "Pap and  Maheu " laws  of the populational enslavement rests. 
JOHAN PIENAAR– another disillusioned white liberal seeking fame that wages a war against white nationalism in South Africa- on a quest to ban the old Republican  flag. He ended up facing Steve Hoffmeyer in court this week.
The communist onslaught, the farm murders and the white genocide against the white minority in South Africa will continue irrespective  by whatever whoever disagree with it, irrespective how many voices raise against it- and which organizations lobby against it. The communist ANC and their British controlled media establishment merely shrug their shoulders and simply use the power of flat denial- with naturally white " enlightened" liberals such as Melanie Verwoerd, Martinus Van Schalkwyk, Koos Van Der Merwe, Max Du Preez,Cameron Dugmore, Koornhof, , Piet Croucamp, Debra Patta, Adriaan Basson, Carl Niehaus , Drek Hanekom, Carol Newham, Rob Davies, Nicki Güles and many others that joined the enemy ranks and working feverishly to discredit white Afrikaners–  either oppressing them – or  launching false  counter-propaganda campaigns  that all the "roamers" about a white genocide and that Afrikaners are targeted for discriminatory actions are totally fake.
Your standard white liberal trash…..now calling babies parasites. It's seems there is no depth to their depravity. No wonder they approve a white genocide. 
Another case of leftist hippocracy against whites……discriminate against them on the social sites.
We all know this is a blatant lie from the leftist media- which is totally controlled and bank-rolled by leftist mass murderers such as the Oppenheimers, Soros, British Intelligence, CIA  and Communist Party shenanigans. We also know that especially the British and ANC intelligence services are co-operating in Contelpro operations in   surveilling, infiltrating, discrediting, and disrupting Afrikaner organizations to keep them suppressed and  crush any white resistance against the politburo. This also the reason why Steve Hoffemeyer is attacked so ferociously. They also did that with other Afrikaner activists such as Eugene Terreblanche, Dan Roodt and Sunette Bridges- discrediting and demonizing their good names in their filthy media smear campaigns. And this offensives against Afrikaners  mostly was orchestrated and executed by WHITE liberal scum….not blacks! 
The Church Street bomb- May 20 1983- this was the legacy of the ANC which they today want to wipe under the carpet. The explosives and training were supplied by the CIA and British intelligence operatives  to the ANC terrorists to execute this dastardly act. They still are killing innocent people e-masse- but because of 3rd Force activities such as the South African Police, EFF operatives and Zimbabwean hired killers they employ today it is more convenient to deny any allegation of their role they play in farm murders. The ANC never denounced violence as a means to settle political scores- and they still proceed with that agenda today. 
In the wake of the commemoration of the Church Street bomb on May 20 1983 where 17 innocent people died and 217 injured and scarred for life- more white people are dying like flies today. The ANC never denounced violence as a means to retain political power- and as they always have been murdering innocent whites before 1994- murdered innocent people white and black in that Church Street bomb- they still are actively murdering people e masse today- black , white, Indian and colored. But the war against the whites are the most noticeable as it is a racist genocide specifically aimed at whites and a political instigated media psi-ops war to demoralize and discriminate against whites which is not the case with any of the other race  groups. The reason for this is that the Afrikaner Broederbond is behind the mass killings of the white Afrikaner. And behind the Afrikaner Broederbond is the British corporate establshment. The British empire never let go of it's stranglehold on the South African economy. Names such as Oppenheimer, Rothschilds, Soros, Natahan Kirsch and many other British power hungry wolves keep on popping out of the Pandora's box. We already discussed in depth in a previous article the Afrikaner Broederbond's role they played in handing the country to a communist dispensation- and their evil influence they have on South African politics today. It is them that orchestrated the hand-over of the country to a murderous terrorist movement,  it was them that cavorted with the ANC in 5 Star hotels in Britain and elsewhere, it is them who sits on podiums with the ANC communists, it is them who sits in meetings with the ANC and EFF- planning new strategies to disrupt the country and kill the whites.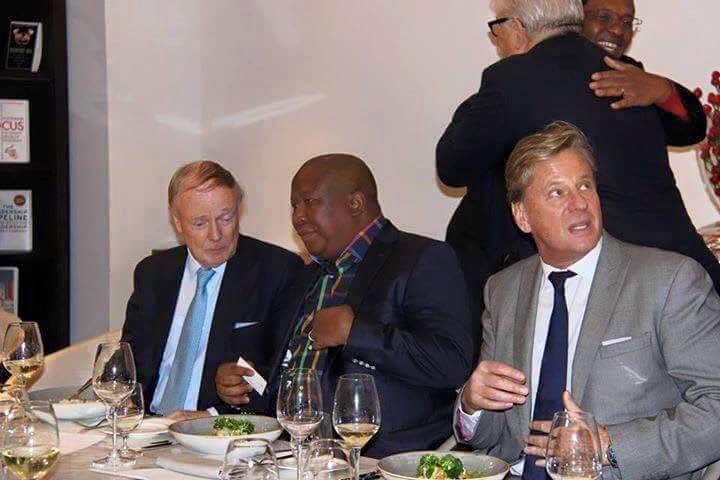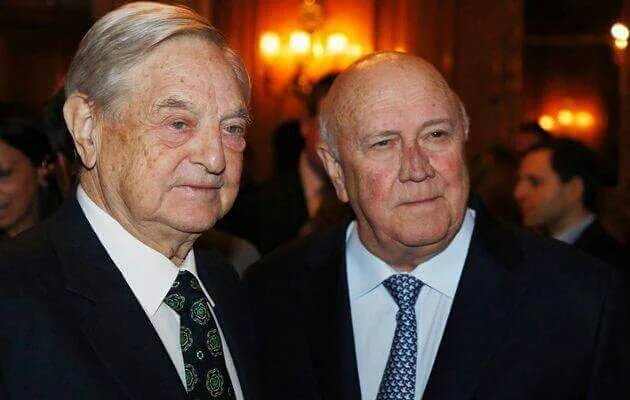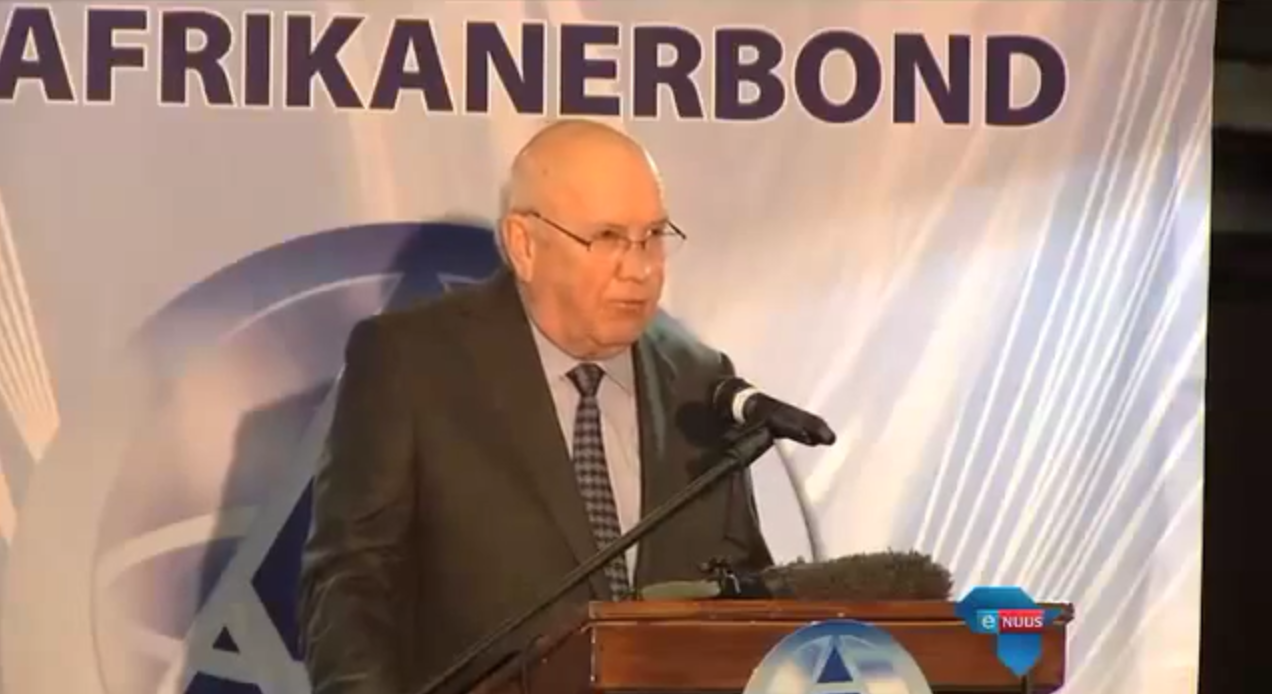 THIS is your "Deep State" responsible for the Afrikaner genocide in South Africa….NOT the ANC per se. They only act a useful idiots for a much bigger and darker agenda. 
AND here is the new ANC "chief whip" of parliament….Pemmy Majodina…good example of the type of clowns now running South Africa into the ground while literally thousands of innocent people are being murdered on a daily basis.
AND the  brutal farm attacks and murders continues……the roll call of death proceeds while the political filth are playing their little circus entertainment games…
AS we write this article another beautiful white woman- Annette Kennealy– was murdered by black savages. Kennealy was an activist against farm attacks and did lots of social work among the poor. She was brutally murdered on her farm where she lived alone outside Louis Trichard. It is alleged that she was beaten to death on her small farm just outside Louis Trichardt  according to a tweet from one of her good friends. Kennealy also was an old DA Councillor. . On May 19 2019 she made her last posting on her Facebook page.Ironically it was a posting about farm murders this past week. Never would she thought she would become part of that notorious  list herself  soon. She had her own website about farm murders. Maroela media report that:- According to information provided by Marius Müller, national operational coordinator of AfriForum, Kennealy's mother phoned her and began to suspect foul play when her daughter was not responding. She then sent someone out to the smallholding where Kennealy lived with a worker yesterday morning. This is where Kennealy's body was found. Kennealy lay on her stomach and had injuries to her left eye as well as an open wound to her forehead, and multiple stab wounds. A hammer lay on the scene and she also had an iron rod around her neck. . The black worker that was alone with her on the farm was arrested today after intensive police investigation – and team effort by a cluster team consisting out of   Brigadier vd Walt and Station Commander Col (f) Mabatha . W/O Hlongwane. W/O Mudau, Sgt Muneri, sgt Malange, sgt Musubi, sgt Ntsanwisi and Sgt Netshitandani, sgt Khosa, sgt Matshavha and const Tshivhas. Well done SAPS.
The last Facebook posting on May 19 2019 by Anette Kennealy.….an omen of this that soon also would befall her 24 hours later. Another innocent young life destroyed by those that cares less but for their own greedy compassions.
The white genocide in South Africa contentious unchallenged. And it continuous with the silent consent of the international world. The closest the White South Africans came to being aided by the international community was an attempt by Australian minister of Foreign Affairs Peter Dutton  who tried to assist white South African farmers to get a bit of leniency on visas- but he quickly was bulldozered by racist non-white media dregs who kept on sining "poor Muslim refugee" songs , his own spineless government- as as expected- the ANC murderers from South Africa. Donald Trump made one feeble tweet that he will investigate the farm murders too…but that was that. The whites in South Africa are left alone to fight for their own survival as they are being killed one at a time- systematically culling their farmers. Tomorrow another farmer will die again- and another the day after. And so will the genocide continue while Ramaphosa and his murderous ilk keeps on denying it to the world and white liberal scum keep on launching counter propaganda . What would their response be if 126 politicians and liberal pigs were attacked by whites and 16 politicians or liberal white pigs  already murdered this past year by white "supremacists?" Will they still vehemently deny that liberals and politicians are murdered in South Africa? Would the world and the leftist  at large also just sit there in silence? One wonders. If the white Afrikaner does not stand up and begin to fight their own battle soon- well- in a short span of 20 years there will be another repertoire of Africa Addio playing itself off again.
SOURCE:
White Nation
A tribute for  
Annette Kennealy

-a Facebook friend we all will miss ….rest in peace little sister. White Nation wish to convey  our sincerest condolences to her family about this tragic and unnecessary loss.
WHITE NATION– WE DO NOT HATE WHITE LIBERALS– WE SIMPLY DESPISE THE FILTH!!
C'MON- SHARE OUR LINK