Do you have news to tell us? Send your e.mails with news and inquiries to: w.nation@mail.com
Register with us for free to follow our news on the right-hand tab
Article written and posted by: White Nation correspondent Cape Town 07  June   2019
SOUTH AFRICA– THE  PIRATE's REALM DOWN SOUTH
#FarmMurders"The president does not comment on specific crime categories and won't voice an opinion on farm murders", according to his spokesperson.I am beyond disgusted.

Posted by Jillian Alcott on Wednesday, June 5, 2019
THIS past month of May 2019 saw an unprecedented escalation of rural attacks and murders on farms in South Africa. The attacks now seems to intensified as-if there is an urgent hidden agenda to execute some very sinister  agenda time- line  since Cyril Ramaphosa claimed  the presidential chair as his own in a soft koo-de-etat during the recent election vote rigging escapade that left most minority parties totally speechless. 
WHITE South Africans and white South African farmers have been persecuted for a while now. They are forced to fear for their lives. It was getting news coverage a bit at one point, and politicians promised a change would come. But things are only getting worse. Most stories do not even make the mainstream news. But this one did. This probably is going under the radar as it is not high up on the level of political correctness. Cyril Ramaphosa vehemently keep on denying the fact that farm murders take place– and also is very reluctant to act on pressure to look into farm murders. But then we understand why: Ramaphosa is an out-and-out black racist that hates white Afrikaners  with a passion. Remember his racist "Boil the white Frog" rhetoric? Further more can Ramaphosa not now acknowledge a hard fact  he just denied a few months ago. He knew he was lying – and now are hiding from his own lies by refusing to admit he lied. Such an dishonest and unreliable  word-spinner is Ramaphosa. There have been 184 farm attacks and 20 murders in the past five months, with Afriforum saying 16 attacks and three murders had been recorded in the Western Cape this year.
WHILE THOUSANDS OF CASES ARE REPORTED OF BLACK ON WHITE BRUTAL VIOLENCE AND GHASTLY MURDERS- NOT ONE CASE COULD BE HIGHLIGHTED OR TRACED OF ANY WHITE ON BLACK VIOLENCE OR  MURDERS. YET THE ANC REGIME BLAMES WHITES FOR "RACISM." IT IS TIME THE WORLD AT LARGE AWAKE FROM THEIR SLUMBER AND SEE WHAT REALLY IS GOING ON IN THEIR "DEMOCRATIC" MESS THEY CREATED IN SOUTH AFRICA. If the world at large claim the white genocide in South Africa to be fake- so also must the Holocaust be fake- for you cannot be  condemning the slaughter of one race- while in the same breath condoning the other. That qualifies  you as an ignorant hippocrate. 
Young Couple Murdered
It is almost too horrific to listen to this story. A young couple was murdered in cold blood as they waited for someone to come and help refill their car with gas on the side of the road. They were killed just because they were white. The two employees sitting in the back saw the whole thing. They were brutally beaten before running for their lives. But their lives will never be the same. How much longer will such horrific crimes go on for? When will the world actually get up and do something? For some reason, when it is crimes against white people, there aren't as many protests. There aren't people standing in the streets pleading for the White South African refugees to be brought into their country. And that is the sad truth.
Dan Roodt on murdered Afrikaner activist Annette Kennealy. This is also on YouTube but you can share this directly on Facebook as a Facebook video. Parts of this were broadcast on Russian TV.

Posted by Dan Roodt on Saturday, June 1, 2019
The number of farm attacks reported in the Western Cape more than doubled in the first five months of 2019 compared to the same period in 2018, says AfriForum. The organization announced farm attack statistics for 2019 at a media conference on Monday. A total of 184 farm attacks, including 20 murders, were recorded between January 1 and May 31. AfriForum said most of the attacks were recorded in Gauteng (51), followed by North West  (28) and Limpopo (27).
CASE 1
AfriForum said the Western Cape had recorded 16 attacks and three murders thus far in 2019. "Attacks in the Western Cape increased extremely, in such a manner that more than double the number of attacks were reported from 1 January to 31 May 2019 compared to this period in 2018," said Ian Cameron, AfriForum's head of community safety. In one of the latest incidents, which police described as a house robbery, 62-year-old wine farmer Stefan Smit, whose property was at the center of a land-grab conflict, was shot and killed in front of his wife by four armed black terrorists on Sunday evening. Police said Smit, his wife and a family friend were having dinner when four balaclava-clad men " allegedly entered through an unlocked door and shot and killed him". Cameron said one had to ask whether the murder of the farmer had something to do with land occupation. "The fact that one of his friends confirmed that he received death threats tells us that this was a risk for him," he said. "What is more concerning is that Smit was ill-advised by the institutions that were supposed to help him with the land occupation, which possibly could have led to a worsened situation." Cameron said according to AfriForum's data, farm attackers did not always steal money, but victims were usually badly hurt during attack. The  62-year-old Stefan Smit whose property was at the center of a land-grab conflict again  made international headlines .Smit was quoted as saying that he "couldn't breathe" as he watched people invade part of his property. An urgent interdict was obtained to clear structures built on the land and prevent more people occupying it.
THIS was the thug-Zola Andalasi–  that threatened Stefan Smit with death. 
A friend of Stefan Smit [ 62 ] believes that the murder of Stefan was not one of the many usual farm attacks but rather a hit. He believes this due to the fact that the attackers specifically targeted Stefan's house and walked past other houses , directly to his house on the wine estate Louiesenhof in Stellenbosch. He was shot to death by 4 black male terrorists who gained entry to the house through a door which was not locked. The friend who spoke on condition of anonymity said that Stefan received death threats and feared for his life.
Smit was involved in a court case to try and get illegal land invaders and squatters off his farm. Residents of Khayamandi invaded Smit's farm in July 2018 and started to squat on about 60 hectares of his land, which is in a family trust. The squatters erected about 1200 illegal structures on Smit's property. Smit did obtain an eviction order but decided against executing it because the land invaders threatened to plunder the town of Stellenbosch. Smit decided to rather look for a solution in conjunction with the Stellenbosch Municipality.The matter did not progress however. Smit was married to his second wife. His 2 daughters from his first marriage lives and works overseas. They are both in their 20's. 
According to a security officer who chose to remain anonymous and works in the Paarl and Wellington areas, the attacks have become more brazen. "They are getting more ruthless by the day, I've seen cases where old people were getting tortured for days before being killed, people burned with irons, people watching their daughters get raped." Stellenbosch Community Police Forum spokesperson Monwa Luxande said the community was also concerned about the potential economic impact of farm attacks.
CASE 2
Herman Schmulian says it was as if the devil was in the eyes of the leader of five farm attackers who attacked his family on their farm near De Tweedespruit, close to Cullinan, east of Pretoria on Friday. Herman lives on the farm with his wife Celest [ 63 ]. Herman's sister and her 2 small daughters were visiting them on the farm. The whole family sat on the bed early in the morning, talking. Celest got up around 0815 to make coffee. The family was not aware that black terrorists  broke through the kitchen window earlier. When they could not go further due to the safety gate in the passage, they sat in the kitchen , waiting for someone to get up and open the safety gate. Mrs Scumulian was surprised in the passage. She screamed and was hit over the head with a firearm. She fell and lay bleeding in the passage.

A terrorist then  pressed a firearm in Herman's face. The family was tied up on the bed whilst the terrorists started to gather everything they wanted to take, including TV's, rifles, phones, two way radios, hunting knives, basically anything they were able to carry. Herman says he could identify the leader and he says he could see evil in his eyes. He began to pray for him out loud. The thug became angry. Then the whole family started to pray. One thug, strangely enough, did not want the family to be physically harmed further. He indicated to the family they must keep quiet. He hid one of the cellphones and showed the family where so that they could phone for help later when the terrorists were gone. Mrs Schmulian who lay tied up in the passage said her husband has heart problems and needs his heart medication. The thug who left the cellphone was concerned and asked his fellow terrorists how Herman would get his medicine. His fellow thugs then pulled him away. The family could hear how the terrorists  loaded their loot into the family's dark grey Hyundai Tucson and drove away. Herman then succeeded to cut himself and the rest of the family loose with a small envelope knife and called for help. Neighbors, local safety structures, Police and Afriforum's trauma unit responded immediately.
Mrs Schmulian was taken to hospital for stitches to her head. No arrests have been made. The family conveyed their gratitude to all who came to assist them.
Hankey farm rape victim speaks out in court
According to Correctional services minister Michael Masutha, it costs an estimated R133,805.35 to house one prisoner per annum. The Judge has sentenced this piece of filth-Sebenzile Simane – to 173 years in prison for the brutal attack on the Hackney farm and he will be eligible to apply for parole after 25 years therefor costing the tax payer R3,345,133.75 million. This monster will never be rehabilitated and will just drain the Government out of money that would be more beneficial in other areas of society. WHY not bring back capitol punishment and get rid of this thug- and save the tax payer all that unnecessary expenses? 
CASE 3
My great-grandfather, grandfather and father were all farmers. I married a farmer whose family have farmed their land for 3 generations. It is with deep sadness that I stand before you today and say that neither of my sons will want to farm in South Africa! For 17 years I had the privilege of raising my 3 children on a beautiful citrus farm. They swam in the rivers and played in the orchards. They grew up free and fearless as all children should… Little did we know that our every move was being watched. An attack was being maliciously planned. Our lives changed in an instant at 8 pm on 23 March 2018 when shots were fired directly at my eldest son's head from outside, these shots missed his head by cm's. What followed was four hours of pure hell. I was shot as our attacker fired repeatedly through the doors of our home. I can only describe this as feeling like WILD ANIMALS being hunted.  The terrorist  shot through the sliding door of our bedroom and gained entry to our home.
The black terrorist held  the gun to my 9-year-old son's head and threatened to shoot him. I told my little one to be quiet as this man would kill us….. ALL I saw were silent tears rolling down his little cheeks for the next 4 hours. He tied us all up with fencing wire, so tight that our hands lost their circulation. He shouted at my children that he was there to kill their father and that he would chop him up in front of them. The emotional torture and level of anger that my children endured were persistent and indescribable. He repeatedly threatened to shoot my eldest son's feet off and then ordered him to rape me. All we could do was beg him not to. He then told my children aged 15, 13 and 9 that he was going to rape me in front of them, again I begged and pleaded with him not to expose them to this. He forced me to my bedroom and raped me there. There was blood everywhere as I had already been shot. I could do nothing as my hands were tied behind my back.
He then brought my 13-year-old daughter to the bedroom, undressed her and attempted to rape her…. Again, all I could do was beg for mercy so instead he forced my beautiful innocent daughter to watch as he raped me again. I cannot describe the anger this man displayed towards us and I knew that if my children had any chance of survival, I had to get this man away from them and the farm. You don't care about yourself, you just don't want your children to DIE. I gave him my bank cards and pin and persuaded him to let me drive him to town. He tied me up in my car and locked me in. I pleaded with him to let me go as I had started to go into shock from blood loss and needed to get to a hospital or I would die. Finally, at 12:04 pm he agreed. My brave petrified children had managed to phone a neighbor for help. For us as parents, the saddest part of this is that we can never give our children their innocence back. The children and I will never be able to live on the farm again, the trauma we experienced was too great.
We now live in the city, away from my husband who visits us on weekends. My husband has barricaded the house with bars and security. HOW SAD it is that he now lives alone in the house where he almost lost his beloved family. The first thing our children said to him after the attack was that they were so grateful he was not there as he would definitely be DEAD. This reality earlier this year hit me once again when I met 11 ladies who had been in farm attacks only 2 of us still had our husbands alive. We are not the only people who have been hurt and traumatized by our attack, our loyal farm workers who over the years have become like family are heartbroken, their lives have also been affected and their future is uncertain as we have already sold one farm and are contemplating selling the other. Our family needs to be together again. The ripple effect of each and every farm attack not only hurts the farmers but also each and every South African. Who will feed our nation when there are no more farmers to work the land?
The level of violence and cruelty we experienced is not unique, it is becoming a daily occurrence and is escalating at an alarming rate in South Africa. My family and I had no choice in what happened to us that night, we do however have the choice not to let it define us. We choose to live, and we will be eternally grateful to have survived that night. It could have been so different…. I would like to thank AfriForum for all their support counseling and for standing by my family during this ordeal. Lastly, I would like to appeal to each and every South African to remember the words of Nelson Mandela: "We can change the world and make it a better place. It is in your hands to make a difference"  Sibenzile Simane has been found guilty on 18 counts for the brutal farm attack last year in Hankey. The ex farm worker shot the Mother who lived on the farm before raping her twice in front of her daughter.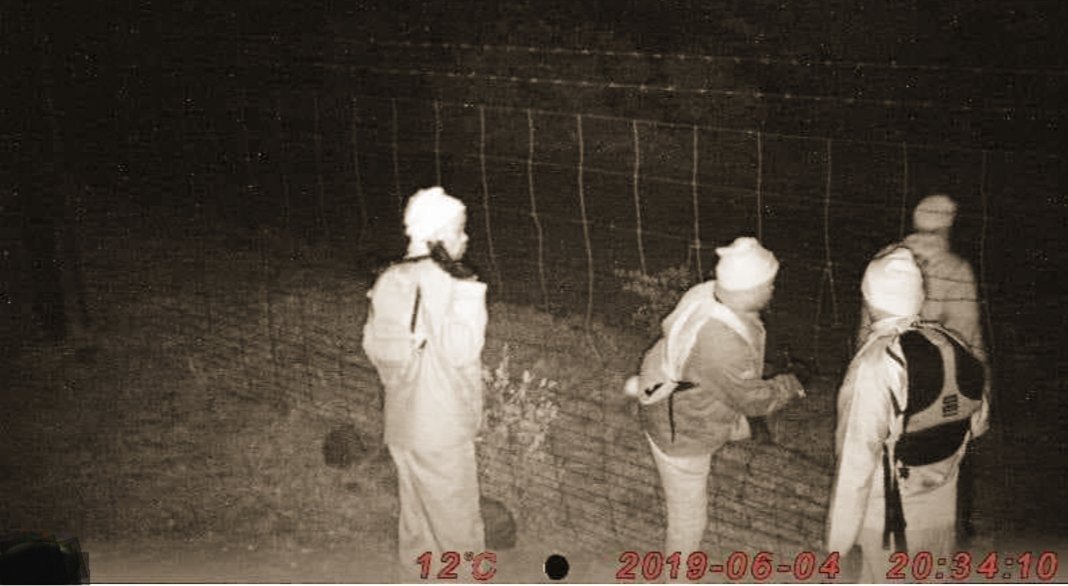 Police confirmed a third farm attack in the Cape Winelands on Wednesday. The Western Cape government said the area was becoming a hot spot for farm attacks. On Sunday, Stefan Smit was killed on Louiesenhof Wine Estate in Stellenbosch. On that same night, an elderly couple's house was broken into on a farm nearby. The police's Andre Traut said the attack on the elderly couple took place on a farm in Devon Valley. "Three armed suspects gained entry to the house and threatened the two occupants, both aged 70. They fled with personal belongings and are yet to be arrested." During a separate incident on Tuesday morning, a woman was attacked by black terrorists n her house on a Klapmuts farm.
SOMEONE should sort out this mad dog before he thrashes the country into a civil war.
SOLID proof that the ANC regime is involved with instigating and support in the spite of farm murders- SANDF military automatic weapons and expensive high-tech jamming equipment found in the possession of military-style farm attack insurgents.
CASE 4
"They're coming!" These were the chilling words that a Stellenbosch Protea farmer shouted to his wife while doing a security check after hearing that a farmer in the region had been shot dead. "It's devastating," an emotional Gerald Knight told News24 about being robbed hours after Louiesenhof vintner Stefan Smit was murdered. "We've lived here for 25 years and right now, I feel like just leaving," said Knight. However, he has his Protea plantation to look after, even if he is in terrible pain from the broken ribs he sustained during the robbery. The Knights were ambushed by three black thugs  on Sunday night while doing a safety check following an alarming WhatsApp group message about Smit's murder. "The WhatsApp message told us to just close everything," said Knight. He then went to check if the back door was closed, and as he rounded a corner, he caught sight of somebody through the window. "I screamed at Marie. I said, 'They're coming.'"
Horror
Taking deep breaths in between relating the horror that unfolded, Knight said two terrorists  broke their burglar bars with a crowbar and attempted to enter the house. "I actually stopped them from coming in because I didn't know where in the house my wife was. Then, he [one of the thugs ] entered with a gun. And as he came in, he knocked me across the room into the kitchen cupboard. That's when I broke my ribs." He was hit on the leg by one of the men who was demanding to know where his watch was. "I have not worn a watch for 25 years," he continued. The second thug  ran through the house to find his wife who had by then locked herself and their dogs in the "panic room". The couple used to breed Dobermanns. Knight is convinced that their dogs would have been shot dead if they had let them out. His wife activated the panic button just as a third black thug  tried to get in.
Knight said they took a 32-inch television set, a camera lens that was on the kitchen counter, cellphones and his wallet. "They were literally in and out in five minutes. It was absolutely horrible." Their security company and the police arrived shortly afterward. "The police were fantastic," said Knight. Earlier, Western Cape police spokesperson Lieutenant Colonel André Traut said investigations were ongoing into the Louiesenhof murder as well as a robbery at the Glen Gall Farm in Klapmuts outside Stellenbosch on Tuesday morning. In that incident, a woman and children were robbed. At Louiesenhof, the Smit family trust recently concluded the sale of a portion of land on Watergang to the Stellenbosch municipality for R45m after it was occupied by a group of black illegal squatters  who renamed it "Azania. " The deal is still in the transfer stage.
CASE 5
A father of two in Pretoria North is in a critical condition in the Netcare Montana hospital after being shot in an alleged housebreaking early on Monday morning. "It's so unreal. I'm not okay; we are not quite okay. My husband is in the intensive care unit and is fighting for his life, "Lorna Schoeman told Rekord. It was a normal weekday for the Schoeman family in Great Danube Street in Hesteapark when two black thugs  suddenly entered the family home at 4:50 am. Lorna says she was in the kitchen making sandwiches for the kids for school when she heard the sound of a shattering window. "I heard how something was thrown through the window. The next moment there were two burglars in our house. "My husband was still half  asleep in the passage when a fight broke out between him and the thugs. The next moment the shots echoed through the house, "says Lorna. She said her husband, Jan, was taken to the Netcare Montana hospital by ambulance yesterday, where he was placed under sedation "The shots caused great damage. I just want my husband to recover. There is still a long road ahead; he is still critical, "says Lorna. The couple's two children, aged 12 and 18, were unharmed. "I can't believe they didn't shoot me either. I was screaming and shouting. I have never been screaming so much in my life. "I was hoping and praying that they would not hurt me or my children. The children are very worried about their father. " The two black thugs  left the after the shooting incident with the family's TV and a school bag from the Schoemans home. "I am so grateful for the ambulance that arrived so quickly at the scene and the doctors working on my husband. The Lord was with my husband and us yesterday morning. " A family friend asked Facebook to pray for Lorna's husband Jan. He was still in a critical condition by late yesterday afternoon. Police spokesperson Captain Matthews Nkoadi confirmed they were investigating a case of attempted murder. "The victim was shot in his upper body more than once before he was hospitalized. The suspects stole two television sets as well as various other items. "
WHILE the ANC and mainstream media in South Africa stay mum and in flat denial about the spite of farm murders- the topic hits the main stream media abroad BIG time…such as  Sky News – , Mail On Line–FOX News–  even in the Independent UK which is a very liberal pony tabloid- which reported the following:
"White farmers in South Africa claim they are being targeted in a series of brutal attacks over land that are being overlooked by police and implicitly encouraged by the country's parliament. Activist groups promoting the rights of white people in the country claim there have been 90 recorded attacks in 2018 so far, with one farmer murdered every five days on average. There is no official data supporting the idea that white farmers are more likely to be victims of attacks in South Africa, and the government strongly denies white people are being deliberately targeted and says farm murders are part of South Africa's wider violent crime problem. But the sheer brutality of the reported attacks – and the growing anger of a community in South Africa that believes it is being persecuted – are increasingly raising concerns. The Independent spoke to a woman who described how she was gang raped by three men who invaded her family home, and a man whose brother was gunned down at the age of 21 and said he believed race to be a factor in the killing.
Speaking this week, President Cyril Ramaphosa said his government would not support or allow violent land grabs against white-owned farms, of the kind which led  to Zimbabwe's economic collapse 20 years ago, calling this "anarchy". But observers say his ANC party is playing a dangerous game in a bid to win voters from the more extreme Economic Freedom Fighters (EFF) party, which sees land redistribution as an acceptable way to right historic colonial wrongs. "If I cry, my own people tell me I am a coward," Gabriel Stols, 35, told The Independent. "If I hate, people tell me I am from apartheid and if I get mad, they say I am a racist." Mr Stols lives in Bloemfontein, the judicial capital of South Africa. His younger brother, Kyle, 21, was shot dead by four assailants on the Hatari Game Breeders farm near the city last October. "Every night, when I go to sleep and I close my eyes, I can see my brother's brown eyes. The night when I saw his dead body and I looked into his eyes I could still see the fear he had before he was murdered." Amid reports of farmers being tortured for hours by home invaders, Mr Stols said it was "a relief for me and my family that my brother was shot and he died quickly". "What is happening to us is torture, it is slaughter, it is brutal – it is revenge," he contends. "The world doesn't know what is happening in South Africa.Last month the South African parliament passed a motion saying it will consider amending the constitution to allow the government to seize farmland without providing compensation – a move which the white nationalist lobbying group AfriForum, claims "projected and exacerbated" the view that attacking white farmers is justified.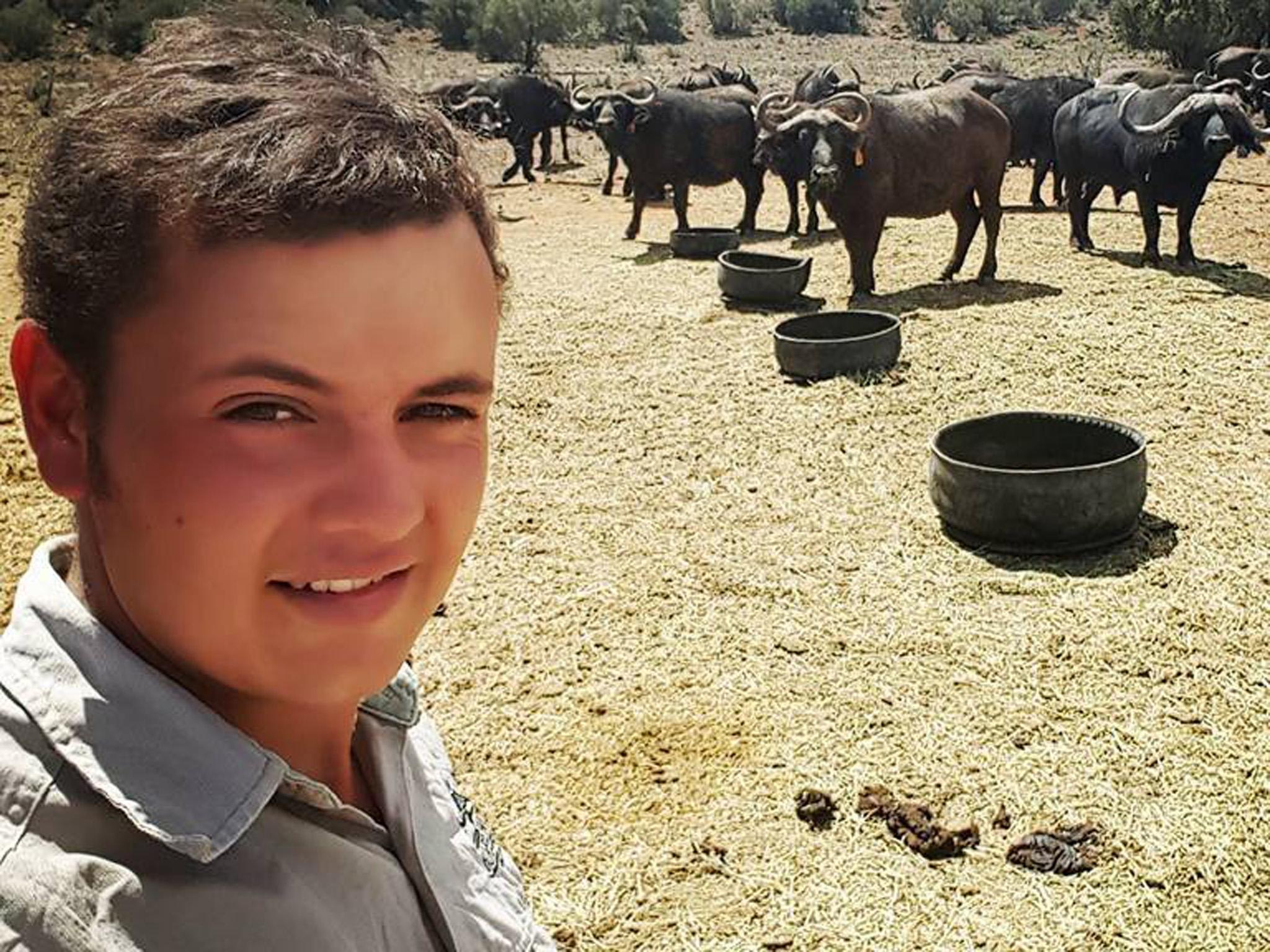 Hannetjie Ludik, 56, lives on a farm near the city of Pretoria. She wanted to waive her right to anonymity for this story.Four days before Christmas last year, she and her husband woke up after they heard noises in the night. "We found three men in our house armed with guns, they got in the back door with a crowbar," she said. "They started walking through our house taking all of our food. "One man took 2,500 rand (roughly £1,500) and kissed me on the cheek and said thank you. Another man with a balaclava came back and tied my husband's hands and feet and threw a blanket over him and showed me to go with him – I knew what would happen next. "Outside the house he said to me that he wanted sex, he took his gun and said that he will shoot me if I refused. I decided to live for my children and grandchildren and said that he must do what he wanted to. "Then he raped me, and I thought it was over. Then the next man came in and raped me and then the third man did the same."
IT appears even the leftist BEELD, RAPPORT  and ultra left Vrye Weekblad had an awakening about the farm murders! Cyril's blatant lies are about to catch up with him.
CASE 6
Facebook user:
My Dad and Mum … Willie Delport and Irene Delport were brutally attacked  at 3pm in their home in Carletonville on 3/4/2013 at 13:00 this afternoon. My dad was sitting in the backyard, when  three black thugs  opened  the electric front gate  with an iron softly off it's tracks and opened it, -and  they saw my dad sitting at the back of the house under the porch.They quietly entered the house and made their way to the back-door where they surprised my dad when he entered the house from the back. One of the black thugs grabbed my dad and slammed him on the ground where-after he start kicking my dad in the face and ribs while all the time telling my aged father not to scream for help- they are going to kill the old people today. Two other thugs suddenly appeared in the house and made their way to the main bedroom where my aged mother was resting and grabbed her as well.. They then took both my parents into the house where they continue to assault them- warning them not to press the panic button of the alarm system. They then forced my parents to tell them where is the safe- where-after they took my mother's firearm and jewelry. My mother continuously told the black thug God will bless him and he must please not kill them or continue hurting my father anymore. The thugs then took my parents to the spare room where they locked them up while they continue ransacking the rest of the house- TV's the microwave, Jewelry and a couple of other things. I just want to thank God for sparing my parents' lives.My dad ended up with some broken ribs and a smashed mouth- but   it could have been much worse. 
Farmers in the region are jittery after the murder and robberies, which happened soon after Bonnievale wine farmer Tool Wessels was killed execution-style and his wife, Liezel, was seriously injured in May. Condemnation of the attacks and sympathy for the victims have come from all quarters, ranging from farmers associations and political parties to farmworkers' association. Vinpro and AgriSA have appealed to Cyril Ramaphosa to take strong action against attacks on the agricultural sector and improve rural safety. Louiesenhof is ironically next door to Beyerskloof, which has hosted meetings between presidents and farmers, most recently Ramaphosa. Vinpro spokesperson Wanda Augustyn said: "As can be expected, the mood following the attacks is sombre. "From Vinpro's side, we are calling on wine-farming communities to be vigilant with regards to their own security and work together by becoming involved in policing or safety initiatives in their areas." Western Cape safety and agriculture MECs Albert Fritz and Ivan Meyer said they would urgently take up the matter with the police and the National Prosecuting Authority, adding that they would also start working on extra rural safety measures. In the meantime, Knight said they had not gone for trauma counseling, adding that he would prefer to work through it himself. However, they are receiving good support from their family.
CASE 7. 
Helga Van Wyk– brutally murdered together with her husband in their private home for no reason at all. 
Last night – 09 June 2019 – Helga and Johan Van Wyk was brutally stabbed to death in a double murder in their home in Durbanville in Cape Town by black thugs in yet another house incursion incident. Helga was stabbed in the heart and died on the scene. Her husband made it to the Medi-clinic and subsequently died of his injuries. NOTHING was stolen- and as with all the other murders by these black rogues- this murder also was senseless on two old people.  Helga was a teacher at the Monument Park High school in Brackenfell.
Lockdown on our farm today, 4th June, 2019 near Stellenbosch
' Yesterday we heard about a white farmer murdered on the other side of Stellenbosch, about 5-8 km from us. I tried to get as much information on the web as possible. Door open, I thought, why? At 6 in the evenings all our doors are closed. Animals inside. On go the beams, spotlights, make sure that all windows are closed, bolts on and no keys in doors. Not too much light inside also. Fort Knox will be ashamed = then it is on to the Farm Watch to see if all is fine in the area. When it is time to take our dogs for a wee the second phase starts. Gun in one hand, panic button in the other. One stands in the dark while the other is looking to see if all 11 dogs are fine. Sometimes you hear a dog goes into the bushes or paddocks. Now what? Running to get the others inside, we need to get to the security company to go investigate. Recently we added spotlights to see if there are anyone instead of going closer. No, ok, it was nothing and we are fine for now.
I feel like a cowboy, target shooting the washing line. Prepared, be prepared my husband said. Me, who is the "Salvation Army", of the Western Cape now focusing for a bulls-eye. So it goes on for the past two years after they attacked our farm in 2017. Earlier that year in April both my brothers died five days apart and then my dad in July. On 25 October 2017, I got at 2 in the morning a call on my cell. My sister in law and her twin girls of 15 screaming. I will never, ever forget that. My husband ran with the dog – a boot in one foot and a takkie in the other to go help. We didn't know about armed response then. Four black thugs  were busy breaking down my sister's bedroom door where they were hiding. White eyes, dark weapons, ready to grab the girls. While screams for help is heard all over the farm, they are getting excited because the white flesh is within their reach. You know what is lying ahead. Was it not for my husband and our dogs, the death count on farm attacks might have been more. Death in my family might be 6 instead of 3 for 2017.
Just two days earlier Joubert Conradie was shot dead on his farm down the road. People, where was I when this all happened? Leopard crawling up the hill to the workers to help my husband. In the dark I fall and had to crawl. I am not sure if it was fear, hysteria or pure madness that had me hyperventilating at 2:15 in the morning. Like a Hollywood scene, I can see my husband standing there, dogs all around him, fighting for the girls innocence. Now I am totally worked up, but this is only the beginning.We now have a security company operating from our farm 24/7. This morning a SOS call on the Emergency Group: another farm attack after Sunday 2 June's murder: @ 6:40 am a mother was attacked in with her small kids in the house. Her husband went to the shop.
Oh Sheila, this is also just a crow's fly from us. Suddenly wide awake we are waiting for the updates. Tears are flowing because why is this happening? On your own place, in your own house? You live from 5 am until 6 pm. Then it is lockdown. Now they even rob us of 5-7 am living time. I couldn't work, nor could we take the horses out to the paddocks … Why? 
Easy: we are on lockdown and waiting for the five men, heavily armed with guns, fleeing in our directions. Outside our farm, the white farmers, security companies and police form a cordon = all looking through narrow eyes to see into the distance. Focusing on every movement, every maybe can be a lifesaver. Helicopters in air = this is like a Hollywood special. Just we don't get paid millions. We receive a bullet and a coffin. Is immigration an option or not? What about my family here? My grandchild just turned 9. He loved our farm. You get hope, but then it crashes down and you ask: Where will we be safe? Not in South Africa.
I want you to read this and send it to your friends. This is how life is on a farm close to civilization, very close. What will you do my friend? You who stay overseas and read this. Tell your friends about our life here in Stellenbosch."
By I. Steadman
Jani Allen wrote:
"There is an insidious racism with which the West treats black African Marxist leaders. They are not held accountable to the same standards that whites are. The interrogation to which U.S. Judge Brett Kavanaugh was submitted last week had the assiduity worthy of a war crimes tribunal. At the same time, South Africa President Cyril Ramaphosa lied to the United Nations–with jejune consequence. Ramaphosa said that President Trump had been "misinformed" about white farmers being killed and that there had been no land grabs. Cyril Ramaphosa has just begun the process of seizing land from his own citizens, without compensation, purely due to their skin color. That's far more racist than anything President Donald Trump has ever done, but liberal elites in America don't bother with the details.
The hypocrisy of the Marxist African National Congress and the silence of the mainstream media who are their lap dogs is stupefying. In South Africa, in the nine years following the end of apartheid and South Africa's democratic election in 1994, more than 1,000 farmers were killed. The death rate by murder for South African farmers is 313 per 100,000, perhaps the highest for any group of people on Earth who are not at war. The murders are accompanied by torture and rape. The sadism of the attacks suggests either dark perversion or systematic terror. Old women have oil poured over them and are then "ironed" so their skin comes off in flaps. Toddlers are drowned in boiling water. Recently, a man was stabbed more than 150 times with a garden fork. Little girls are nailed to kitchen tables and raped over and over. Sometimes the attackers will stay for hours. They bring food and alcohol, as if to a bizarre hate fest.
Genocide in South Africa?
Dr. Gregory Stanton of Genocide Watch has even suggested that the killings could be classified as genocide. As Sir Thomas More famously said, "Qui tacit consentire"–my silence betokeneth consent. There are two opposing theories about the farm attacks. At one extreme, these attacks are seen as part of the "Second Revolution." The "First Revolution" was the takeover of South Africa by a black government. The Second Revolution, using terror, is the establishment of a radical black Communist society and the expulsion of whites. Driving the white farmers off their land is part of this process. At the other extreme, the attacks are seen as being purely criminal and without political guidance or motives. The white farming lobby is inclined to believe the former. It points to Julius Malema, the leader of the Economic Freedom Forum, who gets his constituents going by singing and miming "Shoot the Boer! Shoot to Kill! Pow! Pow!"
Former South Africa President Jacob Zuma was also wanting to sing songs about "Shooting the whites with my machine gun and seeing them run. Kill the Boer! Kill the farmer!' to cheering black crowds. The propagation of hatred from political platforms and the ridiculing of white victims in seldom reported by the MSM. Earlier this year, a land confiscation motion was brought by radical Marxist opposition leader Julius Malema, and it passed South Africa's parliament by a 241-83 vote. Malema has had a long-standing commitment to land confiscation without compensation.
'Not Calling for the Slaughter of White People—at Least for Now'
In 2016, he told his supporters he was "not calling for the slaughter of white people—at least for now." The land-grabbing sentiment is also expressed by Lindsay Maasdorp, national spokesman for Black First Land First, a group that condones land seizures in South Africa. He said, "We are going to take back the land, and we'll do it by any means necessary." The land confiscation policy was a key factor in the platform on which Cyril Ramaphosa ran. Ramaphosa has pledged to change the South Africa Constitution in order to legalize the seizure of property without compensation. Did anyone question his assurance to the United Nations? Of course not. George Ayittey, Ghanaian economist, in his book "Africa Betrayed" said, "White rulers in South Africa could be condemned, but not black African leaders guilty of the same political crimes." Zuma, who boasted an education of that a standard two pupil (the average 8-year-old), admitted to raping a girl on the desk in his presidential office. It provided no impediment to his presidency, during which time he stole billions from state coffers and enabled the state to be captured by an Indian family, the Guptas. No Western media has shown interest in this outrageous story.
No Criticism of Mugabe
I know of no Western government that criticized Robert Mugabe. The South African government supported and applauded him. The fact that Mugabe killed, raped and tortured tens of thousands of black people means nothing to the bien pensants in the West. Zimbabwe, South Africa's northern neighbor, formerly called Rhodesia, was southern Africa's breadbasket. That was prior to the confiscation of nearly 6,000 large white-owned commercial farms during the 1990s. By the turn of the century, Zimbabwe was threatened with mass starvation and was begging for food. Added to that tragedy, Zimbabwe experienced history's second-highest inflation rate. It reached 79.6 billion percent in mid-November 2008. (In 1946, Hungary experienced the world's highest inflation rate, 41.9 quadrillion percent.) Mention of South Africa's appalling crime levels just irritates the liberals. Any opposition politician who brings up the subject will be called a racist.
In Ernst Roets' book "Kill the Boer: Government Complicity in South Africa's Brutal Farm Murders," he writes of the direct involvement of members of the African National Congress government and South African Police in the planning and execution of these attacks. Seldom are perpetrators brought to justice. Case dockets are stolen. Investigating officers of the spectacularly inept police force are encouraged to be careless. Senior African National Congress politicians protect themselves against violent crime with fortified houses and phalanxes of bodyguards but do nothing to protect the ordinary people of South Africa. Combating crime is very low on the African National Congress' list of priorities. The editor of the biggest online newspaper in South Africa admitted that she "isn't interested in SA [South Africa] farm murders. They don't do that well for the clicks." Thus, it comes to pass that the beleaguered white tribe of South Africa has no voice. Ideologues try to make farm murders into an issue of land rights. There is little evidence of this. No black killer, to my knowledge, has expressed a desire to run a farm of his own. As land seizures based on skin color shows, South Africa is once again becoming a place where an entire group of people is targeted for discrimination and violence on the basis of their skin color. The ruling class now believes in collective punishment. It was wrong 25 years ago. It is wrong now."
Already serving 16 years for house breaking and robbery, DNA has linked Sizwe Jika to the murders of Kelly Bain, Ann Smit and Ann Ferreira. Kelly Bain was stabbed in the neck in front of her child in a botched robbery and Ann Smit was bludgeoned to death with a hammer, while Ann Ferreira was found murdered in her kitchen. Sizwe will appear in court on the 19th of June in relation to these charges. At a previous court appearance Kelly's Mother asked him to turn around so we can see your face and Sizwe just laughed.
#FarmAttacks making there way on to a farm, farmer call police. ETA 2 hour . The police tell the farmer to hide & not to shoot the attackers as it will be a murder but to wait till they make it into his home giving up his advantage Against  trained Hit squads #SouthAfrica
Ramaphosa's tone has completely changed on the conversation of farm attacks. When a news man asked him if the war on farm attacks is one of his priorities Ramaphosa snapped. "If it was real news it would have been on TV every night, stop drawing bad attention to the country over this, call it what it is, it's crime, not genocide. How can we build a country when it's own citizen are destroying it's reputation on the internet. You want me to engage on a problem that only exist on the internet?" Ramaphosa even touched on the time when Donald Trump sent people to South Africa to investigate farm attacks. "The social media is can be very misleading that even the president of the US thought farm attacks was actually a thing until he sent people to investigate the issue"
The killing of specific peoples is genocide. Usually it is not just the physical murder, it also includes language, culture, identity, racism and discrimination. The killing of farmers erases everybody's food security. The right to life. We have the right to life. If percentages of murders of all minorities in South Africa are calculated, it will be possible to determine which other, Khoi / brown, Black or Indian peoples are also wiped out.   If that is the case.  And if the police and courts do their job, when criminals are caught and prosecuted, it will be seen who is behind these murders. There are ways in which these criminals should be caught up to find out who pays them to commit the murders.   But just common statements and statistics of 50000 per month will tell nothing at the end.
What is the purpose to create a 5 or 7 star jail for criminals who don't deserve to stay in such luxuries with free medical services, meals and benefits? Why do criminals have so many rights, while victims have all the expenses to physically protect themselves and stay alert 24/7 ? Every criminal must stand for their own crimes they commit, and if it is murder, there must be no rights at all. The organizations that protect the criminals' rights must also be prosecuted. Criminals, especially murderers, rapists, must be placed in special places and no concessions should be made. Murderers can get together in one prison and keep each other's company.    The budget is high.  Why pay R14000 + per month per prisoner for their convenience and benefits. Our pensioners who have contributed so much to the country's development for years  deserve a miserable tip against what these criminals deserve.
Farmers cannot depend on Ramaphosa's administration to protect them. Ramaphosa deliberately ignores their pleas for safety- ironically it is this same farmers' taxes that pay for Ramaphosa's OWN VIP security guards and systems! Whites in South Africa needs protection– AND if it is denied, because we are here since 1652, we should obtain our own independent state so that we escape under communism which has made our lives hell for 25 years.   Why are the blacks and Khoi san still in separate areas then?   
It is a fact – South Africa consists of minority peoples. If all blacks stand together as one nation or "unity" they are called a "nation,"–  but they are not all at one page.   There are the millions that still living on Trustlands or CPA's. Whites are nothing of black or Khoi people and are a people of their own, with their own culture, identity, language, traditions, etc, but they are also different peoples in South Africa with western lifestyles. Afrikaners and Boers are part of this and are also not part of the Indian or any other ethnic people. Since 1994 Homelands just changed their names to "Trustlands. " So why all the "Apartheid" screaming and blaming whites if the current regime themselves still apply the same system and rules then ?   Landclaims and the legislation are only for Blacks and Khoi San / Coloreds.   Why all the lies of those areas that belong to the Khoi San and different ethnic Black peoples (Like Ingonyama Trust and Richtersveld).
BUT in Cape Town it appears that winds of change are blowing against Ramaphosa and his clique on top. The  ANC and the DA put heads together to fight the scourge of farm attacks, an agricultural expert has expressed concern about job losses in the whole agricultural value chain because of farm murders. On Wednesday, opposition leader in the provincial parliament Cameron Dugmore said: "We will resist the temptation to make crime a party political issue. "I have been mandated to set up a meeting later today with Premier Winde and a joint meeting with (National Police) Minister Bheki Cele as soon as possible. "Now, more than ever, we have to focus on a united strategy to make our rural and urban communities safe and secure for all. "As the ANC shadow cabinet, we are absolutely committed to working together with our national, provincial and local governments – and most importantly our communities – to make our province safe." Now Ramaphosa denies farm attacks and his party in the Western Cape acknowledges there is a huge spite of farm attacks. Howe is the Squirrel going to explain this to the world he lied to is another guess.
Now Ramaphosa's gangsters want to disarm private security companies as well- leaving the populace totally defenseless against this marauding black savages that stalk white residential areas and farms at night:
On the 31 of May two draft regulations amending the Private Security Industry Regulation Act 2001 (Act number 56 of 2001) namely Notice 295 of 2019 and 292 of 2019 was published The effect is to disarm the security industry . Below are comments regarding the most important points in the draft regulations. Note there were two separate draft amendment regulations published on the same day attempting to amend the same regulations, not to get confused between the two, the one is notice 295 of 2019 dealing primarily with firearms and the other is notice 292 of 2019 dealing primarily with uniforms
The proposed amendments include the following:
2 (f) "semi-automatic means a semi-automatic as defined in Section 1 of the Firearms Control Act" The Firearms Control Act 60 of 2000 Section 1, defines "semi-automatic" as follows, means self-loading, but not capable of discharging more than one shot with a single dispersion of a trigger. Draft Regulations 2 (f) reads "by the insertion after the definition of "restricted firearm" the following definition" – semi automatic means a semi-automatic as defined in Section 1 of the Firearms Control Act" However, there is no definition of a restricted firearm in Regulation 1 of the regulations that is being amended. So where is this intended to be inserted? There is however a definition of a restricted firearm in the firearms control act and possibly the drafter got confused.
2(g) of the regulations read: By the insertion after the definition of "semi-automatic" with the following definition – "shotgun means a shotgun as defined in Section 1 of the Firearms Control Act"
Note: Section 1 of the Firearms Control Act has no definition for a shot gun?
Regulation 13 A (16) Security business that renders security service requiring the possession or use of a handgun or shotgun must issue such firearm to a security officer as contemplated in sub regulation (2) only for the rendering of one or more of the following security services:
a) Reaction services or armed response;
b) Protection of valuables that are being transported (cash in transit);
c) Private investigators services;
d) Environmental protection or anti-poaching services;
e) Close protection services; and
f) Protection and security services at national key points
Therefore, a security company may not issue a handgun or a shotgun to any security officer for any security service outside of those definitions, for example vehicle tracking ( unless you try and massage vehicle tracking into one of the above service category's ( which is not defined) as well as armed guarding of any site. So now you have the ridiculous situation where you could have a vault containing one billion rand cash. You are no longer permitted to have armed guards to protect the site ( but don't worry you can still use a paintball gun, but there are now a whole lot of regulations about that too) as the assets are not being transported and it doesn't fit into the categories above. If a security company comes and fetches R100 from the vault to take to the bank they can use firearms including semi automatics as the assets are now being transported but the site itself ( the vault) can not.
Regulation 13 A (7) Security business may only issue a bolt action rifle, that is defined as a hunting rifle, to people involved in environmental protection services or anti-poaching services (and no other security service).
Regulation 13 A (8) Security business that renders security service which requires the possession or use of a semi-automatic, must issue such firearm to a security officer only for security services aimed at protecting valuables which are being transported.
Regulation 13 A (9) The possession and use of a firearm contemplated in sub regulation (8) (i.e. semi-automatic) is prohibited in respect of all security services rendered and can only be used by cash in transit or asset in transit operatives (unless recommended by the authority and approved by the central firearm controls registrar)
Note: The definition of a semi-automatic firearm used in the amendment regulations would include pistols, therefore according to this clause no security company, other than cash in transit, may carry a pistol, even if they are involved in anti-poaching, armed response, etc. Meaning armed response companies will now be limited to using revolvers or shotguns. (While it is debatable whether they had original intended that or it was just caused by careless drafting in any event that is the effect)
Regulation 13 A (10) The possession and use of a firearm on a public or private school premises by a security service provider when rendering security services is prohibited, unless stated in a contract that security service provided will require the use of a firearm.
Regulation 13 C (1) (m) dealing with offenses reads as follows: "Any security provider who possesses and uses a firearm on the public or secondary or private school premises for the rendering of security services …………….is guilty of improper conduct (and would be liable to penalties). Now this is in contrast to Regulations 13 A where they state that the use of a firearm while providing security services on a public or private school premises is permitted if it is stated in the contract that the security services providers will require a firearm. However, they then make it an offense to be carrying a firearm on a school premises irrespective of the fact that their was contract specifically stated that it would be required.  This would mean for example any armed response vehicle responding to the school would not be able to enter the school, even after hours, as the armed response officer would naturally be carrying a firearm, the cash in transit companies would not be able to enter the school premises and the school staff would presumably have to carry the cash out to the road. Should any teachers or learners be attacked, the armed response officers cannot enter the school premises as he is armed and also cannot leave his firearm in the vehicle so that he could try and assist unarmed as this is also contrary to the law.
Security companies already have
to comply with the Firearms Control Act as well as the Private Security Industry Regulator Authority Act and Regulations and related legislation, that they are regularly inspected by the designated firearms officer at the local stations, as well as inspectors from the Private Security Industry Regulatory Authority. When they apply for firearms, particularly rifles, they have to go through extensive application process which is vetted and dealt with in terms of the firearms control act and there is an appeal mechanism where the matter can be decided before the appeal board.  The security companies effected would have made applications to the central firearm registrar and after the CFR or appeal committee has applied their mind they have proved that the possession of those particular type of firearms are necessary for their work and that they have sufficient safeguarding facilities and trained staff and they have been issued licenses, which licenses have to be continuously re-applied for. During which process the security service provider has to prove it is registered, has sufficient qualified staff and it is necessary and still needs the firearms in question.
Now these new regulations is trying through the back door to effectively retract all those licenses. ( at lest you would not be permitted to use them) If the government wants to change the law and disarm the law abiding citizens of this country then they should attempt to pass a bill through parliament in the normal legislative process so that all the issues can be ventilated. If they feel that a security company should not have their license, with justifiable legal reasons, they can refuse to grant them a license to possess one .Should they believe that they should not have a firearm license currently because they are breaking the law, they can seize the firearms and prosecute them. There are procedures in terms of the firearms control act to hold an inquiry and to remove firearms from a security service provider. To decide that any security service that does not involve transporting assets may no longer use a semi-automatic despite the fact that their particular service may be a higher risk and despite the fact that they have satisfied the central firearm registrar that such weapon is necessary is completely arbitrary.
The idea that security officers are expected to take on gangs of poachers armed with AK47's with a revolver or a bolt action rifle or a vehicle tracking team is meant to track and arrest high-jackers armed with assault rifles without a firearm or at best (if you massage the definitions of services) with a revolver is laughable. As is the fact that it would now be unlawful to have an armed-guard guard any premises other than a national key point . Our company, as do hundreds of other, regulars come under fire from gangs of suspects armed with AK47 and other assault rifles. To say well they can apply for a recommendation from PSIRA to be allowed to use a firearm does help. Firstly on the day this regulation is implemented it takes effect and the use of firearms will cease except for a set out above. Their is no procedure put in place for applying or what guidelines they would use to make a decision. No time limited to make a decision and not independent appeal committee to appeal the decision and only applies to semi automatics. All of these process exist in the firearms control act already.
Crime is out of control
The SAPS cannot cope with the level of crime given the amount of resources they have. That is not in dispute by anyone including the SAPS themselves. Security officers are very often the first to come into contact with armed gangs armed with assault rifles and need to protect themselves and to the public. These regulations are open for comment until the 30 of June. We encourage you to get involved in opposing these regulations. Submits your comment and contact your member of parliament. These regulations affect the safety of everyone in South Africa.
Facebook control freaks try to silence the voice of the watchers around farm murders: The deliberate attack by Facebook on white nationalism
 As from yesterday SA Facebook is boycotting groups Admins to post anything about the attacks and murders of the white minority. It goes against their "community standards"  and they say it`is "spam " and "fake news . " All the thousands of whites killed is Fake news? The world may not know .
Writes a Facebook user: " All our reports of attacks and murder of whites are deleted by FB  and dismissed as "spam ." I have probably already  20 posts rejected by FB trolls. One of them is about a missing woman and that is what I get from FB.  Our Admins are openly boycotted by Facebook South Africa – which is staffed by blacks and liberals."
Another Facebook user wrote: "I post something then comes this f*ckin Facebook Tinkerbells and ban me for 30 days because I posted another f*cking farm murder! 
And another: " I am writing this in English as the watch-body of FB – FB then, accused me of hate speech with my post where I had said farm killers must be killed themselves. I have no other perception now to think that fb (or a stupid employee) back farm killers who are terrorists. FB kindly make yourself clear on this matter. Do you back farm-killers? Then also go on record that it's okay to get murdered on your farm and see your wife getting raped. Or explain to us what is your policy on farm murders? We would all like to know. Thank you."
Jew Tube announced on Wednesday plans to crack down on extremist videos on its site that advocate for neo-Nazi, white supremacy, and other bigoted videos. But You tube in all their Jew hippocracy said nothing about cracking down on balck racism and Muslim extremist postings….only white "extremists."
The new policy, laid out in company blog post, will ban "videos alleging that a group is superior in order to justify discrimination, segregation or exclusion."
The new policy will also prohibit videos that deny that "well-documented violent events," including the

Holocaust

and the shooting at Sandy Hook Elementary. (Yea Yea…look…the "Holohoax" will always be remembered and worshiped as it is a

HUGE

money-spinner for the "undead.") 
A YouTube spokesperson on Wednesday told Business Insider that "thousands" of channels will be removed as a result of the new policy.
MEANWHILE blacks have a free ticket to promote hate speech against whites without the social network hippocrats banning them. You can see HERE all the hate speech against whites without Facebook, Twitter, Instagram et al lifting a finger to ban this black racists.
IN our opinion the time has come now to take the final decision where we are going to. South Africa has reached it's point of no return and now are heading for a certain and total disaster- economically, socially, culturally – and "democratically." The international world's test tube rainbow baby has failed miserably in producing the goods the poor misdirected world was expecting from it. Now the same international liberal world that created the chaos turns their backs on the country they destroyed.  All the international Zionist Jewry succeeded in doing- was to destroy a once flourishing country..like they did with so many other healthy countries before and after. South Africa was handed into the hands of a total incompetent conglomeration of wild renegade terrorists- terrorists that spent their best years running their own bloody freak shows  in the bush-  and received their lectures in governmental development  in the cells of Robin Island's recreational facility. Whoever thought up this macabre pipe dream that Mandela and his treacherous bunch of savage communist predators could run a first world country effectively surely  was a regular inmate of a mental institution  himself.
South Africa today finds herself in deep shit….VERY deep shit indeed! What was built , developed and  created by the best minds in forty years of careful planning and strategic and scientific development was totally f*cked up in a mere short 25 years of corruption,greed,  ineptocracy and total mismanagement of the highest order. South Africa became yet another failed African state in the hands of a small clique of African tribal dictators. South Africa now are ruled by a clan of callous avaricious kleptocrats supported by a counterfeit sycophant media network. The worst kind of financial,social, religious, educational, scientific, administrative, security, welfare  and crime induced   abominations imaginable now are in the order of the day. Under the curse of the communist fascist autocrats the country was torn apart along social , racial and religious lines. Whole families were broken apart and left destitute. Whole communities were left impoverished with no-where to go. Super productive  businesses were destroyed and forced to flee by power hungry political glutenous wolves. A once flourishing economy now lies in tatters. Now the target for these covetous predators is  one of the last remaining productive sectors- the farming sector  and food supplying industry.
In the parliament the seats are filled with rapacious punchinellos who spent their best years in school battling to even pass Gr. 7 successfully. On a daily basis we are entertained by their idiotic non-sense squabbles , sleeping sessions, racist rhetorics ,  moronic illogical anti-white absurdity- and sometimes down-right detestable beer joint brawls. South Africa became the biggest open air spectacle and laughing stock of the world. Meanwhile 50  innocent people are being senselessly  murdered every month while this macabre bunch of uneconomical ludicrous anthropoids are having their own bit of political theatrical circus  fun around the pig trough at the overburdened taxpayer's cost.  When is this senseless  blood-letting  and human suffering ever going to stop? Where are those bogus "human rights"  organizations in all of this? Why is the United Nations so obviously silent about this gross abuse of human rights? Why must a whole population suffer at the hands of a small clique of rogue greedy and murderous political despots?  In the streets of the towns and cities a war is ranging between the forces of evil and the counter reaction forces of  rationality. While  delinquents of mobocracy seeks to mug, hi-jack, burgle, swindle and murder ordinary citizens like sheep in an abattoir- mobs of fractious hooligans are torching buildings, vehicles, yelling and screaming their heads off while burning tyres and looting businesses. On the highways humanoid scavengers  raid  cash transporting vans, plunder transport trucks and murder innocent children at intersections.
Black political archfiends the likes of Julius Malema continue to remorselessly  spew racial hatred and carnage from public domains without considering the terrible consequences of their malignant pithiness.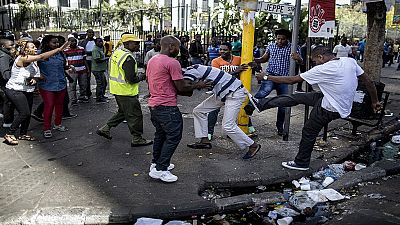 VIOLENT riots by  fractious black hooligans are torching buildings, vehicles, yelling and screaming their heads off while burning tyres and looting businesses are part of the daily South African life normal citizens have to contemplate with.
The lifeless bodies of two innocent white teenagers Janco Fleishmann and Jessica Kuhn lie sprawled out on the tarmac- murdered in cold blood by black racists simply because they were white. 
TRUCKS and cars been destroyed and looted by black scavengers waiting for them on overhead bridges with huge rocks and boulders to smash their windscreens in order to loot them…a daily occurrence in South Africa.  The aftermath of the attack on a truck N1 near De Doorns in the Western Cape. A truck driver was killed on the N1 near De Doorns in the Western Cape when a rock was  thrown through his windshield a week ago .
Whole white farming families are brutally murdered and societies torn apart by the lawless murdering spree of brutal black terror campaigns supported by political psychopaths.
The South African society  entered  a dangerous and perilous level of moral degradation and self destruction. Lawlessness and a reign of terror now became the apothegm  of the land as black political archfiends continue to remorselessly  spew racial hatred and carnage from public domains without considering the terrible consequences of their malignant pithiness .South Africa now harbors the worst kind of corrupt politicians, incompetent presidents, non functional state departments, imploding security forces,  hardened criminals, hideous news correspondents, treacherous liberals,   revolting syndicates , contentious white collar criminals and a total mentally disorientated populace. The country became the mecca of crooks from every walk of life. This is nothing to do with black or white. It has nothing to do with "you stole our land" ,  Jan Van Riebeeck or "previous disadvantaged" blacks. It never was and never will be. It's all about the destruction of a country and a whole nation by greedy foreign corporate wolves who has their lairs firmly anchored in the Bank Alleys and Wall Streets of London , Beijing, Brussels  and Washington. 
blob:https://www.facebook.com/5f833387-8fd1-4a5e-a871-92fe5348944f
WHAT IS A "SLOW WAR ?"
A "slow war " is busy happening in South Africa. If they kill a large number of white South Africans all at once, it will constitute genocide and the outside world will take notice and blame the ANC government. With a slow war, where a smaller number of whites are murdered each day in attacks like farm attacks, the world is not going to take notice and even South African liberal and black nationalist media is going to ignore it.  And so the ANC is getting rid of white South Africans in different ways. Some whites gets murdered, others flee out of the country out of fear. Others are slowly wasting away in squatter camps where they end up as a result of not being able to find a job due to BBBEE legislation that prohibits government departments and big companies to give jobs to white people. So keep on sticking your head in the sand, …. until its your of your family's turn to be murdered…
THE only small ray of hope and a chance of  salvation of this hopeless situation and survival of ordinary law abiding citizens lies in the dissension of the Western Cape through secession  from the rest of the miserable mess commonly referred to as the "Rainbow Nation" and all it's abhorrent racist fools . By secession, ridding themselves of the malicious DA by introduction of it's own parliament, closing of it's borders and introduction of a new strong  leadership the Western Cape might become the new promised land to those that seek safety, peace and prosperity for their children. By introducing firm law and order, it's own legislature and security forces ,discipline, re-instatement of capitol punishment and a return to the One Holy Creator the Western Cape might be the only hope and salvation for a nation that already are doomed for inhalation by the hands of  destructive greedy foreign corporate reptilian forces now tearing the country and it's peoples apart. By securing safety and discipline the Western Cape will lure many farmers suffering from violence , farm invasions and destruction of their property from other regions  into it's borders- thus protecting and securing it's own food supplies and also generating valuable food export valuta for the province. It could become the bread basket for the rest of South Africa and Africa as a whole. If this do not happen soon many more farmers will soon perish  at the hands of these ravenous black  predators that roam the streets and rural land by night- only seeking murder and jealous revenge for their own miserable failures as outcasts of society. South Africa soon will join the rest of impoverished Africa with all it's omens, rebel wars, starvation, a wasteland dependent on international food aid programs where only the ultra corrupt survive.
SOURCE:
White Nation
WHITE NATION– WE DO NOT HATE WHITE LIBERALS– WE SIMPLY DESPISE THE FILTH!!
C'MON- SHARE OUR LINK