Do you have news to tell us? Send your e.mails with news and inquiries to: w.nation@mail.com
Register with us for free to follow our news on the right-hand tab
Article compiled and posted by: White Nation correspondent Cape Town   March 15  2019
SOUTH AFRICA– THE  PIRATE's REALM DOWN SOUTH
Listen how Mandela bullshitted the people who idolized him as a semi God.

Posted by Stephen J Coetzee on Wednesday, November 20, 2019
THE African National Corruption mob is starting to implode…fast and furious that is. We have been long suspecting ( with solid proof that is) that the les miserables in the mafia mob in Lethuli-House has been running South Africa like an ATM machine standing in their own "hood." Since the State Capture , the VBS debacle and the Zondo commission the worms literally started crawling out of that Lethuli-house worm infested tin like a mini-Tsunami. Now another barrage of resignations are in the order of the day – and tremors are now rattling the windows of that viper's nest as those worms start to speak. AND the vibes  they make does not sound too  well for the rubble at the top. As we already mentioned in a previous article…the arch fiend's name "Zuma" just keep popping up time and again. 
Now we already have heard some strange noises coming from that old mobster Jacob Zuma and then another kingpin hoodlum David Mabusa– that should the mob dare acting anything close to being unfavorable to their liking- their will be some MORE worms crawling  – or like Bethabile Dlamini put it " Little Nyani skeletons" out of that slimy tin.  The latest worm to start spitting some really unsavory venom at the mob is  no other than one of their departing big she-males…Bathabile Dlamini  herself..and it appears she's bringing some more  " Little Nyani skeletons" with her indeed!   Bathabile Dlamini said she was made a scapegoat and an easy target as she resigned as a member of parliament on Tuesday. In a ten-page letter signed by Dlamini and sent to ANC secretary-general Ace Magashule, Dlamini spoke her mind on the state of the ANC and her role in the grants debacle of 2017. "I hold no grudge for being reshuffled and not being appointed," Dlamini said adding that there was "a lot of noise" aimed at discrediting her. She said in the constitutional court judgment against her in the Sassa case "not once was I proven to be corrupt". Dlamini insisted that ANC leaders must "have two ears" and treat all members accused of wrongdoing equally.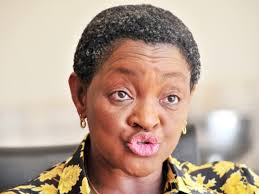 Dhlamini...want to talk about the "Nyani skeletons"…..
"Given the influence of the media nowadays and how it has been used to destroy some of us. The African National Congress has the responsibility of giving all of us a hearing, more particularly those that serve in the executive," Dlamini bemoaned. Her resignation from parliament on Monday came after Cyril Ramaphosa did not include her in his cabinet. Had she remained as an ordinary member of the national assembly, she would have lost her right to a significant pension as a former minister. Dlamini used her letter to Magashule to hit out at some leaders of the party, saying some of them have "made themselves look clean when that has not been proven". She said a challenge in the party is that there are people who think they "own" the president and the secretary-general, without elaborating who they were. "The very same people that complained about this during the past leadership are repeating this and I am not sure whether they think this is good when it is done by them," Dlamini wrote.
She further added: "It is also worrisome that these are members in the NEC that have fought all presidents from president Nelson Mandela, president Thabo Mbeki and president Jacob Zuma. I am waiting to see what they are planning for the present leadership." Dlamini claimed there were many foreign ( we guess British) behaviors creeping into the party but that no one was prepared to stop it. She bemoaned the state of the party before the Nasrec conference in 2017 saying, "the ANC has never attended a conference under such a cloud". Turning to the the controversy over the payment of grants last year, Dlamini accused her former cabinet colleagues of "treason" for suggesting the South African Post Office distribute social grants "when they knew the Post Office did not have the capacity to pay grants".
The Constitutional Court was forced to extend a contract between Sassa, which Dlamini was in charge of as minister of social development, and Cash Paymaster Services (CPS), even though the contract was found to have been illegal. She was accused to have failed to ensure that Sassa was equipped to administer social grants after the contract with CPS was due to expire. The court then ordered an inquiry to determine the culpability around the social grants crisis and in a subsequent judgment, the court described Dlamini's conduct as "reckless and grossly negligent"' saying she failed to disclose information before an inquiry into her role in the social grants debacle. Dlamini, in her letter to Magashule, said she found CPS at the department when she was first appointed and accused unnamed ANC leaders of making profit through CPS through their wives, saying those people are known but because they are well-respected by the party nothing has been said to them. "I have been made a scapegoat, an easy target," she said.
Dlamini further took a jab at former minister Jeff Radebe, saying "what happened when minister Jeff Radebe took over (the managing of the grants crisis) is a story for another day". "He started taking over the role of the minister of social development and no one raised the matter with him and I kept quiet. The whole process took another turn," she said. Dlamini also accused minister Pravin Gordhan of "working with the banks"."Actually the first time I communicated with minister Pravin Gordhan, he suggested that we should call everyone to go and register with banks and it became clear to me that he worked with banks," she wrote. Dlamini said the crisis around the payment of grants was "engineered somewhere" because she wanted the distribution of grants taken to a local level. "Presently we are all quiet because we are afraid of asking relevant questions. We are afraid of talking about a system that had been taken to another level and was destroying those that behave as if they are defending the country when they are defending monopoly capital," she hit back.
NOW White Nation has been keeping a bit of track to try to determine what "Little Nyani Skeletons" Dlamini, Zuma and Mabusa was talking about…and brother...that "Nyani" skeletons appear NOT to be so "Nyani" as well. This is literally  the tip of the iceberg…or should we rather say"  lid of the  tin" – that we could find so far- and believe you me...there are MUCH more hidden in that deep and dark interior. You can also have a peek where your tax money is going to…how it has been wasted by this glutenous greedy  pigs this past years IF you have the time at hand that is. AND remember- while your grandmother gets locked up immediately for stealing a bar of chocolate from the local retail store- NONE of this political white collar criminals EVER was even arrested, charged- or  even to speak of dragged before a court of law for all their heinous and blatant  plundering of your hard earned tax money. They simply "resign" and then "disappear" into oblivion- just to be RE-APPOINTED in another lucrative gravy train seat after a few tears of "rehabilitation."  (Warning: The list is endless) :
HERE WE GO…..
1. ANC's Multi-billion $ Arm's scandal
2. E-tolling scandal
3. Jacob Zuma's Nkandla Homestead Project (Project Prestige)
4. Nkandla Freeway Project
5. Misuse of the plastic bag levy funds
6. Police Buildings and the exorbitant lease saga
7. Travelgate
8. Tony Yengeni's arrest
9. Jackie Selebi and everything about the trial
10. Jackie Selebi's parole
11. Shabir Schaik's trial, during which Zuma was implicated but no prosecution followed
12. Schabir Shaik's parole on medical grounds, but suddenly, he has fully recovered
13. Richard Mdluli's slush fund
14. Richard Mdluli's abuse of safe houses
15. Richard Mdluli's travel agency scam
16. Richard Mdluli's abuse of state owned vehicles
17. Manto Tshabalala-Msimang's liver transplant
18. Nathi Mtethwa's private residence upgrade with public funds
19. Julius Malema's Limpopo feeding programme
20. Ntau Letebele's transport tender in Limpopo
21. Julius Malema's transport tender in Limpopo
22. School feeding schemes in the Eastern Cape
23. Ms Dina Pule and the ITC Indaba
24. Limpopo textbooks saga
25. Moses Kotane Development Agency corruption
26. Msunduzi municipality officials using more than R1m of taxpayers' money to fund an ANC rally.
27. Mthatha corruption case over fraudulent legal jobs didn't exist
28. Ekurhuleni municipality corruption in awarding water meter contracts to Lesira-Teq
29. Thaba Chweu local municipality's misuse of R3m in 2009
30. Endemic corruption at Nala Local Municipality to the point that treasury have cut them off
31. Desiree Tlhoaele's axing after going after corrupt officials in sports, arts and culture
32. Viking testing station's corrupt examiners
33. Police officers Linda Mlambo and Mahlang Shaku fraudulenty conning motorists out of cash
34. Sandton officers arrested for corruption after extorting money from a motorists
35. Willie Hofmeyer's axing
36. Mvula Trust and the Department of Cooperative Governance and Traditional Affairs' job creation fraud to the tune of hundreds of millions of rands
37. Government's endemic over-use and over-pay of consultants
38. Glynnis Breytenbach's axing
39. The spy-tape saga
40. Thosan Panday corruption in KZN
41. KZN's misuse of R785m in 2011
42. Madibeng municipality awarding millions in tenders to its own employees
43. Madibeng municipality's taxation scam with its employees
44. Madibeng municipality paying money to fictitious companies for fictitious work
45. Madibeng municipality paying for funerals that never took place
46. Madibeng municipality paying for home renovations for its employees
47. Taung municipality paying triple digit increases without consultation
48. Morake Incorporated Attorneys & the Rustenburg provincial department – R13m paid in fees for a disciplinary hearing
49. Endemic corruption at Mbhashe municipality to the point of the mayor and 7 others being fired
50. Corruption exposed by SIU at Rustenburg and Madibeng local municipalities
51. Corruption exposed by SIU at Moses Kotane
52. Corruption exposed by SIU at Bojanala District
53. Corruption exposed by SIU at Ventersdorp
54. Corruption exposed by SIU at Greater Taung
55. Corruption exposed by SIU at Tswaing
56. Corruption exposed by SIU at Ramotshere Moiloa
57. Corruption exposed by SIU at Mahikeng
58. Corruption exposed by SIU at Dr Kenneth Kaunda District
59. Corruption exposed by SIU at Maquassi Hill
60. Corruption exposed by SIU at Moretele
61. Corruption exposed by SIU at Lekwa-Teemane
62. Corruption exposed by SIU at Ngaka
63. Corruption exposed by SIU at Modiri Molema District
64. Corruption exposed by SIU at Ditsobotla
65. Corruption exposed by SIU at Kagisano
66. Corruption exposed by SIU at Kgetlengrivier
67. Corruption exposed by SIU at Ratlou
68. Corruption exposed by SIU at Dr Ruth Mompati District
69. Corruption exposed by SIU at Naledi Local Municipality
70. Awarding of tenders to Vivian Reddy following Zuma intervention
71. Twenty five cases, involving R768 827 043 in KZN in 2010 alone
72. The Glen Agliotti case
73. Diverting of public funds to Swazi King
74. Diverting of public funds to Robert Mugabe
75. Diverting of public funds to Zanu-PF
76. Funding of military equipment in Zimbabwe with SA public funds
77. Zuma's corruption in numerous cases prior to his presidency
78. Fraud, corruption, tender-rigging, kickbacks and irregular appointments at Tshwane municipality
79. Endemic corruption at the heart of Mpumalanga municipality including physical violence to avoid publication of facts
80. Public Works' endemic misuse of public funds for private residences of government officials, disguised as security upgrades.
81. Public Works leasing back property from its own employees for official use, while footing the initial bill too
82. BEE fronting for SAPS land deals outside of the main contract for PTA head office through Roux Shabangu
83. R2.4bn in improper bonuses paid out by SABC to directors
84. SABC paying fictitious staff
85. ANC controlling SABC with threats of fund withdrawals
86. SABC awarding tenders to its own employees
87. Ekurhuleni employees signing off on deals that do not exist
88. Land fraud in KZN worth R50m involving three officials and a businessman for farms and other properties
89. Department of arts and culture misuse of R42m during the soccer world cup
90. Loss of dockets relating to high profile corruption cases
91. Education department officials involved in examination selling
92. Parastatals' inflated sponsorship of events hosted by the Guptas and New Age
93. New Age website having massive funds diverted its way from government budgets without readership stats to speak of
94. The City of Johannesburg rigging a large tender in favour of Regiments, an ANC-connected empowerment firm central to a consortium that made the JHB mayor's wife a *multimillionaire.
95. On-Point Engineering securing Limpopo tenders through Julius Malema and his accomplices
96. Amathole district municipality awarding irregular tenders relating to vehicle tracking
97. John Block's R112m tender fraud relating to water purification equipment
98. Gaston Savoi's R112m tender fraud relating to water purification equipment
99. DoC official awarding R500k tender to his wife
100. Martin Masemola from Dept of Minerals & Energy receiving financial kickbacks and land for favours to friends and family
101. Bosasa and Correctional Services corruption to the tune of R3bn in tender rigging
102. Public Works corrupt relationship with Saab and the blacked out agreements that not even they are entitled to
103. R63 million tender fraud at Limpopo traffic department involving Mbhazima Sithole, 45, Felix Baloyi, 34, Mphateleni Musubu, 43, and Lufuno Muladi, 27, all directors of various companies that secured tenders illegally
104. Gauteng Finance dept awarding R23m in IT tenders fraudulently
105. Kelly Group securing labour broking tenders worth R372m by BEE fronting
106. Eastern Cape health department and their tender fraud worth over R800m in just one single case
107. Obed Mlaba securing tenders to the value of R3bn in KZN
108. KZN misuse of public money to the tune of R532m in 2009
109. Public Works in Limpopo involved in tender fraud for undisclosed sum late last year
110. Tshwane kickback scheme for tenders to the tune of R1b
111. Tshwane maladministration in their financial dept for undisclosed sum
112. Philemon Mohlahlane (ex Land Bank CEO) embezzling R19m out of the Land Bank for his personal and business use
113. Prestige Portfolio tender corruption at Public Works as investigated by SIU (this appears to be linked to Project prestige – Zuma's development)
114. Bobby Motaung's multi-million rand fraud involving stadium tenders
115. Ekurhuleni Metro IT tender for R21m that was used to buy Porsches and Mercs
116. Limpopo transport tender fraud of R63m
117. Limpopo Premier Cassel Mathale's influence in awarding tenders
118. Buffalo City Metro tender fraud of R12m
119. Ekurhuleni Chief Financial Officer Mr Zakes Myeza, Chief Director Water and Sanitation Mr Slindokuhle Hadebe, Acting Head of Department of then Roads and Stormwater Mr Moses Maliba, Junior Official Water and Sanitation Ms Nomusa Malimabe and Independent Contractor Mr Miyelani Holeni's all involved in tender fraud worth R166m
120. Julius' cousing Tshepo Malema involved in corruption and fraud through the government worth R63m
121. Pikitup tender fraud relating to contracts awarded through City of Johannesburg for undisclosed sum
122. Vivian Reddy's company awarded an inflated contract of R1.25bn for smart electricity meter reading in Joburg despite never having done anything like it before
123. Xhariep district mayor Mongi Ntwanambi's fraudulent travel expenses claims costing half a million rand a year
124. Free State Government paying R140million for their website created with a $40 WordPress template
125. Limpopo Health's unaccounted for R739m tender spend for 2012
126. Gauteng Health's R1bn corruption in 2010
127. ANC's investment body, Chancellor House, receiving yet another state tender worth billions of rands
128. ANC's investment arm, Chancellor House, receiving millions from the Medupi and Kusile deals
129. ANC's investment arm, Chancellor House, to benefit significantly from R40bn Eskom tenders
130. The spending of more than R13.5m on Nomvula Mokonyane's home. A home that was purchased for R11.5m
Zuma's position weakens as he loses battle to keep 'spy tapes' under wraps
131. Bankrupt SAA
132. Bankrupt Post Office
133. Bankrupt SABC
134. Corruption and takeover of the Media
135. The Gupta's
136. FIFA
137 Bankrupt Eskom
138 Bashir saga
139. Safa president Danny Jordaan allegedly turned to the Gupta family to cover up a $10 million (R138 million) hole in the organisation's books
140. 12 000 'dead people' doing business with SA government, says Treasury
141. 14,000 state employees who are listed as directors of companies that have been awarded state contracts in violation of regulations
142. In the 2017/18 financial year, R45.85m was spent on maintenance for official ministerial residences in Pretoria and Cape Town
143. Senior intelligence officers could land in hot water after a parliamentary committee proposed that they be investigated for allegedly "pilfering" more than R1bn from the intelligence account.
144. Trevor Manuel approved a R200 million salary golden handshake to Coleman Andrews of SAA
145. The corruption around Bidvest and Ramaphosa's business
146. Truckloads of evidence of corruption of Pravin Gordhan made rounds. Multi Billions missing in Treasury. Mountain of corruption in PIC. Banks he is a shareholder in.
147.  Gordhan award of a R10 million Contract in Treasury, to his own daughter Anisha Gordhan
148.  Top black "executives " in the SABC earns more than R 12 million
149. Florence Radzilani, the Deputy Chairperson of the ANC in Limpopo and the Mayor of Vhembe District Municipality took a R300 000 bribe for not withdrawing the money her municipality invested with VBS Mutual Bank.
150. The South African  Revenue Service's head of legal, Refiloe Mokoena, who wasat the center of granting the controversial Gupta family in a reported R420m VAT refund.
151. Suspended commissioner Tom Moyane is still getting full pay while being suspended.
152.  The South African Revenue Service (Sars) paid a law firm R120,000 to read a book to establish whether suspended Commissioner Tom Moyane was mentioned in it and whether its contents was defamatory.
153. SARS executive Luther Lebelo has racked up more than R750,000 of taxpayer money to prepare his submission to the Nudgent commission.
154. Home Affairs Minister Malusi Gigaba has been subpoenaed to answer why his department allowed an unpaid R67 million invoice owed to an information technology (IT) company undergoing liquidation to balloon to almost R800m.
155. Controversial North West MEC for social development Hoffman Galeng has been given until Tuesday to explain why more than R600 000was spent on security at his private residence.
156. ANC Secretary-General Ace Magashule is at the centre of a criminal investigation into the disappearance of a valuable Pierneefpainting from the premier's office in Bloemfontein.
157.  Ace Magashule was fingered for mismanagement amid fears that the province will be placed under administration. The Free State government's finances are in a dire state. There are various reasons for this: the botched R250 million Vrede dairy farm project; millions of rands shelled out for demolition works for the new provincial legislature complex; and more than R100 000 in monthly rentals for the provincial treasury department.
158. The Free State provincial health department is facing R1.5 billion worth of lawsuits for malpractice,while the education department is alleged to have recorded a bank overdraft of R800 million to help alleviate the financial crunch.
159. A defence force project meant to give jobless matriculants a foot in the door has degenerated into a job creation project for the children ofdefense force generals.
160. Denel accumulated a staggering loss of R 1.7 milliard rands- it's boss  Riaz Saloojee still gets a hefty bonus.
161. The South African Airways (SAA) will get R5bn, SA Express R1.2bn and the South African Post Office R2.9bn in new funding from the government (tax payer again)
162. Recently fired Transnet CEO Siyabonga Gama will still receive his salary for the next six months despite not having to report for duty.The fired Transnet boss will still be paid R3 million for doing nothing.
163.  Hundreds of millions of rands have been spent by Prasa on dodgy security contracts. Roy Moodley implicated in deals worth over R300-million.
164. Jacob Zumja and Tina Joemat  Petersen illegally sold off 10 million barrels of crude oil left the country, at $28 a barrel.
165.  A new factory   are going to build R51bn locomotives that South Africa  can't use
166.  Phumzile Mlambo-Ngcuka and the 55 000 Nigerian oil barrel sacndal
167. Tony Yengeni and  his R349 950  Merc  scandal
168. Pnuell Maduna and the oil scandal
169. Defence and Military Veterans Minister Nosiviwe Mapisa-Nqakula has been asked to clean up tender irregularities  in exess of R52 million in the SA National Defence Force (SANDF), as more allegations pile up against senior officials
170. SABC CEO Madoda Mxakwe says that the public broadcaster's top management cannot let the SABC collapse due to its poor finances that makes it technically insolvent
171.Then there were the humiliation for the SABC incompetent robbers when SCOPA chased them away to go and find R 4.9 BILLION they have wasted
172. An in-depth forensic investigation by Grant Thornton and SizweNtsalubaGobodo Advisory Services into the awarding of a SAPS/SITA contract to Keith Keating's Forensic Data Analysts amounting to R61 million for the provision of forensic light sources, has uncovered massive potential fraud and/or collusion between at least 20 senior SAPS officials and FDA employees.
173. The ANC received a R2 million election campaign donation from the bosses of VBS Mutual Bank.
174.  Stanley Khanyile' a former social development head of department in the Eastern Cape province' was allegedly instrumental in stripping some R30-million from the National Development Agency budget over two years via "rigged tenders.
175. With cash-strapped non-profit organistations (NPOs) struggling to stay afloat, there are concerns that the R1 billion being spent by the KZN Social Development Department on NPOs annually, is being channeled to bogus welfare entities.
176. A former acting municipal manager of Makhado municipality in Limpopo, Johannes Kandwendo, is to face disciplinary action over his involvement in the irregular investment of R63m at VBS Mutual Bank.
177. What was meant to be the start of a thriving multimillion-rand protea farming project is yet to get off the ground in an Eastern Cape village – despite R2.5m apparently already having been paid for 290,000 plant cuttings.
178. Parliament's Portfolio Committee on Public Enterprises is now part of a "campaign" aimed at destroying Home Affairs Minister Malusi Gigaba. This is according to the embattled minister, following reports of a leaked preliminary report into electricity provider Eskom. According to Business Day, Gigaba and former public enterprises minister Lynne Browne are among 44 people and 25 companies who should be criminally investigated over alleged mismanagement and corruption at the utility.
179. The quality of diesel produced by PetroSA has become so poor that it is on the verge of losing its last big client, Shell South Africa, which could cost the oil company billions.
180. The SA Police Service (SAPS) is planning to promote 37 former black only Umkhonto weSizwe (MK) and Azanian People's Liberation Army (Apla) "freedom fighters " to the top rank of General – a move that could see some of them skip as many as five ranks.
182. In what Daily Maverick suggested in February 2018 was the largest state-sanctioned, corporate-sponsored fraud in the history of Big Mining in democratic South Africa, an insight was provided into how 350,000 mostly unemployed members of the Bakgatla Ba Kgafela were robbed of their inheritance. 
183. DA leader Mmusi Maimane has implicated the son of  Cyril Ramaphosa in questionable financial dealings with controversial government service provider BOSASA' alleging that Andile Ramaphosa received a suspicious R500'000 payment from the company.
184. THE civil rights movement Afriforum is going to take South Africa's government Health Services head on about the waste of R 10 MILLIARD rands in the 9 provinces.
185. The Travelgate scandal
186: Nkosazana Zuma's R 50 million AIDS scandal
187. The Amersfoort Police apprehended a ANC Chief Whip Obed Thulani Shabangu (41) in connection with corruption relating to RDP houses on 18 December 2018.
188. PRASA  is a cesspit of mismanagement, breached procurement rules and looting of billions of rands in taxpayers' money.
189. SABC Boss Hlaudi Motsoeneng was illegally paid a R11,5-million "success" bonus.
190. Old Ramkraal prison: Another R 120 million ANC failure
191. Fraud "on an enormous scale" has been uncovered in the land reform program in which ANC government officials handed out farms and millions in grants to beneficiaries who did not qualify.
192. Hlaudi Motsoeneng has confirmed Agrizzi's claim that Bosasa paid more than R1 million to the former SABC head.
193. Soweto owes Eskom R17 billion, half of the total national debt- another very expensive ANC "free bee." 
194.  Former acting CEO of the Passenger Rail Agency of South Africa (Prasa) Rail, Mthuthuzeli "Mthura" Swartz, made a brief appearance in the Port Elizabeth Commercial Crime Court on Tuesday. Swartz faces an array of charges including fraud, money laundering and theft of over R1.5 million.
195. A leaked AG report reveals Tshwane's R12bn GladAfrica contract was irregular
196. Ramaphosa's son Andile paid a monthly amount of   R 300 000.00 to Cyril Ramaphosa which came out in the Bosasa scam hearings.
197. South African Clothing and Textile Workers' Union (SACTWU) Worker Health Programme (SWHP) former CEO Colleen Khumalo (51) has appeared in the Cape Town Regional Court on charges of fraud involving R50-million.
198. EFF R12billion Tshwane scandal resurfaces, similar to VBS
199. ANC bigwigs scored millions of rands from a botched broadband project for the City of Johannesburg while its costs more than doubled to nearly R1.7bn
200.  KwaZulu-Natal's Asset Forfeiture Unit on Thursday swooped in on top ANC KwaZulu-Natal politician Mike Mabuyakhulu and seven of his co-accused in a corruption case, seizing their property and cars in an early morning raid related to their involvement in the North Sea Jazz Festivalgraft scandal.
201. ANC bigwigs scored millions of rands from a botched broadband project for the City of Johannesburg while its costs more than doubled to nearly R1.7bn. Public service & administration minister Ayanda Dlodlo, Deputy defense and military veterans minister Kebby Maphatsoe and former diplomat Lerema Kekana were directors of the BEE partner involved, CitiConnect Communications (CCC).
202. Vhembe municipality has reportedly lost R1 billion of taxpayers' money
203. Eskom paid R300 billion (and counting) for 2 deeply flawed coal-fired dinosaurs
204. Soweto owes Eskom R17 billion, half of the total national debt
205. R 220 million rand for drought relief went "missing" in Kwa-Zulu Natal
206. An economist has said that Jacob Zuma's last few years in office cost the country R470 billion. Analyst Dennis Dykes has alleged that the Zuma administration resulted in a major drain on the economy, as a result of state looting, mismanagement and bad policy.
207.  The Directorate for Priority Crime Investigation (Hawks) have confirmed in a letter that they have declined to prosecute former African National Congress Youth League (ANCYL) president Collen Maine on corruption charges related to an Eskom contract. DA spokesperson on public enterprises Natasha Mazzone said she had laid charges in September 2017 against Maine and Joe Singh from Just Coal after the latter confirmed that R500,000 was paid to the ANCYL in anticipation of an extension to a coal contract with Eskom.
208. Former ANC treasurer general Zweli Mkhize has admitted that the party accepted donations from Bosasa despite public allegations of corruption, including paying bribes for tenders shrouding the Krugersdorp-based firm.A source with intimate knowledge of Bosasa's affairs told News24 that the company had donated a conservatively estimated R40m to the ANC over nearly two decades. This included cash donations, sponsorship of ANC events and Siyanqoba rallies – massive gatherings of ANC members in the run-up to the 2014 elections. This did not include cash paid to politicians as gifts or bribes in return for their influence and continued good nature to Bosasa as testified to by former Bosasa chief operations officer Angelo Agrizzi before the Zondo commission of inquiry into state capture, the source explained.
209. Last year, the Gauteng Health Department, managed by the ANC, had R18.6 billion in medical negligence claims, Eastern Cape had R16.7 billion and KZN had over R9.2 billion.
210. The ANC Department of Education in the Eastern Cape spent R 4.8 million on building 9 toilets at the Myolwa Senior Primary school in KwaNyathi village, Lusikisiki
211. Wasteful expenditure in the Nelson Mandela Bay Municipality has run into millions of rands since the ANC/EFF/UDM coalition of corruption took over the administration in August 2018.
212. Shocking new figures show the construction of Eskom's Medupi, Kusile and Ingula power plants prompted an orgy of looting, with 11 contractors now under investigation for stealing a staggering R139bn.
213. The  deaths of 94 psychiatric patients from the Life Esidimeni scandal- Major-General Malebe-Thema is listed as founder and executive chairman of the Re-Bafenyi Victim Empowerment Centre which received a reported R270,000 for around 100 patients transferred there.
214. THe Robert McBride corruption charges with the Ethukuleni municipality
215: The Estine Farm project that cost the tax payer R 180 million. The Estina farm has taken centre stage in an international money laundering scandal – uncovered by amaBhungane and Daily Maverick's Scorpio – that saw R180-million in public money being funneled through a complex web of local and international companies, all controlled in one way or another by the Gupta family.
216: The EFF and DA's R 1 bn Johannesburg fleet contract scandal. The DA went into an agreement with the EFF after the 2016 local government election as the DA did not have the required 50 % to govern alone and needed the EFF's support .That is how DA mayors came to power in Tshwane, Johannesburg and Port Elizabeth…through bribery.
217. The Optimum mine scandal:  Optimum was purchase in a pre-arranged deal  for R659 million by Eskom which involved the Guptas, through  Clinton Ephron, -previous chief of  Glencore.
218. Previous acting Police Commissioner Khomotso Phahlane, was arrested on Friday March 01 for corruption regarding a R 86 million blue light tender.
219. The Public Servants Association (PSA) has called for immediate steps to be taken against Deputy Minister of Finance, Mondli Gungubele,following revelations at the Public Investment Corporation (PIC) Commission of Inquiry into impropriety that confirm that he misled the Commission in his testimony with regard to corruption to enrich himself.
220. The ANC vote-buying scandal.  The Independent Police Investigative Directorate (Ipid) believes money from a contract irregularly awarded by the police at an inflated price was to be laundered for the purchasing of votes at the ANC's national conference in December 2017. It was during the same conference that Cyril Ramaphosa overcame his political opponent Nkosazana Dlamini-Zuma by about 200 votes to become the party's president
221. The failed Cuban disaster where the Department of Health sent black medical students to Cuba for training. The money spent by the Health Dept on sending students on a failed Cuban medical training jamboree could have built a new medical school here or at least been spent on fixing dilapidated  state hospitals. The black students was sent over to Cuba for medical training had to be brought back in disgrace… now shoved into local overcrowded medical schools to complete last 2 years of study. But there are major problems. The ANC's lot in their obsession with Cuba hasn't bothered to assess the type of medical training … the students only had observation training … they never got to examine an actual patient … ZERO clinical training done. The students were given generous stipends by the SA taxpayer which apparently exceeded the salary of the Prof head of surgery in Cuba… they spent their time partying in Miami and elsewhere … not too popular with the Cubans. The  students have to, after their 2 years of SA medical study, write their final exams … the highest mark achieved was 6%! They obviously can't become doctors so it's been a waste of tax payers'  money.
222. It took only three hours for Eskom to pay a R659 million advance payment to the Gupta-linked Tegeta Exploration and Resources to fully acquire Glencore's Optimum Coal Mine (OCM), without any goods or services having been delivered to the utility, the Commission of Inquiry into State Capture heard on Tuesday.
223.  Former Eskom executive Matshela Koko has been accused of irregularly awarding a company an R800-million tender during his time at the power utility. The Sunday Times has reported that Koko guaranteed multinational engineering company Asea Brown Boveri (ABB) contracts worth R6.5 billion if they subcontracted work on the Kusile power station to a company part-owned by his stepdaughter, Impulse International.
224.  In the same week that energy regulator Nersa granted Eskom a hefty tariff hike, the power utility reportedly paid R12 billion for flawed designs at one of its power stations – with an additional R1 billion paid to the same firm for repairs. The City Press reported that a confidential tender report for Eskom showed that the power utility gave a blank cheque to a US firm to design the Kusile power station – which it then cashed for R12 billion.
225. Public protector correct: R300m of Nelson Mandela burial money was stolen
226.  The Special Investigating Unit (SIU) is looking into the theft of R170 billion from Eskom, the Sunday Times reported. The report stated that of this figure, R139 billion is related to 11 contractors who helped build the Medupi, Kusile, and Ingula power plants. An "orgy of looting" is suspected in contracts handed out by Eskom – and when combined with other losses due to state capture, the total amount of looting at Eskom could reach R500 billion. The SIU confirmed it is looking into contractors appointed to build certain Eskom power plants and its investigations are wide-reaching.
227. Port Elizabeth businessman and ANC funder Fareed Fakir allegedly boasted about how he bankrolled a local politician and officials, paying millions of rands in cash, property and a Mercedes Benz ML at the height of the looting frenzy of the Nelson Mandela Bay bus system.
228. The South African Broadcasting Corporation (SABC) was heading for factual insolvency by the end of March and a net financial loss of R568 million for the financial year, the public broadcaster's management team told members of parliament (MPs) on Tuesday.
229. Two weeks before corruption-accused African Global Operations (AGO) – formerly known as Bosasa – was placed under liquidation, the company paid its CEO Gavin Watson a R5m "performance bonus" – over and above his monthly salary of R5.7m.
230.  The Electoral Commission of South Africa will investigate the ANC's alleged Bosasa-funded elections "war rooms". IEC confirmed in a letter to DA leader Mmusi Maimane. This after the DA laid a complaint, as it believes the allegation that Bosasa paid up to R6 million for the "war rooms" constitutes a breach of the Electoral Code of Conduct. "No registered party or candidate may abuse a position of power, privilege or influence, including parental, patriarchal, traditional or employment authority to influence the conduct or outcome of an election," the code states. Last month, News24 exposed how Bosasa  – now known as African Global Operations – paid more than R6 million for ANC "war rooms" at their Krugersdorp headquarters ahead of the 2011, 2014 and 2016 elections, without the ANC footing any of the bills.
231. Another waste by the ANC government is their feeding project that was erected at the cost of millions 7 years ago in  Tweespruit at   Thaba Phatswa- Orange Free State on the tax payer's cost that still stands empty and unused. This feeding facility was erected for new upcoming black farmers and can accommodate around 20 000 calves. As of today only grass and weed flourish around the buildings.
232. The Central Energy Fund (CEF) yesterday admitted that it oversold its strategic fuel stock for $280million (R4.02billion) two years ago after the Parliamentary Portfolio Committee on Energy demanded more answers on the transaction. The CEF said the sale was now the subject of investigations and legal action with board members having already filed affidavits. However, the fund was still waiting for the court case to be enrolled in the Western Cape High Court after it filed an application last year to declare the sale unlawful and invalid.
233.   A report by the Special Investigating Unit (SIU) recommends that 42 people – including government officials – be prosecuted for fraudand corruption linked to land reform programs. The report was handed over to Ramaphosa in March 2018 but was only recently uncovered by BusinessDay after it submitted a Promotion to Access to Information Application (PAIA). As part of the report, the SIU probed 148 land reform projects between 2011 and 2017, finding that a 'complete lack of controls' led to fraudulent activities on an enormous scale. In one such project, grants were made available to beneficiaries to cover the costs of the acquisition of agricultural land. These beneficiaries were then expected to stay and work on the farms they were given as a way of paying back some of the money they had received. However, the SIU found that in many of these cases thousands of alleged beneficiaries were not even aware of the project and had never been to their farms. Others had never lived or worked on a farm and did not qualify for grants. While the report led to more than 24 farms valued at more than R382 million being forfeited to the state, most of those implicated by the report have not faced prosecution, with a National Prosecuting Authority spokesperson telling BusinessDay that investigations were "still ongoing."
234. The Department of Agriculture, Forestry and Fisheries has paid a law firm more than R27 million for legal services that it could have obtained for free from the Office of the State Attorney.
The lucrative contract is with the law firm of Barnabas Xulu, a high-profile attorney who helped set up the Friends of Jacob Zuma Trust, and who is known for defending Western Cape Judge President John Hlophe.
235.  Energy minister, Jeff Radebe is entangled in a secret $1bn (R14.5bn) oil deal in war-ravaged South Sudan, but his investment pledge has raised eyebrows in government circles – and could land him in hot water. The minister's team has already spent about R20m pursuing the mystery deal, including hiring a private jet to travel to the underdeveloped country.
236. Both the chairman and the chief executive officer of the Road Accident Fund (RAF) admitted in the latest annual report that the fund isinsolvent, with liabilities exceeding assets by more than R206 billion at end March 2018. The annual report states that the fund "has been insolvent since 1981". The total liabilities with regards to claims agreed to during the reporting period, but not paid at the end of the year, amounted to R38.3 billion. 
237.  The Government Employees' Pension Fund (GEPF) faces a record long-term funding shortfall of R583 billion, partly due to bad investment decisions. This gap might ultimately have to be plugged by under-pressure taxpayers. This emerged from the fund's latest actuarial valuation at the end of March last year, prepared by Alexander Forbes Financial Services in November last year. Minister of Finance Tito Mboweni approved the public release of the actuarial valuation in February, said the fund's spokesperson, Matau Molapo.  "As at the valuation date the fund meets the minimum funding level, but as the contingency reserves are only partially funded they do not meet its long-term funding objectives," the valuation said.Christo van Dyk, an independent auditor and fund pensioner, said that if the fund continued as it was its liabilities could equal its assets as early as next year, leaving itself without a buffer.
238.  Former Bosasa executive Angelo Agrizzi has calculated that the company received about R2.5bn in revenue annually via various contracts stemming from provincial governments, state departments and the private sector between 2000 and 2016. He says the company forked out about R75m a year on bribes or "gratuities" to secure these contracts. Testifying before the Zondo inquiry into state capture on Thursday, Agrizzi recollected that there were about 38 government officials and politicians on Bosasa's payroll.
239.  The controversy that rocked Bosasa scandal has become more intense after Damning revelations were made. All these is coming after parliament made initial effort to extract the truth, but each time were fed with incomplete information. But right now South Africa President Cyril Ramaphosa's son Andile has admitted that corruption-accused company Bosasa paid him R2m in a business deal he "sincerely regrets". In an exclusive interview  and investigation by News24, Andile Ramaphosa confirmed details which has now  lifted the lid on the secretive agreement. However, In December 2017, his company Blue Crane Capital signed an "advisory mandate" with Bosasa, resulting in it being receiving a monthly retainer fee of R150 000, which was later increased to R230 000. "It was a severe oversight on our part," he said of the glaring red flags he claimed to have missed before putting pen to paper. "It is clear now with the benefit of hindsight that our due diligence was insufficient in retrospect of my father's role going into the Presidency," Ramaphosa Jr said in a written response to follow-up questions.
240.  Portia (Pankie) Sizani, wife of former ANC chief whip Stone Sizani, was found guilty on 24 fraud and money laundering charges in the Port Elizabeth trade court on March 29 2019. 
241. A Buffalo City ANC councillor – Kuhile Ciliza is under investigation for allegedly demanding a R50,000 bribe from a musician- Andile Lentofor approving his request for funding.
242. ANC secretary-general Ace Magashule admitted to receiving monthly payments of R1m from Rajesh Gupta to help further his family's business interests, the commission of inquiry into state capture heard on Friday.
243. The farms bought by the eThekwini Municipality from Rainbow Chicken two years ago to save and create jobs have been left barren. The city spent R15million on the acquisition of Uitkomst and Doornrug farms in Cato Ridge when Rainbow Chicken, which has since been renamed RCL Foods Limited, announced the sale of their farms due to tough trading conditions.
244.  Jacob Zuma helped stash Muammar Gaddafi's "missing millions" in a bunker at Nkandla, speculation has been rife about whether the former president will have to face any criminal charges going forward. It is alleged that Msholozi accepted $30 million.
245.  Free Sate premier  Sisi Ntombela responded to a question from the DA that the cost of her provincial reason was R9 371 633.56. Roy Jankielsohn, DA councilor and leader of the official opposition in the Free State legislature, says the total amount amounts to more than R11,67 million, if the R2,3 million contributed by the legislature is included.
246. St John's Ambulance in East London has been emptied of funds. This was the shocking statement from RMG Forensic Services investigator David Kirstein who said his company had been hired by  the Order of St. John's in January 2018 to look at St John's' books . East London woman Anastasia Mariana Parkin, 51, was arrested on Friday by the Hawks for allegedly stealing R4m from the internationally-renowned first aid and health care training organization.
247.  The Sunday Times reported that the government is planning to spend R750 million to "spruce up" ministerial houses and other government buildings. According to the report, Public works minister Thulas Nexi revealed the plan, which includes:
R5 million for new carpets for the Union buildings.
R1 million for alterations to a kitchen and bathroom in a ministerial home.
R29 million on gates and a dog house.
Public works was asked for comment regarding the 'spending spree', but its spokesperson did not reply by the time of publication.
248.  The Hawks are investigating an alleged fraudulent payout of more than R110-million by the Eastern Cape health department. The money, desperately needed by hospitals and clinics, apparently found its way into the pockets of senior ANC officials in the province. Former infrastructure boss at the department, Mlamli Tuswa, says his attempts to raise the alarm about this irregular payment were ignored.
249. With a limited annual budget of about R1,4 billion to support deserving charities around the country – and demand outstripping supply – theNational Lotteries Commission is in the spotlight as Carte Blanche investigates how a R27,5-milion grant to a Pretoria-based drug rehabilitation center was spent. Following allegations that the NPO has little to show for the money invested in its upgrade, we unravel the bookkeeping smoke and mirrors.
250. Members of the Johannesburg Roads Agency's top management team — including its managing director Goodwill Mbatha — have been placed on suspension after a forensic investigation into tender rigging at the roads agency.
251.  Vhavenda King Toni Mphephu Ramabulana, whose kingship is in the balance after a Supreme Court of Appeal (SCA) ruling against it, has reiterated his commitment to paying back a "gratuitous payment" of more than R17 million he got from VBS Mutual Bank. Ramabulana, along with 53 shareholders, businesspeople, politicians and traditional leaders are accused of having wrongly benefited from the liquidated VBS Bank. The latter are cited in Reserve Bank Advocate Terry Motau's report, The Great Bank Heist. The report alleges the now liquidated bank lost nearly R2 billion through fraudulent means, resulting in closing down.
252.  Cyril Ramaphosa's administration will spend nearly R750m to spruce up houses occupied by ministers, and other government-owned buildings. The upgrades, renovations and maintenance – which one analyst described as "frills" – have been criticized as excessive at a time when South Africans are battling price increases across the board. The splurge – which includes R5m on carpets for the Union Buildings in Pretoria,R1m for bathroom and kitchen upgrades to a ministerial house, R29m on a guardhouse and R29m on gates and a doghouse – comes as tax-collection revenue dwindles and credit ratings agencies scrutinize public finances. Public works minister Thulas Nxesi, in a written reply to parliament on Friday, revealed that his department will spend more than R730m from state coffers in the 2019/2020 financial year to spruce up the Union Buildings, houses for MPs and ministers, and their offices within the parliamentary precinct that fall within the government's "prestige property portfolio".
253.  Umgeni Water broke National Treasury's rules and awarded a R220 million security tender to an ANC-linked company whose taxes were not in order at the time. In December, Umgeni Water awarded the three-year tender to guard the water utility's assets to Reshebile Aviation and Protection Services, which at the time owed the SA Revenue Service (Sars) both payroll tax and VAT. Treasury forbids the awarding of tenders to companies which are not tax compliant. Reshebile's Sars statements for 2017/18, obtained by City Press, reveal that the company owes R2.6 million in payroll taxes and R900 000 in VAT.
254. The explosive testimony of former Bosasa COO Angelo Agrizzi at the state capture inquiry has not only implicated politicians in widespread and orchestrated corruption, it has cost SA's prominent Black Economic Empowerment (BEE) verification agency its accreditation status.  Empowerdex, which assists companies in complying with BEE rules and regulations, has had its accreditation suspended by the South African National Accreditation System (Sanas) – the only national institution responsible for carrying out accreditation of verification agencies. Sanas falls under the Department of Trade and Industry.  Empowerdex gets the bulk of BEE rating, verification and advisory work in SA, providing such services to more than 6 000 companies. A Sanas spokesperson confirmed to Moneyweb on Thursday that Empowerdex is under suspension – effective from April 4, 2019 – due to its "failure to comply with some of the accreditation requirements". It did not disclose the reason for the firm's suspension, citing confidentiality clauses in the processes through which it accredits firms. However, Empowerdex co-founder Vuyo Jack said the suspension of the company by Sanas is linked to the March 2019 testimony of Agrizzi, who alleged that a former Empowerdex employee received bribes from Bosasa in exchange for dishing out favorable BEE ratings on the company and its subsidiaries. Along with the bribing of prominent politicians and state officials, a favorable BEE rating would help Bosasa win state tenders since government prefers to do business with companies that have strong BEE credentials.
255.  The Msunduzi municipality, where KwaZulu-Natal's capital Pietermaritzburg is located, has been placed under administration following a host of issues, including irregular expenditure, maladministration and absenteeism by councilors. The announcement came on Tuesday morning after Cooperative Governance and Traditional Affairs (Cogta) MEC Nomusa Dube-Ncube met with the ailing Msunduzi council. "After a long period of instability and poor results, the people of Pietermaritzburg deserve that we give them a municipality they can be proud of through our hard work and flawless performance," she said. According to Dube-Ncube, the municipality could not hold its councilors accountable for deliberately absenting themselves from critical meetings. This resulted in a collapsing quorum, which rendered the council dysfunctional. She said unauthorized expenditure, an issue that plagues many municipalities in SA, was also a cause for concern.
256.  Eskom is trapped in a "death spiral" as it is borrowing money just to pay off older debts, said energy expert Anton Eberhard at this week's Eskom briefing. "Something has to give," he said. Eberhard is a member of Cyril Ramaphosa's Eskom Sustainability Task Team, which is entirely separate from Eskom's own technical team, and is focused on the longer-term prospects of the power monopoly. Provisional findings include that Eskom will eventually have to receive some kind of "blended finance" – meaning more non-commercial loans from development lenders.
257.  Transnet's orgy of greed:  The rot will finally be exposed as forensic reports show billions of rands' worth of kickbacks as well as wasteful expenditure by even junior-level staff . They bought luxury BMWs, Jeeps, Mercedes Benzes, and even houses for cash, and were unable to explain how they managed to afford it. These are the accouterments that relatively junior staff at Transnet managed to acquire through the state-owned company, indicating that rampant corruption many not only have been reserved for executives, but extended to lower-level employees who lived beyond their means. This comes as Transnet plans to reinvestigate a slew of graft scandals, where little action was taken by the previous management and board against those implicated in nine forensic reports. In early May, Transnet chairperson Popo Molefe and acting group chief executive Tau Morwe are expected to take the stand at the commission of inquiry into state capture to explain the pervasive corruption at the vital state logistics group, which controls the country's ports and rail network. With annual revenue of more than R70 billion and vast operational needs, Transnet was a major target of the Gupta-led state capture project as well as other cartels wishing to benefit from lucrative tenders.
258. A company that scored tenders worth millions of rands from state-owned enterprises diverted money meant to fund supplier development programs to ANC deputy secretary-general Jessie Duarte's family members in return for them assisting it to snatch more state business.
259.  Jacob Zuma's surprise sacking of South Africa's finance minister at the end of 2015 sparked economic panic: The rand plunged to a record low against the dollar and even the normally steady bond market roiled. But one investment company, a little-known boutique operation, raked in at least 133 million rand (US$9.2 million) by trading on the turmoil. Related deals under investigation may have raised the total profit to as much as 500 million rand (US$32 million) as the country cycled through three finance ministers in just four days. Evidence uncovered by OCCRP shows that the firm in question, Regiments Capital, most likely knew for weeks that respected Finance Minister Nhlanhla Nene would be dismissed in December 2015. The firing appeared abrupt to the rest of the world, but not to Eric Wood, then one of Regiments' three directors. Weeks beforehand, Wood called a meeting with a senior manager at Regiments.
260.  eThekwini mayor Zandile Gumede is expected to hand herself over to the Hawks and appear in the Durban Commercial Crimes court on Tuesday on a raft of corruption charges. In May last year it emerged that Gumede, a strong ally of former president Jacob Zuma, was being investigated by the Hawks for facilitating money laundering' fraud and corruption, allegedly to pay back cronies who helped her political ambitions. The Hawks had launched the investigation into Gumede following a forensic investigation into the awarding of a contract to hire and clean chemical toilets. In December a City Press article reported that a forensic report by Integrity Forensic Solutions named Gumede and Mondli Mthembu' a councillor who chairs the human-settlements committee in council' and three other officials who allegedly orchestrated a corruption and money laundering "scam" which saw eThekwini pay R25m to hire about 800 chemical toilets for six months.
261. The City of Tshwane is spending at least R60 000 daily on the abandoned R525 million Business Processing Outsourcing park (BPO) inHammanskraal.Launched in 2016 by the then ANC administration, the project promised to create 3000 jobs through on-site training, technical support and incubators for small and medium micro-enterprises.
262. THE North West provincial government has confirmed that the JB Marks municipality has been placed under administration following a decision from the province's executive committee, News24reports. The JB Marks municipality was formed following a merger of the Tlokwe and Ventersdorp municipalities, which caused protests – one of which saw the Ventersdorp municipal traffic building torched – and was opposed by Ventersdorp residents. The Democratic Alliance (DA) legally opposed the merger in the high court in Pretoria. The municipality has been plagued by corruption allegations which saw it undergo a complete shut down at the end of last year, over issues including its failure to deliver on a N14 development project promised to them since 2006. Before this, it was reported that R45m had been spent on upgrading a sports stadium in the area but only one toilet had been built.
263. Retired Judge Nkola Motata's gravy train – which paid out nearly R14 million between 2007 and 2016 while he was on special leave – is set to continue while the Judicial Service Commission (JSC) drags its heels on the matter of his impeachment. Motata, 72, is estimated to have earned slightly less than R2.5 million since his retirement in 2017, bringing his total earnings since he ruined the phrase "sober as a judge" in January, 2007 – when he drunkenly reversed his Jaguar through Richard Baird's wall near Sandton – to more than R16 million.  Despite being found guilty of drunken driving in January 2007, retired Judge Nkola Motata has been paid about R16 million of taxpayers' money.
264.   He bought a top-of-the-range Maserati Coupé, four properties for cash in just seven months and received a fat deposit for his posh house paid for by a service provider. These are apparently some of the perks of holding an executive position at Transnet. The details of how Herbert Msagala, the group executive for Transnet Capital Projects, amassed at least R17 million in a year are contained in a forensic report. The report, dated October 2017 and compiled by forensic investigations company Nexus, found that he:
Bought six cars – including a Maserati GranTurismo GT Coupé, a Ford Ranger and a Hyundai H1 – all for cash;
Acquired four properties within seven months – none of which is bonded – for a total of R15.2 million; and
Paid the full purchase price of R7 million for a his property in the exclusive northern Johannesburg enclave of Steyn City in just nine instalments.
265.  The South African National Treasury has compiled a series of reports detailing gross expenditure irregularities within the Eastern Cape. These reports have been obtained by City Press, and the information now made public. The Treasury reports rely on information gathered from special audit services conducted between 2011 and 2017. The audits scrutinized expenses related to mobile classrooms, roads and housing in the province. Who stole R1.6 billion from the Eastern Cape? A string of individuals, companies and national government agencies are mentioned in the reports as being involved in the syphoning of government funds. The Independent Development Trust (IDT), SA National Roads Agency Limited (Sanral) and the Coega Development Corporation (CDC) are accused of smuggling money out from under the Eastern Cape's government funding. The Social Housing Regulatory Authority (SHRA), a subsidiary of the national department of human settlements, is especially singled out in the reports. The Treasury found that the SHRA was allocated R341m intended for housing projects in rural and underprivileged communities. Not one single home was built in the Eastern Cape . The IDT and Sanral were both paid in excess of R170 million, funds allocated for work on roads and transport projects. Work that was often canceled, terminated or mismanaged. The IDT could not account for R21.7m. The CDC spent an "excessive" R101m on stones for 23km of road.
266.  More than R1m was siphoned from a struggling municipality in the Eastern Cape – and part of the money was then used to renovate the home of ANC provincial chair and premier-designate Oscar Mabuyane. The Mail & Guardian reported this week that R450,000 of the money was transferred to a company that renovated Mabuyane's home in the suburb of Bunker's Hill, East London.
267.  Leaked messages show how a little-known businessman, Lawrence Mulaudzi, gained an inside track with the PIC and its then-CEO, Dan Matjila, setting his sights on becoming a billionaire with pensioners' money. The list of deals on the crumpled piece of paper was impressive: Vodacom (R11-billion), Distell (R9-billion), a gas-to-power project in the Eastern Cape (R13-billion). This document was Lawrence Mulaudzi's deal pipeline, and was slipped to amaBhungane by a source in 2017. Newly-obtained SMSes and WhatsApp messages now show that Mulaudzi confidently expected the Public Investment Corporation (PIC) to fund much of his acquisition trail.
268.  A Deputy Minister of Co-operative Governance and Traditional Affairs apparently wasn't happy with the list of cars that Treasury negotiated bulk discounts on. So he asked Treasury for permission to purchase a Volvo XC90D4, at a cost of R1,118,352 to the public purse. The reason for the request was "National Treasury Transversal Contract RT57-2016/2017 does not cater for prefered [sic] vehicle". Treasury conditionally approved his request. But he was not alone. Three ministers and a deputy minister, including the above one, applied to Treasury for a deviation when buying new cars in 2017 and 2018 'because they did not like the choice of vehicles allowed'. In his most recent budget speech, Minister of Finance, Tito Mboweni, announced spending cuts of R50.3 billion over the next three years.
269.  A Bentley Bentayga retailing for about R4‑million and the renovation of a private home are at the center of a battle over who gets to run the Eastern Cape. Whats­App messages, seen by the Mail & Guardian, seem to indicate that the province's ANC chair and premier candidate, Oscar Mabuyane, is implicated in receiving undue benefits, an allegation he denies. The claims provide insight into the political machinations of a province where Cyril Ramaphosa drew crucial support ahead of the 2017 national elective conference at Nasrec. Mabuyane and party treasurer Babalo Madikizela, seen as allies of Ramaphosa, have been accused of benefiting from payments made to businessman Lonwabo Bam by theMbizana local municipality, but Bam's plant hire company, Mthombeni Projects, had not done the work for which he was paid.
270.  The Office of the Chief Justice (OCJ) spent a large amount of money on travel in the 2017/18 financial year. In recent months Judges Matter and journalist Niren Tolsi have been raising troubling questions about the management of the Office of the Chief Justice. This high travel bill reinforces their concerns. " We sent questions to Nathi Mncube, spokesperson for the Judiciary, asking him to explain these expenses. To understand the questions, it is helpful to either read Vote 22 of the Budget, a ten-page document, or to look at the following table (page 4 in the linked PDF file, but labelled page 460 because it is part of the larger budget document). The item that stands out in this table is the travel expenditure: R113.6 million in 2017/18. It is on this figure that most of our questions were based. "
271.  Eyewitness News has reliably learnt that Fedusa's general secretary Dennis George has been dismissed following an investigation into allegations of corruption against him. George is alleged to have acquired shares through his company, Difeme Holdings, which received pre-listingAyo Technology shares at R1.50 in comparison to R43 a share that was paid by the Public Investment Corporation. George was suspended from Fedusa in February as the PIC's R4.3 billion investment in Ayo Technology came under scrutiny at the PIC Inquiry. George, who is a non-executive director of controversial tech company, Ayo, was investigated for a possible conflict of interest in his position as Fedusa general secretary.
272. Despite having capable in-house expertise, Transnet bosses opted to swing the multi-billion-rand cash-raising deal for its 1,064 locomotives to the Gupta-linked financial advisory firms — at a huge cost. Astern and detailed warning from then Transnet treasurer Mathane Makgatho to her bosses — Brian Molefe and Anoj Singh — about the cost implications of a funding plan for the 1,064-locomotive deal would go unheeded, leading to her departure from the parastatal and saddling Transnet with yet another dirty deal. Transnet had embarked on one of the country's biggest deals since 1994 with the acquisition of 1,064 new locomotives. Tainted from the start, the R54-billion deal was eventually funded largely through a R12-billion club loan from local lenders and another $1.5-billion from the China Development Bank. On Wednesday afternoon, the state-owned freight and logistics company's acting CEO, Mohammed Mahomedy, revealed how internal warnings around the funding options were disregarded as those in authority opted for the least cost-effective option, thereby swinging hundreds of millions of rands into the coffers of two Gupta-linked companies, Regiments Capital and its offshoot, Trillian Capital Partners. The two companies would be paid close to a quarter of a billion rand for facilitating funding from the Chinese bank and via a club loan involving local lenders, ABSA, Nedbank, Future Growth and a financing unit of Old Mutual.
273.  The ANC's elections chief in the Western Cape, Ebrahim Rasool, has made startling claims against his provincial comrades, suggesting they kept him in the dark regarding a R1m donation from controversial businessman Iqbal Survé. In an interview this week, Rasool said he was led to believe that Survé would be making a food donation to the ANC to assist the party's election campaign in the province. The ANC announced on Tuesday that it was returning the R1m donation from Survé's company, Sekunjalo, just 48 hours after receiving it, saying it was inappropriate to accept money from an entity implicated in allegations of plundering the Public Investment Corporation. Rasool said he was shocked to find journalists in attendance at a function where the donation was made. The ANC does not generally invite the media when it receives monetary donations. Rasool said he was given the impression that the ANC would be getting food donations from Survé's other company, Premier Fishing,not cash.
274.  National director of public prosecutions Shamila Batohi has expressed serious concern over the withdrawal of the case against controversial Eastern Cape ANC leader Pumlani Mkolo and 10 others implicated in the Nelson Mandela memorial fraud scandal. National Prosecuting Authority (NPA) national spokesperson Bulelwa Makeke said in a statement on Friday.
275.  Global consulting firm McKinsey & Co has repaid Eskom close to R1-billion because it didn't want tainted money emanating from an off-grid partnership with Gupta-linked Trillian Capital Partners. Now the firm has come under scrutiny at the State Capture Commission over an additional R2.1-billion in deals, this time awarded by Transnet under a system of multiple confinements, essentially making it the sole bidder each time.
276. The SA Municipal Workers Union is broke.It has been looted of R176m since 2012, according to an audit report. In September it had only R538 in the bank, and it may be placed under state administration.
277. A company of a previous secretary of the  ANC general secretary Ace Magashule   earned more than R100 million over a decade from theMangaung metro television cameras that is malfunctioning and other diverse " services." 
278. Nelson Mandela Bay municipal officials are abusing the city's overtime system, with some claiming up to three times their monthly salaries.
The city anticipates overtime costs will balloon to R203m by the end of the financial year.
279.  Sa Taxpayers Spent R873'366.68 For Norma Gigaba To Travel With Her Ex-finance Minister Husband
280. Businessman Kholofelo Maponya's demand for R45 million in fees for a deal he was already fully funded for led to SA Home Loans (SAHL) CEO Kevin Penwarden requesting to take early retirement.  This week. the Public Investment Corporation (PIC) inquiry heard how Maponya demanded that SAHL pay him R45 million in fees for a deal that was already fully funded by the PIC. Maponya is expected to take the stand next week to defend the claims.
281. The troubled Amahlathi municipality is so broke that all 253 workers, 30 councilors and six traditional leaders who are in council, were not paid their May salaries and now face a second month without pay.
282.  That there was something rotten in the state of the Public Investment Corporation (PIC), the state-owned asset manager entrusted with looking after the savings of government workers, has been evident for a while. Just when one thought they had heard it all, comes another bombshell. The latest one, revealed by evidence leader Jannie Lubbe, was shocking nonetheless. Most readers would have had that annoying experience of having misplaced documents of various degree of importance. It could be a child's birth certificate when one is about to travel and remembers this might be the one time that department of home affairs officials at OR Tambo International Airport are awake and are therefore likely to ask for the document. Or maybe it's the SABC chasing you for that TV license payment you know you've made but have no physical record of. But a fund manager responsible for looking after R2-trillion of workers' savings not being able to find evidence of a R3bn investment?That's R3,000,000,000 . Even by the standards of the blatant criminality and disregard for corporate governance that's been exposed in the various commissions, this will take some beating. "We have been requesting information from the PIC, but to date, we have received no documentation or minutes authorising the investment of $270m," Lubbe told the commission on Monday.
283.  Former president of the Black Business Council, Danisa Baloyi and tree co-accused appeared in the Palm Ridge Magistrate's Court in Johannesburg on Wednesday on charges of fraud and theft, according to the Directorate for Priority Police Investigations. Baloyi's appearance follows an investigation the Hawks conducted in 2018 into the allegation she arranged for a R5m donation from Airports Company South Africa to be funneled into the bank accounts of businesses owned by the co-accused. The Hawks said the R5m from ACSA was given on the understanding that it was a fund raising donation for a "radical economic transformation campaign". Baloyi was suspended as BBC president in December 2017.
284.  The Hawks raided the offices of Limpopo premier, Stan Mathabatha, and several houses on Friday, confiscating computers and a number of official documents relating to his international trips over the past five years. Three travel agencies, who handled Mathabatha's international bookings and officials in his office, were also raided. The raid comes after an internal report – which Mathabatha allegedly has been sitting on – lifted the lid on widespread tender rigging, nepotism, collusion and abuse of office, allegedly involving officials in his office. There were challenges of the over escalation of prices, where in certain instances, you have got people buying for 250% of what they get from the primary service provider.  "For example, If I want to go to Cuba, these guys, having covered their money for bribes, I would pay about R30,000. But they would bill the office the amount of R240,000. At times they even fabricate quotations of service providers," said Mavhunga. A senior government official, who asked not to named, said the scam has been going on for years. "I know of an instance where three officials who traveled on the same flights, same class and even stayed at the same hotel, but their invoices were completely different by thousands of rands." "But payments could be made without questioning the discrepancies, because some of the officials from the premier's office were also benefiting financially from the scam," the official said.
285.  Former Eskom boss Matshela Koko has again been implicated in instructing a company to sub-contract work on the Kusile power station to a firm he had links with, "as a conduit for his benefit". The Special Investigating Unit (SIU) is following allegations by global engineering giant ABB that Koko forced it to subcontract work to the Leago Group.  Three months ago, the Sunday Times revealed that ABB had told the SIU that Koko had allegedly promised it R6.5bn in contracts with Eskom if it sub-contracted Impulse International. Koko's stepdaughter, Koketso Choma, was a director at Impulse, which won an R800m contract from ABB. Koko dismissed ABB's allegations. ABB won a R2.2bn contract with Eskom in 2015 for Kusile. ABB is among 11 international firms the SIU is investigating. Last month ABB ended its contract with Leago. Leago is challenging the decision. According to an e-mail from Leago's Kevin Moodley, the company has had to retrench 13 engineers as a result of losing the contract. ABB spokesperson Michael Isaac said the Leago contract had been terminated but declined to comment further.
286.  Transnet is said to have ignored advice from PricewaterhouseCoopers (PwC) when it signed agreements with locomotive manufacturersBombardier and China North Rail (CNR) in 2014, without stipulating that their manufacturing facilities would be in Durban. This resulted inTransnet's controversial "relocation" of two manufacturing facilities from Gauteng to Durban at a cost of R1.2bn, which was paid for but not carried out. Testifying at the state capture inquiry on Thursday, Thobani Mnyandu, from MNS Attorneys, which was contracted to investigate allegations of wrongdoing at the state-owned company, said their probe found that Transnet paid for the relocation of manufacturing facilities for Bombardierand CNR at a cost of R618m and R647m respectively. However, "the finding we made was there was no relocation," Mnyandu said. "We found that there was no relocation for Bombardier or CNR. While there wasn't a relocation per se, there was a decision communicated to them to be located at a place different to the one they initially thought they would be located at, [according to] the tender negotiations."
287.  Transnet paid Gupta-linked company Regiments Capital a massive 754% more than the R35.2m it had budgeted for transaction advisory services between 2013 and 2015. This is despite the state-owned company having its own expert funding team, which negated the need to hire an external party to do the same work. Jonathan Bloom, an expert in financial risk management who was contracted by MNS Attorneys to assist in their investigation into corruption and irregular expenditure at Transnet, told the state capture inquiry on Friday that the money handed to Regiments was "excessive". Bloom's testimony brings to a close a week of testimony from employees at MNS Attorneys who worked on the investigation, which was commissioned by Transnet's new board in 2018.  Part of this investigation focused on the appointment of transaction advisers to assist the company with financing the 1,064 locomotives deal. The job was given to a consortium led by state capture-implicated global consultancy firm McKinsey in July 2012. In its consortium was another company, Letsema, which was a co-bidder for the advisory tender and several other subcontractors, including Barloworld. By August that year, Transnet raised a conflict of interest between Letsema andBarloworld, and recommended that Letsema be replaced. The company which took its place: Regiments Capital. Regiments would then go on to replace other subcontractors in the consortium until eventually, on February 5 2014, McKinsey controversially ceded its rights and responsibilities on the deal to Regiments. The spending on these advisory services was capped at R35.2m. What that money paid for was advice on howTransnet should finance its purchase of 1,064 locomotives – a deal which would eventually cost the company more than R50bn. Initially, Transnetentered into two loan agreements to pay for the trains: the first with the Chinese Development Bank for about $1.5bn and another, referred to as a "club loan" between a syndicate of lenders, for about $1bn. By July 2015, Regiments was paid R265.5m (excluding VAT) for about two years of work for Transnet advising on these transactions.
288. Previouly – Sizani, wife of SA ambassador to Germany Stone Sizani, faces 16 counts of fraud and 10 counts of money laundering. It is alleged that between 2009 and 2010, Sizani created "ghost" teachers and took their salaries, amounting to R1.2m. As co-ordinator, she was in charge of appointing grade R teachers at Eastern Cape schools. The Equal Education NGO, which has been following the case, said she is accused of allegedly obtaining the personal details of teachers, applying for posts on their behalf and falsifying the principal's signature of approval. Once the money was paid by the department into the teachers' accounts, Sizani would allegedly inform them that a mistake had been made and that the money should be paid back to her. She denies this.
289.  Former Transnet group treasurer Mathane Makgatho on Friday told the state capture inquiry that it was an "open secret" that there was a lot of money moving around in the state-owned company's head office during the processing of the controversial locomotives tender, which was riddled with fraud and corruption. Makgatho testified for a second day on Friday at the commission which has shifted its focus to Transnet. She claimed the car boots of certain officials were known to be filled with cash. She detailed the company's interactions with the China Development Bank over funding terms for the loan that financed the locomotives deal. On Thursday, she explained how she prevented R750 million from being stolen from the parastatal. She further stated that she prevented former CFO Anoj Singh from effecting R5 billion loan from Nedbank through Gupta-linked company Regiments Capital.
290.  ETHEKWINI's embattled mayor, Zandile Gumede, who is facing charges of fraud and corruption, will be asked to take a 30-day leave of absence. THE KZN ANC provincial chair, Sihle Zikalala said the Provincial Executive Meeting held in Empangeni this weekend had considered various issues facing the movement that threatened the integrity of the ANC in KwaZulu-Natal.He said the PEC had taken the view to act decisively on corruption, ill discipline and any element of bad practice. Gumede, who also serves as chairperson of the ANC in the eThekwiniregion and other senior municipal officials allegedly defrauded the city of millions of rands in a waste removal tender.
291.  The Special Investigating Unit is probing 11 contractors for stealing a staggering R139bn during the building of Eskom's Medupi, Kusile and Ingula power plants. And insiders say the total cost of Eskom looting could reach about R500bn, dating back to 2005. SIU spokesperson Nazreen Pandor said the unit was probing the theft of R170bn from Eskom — R139bn of which is directly related to  contractors working on the power plants. She said that after an "intensive scoping exercise" the unit had prioritized, among other things, investigating "the performance of, and payment made to the value of more than R139bn to 11 identified contractors appointed by Eskom in respect of the Medupi, Kusile and/or Ingula station".
292:  One of South Africa's biggest unions was used as a conduit to launder about R65 million in pensions allegedly plundered from impoverished orphans of deceased mine workers. City Press can today reveal that Bongani Mhlanga, the 'erstwhile' owner of financial services group Mvunonala, allegedly used the SA Transport and Allied Workers' Union (Satawu) as a conduit to move pension funds into his family's trust and a company owned by him.
293:  The South African Football Association (Safa) has been accused of falsifying its 2018 financial statements to reflect a rosy bank balance – when it has a deficit of R100m. Several sources close to Safa told the Sunday Times that the football governing body inserted an amount of $10m (R148m) as money in the bank, when this amount refers to a 'donation' made by Safa during the 2010 Fifa World Cup, which Safa claims the sports, arts & culture department undertook to repay but hasn't.
294:  The SABC's dire financial straits forced it into a stark choice at the end of May – pay staff salaries or its municipal accounts. It opted for salaries, and now owes the City of Johannesburg more than R13.5m. But the broadcaster may only have delayed the inevitable. "I'm not sure how we are going to pay for salaries come end of June," SABC board chair Bongumusa Makhathini told the Sunday Times this week. "We have also not maintained any of our infrastructure and a communication blackout is imminent. We anticipated Day Zero in March, but we have managed to stay on air until now." The broadcaster also owes Sentech – a state-owned business that provides broadcasting signal distribution – about R317m, and the MultiChoice division SuperSport R208m.
295:  In her resignation letter on Tuesday, former Social Development Minister, Bathabile Dlamini, claimed that she was aware of 'wives of ANC members' who were allegedly involved in dubious relationships with Cash Paymaster Services (CPS). In the letter she stated that "[those] that made profit through CPS by their wives are known but because they are respected by the organisation nothing is being said to them."
296:  Out of desperation while on a pilgrimage in France, former SAA treasurer Cynthia Stimpel fired off a text message to officials at National Treasury, warning them of a dirty deal in the making. It was ignored. They had stalled and blocked her at every turn, but former SAA treasurer Cynthia Stimpel was relentless in her efforts to stop a R15-billion cash- raising deal from being pulled off outside of due process – and with the help of a transaction adviser for R300-million – while South African banks could do it cheaper. The national carrier was embroiled in a massive scandal around this deal in 2016, and on Thursday 13 June 2019 the State Capture Commission heard how Stimpel, during a walking pilgrimage in France over Easter that year, got word from a colleague that BnP Capital, initially recommended as a transaction adviser at a fee of R2.6-million for the deal, would now also be sourcing the loan for SAA.
297: Neither the Neotel board nor the company's lawyers, Norton Rose, neither its chief financial officer nor its chief executive, were able to explain to auditors Deloitte South Africa what exactly the Gupta-linked letterbox company, Homix, had done to rake in a R36-million 'success fee' on the back of a Transnet deal.
298:  Public protector Busisiwe Mkhwebane has confirmed in a letter to DA leader Mmusi Maimane that  Cyril Ramaphosa is implicated in her investigation into the R500,000 donation he received from Bosasa CEO Gavin Watson. In the letter she tells Maimane, who asked her to investigate whether Ramaphosa deliberately lied to parliament about that donation, that the public protector confirms she served the president with a section 7(9 )notice on May 30.
299.  The net is closing in on more politicians and officials in municipalities across the country as the Hawks intensify their investigations into graft and maladministration, according to Hawks head Lieutenant General Godfrey Lebeya. The Hawks' National Clean Audit Task Team (NCATT) has, since last month, arrested 14 politicians, officials and business-people in KwaZulu-Natal and the Free State on corruption-related charges. The biggest name caught in the dragnet was eThekwini mayor Zandile Gumede – more than three weeks ago – and Lebeya says they will soon be "visiting" several other municipalities across South Africa. Although he would not reveal those being targeted for arrest, Lebeya told City Press that the municipalities in the Hawks' sights should have "received some visits a long time ago". "It is just a matter of time. When we feel that we are ready to proceed we can then decide on which municipality to visit first based on the progress with our investigations," he said.
300.  The civil trial involving the Special Investigating Unit (SIU) and Minenhle Makhanya, the architect of the infamous Nkandla upgrades, has been postponed. The SIU went to court in 2014 seeking an order setting aside Makhanya's appointment as principal agent and architect of the Nkandla project and damages of R155m, the SIU said in a statement on Tuesday.
301. Former SAA interim chief financial officer Phumeza Nhantsi was put under enormous pressure to sign off on a huge payout to BNP Capital. When she resisted, her role as a 'team player' was brought into question. Just 48 hours into the job as interim CFO at SAA, Phumeza Nhantsi was handed a number for Dudu Myeni's "personal adviser", Masotsha Mngadi, then a senior Nedbank employee. "Immediately when I joined, Dudu Myeni gave me his number and said he was an adviser and that if there were any questions, I should speak to him. "This was about two days after I joined." Mngadi would make contact first. Later, he would actively drive a controversial R15-billion deal involving BNP Capital, a company that allegedly had close ties to Myeni.
302.  A disgruntled businesswoman allegedly taped a meeting with an SA Express boss in which he claimed that the then ministers were to be paid bribes of R20,000 each. The State Capture Commission has heard testimony about an audio recording that implicates former Cabinet ministers, Lynne Brown and Dipuo Peters as the alleged recipients of bribes relating to a R400-million contract between SA Express (SAX) and the North West government. The recording allegedly also names former North West premier Supra Mahumapelo, as well as the airline's former CEO Inathi Ntshanga. These startling claims were made by SAX security manager Timothy Ngwenya, who told the Commission he was given the recording by a disgruntled businesswoman after her company was shafted in the deal. Ngwenya said that in May 2016 he received a call from Babadi Tlatsana, the owner of Koreneka Trading and Projects, which held a contract for ground handling at two airports in the province, at Mahikeng and Pilanesberg. He met with her the next day, and she handed him documents and several audio recordings, one of which revolved around a meeting she had with the previous SAX commercial manager, Brian van Wyk. The recording in which Brown, Peters and the others are named, appears to match some names that Van Wyk had allegedly scribbled on a piece of paper when he detailed the amounts payable to the various individuals.
303.  A total of R400 000 of money looted from the North West government is alleged to have been used to pay for the African National Congress' 104-year celebrations. Koroneka Trading and Projects' Director Babadi Tlatsana has told the State Capture Commission she got to a point where she had enough of her business account being used for money transactions between SA Express and the North West Department of Transport that she did not understand – or receive invoice for. She later had a meeting with SA Express General Manager Brian van Wyk who was desperate to have a discussion on how she can release the last R20-million that had entered Koroneka's account. In a tape recording, Van Wyk wanted Tlatsana to release the money so they could pay back R400 000 for 150 reflector jackets they had bought for the ANC 104-years celebration. The commission heard the recordings on Saturday: "So he said he had paid R400 000. That is the amount of money they had spent in connection with ANC 104-year celebrations. Yes chair. (Zondo) was he talking about money that had been taken out of the account of your closed corporation for that purpose? He was telling me to pay back this money; this money was to be paid back to him." Tlatsana has told the State Capture Commission that she became concerned, and confused when no one could explain why millions of rand was going through her business account.
304.  ETHEKWINI Municipality was being held to ransom by bus operator Tansnat, opposition parties said this week. This followed the revelation that the city is owed more than R300 million by the operator, a debt that is unlikely to be recovered. The city has since gone the legal route to have the debt serviced, but the operator is fighting back. Tansnat was appointed as the substitute operator to Remant Alton, the previous operator, with the conclusion of a vehicle lease agreement and an operating service contract. Tansnat' which has a fleet of 450 buses' is headed by Jacob Zuma's nephew Mandla Gcaba. According to a report tabled at the municipality's Executive Committee (Exco) meeting on Tuesday, the takeover agreement was concluded in March 2014. In terms of the agreement, the debt was agreed to and a cession was put in place to fund the outstanding debt to the city. The outstanding debt has been recorded in the Section 71 Budget Comparative Statement on a monthly basis. Tansnat's debt to the city as at March31, 2019, is R371956326. In an attempt to recover the debt, a liquidation application was made.
305. Two of the poorest municipalities in the Karoo have managed to rack up irregular expenditure close to R100 million. Auditor-General Kimi Makwetu has released his report into municipal finances which pointed to a dire state of affairs at most of the nation's local councils. Politicians, however, are arguing that irregular expenditure does not necessarily equate to corruption. The Beaufort West Municipality managed to squander R52 million in irregular expenditure. Irregular expenditure referred to money that was not spent in the manner prescribed by law. The municipality, considered to be the crown jewel of the Central Karoo, is the most developed town in the region. Crime, poverty and homelessness are however a major problem in the town center. But added to their woes is the R20 million in unauthorized expenditure.
306.  An amaBhungane investigation revealed the Ekurhuleni metro spent a staggering R1.9bn on chemical toilets over three financial years from 2017 to 2019. The three-year tender to provide toilets to informal settlements was meant to replace the inhumane bucket system, but while this project is a relief to some, other residents regard it as a curse. Critics suggest the project, where toilets were sourced from 16 small suppliers, was a get rich quick scheme for some under-performing contractors that left many beneficiaries with dirty and broken toilets.The project was also highlighted in an open letter titled, Large Scale Looting at the City of Ekurhuleni, circulated on social media and addressed to media, government and law enforcement agencies in March this year. The letter, which appeared well informed, purported to be written by "concerned ANC members, employees and citizens of the City of Ekurhuleni". It labeled the toilet project as a black hole and a cash cow and alleged that companies involved in the project were linked to officials and politicians, including executive mayor Mzwandile Masina and other senior management figures in the city.
307.  The JB Marks Municipality has been rocked by a list of claims detailing alleged fraud, corruption and maladministration, as the council's leadership tries to avoid being placed under administration by the North West provincial government. A leaked document, compiled by concerned council officials, details the list of claims as the reasons why the municipality (which houses Potchefstroom and Ventersdorp) should be placed under administration in accordance with Section 139 of the Constitution. The document details alleged irregular expenditure in several projects such as the Sarafina Stadium, Appledraai access road, construction of roads, ghost payments, overtime payments, irregular appointments as well as fraud and corruption, among others, as reasons why the provincial government should intervene and take over the running of the municipality.
308.  A former SAA cabin attendant is living the high life after marrying her army boss boyfriend. Now military police are investigating whether the major general "gifted" his spouse defense contracts worth R210m. Online selfies show Maj Gen Noel Ndhlovu and his wife, Nombasa Ntsondwa-Ndhlovu, flaunting their lavish lifestyle. There are pictures of the couple on planes, on overseas holidays and in front of their R8.5m Dainfern, Sandton, home. In others she shows off her navy-blue Maserati, and the couple pose with a brand-new silver Range Rover. Now South African National Defence Force (SANDF) military police are investigating suspected fraud and corruption in contracts awarded to Ntsondwa-Ndhlovu's company, Umkhombe Marine. Investigators smelt a rat when they examined some of the tenders Ntsondwa-Ndhlovu had secured. In one tender, for the transport of military equipment, rival bidders listed included companies that were later revealed to be a taxi business, a stationery supplier and a company that had closed down in 2010 – all of whom claimed to know nothing about any SANDF tender.
309.  The EFF has outwitted the ANC in Rustenburg, in the process exposing the depth of tender corruption in the ANC-run municipality as well as the shambles in the governing party's North West structures. EFF councillor in Rustenburg Abinaar Matlhoko told City Press on Thursday that he leaked the audio recordings of the conversations he had with ANC mayor Mpho Khunou and party chief whip Amos Mataboge, because the governing party was not only corrupt, but "its leaders are foolish and amateurish". The series of three recordings start with the discovery of tender rot, but later take a comical turn when Mataboge gets involved – going as far as declaring to an opposition councilor that his party, the ANC, was led by "blind" and "weak" people and that the party at provincial level was on its death bed. The fallout started early last month when Khunou disclosed to Matlhoko some of the findings of the ongoing forensic investigation into the municipality's fleet contract. Among the findings was that the municipality paid the contractor for petrol (R20 per litre), towbars (R11,000 per vehicle), canopies (R65,000 per vehicle) and tracking systems (R29,000 per vehicle).
310.  Alleged VBS Mutual Bank mastermind Tshifhiwa Matodzi's personal assistant, Takalani Veronica Mmbi, and her company Venmont Holdings, are facing liquidation over a R37m overdraft advanced to the company by the now defunct bank. The bank's liquidator, Anush Rooplal, is also gunning for a R50m overdraft facility that was allegedly created fraudulently by VBS for the benefit of Mmbi's company. Rooplal filed court papers at the Joburg high court this week arguing that the millions owed to the bank be paid back. "The respondent is indebted to the applicant as stated in the restated statement of the respondent's VBS classic business account… in the amount of R37,788,788.61, as at 30 April 2019. Despite demand, the respondent has failed to pay the indebtedness due and owing to VBS," the papers read. According to court papers seen by Sunday World, Mmbi's company benefited from two fictitious credits of R300,000 and R15.7m which were made into its VBS account on March 30, 2017."These fictitious credits are reflected in the respondent's VBS accounts statement as 'Absa deposits TR6 and  Absa deposits TR7' respectively," the papers indicate. The papers further show that Venmont also benefited from another fictitious credit of R50m which was also made into its bank account, and was reflected as an Absa deposit.
311.  Public Protector (aka Zupta Deflector) Busisiwe Mkhwebane cleared ANC chairperson and Minerals and Resources Minister Gwede Mantashe, as well as Social Development minister Lindiwe Zulu, of using their 'political influence' in the awarding of a multi-million rand tender in the Eastern Cape. Mkhwebane has, however, referred her investigation to the Hawks and the Asset Forfeiture Unit to investigate "any commission of an offence by all the implicated parties, including those who are 'politically connected'". In 2015, the Daily Dispatch released an exposé in the biggest political scandal to hit the Eastern Cape. The report implicated Mantashe and Zulu's sons in a R631-million tender to a company named Siyenza to build 66 000 toilets in the Amathole District Municipality. Mantashe's wife Nolwandle was also linked to the company. The Dispatch revealed that proper procurement processes were not followed in the awarding of the contract to the Siyenza Group. Siyenza Group was a company owned by one Bongani Mpeluza, who was alleged to have strong links with a group of 'politically connected' individuals. A company belonging to Nolwandle and Buyambo (Mantashe's son) was awarded a sub-contract by Siyenza.
312.  The South African Institute of Chartered Accountants says it has delayed the disciplinary process against Transnet & Eskom's former chief financial officer, Anoj Singh, in light of fresh allegations which implicate him. SAICA also said it had in the interim decided to suspend Singh's membership of the accountant's body, pending the outcome of the disciplinary hearing. The disciplinary hearing had previously been scheduled from 15 to 19 July. "In the course of preparing for that hearing, SAICA became aware of information that has recently become available in the public domain that implicates Mr. Singh," it said a statement. "In light of this, SAICA is considering the new information and will possibly be amending the charges against Mr. Singh." Singh has been implicated in wrongdoing in Transnet's controversial procurement of 1 064 locomotives in 2014, in a process which had been blamed for flouting regulations. The body said the postponement of the scheduled disciplinary was done "in order to avoid a piecemeal hearing" and to ensure that all allegations against Singh are fully investigated and dealt with. Last month, the inquiry into State Capture heard evidence that advisory firm Regiments Capital earned an "excessive" R265.5m from Transnet to facilitate loan transactions for the state freight and rail entity to finance its locomotive project.
313.  Paul O'Sullivan is a forensic investigator who has played a leading role in pursuing the corrupt and captured who were allowed to flourish under former president Jacob Zuma. He was harassed, and even tortured, as he shook out some deadly truths about how the powerful in business and politics have feathered their own nests. In an interview with BizNews Radio founder Alec Hogg, O'Sullivan reveals that South Africa's electricity woes are directly linked to corruption. Eskom bosses deliberately allowed coal supplies to run down so that they could activate contracts that would make it easier to access funds. That, in turn, means rolling blackouts were the result of graft. O'Sullivan says it will take decades to investigate and prosecute Eskom bosses for every crime they have committed. Instead, he advocates pressing ahead with a few charges against key players.
314.  An EFF entourage that travelled to Cape Town for SONA and the subsequent parliamentary debates booked into a four-bedroom luxury Camps Bay villa priced at between R7,100 and R25,000 a night. When the Fighters checked out at 10am on Thursday 27 June 2019 they had run up a bill of about R60,000 for eight nights, most if it going to be pocketed by the foreign owner.
315.  The eThekwini municipality is involved in yet another scandal. It could be that the taxpayers have been paying more fraudulent salaries.  eThekwini Municipality, in Durban, has been rocked with a potential scandal. An investigation into Thabisile Ncayiyane, who is referred to as the 'mayor's helper', is underway. Who is Thabisile Ncayiyane? Ncayiyane, who was allegedly a domestic worker, does not seem to be in possession of the required qualifications or experience for the senior management post she has allegedly been occupying since late 2016. Allegedly employed on 25 December 2016, with an attached salary of R50,000 per month, Ncayiyane's appointment, on a T17 grading equivalent to that of a senior manager, raised questions among staff members. According to highly placed sources, Ncayiyane would be transferred to other units in the municipality after employees would voice their concerns.  How was Ncayiyane allegedly protected by eThekwini municipality? The sources also allege that the woman's duties would consist of attending to mayor Zandile Gumede's needs and was apparently often seen carrying the mayor's handbag at events. Although the Sunday Tribune claims to have seen a signed copy of Ncayiyane's offer of employment, mayoral spokesperson Mthunzi Gumede said that Ncayiyane had turned down an employment offer and there was no such person in the mayoral office.
316.  An official from SA Express asked that R9.9m be kept in a consultancy's account to avoid the funds being detected in his personal account through lifestyle audits, the State Capture Commission has heard. The commission, led by Deputy Chief Justice Raymond Zondo, is investigating allegations of fraud, corruption and maladministration at several state entities, and on Friday heard evidence from Vivien Natasen, the director of consultancy Neo Solutions. Natasen's company has been implicated in allegations of the looting of money from the North West government's transport department and SA Express by Brian van Wyk, former commercial manager of SA Express. Natasen was introduced to Van Wyk by a former employee in 2014. They had never engaged in business until October 2015, when Van Wyk expressed interest in being part of a farming venture which Neo Solutions was looking to set up. Natasen, who was aware of van Wyk's role at SA Express, viewed him as a potential business partner, as he seemed "competent". The farming venture was expected to require R100m in capital. The pair expected to acquire a loan to cover 80% of the amount and would each contribute R10m in equity. Van Wyk explained to Natasen that he had a private enterprise which had yielded dividends.
317. The Road Accident Fund (RAF) is R272 billion in arrears. This was revealed at a media engagement session hosted by RAF on 4 July at their Polokwane Office on Grobler Street, Polokwane Review reports.  The Acting CEO of RAF, Lindelwa Xingwana-Jabavu explained that the organizations efficiency is leading to its downfall. "We have become our own enemies. We have become so productive that the rate of claims processing and getting them ready for payment is faster and more than what we receive per month to make those payments," she said. In order to ease the burden on the institution, there is a proposed change in legislation to allow payments to be made monthly rather than in bulk.
318.  Parliament is splurging R76m on "loss-of-office gratuities" for MP's who failed to make a comeback after the elections, but some of them are refusing to vacate state-allocated houses despite the added sweetener. The splurge on "gratuities" to MP's who did not return to parliament after the May 8 election was confirmed by Joe Nkuna, the acting chief financial officer, who told a meeting that was discussing parliament's finances that the legislature had so far forked out R76m of taxpayers' money to 'top up " the retirement packages' of exiting MP's. He was responding to a question from DA MP John Steenhuisen. The amount is expected to keep rising in coming weeks as payments are still being processed.
319.  An assistant Master of the High Court in Kimberley was granted R4 000 bail on Friday after being arrested for corruption. Method Nkongani Gqetywa, 49, appeared in the Kimberley Magistrate's Court after his arrest on Thursday. It is alleged that Gqetywa extorted an amount of R15 000 as a bribe to assist two women who had approached the court to claim a deceased's estate. The women were referred to Gqetywa by another official, said Hawks spokesperson Nomthandazo Mnisi. He then asked them each to pay him R7 500 upfront. The Hawks' Serious Corruption Investigation unit intervened after the victims approached and informed them of what transpired. Gqetywa was then arrested and detained in police custody on Thursday, said Mnisi. He faces a charge for contravention of Prevention and Combating of Corrupt Activities Act 12 of 2004. The case was postponed to August 29 for further investigations.
320. According to the Public Protector's report on the Bosasa donation, President Cyril Ramaphosa misled Parliament, violated the executive ethics code, risked State Capture and may also be party to money laundering.
321.  Suspended Transnet Engineering chief executive Thamsanqa Jiyane's future hangs in the balance after he was found guilty late last month of three out of nine counts relating to five disciplinary charges. Jiyane was charged in connection with awarding a tender for 1,064 locomotives from which Gupta-linked companies allegedly received R5 billion in kickbacks. Jiyane was charged following an investigation by law firm Mncedisi Ndlovu & Sedumedi Attorneys.
322.  No one is willing to take the blame for the looting of almost R2-billion of depositor funds from municipalities, stokvels and the elderly in Limpopo. Not even the Public Investment Corporation, which sank R458-million belonging to public servants into VBS Mutual Bank. The Public Investment Corporation (PIC) lost almost half a billion rand in a scheme aimed at empowering black fuel suppliers — courtesy of VBS Mutual Bank.
323. The civil rights group Afriforum said it will lay charges against the major of the Mogalakwena municipality- Andrina Matsemela after she was caught out splurging R 1.5 million of the council's money on her own private birthday party.
324.  THOUSANDS of innocent pensioners were  robbed out of R 21 billion rands by scrupulous ANC officials this past year- an amount that never were recovered- said the ANC's Lindiwe Sisulu. 
325.  A multi-million-rand contract meant to eradicate the use of pit latrines in schools was allegedly discussed privately by a contractor and education authorities before it was awarded. City Press has seen WhatsApp messages allegedly sent in December to staff by Silas Mbedzi, the chief executive officer of The Mvula Trust (TMT). The messages contain details of meetings with basic education authorities. This was before the contract for the Sanitation Appropriate for Education (Safe) initiative was awarded to TMT earlier this year, allegedly without being formally advertised. The department instead extended an existing contract it had with TMT for the Accelerated Schools Infrastructure Delivery Initiative (Asidi), which began in 2011.
326.  Undeclared conflicts of interest and incomplete or shoddy construction characterize many projects funded by the National Lotteries Commission (NLC). Our research uncovers what is possibly only a fraction of the questionable grants involving Lottery money. Over the next week, we will publish stories describing how companies linked to Phillemon Letwaba, the NLC's Chief Operating Officer (COO), are involved in Lottery deals with tens of millions of rands. This follows our publication of previous stories exposing corruption and incompetence involving NLC projects. Letwaba's brother was implicated in one such project.
327.  A company that allegedly facilitated a gift of cattle to former president Jacob Zuma, at the behest of former North West premier Supra Mahumapelo, has refused to provide the national government with a report on all the contracts it has undertaken for the North West government, which amounted to more than R600m. The national Department of Agriculture, Land Reform and Rural Development has initiated litigation against the company in question – AgriDelight – to compel it to provide the report. This was revealed in an answer by Agriculture, Land Reform and Rural Affairs Minister Thoko Didiza to a written parliamentary question by DA MP Noko Masipa. Masipa asked if a full report on all the contracts undertaken by AgriDelight  Training and Consulting had been compiled, and what the total value of the contracts undertaken by the specified company since it started work in the North West was. "The close out report on all contracts undertaken by Agridelight Training and Consulting has not yet been furnished by the company. This was despite several requests from the department to the implementing agent," said Didiza. "In a bid to resolve this matter, the department is in a litigation process with Agridelight to source this document. The matter is before the court and in line with the directives on section 100 interventions." 'Gift' of 24 cows and bull "The total amount of all transactions between the department and Agridelight Training and Consulting contract, from November 1, 2014, to October 31, 2017, is R604,048,828.18 as per the financial systems report. The figure includes a 10% management fee for Agridelight."
328. The acting chief executive of SA's cash-strapped train operator Prasa, Nkosinathi Sishi, is on the verge of signing an agreement that not only flouts all statutes governing the utility, but will also expose the firm to almost R5-billion of unauthorized and irregular expenditure.
329. The Sanctuary Drug Rehabilitation Centre, like the multimillion-rand Lottery-funded old age home in Kuruman, is still incomplete, despite receiving R17-million in pro-active funding from the National Lotteries Commission (NLC) almost two years ago. The first tranche of R7.5-million was paid out on an unspecified date in 2017 to Abrina 3641, a non-profit company, according to the NLC's annual report for that year.
330.  A forensic investigation report into tender irregularities in Emfuleni local municipality in the Vaal has blown the lid on the extent of the rot and looting, with current and former managers fingered in massive tender irregularities. The progress report, by forensic investigation and risk management firm Comperio, which The Citizen has seen, has fingered at least 31 senior managers in tender irregularities running into more than R1 billion in 15 red-flagged tenders. The largest irregular expenditure noted in the report, sent to the Emfuleni chief financial officer, Andile Dyakala, more than a week ago, is the extension of a security tender without following due process, which allegedly ended up costing the battling municipality more than R108.9 million. However, said Dyakala, the report had materially changed, and noted he had been receiving monthly progress reports from the forensic investigation firm since they were appointed to probe tender irregularities in November last year. "I hope someone that leaked it knows that. I spoke to the MD of Comperio about the draft report which is in the public domain, while not final," Dyakala said.
331. Last month the Independent Electoral Commission (IEC) held public hearings on the Political Party Funding Act, which will force parties to disclose donations and, in the process, reveal how money shapes our politics.At the same time, Cyril Ramaphosa is under fire after a public protector report and a series of leaks identified those who bankrolled his CR17 campaign for the ANC presidency. As struggle veteran, Mavuso Msimang, put it: "He who pays the piper expects to call the tune." This story offers one example of the corrosive effect of money in politics and how a politically-connected firm, Regiments Capital, built a financially symbiotic relationship with the ANC – attempting to convert donations into goodwill, lobbying into favors, and facilitation fees into contracts. But it is really a story about the cancer eating the ANC and how a supposedly loyal funder fueled the toxic practices that are killing the party.
The bar tab that night was nearly R6,000. Compared to the value of the contract it was intended to unlock, the bill should have been as insignificant to him as the hotel bar's complimentary peanuts. But it still stuck in the chairman's throat. "On the lobbying front … I think that went exceedingly well, albeit expensive," Litha Nyhonyha told his colleagues in an email two days later. "The Ekurhuleni chaps can drink you dry." It was 28 July 2008 and Nyhonyha, the executive chairman of financial services firm Regiments Capital, had spent his Saturday watching Kaizer Chiefs play Manchester United with two senior ANC members from Ekurhuleni. Although the Chiefs' 4-0 defeat had been "disappointing", he was hopeful that his primary goal of securing political support for a R1.8-billion property deal in Ekurhuleni municipality would be successful. Back in March 2008, the Ekurhuleni Development Company (EDC) had appointed Xihangu Realty Developers, a consortium led by Regiments' funding.
332.  Anna Sussana Fourie, former deputy director-general in the Free State Department of the Provincial Treasury, took the stand on Monday at the state capture inquiry to testify about the Estina Dairy Project. Fourie gave details of the events leading up the establishment of the farm. She told the commission that, while she was attending an office party in June 2012, she was roped into the matter by the head of the provincial treasury, Humphrey Kgomongwe. It was he who asked Fourie to carry out an assessment on a payment, amounting to R30m, that was needed by the provincial Department of Agriculture in connection with the project. At the time, there was only R6m in the Provincial Revenue Fund. The payment, Fourie found out, was needed by the next day – a Saturday – which Fourie said was impossible. While Fourie was looking through the documents provided to her, she asked the CFO of the Department of Agriculture, Seipati Dlamini, to furnish her with the reasons as to why the payment needed to be made, but Dlamini refused to do so. From these documents, Fourie said, she realized there were some irregularities.
333.  Over the last two weeks, GroundUp has revealed evidence of dodgy dealings at the National Lotteries Commission (NLC) implicating senior management. To date, there has been little response from government to allegations of mismanagement of funds by the NLC, despite it being a state-owned entity. On 13 May, GroundUp reported Department of Trade and Industry (DTI) spokesperson Sidwell Medupe as saying: "The Minister has instructed the NLC Board and DTI Internal Audit to institute an investigation." A day later, a press statement by the NLC claimed that an investigation is being conducted by the board into two funded projects. It's unclear what the status of this investigation is; we've received no answers to our questions about it. When asked for information on whether the NLC intends to investigate allegations of conflicts of interest involving NLC COO Phillemon Letwaba, the NLC spokesperson Mr Ndivhuho Mafela responded via email: "The NLC have discovered that both GroundUp and Raymond Joseph have been beneficiaries of grants. We are convinced that their attacks on the NLC and its COO are motivated by financial self interest." "We are informed that these matters have been referred to the courts and therefore the NLC will no longer comment due to this potential conflict of interest." No court papers have been served on GroundUp, so we do not know what is meant by the claim that the matter has been "referred to the courts". We also tried to reach Minister of Trade and Industry Ebrahim Patel's office last week but did not receive a response. Instead, DTI spokesperson Sidwell Medupe said in a phone conversation that the NLC is independent and therefore any questions must be directed to it directly.
334.  A forensic investigation report into tender irregularities in Emfuleni local municipality in the Vaal has blown the lid on the extent of the rot and looting, with current and former managers fingered in massive tender irregularities. The progress report, by forensic investigation and risk management firm Comperio, which The Citizen has seen, has fingered at least 31 senior managers in tender irregularities running into more than R1 billion in 15 red-flagged tenders. The largest irregular expenditure noted in the report, sent to the Emfuleni chief financial officer, Andile Dyakala, more than a week ago, is the extension of a security tender without following due process, which allegedly ended up costing the battling municipality more than R108.9 million.
335.  Taxpayer funds to the tune of millions, given to the ANC to run its parliamentary caucus, are being illegally diverted to pay R25,000 a month to 99 regional party workers who should not be on the payroll. This startling allegation is contained in a confidential document drafted by the National Education, Health and Allied Workers Union (Nehawu), which is fighting the party's plans to retrench 124 of its caucus employees. The ANC has said the lay-offs are necessary because its disappointing showing in the May elections – its vote share dropped by nearly five percentage points – caused a cut in financial support from parliament. It also lost seats in 2014. According to the document, which the union submitted to the office of ANC chief whip Pemmy Majodina this week, the ANC takes R32m from its annual administrative allowance to pay the salaries of 99 party agents, who should be on the payroll of Luthuli House or of ANC provincial offices. Diverting the allowance would be a clear breach of parliament's policy on administrative and constituency allowances, which states that the funds can only be used to finance caucus operations and may not be spent on party political activities. The ANC caucus has a support staff component of 460, but the party is planning to lay off 124 employees after it lost seats in the May elections. The election result means the party will now receive R68m a year in administrative allowances, down from the R75m a year it has been receiving since 2014. The party's constituency allowance, which it used to set up 240 public consultation offices across the country, is shrinking by R17m to R193m this year.
336.  Suspended North West health boss Thabo Lekalakala was arrested for fraud on Monday. Lekalakala appeared in the Mmabatho Regional Court in Mahikeng on the same day and was released on R20 000 bail, Hawks spokesperson Hangwani Mulaudzi told News24. Lekalakala's co-accused, former North West finance MEC Wendy Nelson appeared in court on Friday for fraud and was also granted R20 000 bail. The two are expected to appear in court again on September 6, Mulaudzi said. According to provincial Hawks spokesperson Captain Tlangelani Rikhotso, Nelson was arrested following investigations into allegations pertaining to the irregular appointment of a senior official in the health department in 2014.
337.   The state capture commission of inquiry has heard how more than R600 million budgeted to build houses for the poor in the Free State was paid to suppliers despite no work being done. This was part of a scheme to dupe the National Treasury into believing the province's 2010 housing budget had been spent and to ensure it was allocated more funds the following financial year. This was the evidence of former Free State MEC Mxolisi Dukwana on Wednesday, who dubbed the scheme "the great housing heist". Dukwana described the province as being a hotbed of corruption, which was built on a network of patronage that had its roots in the office of the former premier, Ace Magashule. For a department to be allocated funds for a financial year it must demonstrate to Treasury that it was spending its budget, or else the unused funds were transferred to better performing departments. Dukwana said that in December 2010, the Free State housing department had spent only 10% of its budget but through a scheme ramped that up to 66% by January the following year. "The department had already transferred several hundred millions of rands from its conditional location to suppliers. It continued to make unlawful transfers in January, February and March 2011. The transfers were made without the suppliers having supplied material, without written agreements in respect of all regulating the transfers and without proper procurement processes." He said that about R631 million was simply given to suppliers in order to ensure the coffers were replenished with taxpayer money, ready to be siphoned off.
338.  Millions of rands in alleged "unlawful looting" of the SAPS's medical scheme Polmed have drawn the ire of scores of police officers, who have slammed the level of coverage received.
Claims are that Polmed, which covers 680000 members and beneficiaries, has "unlawfully" awarded roughly R15.7million to its board of trustees (BOT) over three years in alleged contravention of its own rules. Allegations are also that former national police commissioner General Riah Phiyega was "illegally" elected on to the BOT in contravention of Rule 18.9.9, which states: "Any person removed from an office of trust on account of misconduct should not serve on it." According to rule 18.24, Polmed remuneration should be determined by the scheme's annual general meeting (AGM) and not by the Council of Medical Schemes (CMS). By Polmed's own admission, the scheme hasn't held an AGM since 2015, with questions being raised as to who approved the BOT payments. However, internal Polmed documents, which The Star has seen, show that the scheme's principal officer Neo Khauoe and the BOT's risk committee were aware that the  unlawful payments could drag the medical aid into a legal quagmire. In minutes from an April 2018 meeting, Polmed hinged its bets on a supposedly vague letter from the CMS, where the scheme realized it could be in trouble with the law.
339.  ANC secretary-general Ace Magashule, as well as former Orlando Pirates and Kaizer Chiefs captain Jimmy Tau, were on Wednesday named among beneficiaries of bribes paid by a joint venture awarded a dodgy R255 million contract in the Free State. Magashule was offered R10m bribe in asbestos heist deal, Zondo commission hears.
340.  Ace Magashule, the African National Congress secretary general and outgoing Free State premier, has been caught meddling in a housing project to ensure that a company partly owned by his daughter scored contracts worth R150m from his provincial government. News24 can today reveal perhaps the most damning details to date of Magashule's direct involvement in government contracts that benefit his own family to the detriment of his province's poorest and most marginalized citizens.
341. Fikile Mbalula has spent R110m on awards ceremonies in two years; the three-year Olympic budget is R25m. – Gareth van Onselen Business Day 3/9/2016 The Sunday Times reported this weekend that MPs receive 84 free flights, accommodation, three-course meals (including liquor) and salaries of up to R2.4m a year. In addition, each member is allowed R10,000 a month for travel allowances. Given the state of the government departments and state-owned entities, which are all bankrupt, this is obscene. To think that most poor households in SA live below the breadline. – MP greed has no bounds Nathan Chieman – Business Day letter 3/9/2019″
342.  The DA-led Tshwane metro council on Thursday secretly awarded the city's controversial municipal manager an 18% raise and a golden handshake worth millions. City Press' sister publication, Rapport, has also established that the council has apparently agreed that an investigation report by law firm Bowmans, which presumably lays bare Moeketsi Mosola's role in a multi-million-rand contract, would be regarded as "worthless" and would never be used against him. In terms of the settlement agreement, which Rapport has seen, the parties are not allowed to make any negative statements about each other. During the council's monthly meeting on Thursday, the proposed agreement was discussed behind closed doors and council members were made to return the documents, including a copy of the agreement, after the meeting. With the exception of the EFF, all the parties supported the proposed agreement. It entails a retrospective increase of 18%, backdated to 2017, and a payout for more than half of what remains of his five-year contract. Council members Rapport spoke to estimate that his golden handshake is worth more than R7 million and, according to the agreement, it must be in his bank account before Wednesday – his last day at work.
343.  Sports, arts and culture minister Nathi Mthethwa allegedly received an almost R200,000 upgrade to his private KwaZulu-Natal residence in 2010 when he was police minister – and the money came from a crime intelligence secret service account. This is according to seasoned Hawks investigator Kobus Roelofse during his second day of testimony at the state capture inquiry on Wednesday.
Our investigation shows:
Magashule and senior provincial officials interfered in a housing project near the eastern Free State town of Bethlehem. After the initial contractor was booted off the project, the provincial government appointed a company in which Magashule's daughter is a shareholder.
The company, Unital Holdings, was appointed to build RDP houses without a tender process and has so far been paid nearly R70m by the provincial Department of Human Settlements.
Magashule promised locals that they would receive quality housing in a safe environment, but those living in the new houses say they are worse off than before. Their homes don't have electricity, water or working toilets, leaving them exposed to the hazards of pit toilets and open holes containing human waste.
The saga involves Magashule's direct involvement in the appointment of a "Chinese" company called Unital Holdings to construct 1 050 RDP houses on a plot of land to the north of Bethlehem. News24 was able to determine that Unital's shareholders are Jianliang Li, a mysterious Chinese South African businessman who seems to have disappeared, and Thoko Malembe, Magashule's daughter. We revealed in January that Malembe was reunited with the premier in 2011 and subsequently scored R9m in a dubious property deal with the Free State Development Corporation (FDC).
344 .  The National Head of the Directorate for Priority Crime Investigation (DPCI) Lieutenant General Godfrey Lebeya has welcomed the arrest and subsequent appearance of two former senior officials of the Limpopo Department of Roads and Transport at the Giyani Magistrate Court on Wednesday 28 August 2019. Former Senior Project Manager, Margaret Mthombeni (64) and then acting Expanded Public Works Programme (EPWP) Coordinator, Richard Ngobeni (69) were arrested by the Hawks Serious Corruption Investigation for allegedly defrauding the department almost R63 million in 2011. A forensic investigation was commissioned by the Minister of Roads and Transport in 2010 where it transpired that during the 15 and 16 March 2011, the department issued official purchase order(s) to selected service providers without following proper procurement procedures. The tenders were not advertised and all companies invited for the briefing were sourced outside the department's database.
345.  The embattled Emfuleni Local Municipality paid the company of billionaire businessperson and ANC benefactor Robert Gumede R16.2 million for an expired cellphone services contract and settled a R1.2 million security bill at the guesthouse of former mayor Simon Mofokeng. These details are contained in five forensic reports which finger officials, politicians, tenderpreneurs and private sector companies of fraud and corruption by awarding and mismanaging five tenders totaling more than R300 million. The reports show how officials allegedly irregularly awarded and fraudulently extended security, fleet lease, cellphone and landfill sites management tenders in contravention of the Municipal Finance Management Act. The reports, which City Press has obtained, were finalized in May, June and last month. The municipality, which serves residents and towns in the Vaal in Gauteng, was placed under administration in June last year. The forensic reports, which were compiled by Comperio Consulting, found that:
346. Wasting of funding by the SA Police now are estimated at a staggering R 1000 million for the 2017/18 book year- a sharp rise of 700% from the previous book year's R 139 Million.
. Mafoko Security which was appointed to deliver security services for three years for R165 million, was paid more than R57 million more;
. Wesizwe Risk Solutions was paid R17.6 million after a security tender between the council and BBP Security Services was fraudulently transferred to the company;
. The Hallmark Motor Group was paid R27 million for two fleet leases and maintenance contracts which had expired and had been irregularly extended;
. Sungu Sungu Projects, appointed to manage a landfill site for R14 million for three years, eventually got paid about R24 million more after other projects were piled on the company without going out to tender;
. Between 2007 and 2017 Gijima AST was paid R16.2 million for a tender to provide a bouquet of cellphone services contract which expired in 2007; and
. The council incurred irregular expenditure totaling more than R1.2 million after paying for the security at the guesthouse of its former mayor Simon Mofokeng.
And here we are…. CORRUPTION from the top down. Government, SAPS, SOE'S ESKOM, TELKOM, SAA everybody.Give them a country that's thriving and look what they do with it.

Posted by Mortimer Montmorency on Friday, August 30, 2019
347.  Richard Mdluli used secret service fund for his family's travel. It is also alleged that former crime intelligence CFO Solomon Lazarus used the same account to fund travel costs for family and church members.former crime intelligence boss Richard Mdluli allegedly used more than R300'000 from a secret service account for flights and accommodation for himself and his family, Hawks investigator Kobus Roelofse said on Tuesday. The use of state funds to pay for travel costs for Mdluli and his family, as well as the families of other senior crime intelligence officers' is one of 11 investigations into the looting of the secret service account that Roelofse investigated. These investigations form the bulk of his testimony to the deputy chief justice Raymond Zondo state-capture commission.
348.  The DA  said it had established that government spent close to R30bn a year to fund the "millionaire lifestyles" of 27,650 managers in the public service. The DA said the figure emerged from a series of parliamentary questions posed by the party over the past few months. The party said this illustrated how top-heavy the South African state had become as a consequence of cadre deployment.
349. The state capture commission on Monday heard how R40,000 was paid out of the Crime Intelligence secret service account allegedly for repairs to the car of Tiso Blackstar senior journalist Ranjeni Munusamy.
350.  Seven relatives of former crime intelligence boss Richard Mdluli cost the state R5m within a year of being appointed as agents of the police unit, the judicial commission of inquiry into state capture heard on Tuesday. "Over R5m was exceeded taking care of these agents. I believe that it was this amount. This was from March 2010, from their inception, to 2011 October, when I went into witness protection," police official Dhanajaya Naidoo told the commission of inquiry into state capture, as it delves into the alleged looting of the Secret Service account within Crime Intelligence.
351.  On Friday 27 September 2019, the JSE-listed Net1 announced that the termination of its contract with the South African Social Security Agency was the reason for its multi-billion-rand losses. So how will Cash Paymaster Services pay back the R316m it irregularly received from SASSA?
352.  Gill Marcus, the former Reserve Bank governor and currently an assistant commissioner of the Public Investment Corporation (PIC) Commission of Inquiry, has been a beneficiary of Markus Jooste's Steinhoff Group's largesse, according to Independent Online (IOL). An NGO of which Marcus was executive director, Kilt (Knysna Initiative for Learning and Teaching) received annual donations in excess of R10 million from Steinhoff, amounting to almost 50% of the organisation's annual budget of R24,7 million. Kilt's latest annual report the 12 months ended February 28, 2018 showed this amount. The Steinhoff debacle has been the subject of hearings by the Public Investment Corporation (PIC) Commission of Inquiry on which Marcus sits. The PIC has effectively lost billions of rands due to its shareholding in Steinhoff.
353.  Public Protector Busisiwe Mkhwebane said that former Social Development Minister Bathabile Dlamini did not intentionally mislead Parliament even though the Constitutional Court found that she did. She also said that former Labour Minister Mildred Oliphant was not guilty of a conflict of interest in the awarding of a tender to a company owned by her son. Mkhwebane released her quarterly reports, saying she had concluded many of the cases that were in a backlog in her office. Dlamini was taken to the Public Protector by Democratic Alliance (DA) MP Bridgitte Masango, who wanted the Public Protector to find that the former minister had violated the executive ethics code. But Advocate Busisiwe Mkhebane said that she was off the hook. UDM leader Bantu Holomisa wanted former Labour Minister Mildred Oliphant investigated for a conflict of interest in the awarding of a tender to a company in which her son was a director but she too is off the hook. Mkhwebane found that the then Compensation Fund Commissioner Shadrack Mkhonto was the one who was guilty of misconduct for the R1.9 billion tender.
354.  Tshwane Mayor Stevens Mokgalapa has ordered an investigation into a three-year tender to provide the municipality with fuel, after allegations of tender irregularities and corruption surfaced. Mokgalapa ordered the probe on Monday following an article by amaBhungane that detailed several issues surrounding a fuel tender worth around R500m, which was awarded to Balimi Barui Trading (BBT) and two other companies. AmaBhungane reported BBT should never have won the tender as its prices were high, claiming the company's director, Hendricks Kganyago, had paid millions to EFF leader Julius Malema. The report links several payments from Kganyago to Malema and a company connected to EFF MP Marshall Dlamini. These payments, which started before the tender was awarded and continued throughout the year, amounted to R15m. Malema and the EFF are accused of taking kickbacks for contracts in Tshwane, where they played kingmaker after the 2016 municipal elections.
355.  Floyd Shivambu, the Economic Freedom Fighters' second in command, has admitted that his luxury Range Rover Sport was bought with money from the now defunct VBS Mutual  Bank. After being confronted with the existence of a R680 000 payment from his brother's company to the dealership that sold him the car, Floyd, who initially denied the luxury vehicle was bought with VBS money, now insists the money is clean. This is because his brother Brian, the sole director in Sgameka Projects, the company that paid for the vehicle, has paid back two loans totalling more than R4-million that were granted to him. "So your imagination that there was money stolen from VBS is imaginary. Why would he settle the money if the money was stolen?" Floyd said on Wednesday. Brian's links to the VBS heist first emerged last year when the South African Reserve Bank's report, by Terry Motau SC, revealed he had received about R16-million, which is separate to the loans, in "gratuitous" payments, which had "no lawful cause whatsoever". The payments to Sgameka and Grand Azania, the companies belonging to Brian, were derived from these payments.
356.  Financial chaos continues to dog the department of defense amid aggressive budget cuts. In its 2018/19 annual report tabled in parliament last week, auditor-general Kimi Makwetu slapped the department with a qualified audit opinion for the second year running, finding that it had incurred irregular expenditure totalling R5,13bn.
357.  Seven relatives of former crime intelligence boss Richard Mdluli cost the state R5m within a year of being appointed as agents of the police unit, the judicial commission of inquiry into state capture heard on Tuesday. "Over R5m was exceeded taking care of these agents. I believe that it was this amount. This was from March 2010, from their inception, to 2011 October, when I went into witness protection," police official Dhanajaya Naidoo told the commission of inquiry into state capture, as it delves into the alleged looting of the Secret Service account within Crime Intelligence. Naidoo, who was their handler, said this R5m – at the state's expense – paid for salaries, medical bills, vehicles, the hiring and setting up of safe houses, and other claims.
358.  The South African Broadcasting Corporation (SABC) released its 2018/19 annual report recently which revealed that it made a loss of R482 million. The state broadcaster also reported irregular expenditure of R336 million and an increase in fruitless and wasteful expenditure. Things have become so bad at the SABC that it is technically insolvent, and is now struggling to honor payments to service providers and contractual obligations. To try to save the state broadcaster, the government has provided it with a R2.1-billion bailout as part of a short-term turnaround plan. The government added that an additional R1.1 billion will be transferred once the national broadcaster meets a number of preconditions as set by the National Treasury. The dire state of the SABC does not mean that its executives are paying the price. In fact, they are still receiving very high salaries. SABC CEO Madoda Mxakwe received a total pay package of R3.9 million for 9 months' work at the state broadcaster. The SABC's COO, Chris Maroleni, was paid R4.1 million over the past financial year, and former acting CEO Nomsa Philiso received R2.6 million. The SABC's top executives and its board's total remuneration over the past year was R42.5 million.
359.  An investigation of what caused a Mango Boeing to nosedive during a flight between Johannesburg and Cape Town has added to SAA's woes. It comes as the Hawks are probing widespread corruption and looting at SAA, which owns Mango .SAA admitted this week it had been infiltrated by an international crime syndicate that had looted hundreds of millions of rands through questionable tenders, which include the supply of possibly suspect parts.  AA's legal, risk and compliance executive, Vusi Pikoli, said this week that the Hawks and National Prosecuting Authority (NPA) had revived organised crime and serious corruption investigations at the airline.These stem from nine audit reports that were previously suppressed.  A document in the possession of the Sunday Times reveals that aircraft parts worth R25m disappeared from SAA Technical stores while forensic investigators were finalising their report. "The way this was conducted, it shows that there was an inside job [involving] certain members of management," said an internal memo.
360.  Floyd Shivambu's slush fund Grand Azania paid over half a million rand for his wedding celebrations in April 2017. The company, legally owned by his brother Brian, received R6.16-million in loot from VBS Mutual Bank and R8.74-million in dodgy cash from at least 15 additional sources. Scorpio's investigation shines a spotlight on how Shivambu solicits and then directs dodgy cash towards a front company he ultimately controls and benefits from.
361.  A fresh scandal has rocked Transnet after a court application lodged by a senior manager in the company. In the application filed at the Durban High Court over alleged irregular payments amounting to millions made to contractors of the New Multi-Product Pipeline project, Phumlani Khubeka, a project director at the parastatal, says the project had been mired in corruption and poor workmanship. The project is meant to link underground fuel and gas pipelines between Durban and Gauteng. In court papers, Kubheka alleges that he reported corruption at the state-owned enterprise (SOE) back in October 2015 when he discovered that R463 million was paid to a contractor for the accumulator tanks in the Coastal Terminal in Durban. "The workmanship was so poor that the final product had to be destroyed," he said. In court papers, Kubheka maintains that the first phase of the investigation indicated there were acts of corruption and that the probe needed to be widened after an independent forensic report compiled by Nexus which this paper is in possession of. He further claims that the chief capital officer of Transnet at the time did not carry out a further investigation when the findings were made in the Nexus report. As a result, no one was held accountable for the loss arising out of the complete failure of the project. "In some instances, I found that payments were released for work not done," he said. In his comprehensive founding affidavit, Kubheka listed Transnet as the first respondent and IGS Consulting Engineers and Turnmill Proquip Engineering PTY as the second and third respondents respectively. According to court papers, IGS Consulting Engineers and Turnmill Proquip Engineering were appointed as a Joint Venture under the name; IGS Joint Venture to perform work that was approved by Transnet's National Acquisition Council.
362. The department of social development (SASSA) has racked up R2 billion in irregular and fruitless expenditure, mainly due to the South African Social Security Agency's (Sassa) habit of paying contractor invoices for services that were never delivered. These payments amounted to a staggering R78 million for the past financial year. In a parliamentary briefing to the portfolio committee of social development, Auditor-General (AG) Kimi Makwetu said Sassa's outcome had improved from a qualified opinion to an unqualified opinion with findings on compliance.The department's outcome had regressed from an unqualified opinion with findings on compliance to a qualified opinion on social assistance.
363.  The National Prosecuting Authority (NPA) confirmed that its Asset Forfeiture Unit seized assets belonging to former eThekwini Mayor Zandile Gumede in Umhlanga on Thursday morning. The unit, together with the Hawks and SAPS,obtained a court order for her belongings to be placed under curatorship. Gumede and several of her co-accused face charges of fraud, corruption and racketeering relating to a 2016 waste collection tender worth over R200 million.
364.  The North West Gambling Board paid over R1 million to companies linked to its chairperson Lavelle Vere. Documents  show that the companies were paid with funds meant to develop the community. Two sources said the money was part of a R5 million donation by Sun City Resort as part of its cooperate social investment. Vele did not deny the payments but insisted 'there was nothing untoward about them'. When the Gambling Board received the funds from Sun City Resort, the intention was to spend them on community development projects. But companies linked to the board chair walked away as beneficiaries. In August last year, the gambling board paid R300,000 to an NGO Bokone Bophirima Craft Design Institute. Vere features as a director there. He said the funding was for a themed dance event. Earlier this year, another payment of over R100,000 from the funds was paid to an organisation called TTT Foundation for the leasing of a truck to load confiscated illegal gambling equipment. Vere is a former director of the organisation and admitted its mandate was to advance the arts. And just a month ago, R600,000 was paid by the Gambling Board to the South African Dance Foundation whose chair, Frans Seema, serves together with Vere as directors of Bokone Bophirima Craft Designs. Despite the evidence, Vere denied he personally benefited from the funds or that he exerted influence on the gambling board to make the payments.
365. Despite investing more than R1 billion in the collapsed VBS Mutual Bank, some municipal managers, chief finance officers and supply chain management managers from municipalities in Limpopo have continued to collect their monthly salaries, while others received golden handshakes worth millions. Yesterday, some of those municipalities appeared before the portfolio committee on cooperative governance, led by Faith Muthambi, outside Polokwane. The committee was baffled to learn officials had been doing business with their own municipalities, tenders were awarded to friends and relatives, and several service providers were paid for work never done. Muthambi also heard a municipal manager was given a R1 million golden handshake after he was implicated in the illegal investment of R300 million in VBS.
366.  Parliament's Portfolio Committee on Environment, Forestry and Fisheries has slammed the South African Weather Service for receiving a qualified audit opinion for the 2018/2019 year. It has vowed turn its focus on the SAWS for the next five years so that SA can "benefit from the successful running of the service". In a strongly worded statement issued on Thursday afternoon, the committee listed its concerns over the weather service's irregular expenditure, fruitless and wasteful expenditure, and the unresolved matter of its CEO – who remains on full pay a year after being suspended. The weather service had a R68m budget deficit "as a result of overspending", according to the committee. In the SAWS 2018/19 audit report, Auditor-General Kimi Makwetu said effective and appropriate steps were not taken to prevent irregular expenditure amounting to over R37m. Together with the balance from the previous year, the total irregular spend came to over R42m. Fruitless and wasteful expenditure, meanwhile, amounted to R953 196.  The committee further said the case of suspended SAWS chief Jerry Lengoasa had not yet been resolved. Lengoasa was suspended in September 2018 on full pay. "The committee would like to see this matter resolved speedily as it is costing taxpayers because the official is suspended on full pay. The previous CEO that was suspended, cost taxpayers R2m." Former CEO Linda Makuleni was axed in 2016. According to the SAWS Annual Report, its employee compensation increased by 17.46% year-on-year to R261.34m, making up 57.63% of total expenditure. Administrative Expenditure increased by R7.12m year-on-year from R9.32m to R16.43m, mainly as a result of increased provision for doubtful debts, which amounted to R5.21m for the year.
367.  ICT group EOH's board has "substantially completed" an investigation into R1.2bn of suspicious transactions, it said on Thursday. In a statement published on the JSE Stock Exchange News Service, EOH said it found evidence of "a number of governance failings and wrongdoing" including questionable payments and tender practices. These, it said, occurred primarily in the public sector business and were committed by a limited number of employees. Law firm ENSafrica has assisted in submitting further reports to the authorities, EOH added, as well as proceeding with criminal charges. Legal processes have begun to recover losses incurred as a result of wrongdoing, the statement said. "Following the release of the interim update on the forensic investigation by ENSafrica on 16 July 2019, the board has now substantially completed the investigation into the R1.2bn of suspicious transactions which were identified during the investigation," EOH said.
368. Embattled former eThekwini Mayor Zandile Gumede may have her bail revoked after possibly violating her bail conditions. Gumede failed to inform the police that she had moved from her Umhlanga house that was supplied as her home address during her bail application. The Hawks only became aware of the fact that she had vacated the home on Thursday morning, when they carried out raids at the house and the homes of her co-accused who are implicated in a dubious R208-million Durban Solid Waste contract awarded in 2016.
369.  An orphanage that was paid a total of R17m by the KwaZulu-Natal provincial government cannot be found. This is the upshot of a verification process by the province's department of social development. Financial records, which were leaked to the Sunday Times by whistle-blowers in the department, said it had paid R33m to 11 non-profit organisations (NPO's) whose existence cannot be verified. However, even that is in doubt after the Sunday Times double-checked the report and came up with different results, finding four of the NPO's the department had declared untraceable and R33m to have been paid. One of these was in its own building. The biggest beneficiary of the flagged department payments, "Emseni orphanage", received R17m over six years. Sources in the department initially told the Sunday Times that the orphanage was in Pietermaritzburg, but later said it was in Harding. The Sunday Times could not find the orphanage in either town, and no social worker canvassed knew of its existence. It later emerged payments to the center had been authorized in both the Pietermaritzburg and Harding local department offices. The verification report shows that between 2013 and 2018, the "orphanage" received payments in tranches, totalling R5.3m. The flow of cash increased dramatically between February 2018 and February 2019, when R11m was paid directly from the department's head office.The highest single transaction was R5m.
370. Cash-strapped national carrier SAA is facing a fresh scandal after its acting board chairperson, Thandeka Mgoduso, was implicated in a R200 million tender row. Mgoduso is accused of personally engineering the awarding of the lucrative consultancy contract to 21st Century, a company with which she allegedly previously had a working relationship. She also allegedly submitted 21st Century's name to SAA and had a number of secret meetings with the company's executives before she strong-armed the national carrier's supply chain management committee into awarding the contract, even though 21st Century "did not score the highest". This is contained in an internal SAA report seen by the Sunday Independent. The report was commissioned by the SAA Board's chief risk and compliance officer, advocate Vusi Pikoli, and compiled by chief audit officer Siyakhula Vilakazi. Now, two of SAA's major unions, SA Cabin Crew Association (Sacca) and National Union of Metalworkers (Numsa), want Mgoduso and the board investigated for alleged gross misconduct. The unions have also appealed to Public Enterprises Minister Pravin Gordhan to fire Mgoduso and other board members who were involved in the awarding of the deal. The internal report revealed that Mgoduso recommended 21st Century, and later intervened on its behalf after the company failed to impress the bid evaluation committee (BEC). The BEC had scored 21st Century's competitor, PE Corporate Services, higher. However, Mgoduso and fellow board remuneration committee member Jeff Rothschild allegedly summoned the two companies to make private presentations without involving BEC members.
371.  OUTA was recently contacted by a whistle blower who passed on a considerable volume of information regarding irregular conduct on a tender awarded by the City of Tshwane to Tahal South Africa (Pty) Ltd. Further investigation revealed damning insights and a subsequent invitation to the City of Tshwane to initiate its own investigation which resulted in the City suspending the contract. The tender was awarded to Tahal SA on 22 April 2015 for three years at a price of R30 664 348 excluding VAT. The VAT would add another R4 293 008. The tender is CPD-03-2014-15, officially named "The identification and packaging of catalytic interventions and projects required to fast-track the development of East Capital to realise the required economic growth".
This is what happened: The tender name was essentially nonsense, designed to confuse people and reduce the possibility of other bidders. In simple terms, it's a feasibility study. Planning for this started in April 2013. An initial tender advert request was drafted with a budget estimate of R8m. It's not clear how the projected cost jumped from R8m to R30m. In late 2014 or early 2015, a bid specification committee appointed by the then City of Tshwane city manager, Jason Ngobeni, developed the terms of reference for the tender. Tahal SA apparently worked with this committee on this, which was irregular. After the bid documents were ready, there was a request from the team to reduce the standard period for advertising the tender, granted by Ngobeni. According to the whistle blower, this was done to disadvantage other bidders. This was an irregular deviation.
372.  The Metsimaholo Local Municipality's water and sanitation manager, Maria Ramovha, was promoted to acting municipal manager in July, despite a scathing forensic report recommending that disciplinary action be taken against her for her role in a contentious R22 million tender. The independent forensic report compiled by Edge Forensic and Risk Consultants revealed that the mechanical support tender awarded in December 2013 by the municipality to Millennium Pumps on an ad hoc basis for three years, had its scope later extended in an irregular manner, adversely costing the Free State municipality much more in the process. "The extension of the scope of the work of Millennium Pumps was done in contravention of the applicable legal prescripts … We recommend that disciplinary action be taken against Maria Ramovha in line with our findings," recommended the report compiled by Molefi Ntleru. Ramovha, who at the time was the water and sanitation manager, was found to have "verbally increased the scope of Millennium Pumps' work [extending it to even working on maintenance that could be done by municipal workers] and also terminating verbally the tender to the company". These functions are by legislation only reserved for the municipality's accounting officer. "It is the accounting officer who is legislatively empowered to enter into contracts, to extend the scope of the work of service providers and/or terminate contracts with service providers after due process has been followed in each case," the report said. Although section 59(4) of the Municipal Systems Act 32 of 2000 empowers the municipal manager as the accounting officer to delegate or sub-delegate some of his/her powers to a staff member, in this case, the municipality could not provide records showing that the municipal manager had delegated any powers to Ramovha. In her own defense Ramovha told Ntleru, who conducted the interviews during the investigation, that "the scope of work for Millennium Pumps was extended by the acting municipal managers" before her and the directive was issued verbally to her "to implement that decision". According to the report, Ramovha however conceded that she "verbally told Millennium Pumps in 2017 to stop carrying out maintenance services work on the pump stations in Zamdela". The probe found that as a result of the irregularities, "Millennium Pumps was paid by the municipality a total of about R22 501 346.48 during the period from January 2016 to March this year".
Government' s Eskom stole R139 Billion from the people. And quadrupled tariffs in 10 years.
373.  The cash-strapped Passenger Rail Agency of South Africa (Prasa) paid more than R57-million to a company owned by a sister of 'Dr' Daniel Mtimkulu, the SOE's disgraced former chief engineer. Scorpio's latest investigation shows Mtimkulu himself orchestrated the deal. Most alarmingly, well-placed sources claim that the company didn't do any work in exchange for the millions it received from Prasa.
374. Forensic investigators have been hired by the provincial government to investigate how the department of public works forked out R 1.3 Billion in "duplicate payments" to service providers for 21 road projects across the Eastern Cape province…
375. It has long been rumoured that the EFF was given patronage over lucrative City of Johannesburg tenders as a quid pro quo for working with
Herman Mashaba's
DA-led administration. Now, an
amaBhungane
investigation shows that before controversially winning a mega-deal from the city, a fleet firm made payments to a company whose account was used for the benefit of
Julius Malema
and his party.
Is this evidence of kickbacks to the EFF – or rather, as the fleet firm maintains, unrelated payment for services rendered?
  The contract for the City of Johannesburg's
"vanilla"
vehicle fleet is big, financially. It is also vital for the city to run smoothly, requiring the supply and maintenance of some 2 700 sedans,
bakkies
and trucks. Bungle the contract and the city risks grinding to a halt. But with the previous five-year contract coming up for renewal last year, it appears the vultures started circling, concerned less with service delivery than with the carrion of public-private
greed.
A long, messy tender process had the incumbent, Avis, in the lead. But the tender stalled, eventually to be cancelled in June this year. This gave a relative bit player in the fleet scene the gap. Without a competitive tender,
Afrirent
was appointed to the mammoth task at a fee to match:
R1.26-billion.
Financial records show that as the rain was about to fall for
Afrirent
, it transferred
R500 000
in two tranches to Mahuna, a company fronted by
Julius Malema's cousin
but used as a "
slush fund"
for the EFF and Malema. A 
Daily Maverick
 article
 last week gave details of large amounts flowing from its account to the EFF and a Sandown, Johannesburg house where Malema lived. Sources in the city and the DA-led coalition charge that Mayor Herman Mashaba's tough talk belies a willingness to sacrifice clean governance on the altar of political expediency, and that to maintain power he has allowed the EFF to control departments and tenders.
"The EFF has the DA by the balls
," said one. The city administration denied impropriety, saying in a statement that allegations of politicians and senior officials unduly influencing the procurement are
"mischievous and entirely unsubstantiated. The city wishes to state it categorically … that in terms of the city's supply chain management policy, no politician participates in the supply chain processes." 
Two rounds of questions later, the city said that
"all allegations surrounding the fleet contract are a subject of investigation by Group Forensic Investigation Services … and cannot be entertained further pending the outcomes of the investigation". 
In response to detailed questions, the EFF
denied i
nfluencing the fleet tender.
"We don't know what you're talking about,
" spokesperson
Mbuyiseni Ndlozi
wrote, adding that it was "absolute nonsense" that the party had been handed control of departments. About the
Afrirent
payments, he wrote: "
None of your questions have anything to do with the EFF and its leadership. The individuals and companies you mention can speak for themselves." 
Malema's cousin,
Matsobane John Phaleng,
sole director of
Mahuna Investments
, the company to which
Afrirent
made the payments, claimed it was for services rendered.
"We want to put it on record that we never received any bribe … and we are not involved in the fleet contract with the [city]. We provided services to Afrirent from May until August 2018." 
He did not respond to further queries regarding the nature of the services.
376.  Limpopo provincial government IT officer Lesetja Mathiba has been suspended by premier Stan Mathabatha after declaring that he would testify about possible corruption in the province. According to a report by City Press, the suspected corruption is related to a R585-million broadband connection tender, which Mathiba said was awarded in contravention with the State Information Technology Agency (Sita) Act. This meant the project amounted to irregular expenditure, he said. The tender is being pushed through to Limpopo Connexion, a company which Mathiba said has no other purpose than to act as a vehicle for corruption.
377. Auditor-General Kimi Makwetu has warned that government departments spent R13 billion on information technology (IT) systems, but the entities could not nail officials involved in corruption. He said the money spent on IT was not value for money, given there were no internal controls in national and provincial departments to clamp down on fraud and corruption.
378.  Broken power utility Eskom, which will get a bailout of close to R120-billion over the next two years, has squandered more than R300-million on building flats for construction workers at Kusile power station. The state-owned entity has abandoned the project and has allegedly spent more than R1-billion to date on renting accommodation for the same employees it had planned to house in the 336 units in the Wilge Residential Development project.
379.  Taxpayers have paid millions of rands for two "unwanted" executives at the Vaal University of Technology (VUT) who were allegedly forced by the university to stay at home. One executive, has earned almost R3.3 million while at home over the past 25 months, after the VUT allegedly refused to take him back.
380. Gauteng education MEC Panyaza Lesufi's department has seen its financial controls raising questions following an irregular expenditure of R1.2-billion.  Panyaza Lesufi has always achieved top marks for a quick response to crises in schools. However, the MEC of Gauteng department of education this week scored low marks after it emerged that his department had failed to set up proper financial controls. This after he revealed this week that his department recorded an irregular expenditure of a whopping R1,2-billion in the 2018/19 financial year as a result of tender irregularities, among other things. Lesufi, who was responding to questions in the provincial legislature from DA shadow education MEC Khume Ramulifho, said the department will continue to improve controls to address weaknesses that result in irregular expenditure.
381.  There is pressure is mounting for action to be taken against the mayor of the Bojanala Platinum District Municipality Fetsang Molosiwa. This after R134 million erroneously deposited into the municipal's account went missing. The cooperative governance department in the North West says the money that went into the Bojanala District Municipality's account was actually meant to go to Rustenburg Municipality. It is still unclear how the money went missing from that account – but the municipal chief financial officer and the municipal manager have been suspended pending the investigation. The mayor appeared before the provincial's standing committee on public accounts this week. Municipal workers were not paid in October as a result of the missing funds.
382.  In May 2019, OUTA conducted site visits to eight Limpopo schools after receiving a copy of a report titled "Limpopo Sanitation Report." The report, issued to the NLC by the contractor Zipsifusion, detailed the contractor's progress regarding the building of ablution facilities in eight schools located in Polokwane and Venda. Red flags were raised by OUTA because the NLC awarded Zibsifusion R10 million to build ablutions in ten schools and not eight. "This concerning irregularity triggered our site visit to the beneficiary schools in Limpopo," says Dominique Msibi, OUTA's Portfolio Manager for Education. The funds were paid to Zibsifusion prior to their progress report dated March 2019. The purpose of the site visit was for OUTA to assess the quality and progress of the ablution construction sites detailed in Zipsifusion's report. It was quite apparent by the state of construction that minimal work had started, even though Zipsifusion had already received the full R10 million from the NLC. In fact, most of the construction sites suggested that work had only recently begun, if at all. "This begs the question: what was the Zibsifusion progress report based on?" Msibi asks. Based on this site visit, OUTA has drafted a report on its findings.
383.  An ANC Councillor from the Mpumalanga town o
f Amersfoort
is getting paid his
full salary
despite
being in jail, faced with serious charges o
f fraud and corruption
. Last week
Obed Shabangu
, who remains in custody, made his appearance at the
Amersfoort
Magistrate Court to ask the court to release him on bail. He is accused of selling RDP homes to people who were not on the list of beneficiaries. He was arrested two days after he celebrated last year's 16 December holiday and ag
ain on 25 July 2019 after he broke his bail conditions. 
But since his arrest last year December the ANC has not taken any decision to remove Shabangu from his job, choosing instead to pay him while in jail. Councillors are paid around
R26 000
a month to do the community work they were elected to do and that is what Shabangu is entitled to as a Councillor while he languishes in jail for fraud and corruption.
384.  The North West department of tourism spent R4.4 million on a boom gate system and R3.4 million on a fence at the Taung Hotel School it bought for R5 million, the provincial standing committee on public accounts (Scopa) said on Monday. "It is inexplicable on how the construction of just the gate and the fence is over the amount that the hotel was bought for. Someone must be held accountable as there is also poor workmanship at the project," committee chairperson Job Dliso said
385. It took an Eastern Cape municipality just one hour and 45 minutes to receive four bid documents for a multimillion-rand integrated financial management IT system, register and appoint special bid evaluation committee members to peruse them, and then recommend the preferred bidder to the special bid adjudication committee.  The speedy decision was taken on December 19 2014, in the thick of the festive holiday season. But almost three years later, after spending more than R86m on the system, the municipality was still unable to use it, and continued to rack up losses due to late or incorrect statements being sent out by the malfunctioning system. The treasury probe has found a host of irregular activities linked to the deal – which cost the municipality R127m – and has recommended that the municipality open a criminal case with the police. At the center of the controversy is former ADM municipal manager Chris Magwangqana, who signed off on the contract with EOH Mthombo.
386.  About
seven
deputy director generals (DDGs) in the
State Security Agency
are earning salaries but
not
doing the work required of people in their positions. This is according to State Security Minister
Ayanda Dlodlo
who opened up about this and more in a recent interview with
City Press
 in response to previous reports about the heightened conflict between Dlodlo and two of her senior colleagues at the SSA. The minister said that since trying to implement her plans to restructure the SSA, she has been met with lies, gossip and challenges to her authority. Challenges that go as far as circulating rumors that Dlodlo is trying to kill one of the senior officials. Due to the aforementioned DDGs not doing the work that was required of them, Dlodlo says that they have been
"displaced
" from their roles and that other senior managers have been appointed as acting DDGs in their place. This development has since cost the state millions of rands due to the fact that the starting salary for a DDG is about
R1.7 million.
387. ANC MP Bernice Swarts is under investigation for allegedly swindling a businessperson of R500 000 under the pretext that it was going to be donated to the ANC for its 2014 general elections campaign.
388.  Money from a municipal trust fund, intended to help boost small and medium businesses in a North West town, was used to pay for seven JB Marks council officials to attend the 2019 Durban July. The officials spent almost R180,000 on the jaunt that was described as a "local economic development networking trip" when funds were requested from the trust, which was established to help the community around the Eleazer gold mine. The JB Marks Municipality, which houses Potchefstroom and Ventersdorp, was placed under administration following a series of revelations detailing fraud, corruption and maladministration over a number of years.
389.  A staggering R100m meant to benefit members of the police and other public safety workers has disappeared from Popcru Group of Companies (PGC), the investment arm of the Police and Prisons Civil Rights Union (Popcru), forcing its auditors to pull out. Sowetan has established that the money, which was supposed to be paid to Popcru, was moved to a company that was allegedly not authorized to receive the funds. A letter written by auditors, SNG Grant Thornton, which Sowetan has seen, revealed that a company called PGC Management Services (PGCMS) received referral fees that were supposed to be paid back to Popcru when new members take up investment products from companies owned by the union.
390. Eastern Cape taxpayers have forked out R4 million  to two senior government officials who have been on prolonged suspension since 2015.
391.     A  Mpumalanga- Nkomazi local municipality that already is cash strapped paid double salaries to it's workers to the amount of R 18 Million. 
392. SAA is bankrupt and even if government gives bankrupt national carrier SAA the R2 billion it needs to pay salaries and stay in the air until December, it will probably not be enough to prevent the company from being placed in business rescue.
393. The Lepelle Northern Water Affairs in Polokwane confiscated documents that showed billions of rands tender fraud.
395. The Inkhata Freedom Party is still searching for R 220 million of the 2016/2017 book year that mysteriously "disappeared. " This money was destined for drought relief in the province.
396. EFF leader Julius Malema has personally benefited from millions of rands that were channelled to a company exposed as his own slush fund. A Sunday Times investigation last month revealed that Santaclara Trading, a company registered to Malema's cousin, Jimmy Matlebyane, had received more than R4 million  in suspicious payments, in just seven months.
397.  New energy minister,
 Mmamoloko Kubayi
has admitted that the controversial
'rotation'
of South Africa's oil reserves in 2016 was in fact a
sale
– flying in the face of the defense put forward by her predecessor,
Tina Joemat-Pettersson.
Speaking to Parliament's portfolio committee on energy on Tuesday, Kubayi 
confirmed 
that the department sold
10 million barrels of oil
at a extremely low price of
$29 a barrel
to private enterprises. When news of the
'secret'
sale broke in May last year, then-energy minister Joemat-Pettersson said that it was not a sale, but rather a rotation of old oil, which the department was within its rights to execute. The sale of the oil was seen as putting South Africa at a huge risk, while effectively robbing the country of
billions of rands
, as the oil was sold at a pric
e $20 dollar
cheaper than the listed price at that time. It also left the country vulnerable, with only enough oil in reserve to sustain the country for less than a day. There is supposed to be enough oil in reserve to cover 20 days – which is in itself much lower than the 90 day international average.
398. The National Prosecuting Authority wants the fraud, corruption and money-laundering case against 10 senior government and business people implicated in the Amathole district municipality toilet scandal to be heard in the high court because the alleged crimes are of the utmost gravity.
399.  Allegations are being made that the ANC in the Free State paid more than R330,000 per student to study in Cuba to become a doctor. This is more than double the amount it would have cost in South Africa, and the biggest problem is that the students did not graduate. It takes six years to graduate as a doctor in Cuba, plus one year to be taken as a language course beforehand to master Spanish. Initially, 211 students were sent to Cuba, 33 of whom soon returned to SA, but soon after, one perished in a street of the capital. The training of doctors in Cuba differs from the training offered in South Africa, and experts warn that the doctors are not necessarily suitable for the service expected of doctors.
400.Some of the lead contractors at the problem-ridden Kusile power station project — including JSE-listed Stefanutti Stocks and the local subsidiary of multinational Tenova TAKRAF — made substantial payments to an apparent slush fund that was used to enrich top Eskom officials. These latest revelations provide yet another glimpse into the shady dealings at a project that is now five years overdue and has exceeded its original budget by a staggering R80-billion.
401. State pension fund hit by R7.4bn in write-offs: The pension fund responsible for managing the savings of government employees has written off two of its most controversial investments at a cost of R5.3bn. The Government Employees Pension Fund's (GEPF) R4.3bn investment in Steinhoff's empowerment shareholder, Lancaster, which is partially owned by Pepkor Holdings chair Jayendra Naidoo, was rendered worthless after the 2017 accounting scandal wiped off about R200bn of the furniture retailer's value. The GEPF also wrote off about R1bn of loans and investments in companies controlled by Iqbal Surve, the owner of Independent Media, the publisher of The Star newspaper. The fund, which has assets of about R1.8-trillion, had R7.4bn in impairments for the 2017/18 financial year, compared with R995m the previous year, according to its annual report tabled in parliament on Monday. Lancaster 101 became Steinhoff's strategic black empowerment partner after the Public Investment Corporation (PIC) loaned R9.35bn to Lancaster in 2016 .
403.  'Everyone was there to grab. I could have taken too. But God gave me a heart. The funds were never used for projects. There was no governance.' Bathabile Dlamini, the president of the ANC Women's League (ANCWL), has acknowledged its social development arm, the Malibongwe Women's Development Organisation (MWDO), has fallen apart and R50-million of an estimated R211-million in dividends the organisation received from just one BEE deal is missing. Dlamini's admission follows an investigation into the failure of Malibongwe's projects across South Africa as a result of a lack of funds, ruining women's dreams of improving their lives, especially in poverty-stricken areas. The ANCWL had promised it would use the dividends, received from a 2005 BEE deal with Anglo-American, to support small-scale women-controlled projects to ensure they grow into successful businesses. But its projects, in Gauteng, North West, Limpopo, Western Cape and Eastern Cape, have failed and no successful Malibongwe projects could be identified.
410.  A former deputy director-general (DDG) at the national department of agriculture, forestry and fisheries, who was fired last week for the alleged theft of abalone worth R7m, has resurfaced as a department accounting officer in the Eastern Cape. Siphokazi Ndudane, who was DDG for fisheries management until last Friday, was announced by Eastern Cape premier Oscar Mabuyane as the new head of department for rural development and agrarian reform in the province on Wednesday – just five days later. Ndudane has denied any wrongdoing. According to a dismissal letter seen by TimesLIVE, Ndudane was shown the door from the fisheries department on November 29 after she was found guilty stealing three tons of abalone, valued at approximately R7m.
412. The North West Gambling Board faces dissolution and a criminal investigation after a forensic probe found that board members submitted
excessive
and
fraudulent
claims and made irregular appointments. The findings are contained in a draft forensic report by audit firm
SNG Grant Thornton
. The investigation was launched after allegations of financial
mismanagement
surfaced. Two months ago, it was revealed that the
gambling board paid over R1 million to companies linked to its chairperson Lavelle Vere.
The Auditor-General also found the board suffered a net loss of over
R4 million
in the previous financial year.
Dishonest conduct, gross negligence, fraudulent misrepresentation
. This draft forensic report paints a bleak picture of the day-to-day running of the
North West Gambling Board
. It indicates that money was paid to board members without checks and balances in place. It has found that board members have
overcharged
for their sitting fees and sent excessive travel claims. It notes that in one instance, the board chair submitted a claim for
three sitting fees
on the same day – he also allegedly claimed for attending gala dinners. He submitted claims of over
R400,000
in sitting fees and kilometers of travel in the past financial year while his deputy
Lerato Seepe
was paid over
R500,000
.
413. Former top cop Lieutenant-General Khomotso Phahlane, who has earned almost R4million for sitting at home, has vowed to return to work soon to shake up the SAPS. Phahlane was speaking to The Star in Tshwane yesterday, ahead of his court appearance today on charges of procurement fraud involving R84m. The case is related to a 2016 tender to install – among others – blue lights, sirens and radio equipment in Gauteng police vehicles. Phahlane was confident he would be cleared of the charges, and return to his post as the SAPS's national head of forensics. He has been on suspension since June 1, 2017 when he was still the acting national commissioner.
414. Former government officials, including ex-SASSA boss Edward Makiwane, appeared in court today on charges including fraud. This comes after the accused was charged with stealing R700 million from the state.
415. The EFF( Economic Freedom Fighters ) wasted R 32 million of tax payers money during their second election conference and it's so-called " National People's " Meeting at NASREC. This was revealed last week by the Treasury General Leigh-Ann Mathys . This all while investigations for the VBS and Tshwane corruption allegations  are in progress against Malema, Shivambu and other red beret criminals.
416. A South African Police Lieutenant General and two of her family members Tshepo Khoza and Mathilda Khoza was arrested for corruption. Adeline  Shezi was arrested by the Independent Police Investigation Directorate – it's chief Sontaga Seiiza said in a statement. Shezi end her cohorts was arrested for corruption to the amount of R 1.1 million.
417. It's reported that, over the past decade,
Masango and Hlakudi
managed to siphon approximately
R745-million
from the beleaguered power utility Eskom. The two former managers appeared before the Johannesburg Regional Court on Thursday, where they were both granted bail of
R300 000 e
ach. The case is expected to resume in May 2020
. Makeke
, who lauded the collaborative efforts of
South Africa's Directorate for Priority Crime Investigation (Hawks)
and the
Special Investigating Unit
(SIU), noted that other arrests relating to the wanton corruption which has crippled the power utility in recent years, are likely to be made "
soon".
Eskom, South Africa's most valuable and vital state-owned enterprise, has been debilitated by a
corruptive rot
, central to the State Capture project which is alleged to have been spearheaded by the infamous
Gupta
family and former president
Jacob Zuma
. Dodgy
tender deals
and
exorbitant payments
for services undelivered have all been hallmarks of Eskom's demise. As a result, South Africans have been left in the dark due to protracted bouts of load shedding. According to lead economists and ratings agencies, Eskom remains the
single biggest threat
to South Africa's economic prospects. Hawks spokesperson
Hangwani Mulaudzi
noted that the current case of corruption, involving Masango and Hlakudi, was just the
tip of the fraudulent iceberg
, elaborating: "
Added to the four [Masango, Hlakudi and private business directors Antonio Jose Trindade and Hudson Kgomoeswana] there were seven other companies that were litigated, which then brings the number of people or entities that have been litigated to 11, and we can still expect more arrests in this case."
418. Sekhukhune district municipality in Limpopo has turned to province Premier Stan Mathabatha for help on the theft of R12 million between 2018 and 2019. The municipality was also defrauded of R5.4 million last year. The municipality said the money was supposed to be its contribution in terms of the Occupational Injuries and Diseases Act. "It was meant to pay municipal employees who get injured or contract diseases while in the line of duty," the municipality said. According to insiders, officials had allegedly paid the money into an unauthorized bank account instead of the account of the Compensation Fund.
419. Public Works and Infrastructure Minister
Patricia De Lille
has instructed her officials to open
fraud cases
after the funeral and memorial services of struggle stalwart
Winnie Madikizela-Mandela
and two other ANC veterans cost taxpayers a whopping
R76m,
according to a report on Sunday. The
Sunday Times
reported that she believed
Crocia Events
, owned by
Pheladi Mphahlele
and her husband, project manager
Sammy Mashita,
allegedly submitted
inflated invoices
after
securing a two-year tender
in 2017 to provide infrastructure for all state funerals. In 2018 alone, the company provided services at the funerals of Madikizela-Mandela, ANC veteran and former Cabinet minister
Zola Skweyiya
and former chief of state protocol
Billy Modise.
But Mashita told the newspaper that he actually saved the state money because they would have been paid
R274m
if he hadn't pointed out inefficiencies in the tender.
420. Millions of rands in alleged "unlawful looting" of the SAPS's medical scheme Polmed have drawn the ire of scores of police officers, who have slammed the level of coverage received. Claims are that Polmed, which covers 680000 members and beneficiaries, has "unlawfully" awarded roughly R15.7million to its board of trustees (BOT) over three years in alleged contravention of its own rules. Allegations are also that former national police commissioner General Riah Phiyega was "illegally" elected on to the BOT in contravention of Rule 18.9.9, which states: "Any person removed from an office of trust on account of misconduct should not serve on it."According to rule 18.24, Polmed remuneration should be determined by the scheme's annual general meeting (AGM) and not by the Council of Medical Schemes (CMS). By Polmed's own admission, the scheme hasn't held an AGM since 2015, with questions being raised as to who approved the BOT payments.
422. A BRITISH human rights activist leading an investigation into the South African leg of an alleged $2 trillion-a-year (R28 trillion) money-laundering ring has accused five KwaZulu-Natal judges of promoting money laundering. Justin Lewis, of British human rights group Casisa (Constitution Accountability, Sedition, Independent, State, Access), alleges that the judges would grant rights to liquidate SA-based companies which were claimed to be indebted to international financial institutions, without seeking proof and contracts of the loans before granting liquidation orders. Lewis said the UK government was investigating money laundering by individuals in collusion with UK financial institutions. The investigation was commissioned in 2017. One of the cases with a South African link concerns a company owned by a British citizen who moved to Durban.
423. The bankrupt Mokgalakwena municipality in Mokopane in Limpopo is under administration, but more than R200 000 has already been paid to hire a Mercedes Benz C-class for the beleaguered mayor. Andrina Matsimela has been transported in this luxury car since July last year after her previous official car was written off in an accident. Netwerk24 reported DA councilor Korny Dekker says it's a shame that so much money has been spent renting a car while services are not being provided to residents because the municipality is under administration.  He wrote a letter to Charles Malema, CFO of the municipality, demanding that the car rental for Matsimela be stopped immediately. According to documents in Dekker's possession, the municipality made a payment of R98 389.82 to a rental agency for the Mercedes-Benz on October 21. Another payment of R109 010.50 was paid to the agency on November 28 for the same car. The municipality was placed under administration on December 18.
424.Former Eskom board chairperson Jabu Mabuza's name is entangled in an R11-billion boiler tube maintenance contract at the ailing power utility, where a company of his distant relative has emerged as one of those that made it through to the final bidding process for the critical contract. The relationship, and the possibility of a conflict of interest, raised questions inside Eskom in the days before his resignation last week.  Nomvula Mabuza's company — IDS Industry Service and Plant Construction Africa (IDS Africa) — was formed in April 2018, shortly after a new Eskom board was appointed. It allegedly stands to benefit from 70% of the utility's boiler tube maintenance contract, if the contract it is bidding for in a joint venture with American outfit General Electric (GE) is successful. IDS Africa already has a contract valued at R100-million for boiler tube maintenance at Medupi power station, which was awarded in February 2019. Eskom has, since last year, set aside R50-billion over the next four years for maintenance, with the bulk going towards maintaining boiler tubes.  There were no declarations of a possible conflict of interest by either Nomvula or Jabu Mabuza, regarding the two contracts.
425. Communications Minister Stella Ndabeni-Abrahams allegedly used thousands in taxpayers' money to fund her wedding anniversary celebrations in the US and Switzerland by taking her husband, Thato Abrahams, along without permission from Cyril Ramaphosa. Sunday Independent can reveal that Ndabeni-Abrahams also allowed her husband to attend official meetings. The pair took two international trips in September 2019, to New York and Switzerland. According to internal documents and senior government officials, the minister attended a conference in New York. Ndabeni-Abrahams proceeded to Geneva, Switzerland, to take part in a congress. While in Switzerland, Thato allegedly took the chauffeur-driven Mercedes-Benz S600 that had been allocated to Ndabeni-Abrahams, from Geneva to Paris, in France, to go shopping. The couple got married at a lavish wedding in Mthatha, Eastern Cape, in September 2012 and last year was their seventh anniversary. Ndabeni-Abrahams has also been accused of outsourcing departmental functions to Thato, by allowing him to interview candidates for positions on the various boards for which she has political oversight. An official government letter for the trip, seen by the Sunday Independent, reveals that two return business class tickets to Switzerland cost taxpayers R76719, excluding food and accommodation.
426. BLACK ANC officials had allegedly steal R12m from Limpopo municipality. The plunderers paid the R1m a month for 12 months into an unauthorized bank account instead of the account of the Compensation Fund. The Sekhukhune district municipality in Limpopo has turned to province Premier Stan Mathabatha for help on the theft of R12 million between 2018 and 2019. The municipality was also defrauded of R5.4 million last year. The municipality said the money was supposed to be its contribution in terms of the Occupational Injuries and Diseases Act. "It was meant to pay municipal employees who get injured or contract diseases while in the line of duty," the municipality said. According to insiders, officials had allegedly paid the money into an unauthorized bank account instead of the account of the Compensation Fund.
427. Lindiwe Sisulu's decision to appoint Mo Shaik and Menzi Simelane to the water department looks even more dubious, after their mega-wages were made public. Things have escalated quickly, as scandal engulfs Lindiwe Sisulu and the Department of Water and Sanitation. The DA have been on her case relentlessly since last week, after the minister appointed Menzi Simelane and Mo Shaik to her National Rapid Response Task-Team (NRRTT). Both have been blamed for facilitating state capture.
Menzi Simelane and Mo Shaik are currently earning R1 978 533 per annum as "special advisors."
That figure could potentially rise to R2.2 million if they are "moved up a notch" in the department.
These earnings are almost double the amount some MPs – including Julius Malema – get paid.
The total annual cost of Lindiwe Sisulu's Ministerial Office staff remuneration stands in excess of R13.9 million per year. Shockingly, that number excludes the 19 people appointed to her controversial task-team.
428. A massive amount of R859 666  mysteriously went "missing" off the books for the 2018/2019 of the Sol Plaatjie municipality in the Northern Cape. Secretary for the Sol Plaatjie municipality Tumelo Mosikare requested clearance for the disappearance on a Facebook page.
429. A company in which the wife of the Chief Operating Officer (COO) of the National Lotteries Commission is a director received R4.8 million from the Lottery in 2017. The grant was awarded to Zibsimanzi, a non-profit company. This was within months of Rebotile Malomane, the mother of three of NLC COO Phillemon Letwaba's children, being appointed a director. Malomane was Letwaba's long-time girlfriend before Letwaba paid lobola to her family late in 2018. By cultural tradition, they are now referred to as husband and wife. It is unclear what the project for which Zibsimanzi received millions involved. An internet search turned up only the NLC's 2017/2018 list of NLC grant recipients, which includes no details of the Zibsimanzi grant other than the date, amount and project number. The NLC has ignored questions about what the money was for, where the project was implemented, who the beneficiaries were and why a brand new Gauteng-based company with no track record received millions of rands for a project in Limpopo.
430. Nomvula Mabuza, Niece To Eskom ex-Board Chairpman, Jabu "Long Rubber Thing" Mabuza. Her name is entangled in even a worse mess of an R11-billion boiler tube maintenance contract at Eskom. Nomvula Mabuza has emerged as one of those that made it through to the final bidding process for the critical contract. The relationship, and the possibility of a conflict of interest, raised questions inside Eskom in the days before his resignation last week. Nomvula Mabuza's company — IDS Industry Service and Plant Construction Africa (IDS Africa) — was formed in April 2018, shortly after a new Eskom board was appointed, Jabu Mabuza.
431. A Northern Cape police captain accused of defrauding the state of over R30 000 has been arrested, provincial police said on Thursday. "Early this month, Northern Cape provincial detectives arrested one of their own. Investigating officer captain Salmons Gerhardus Esterhuisen was charged with three counts of fraud. Captain Esterhuisen is accused of defrauding the state of more than R30 000," said Northern Cape police spokesperson, brigadier Mohale Ramatseba, via a statement.
432. Former SAA board chair Dudu Myeni and the airline's former chief executive Musa Zwane were on Wednesday implicated in a controversial R1.3bn contract for aircraft components. This was part of the testimony led by Sibongile Sambo, founding member and director of SRS Aviation, which was apparently sabotaged and sidelined from the contract for supply of aircraft components to SAA. She was speaking at the Zondo commission into state capture on Wednesday. According to Sambo, her company was meant to be a BEE partner to US company AAR Aviation, which was the main contractor. However, she said SRS Aviation was eventually replaced with JM Aviation, owned by Buyisile Ndzeku.
433. Nine of the 10 accused in connection with a multimillion-rand toilet scandal at Amathole District Municipality in the Eastern Cape appeared before the East London Magistrates' Court on Wednesday. This was after a company called Siyenza Group was awarded a controversial tender to build pit latrines in villages under the municipality. The toilets were either not built or had substandard work done, resulting in some of them caving into the ground. The group was charged with fraud, corruption and money laundering in terms of the Prevention of Organised Crime Act during their first appearance in court in November. The Hawks' preliminary investigation discovered that more than R600 million was to be awarded for the contract, of which R286 million had already been paid to the suspects. Besides the 10 accused, three companies implicated in the case are also listed, which takes the total number of accused to 13.
434. How R134 MILLION 'erroneously' transferred into a municipality's bank account disappeared on the same day: It took just one day for cash-strapped and struggling municipality to disburse money to  catering and dumping site companies. The trail of how R134 million "erroneously" transferred into the Bojanala District Municipality's bank account disappeared on the same day and was used to pay off service providers could be contained in the municipal's ledger account. The ledger ostensibly shows how millions were used to pay for catering and the clearing of illegal dumping sites when the municipality was too broke to even pay its workers. Despite being broke, the municipality appears to have spared no expense – paying millions of rands on what was recorded in its ledger as bills for catering for events as well as for the clearing of illegal dumping sites. Payments for these services, which raised eyebrows because of the challenges the municipality was facing at the time, with some areas in the area experiencing acute water shortage – went on until May last year, according to ledger entries. All this happened a month before news broke that the municipality's finances were in shambles and it was struggling to even pay salaries in July last year.
435. Senior Airports Company SA (Acsa) executives have been implicated in a "fraudulent tender" that was allegedly inflated by almost R10 million after the bid was awarded and the contract signed with a different company that never submitted a bid. This was contained in a forensic report by the airports management company. The George Fivaz Forensic and Risk (GFFR) report, dated August 29 2019, found that the contract for the management of luggage trolleys at OR Tambo International Airport had been awarded to a company named Plan B Consulting CC. The company submitted a bid just below R9 million, but Acsa fraudulently signed the service contract with a different company, Plan B Trolley Engineering and Operations, of R18 million. The report also found that certain Acsa employees, including the assistant general manager of OR Tambo International Airport, Kris Reddy, "colluded with the external parties to fraudulently divert the award to the parties who never submitted a bid".
436.Government officials implicated in the awarding of fraudulent contracts for state funerals remain in their posts months after an investigation recommended action be taken against them. MPs were shocked to hear from public works and infrastructure minister Patricia de Lille that the department's most senior official, director-general Sam Vukela, who had been fielding their questions and explaining why no action had been taken was also implicated.The department of public works and infrastructure was appearing before parliament's public accounts committee (Scopa) to account for matters raised by the auditor-general in the 2018/19 annual report. DA MP Benedicta van Minnen asked about action taken regarding fraudulent contracts, where prices were inflated and payment irregularities found for the state-sponsored funerals of late stalwarts Winnie Madikizela-Mandela, Zola Skweyiya and ambassador Billy Modise. The three funerals cost taxpayers a whopping R76m, with the department spending, among other amounts, R7m to hire padded chairs, leather couches and scatter cushions, R2,47m for draping, R470,000 for serviettes and R695,000 for orchestra equipment for Madikizela-Mandela and Skweyiya's funerals. In some instances the service provider allegedly supplied items that the department had not requested.
437. R24.5-million from a Prasa contract was illegally diverted to buy majority stake in wine and olive farm in the Western Cape.Hundreds of millions of rands meant to supply the Passenger Rail Agency of South Africa (Prasa) with new trains was fraudulently diverted to businessmen Auswell Mashaba and Makhensa Mabunda, R24.5-million from a Prasa contract for new trains diverted to buy majority stake in wine and olive farm in the Western Cape.  Ongoing liquidation proceedings have exposed that funds from a botched a R3.5bn Prasa contract meant for new locomotives were diverted to private accounts, trusts as well as to the purchase of the majority stake at a wine and olive farm in the Western Cape, the Daily Maverick has revealed. Transactions linked to the R3.5bn Prasa deal have been labelled as fraudulent after court records and other documents revealed massive  looting.
438.Ethekwini municipality city manager Sipho Nzuza has appeared in court after being arrested by the Hawks in connection with the R389-million Durban Solid Waste tender fraud case. Nzuza, who became city manager in 2017, was granted bail of R50 000 in the Durban magistrate's court on Tuesday morning after being charged for the alleged tender fraud, for which former mayor Zandile Gumede and a network of Councillors, officials and contractors were arrested last year.
439. An ex-Eskom manager was dragged before court for money laundering, corruption and tax evasion for millions of rands. Mangope France Hlakudi is accused together with accomlices that they pocketed millions of rands from Eskom that was designated for projects. Hlakudi was a senior manager in Eskom's Capital department.
THE REAL STATE CAPTURERS
OPEN LETTER TO JOHAN RUPERT "Open letter"
I request this letter to be published In the best interest of the Public of this country & international banking communities of which this matter has:
My name is Jeff Koorbanally (Private Forensic Investigator) who has been investigating SARB, SANLAM, ABSA/BARCLAYS, FNB, for fraud & theft, money laundering since 2009. The biggest fraud, theft & money laundering ever committed by any country which is in access of over R2,5 Trillion. Crime committed in 1985-to date, of which the Lifeboat/Gift to Bankorp revealed by Ciex report (Britain Company) is part thereof. This crime was masterminded by the under mention trio, with Govt bonds which were Open Ended, Tap base & Bearer type, issued in several trenches in USD denominations, with the grand total of $36 billion Us Dollars:
1. Masterminds of crime #Dr Gerhardus Petrus Christiaan de Kock #Dr Christian Lodewyk Stals #Barend Jacobus du Plessis.
2. The main beneficiaries of this crime are: * Rupert Family(Remgro & Associates) *Oppenheimer Family( Anglo American & Associates *UBS (Bankorp shareholders) *Absa/Barclays (Executives & Shareholders *Fnb bank (Executives & Shareholders) * Sarb ( Old Executives & shareholders)
3. Main Accomplices to the crime in the Democratic Govt,in terms of their non disclosure & cover up of this most serious biggest financial crime ever committed by any country are: #Thabo Mbeki #Trevor Manual #Tito Mboweni #Maria Ramos #Elex Erwin #Pravin Gordhan #Nhlanhla Nene #McebisiJonas This crime is currently holding our Democracy at Ransom, with the potential of taking the Country down to zero, this crime was a serious crime of money laundering into world stock markets in total violation of the Stock securities Commission Act, Penalties for such crime is total suspension from Sovereign bond markets, in addition heavy fines can be imposed with the Max of 4 times the value of the crime ($36bn x 4 =$144 billion)
NOT surprisingly Ramos- who were part of this crime syndicate- was nominated for a post in the  interim board of directors at the Public Investment Corporation which includes former Absa boss Maria Ramos. Minister of Finance Tito Mboweni has announced an interim board of directors at the Public Investment Corporation which includes former Absa boss Maria Ramos. His statement, which was released on Wednesday afternoon, said Mboweni consulted with Cabinet on the interim board appointments, which will be effective from Friday to the end of July. SO– how come Ramos never was investigated- and why is she again being booted into a top position again...because she is Trevor Manual's bed baby….or because Ramos and Big Bucks are synonymous with each other? 
Am on record with all the under mentioned institution on this matter, what is stated in this letter is the truth which none of these institution or individuals can challenge me on… SAPS (dpci) NPA, SARB, ABSA, NIA, SASS,SCOPA,,AUDITOR GENERAL, FW De KLERK FOUNDATION, MBEKI FOUNDATION, FINANCE MINISTRY/TREASURY, FIC, & OPP. BARCLAYS PLC, BBA (UK), UK SECURITIES COMMISSION, BANK OF. ENGLAND, US SECURITIES COMMISION, INTERNATIONAL. ORGERNIZATION OF SECURITIES COMMISSION (IOSCO), BANK OF INTERNATIONAL SETTLEMENTS (BIS) G20.
In the best interest of the country as the official complaint with these international institutions I put the complain on hold and asked the President Hon JG Zuma to intervene & resolve this matter in the amicable manner that does not sabotage or destroy our economy. Obviously certain people must take the fall for they role in this crime, that refers mainly to finance Ministry/Treasury & SARB.
This is what this political plots & attempt for regime/leadership change is all about. Our President is being targeted for doing the right thing in the best interest of this country. Our President is going no where till this matter is resolve! We are no longer going to be threaten by Junk Status & Market reaction or fluctuation of the rand value, that's nothing but financial politic. We have been on junk status since the political takeover, whereby we inherited a bankrupt country from the apartheid regime & whereby they further imposed us with a huge liability of their looting. My response to our Richest Man in the country Sir Johan Rupert is as Follows: #Thepropaganda you play of being a victim and accusing the Gupta of being after you is a sick & stupid joke!
The propaganda of your claims that your Empires are loosing money is equally sick & stupid game. #Your denial of having an influence on the media houses of which you are a shareholder & what they publish is the sickest joke and an insult of our intelligent, if that was not the case you would have long time intervened especially in the vicious attempt to protect Pravin Gordhan and his captured dept Treasury. #You correctly stated that you do not do business with the" State" you justified that to exonerate yourself from any allegation of state capture, let me tell you something without fear or favor. You and the Oppenheimers are the Master of State Capture of our Democracy whereby our Treasury was capture! In An Act of financial/Economic Terrorism, which was done Warfare Style to destabilize and weaken our, security clusters & Prosecuting Authorities including our judiciary system all done to retain the Economy Control After it became clear that you were loosing the Political Control in the Codesa negotiation. I am talking about Project "Grapevine" which later changed the Project Spiderweb initiated by Roelf Meyer & Prof Nel being operated & continue to be from your varsity. You and the Oppenheimers were the funders thereof.
After Mbeki, Trevor, Mboweni allowed Anglo American to de register as a S.A. Company you then became the Sole finder of Spiderweb Operation, your captured puppets are, Trevor Manual, Maria Ramos. Code names(King & Queen of Leaves) they in return got Tito Mboweni & Gill Marcus captured and became cooperative to the Spiderweb, Currently Pravin Gordhan & Mcebisi Jonas are the protectors of your Spiderweb operation, we tried to break this web by referring the investigation to the Public Protector Adv Thuli Madonsela, to investigate you and your company, she decided to wash done the complain and exclude you, then suddenly you offered her a job!
What does that entails? It that a reward for a job well done? Lastly I want to make a plea to you, do the right thing for the sake of our children's: "PAY BACK THE BILLIONS YOU AND COMPANY. BENEFITED FROM THIS ABOVE MENTIONED CRIME."
Do it now while there is a chance of saving your empires, all your puppets are going to jail! We the public of this country are calling for the immediate removal of Pravin Gordhan & Mcebisi Jonas out of finance ministry we can not have people with double standards in this most important organ of our democracy, we are no longer going to be held at Ransom by threats of junk status, market crashes, to hell with that.
Lastly the money stolen in the above matter is being used as foreign currency Buffer Capital/reserves by SARB its in a dormant account antrcode 00004444 held at UBS Switzerland.  And the Federal Reserve – a private registered company– has been foreclosed since 25 December 2013– but it still operates as the controller of South Africa's economy although technically it does not exist! How do you get that right? We want that money brought back to the country to boost our economy as agreed by the owners of the money the Surtie family from Lesotho. Otherwise you all going down with your billions. Who am I am a forensic investigator, who investigate banks, ask your Partners Rothchild, I was part that busted HSBC for theft/money laundering of Moneys from dormant accounts to treasury, then smuggling money out with bank instruments (Drafts). That matter was reported to CIA & FBI Jeff Koorbanally CGMA/CIMA (Britain).THIS IS REAL STATE CAPTURE AND CORPORATE CAPTURE IN SA SINCE LONG IN SA.
The ANC greedy predators now gearing up to ravage your pension funds too:
The greed and banality of the ANC wolves are in one one word- mind boggling. Already they have raped and ravaged the state coffers empty- now they are shifting their cross-hairs to private institutions- and first on their menu is your pension funds.
Newly appointed minister  or Trade and Industry Ebrahim Patel sugar-coated their planned theft of your pension funds by saying yesterday that pension funds 'have a"role to play " in the development of South Africa through "investment in real assets".  His comments come after the African National Corruption (ANC) made a commitment earlier this year to investigate introducing 'prescribed assets' or a program that would force pension funds to invest some of their holdings in government-approved projects.  Now we all know how prosperous ANC ventures such as Eskom, SAA, Telkom, SABC and the Post Office are doing under their "investment" schemes….a total MESS!
When you take more than you give , you eventually running out of other peoples money. Tax payers are burdened by the very people who keep taking and not giving back.
The IRR has long warned that the government intends seizing private pension funds to plug government spending gaps.  Patel's remarks follow statements last week by the ANC and the South African Communist Party that the South African Reserve Bank should be nationalized to enable the government to introduce a program of quantitative easing, which translates loosely into printing money to finance government expenditure.  The result would be massive inflation that would erode the value of Rand-denominated savings in South Africa. But this again shows that the idiots on top has no idea of how to run a country-as they already have proven this past 25 years.
The sentiments of the ANC and the Department of Trade and Industry are in line with the government's commitment to begin seizing land and other assets without compensation. Yesterday, a panel created to brief  Cyril the Squirrel on land reform handed its recommendations to the Presidency. The IRR believes that the recommendations include encouraging the government to pursue an aggressive policy of expropriation without compensation.  The illegal regime is also set to proceed with an amendment to the Constitution to dilute property rights protections, which, with the Expropriation Bill, will allow it to seize virtually any assets without compensation. 
IRR CEO Frans Cronje said: 'The common thread running through all these actions is that the government is preparing to seize private wealth and assets without compensation. Its fiscal position is dire, debt levels have doubled over a decade, and the budget deficit is back where it was at the end of apartheid. 'Put plainly, it is running out of money and is desperate. Further tax hikes are nearly impossible. Yet, even at this dire point, the government refuses to introduce the liberalizing reforms necessary to grow the economy. It is also reluctant to accept foreign bailouts because of the conditions that would be attached. 'It is therefore preparing to turn on South Africans and the assets they hold in order to use these to finance government programs and policies, bail out parastatals and Eskom, pay salaries, and finance tenders and BEE deals.' Cronje said the proposed amendment to the Constitution and the Expropriation Bill 'will severely reduce the legal protection on offer to investors, businesses, families, and individuals should their assets be taken'. He warned: 'Unfolding before our eyes is an act of plunder of private savings, wealth, investments and property, the consequences of which will be devastating if the government proceeds.'
It is for this reason  we warn and call upon all South African  citizens to unite and prepare to stand fast and defy this illegal regime and their communist cohorts and defend their constitution and their private property rights with whatever means they deem possible- whether by court- or over the barrel of the gun before this incompetent greedy wolf pack turns South Africa in yet another failed African country the likes of Zimbabwe , Sudan and turn South Africa on the Venezuela model. It is up to it's citizens now to stop this plundering thieves and oust them out of government before they inflict collateral damage to the rights of the free people the same way they did to the economy this past 25 years. A healthy country is where the people control their government– but when it comes to the point like South Africa where the regime now controls the people – then it becomes a dictatorship. Let the communist ANC  fall from power begin!
LOOKING at the long list of thievery, plundering and racketeering under the ANC this past 25 years- and also their plans to plunder your private property and assets- they rather appear to be  operating from the downtown Chicago gangster mob rather than so-called " democratic politicians!" AND still the list of notorious plundering   is growing by the day. As you can see- this bunch ofANC mafioso is literally shamelessly cleaning up the state coffers. AND if any of  those worms start to crawl out of the tin  they quickly are wiped under carpets of endless "investigations" and" commissions" that on the end of the day- ends up in the annals of oblivion as it also again will happen with the Zondo findings…pure academical.  The snakes are cleaning up their tracks very cunningly with strategies of flat denial-endless "investigations"-  stretched out hearings- then followed by a silence of  "forgetfulness." Nothing happens to perpetrators such as Tina Joemat Petersen for instance. As  time goes by the media spotlight will focus on something else and the naive populace will forget her. Nothing will come of the billions she helped to disappear in her oil scandal racketeering with Jacob Zuma.
When this ANC mobsters talk about stealing they do certainly not worry about that bar of chocolate from your local retail store- these criminals start their bid on six figure amounts from your pension funds, tax coffers and service departments! Now we wonder how much more worms the likes of Dlamini, Zuma ,Mabusa , Ace Magashule, Gumede and many other mobsters still want to release from that seemingly bottomless slime pit of corruption? What strikes one as very peculiar- is how a rational populace( that would immediately exclude the "majority"  as they certainly are not rational) tolerate this bunch of hoodlums and still sheepishly adhere to all the "laws" this mob excrete on a monthly basis to keep the rest of the "animals" in check while they themselves break every rule in the book .
Another strange conspiracy theory that also springs to mind is just why this "elite" mobsters now all of a sudden want to jump the sinking ship...is it because of their pension schemes are in jeopardy-or is there a threatening clan/tribal  war going on inside the sinking ship between the Zuma deserters and the other ruling Nguni mobsters that now are threatening to sink the "we will rule 'till Jesus comes"  agenda- or is Zuma himself maybe busy working hard in the background to unseat the rest of the reptilian kingdom to bring back the Zulu power from the Venda lords which he himself stole from the Xhoza Nostra . The Times Live reports:  "  Cyril is in all-out war with the Zuma faction, and he's losing. The ANC's resolutions in 2017 to change the mandate of the Reserve Bank and expropriate land without compensation were adopted to trip Ramaphosa up, and those who are acting like zealots over them are implementing the Zuma-Gupta-Magashule plan to shuffle him out of power and return us to the dark 2008-2017 years."
OR there maybe a much more deeper and sinister agenda for this sudden move like a pre-planned strategy that the " Squirrel" only must act as an "interim" president while the dark Sith Lords of the AB and corporate "Deep State" are preparing the next government already? White Nation years ago already predicted that according to our historical calculations the ANC mob will only rule for 27 years- and according to our projection their rule will end around 2021 when it will be replaced by a mixed "transitional" government before an all-out civil war of three years will totally destroy the country, it's economy and it's people- where-after the UN (especially Americans and Germans) will take a hand and intervene to cleanse (drive out the black Czars and their yellow Chinese invaders) from the country to re-instate another 'democratic" regime favorable to their own agendas again. Namibia will according to our own speculation- be returned to Germany again- and the Boers (that secret elusive group of white people the ANC so much fear) will then again enter their promised land of freedom. But like I said- that only is our speculation.
As we also note do radical Stalinists such as Andile Mngxitama now also want to start his own little private army the same Malema did with the EFF.  With all this rogue radical black idiots running rampant in South Africa and all the illegal government supplied  weapons floating around in black townships – the possibility of a civil war is becoming more and more of a horrible reality. Now if we are correct in our estimation that could explain quite a lot of this sudden "movements" taking place now- and also why the core of the vipers' nest are high-tailing already to find a more safer haven to splurge that millions they stole from you before the sh*t really hits the fan. Interestingly do we also note that the Prime Evil of South Africa- Julius Malema- sort of became less verbal lately…the heathen seem to become a bit docile it appears. We wonder what the pesky arch fiend is up to again now? Again – like I say- this only is a conspiracy theory we have been pondering about for quite some time- but it fits the sudden environmental shift narrative. We cannot say for sure- but whatever is going on-  something is definitely busy upsetting and destroying the viper's nest from the inside. Reptile now is striking reptile. It only are complete  idiots and sell-outs the likes of Ramaphosa's "bum-chum" Roelf (The Canary) Meyer that will tell you the Squirrel will get South Africa "back on track."  The rest of us living in reality knows better. You can naturally  deduct your own conclusions.
SOURCE:
White Nation
WHITE NATION– WE DO NOT HATE WHITE LIBERALS– WE SIMPLY DESPISE THE FILTH!!
C'MON- SHARE OUR LINK