Do you have news to tell us? Send your e.mails with news and inquiries to: w.nation@mail.com
Register with us for free to follow our news on the right-hand tab
Article compiled and posted by: White Nation correspondent Cape Town July 01    2019
SOUTH AFRICA– THE  PIRATE's REALM DOWN SOUTH
CAPE TOWN-which is dubbed the  "Sin City" because of it's liberal LGBT and "multicultural"  Gomorrahn  cultures- risks becoming the world's most dangerous city. As the murder rate in the Sin  City spirals, it has emerged that a botched attempt to set up a police squad to rein in murderous colored gangs has backfired, leaving a trail of dead bodies and recrimination in its wake.
While corrupt politicians bicker and Affirmative Action police commanders wage their own civil war, hundreds of poorly trained AA  officers have become sitting ducks for the gangs. Six anti-gang unit officers were shot during an operation in Philippi on June 12. The attack followed a 54-hour period in which 62 murder victims arrived in Cape Town mortuaries. According to figures from Professor Lorna Martin, head of forensic pathology in the Western Cape, by the end of April the city's mortuaries in Tygerberg and Salt River had handled 1,280 murder victims. More than half had been shot, she said. If the body count is maintained, it will make Cape Town – SA's flag-bearer in attracting international tourists – the world's most dangerous city ranked by the number of murders, with 3,900.
Mitchell's Plain– notorious for being the center of colored gang activities. More than 100 000 different colored gangs of different sizes operate in the Western Cape alone. In the Western Cape these gangs rule supreme- rendering the province with it's vast spaces and multiple ports as the biggest hub for drug related organized crime in South Africa. 
Police incompetence…..unfit Affirmative Action conscripts to face it off with gang land's most  deadly adversaries
More than 1 000 KwaZulu-Natal police officers do not have competency certificates and 125 are not yet competent to carry firearms but still do. This is according to Dianne Kohler Barnard, the Democratic Alliance's Shadow Minister of Police. Nationally, there are 11 334 officers without competency certificates and 3 473 carrying firearms but are not yet competent. According to the DA, in a reply to a question they asked in Parliament, they were told that 3 500 uncertified police officers continue to carry firearms.  "It also detailed how approximately 11 000 officers do not have competency certificates.  The DA will ask Parliamentary questions to find out how many of these officers unlawfully fired their gun and ended up injuring or killing a civilian," she said.
A once proud South African Defense Force turned into a  circus of jokers by the ANC idiocracy. This is the clowns they now want to pit against some of the most dangerous and murderous gangs in South Africa.
Police issue firearm permits to police officials only if they can prove that they are fit and proper and that they successfully completed training to safely handle a firearm. "Therefore, SAPS have failed to ensure that thousands of police officials are in fact fit to have and use their guns. This not only puts the South African public in danger but also the police officials themselves. Anyone carrying a firearm without a license faces up to 15 years in prison. The police are already grossly under-trained throughout our country. For thousands of officers, who are meant to be custodians of our safety and security, to continue to carry firearms while not being properly certified, only increases danger for ordinary South Africans," Kohler Barnard said. And this are the incompetent  conscripts the ANC regime want to send in to face the deadliest of adversaries gang land could possibly offer. Will it  too much asked if Ramaphosa, Bheki Cele and a delegation of  all their useless " bling-bling" police generals join  police raid squads for a week long practical training experience  in the Cape Flats to fight shoulder to shoulder on a daily basis with this rabble they so gleefully send into mafia -controlled territories everyday? Can you already imagine ' Kakpraat" Ramasquirrel and the Oaf Cele ducking and diving a few gangster bullets with the inscriptions "To whom it may concern" engraved on them for a few nights like their untrained concubines have to? Maybe THEN the political les incompetents in higher places will have a much better understanding before taking stupid decisions and play Russian Roullette with other people's lives. 
The systematic segregation that took place in South Africa during apartheid has left a lasting imprint on the nation as a whole. It's a country with complicated race relationships that stretch back years, and even centuries. The rise of gangs in South Africa can be traced to the Group Areas Act of 1950, which displaced black people from their homes and expelled them to designated regions. Forced into overcrowded areas, the population was driven to in-fighting and eventually splintered into gangs. Membership is on the rise in South Africa; in 2013, police estimated that there were 100,000 gang members in the Western Cape province. This list explores some of the more notorious gangs in the country. South African gangs have carved out spaces in a nation that continues to struggle with its grim legacy. For marginalized groups, this life of crime is often one of the few options available.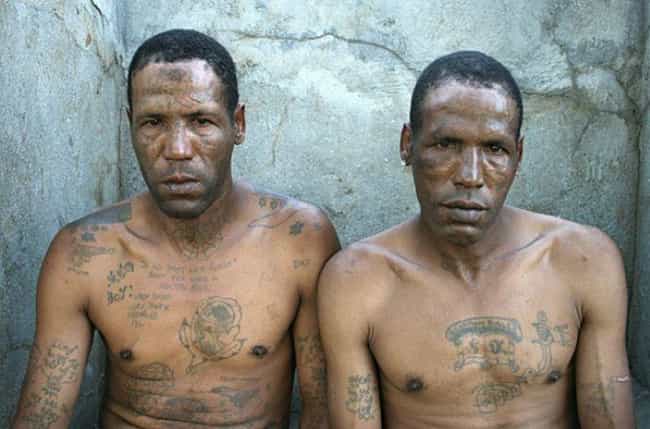 Perhaps the most infamous gangland criminal organization in South Africa is the "Numbers Gang. " It was founded in the late 1800s, when two men fought against inhumane conditions in the mine they were working in. Today, the organization is particularly pervasive in the South African prison system, where The Numbers Gang is divided into three tiers: 26s, 27s, and 28s. The lowest rung, the 26s, specialize in robbery and smuggling goods into the prison, while the 27s are the blood component – to join them, you must stab a guard or warden. The 28s, the top of the line, are violent sexual offenders who must assault another male inmate in order to join up. According to some sources, being a part of the "Numbers Gang "  is near compulsory if one wishes to successfully navigate, and survive, the South African prison system.
REAL FOOTAGE OF GANG SHOOTINGS- VIEWERS DISCRETION IS ADVISED: 
If you want to understand the "Numbers Gangs " in South Africa, you should start by reading Jonny Steinberg's 'The Number'. One man who doesn't have to bother with that is Welcome Witbooi, who rose through the ranks to become the highest ranking General in the 28s. At his peak he commanded an army of more than 2 500 men, and raked in more than R500 000 a month for the gang's business empire, all whilst housed within Pollsmoor Prison's walls. During his time behind bars he became a "First Star General "  in the 28s, but eventually he decided he wanted out. As the Daily Maverick realized during their interview with Welcome, that was no easy task: "I was told that there was one way in, and one way out of the Number- Through blood. So if I wanted to leave I would have to die. So there was a constant fear of leaving. But the deeper I got the more I understood that when moving up to the highest rank, there was a way out.. "I had to go to the head of the prison and get four generals transported from four different prisons to decide if I could leave. Two generals stood in front of me, and two stood behind me. I stood in the center, completely naked, and gave my reasons for leaving. If I could leave they would tell me so I hear it. If not, I would feel it, because the two generals behind me would stab and kill me.
"In the end, it was my education and the things I did outside of prison that saved me. I helped one of the generals to read and write, and another with a relationship. It was this that actually saved my life."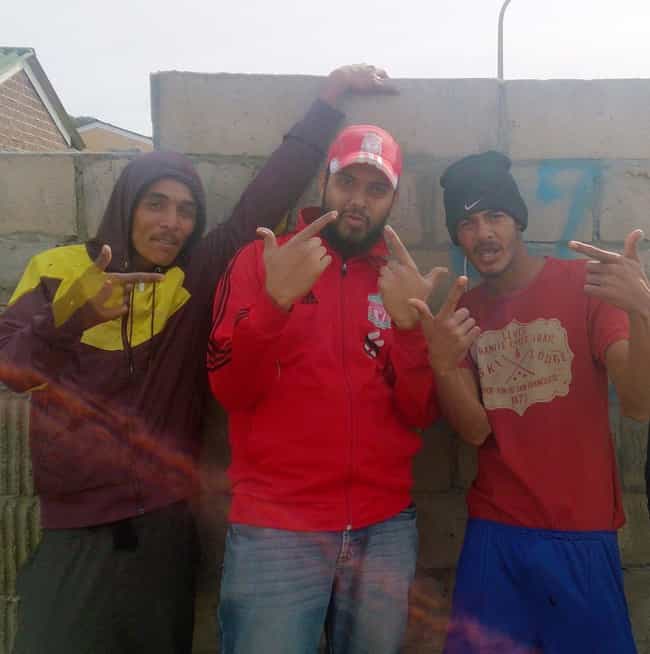 Apartheid led directly to the creation of the Americans. The gang's name references how members relate more to black Americans than they do black Africans, being relegated to the fringes of society via forced segregation. Members wear red, white, and blue, and their arms display tattoos reading "U.S.A." or bear imagery of Uncle Sam. The Americans are the largest gang in Cape Town, and have seized control of the meth trade, (Called Tik today) –often to violent ends. Once you join up with the Americans, you take a serious, solemn oath: you are told that from that day forward you must be prepared to die at any given moment.
After the Americans, the "Hard Livings " are considered to be the second biggest gang in Cape Town. The gang was founded in 1971 by twin brothers Rashied and Rashaad Staggie in the Manenberg neighborhood, and as their criminal enterprise grew, so did tensions with their neighboring rivals. Things came to a head in 1996 when Rashied Staggie was publicly set on fire by a vigilante group. Though the death of Staggie was a hit to the gang's leadership, they remained active in the drug trade and have been known to ally with the Sicilian mafia and the Chinese triads, taking their criminal activity to an international level.
Rashied Staggie– mob boss torched alive…gangland's retribution
A number of other smaller gangs form part of the Hard Livings gang and owe allegiance to it. The Hard Livings is one of two 'super gangs' in Cape Town with the other one being The Americans. The gang started out as a criminal street gang mostly involved in drug distribution for which they competed with the Americans gang. After their distribution network grew, the Hard Livings gang as well as their rivals evolved into a structured criminal organization involved in a wide range of criminal activities. In 1996 Rashaad was publicly set alight and killed by the vigilante group PAGAD. In the 1990s and early 2000s the gang was known to have had a strong presence in the wealthy Green Point and Sea Point areas of Cape Town. The gang is known to have been involved in both international and local organized crime. Their local activities range from drug running & trading, poaching, protection rackets, prostitution and shebeening (provision of unlicensed drinking places). Internationally they have been known to have cooperated with the Sicilian mafia in the trafficking of illegal diamonds as well as trafficking Cannabis to Europe.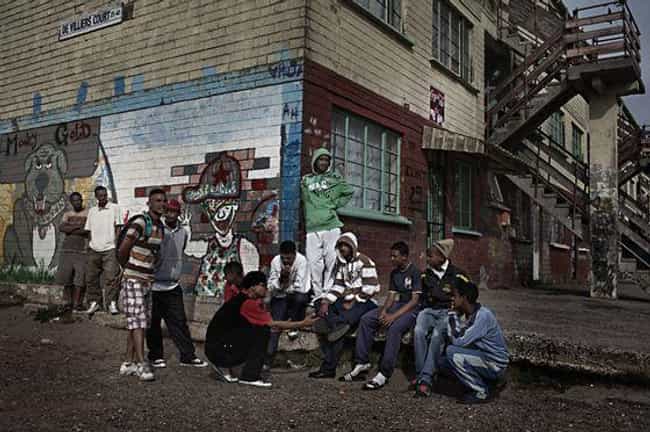 Founded in the Chestnut Place, Belhar area of Cape Town, the Sexy Boys are known most for their drug running and ruthless racketeering (taxi drivers have to pay a "tax" to even drive through the neighborhood). Despite their more lighthearted name, the Sexy Boys have a reputation for brutality and murder. Though the gang saw much of their leadership sent to prison in the early 2000s, they still flourish as an active criminal enterprise.
The Firm was formed in the early 1990s as a who's who of local gang members in Cape Town. By joining forces and concentrating their power, the organization quickly became a major player in underworld activities. The Firm is known most for running the drug trade in Mandrax (a type of Quaalude popular in South Africa), as well as operating shebeens, speakeasy-style bars called "Smokkelhuise" by the locals that operate without licenses. The Firm has also been known to dabble in more white-collar crimes like tax fraud, for which their founder Colin Stanfield was convicted and imprisoned.
One of the oldest gangs in Cape Town, the Mongrels are known for their drug running and shebeen (Smokkelhuise) operations. They don't take kindly to rivals and are quick to pull the trigger on anyone infringing on their turf. The Mongrels account for a large percentage of the city's gang-related homicides. The Mongrels start training their soldiers at a young age, sometimes as young as 12. They're also an outfit that's not scared to cut off an enemy's face and give to their mother.
The Junky Funky Kids – also known as the JFKs – are no joke. Centering their activity in the Lavender Hill neighborhood of Cape Town, the JFKs are a serious drug-running enterprise that frequently issues "shoot at sight" orders on any rivals coming onto their turf. The JFKs are also known for their legendarily brutal initiation process. New members have to strip and run through a gauntlet of two rows of existing gang members, all of whom hold clubs, leather belts, and wooden planks. As the new recruits run through, they are beaten bloody by the older members, proving their toughness and value to the gang.
Sin City hits the top list as mob town
According to the Citizen Council for Public Safety and Criminal Justice, which compiles global lists from official statistics, the Venezuelan capital, Caracas, was the 2017 murder capital with 3,387 homicides. Cape Town was 15th in the 2017 survey, and 11th in 2018, based on its per capita murder rate (murders per 100,000 people), but in the past year murders have shot up by 15%. The per capita murder rate of approximately 97.3 per 100,000 so far this year would have propelled it to fourth in the 2018 list, where all the cities in the top 10 are in Mexico, Venezuela and Brazil and at the center of the international drug trade. JP Smith, the City of Cape Town mayoral committee member for safety and security, said: "We're on a meteoric climb, and if we don't do something urgent we will end up as the world's most dangerous city. "The statistics are trending in an absolutely alarming direction."
Gang markings on an electrical supply box to indicate territorial visibility
Poverty-stricken suburbs become a hunting ground for drug peddling gangsters.
Mob land expanding
The Western Cape's Deputy Police Commissioner has warned gang activity is likely to increase following a series of massive drug hauls in the province in recent weeks. Earlier this month there were three separate busts in Beaufort West, in which six arrests were made and narcotics valued at more than R18 million were seized. Deputy Commissioner, Jeremy Vearey said gang turf wars are expected to spike over the festive season as a result of these successes. "Given such a shortfall in the market now on the supply side, it does mean that competition between opposing drug dealers become intense during this period. Tension is likely to increase because you now have more eating from a very limited chain."
Mayco member for safety and security JP Smith has called on the city's Special Investigative Unit to urgently engage with the police's Anti Gang Unit following a rise in gang violence in which 14 people were killed in 24 hours. The murders of mostly alleged teenage gangsters were reported in KTC in Gugulethu, Blikkiesdorp and Athlone on a Thursday night and early Friday. Lumkile Msila, a member of the SA National Civic Organisation, said: "We have set up a meeting with SAPS, neighbourhood watch and street committees for next week to figure out how we can put an end to this bloodbath. "We are forced to take a stand on the matter as some of the boys from the KTC area allegedly went over into Gugulethu and smashed windows of certain homes of their rivals. We met with their fathers at the police station and they vowed to do something about the problem if we don't," Msila said.
Colored children as young as six years old already affiliated themselves with gang activities in their area. A Gang leader- Jeromy (Donkie) Booysens once was shot point-blank range in the public street by two minors with a 9 mm gun during a court appearance in Cape Town . They shot him through the jaw bone- dumped the gun in a trash can- and ran away. Older gangsters many a time use under-aged youngsters to do the dirty work as they realize the law cannot prosecute and jail minors. But they are just as dangerous as their older counterparts. 
Trained and cultured from an early age to become ruthless hit squad  killers…young thugs eventually will become old thugs. This is the culture of the colored communities in the Western Cape- Gangsterism, drugs, murder  and extortion . This culture infested whole societies- from the judicial bench, police, public prosecutors, the lawyer right down to the street sweeper- all are in cahoots or have connections to gangs. 
Smith said he was particularly concerned about Delft. "About two years ago (Delft) had seen a positive change and a drop in gang violence following the insertion of neighborhood safety watch teams. Now the area is rated fourth from number 10 for murders. What is needed now is an effective investigation which will lead to arrests and convictions. We need to know what the Anti Gang Unit is doing about these killings." KTC residents said NY78, which separates Barcelona from KTC, is used as a boundary by the rival groups. "Boys from this side cannot cross over the street into Gugulethu and they can't cross over to this side without being attacked. It is a huge problem."
A gangster receives treatment in Hanover Park in one of the numerous shootings
Three of the dead boys are alleged to have been part of the Villa Nova gang in KTC and had been attacked by an unknown group from the Barcelona informal settlement. According to their mothers, the boys had not been part of the gangs for long, and had been forced to join because of the area they lived in. Harriette Manyathela, 61, said her son, Luvuyo Manyathela, 17, who had been gutted at the NY5 cemetery in Gugulethu, had had supper with his family about two hours before he died. Luvuyo's 14-year-old niece, Nosipho, said the teen had been drenched in blood from his chest down. She recognized him by the clothes he was wearing. "I saw him lying there with his black sneakers and a green jacket. But the police arrived just as I was about to hold him. I went around to have a clear look of his face and there he was, just lying there in a pool of his own blood." Manyathela suffers from various illnesses and said she depended heavily on her son. Luvuyo was the youngest of her four children. "I had high hopes for him, he wanted to become a pilot and buy us a fancy house and have many cars when he finished school," she said.
Luvuyo's friend and schoolmate, Kwanele Ntyontyo, 17, died on the way to the hospital. His mother, Ncediswa Ntyontyo, said she had not been able to see him since she heard of his death. "We saw a group of people running up towards NY78. Shortly after, I was told to hurry as he had been injured. When we got there, the boys were fighting and even stoning cars passing by; it was a mess. I was then told he had been taken to the day hospital, but when I got there he was already gone." A third boy, Kwanele Jacobs also died at the cemetery. His mother, Noluthando Jacobs, said she suffered from depression and did not know how she would cope with her son's death. "He was my right-hand man, he never wanted to see me hurt or upset. I am still in shock and don't know what I will do now that he is gone," she said.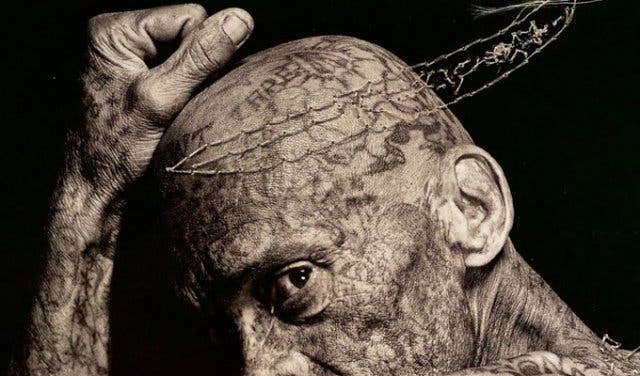 Death is a frequent visitor in Lavender Hill on the city's Cape Flats. News of it – a warning shout or the sound of gunshots – is carried on the same wind that brings calls to prayer. Its presence is too ubiquitous to disrupt everyday life; although, for many, it has come to define it. Largely because of hotspots of gang warfare, Cape Town is the ninth most dangerous city in the world by murder rate, with 61 deaths per 100,000 people. It is also the most dangerous in the country. As residents of this neighborhood can attest, postcard scenes of a peaceful, prosperous city – smiling tourists and hipster cafés set against a whimsical mountain – mask a deeply divided and violent reality.  The scars of apartheid's forced removals run deep in the area known as the Cape Flats, historically designated for "nonwhites", where poverty feeds into entrenched and sophisticated gang structures. Numbers vary wildly, but most experts estimate that there are at least 100,000 gang members operating in the province across 130 or so gangs. Drugs and gangs go hand in hand. The Western Cape has the highest rate of drug related arrests in the country (a recorded 88,000 incidents last year), with Cape Town being the worst offending city in the country.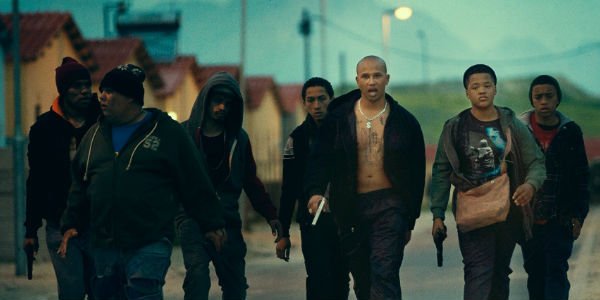 The most widely abused drug is methamphetamine, or tik, as it's easy to manufacture and relatively cheap. Other common drugs on the cape flats are mandrax, marijuana and heroin. For decades, police have struggled to interrupt the intricate gang networks, headed up by gangs such as the Americans, the Hard Livings and the Funky Junky Kids, that terrorize the communities of the Cape Flats and surrounds. In 2011 a special, cross-departmental unit known as the Cape Town Metro Police Gang and Drug Task Team was formed to step in where previous units and the police had failed. These officers face a real threat of retribution attacks by gangsters for the work they do.
Taking a ride in gangland
In this first Ridealong episode, Chronicle's Shaun Swingler takes you behind the scenes to show a little of what it's like to battle gangsterism, crime and drug abuse.
TWO months into 2019, the death toll for the year in Bonteheuwel rose to 18 after a 26-year-old man died from "a gunshot wound to the upper body" on Tuesday, according to police. A case of murder and attempted murder is being investigated, said Sergeant Noloyiso Rwexana of the South African Police Service (SAPS), GroundUp reports."We are calling it the war in our back streets," said community leader Henriette Abrahams. Since Christmas, Bonteheuwel has seen a spate of incidents related to gang violence. "It's a drug turf war," said Abrahams. Gangs are fighting to broaden their turf and they are "pulling in children to do their dirty work". Over the last month in Mitchells Plain, 25 people have died in what also appears to be gang-related violence. The Mitchells Plain precinct has the second-highest number of reported crimes in South Africa.  Not a week goes by without a murder in Bonteheuwel, with an average of four days between killings this year. In the latest incident, a man's body was discovered in the area on Monday morning. At least 40 people were murdered in the community since the start of the year. As a result, 100 municipal law enforcement officers were expected to be deployed to the area from July. The long list of Bonteheuwel murder victims now includes Sharief Cader, whose body was found along Loganberry and Medlar roads on Monday.
Sharief Cader– another gangster that met his brutal end in true gangland – style.
The police's Nolonwabo Tshengu said they were investigating. "Police are investigating a case of murder following the discovery of a body. The victim was found with gunshot wounds to the head. Police detectives are following leads to bring the perpetrators to book." This would never happen. The police officer investigating will most like get killed before the perpetrator does. A woman was shot dead at a house in the same community over the weekend. Another woman was seriously wounded in this attack. It's understood they were sleeping when a gunman stormed into their home and opened fire. The motives for both shootings have yet to be determined. In many cases people died in vain because of "mistaken identity" – or being in the wrong place at the wrong time.
Dylan Pelton, a teenage victim of Bonteheuwel's gang violence, would have turned 20 on 5 November
On Tuesday evening, a consultative meeting to discuss safety was held with the Mitchells Plain community, its leaders, members of the Mitchells Plain Community Policing Forum (CPF), SAPS and Correctional Services. The meeting was chaired by Lennit Max, police minister Bheki Cele's special adviser. About 70 people attended the meeting. "Currently we are living in fear," said Byron de Villiers, chairperson of the Lentegeur CPF. "We're calling it a war, because that's what it is." Basil Coetzee, a community activist, said the community should move from criminal justice to "people's justice". Coetzee said the current justice system favors criminals. He said police should be rotated in the various areas as many police officers also joins these gangs and become part of the problem as well.  "When gangsters are on first-name terms with police officers, I worry," he said. "It's a relationship that should not be there."
Steven Swartz voted for Cyril Ramaphosa in Hanover Park, a decision he believes will be good for SA, but he says political parties won't fix his troubled Cape Town community. "The ANC can never get gangsterism out of Hanover Park. The people can," he said. Standing outside Hanover Park Civic Center on election day, Swartz waited for his wife to finish voting. She took a long time. Perhaps, like many South Africans, she was undecided until she arrived at the voting booth. Outside the polling station, a large contingent of metro police kept watch over the area, which is best known for near daily gang shootings. Southern African Development Community observers were also present. Hanover Park resident Steven Swartz believes the future is bright. But his vote won't change the problems in his community, that, he says, can only be done by the people who live here.
"I voted for Cyril Ramaphosa," said Swartz. "I lost my faith in the ANC with Jacob Zuma, but Cyril Ramaphosa, I've always followed him, he was supposed to be president after Nelson Mandela but lost out because of his ethnic background." The ANC was corrupt, said Swartz, and he believed Ramaphosa would have a difficult time cleaning it up. But he believed there was corruption in all political systems. "There aren't many leaders in South Africa, and that's the problem even in our area," he said.  Race played an increasingly large part in the election campaign, and not far from Hanover Park residents of the mostly black Siqalo informal settlement have clashed with their mostly colored neighbors during service delivery protests over the past year.
https://www.facebook.com/alieb.bosman/videos/2049077721840298/
Gnagland and the justice system
A web of "premeditated" killings entwined with the trade in illegal drugs is expected to be revealed when one of the biggest gang trials gets under way in the Western Cape. A dozen suspected members of the notorious "Terrible Josters " gang – who allegedly terrorized residents of the Cape Flats for years – appeared in the high court in Cape Town under heavy police guard on Monday. Cape Flats residents filled the public gallery. According to the state, the gang has as many as 10,000 members and the "criminal activities of the Terrible Josters are mostly focused on the sale of illegal drugs, namely 'tik' and mandrax in certain areas of the Western Cape". The 12 men on trial face 71 counts, including 11 of "planned or premeditated murder" and drug dealing. Judge Rosheni Allie postponed the matter to August 12 for trial.
In March, acting judge Johan de Waal turned down the bail application of one of the accused, Horatio Solomons. In the application, Solomons, 29, told the court that he had seven children with six women and that he supported them financially. He said he ran a taxi business, purchased cars on auction and sold them and owned three properties in Delft, Belhar and Kleinmond. De Waal questioned whether the businesses were tax compliant. His mother also deposed an affidavit and attached 293 names of Delft residents indicating that they had no objection to his release on bail. But the state submitted a petition signed by 260 Roosendaal residents objecting to his release. Solomons complained that he was being held with 45 other people in a cell meant for 30 inmates in Pollsmoor prison. He claimed that the prison was infested with rats, fleas and other insects. But De Waal said: "Such conditions cannot in my view constitute exceptional circumstances justifying the release of Solomons." In the 31-page judgment, De Waal said gang shootings had decreased in the Cape Flats since members of the Terrible Josters were incarcerated in August 2017.
" It is further alleged, on behalf of the state, that [Solomons], as a member of a criminal gang, is likely to continue hostilities with opposing gangs if released on bail," said De Waal. "Gang related shooting is an immense problem for communities in the Cape Flats. It appears, further, that since the incarceration of the Terrible Josters criminal gang members, there had been a de-escalation of gang violence in these areas. "One can also take into account, as suggested by the state, that when members of the Terrible Josters appeared in the Bellville Court in August 2017, they allegedly assaulted a member of an opposing gang, which then led to that gang opening fire on the group, leaving bullet holes in the Bellville Court glass entrance. Some eight cartridges were later collected at the entrance of the court. In the circumstances, the application for bail is dismissed." Solomon's co-accused are facing a further 202 counts of "criminal gang activity" in a separate case also pending in the high court.
Ramaphosa trying his luck in curbing the gang wars without much success- the infighting and confusion in the AA police force
The anti-gang unit, launched last November in Hanover Park by Cyril Ramaphosa, was transferred to national control this week by police minister Bheki Cele, who said during the state of the nation debate that this was because "gangsterism is spreading across the country". But a Cape Town lawyer who represents the unit's commander, Maj-Gen Andre Lincoln, said the unit had been set up to fail. Johan Nortje told the Sunday Times it had been launched six months before the elections as an ANC attempt to gain votes on the Cape Flats. "It was part of a whole election thing in the Western Cape, the reason it started here, because you know [then DA premier] Helen Zille has been asking for the longest time for an anti-gang unit and they always said no, and now shortly before the election they suddenly launch it," said Nortje.
But he said the unit was improperly constituted and relied for its personnel on short-term secondments from police stations throughout the province. "The employment regulations in [the South African Police Service] make it very clear how a unit is supposed to be set up." "A whole work study needs to be done, there needs to be Treasury approval, all that stuff. That was never done, this thing was just launched overnight," he said. As the fallout from the soaring murder rate and the anti-gang unit's failure gathered momentum this week, it emerged that:
– Lt-Gen Khombinkosi Jula will be removed as Western Cape provincial commissioner after a year of bitter squabbles over resources and a cut-throat battle for his job;
– Western Cape premier Alan Winde is concerned that controversial provincial detective chief Maj-Gen Jeremy Vearey is being considered to replace Jula;
– The other candidate is Maj-Gen Peter Jacobs, recently appointed to head crime intelligence; and
– Police are appealing against a Cape Town high court judgment that exonerated anti-gang unit boss Lincoln of corruption related to his relationship with Italian mafia boss Vito Palazzolo.
Lt-Gen Khombinkosi Jula will be removed as Western Cape provincial commissioner after a year of bitter squabbles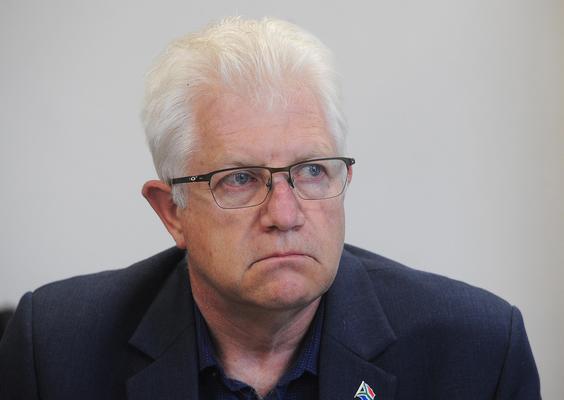 DA Premier Alan Winde– have one helluva challenge on his hands with gang land on his doorstep and a questionable Top Cop to curb them
A police ministry statement in November said the anti-gang unit was "made up of members from specialised units with an objective to dislodge and terminally weaken the capacity of the gangs". But Nortje said the unit was a laughing stock among gangsters. "The people are seconded, they're not appointed to official positions. There are no clear guidelines about who is being reported to," he said. "The guys in the stations don't know if they should get involved in gang violence cases because there is now a unit for that. The unit doesn't know exactly what its mandate is." "The gangs can see what's going on. They are laughing at the police because it looks like the police themselves don't really know what they're doing."
Trade union Solidarity said 1,035 officers, many of them members of the union, were seconded to operations such as the anti-gang unit. Public sector organizer Ronel Stander said this took resources from stations. One such operation was the major offenses reaction team (Mort), which depleted resources at units including the flying squad. "The establishment of these entities merely aggravates an already flawed system," said Stander. "Establishing such entities under the guise of 'operations' undermines effective policing as there is little to no control over the members, who by all accounts drive around aimlessly. "Most of the members found at the operations are very junior members who have just completed basic training and are placed in areas they do not know. When faced with crisis situations they literally run away." Police officers and sources who have worked with the unit said some members were poorly prepared. "I've been with those guys when they kick down doors. There are ordinary visible policing members who've been given a big gun and a [anti-gang unit] badge and told to go do operations," said a police source. Several detectives have also been seconded to the unit, leaving piles of investigations unattended at their home stations.
Jula, who was on leave this week ahead of his reported transfer to KwaZulu-Natal from August 1, declined to comment about the anti-gang unit and attacks he has faced since the start of the year from Vearey's unofficial spokesman, Colin Arendse. Reflecting on Arendse's Facebook posts, in which he describes Jula as a "Bantustan despot" or a "Bantustan stooge", Smith told a news conference this week: "I have never in all my career seen a senior police officer use a proxy to assassinate a fellow senior police officer's career like that. It is disgusting." But the battle lines were drawn when Jula gave Lincoln – a Vearey ally – 1 out of 5 for his performance as the wine lands visible policing head. Lincoln instigated a grievance, calling for Jula to be disciplined for "unfair labour practice" and demanding to be allowed to report to the national commissioner instead. Animosity has been further fueled by the Western Cape police's decision to ask the Supreme Court of Appeal to overturn Lincoln's exoneration in the Palazzolo corruption case.
Police spokesperson Brig Vish Naidoo would not comment on Jula's alleged removal or who might replace him. "As of today, the commissioner is not being replaced," he said yesterday. "Jula … is the provincial commissioner. I can't say what will happen in the future. That position doesn't belong to anyone." "If someone is being replaced, the national commissioner will announce it when he announces it and it will be done in the interest of service delivery." Winde is understood to be writing to national police commissioner Gen Khehla Sitole over concerns Vearey may replace Jula. "If it is the case that SAPS is going to employ a new police commissioner, then they are obliged to consult with the Western Cape government," he said. "Should this happen, we would want an individual of the highest integrity, who has no factional relationships, who does not have any political affiliations or allegations of ties to the gang underworld." Vearey did not respond to questions from the Sunday Times.
A senior source in the DA-run provincial government said Vearey had always been opposed as a candidate to lead the Western Cape police because of his strong ties to the ANC. "His appointment will be an impossibility. We won't allow that," said the source. Smith said there had been more than 900 murders in Cape Town's gang strongholds in the past year, double the previous record. Elsies River community policing forum chair Imraah Mukkaddam equated the situation to a civil war. "Five nights out of seven, gunfire is going off four or five times. I monitor about 20 WhatsApp groups and every night you just hear: shooting here, someone was killed there, police responding to shooting in that area," he said. "For us volunteers to be in this civil war is excruciating, to have to deal with all those victims. For every person who is killed there are thousands who are injured. It's extremely traumatic for the children growing up here." David Bruce, an independent researcher who specializes in policing, said the government had "never responded in a coherent way to violent crime", and there was "enormous scope" for it to do so.
BUT the problem cannot all be laid in front of the door of "apartheid" alone. Gangsterism in the Western Cape is as old as the white history of South Africa itself- and "apartheid" started with the sneaky "conquering" British already who wrote the first segregation (apartheid) laws ….not with the white Afrikaner.  BUT the huge escalation of gangsterism is directly contributed to the corrupt ANC's inability since their state capture in 1994 to even control or curb their own gangsterism in parliament. Since 1994 there is a huge acceleration in the crime wave in mob land. And that is directly the result of poor trained AA police officers, corrupt gang related policemen, dirty politicians,abandonment of capitol punishment, pro-criminal double standards in "human rights"  decisions, Liberalism, incompetent law enforcement – and the fact that the illegal regime's media concentrate more on sucking up black arse for voter numbers and chasing illusionary white "racists" than addressing the REAL criminals such as the gangsters of the Cape Flats. Cape Town thus became the Mecca– the fertile breeding ground such as Johannesburg- for gangs from  all walks of life to expand their dark operations  – from Nigerians, Chinese, Italian, Sudanese, Colored and many other greedy power hungry  filth rejects of society.
It  became  very convenient to blame everything on "apartheid"– that magic  blame-shifting conspiracy  already became a national culture among non-whites in South Africa. But the real problem of the gang warfares, contraband trafficking, human trafficking, cash heists, armed robberies, farm murders, robberies in streets. hi-jacks and illegal mob operations lies within the incompetent ANC's own inability to govern- as well as the parents of these youngsters that cannot control these children. Further-more did the communist rat pack and their "human rights" Jewry took away punishment in schools and at home. How could parents and teachers then discipline these kids who  become more and more violent everyday? How arrogant of them to keep blaming it on "apartheid.?" For 25 years the ANC now have been in power- yet more than half the population lives under the breadline. Due to poverty these generation of youngsters now revert to crime to make a buck. Because the whole disciplinary system fell into taters and failed them, because capitol punishment and punishment at school and parental level were taken away-because the whole governing system is corrupt and non-functional due to race-based Affirmative Action appointments –  there is NO deterrent  to control these kids anymore, no real expert guidance, no parental control and no hope of getting a job anymore because only black lives matter in South Africa today. Who's fault is that…still "apartheids?" This truth vile white liberals and non-whites conveniently ignore in their daily demonization of whites and "apartheid" in their misleading news tabloids and decision making .  This near-cataclysmic gang wars was their own doing. And it will not get any better. On the contrary will it become even WORSE! If a tree is bad- so will be it's seed.This bad seed is a direct reflection  of what is happening in the government branches . AND  we all know what is happening in the government branches – now don't we? 
SOURCES:
https://www.iol.co.za/weekend-argus/news/gang-bloodbath-claims-14-lives-in-24-hours-on-cape-flats-25557042
https://www.timeslive.co.za/news/south-africa/2019-05-08-im-a-cyril-fan-but-even-he-cant-beat-the-cape-flats-gangs/
https://www.timeslive.co.za/news/south-africa/2019-05-06-cape-flats-reign-of-terror-culminates-in-trial-for-the-terrible-josters/
https://www.2oceansvibe.com/2018/03/14/this-guy-went-from-a-28-gang-general-to-starring-alongside-hollywood-royalty-video/
WHITE NATION– WE DO NOT HATE WHITE LIBERALS– WE SIMPLY DESPISE THE FILTH!!
C'MON- SHARE OUR LINK