Do you have news to tell us? Send your e.mails with news and inquiries to: w.nation@mail.com
Register with us for free to follow our news on the right-hand tab
Article compiled and posted by: White Nation correspondent Tennessee USA August 11   2019
AMERICA
A BODY believed to be Jeffrey Epstein's was just loaded into a medical examiner's van out of the same hospital he was taken to this morning, and it looks like law enforcement took extra steps to hide the scene this time around.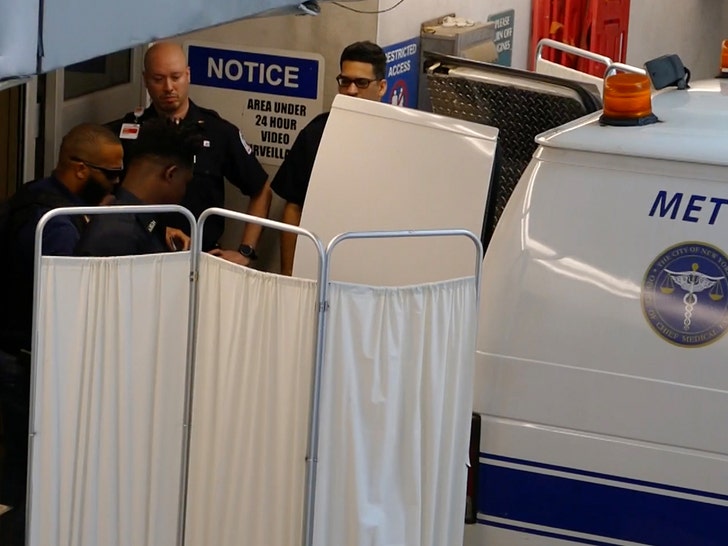 You can see several law enforcement officers seemingly load a body into the back of an open van with a raised medical curtain obstructing the view of cameras. This appears to be the same area where a lifeless Epstein was wheeled in early Saturday, after his suicide. Once the body was in the van, they removed the stretcher.
11:28 AM PT — Law enforcement sources familiar with the matter tell TMZ … Epstein was taken off suicide watch after he met with medical professionals who evaluated him after his first alleged suicide attempt. We're told Epstein was found to be well enough to be sent back to his cell in the Special Housing Unit without extra eyes on him. So, Epstein was briefly on suicide watch, but at some point between July 23 and today … he was removed.
10:36 AM PT — A federal law enforcement source tells TMZ … Epstein was off suicide watch at the time he hanged himself. The source would not comment on why prison officials would remove Epstein from suicide watch given that they believed he may have attempted suicide days earlier.
9:44 AM PT — Attorney General William Barr just weighed in on Epstein's suicide, saying, "Mr. Epstein's death raises serious questions that must be answered. In addition to the FBI's investigation, I have consulted with the Inspector General who is opening an investigation into the circumstances of Mr. Epstein's death."
9:19 AM PT — There are now reports Epstein may not have been under suicide watch. Sources familiar with the case say that would be a violation of protocol, since anyone suspected of being suicidal is put on suicide watch, and authorities believed the first incident was a suspected suicide attempt. So, if he was on suicide watch, how did this happen, and if he wasn't on suicide watch, why wasn't he?
8:29 AM PT — Law enforcement sources tell us, the protocol in the Suicide Watch Unit where Epstein was held is for monitors to record the movements of the inmates. So, there should be video showing exactly what happened … unless someone erased over it. And this is especially puzzling – our law enforcement sources say Epstein's cell was so bright he was complaining he was unable to sleep. Fact is, whatever happened should have happened in plain sight of the guards. The U.S. Dept. of Justice says the FBI is now investigating.
7:42 AM PT — What's interesting … the facility had Epstein in the Special Housing Unit Suicide Watch since the first incident. Guards were supposed to "maintain the inmate under direct, continuous observation," 24-hours a day. The lights in the unit are not even turned off, which makes this whole situation odd.
6:51 AM PT — Federal law enforcement sources tell TMZ Epstein hanged himself in the facility.
Jeffrey Epstein, the man accused of horrific sex crimes against underage women, has killed himself behind bars. Prison guards found him dead Saturday morning at the Metropolitan Correctional Center in Manhattan. This appears to have been his second attempt at taking his life. He was found unresponsive in his cell last month, and it appeared to be a suicide attempt.
Photos show Jeffrey Epstein as he's wheeled into Downtown Hospital
A gurney was wheeled out of the facility at 7:30 AM Saturday and taken to a nearby hospital following an apparent 911 call reporting cardiac arrest … this according to the NY Post.
There was a big development in the scandal Friday when legal docs became public, naming other prominent, private and public, individuals, including a senator and former cabinet member who were allegedly involved in Epstein's sexual exploits. Those people have denied involvement.
Epstein was awaiting trial on charges of conspiracy and sex trafficking. Some of his alleged victims were as young as 14. The alleged abuse occurred between 2002 and 2005. The site of the alleged abuse was Epstein's swanky Upper East Side townhouse, as well as his Palm Beach waterfront mansion. His charges held a possible sentence of 45 years behind bars. 
Epstein, a Wall Street investor, had rich and powerful friends, including Bill Clinton, Donald Trump, Prince Andrew, Kevin Spacey and many others. Epstein took what became a hugely controversial plea deal back in 2008 in Florida. He pled guilty to prostitution-related felonies involving a 14-year-old girl and received an 18-month sentence and served 13 months. As you know, former labor Secretary Alexander Acosta resigned last month over the plea. He was U.S. Attorney of the Southern District of Florida at the time and accepted the plea deal. Epstein was taken into custody July 6 and denied bail. Epstein was 66.
Originally published — 6:12 AM PT
So…the story now is that Epstein committed suicide ! He hanged himself ! In jail. But, there is a report of some strange things that happened before the time. There are suggestions, that he was swapped with someone else. That Epstein was removed from jail .But as for now-  let's stick to the suicide explanation ….. for now ! But we will see what's going to come out in the next few days. Things are going to get mighty interesting – especially for the Clinton gang. 
EPSTEIN was a millionaire financier facing sex trafficking charges. Epstein pleaded guilty to soliciting an underage prostitute in 2008 and spent 13 months in a Florida prison on a work-release program. The plea agreement was agreed to by then-U.S. Attorney Alexander Acosta, and was widely criticized at the time as too lenient. Acosta resigned as President Donald Trump's Secretary of Labor last month amid new criticism of the deal.
https://www.youtube.com/watch?v=zE0wCGqeusM&feature=share&app=desktop
Last month, Epstein was arrested and charged with sex trafficking after his private jet landed at a New Jersey airport. Epstein was facing up to 45 years in prison if convicted.Epstein 'Needed' Three Orgasms A Day, Witness Testified) Documents released Friday revealed that Virginia Roberts Giuffre, one of Epstein's alleged victims, claimed that Epstein "farmed her out" for sex to key power players in the U.S. and U.K. The men named included former Democratic New Mexico Gov. Bill Richardson, a diplomat and former presidential candidate, former Democratic Maine Sen. George Mitchell, who served as Senate majority leader from 1989-1995, and Prince Andrew.
Giuffre says she was 15 years old and working as a spa attendant at Mar-a-Largo at the time. She is one of dozens of women who accused Epstein of sexual misconduct toward her when she was a minor. Mitchell and Richardson have denied any wrongdoing.
More than two decades ago, Little St. James Island, a small body of land tucked in the U.S. Virgin Islands, began to change in ways that that locals on other islands regarded with suspicion. Plants were cleared. Poles bearing American flags went up. Security guards lined the beaches. These transformations, according to theAssociated Press, happened when the island was bought by a now-disgraced billionaire: Jeffrey Epstein, who was indicted in July on charges that he ran a sex-trafficking ring of underage girls in the early 2000s. What exactly has transpired on the island, which is Epstein's main residence, has largely remained the subject of rumors. The island has, however, gained a handful of sinister nicknames over the years: "Orgy Island," "Pedophile Island," and "Island of Sin." (Epstein, Bloomberg reports, preferred the nickname "Little St. Jeff's.") Below, here's everything to know about the Epstein's ties to the island.
The island is Epstein's main place of residence.
In 1998, for $7.95 million, Epstein purchased Little St. James Island, which is situated between the larger St. Thomas and St. John Islands. Since he's been the owner of the 72-acre body of land, Epstein has outfitted the island with towering palm trees, multiple buildings, and a helicopter pad,Bloomberg reports. Though not many details have been reported about the interior of the main residence, a former employee said that Epstein had two offices, which no one but the maid was allowed to enter, where he kept security boxes. A former IT contractor who worked for Epstein from 1999 through 2005 also shed light on what was to be found inside Epstein's residence: countless photos of nude women. "There were photos of topless women everywhere," contractor Steve Scully told ABC News. "On his desk, in his office, in his bedroom."
There's also what appears to be a mysterious blue-striped temple. According toInsider, which investigated the structure, it previously featured a gold dome that flew off in 2017 when the hurricanes Irma and Maria devastated the region. While the purpose of the temple is unknown, one possibility is that it had served as a place for the classically trained Epstein to practice piano — workers described it as a music room with acoustic walls and a grand piano inside, as the AP reports.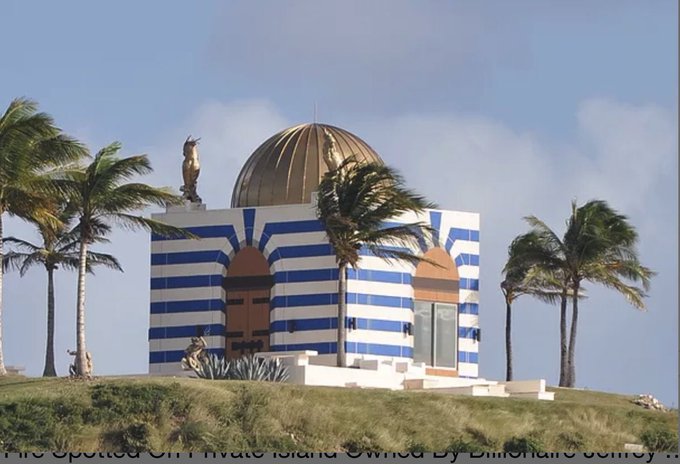 Roamers have suggested that the temple was either a secluded setting for Epstein's abuse or that it concealed a hidden underground location for the same purpose. James Both, a contractor whom Insider consulted with for the story, noted that while it was possible to install an underground space or elevator, the construction would have most likely been documented by a vendor to ensure regular inspections. Both also pointed out the temple's questionable wooden door, which features a reinforcing lock bar. "What makes it peculiar is that if you wanted to keep people out, the bar would be placed inside the building, [but the] locking bar appears to be placed on the outside … as if it were intended to lock people in," he said. According to Scully, though, the building is simply a gym. (He claims, however, that the gym allegedly features an especially large framed photo of a topless woman.) Epstein also had an interest in "pirate treasure," one of his former employees told Bloomberg. Reportedly, Epstein would pay staffers anywhere between $100 and $1,000 if they discovered and gave to him old rum bottles, plates, and other dishware.
He allegedly ran his trafficking ring there.
According to Fox News, Epstein had a dedicated team of workers on the island who trafficked girls as young as 12 to his clients. Sarah Ransome, one of his alleged victims, said she tried to swim off the island only to be found by a search party that included Epstein and his cohort Ghislaine Maxwell. Ransome also said that they kept her passport so she couldn't leave. Though the specifics of the visits are unclear, one former employee told Bloomberg that Epstein would fly young women into St. Thomas, and then he would then ferry them over to his private island via a boat named "Lady Ghislaine." Furthermore, in his interview with ABC News, Scully said that he frequently saw groups of girls who "couldn't have been more than 15 or 16 years old" riding ATVs and bathing topless.
And he reportedly ordered heavy renovations while he was facing a potential life sentence for his role in said alleged trafficking ring.
According to permit records obtained by NBC News, while Epstein's legal team was busy negotiating a notoriously lenient plea deal for their client in the fall of 2007, Epstein was preoccupied with orchestrating major renovations on the island. (He would eventually plead guilty to two counts of soliciting prostitution from a minor, thus dodging federal sex-trafficking charges, and serve just 13 months in jail.) During this time, Epstein reportedly ordered the construction of a spa, a living room that would connect to a ground theater, a new kitchen, and two new guest rooms. Altogether, he sought to expand his residence by nearly 20,000 square feet — a transformation that turned his main house into a mansion.
Bill Clinton allegedly visited the island, though he has repeatedly denied the claims.
Virginia Roberts, who claims to have been trafficked by Epstein, told her lawyers in 2011 interview that she saw Clinton with "two young girls" on the island. "I remember asking Jeffrey, 'What's Bill Clinton doing here?' kind of thing, and he laughed it off and said, 'Well, he owes me a favor,'" Roberts told her lawyers. Clinton, however, has repeatedly denied this allegation through his spokesperson. "President Clinton knows nothing about the terrible crimes Jeffrey Epstein pleaded guilty to in Florida some years ago, or those with which he has been recently charged in New York," Angel Urena said in a statement. "He's not spoken to Epstein in well over a decade, and has never been to Little St. James Island, Epstein's ranch in New Mexico, or his residence in Florida."
Per Bloomberg, Les Wexner, chairman and CEO of the L Brands corporation (the parent company of Victoria's Secret), also spent time on the island on at least occasion, an employee told the outlet. (Victoria's Secret models allegedly visited, as well). Additionally, former Prime Minister of Israel Ehud Barak told Daily Beast that he visited the island, though he explicitly said that he did not meet Epstein "in the company of women or young girls."
Most recently, Epstein bought a neighboring island.
In 2016, Epstein purchased the nearby Great St. James Island, which is approximately 165 acres, for $18 million. This year, he had begun construction on a compound there despite a stop work order that had been in place since December. The compound was to feature an amphitheater, an underwater office, and pool, according to the Virgin Islands Daily News. On July 9, U.S. Virgin Islands Delegate to Congress Stacey Plaskett said she would be matching the donations she had received from Epstein over the years to give to organizations in her district that focus on women and children. "I am uncomfortable having received money from someone who has been accused of these egregious actions multiple times," Plaskett had said.
EPSTEIN is the first "Silicon Valley" criminal to be detained for this vulgar offense of pedophilia- but Epstein is but one fish in a very big pond full of liberal political and celebrity predators . The global network of child abduction and molestation spans across the "blue chip" establishment to all four corners of the globe with very prominent characters involved.
Epstein, who received a lenient and widely criticized plea deal for
similar charges
back in 2007, is extremely well-connected. His "
little black book"
included presidents
Bill Clinton
and
Donald Trump, Richard Branson, Michael Bloomberg, Courtney Love,
and … 
16 phone numbers
for
Britain's
Prince Andrew
(Queen Elizabeth's third child, and Prince Charles's younger brother).
Prince Andrew and Epstein have been
friends
for a while, and, according to court documents, Epstein allegedly forced a teenage girl to have sex with him
on
three separate occasions
, including during what she described as an orgy with other underage girls. Buckingham Palace has vehemently denied the allegations, but as Epstein is back under the spotlight, we're likely to hear more about the prince's relationship to him.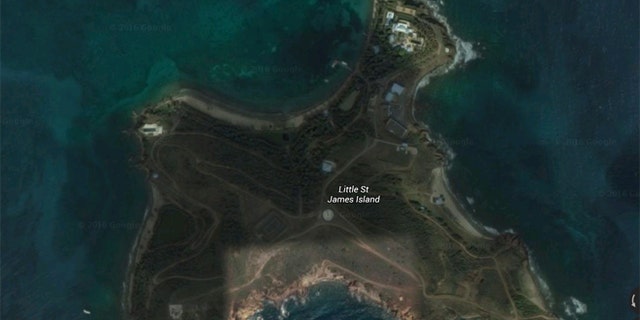 Epstein owns the entire 72-acre island. 
Epstein's case again high light the very sick society we have to deal with- and especially the rich and famous predators involved. Various roamers surfaced of predators from the
"top echelon"
of the VIP
liberal establishment
that committed atrocities against children or were involved in pedophile rings and networks through the years- and that includes
the Queen,
the
royal family,
Popes
   , the
Catholic church
,
presidents
,
politicians
,
bankers
and
businessmen
.  It is an evil octopus with many powerful tentacles- from the royal family right down to ordinary politicians- but one scarlet thread linking all these
"Bohemian Grove
" predatory animals from their secret societies together is that they all are
liberal democrats.
It is a psychopathic sickness among liberals- they are as evil as the devil himself.
Experts who have studied this sick liberal phenomenon, though, say they only have exposed   the tip of a gigantic iceberg that stretches across the globe and is especially concentrated in power centres such as Washington, D.C., New York City, and London. With President Donald Trump vowing to crack down hard on human trafficking and sex slavery, victims and their advocates hope the scourge can be brought into the open — and that the perpetrators can be brought to justice, regardless of their position in society. U.S. Attorney General Jeff Sessions is reportedly committed to doing everything within his power to bring down high-level pedophiles and human-traffickers.
A victim who appeared on a Dr.Phil's enormously popular show, identified only as "Kendall," said on the program that she was sold to her "owner" by her parents at birth. "I was born into the world of sex trafficking," she said on the program, which aired nationwide on March 21 and was reportedly seen by millions of Americans. "I was forced to have sex with clients. One of my first memories was to think it was normal for men to be fondling babies." In one case, she was even forced by her "owner" to kill a baby, she said. In other instances, she was forced to rape children as young as five-years old.
Her entire existence revolved around the demands of her "owner" and the clients this criminal would pimp her out to. "My whole life I would travel all over the world, and would go to some of the biggest events to meet clients and have sex with them," the victim explained. "They were all extremely rich and prominent members of society. Sometimes they would just want to have sex with me, and sometimes they would make me have sex with different people." When her "owner" was not around, she was supervised by "watchers." Among those who raped her, she said, were high-ranking law-enforcement officials, major sports figures, and even top U.S. politicians. Oftentimes, she was taken to extravagant mansions where the "clients" would rape, torture, and abuse her and other captive children. Many of the "clients" were "pillars of the community," Kendall continued, adding that some even owned private islands or large properties where they could rape and "hunt" their victims with impunity. The clients were often physically abusive," she explained, adding that she was often drugged by her captors as well. "Clients were even allowed to smother me with a pillow or plastic bag while having sex with me. But they were never allowed to leave marks or bruises on my face, because I always had to look pretty."
Kendall's "owner" told her she was "made for" the abuse, and that her birth parents had created her for that purpose. "It's the only life I've ever known," she says in the interview, adding that she believed her own three children were also trafficked into slavery and that children would be raped by adults beginning when they were just infants.
Indeed, here is where we meet Epstein- pedophile with a private island, Bill Clinton's friend and registered sex offender . He had a private plane known as the "Lolita Express" that would fly high-level politicians and businessmen to his so-called "Orgy Island" or "Sex Slave Island" in the U.S. Virgin Islands. There, according to reports and alleged victims, trafficked girls as young as 12 would be forced to have sexual relations with Epstein and his friends — billionaires, politicians, royalty, and others. Bill Clinton rode on the Lolita Express at least 26 times, according to flight logs cited by Fox News, and often ditched his Secret Service protection before hopping on-board. Lest Ms. Kendall's claims be dismissed, Dr. Phil emphasized that her story had been corroborated prior to putting her on the show. "I can tell you that a very reliable source has confirmed to us that Kendall has in fact been trafficked, raped, molested, and severely abused by a very large, very dangerous organisation," Dr. Phil said. Indeed, as numerous other media sources have documented, her story is hardly unique, and there does appear to be a pattern linking many "elites" to unspeakable crimes perpetrated in the shadows.
"All of this was completely normal to me, and I never thought seriously about leaving…. Since I left, it's been so hard." Her "owner" had rich and powerful friends all over the world, she added. Asked how old she was when she was first raped, Kendall said "it was before I could talk." "I was used to it by the time I was 2," she added, noting that she does not even know her actual age today because she was a sex slave from the time of her earliest memories. In the interview, she explains that she could even tell the difference between children who were born into the slavery and those who were kidnapped. "The girls who weren't born into it, they had a harder time," Kendall said. "They were always kept tied up or in cages, and they cried a lot." "The man who owns me constantly manipulated me and did horrible things to me," she said. "He would make me be a dog, he made me eat faeces, I was kept in a cage — sometimes he would electrocute me as punishment."
In fact, the monstrous "owner" would give her commands like a dog, "like come, or sit, or stay — I would have to obey them or I'd get in trouble." Sometimes she would have to "be a dog for days," she added. Her punishment for not "behaving" was that her owner would "have really rough sex with me, or take a knife and cut me." He would also wet her and force her to be in the cold, or pretend to drown her in the bath tub. In perhaps one of the most grotesque elements of the story, Kendall's "owner" even brainwashed her into believing her torture and misery were divinely ordained — suggesting that the false "god" of her abusers may be what Christians, Jews, and others recognize as demonic. "He said that all of this was happening because it was god's will, because god made me for this," Kendall recounted. Her abusers and rapists also told her "this was the best thing for me," she said, adding that she had believed them and felt guilty for not appreciating the horrors inflicted on her. The "owner," whom Kendall said she witnessed murdering some 20 to 25 people, also threatened her to keep silent, telling her, "if I told anybody about what was going on, that nobody would believe me," she explained. "I 100 percent believed him.
I still believe him." At one point, the "owner" offered her one chance to leave him in the only way he said was possible: shooting herself in the head. She tried, but the gun did not go off, and then she was punished severely, she told Dr. Phil. Of course, the networks of establishment pedophiles and perverts alluded to throughout Dr. Phil's explosive program has become increasingly well known in the age of the Internet. A 1990s documentary called Conspiracy of Silence, available for free online today, also suggests the problem in the United States has existed for generations and reaches into the highest levels of government and power. And more than a few members of the political, business, and media elite have already been exposed. Former U.S. House Speaker Dennis Hastert, for example, was busted last year for attempting to cover up his sexual molestation of underage boys. Unfortunately for the cause of justice, the statute of limitations had already expired on his sexual crimes.
But he did plead guilty to charges relating to the cover-up. Illustrating his complete lack of morals or compassion, though, Hastert was recently in the news again for trying to recover the "hush" money he paid to one of his victims because the victim had come forward. The judge in the case called him a "serial child molester." As The New American reported last year, though, Hastert is just the tip of the iceberg. Before Hastert, late BBC celebrity Jimmy Savile was exposed as a pedophile monster who sexually abused hundreds of children over a period of decades — sometimes as part of a satanic ring, according to victims cited in news reports. In 2013, after that scandal exploded, British police announced that their investigation into child sex abuse was widening to include members of the British Parliament as well. However, even the police themselves came under fire for declining on multiple occasions to file charges against Savile.
More than a few advocates suggested corrupt forces within the police department were helping to protect the pedophile ring and its high-ranking, influential members. British Parliamentarian Tom Watson with the Labor Party also spoke of the evidence file used in the 1990s to convict pedophile Peter Righton — a former consultant at the National Children's Bureau and lecturer for the National Institute for Social Work in London — and said it should be re-examined. The MP said it contained "clear intelligence of a widespread pedophile ring" in the U.K. operating at the highest levels of power. "One of its members boasts of his links to a senior aide of a former prime minister," Watson explained on the floor of Parliament. "The leads were not followed up, but if the file still exists I want to ensure that the Metropolitan Police secure the evidence, re-examine it and investigate clear intelligence suggesting a powerful pedophile network linked to Parliament and [government headquarters at Downing Street] Number 10."
In America, more than a few Clinton associates have also been ensnared in pedophilia-related scandals. As described above, Clinton buddy and known pedophile Epstein is infamous for his proclivities. "Bill Clinton … associated with a man like Jeffrey Epstein, who everyone in New York, certainly within his inner circles, knew was a pedophile," explained Conchita Sarnoff with the non-profit Alliance to Rescue Victims of Trafficking and the author of a book on Epstein's case called TrafficKing. "Why would a former president associate with a man like that?" The Obama administration was so unfazed by the horrors of pedophilia and child rape that it named a U.S. Navy ship after known paedarastic rapist and homosexual activist Harvey Milk. And as The New American has been documenting for years, the Obama administration continued to boost support to United Nations "peacekeeping" schemes even as UN "peace" troops were exposed all over the world raping and trafficking children. Meanwhile, e-mails between failed Democrat presidential candidate Hillary Clinton and her top aide at the time, Cheryl Mills, deal with Laura Silsby, who was arrested and charged with child abduction and child trafficking in Haiti after the 2010 hurricane there.
Silsby and nine others posing as "missionaries" for a phony orphanage were busted by authorities trying to smuggle a busload of 33 Haitian children off the island. And far from being orphans, once Silsby was caught, the parents of the children accused her of lying. Thanks to intervention by Bill and Hillary Clinton, though, Silsby was allowed to leave Haiti with "time served." New American's senior editor William F. Jasper reported about the scandals and horrors revealed in Clinton's e-mails, including tales of bizarre occult rituals, multiple analysts have concluded that Silsby was kidnapping the Haitian children to be sold to child sex rings. "The evidence we have seen thus far does not prove that claim, but neither is it a far-fetched supposition, considering the sordid sexual swamp that many of the high and mighty are mired in, and considering the Epstein-Clinton-Podesta revelations that are pouring out," Jasper reported. "At the very least, it must be seriously investigated, in light of the evidence available and the global crisis in child sex trafficking." A recent "Reality Check" news segment by journalist Ben Swann on the so-called "Pizzagate" scandal, which establishment media outlets have scrambled to declare "fake news," also links a number of high-profile Clinton associates to pedophilia and human trafficking.
Former President Bill Clinton was a much more frequent flyer on a registered sex offender's infamous jet than previously reported, with flight logs showing the former president taking at least 26 trips aboard the "Lolita Express" — even apparently ditching his Secret Service detail for at least five of the flights, according to records obtained by FoxNews.com. Clinton's presence aboard Jeffrey Epstein's Boeing 727 on 11 occasions has been reported, but flight logs show the number is more than double that, and trips between 2001 and 2003 included extended junkets around the world with Epstein and fellow passengers identified on manifests by their initials or first names, including "Tatiana." The tricked-out jet earned its Nabakov-inspired nickname because it was reportedly outfitted with a bed where passengers had group sex with young girls. "Bill Clinton … associated with a man like Jeffrey Epstein, who everyone in New York, certainly within his inner circles, knew was a pedophile," said Conchita Sarnoff, of the Washington, D.C. based non-profit Alliance to Rescue Victims of Trafficking, and author of a book on the Epstein case called "TrafficKing." "Why would a former president associate with a man like that?"
Official flight logs filed with the Federal Aviation Administration show Clinton traveled on some of the trips with as many as 10 U.S. Secret Service agents. However, on a five-leg Asia trip between May 22 and May 25, 2002, not a single Secret Service agent is listed. The U.S. Secret Service has declined to answer multiple Freedom of Information Act requests filed by FoxNews.com seeking information on these trips. Clinton would have been required to file a form to dismiss the agent detail, a former Secret Service agent told FoxNews.com. In response to a separate FOIA request from FoxNews.com, the U.S. Secret Service said it has no records showing agents were ever on the island with Clinton. A Clinton spokesperson did not return emails requesting comment about the former president's relationship and travels with Epstein. The Clinton Library said it had no relevant information and does not keep track of Clinton's travel records. Martin Weinberg, Epstein's current attorney, did not respond to multiple inquiries. Epstein said in a court filing said that he and his associates "have been the subject of the most outlandish and offensive attacks, allegations, and plain inventions."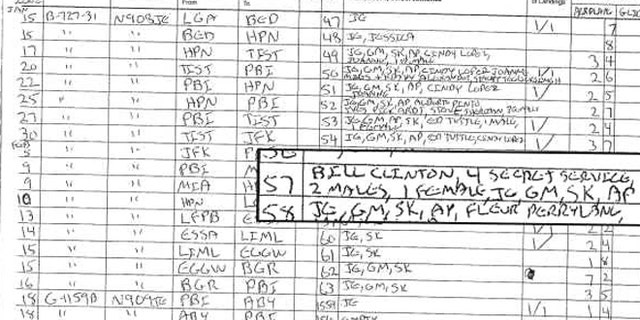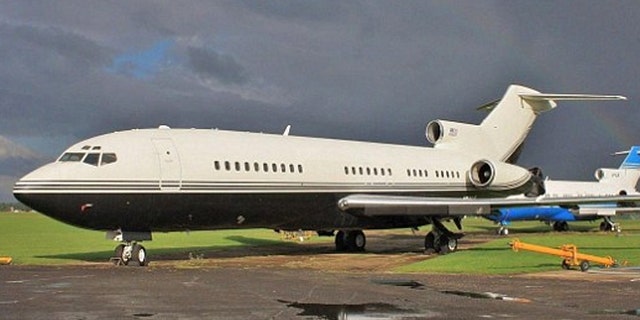 Epstein's Boeing 727 was known as the "Lolita Express." (John Coates, airport-data.com)
After a month-long investigation, Swann — one of the most reputable journalists with a platform on an establishment media outlet — suggests that there is extremely troubling evidence that should be properly investigated. The video report was perhaps the best summary so far of the "Pizzagate" theories. In addition to the millions of viewers who watched his show, Dr. Phil's program highlighting the horrifying crimes of human trafficking and sexual slavery made headlines across America in the alternative media around the world. In the United Kingdom, some of that nation's leading newspapers have covered the story. And after the story broke, the word spread across the Internet like wildfire, with countless blogs, forums, and alternative media outlets celebrating the breakthrough. Trump has also taken a hard line. "I want to make clear that my administration will focus on ending the absolutely horrific practice of human trafficking," he said after a recent listening session on domestic and international human trafficking at the White House. "I am prepared to bring the full weight our government at the federal level and the highest levels in order to solve this horrific problem. It's getting worse, and it's happening in the United States, in addition to the rest of the world…. Solving the human-trafficking epidemic is a priority for my administration."
Britain- Government smut with sex offenders.
Tory Party General election candidate, Michael Powell – Convicted and jailed for 3 years for downloading hardcore child porn.
Tory Party Liaison Manager on the London Assembly, Douglas Campbell, who's job includes running the Tory GLA website. Arrested for allegedly downloading child porn.
Labour Councillor (North Lincolnshire) David Spooner – Convicted and jailed for 1 year for masturbating in front of 2 young boys.
Tory Party Councillor (Folkestone – in Leader, Michael Howard's constituency), Robert Richdale – 41 year history of crime, involving 30 convictions and 5 prison sentences. Richdales enormous criminal record, which covers 10 pages of A4 paper, includes convictions for assault, theft, causing death by dangerous driving, forgery, drugs offences, possession of an offensive weapon, and sex attacks against underage schoolgirls. The Tory Party election campaign literature described Richdale as "a family man" who had a "compassionate personality"
Tory Party Councillor (Wickbar/Bristol) Roger Talboys – Convicted and jailed for 6 years for multiple sex attacks on children.
Tory Party Councillor ( Stratford-upon-Avon ) Christopher Pilkington – Convicted of downloading hardcore child porn on his PC.
Labour Councillor (Newton Aycliffe) Martin Locklyn – Convicted and jailed for 15 years for sexually abusing 3 14-year-old boys.
Prominent Labour Party activist Mark Tann (who has met Tony & Cherie at Party functions) recently got a 15-year sentence for raping a 4-year old girl on 2 separate occasions.
Tory Party MP (Billericay) Harvey Proctor – Stood trial for sex offences of a sado-masochistic nature against teenage boys.
Tory Party Mayor ( North Tyneside ), Chris Morgan – Forced to resign after being arrested twice in 2 weeks, for indecent assault on a 15-year old girl, and for suspicion of downloading child porn.
Labour Party activist and serial child-molester Mark Trotter, who died from AIDS before he could be convicted.
Labour Councillor (Manchester), George Harding – Charged with indecent assault on a girl of 12.
Tory Party councillor ( Coventry ), Peter Stidworthy – Charged with indecent assault of a 15-year old boy.
Tory Party Councillor (Folkestone – in Leader, Michael Howard's constituency), Robert Richdale – 41 year history of crime,
Labour Mayor (Westhoughton/Lancashire) Nicholas Green – Convicted and jailed for 10 years for 3 rapes and 13 counts of indecent assault.
Labour Councillor (Manchester), George Harding – Charged with indecent assault on a girl of 12.
William Straw – Son of Labour Foreign Secretary, and former Home Secretary – Jack Straw, was cautioned by Police for drug dealing, amid a frantic Government attempt to cover up the matter and gag the media as to his identity. Jack Straw also has a brother who was convicted of a sex attack on a schoolgirl.
Homosexual mass murderer; Dennis Nielsen, who strangled and dismembered 16 young men in the 1980`s, was also a highly active member of Labour fringe groups such as the Anti-Nazi League, and the SWP. That's when he wasn't busy boiling peoples heads in a pot, or masturbating over the corpses of his victims.
Lib-Dem Council candidate (Tower Hamlets), Justin Sillman – Convicted and jailed for 2 years for sexual abuse of young boys.
Lib-Dem Councillor and Mayoral Candidate ( Sheffield ), Francis Butler – Prosecuted for indecent assault of a young boy.
Lib-Dem Councillor ( Stockport ) Neil Derbyshire – Sexually assaulted a 16-year old boy in a public toilet. He was caught with a plastic bag containing lubricant, plastic surgical gloves, a condom, and underpants.
Lib-Dem Councillor ( Preston ), Bill Chadwick – Charged with: Making an indecent photograph of a child, Incitement to rape, Incitement to murder, Incitement to kidnap, and Incitement to torture. Chadwick's gay lover – Alan Valentine, is also a Lib-Dem councillor.
High Level Masons such as Chief Superintendent Gordon Angelsea and at least 12 of his colleagues were "let off the hook" for sexual abuse crimes on children (some of who are now dead) in the North Wales Paedophile Ring Cover-Up.
High Level Government Masons such as a certain Lord, was accused by numerous children of sexual crimes in the North Wales Child Abuse Cover-Ups. He escaped public exposure by a specifically appointed Masonic Paedophile Judge,Lord Cullen who was appointed to the investigation and "100 year cover up" of Thomas Hamilton's Mass Murder spree – were BOTH members of the same "boy's club".
Thomas Hamilton was the name of the Mass Murderer responsible for the Dunblane Massacre. He was a Freemason.Thomas Hamilton was granted a gun licence by his Masonic "brother" Inspector McMurdo, to a amass his arsenal of weapons, even although he was well known to be of "odd character" with paedophilic tendencies.
The two Liaison Officers assigned to the murder investigation of Holly Wells and Jessica Chapman were known to the British Police hierarchy as Paedophiles at least 3 months prior to the investigation, due to Operation Ore.
According to media reports, the names of 2 former Labour Cabinet Ministers said to be `Household names` appear on the `Operation Ore ` list of subscribers to hard-core child pornography. The same FBI investigation, which led to the arrest of rock star Pete Townshend. So who are they?
Interpol has saved 50 children and prosecuted nine sex offenders after uncovering an international pedophile ring that was sharing child abuse images on the dark web. Police believe there are still 100 children who have not yet been located, Interpol said in a press release., – adding that it expected to make more arrests and rescues. Offenders have already been prosecuted in Thailand, Australia and the United States, Interpol said, and police in nearly 60 countries are involved in the investigation.  An Internet pedophile ring with up to 70,000 members — thought to be the world's largest —has been uncovered by police, a security official said . The European police agency Europol said in a statement that "Operation Rescue" had identified 670 suspects and that 230 abused children in 30 countries had been taken to safety. More children are expected to be found, Europol said. It said that so far 184 pedophiles had been arrested and investigations in some countries were continuing. Most of those detained are suspected of direct involvement in sexually abusing children. They include teachers, police officers and scout leaders, AP reported. One Spaniard who worked at summer youth camps is suspected of abusing some 100 children over five years. Europol director Rob Wainwright said  the ring, which communicated using an Internet forum, was "probably the largest online pedophile network in the world."
According to the UN Children's Fund (UNICEF),globally, as of 2014, at least 120 million girls under the age of 20 – about one in 10 – have been forced to engage in sex or perform other sexual acts. In 2017, the WHO estimated that up to 1 billion minors between the ages of 2 and 17 years of age have endured violence either physical, emotional, or sexual. Sexual abuse (from groping to rape), according to some UNICEF estimates from 2014, affected over 120 million children, representing the highest number of victims. In 2017, the same UN organization reported that in 38 low and middle income countries, almost 17 million adult women admitted having a forced sexual relationship during their childhood.
SOURCE:
https://www.tmz.com/2019/08/10/jeffrey-epstein-dead-dies-suicide-jail/
https://www.foxnews.com/us/flight-logs-show-bill-clinton-flew-on-sex-offenders-jet-much-more-than-previously-known
WHITE NATION– WE DO NOT HATE WHITE LIBERALS– WE SIMPLY DESPISE THE FILTH!!
C'MON- SHARE OUR LINK